Improvember 2019, als
Halloween
Special Edition, war für uns alle wieder eine große Freude und ein toller Erfolg. Verkleidungswettbewerb, Live-Karaoke mit den
Groovesteinern
, spannende bis verrückte Workshops, tolle Teilnehmer, ausverkaufte Shows und eine neue Party-Location mit wilden Tänzen bis spät in die Nacht. Vielen Dank an alle die dabei waren und alle, die uns über das Jahr hinweg und vor Ort unterstützt haben! Hier gibt es ein paar Rückblicke auf das Festival.
Improvember 2019, the
Halloween
Special Edition, was a huge joy and success. Scary-Costume-Contest, Live-Karaoke with the fantastic band
Groovesteiner
, exciting and crazy workshops, lovely participants and sold-out shows with a new party location and wild dances late into the night. Thanks to everyone who came and all those who supported us throughout the year. Here you can find some memories of the 2019 festival.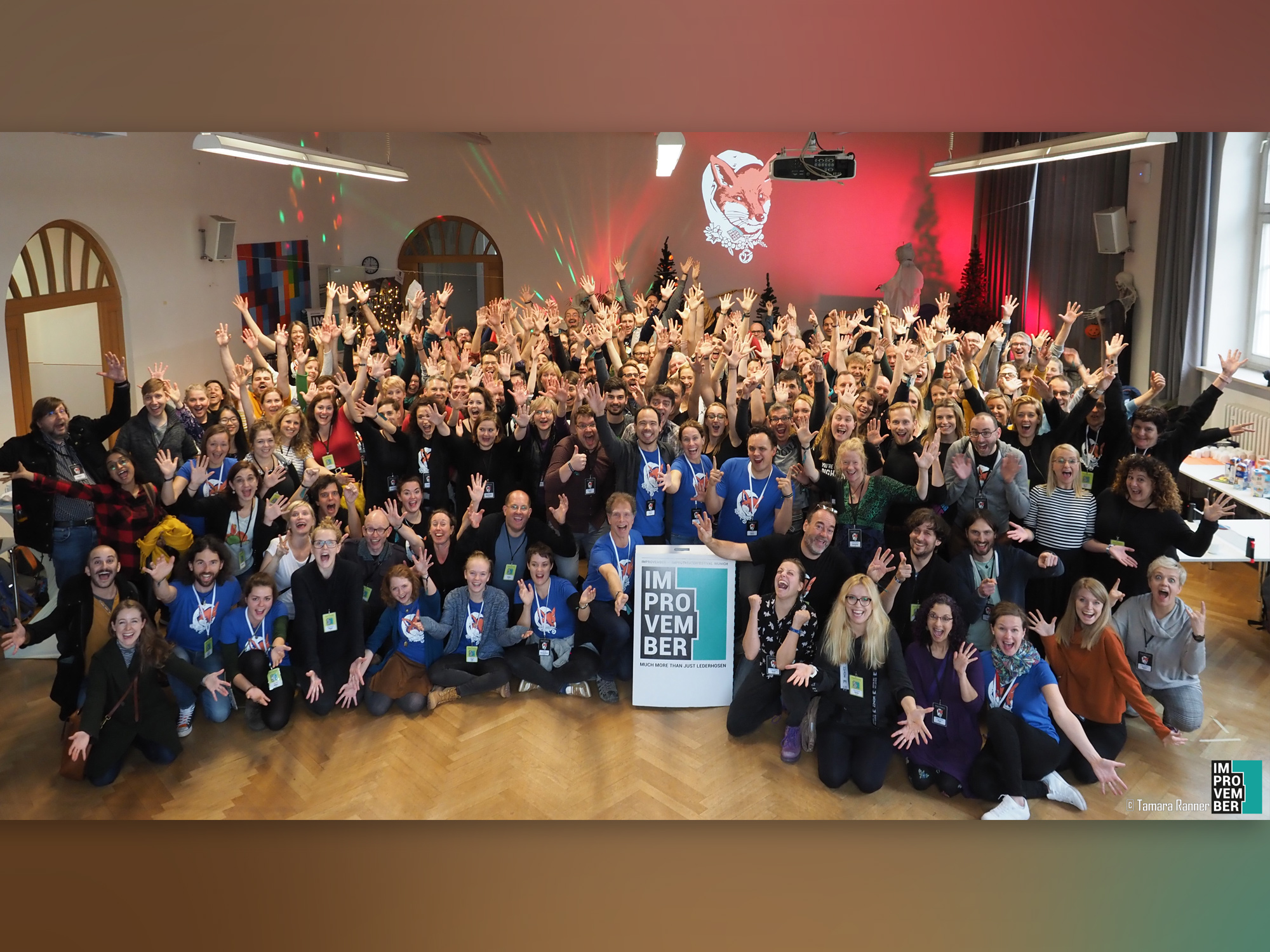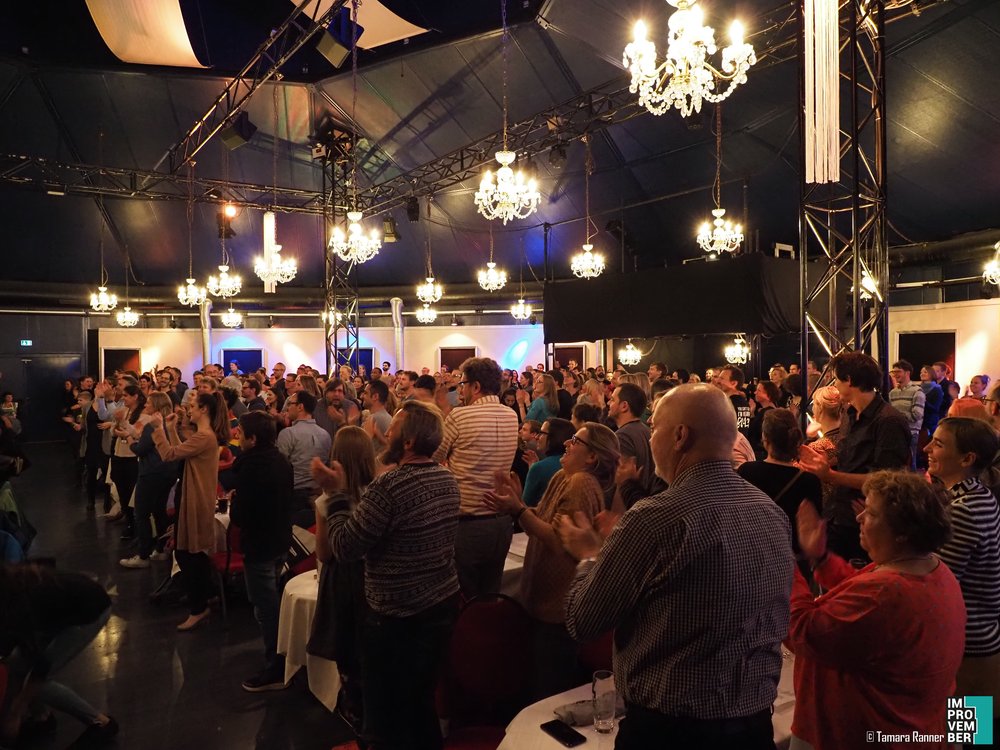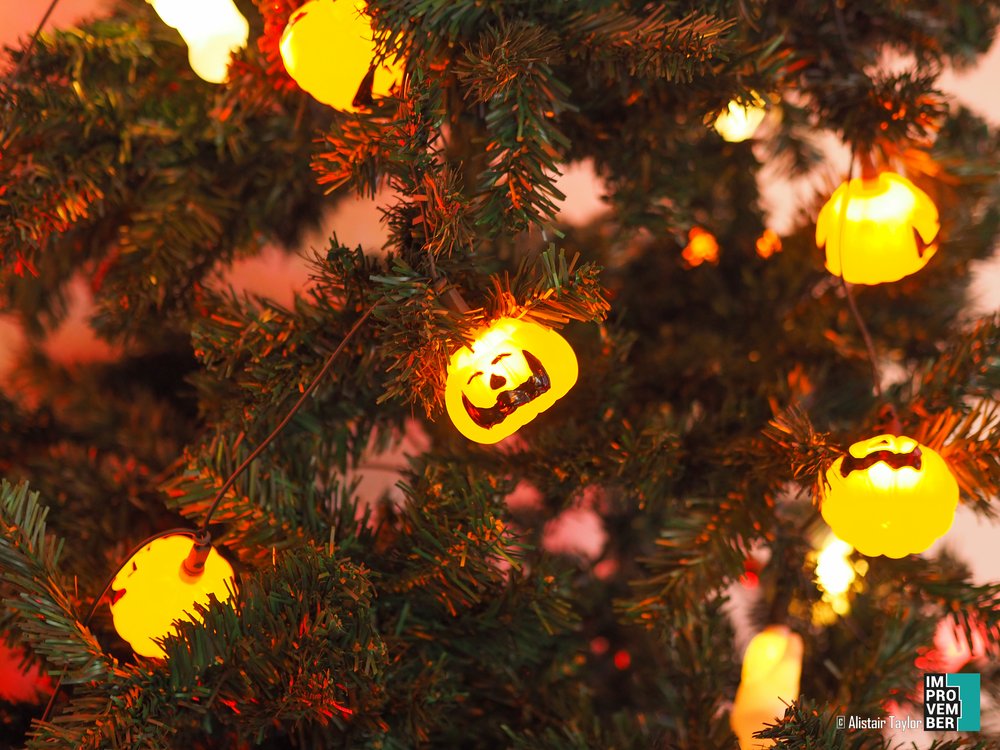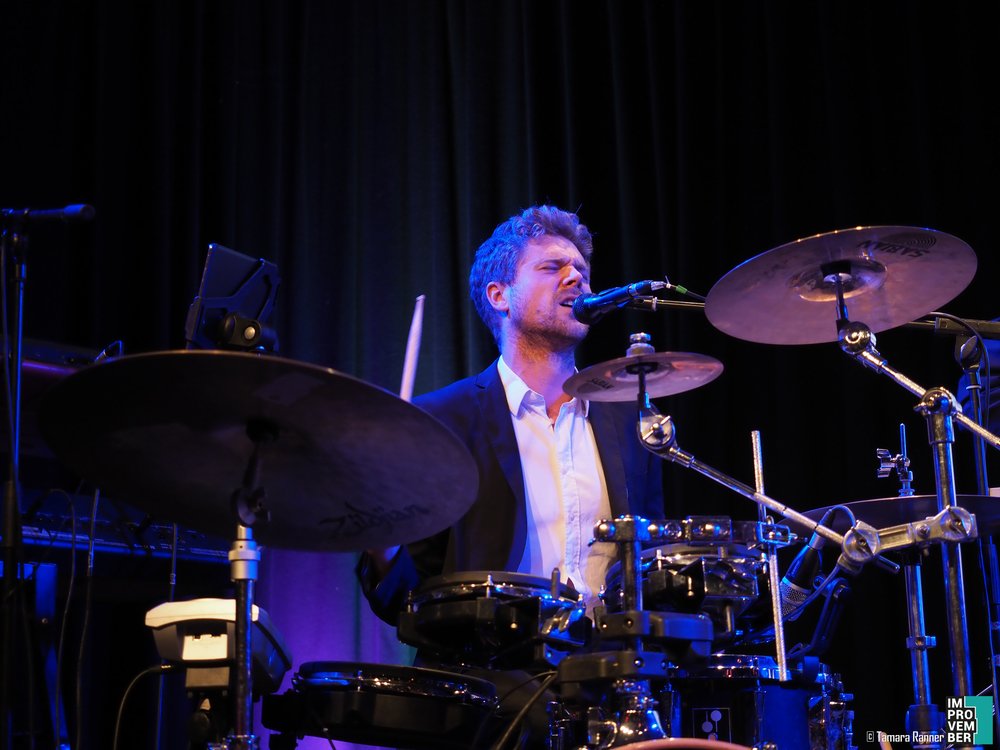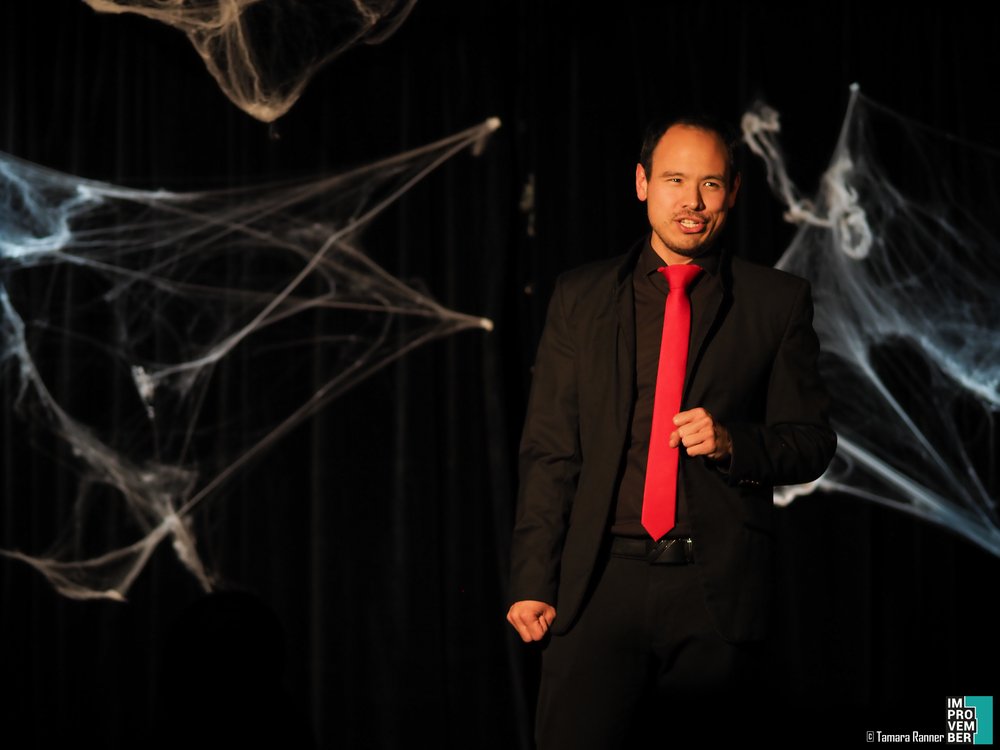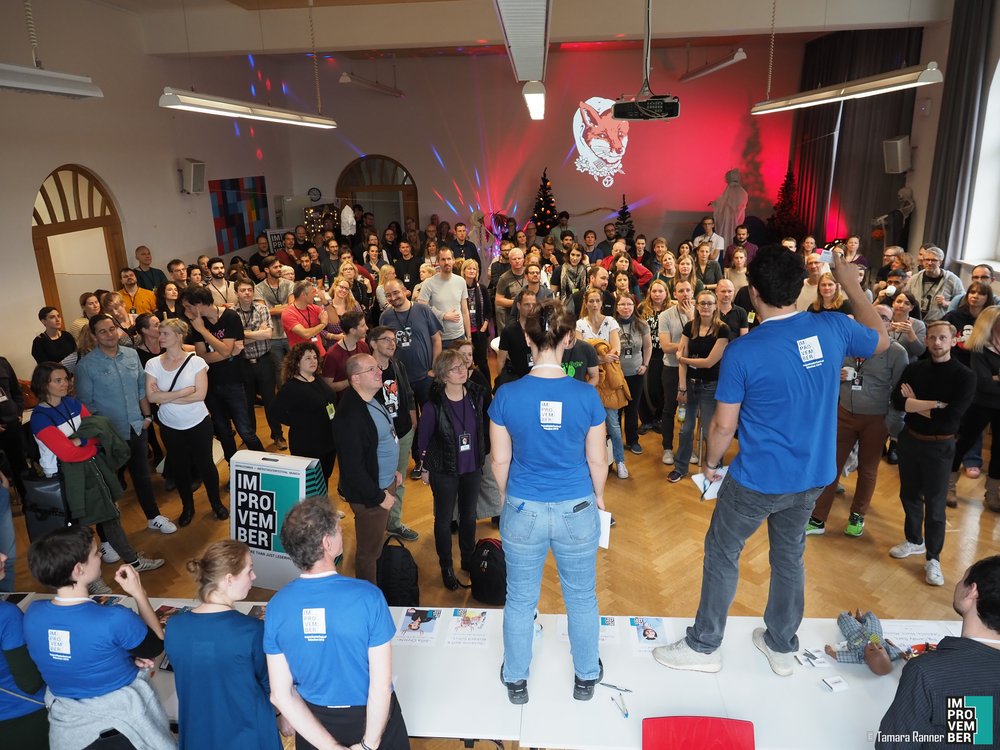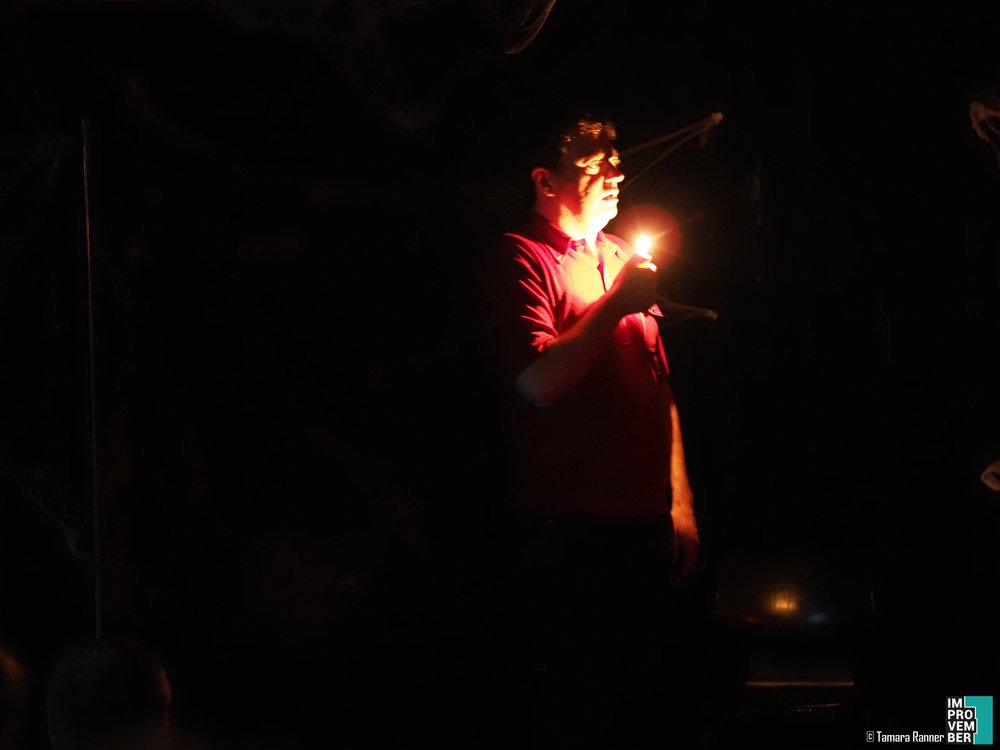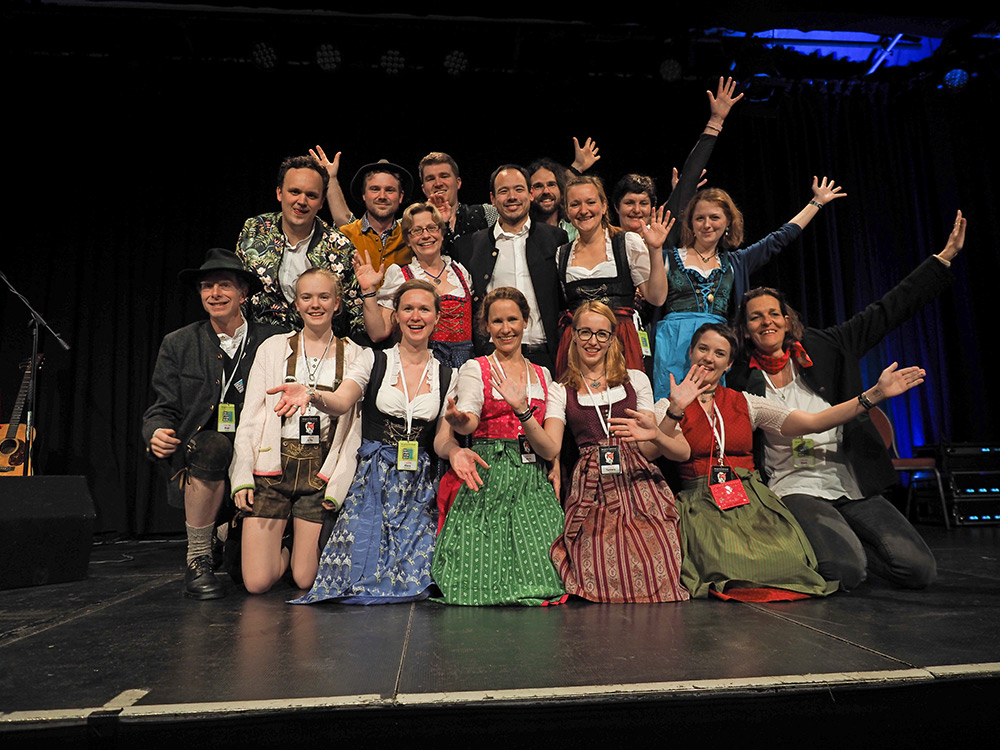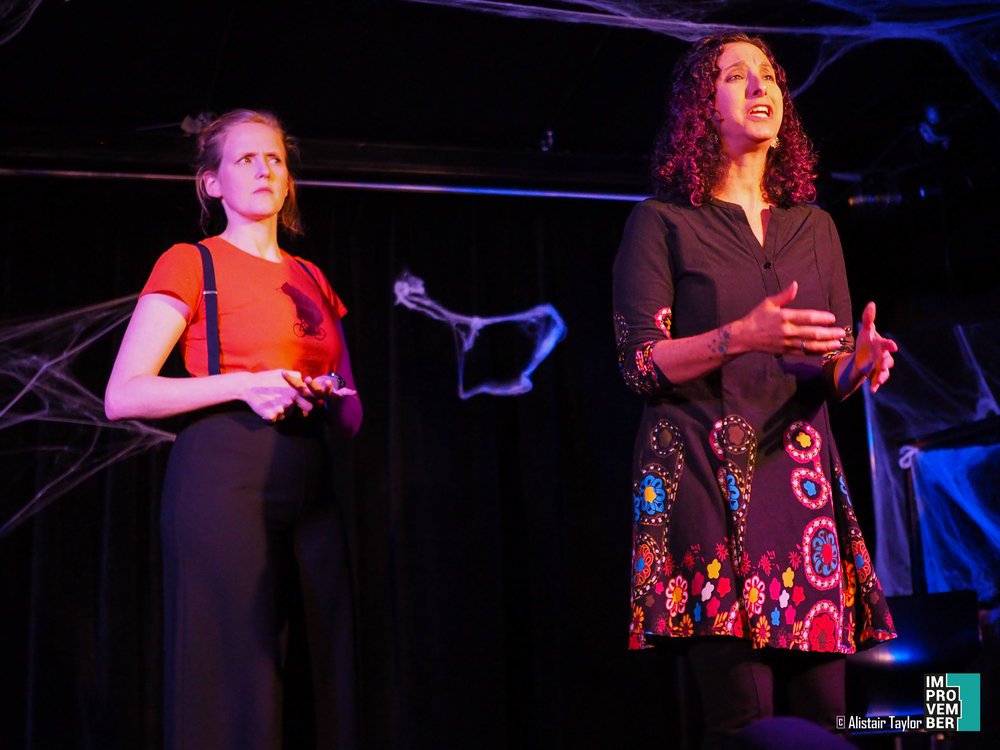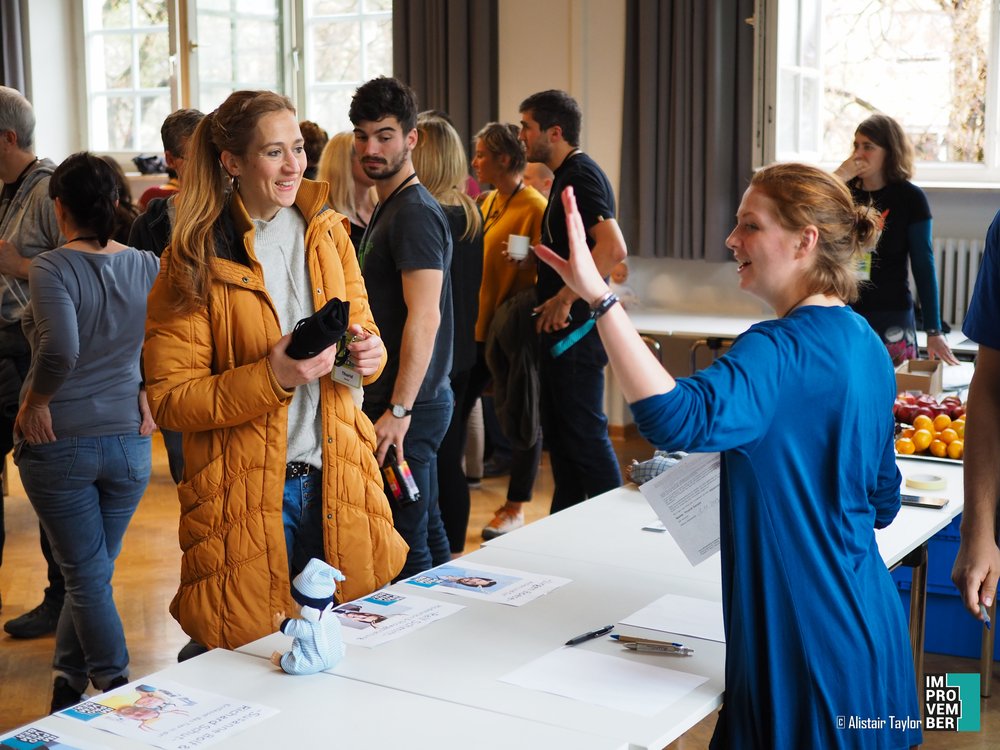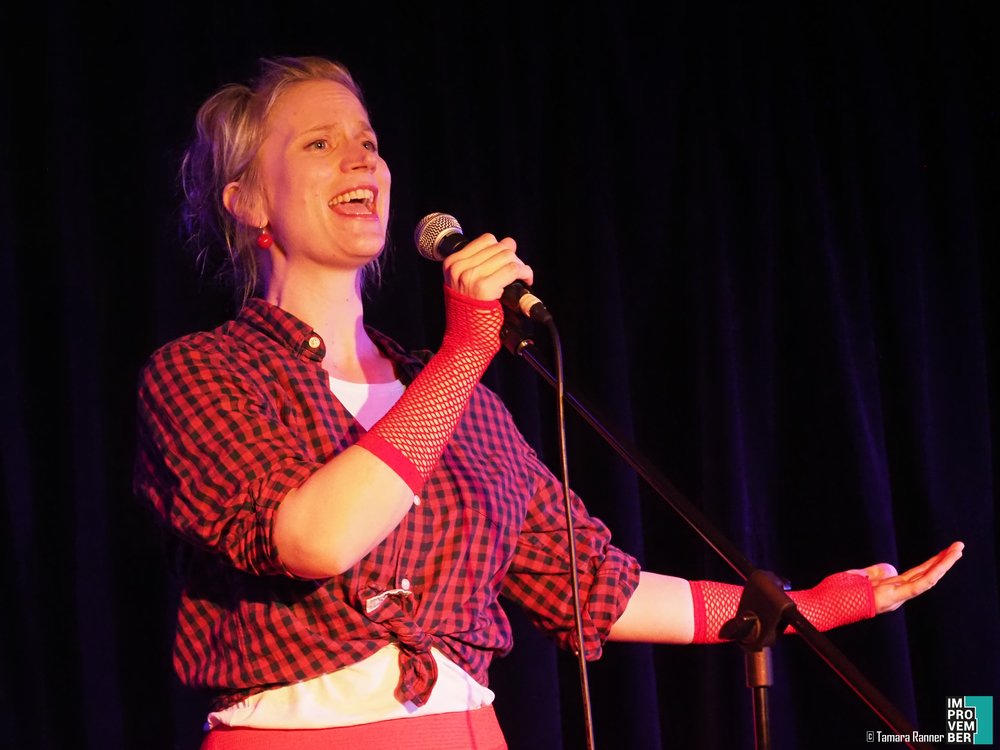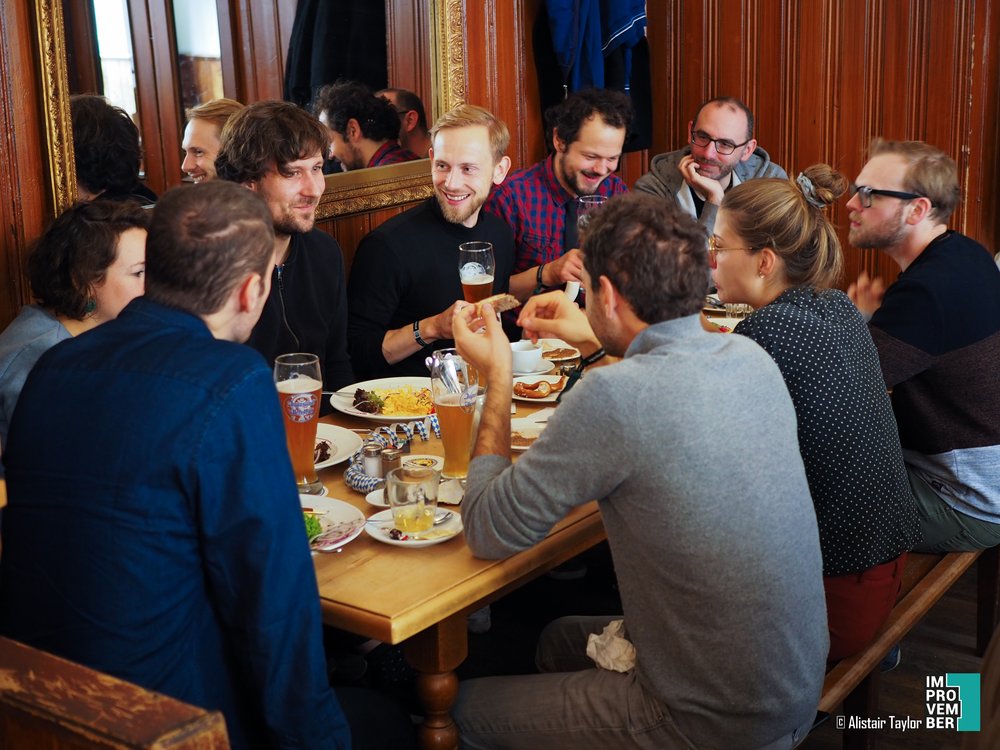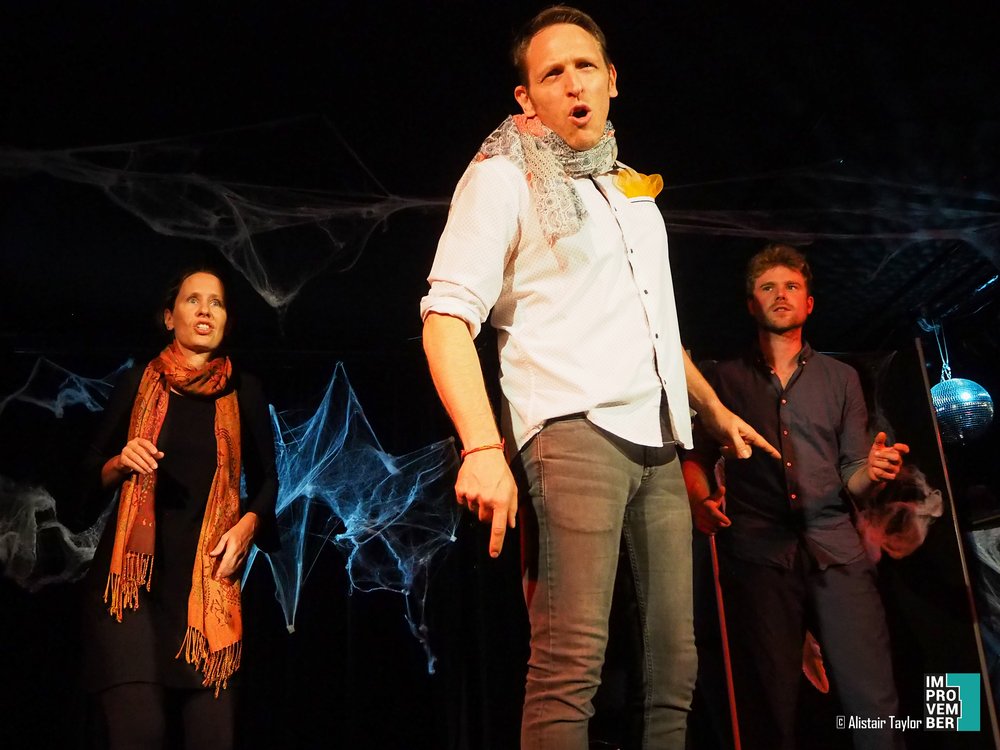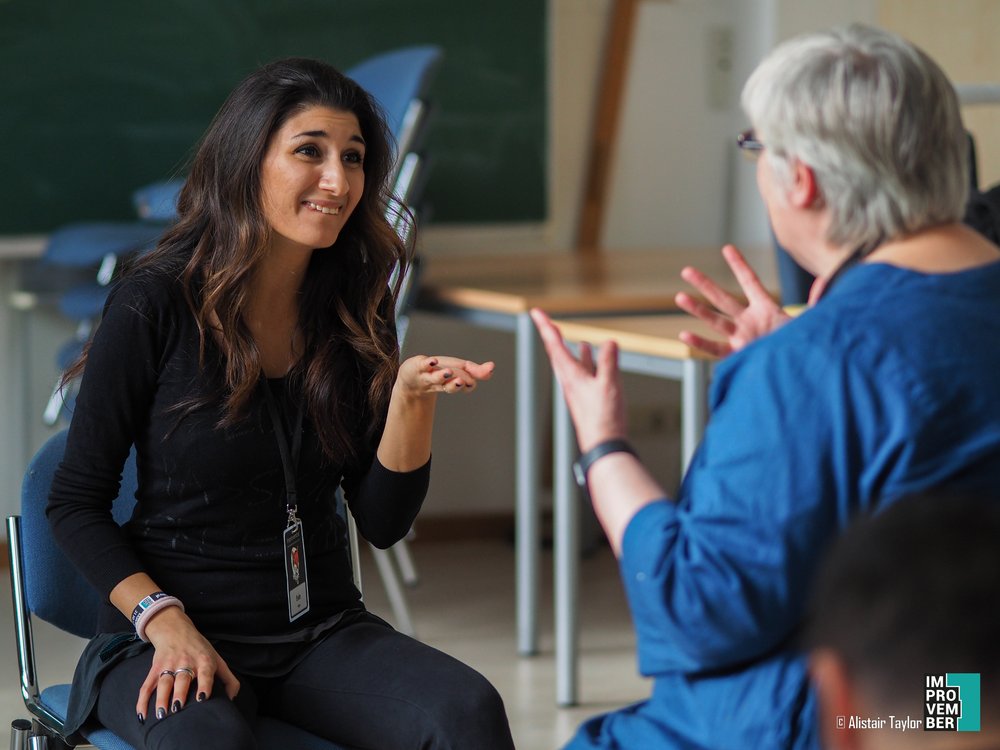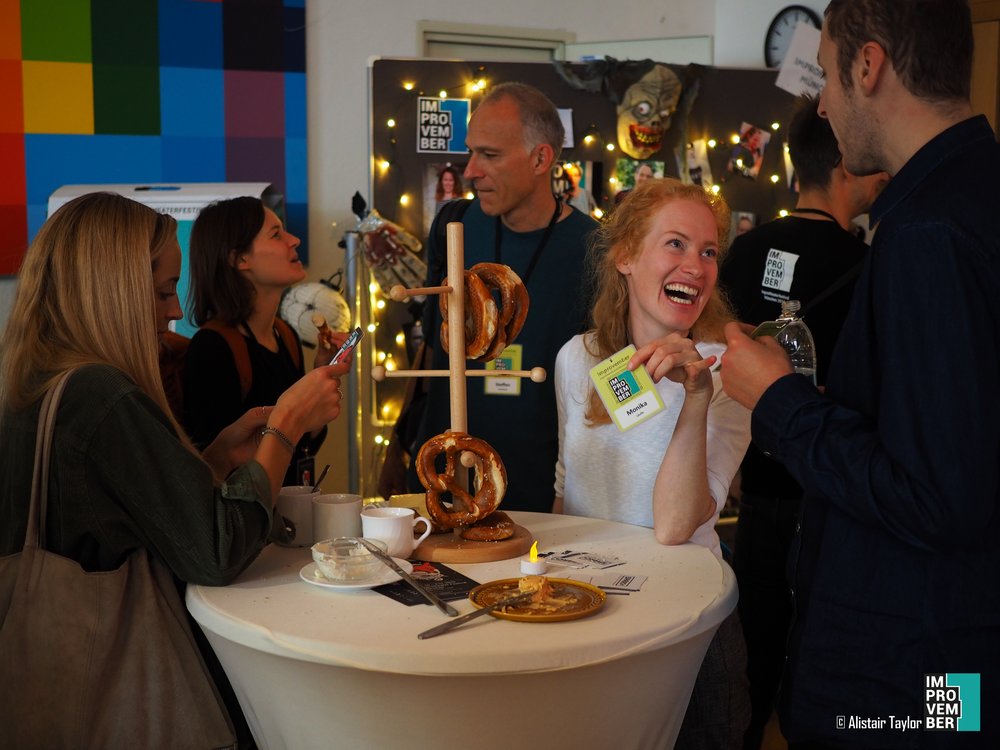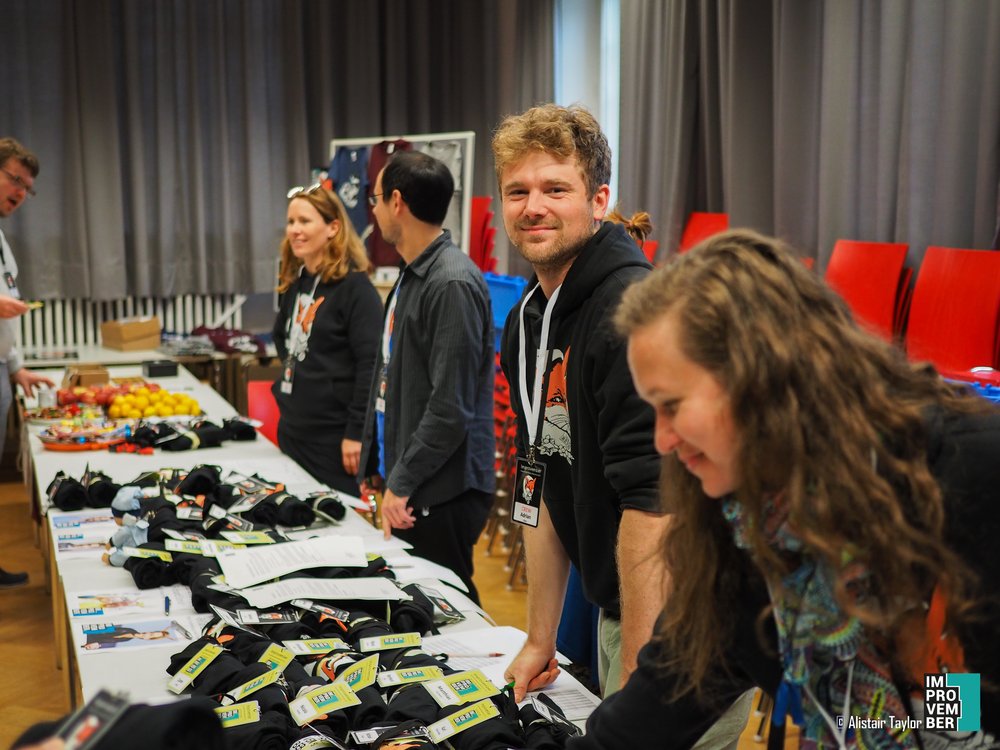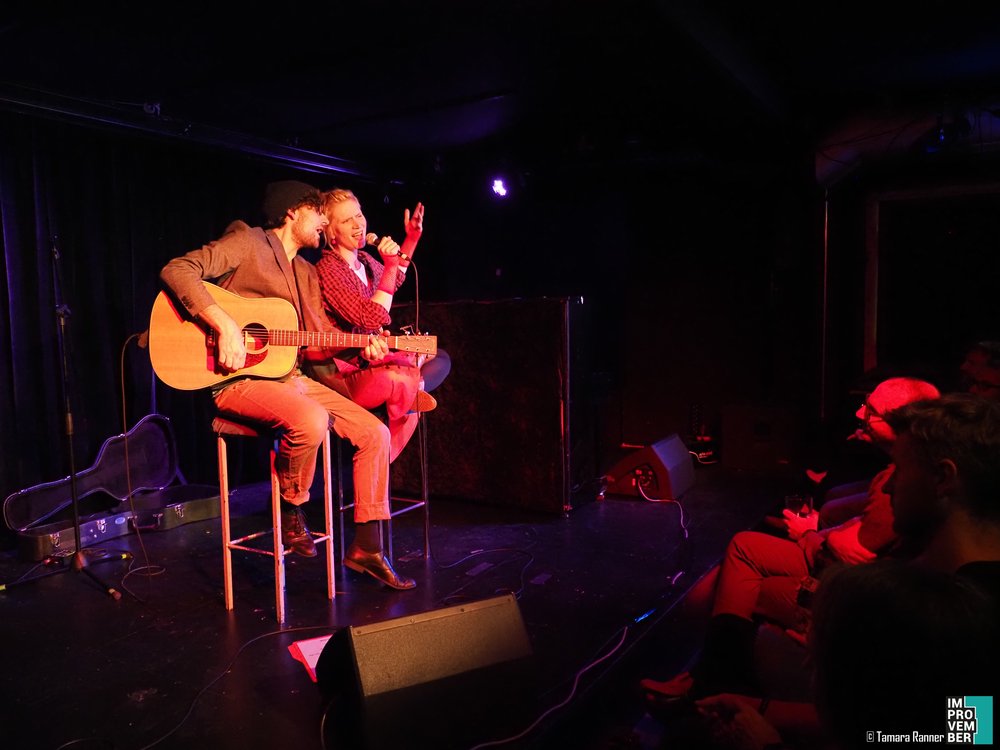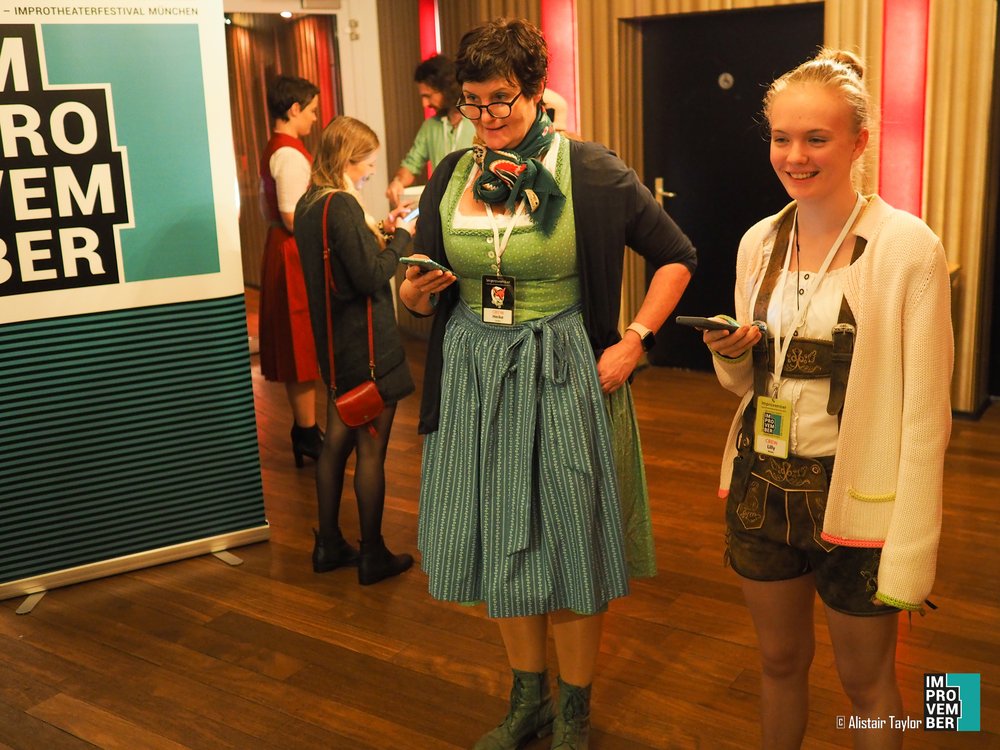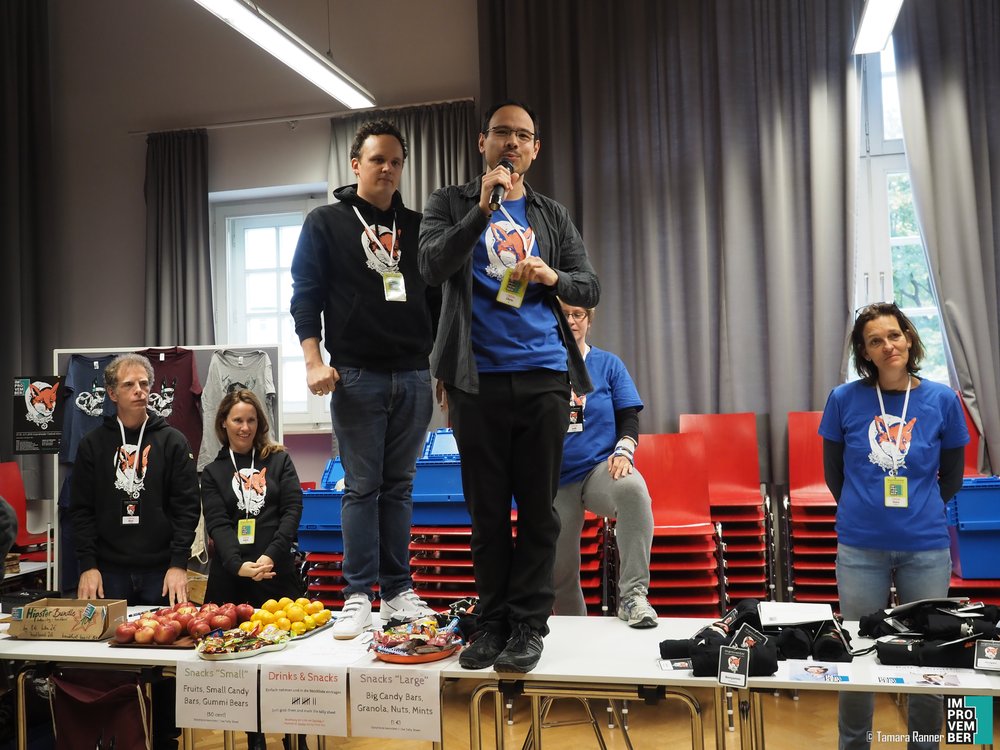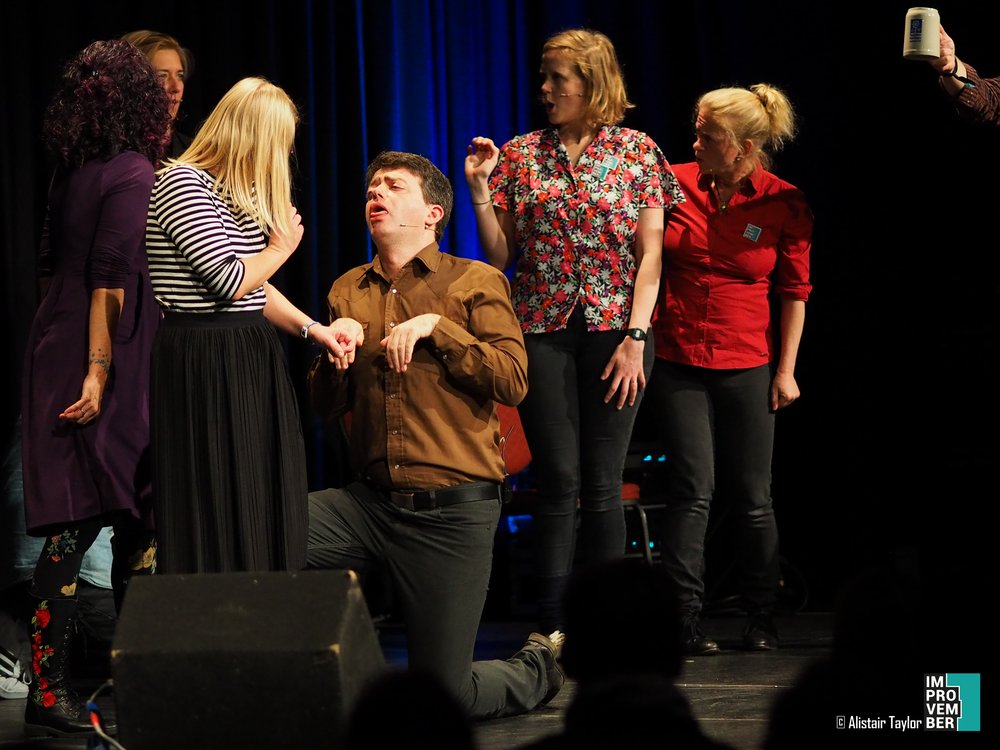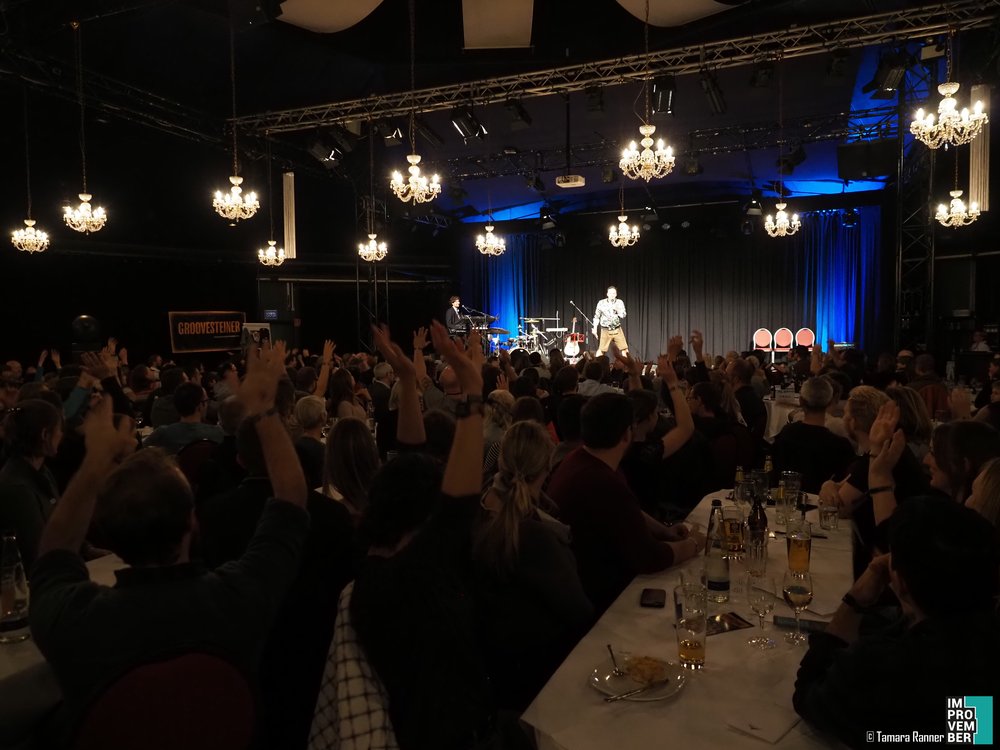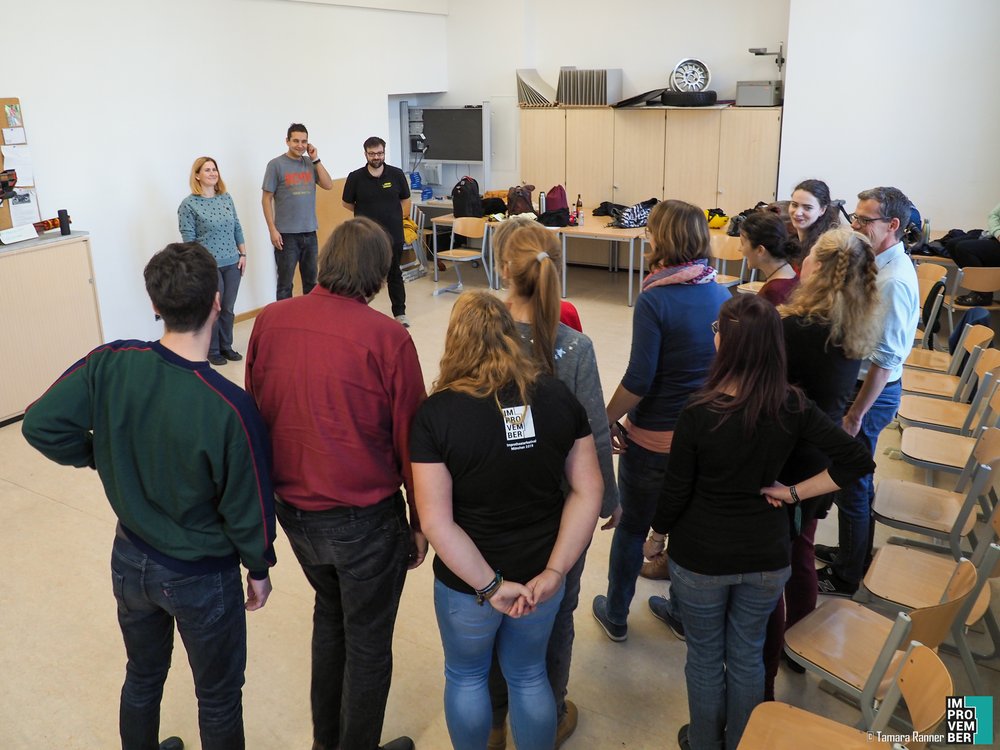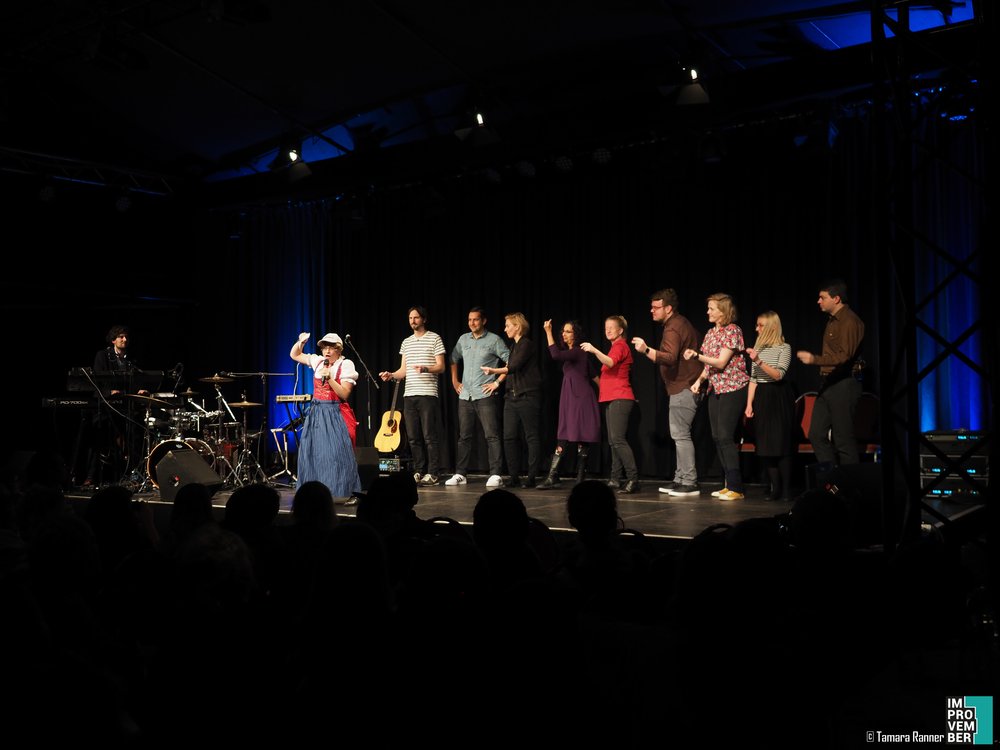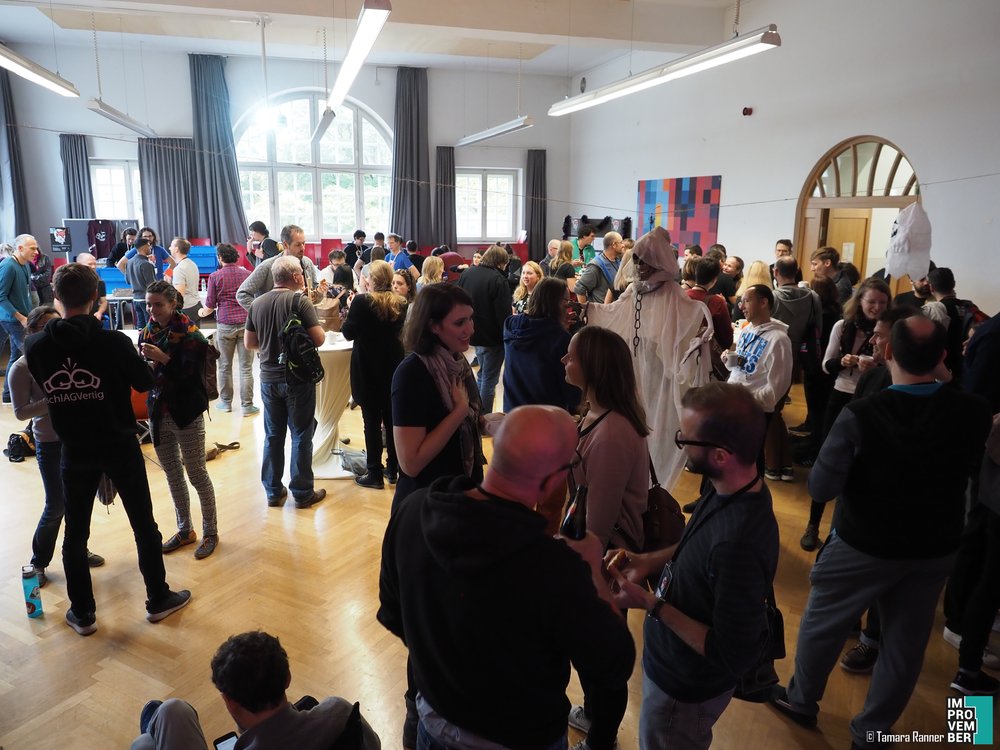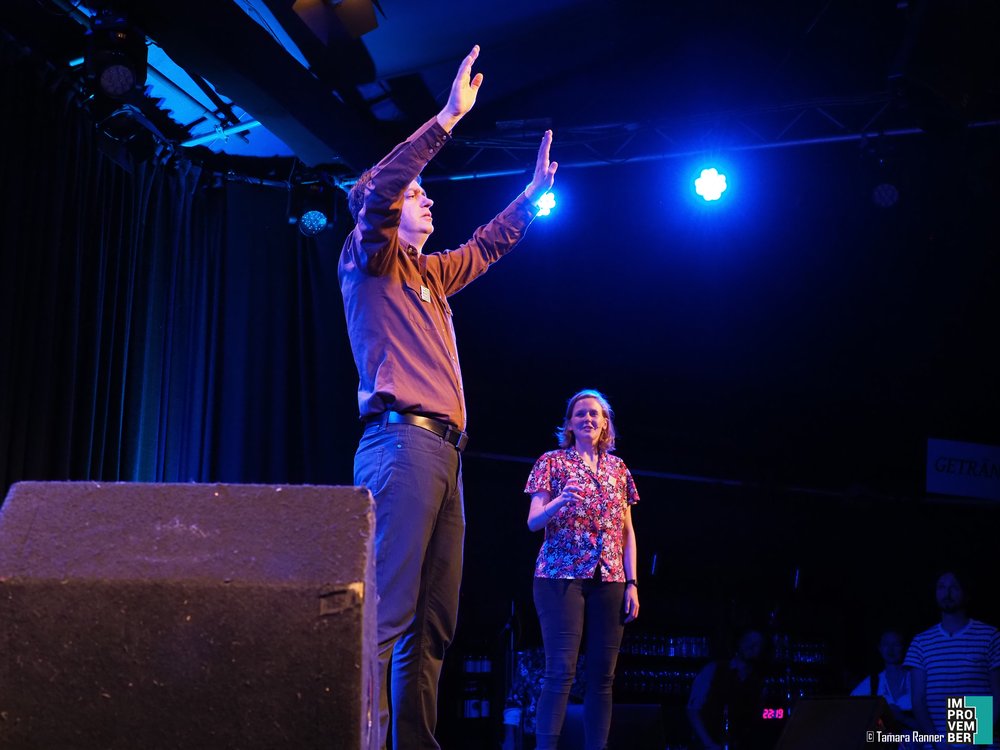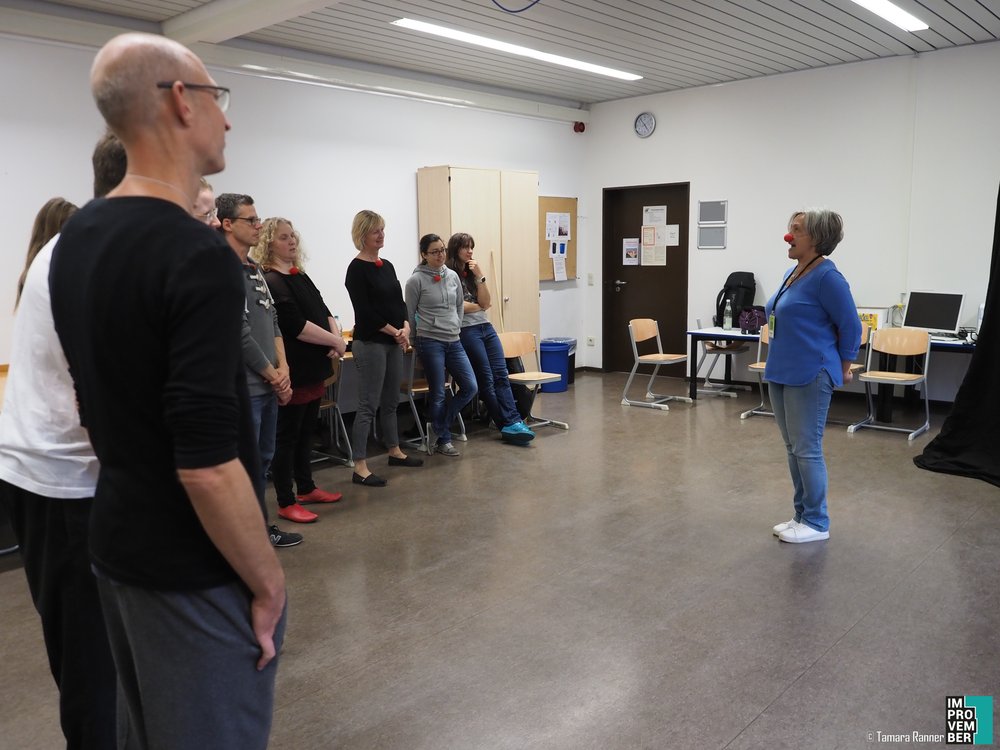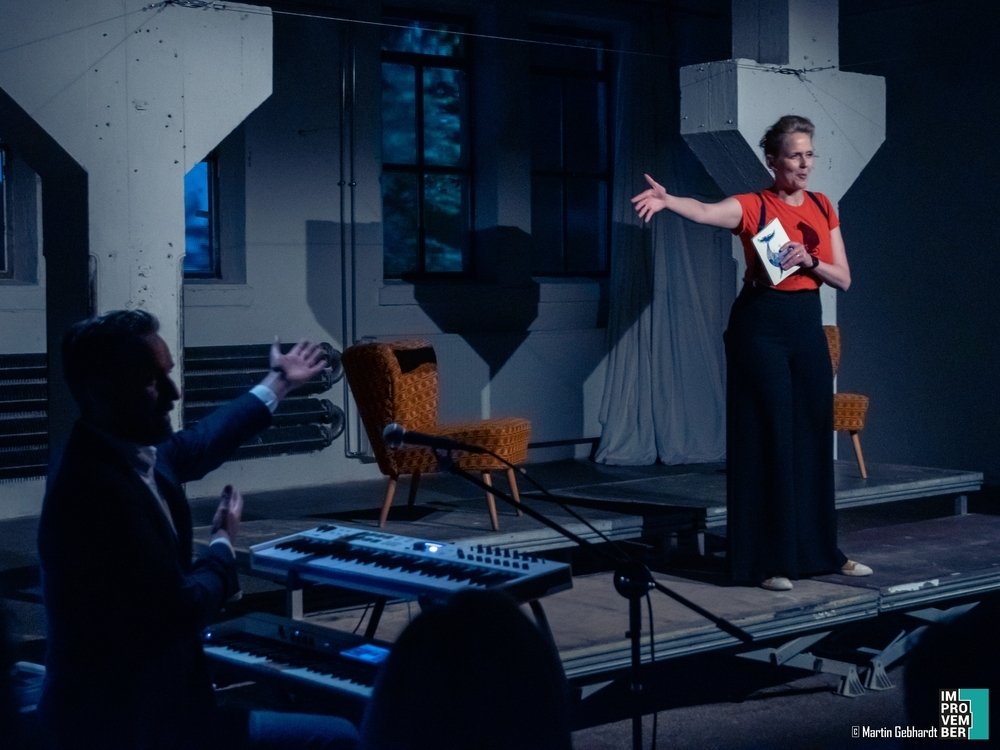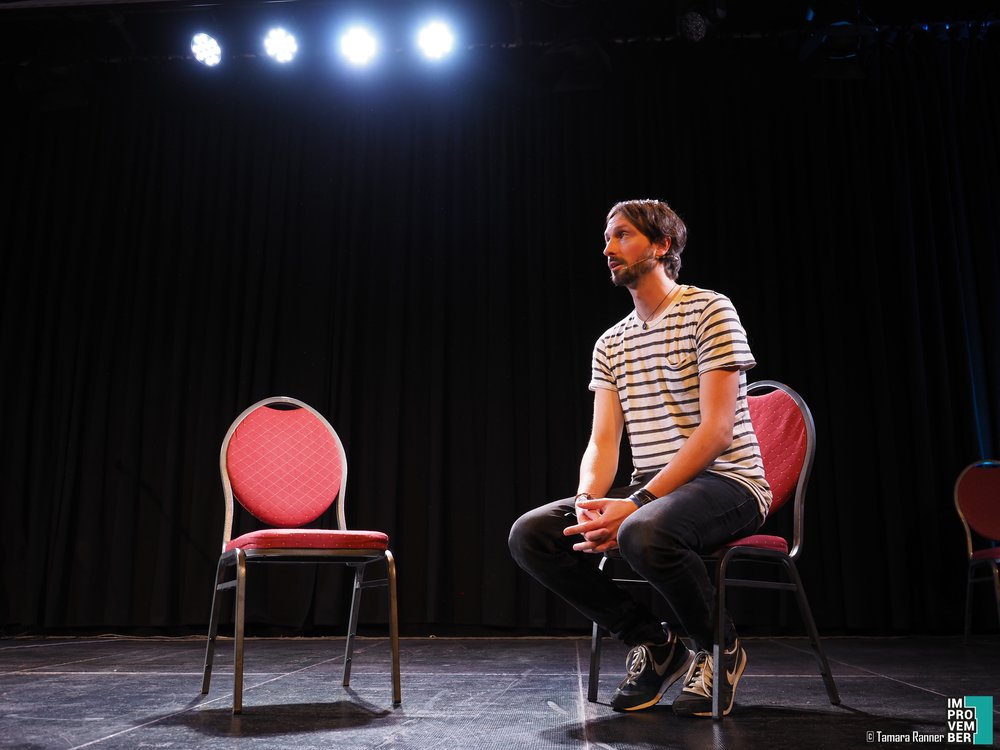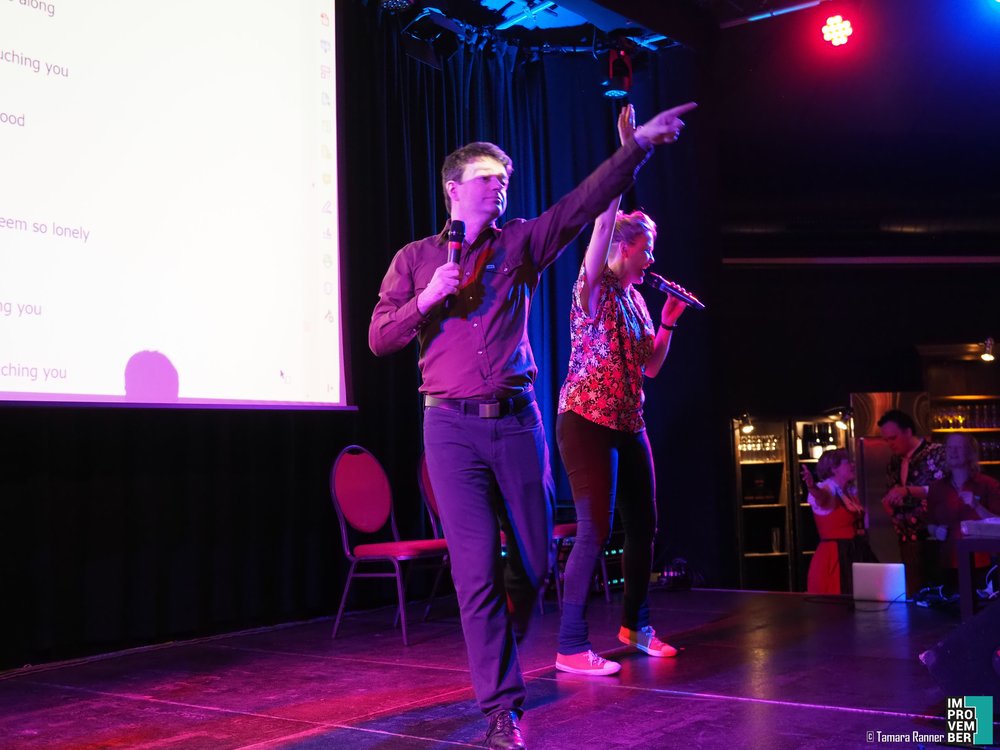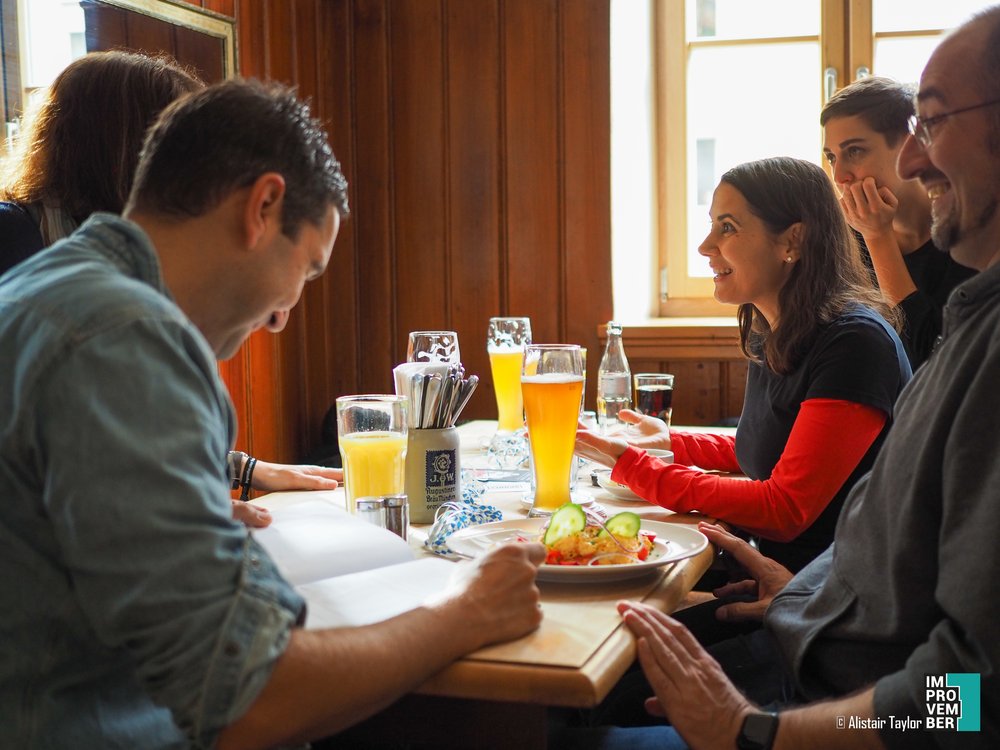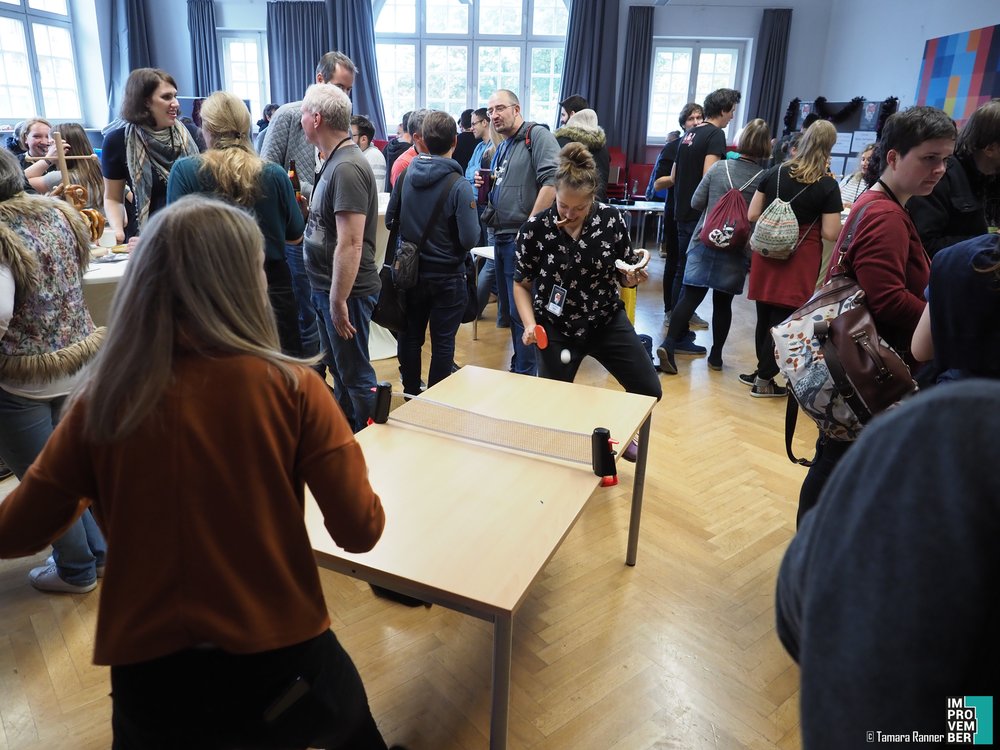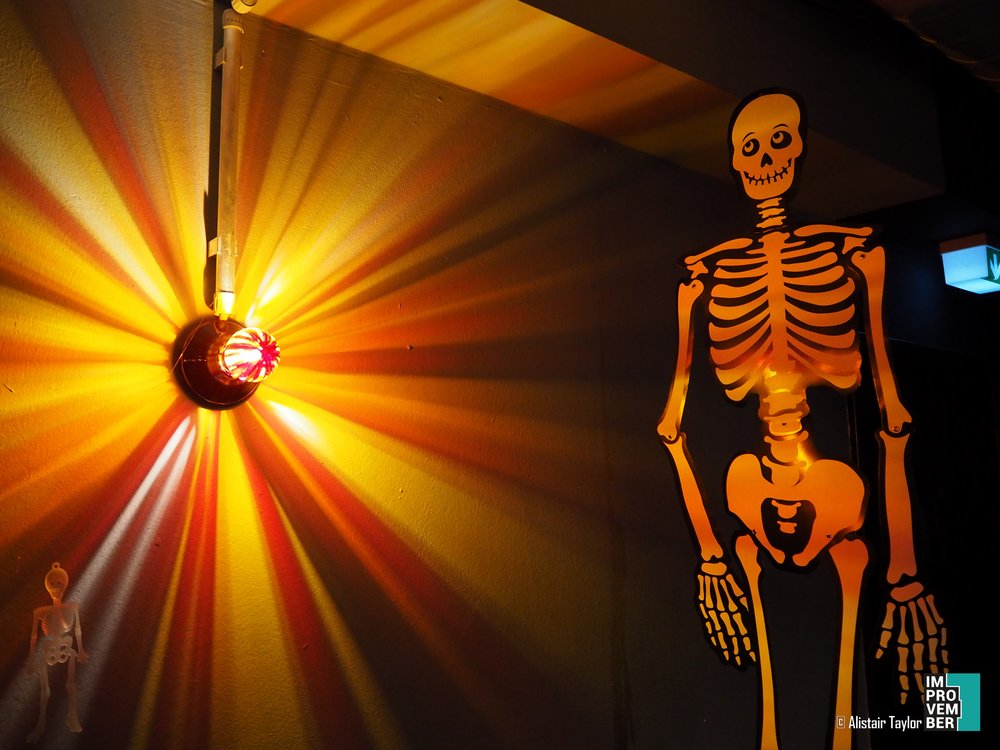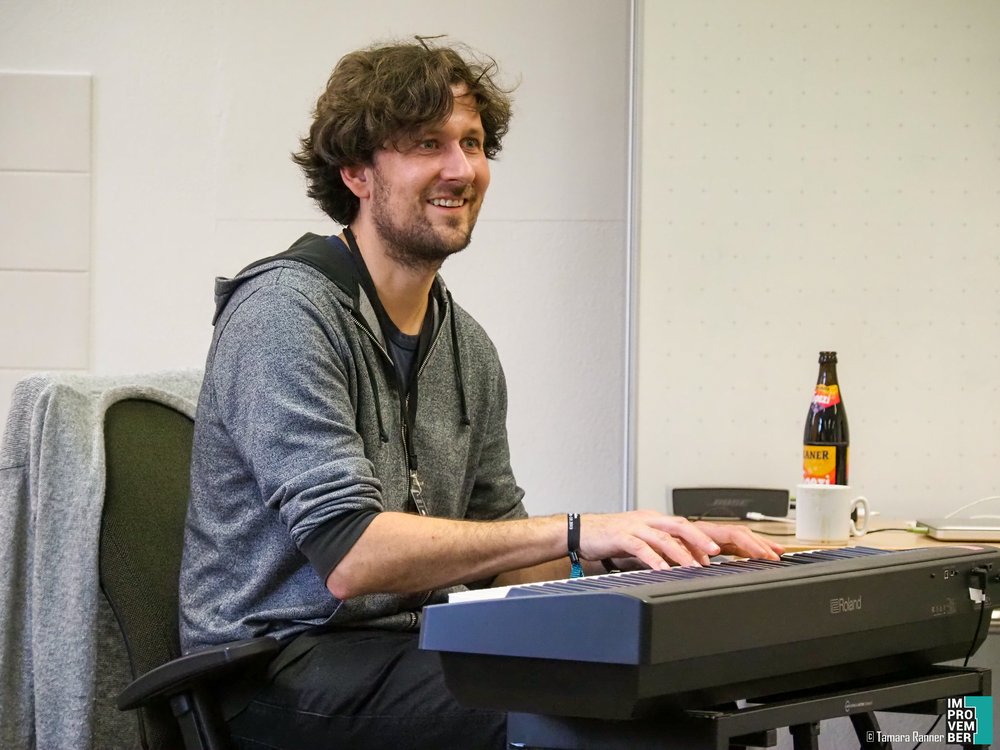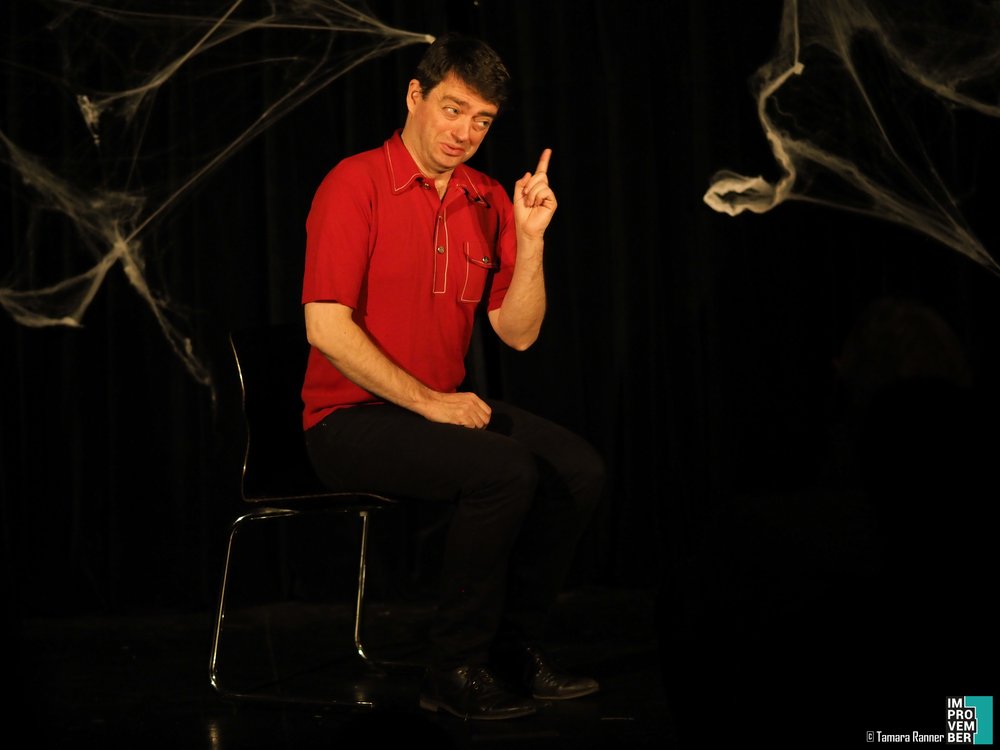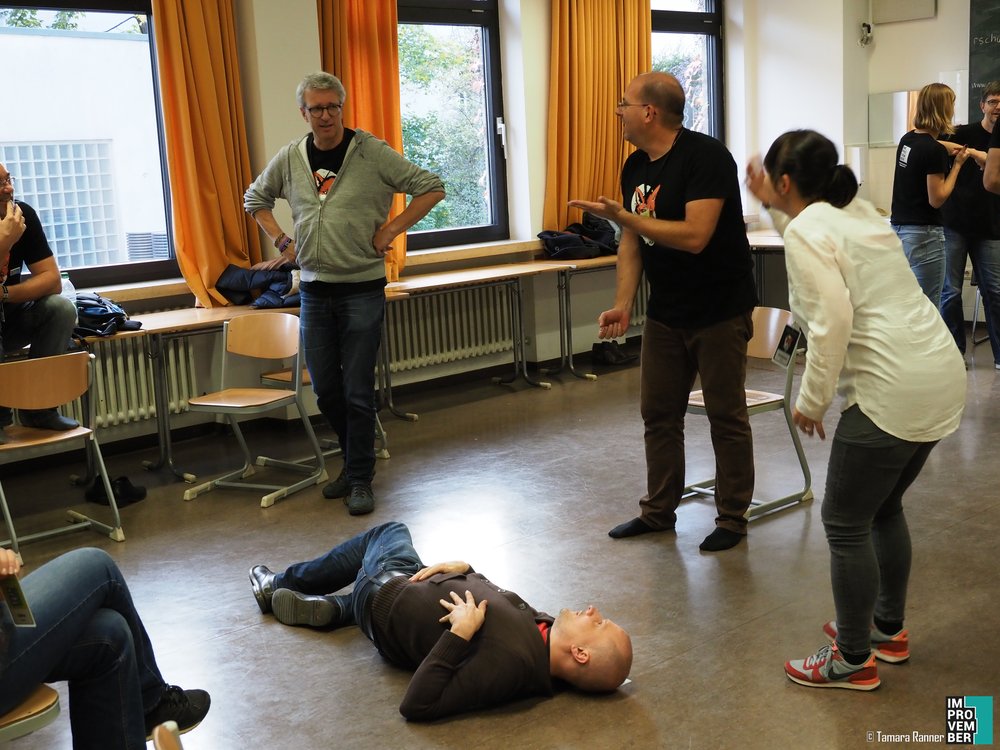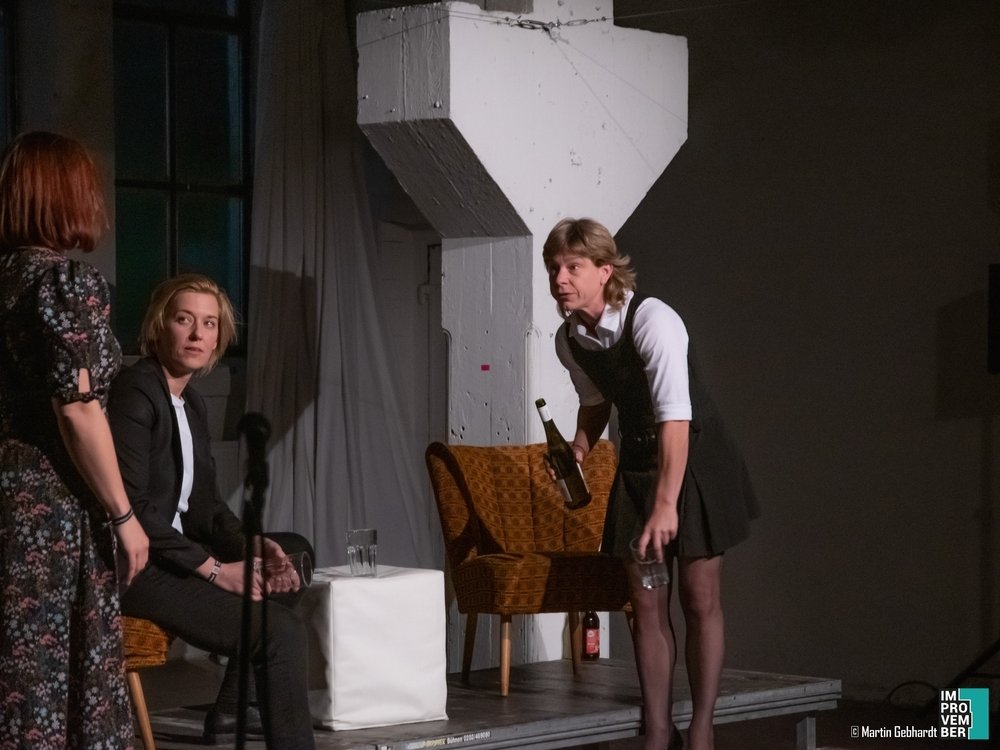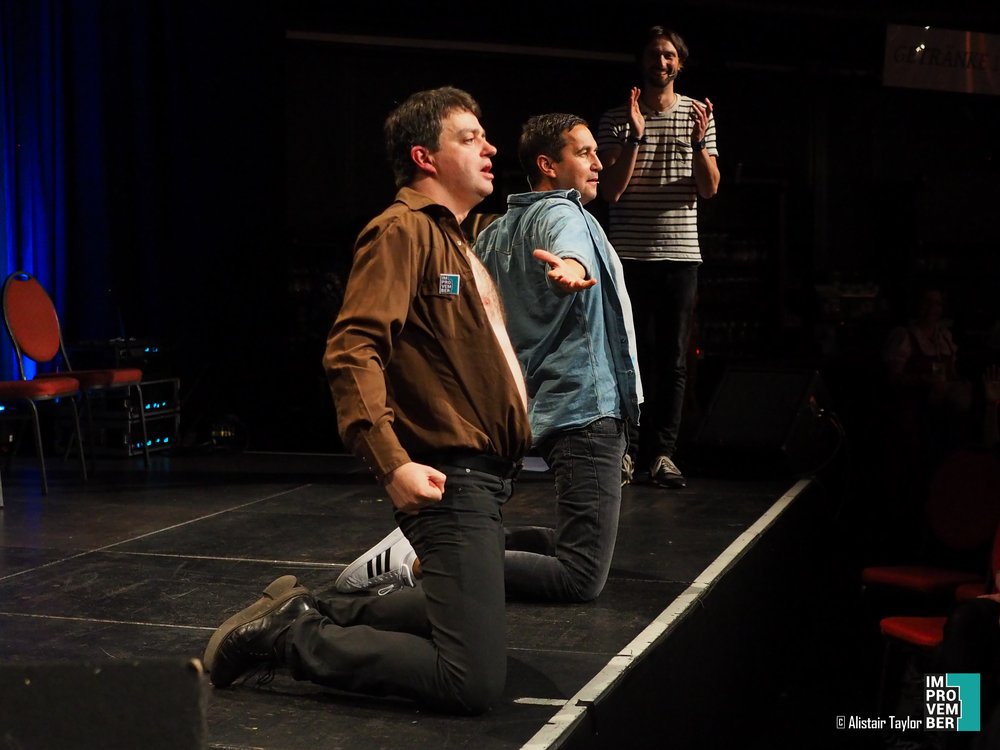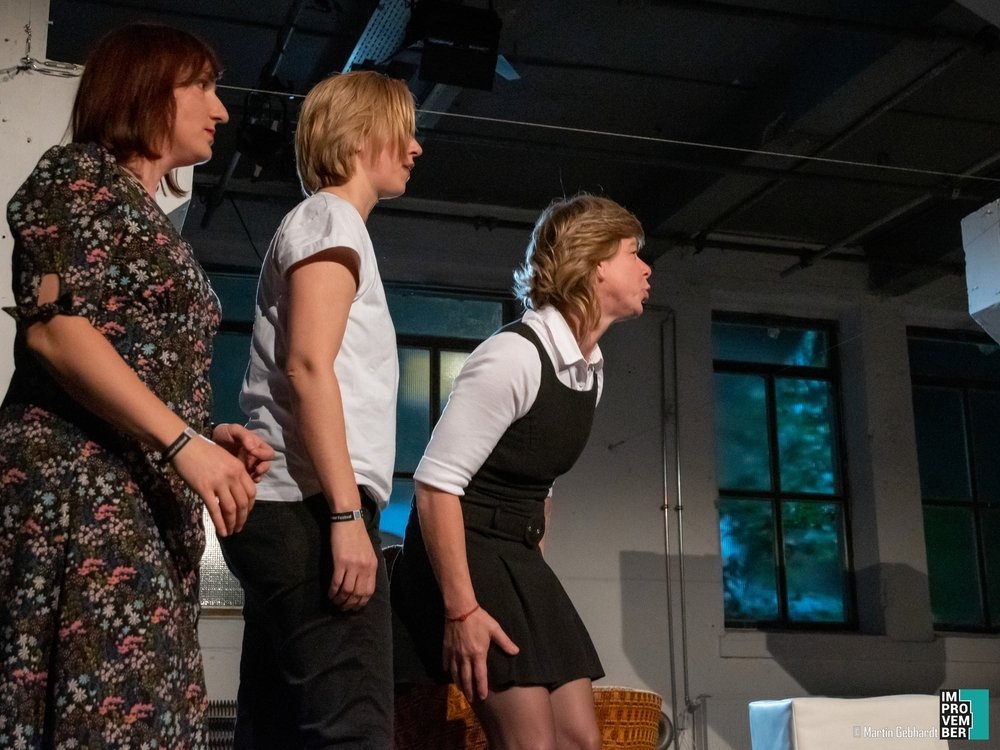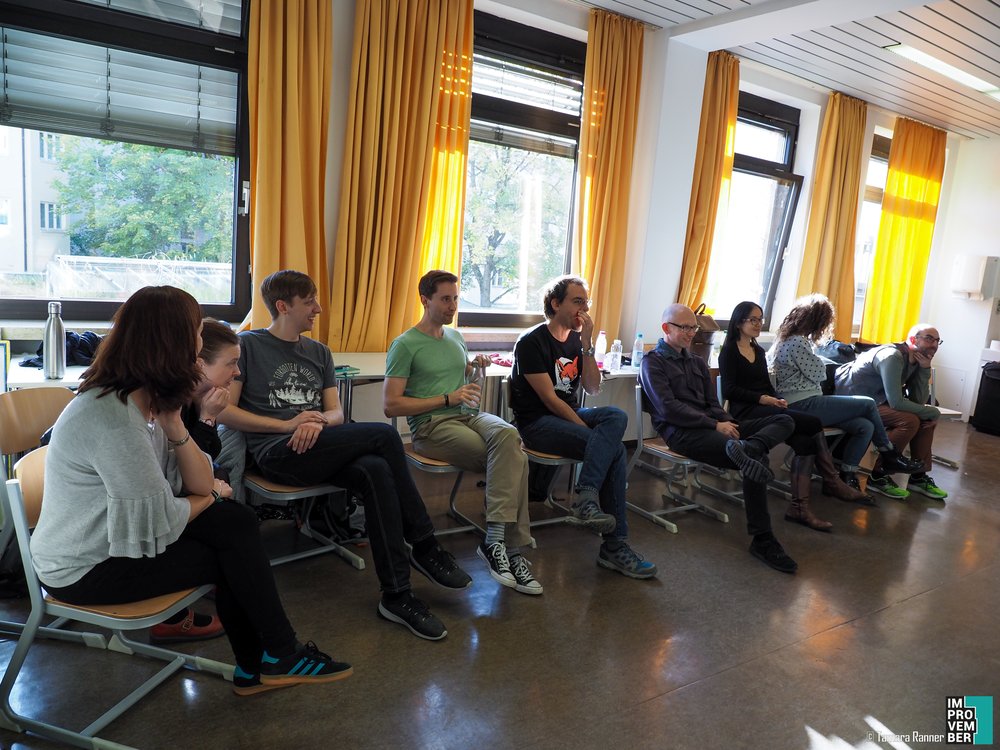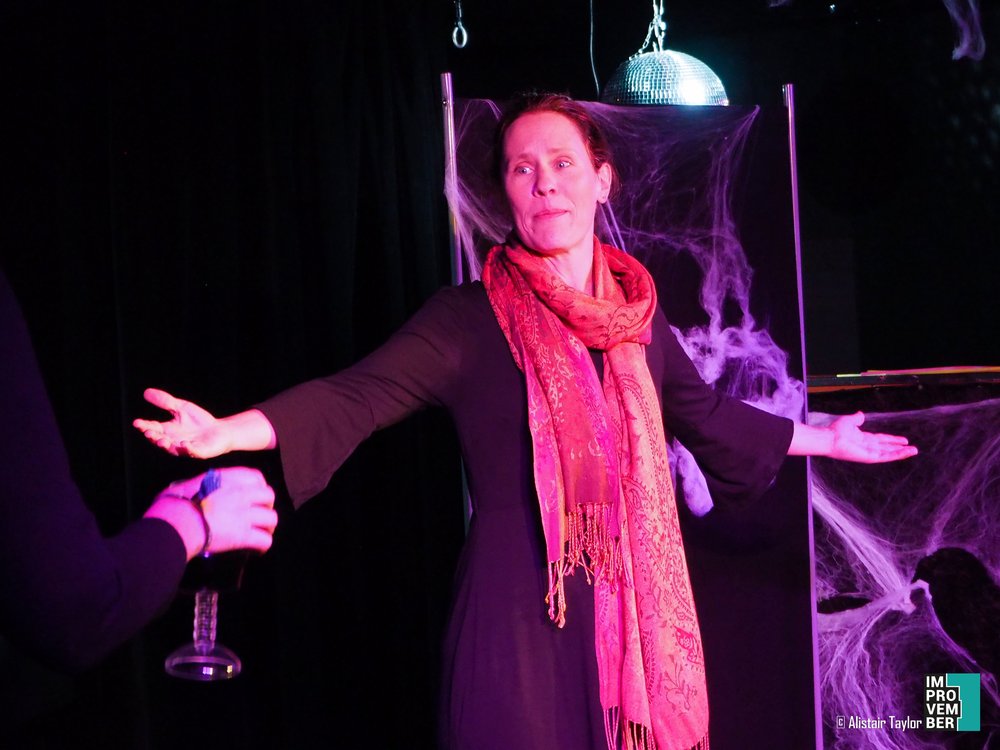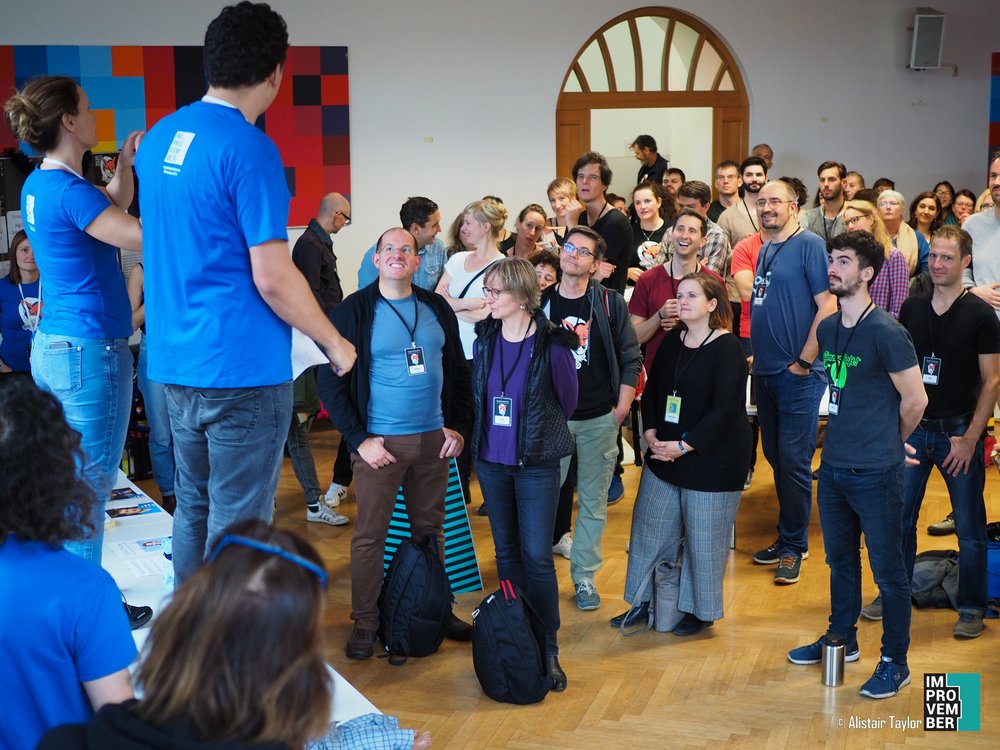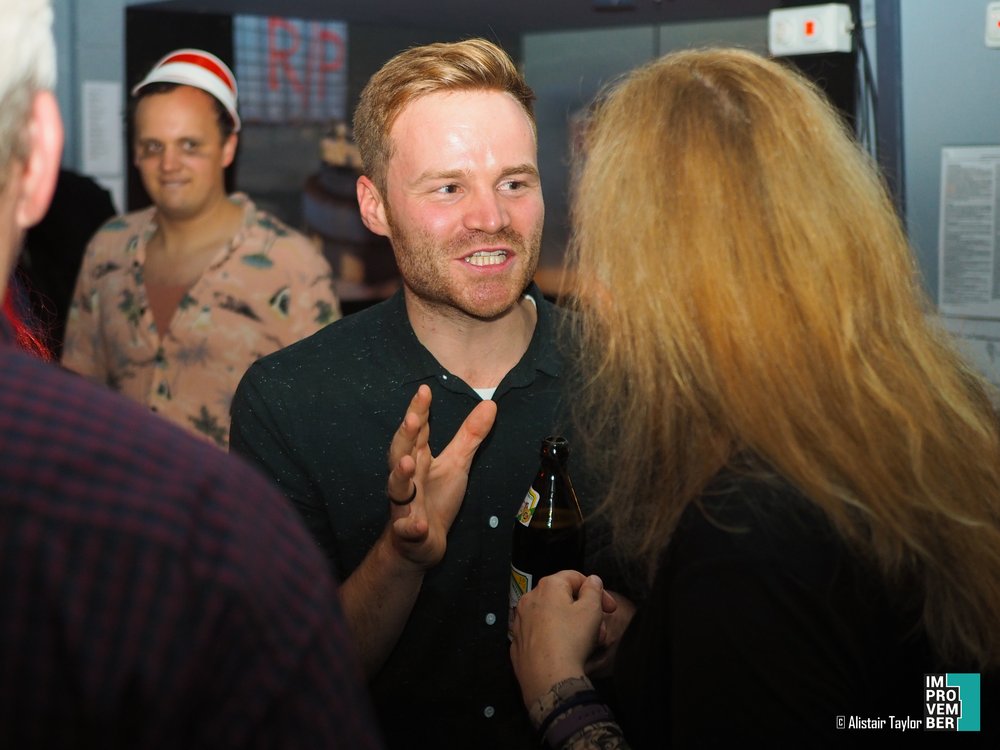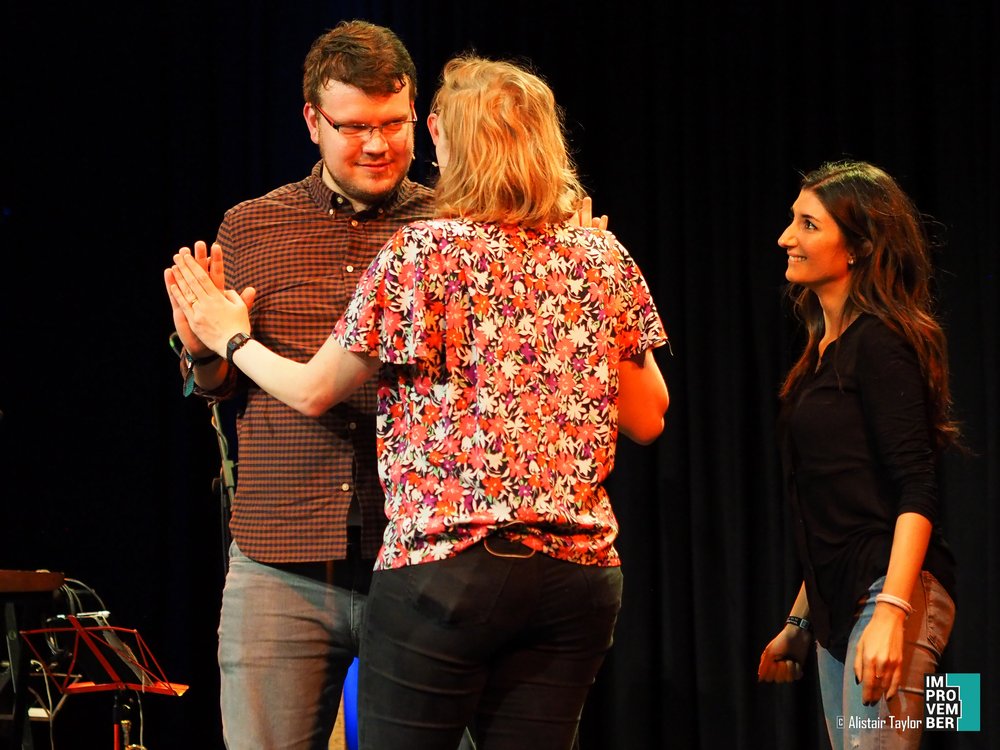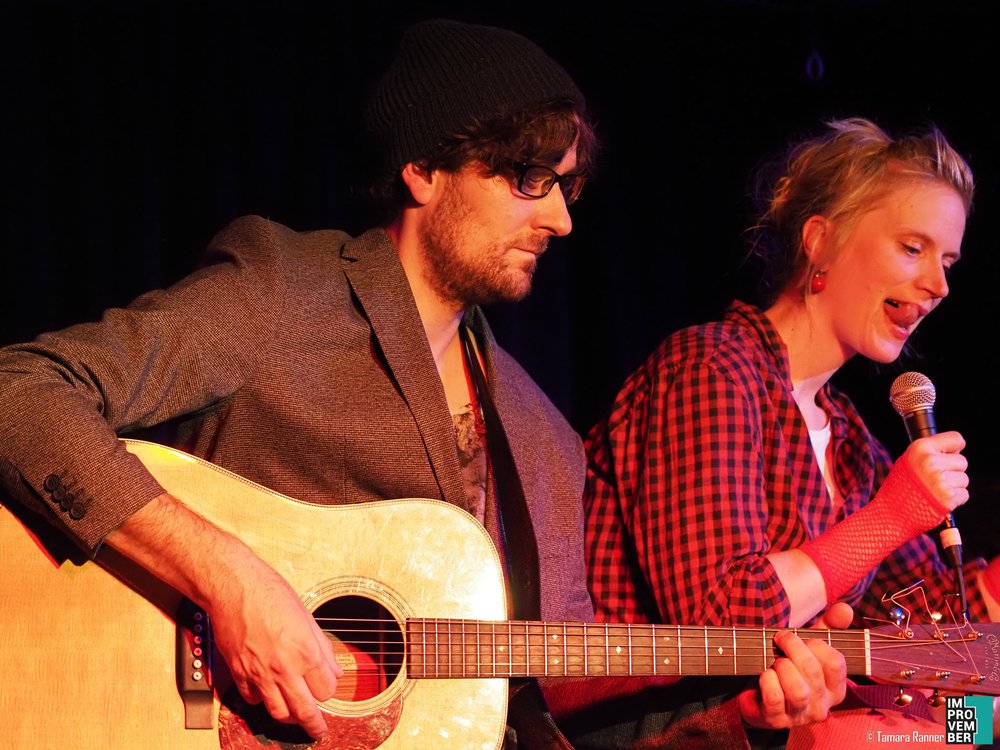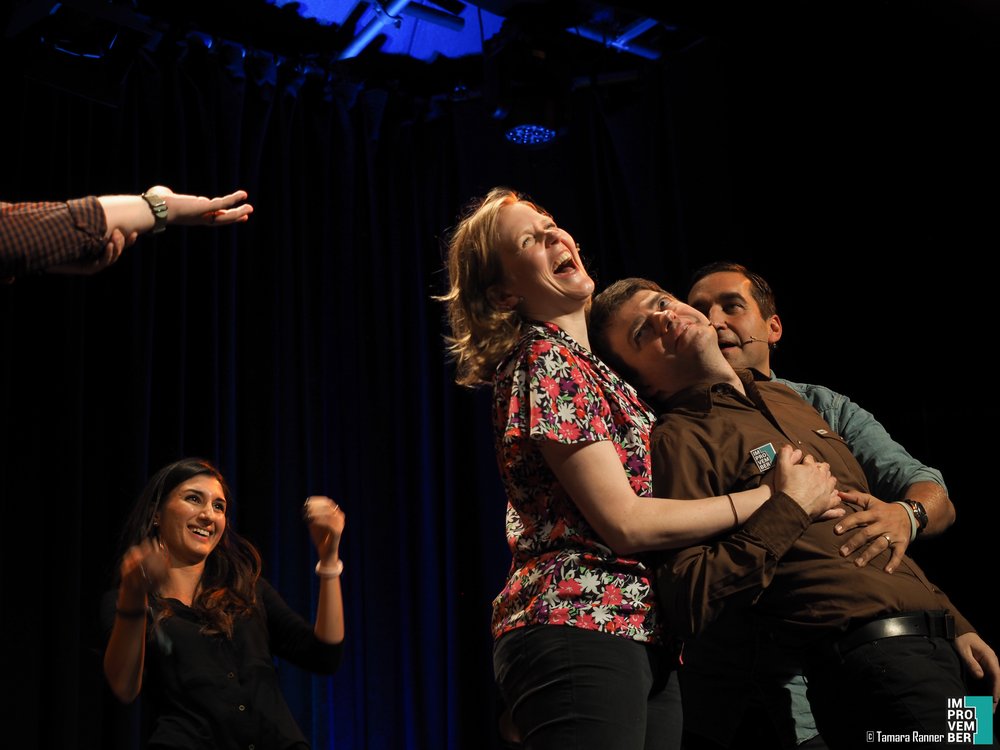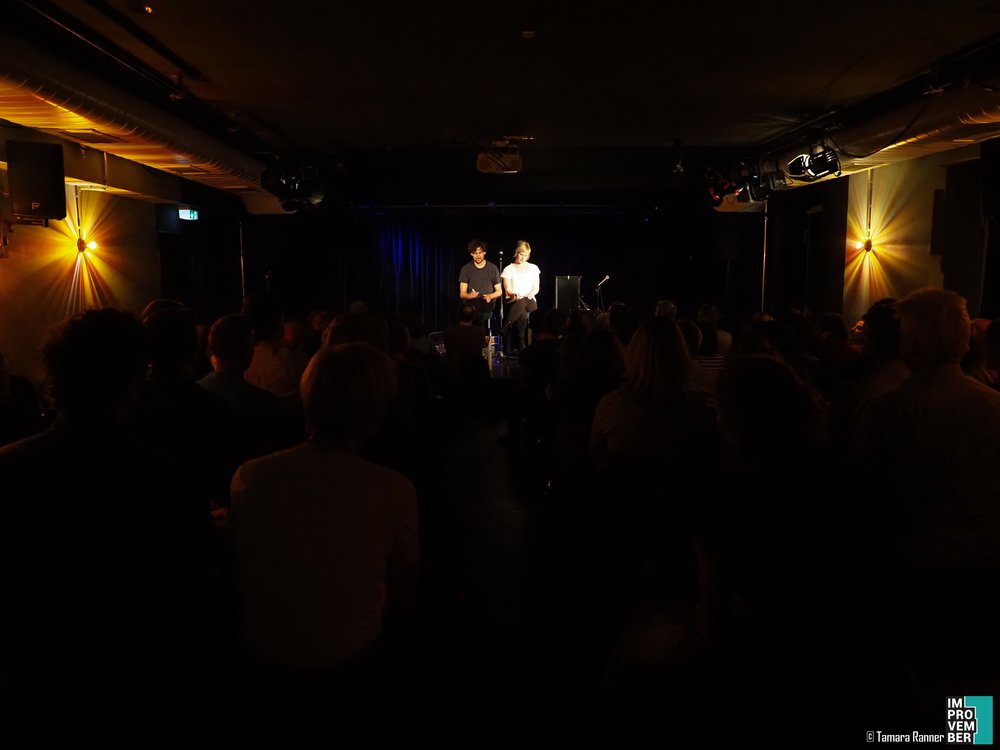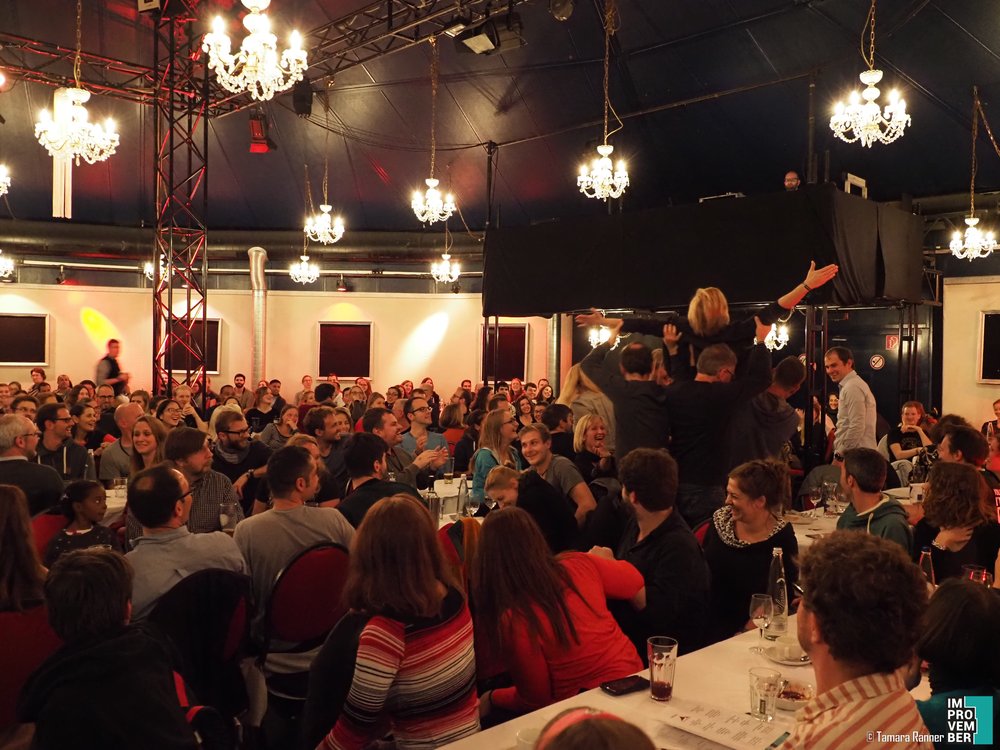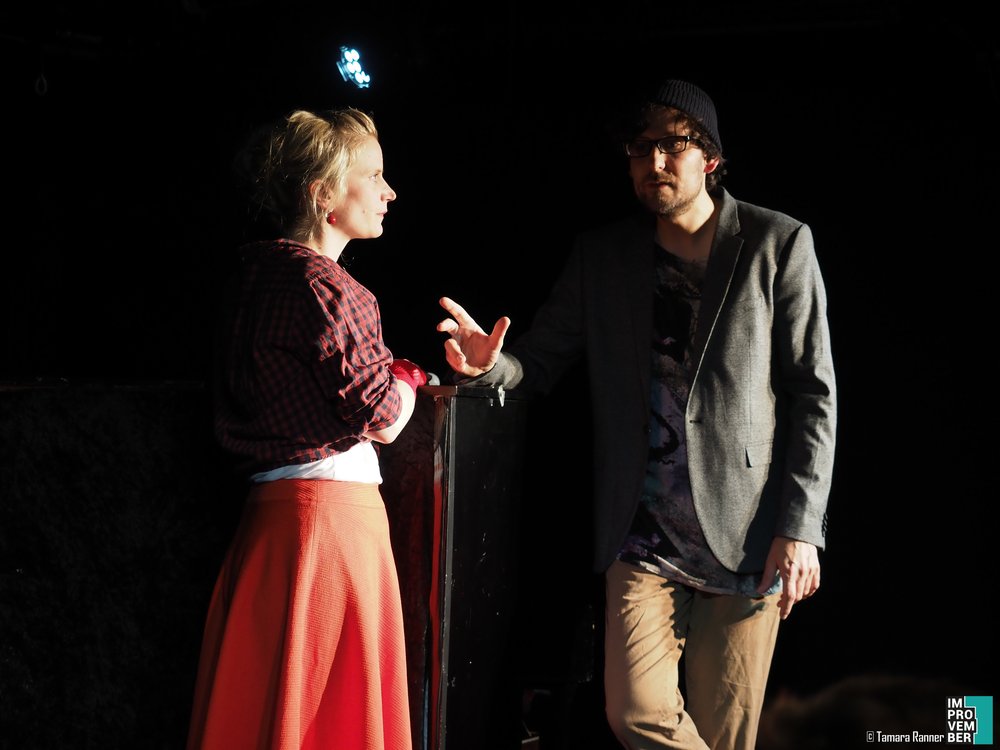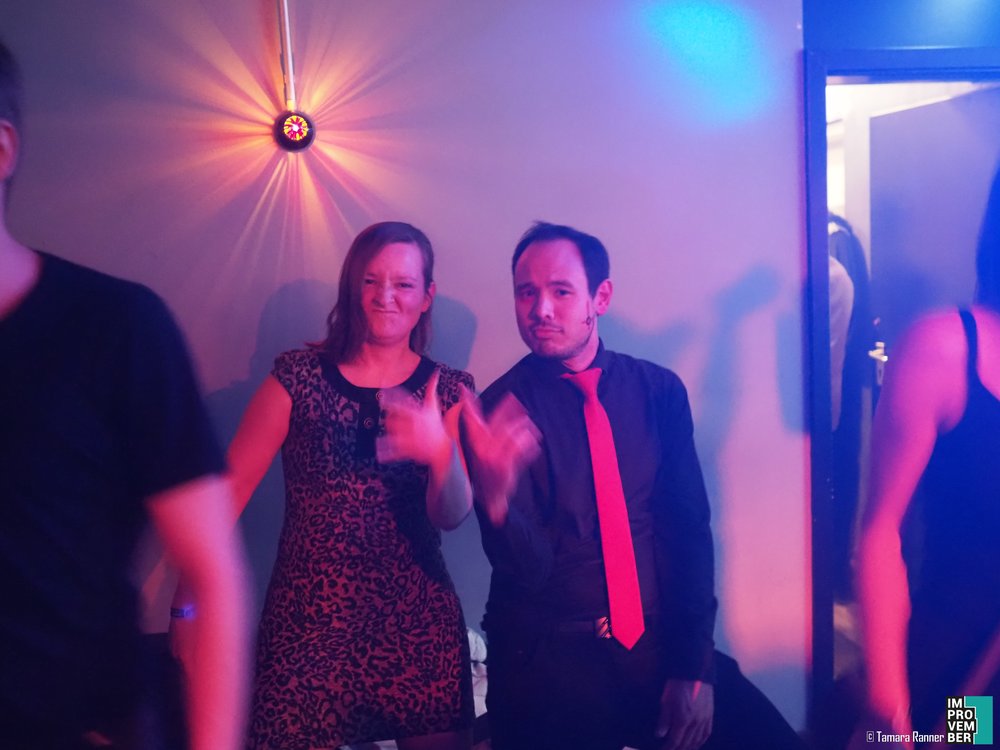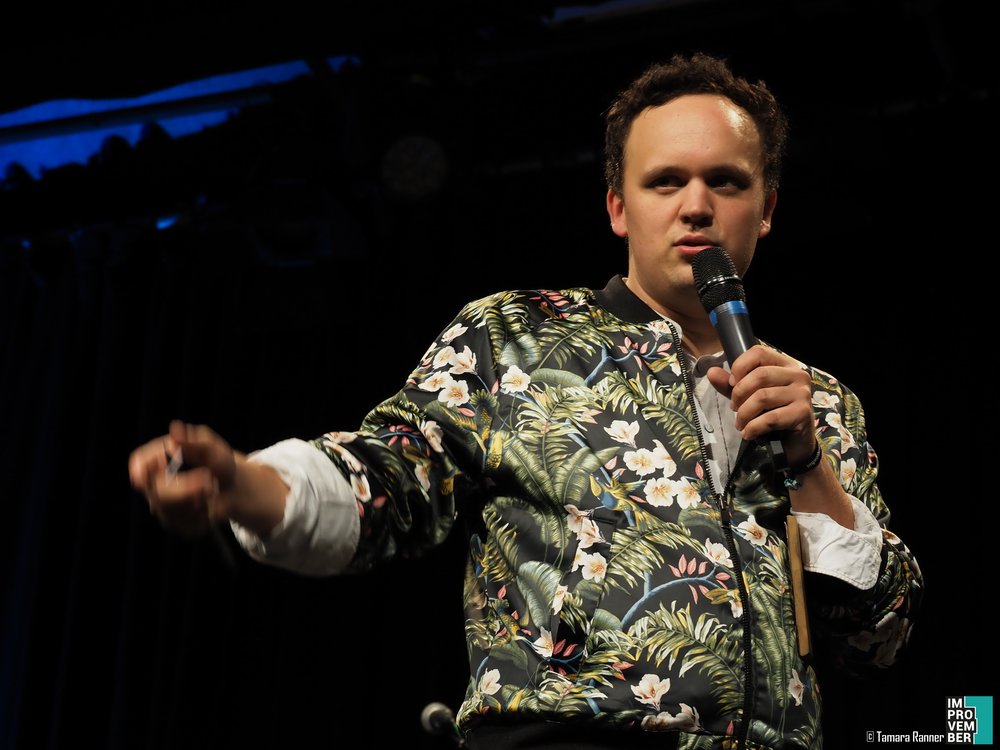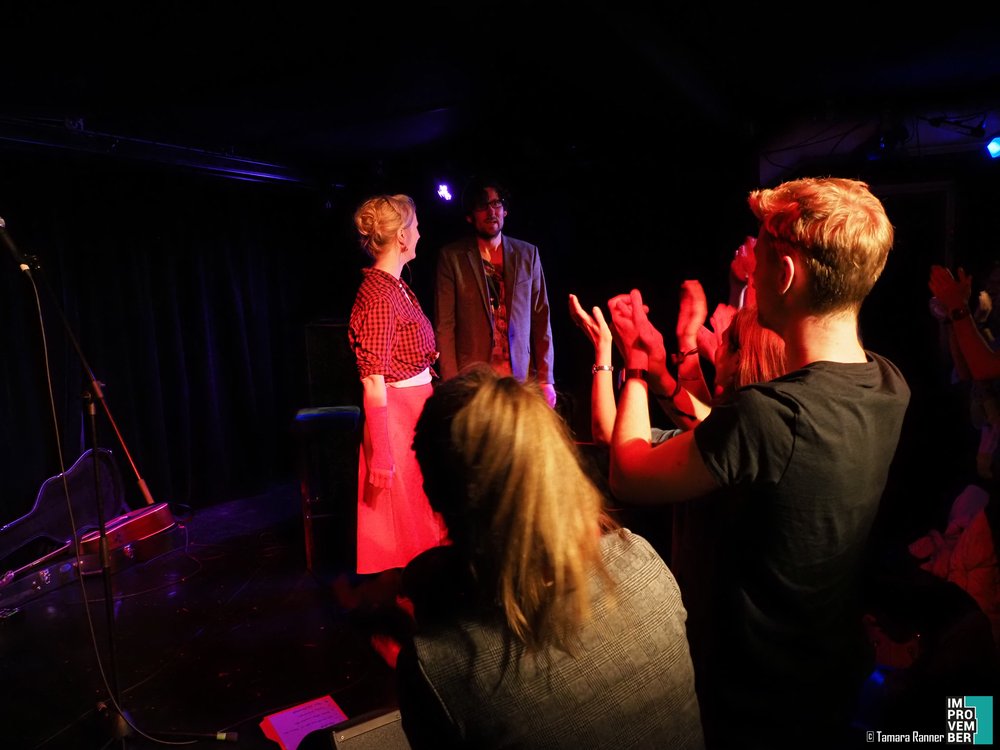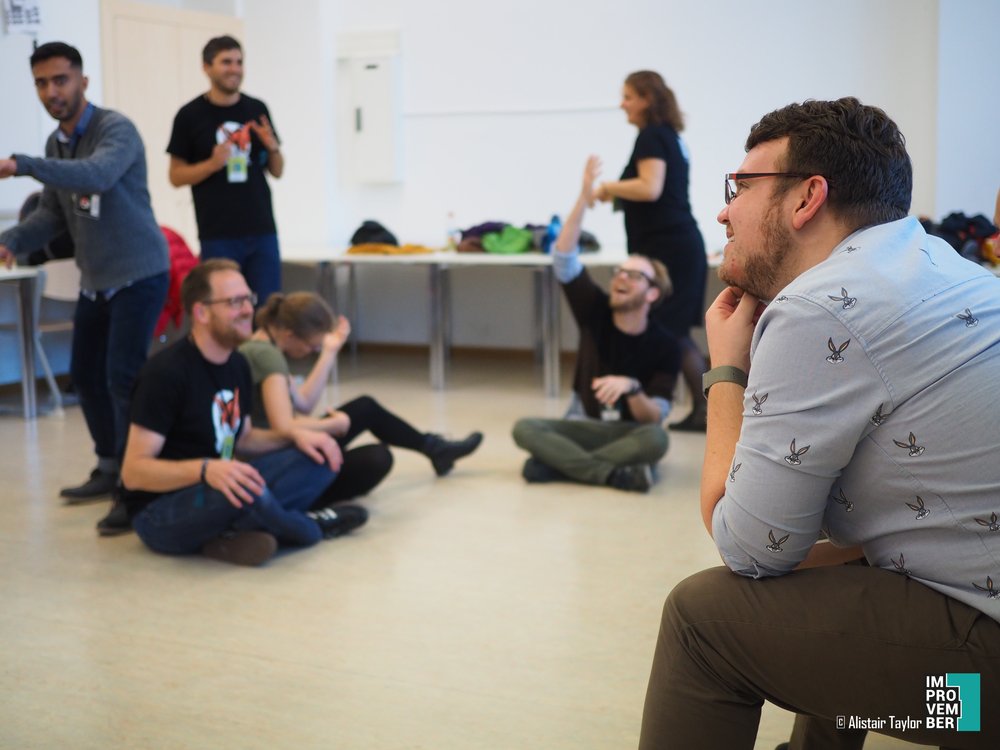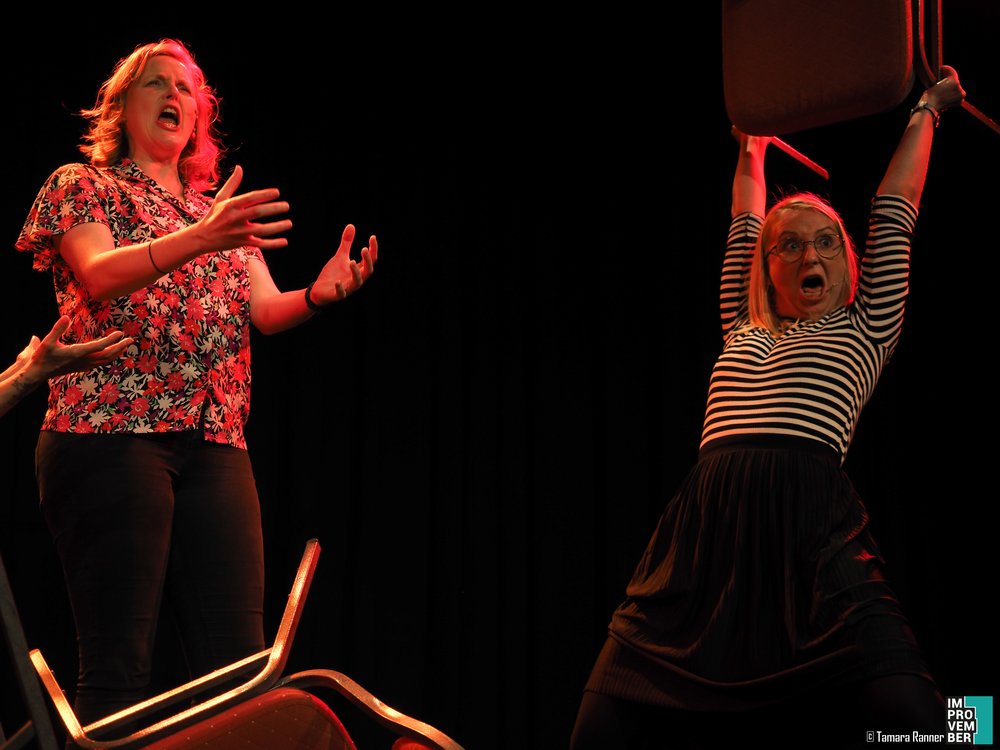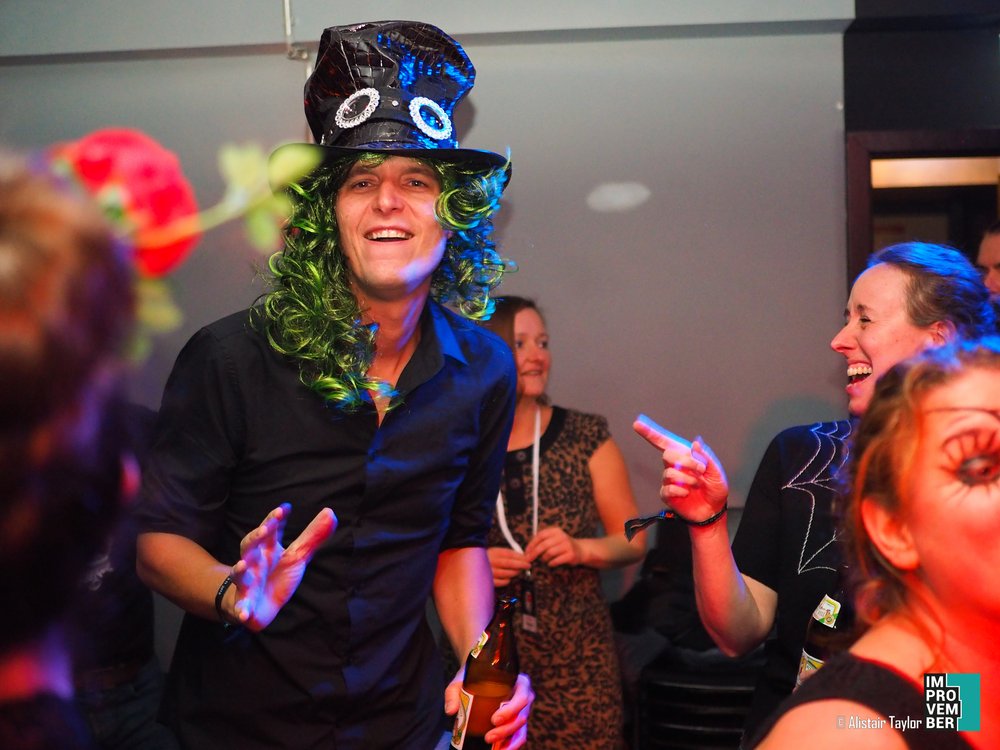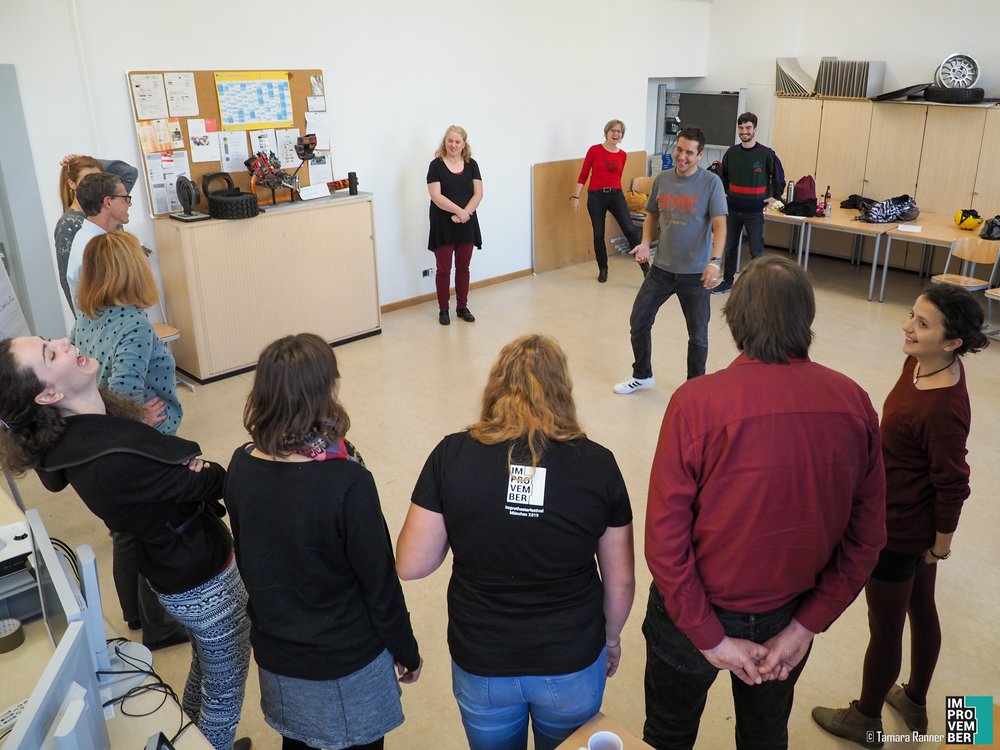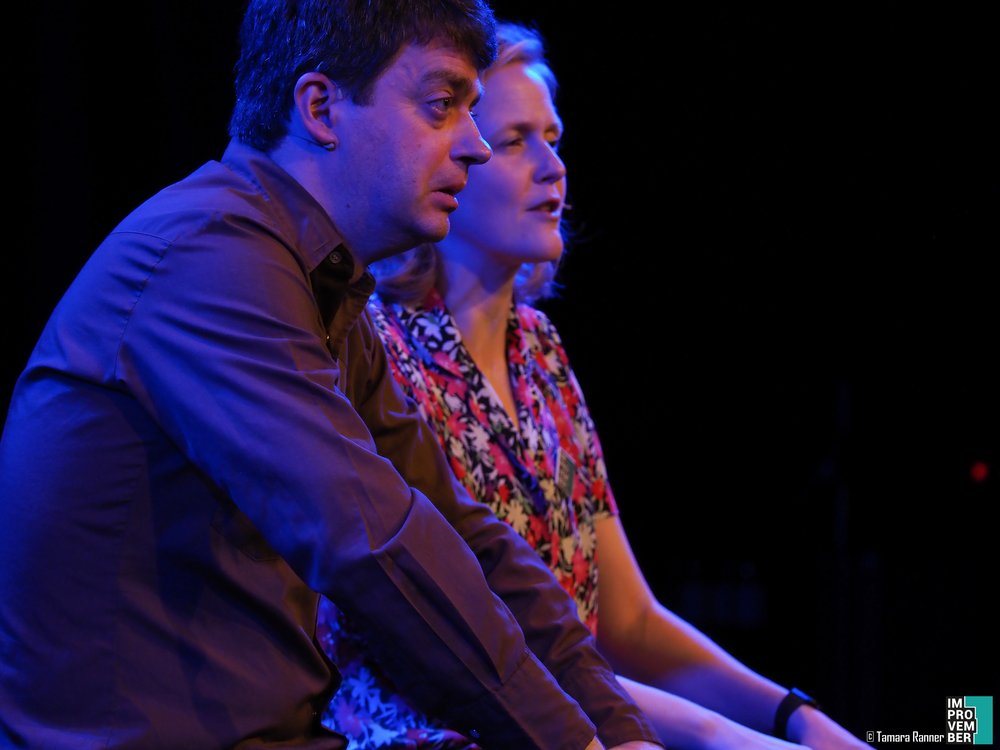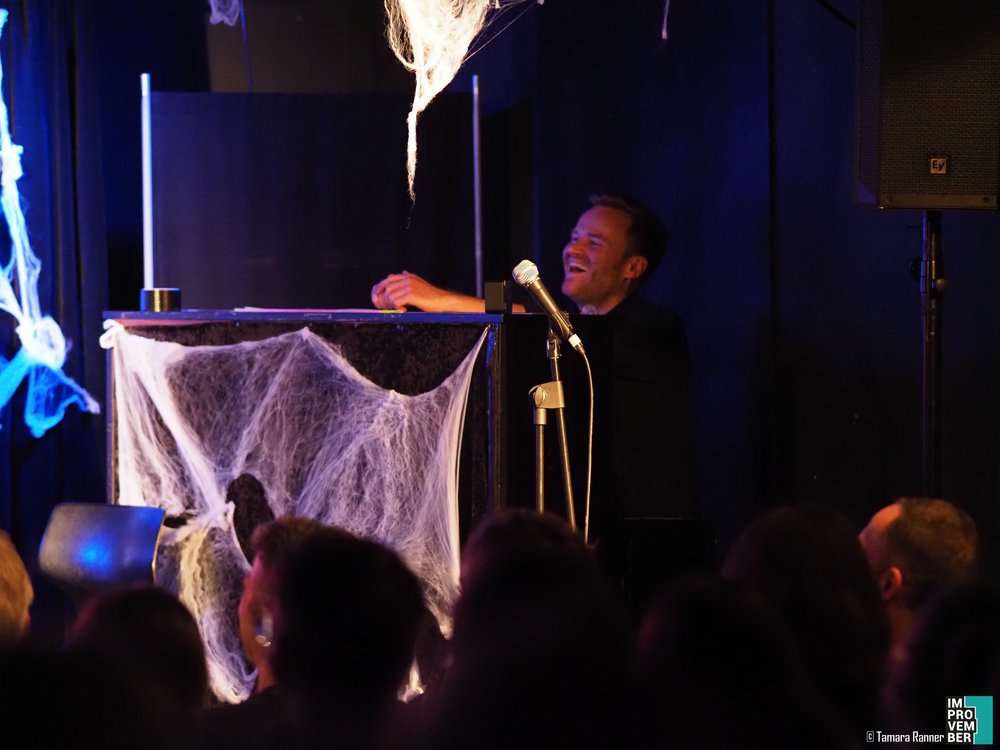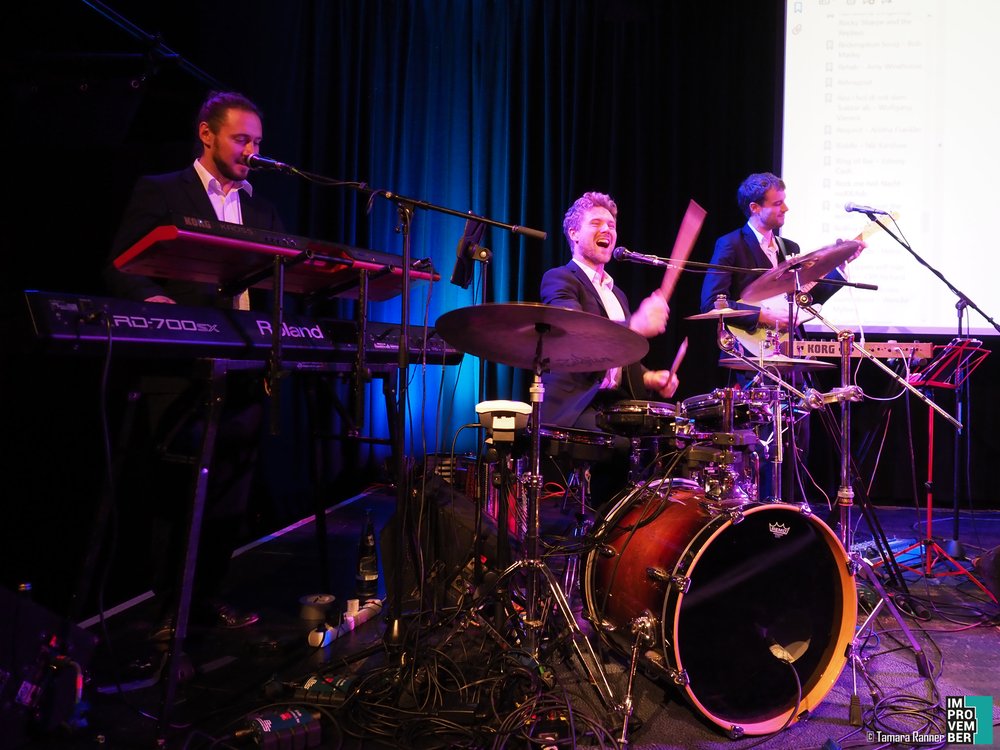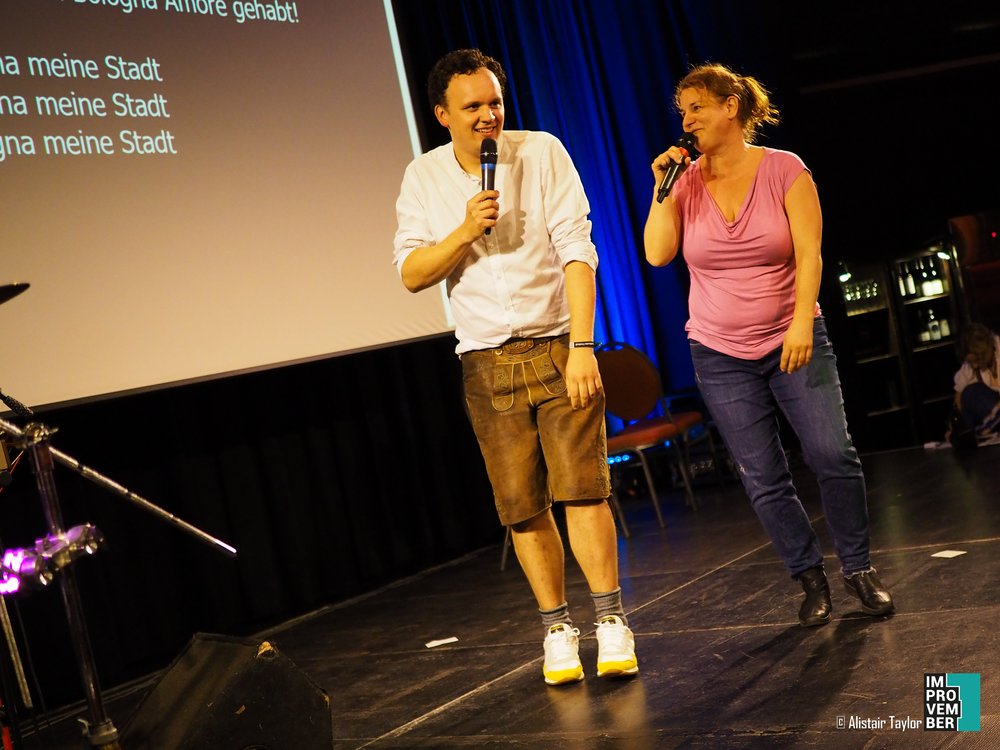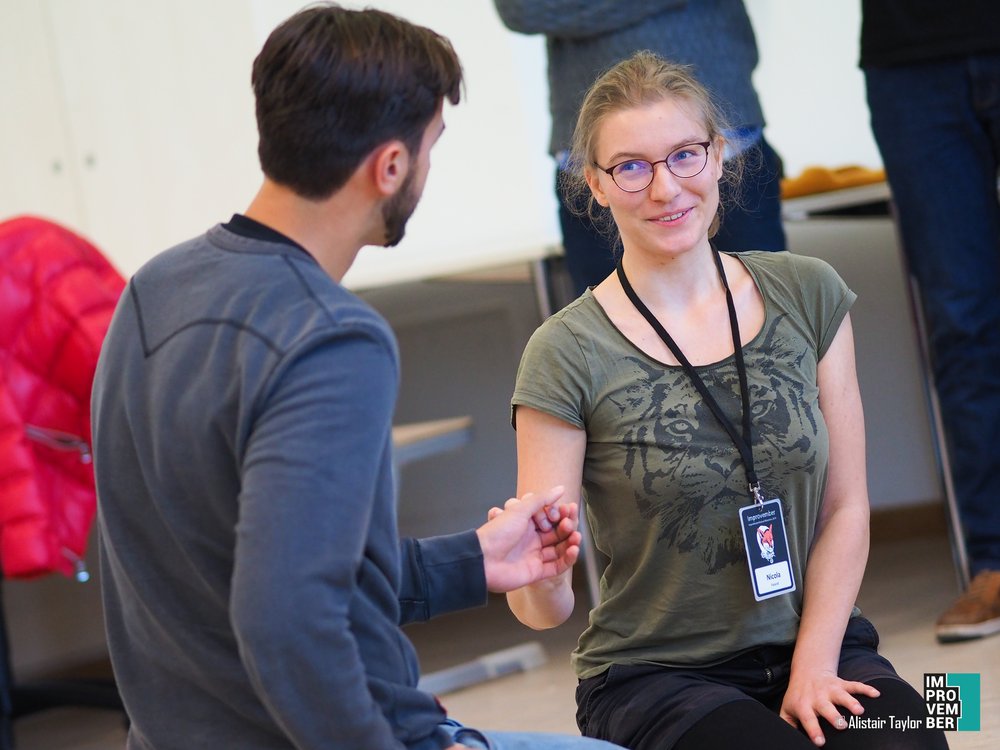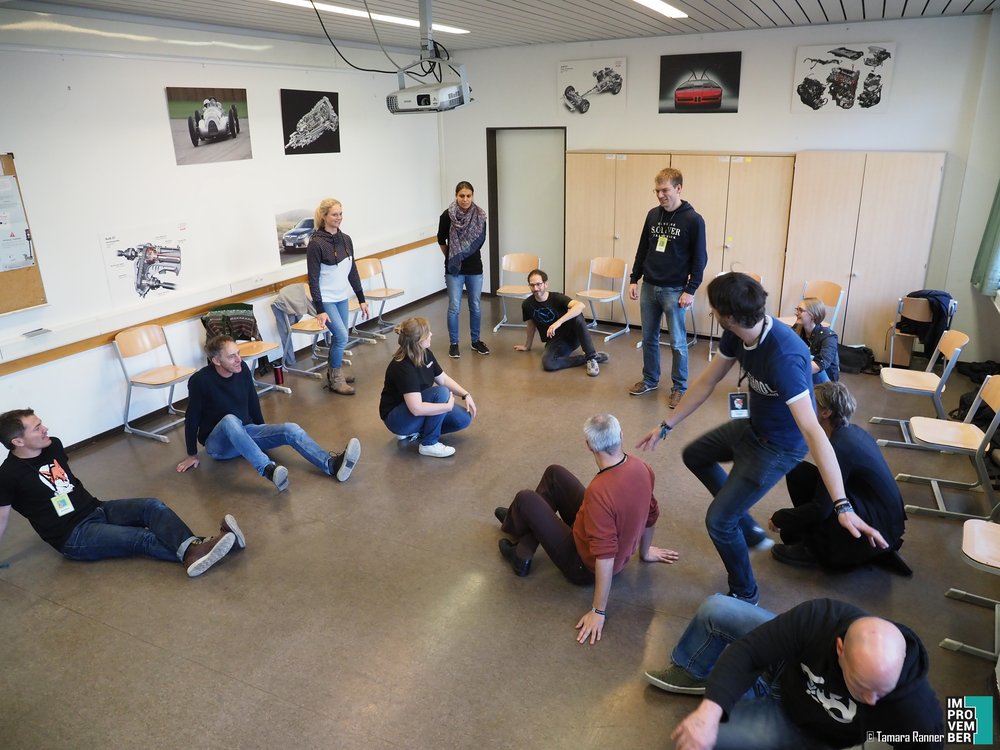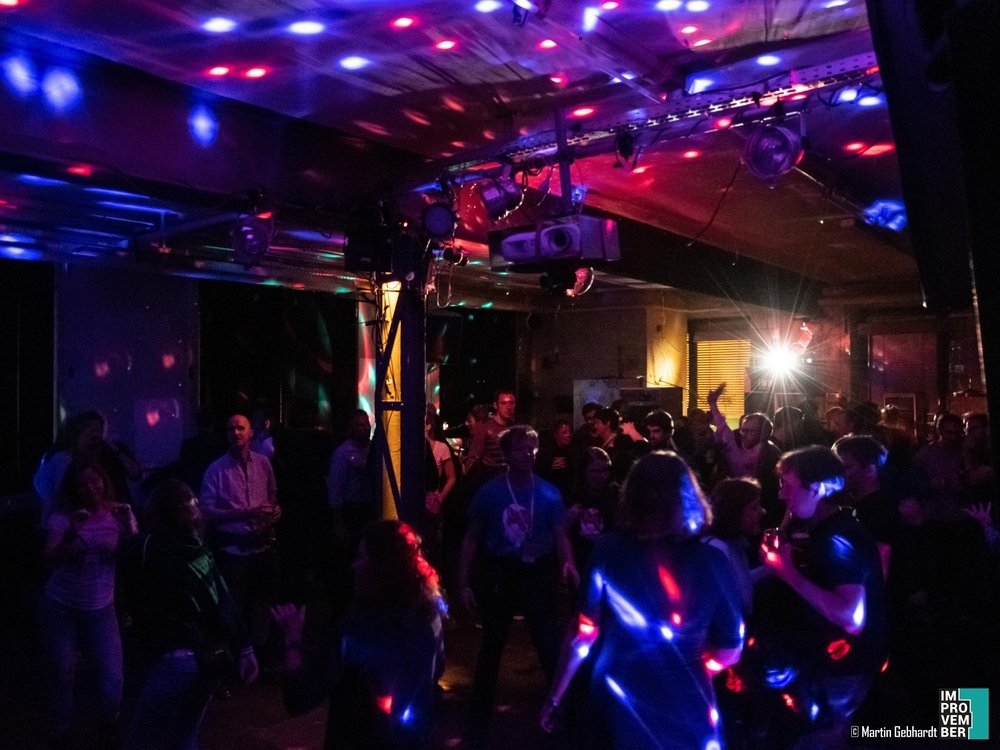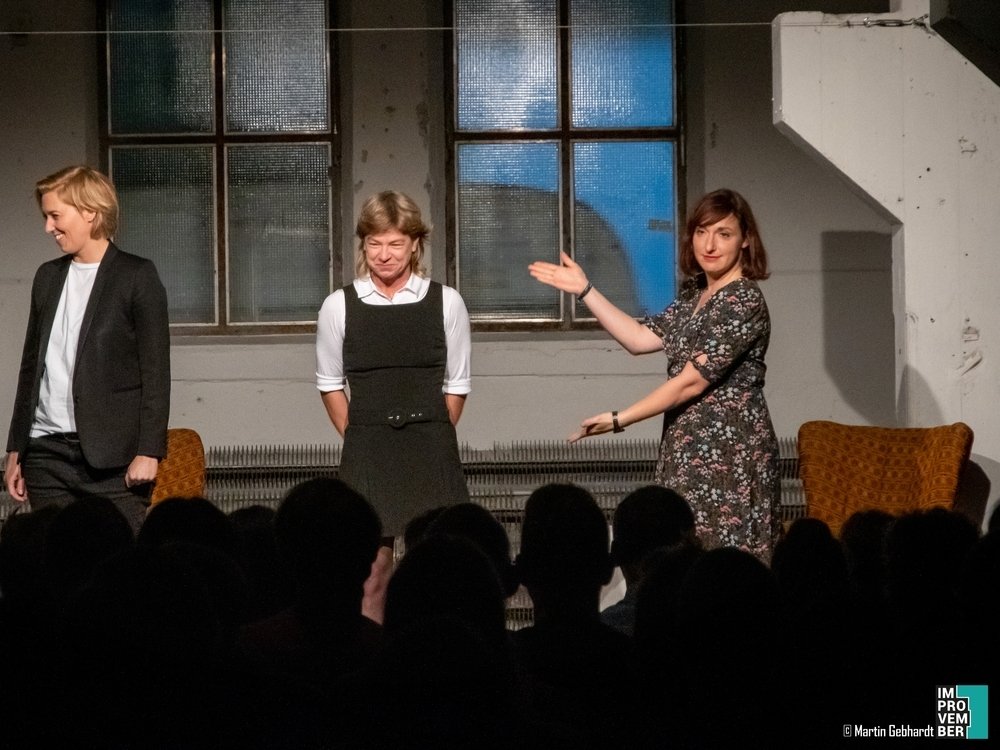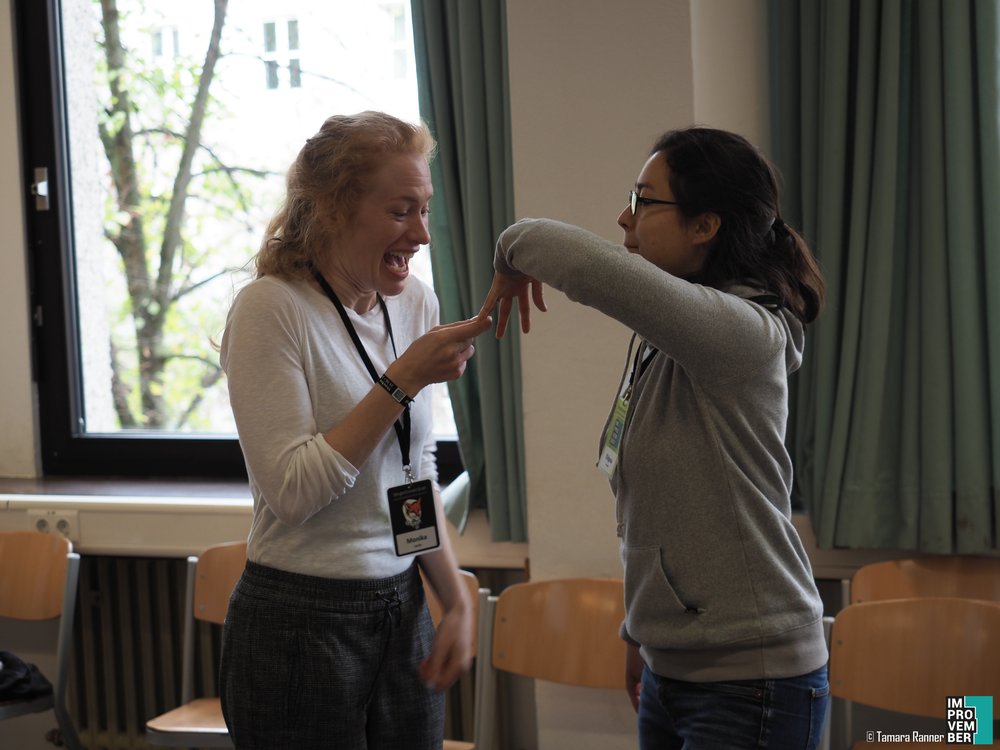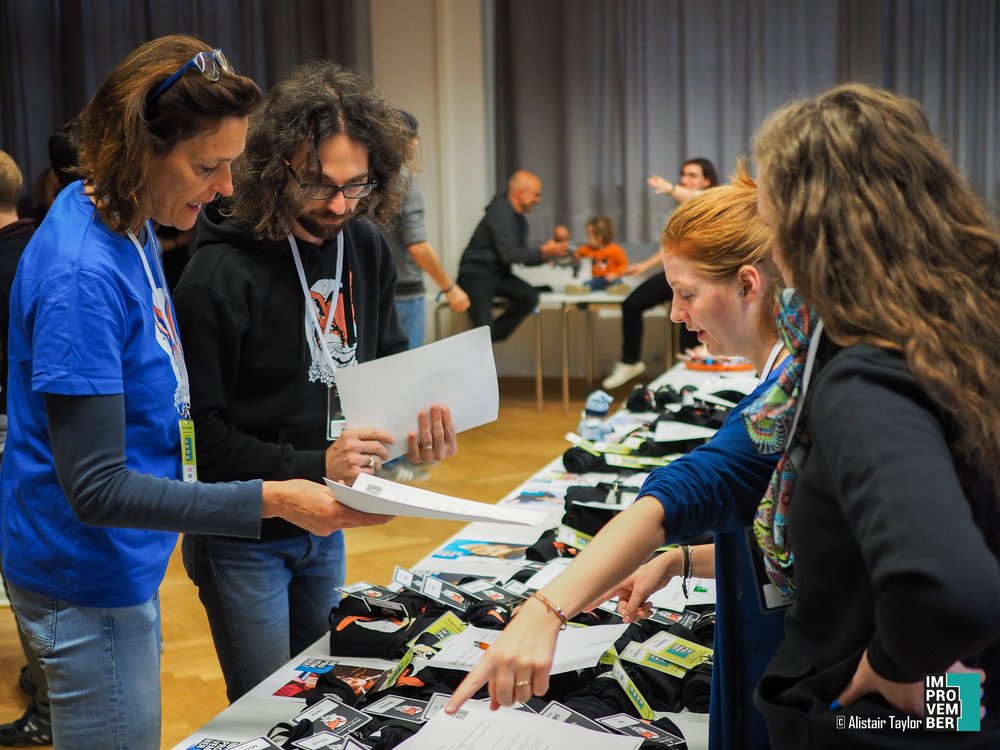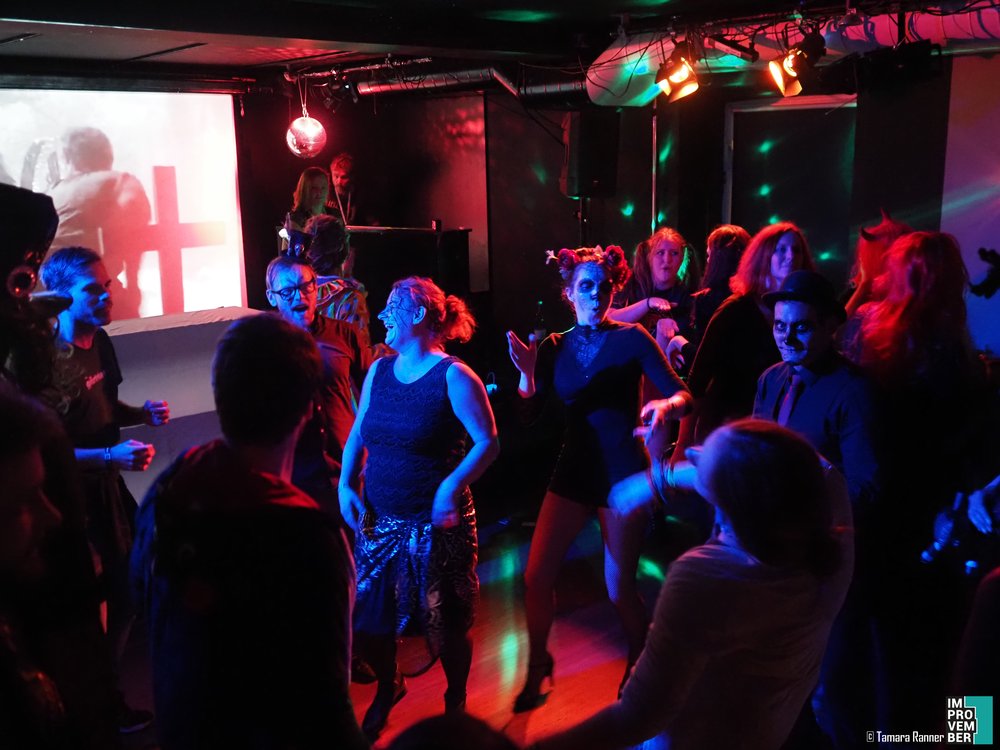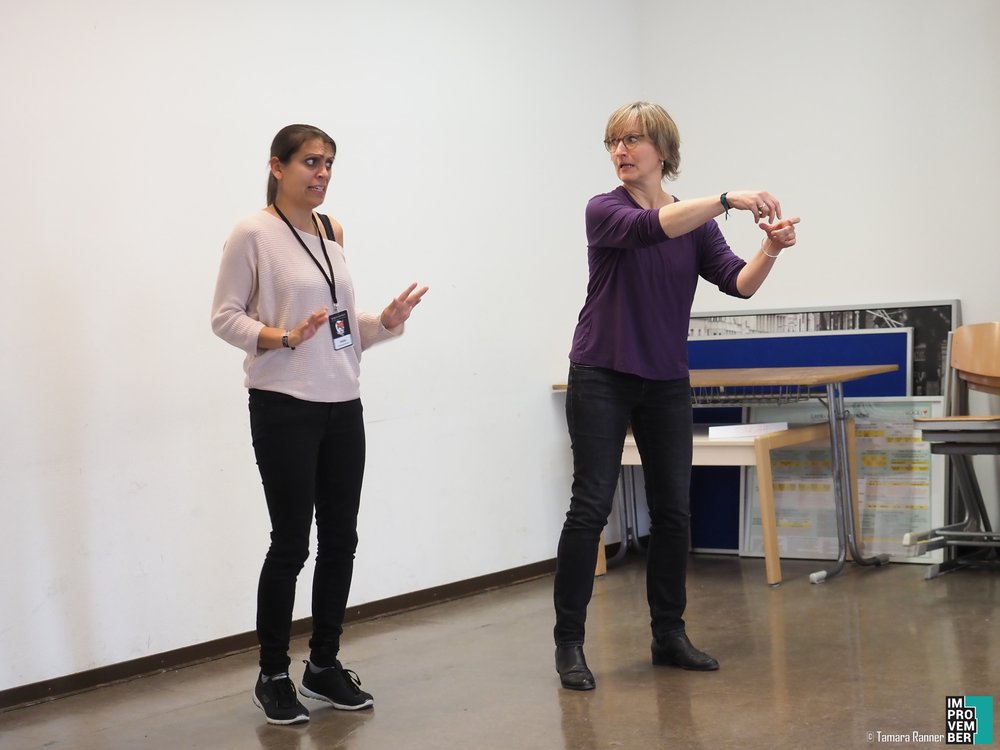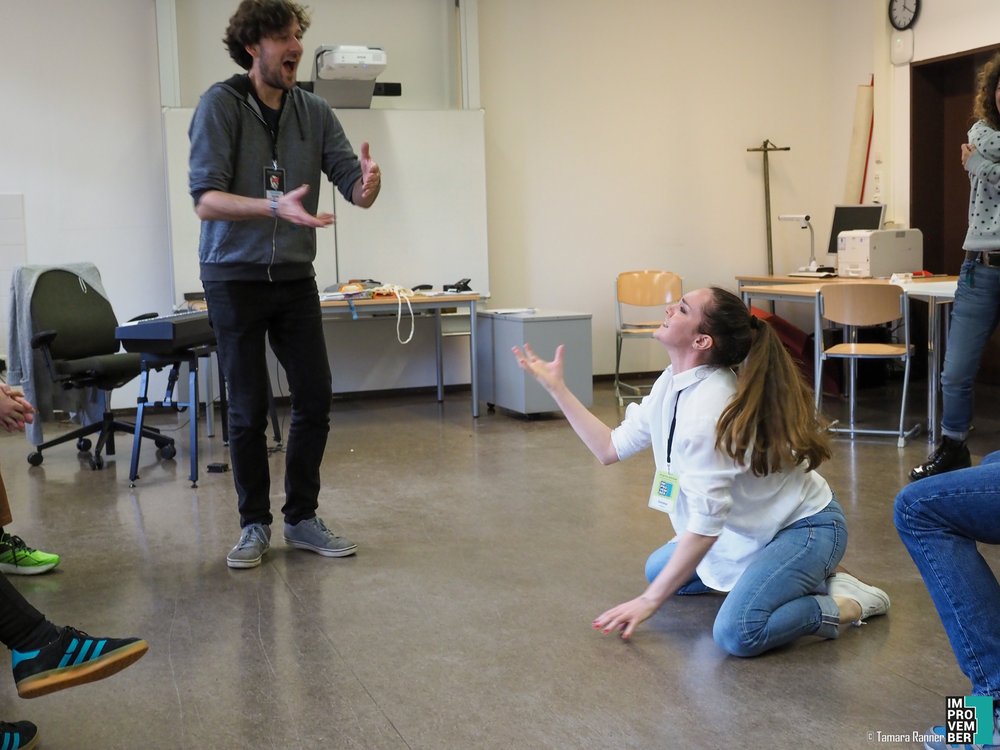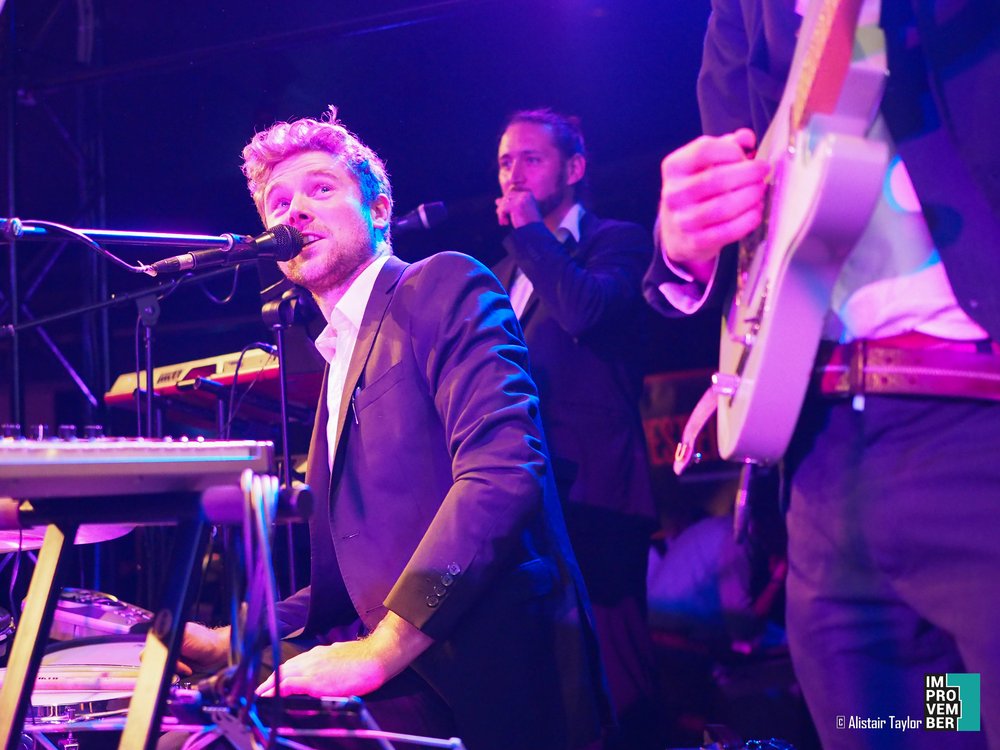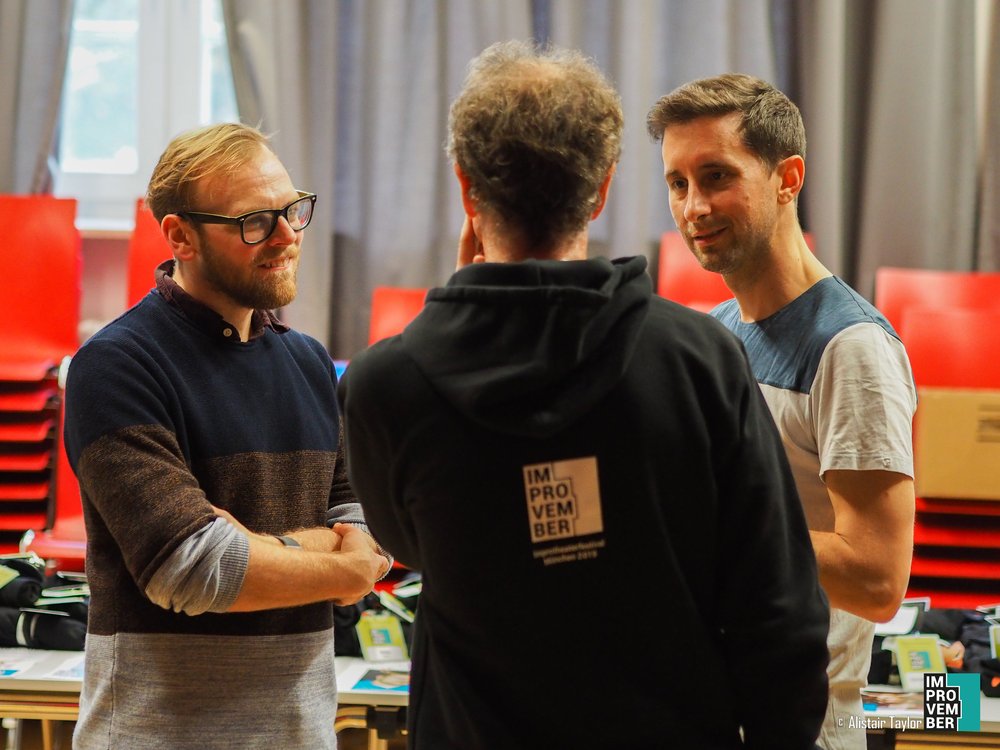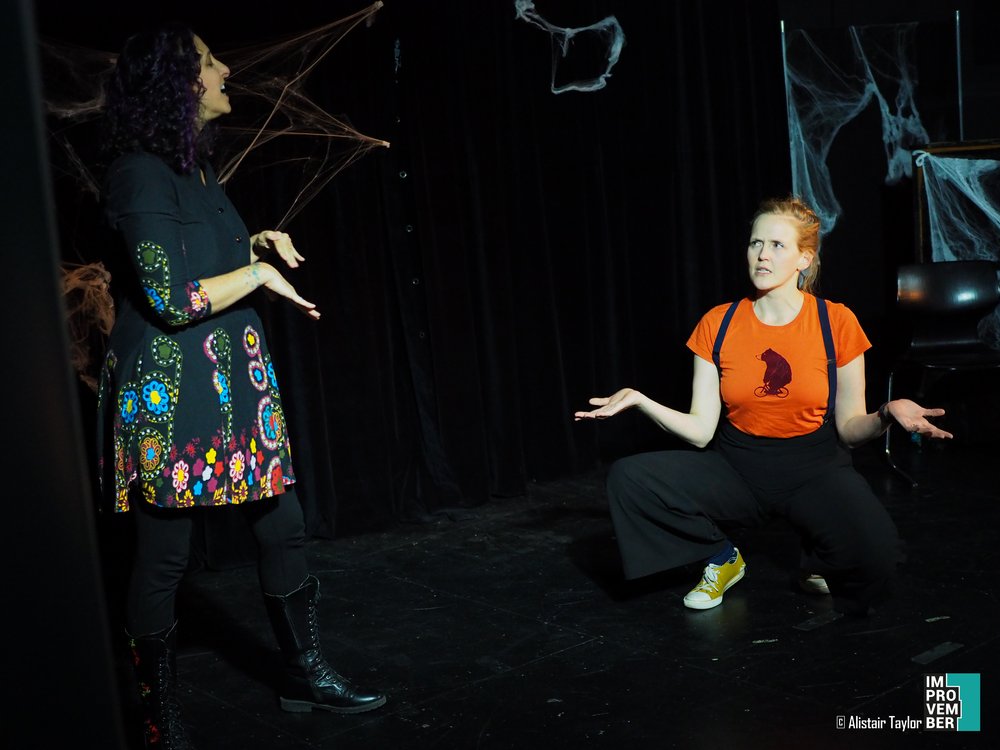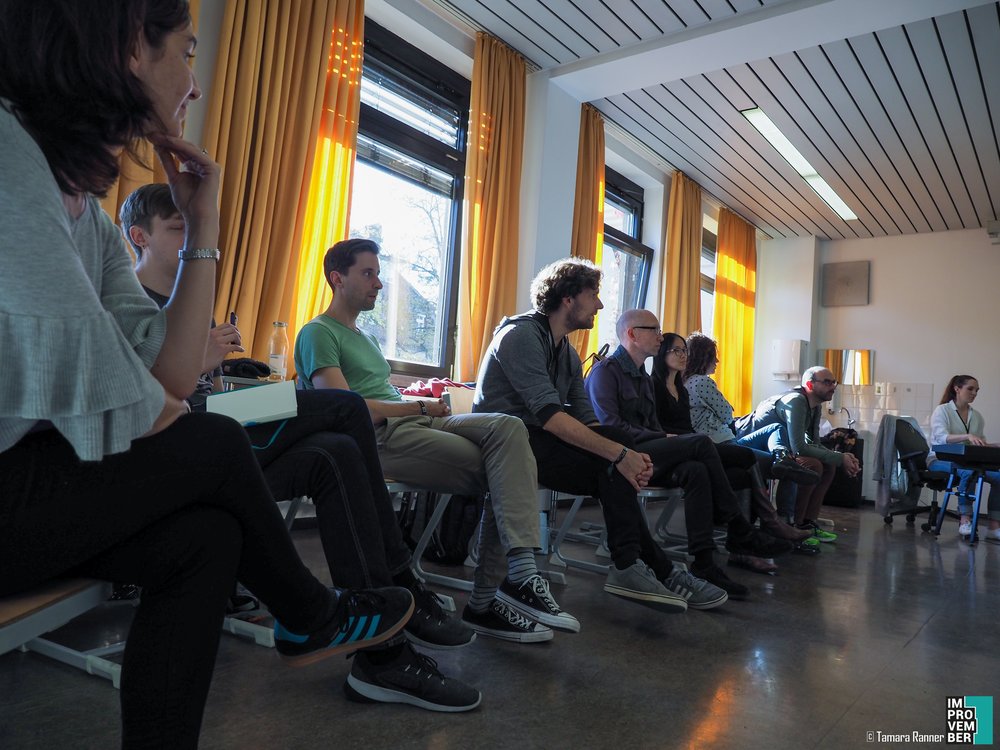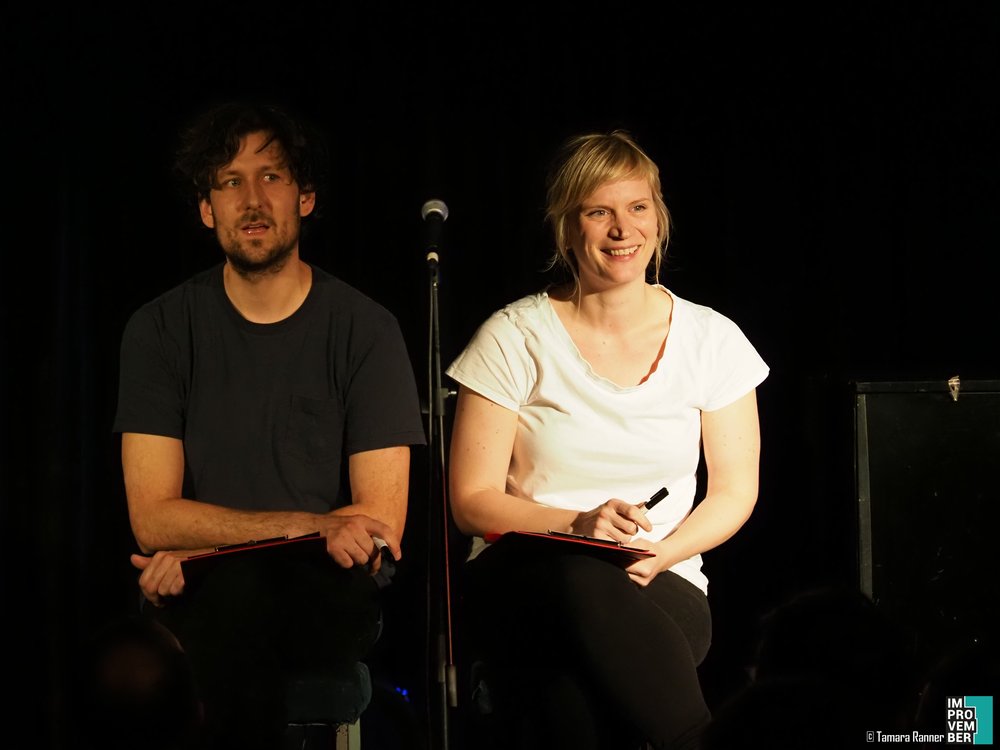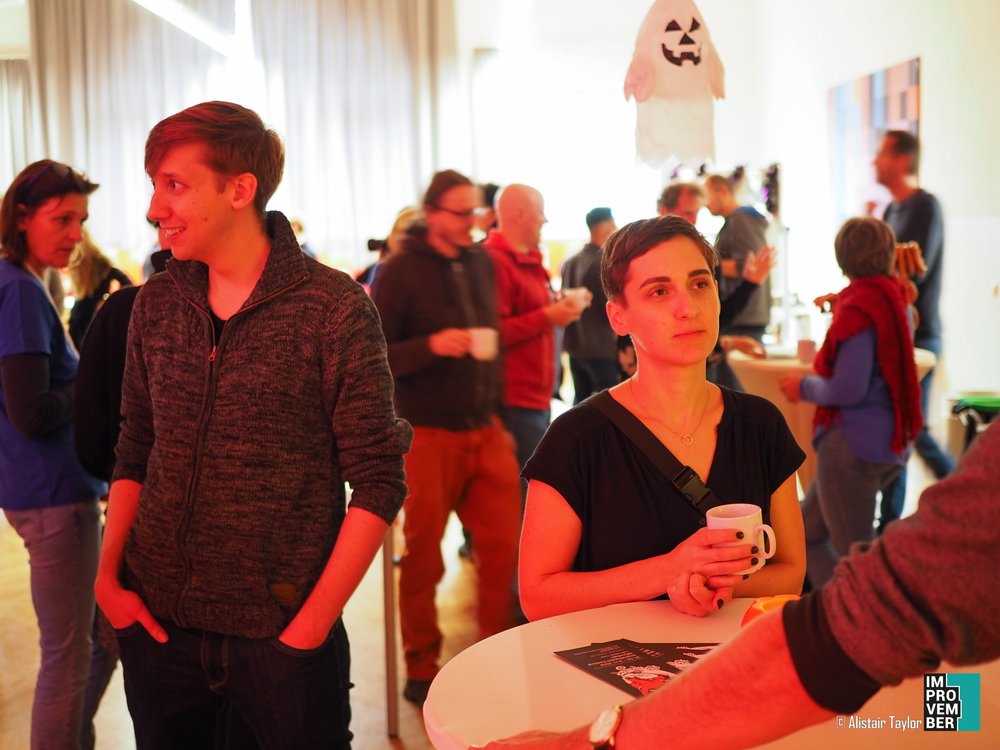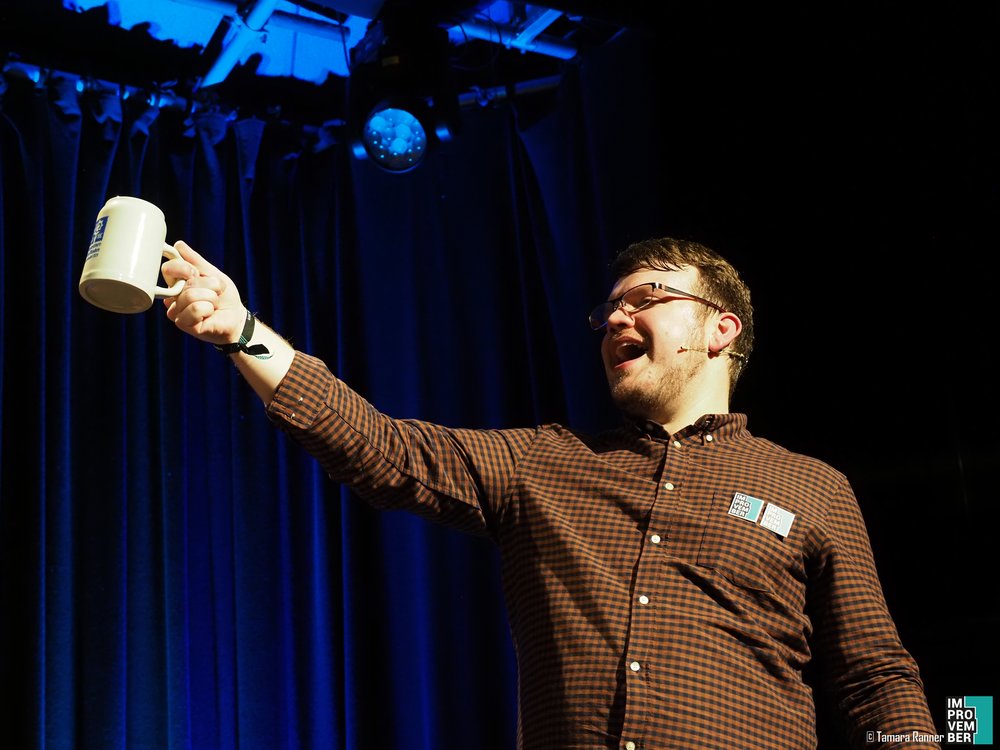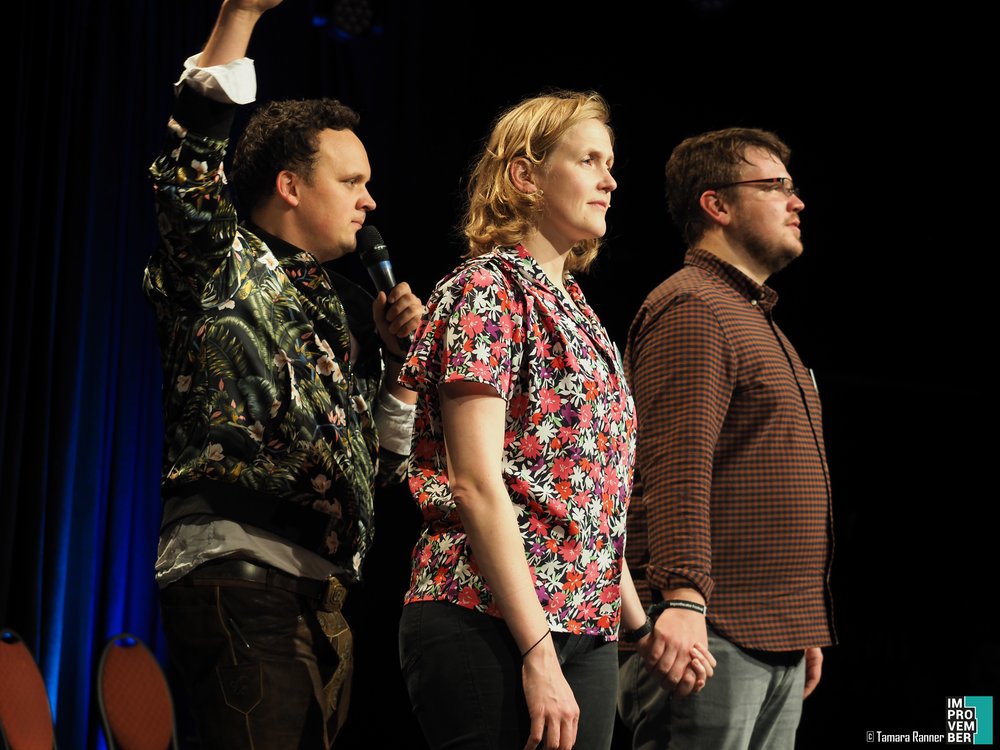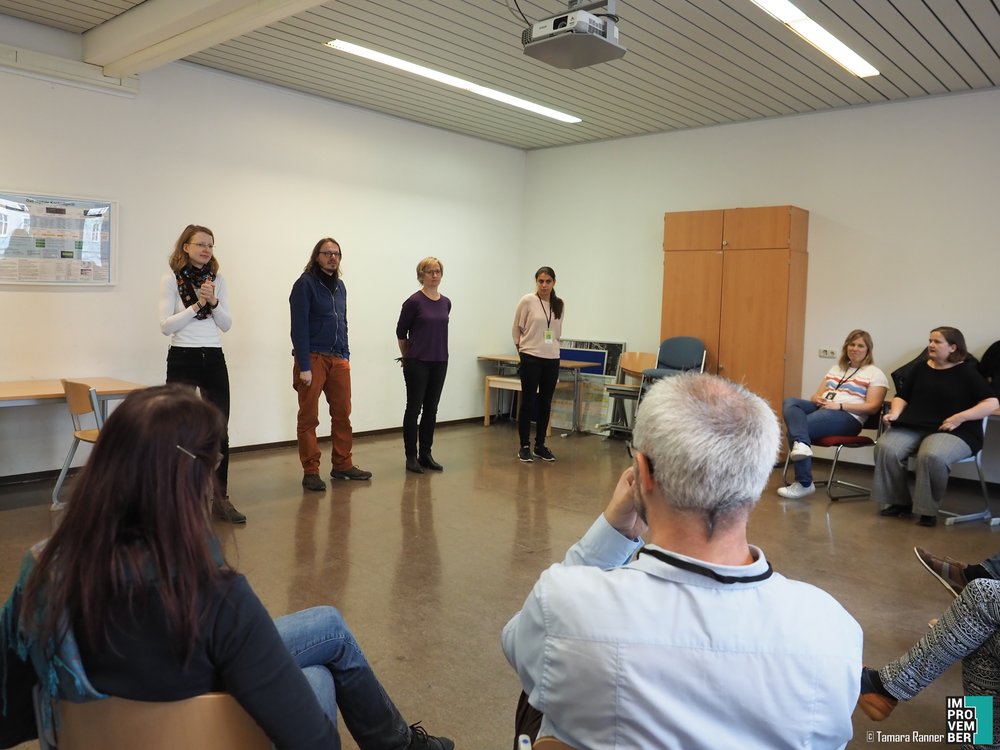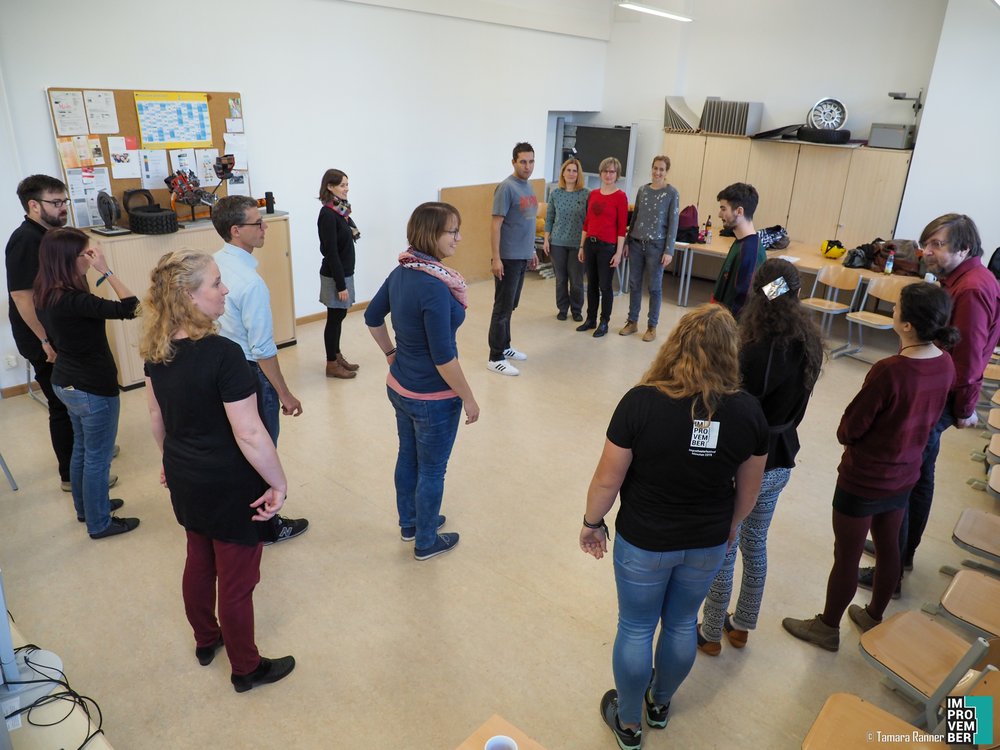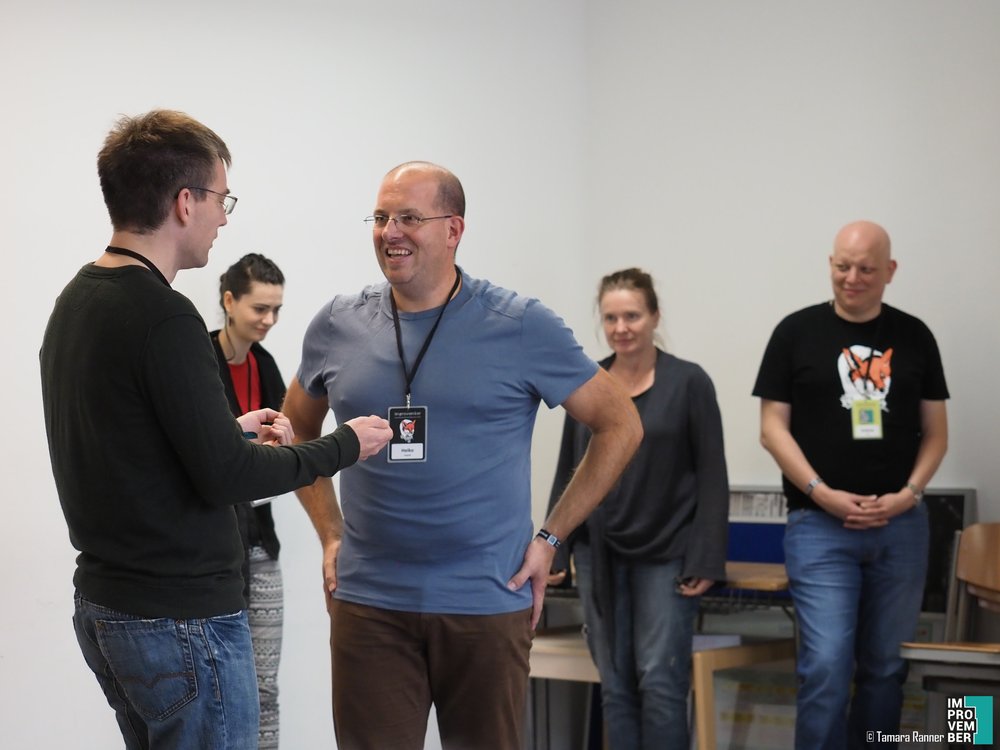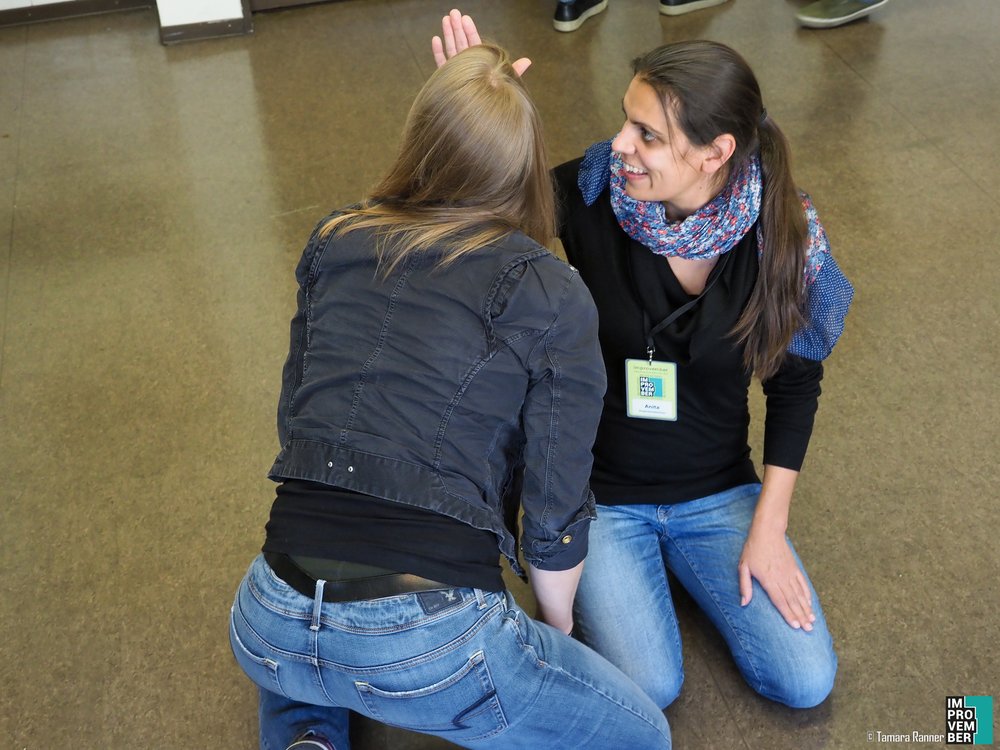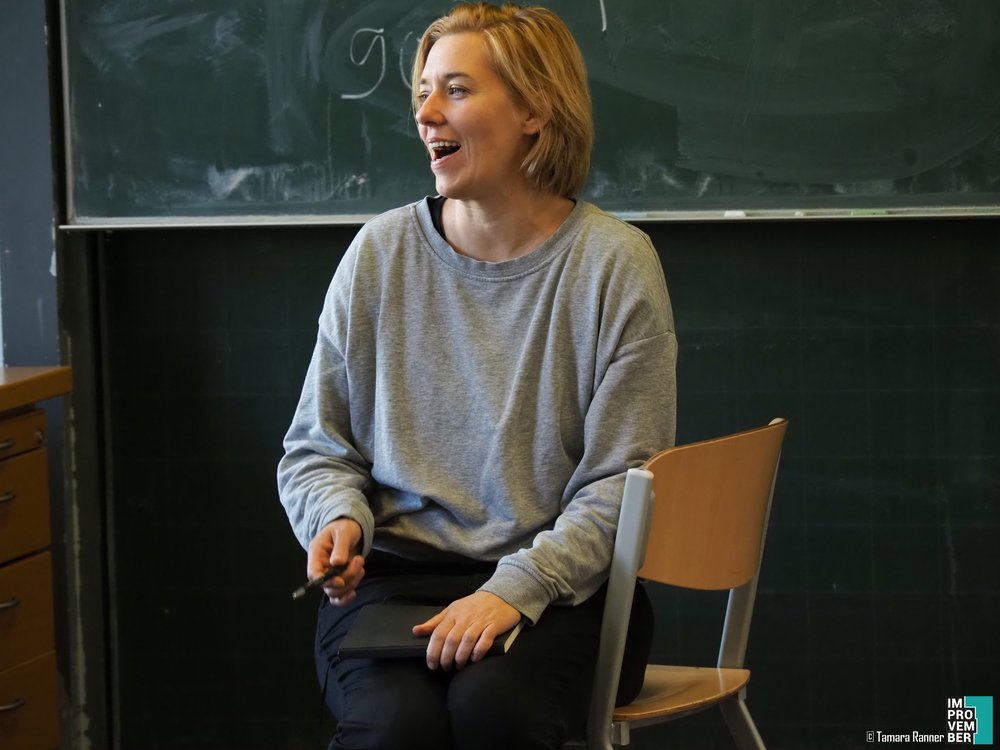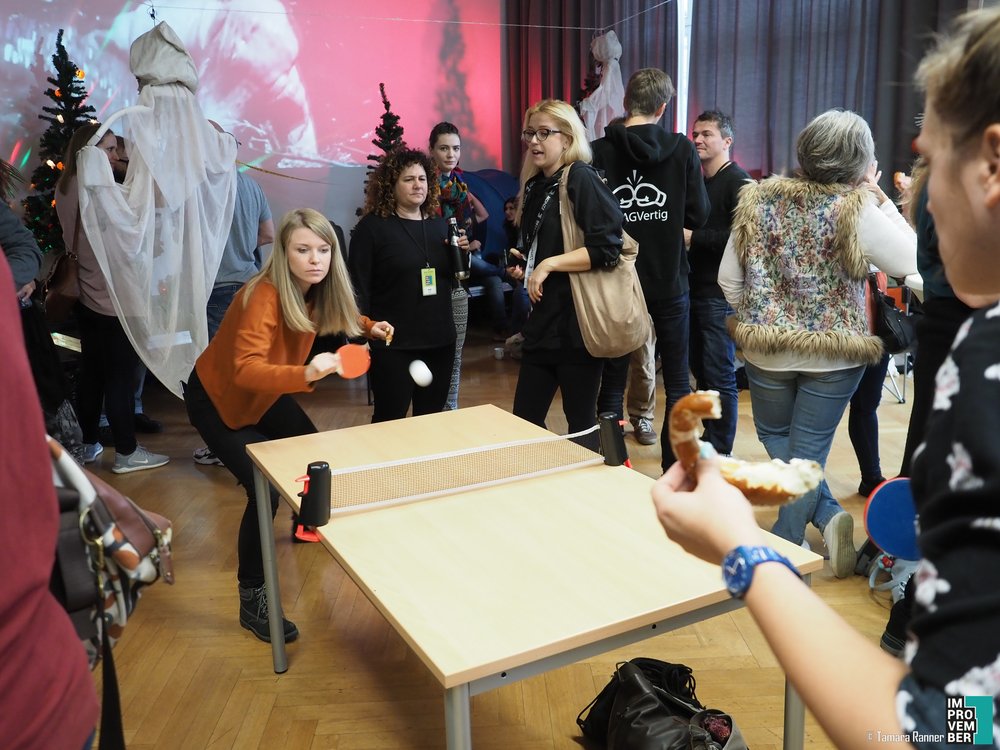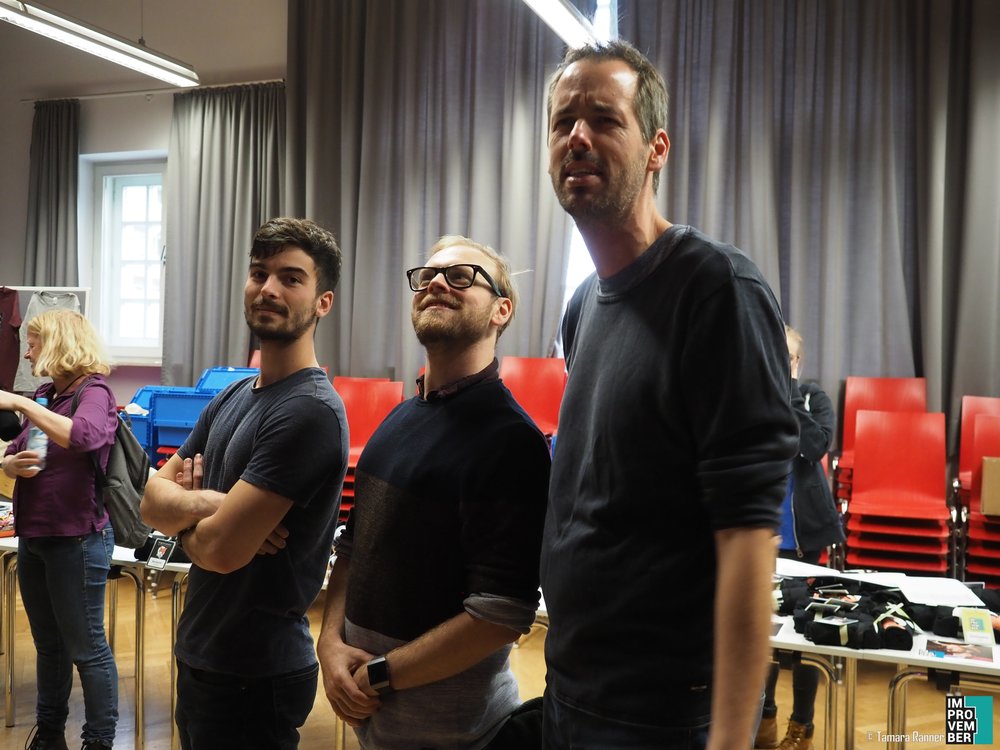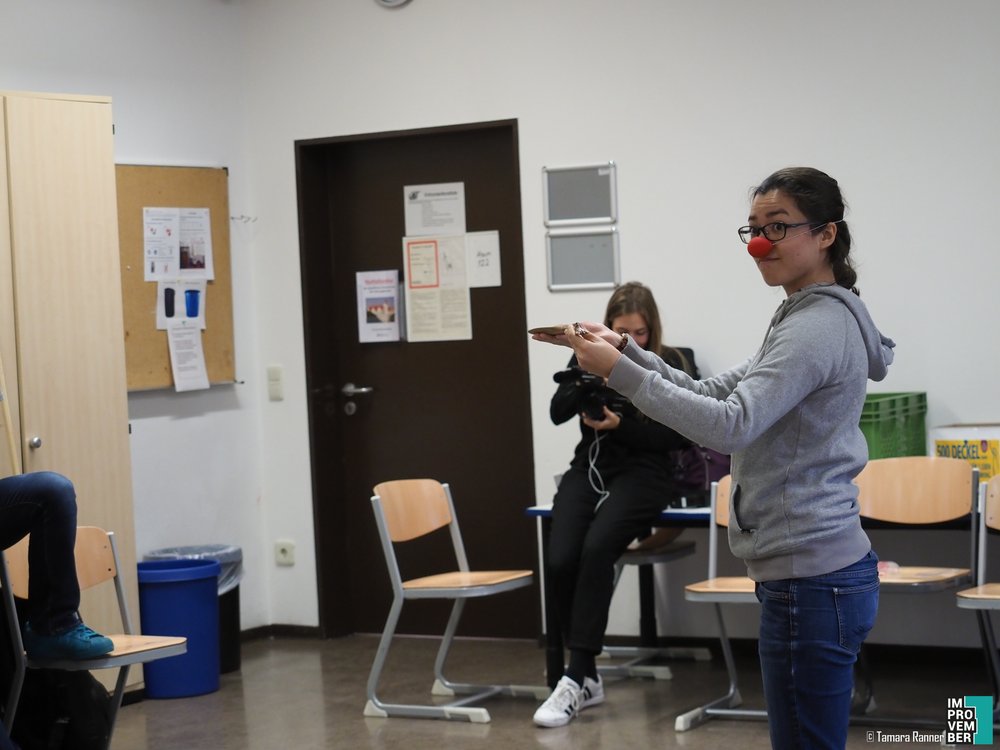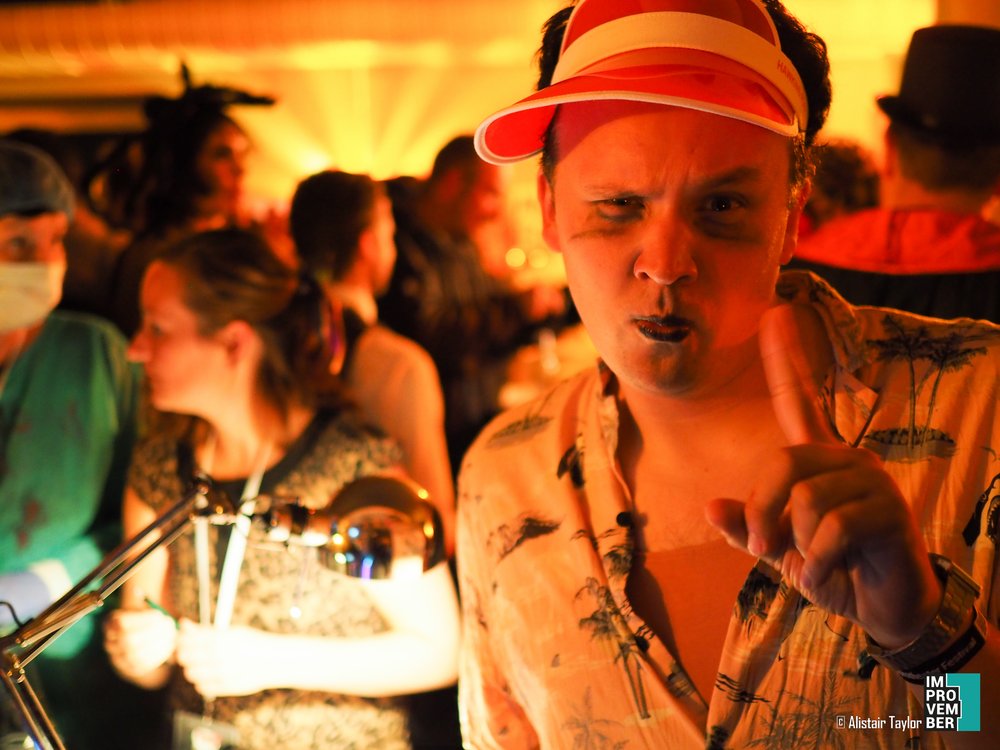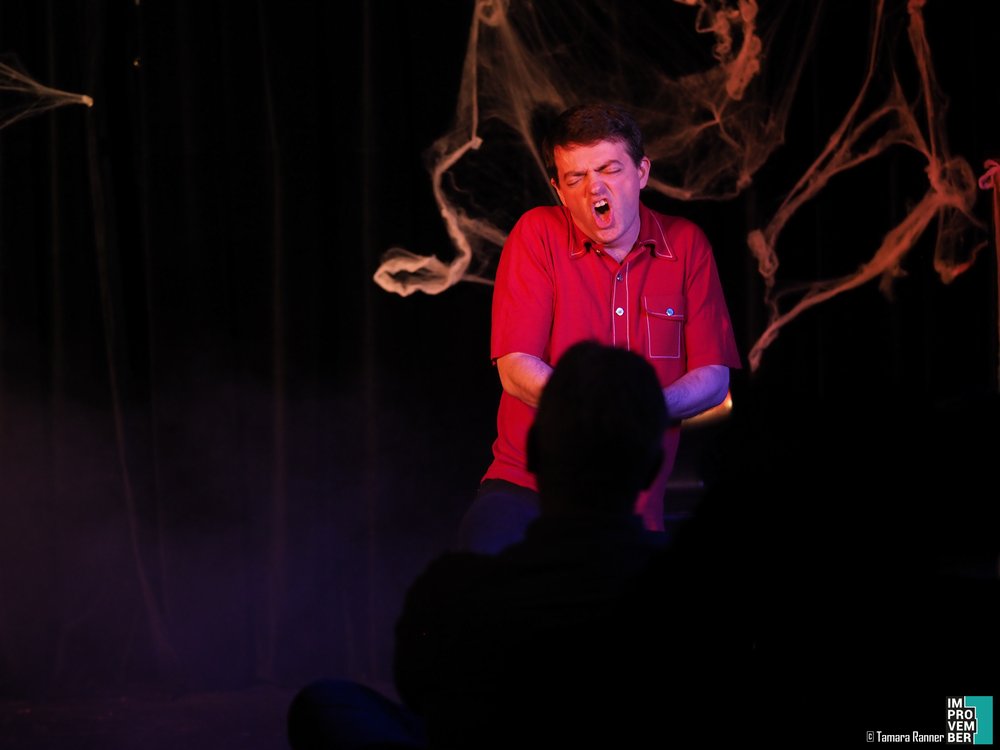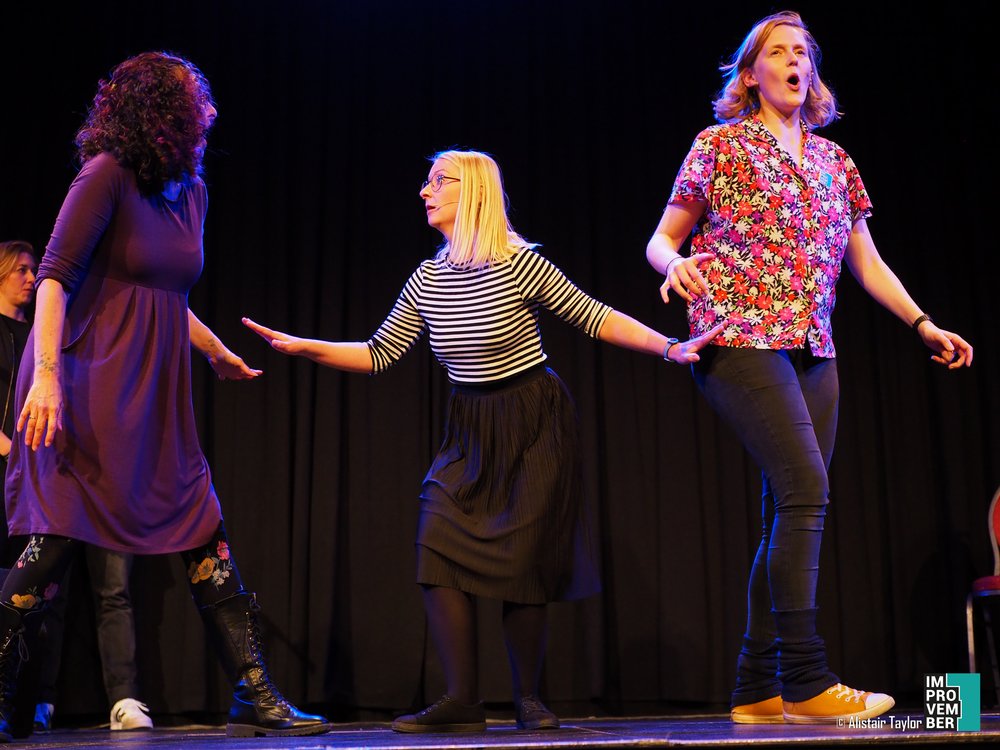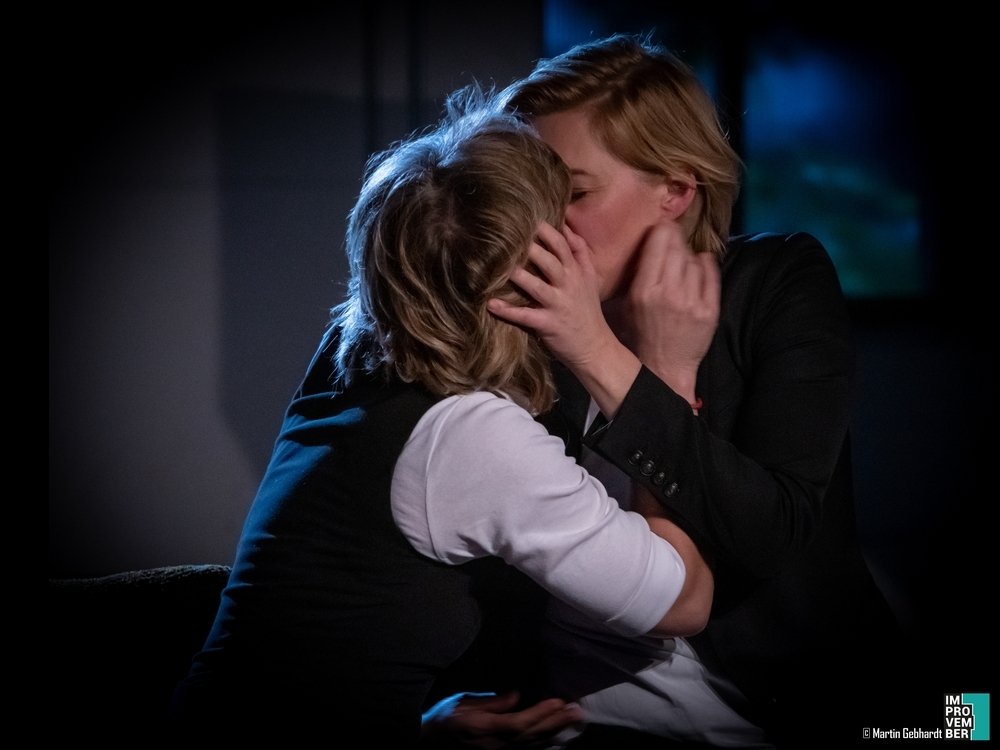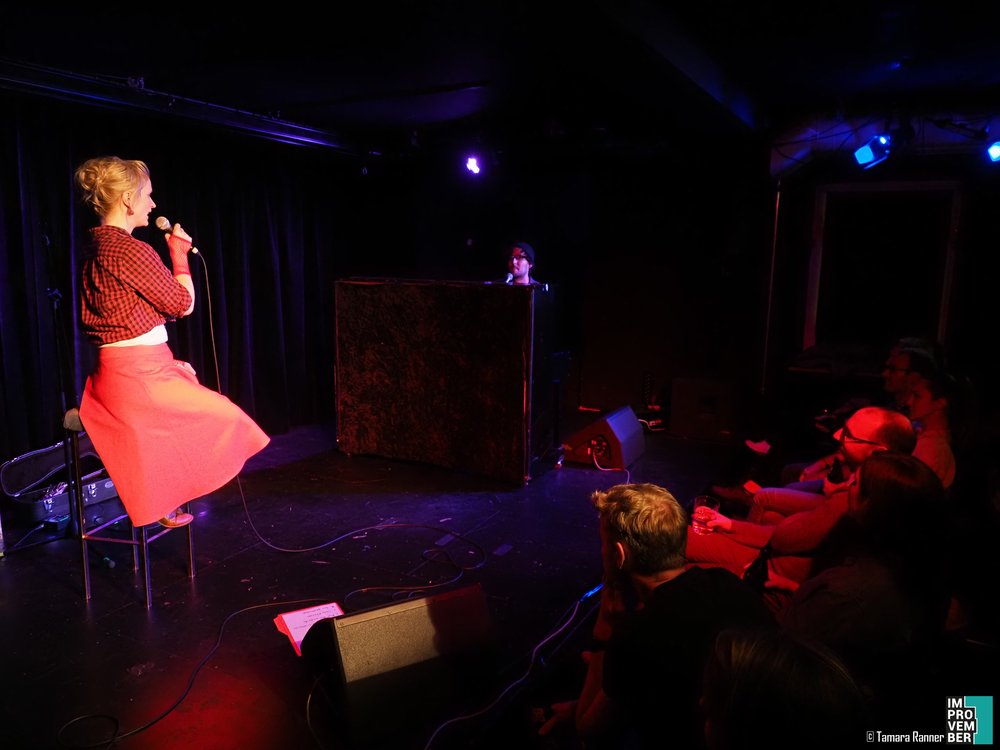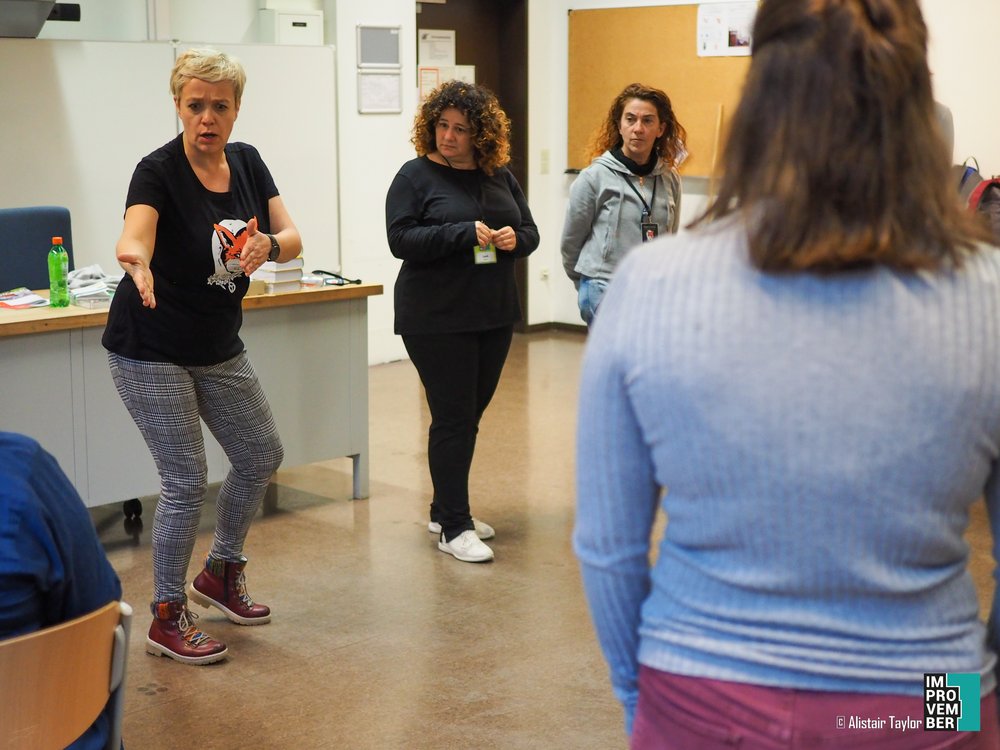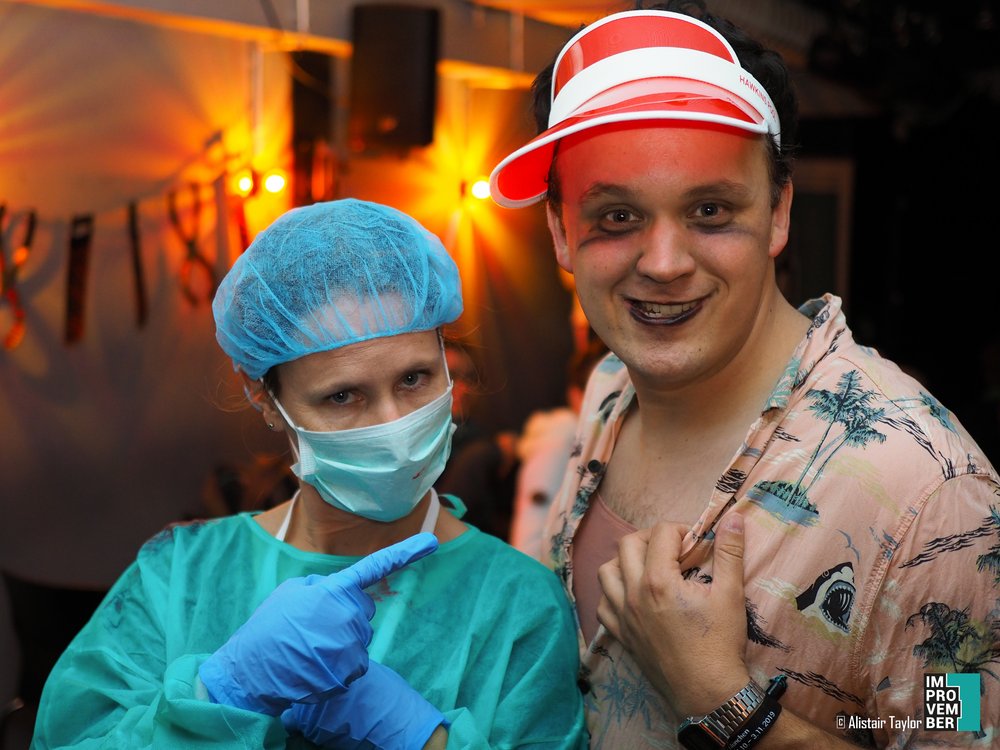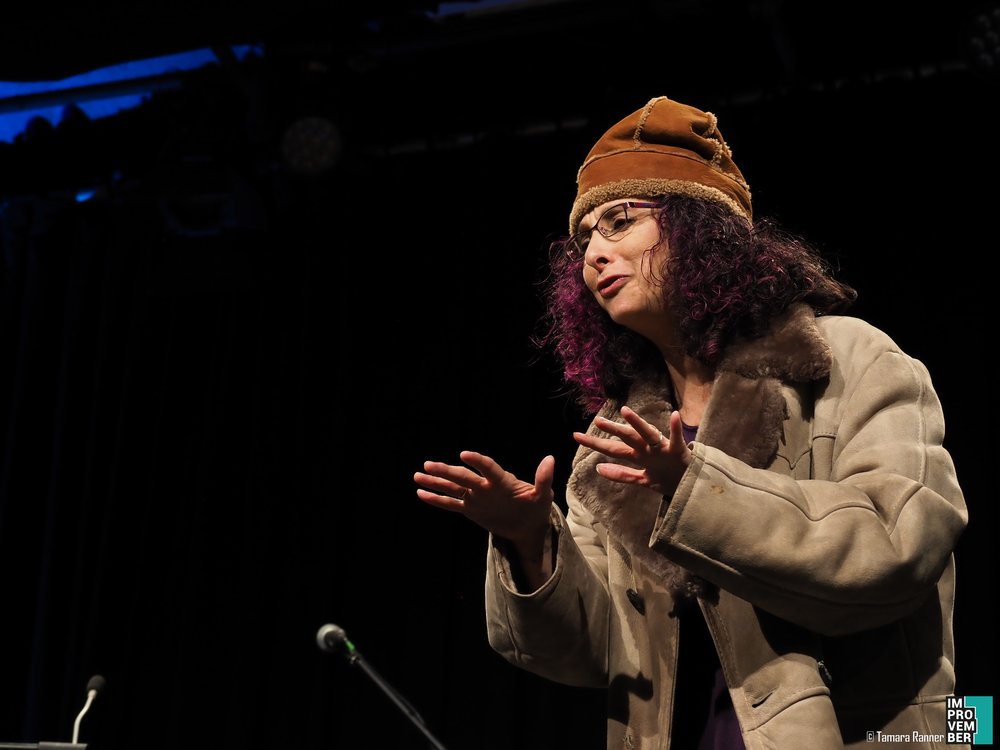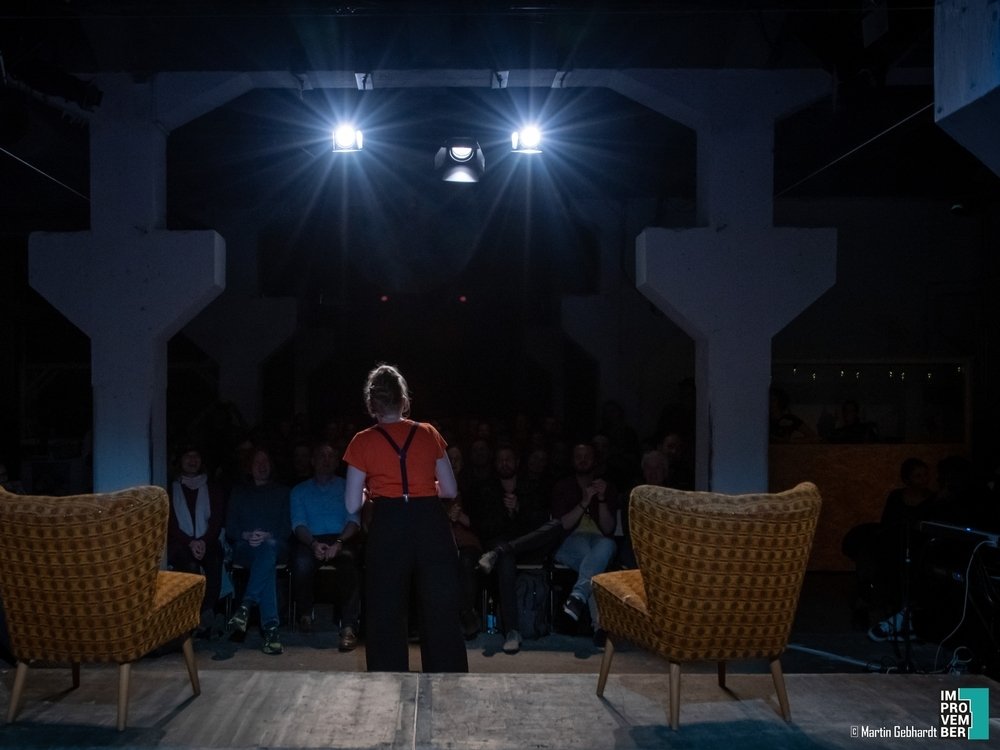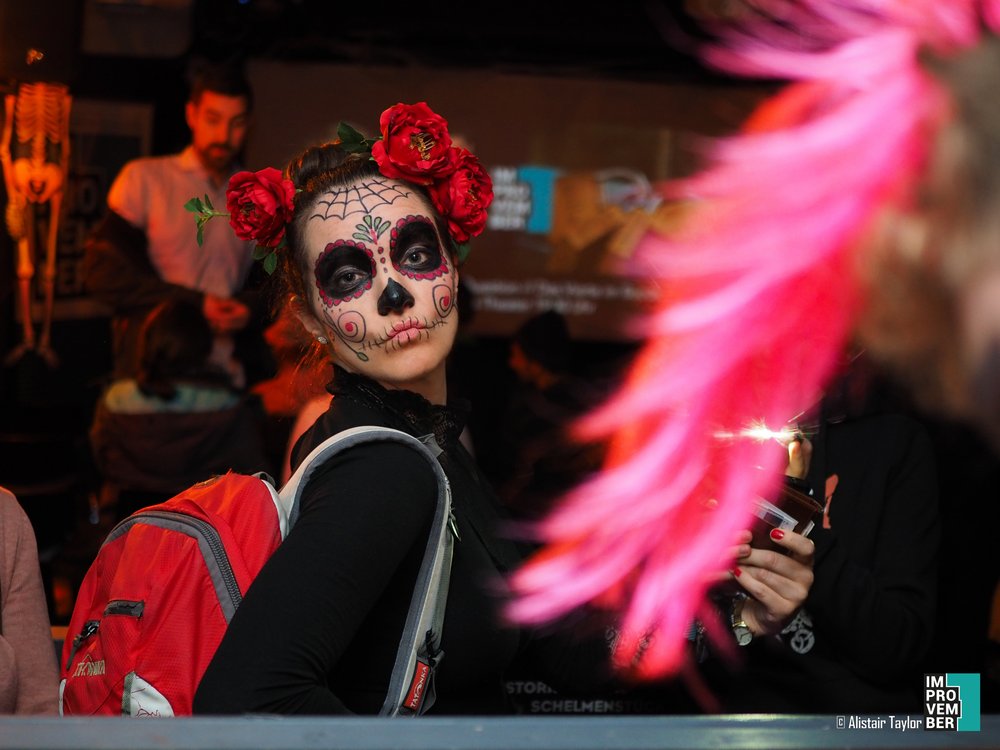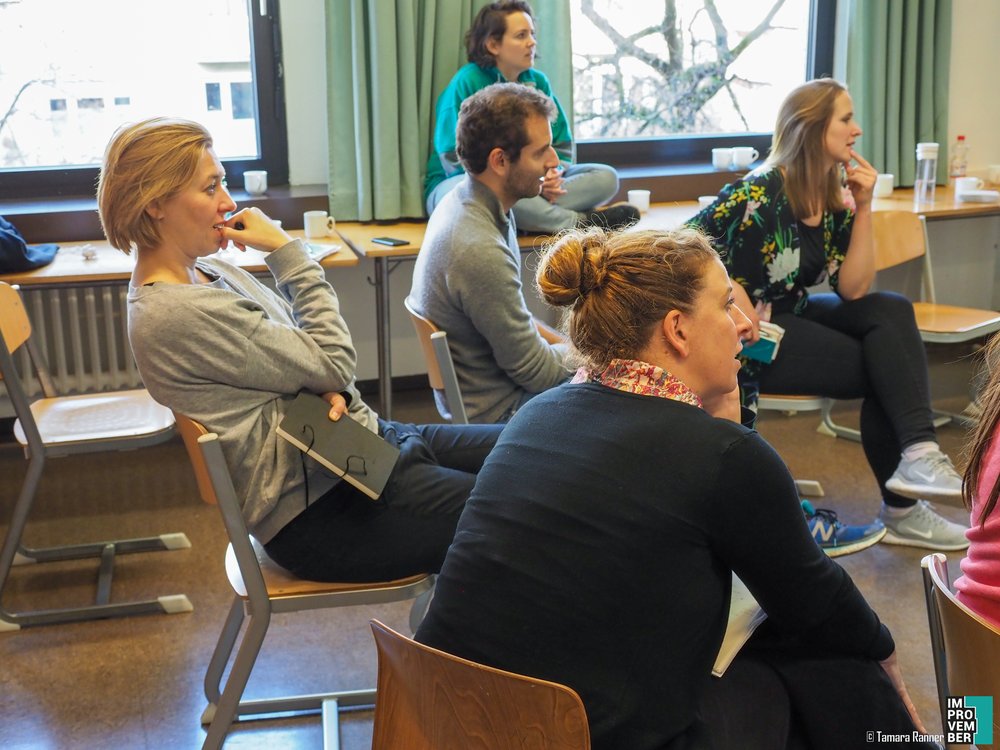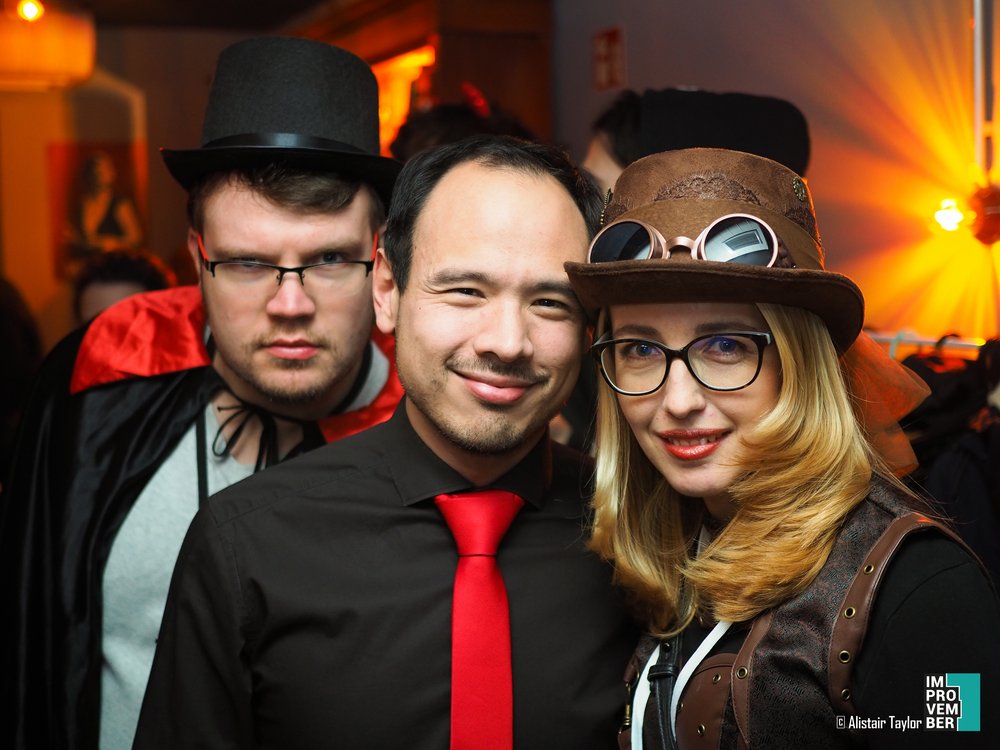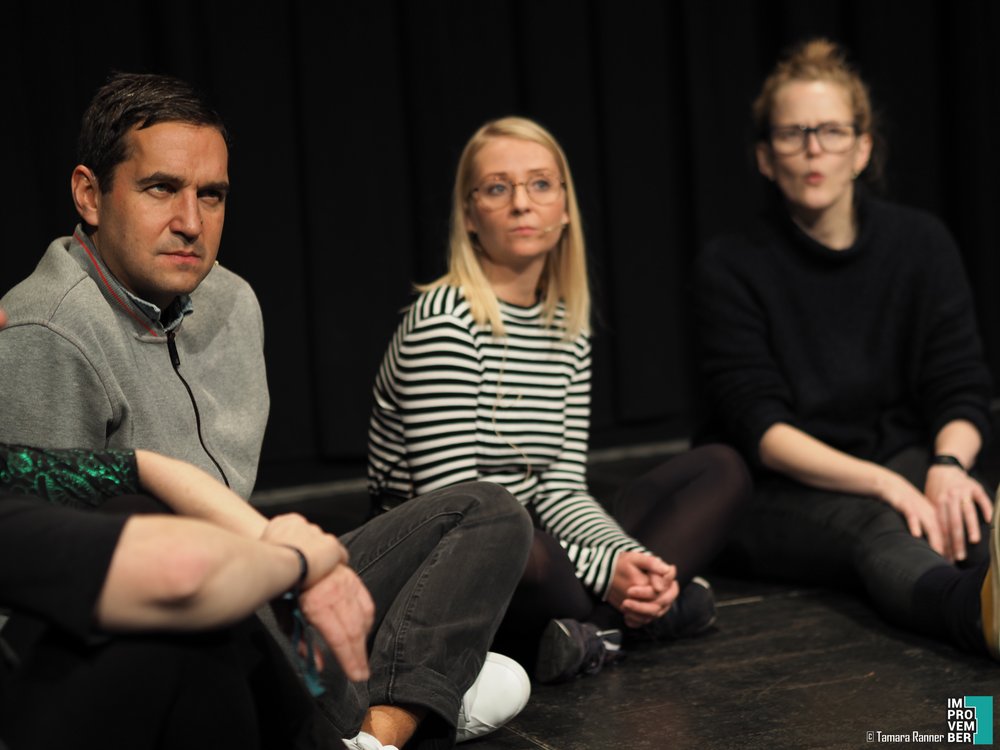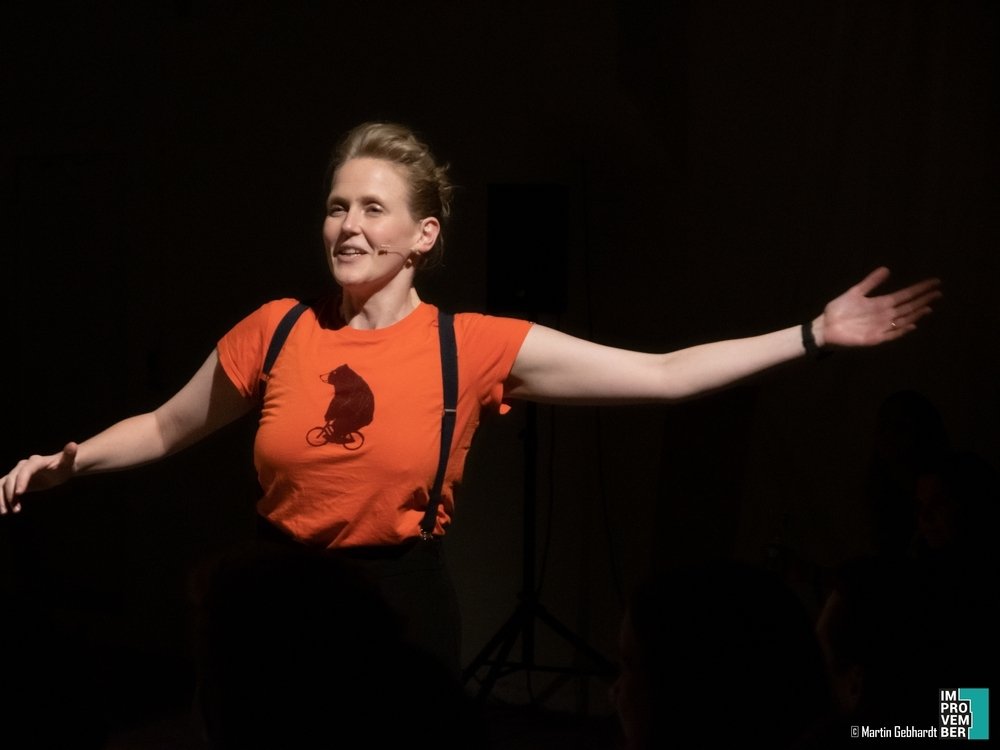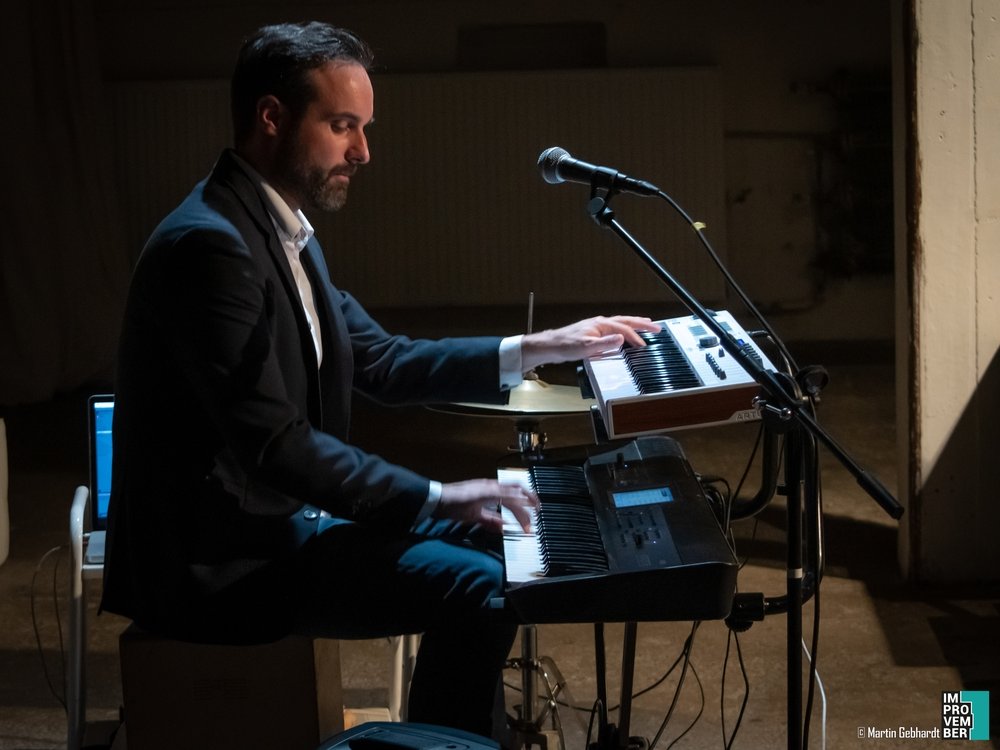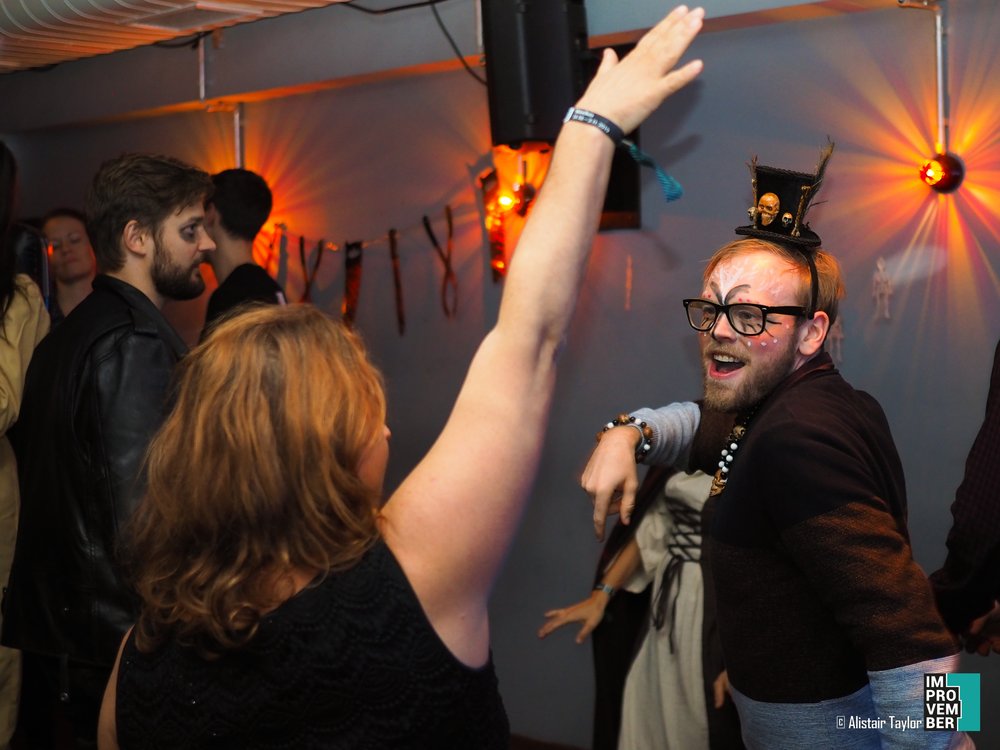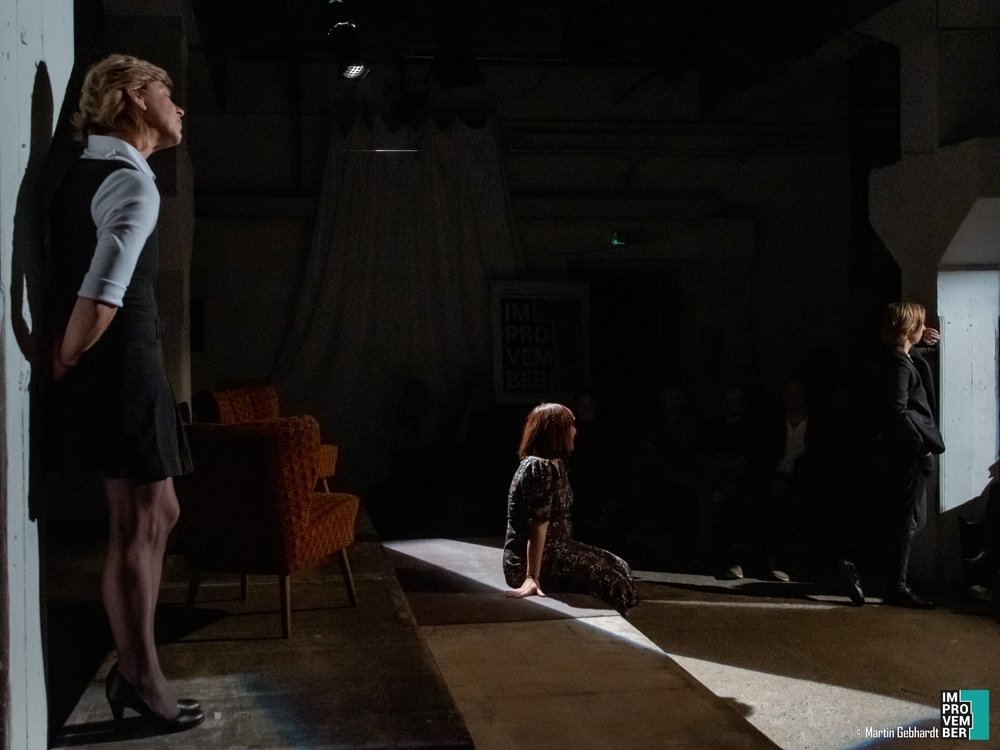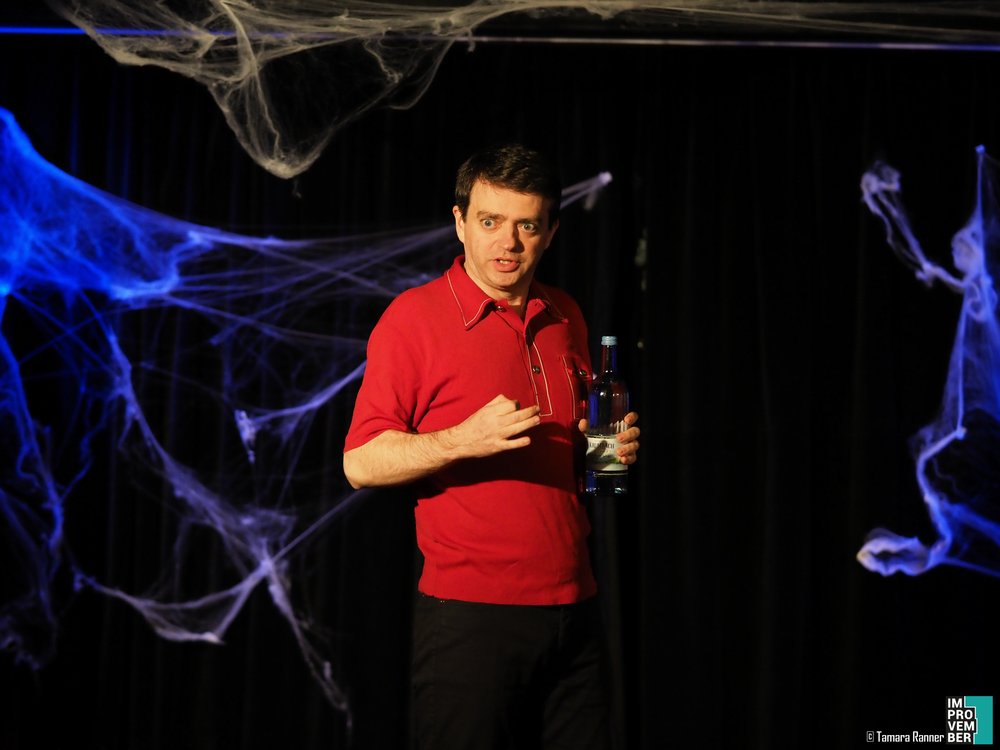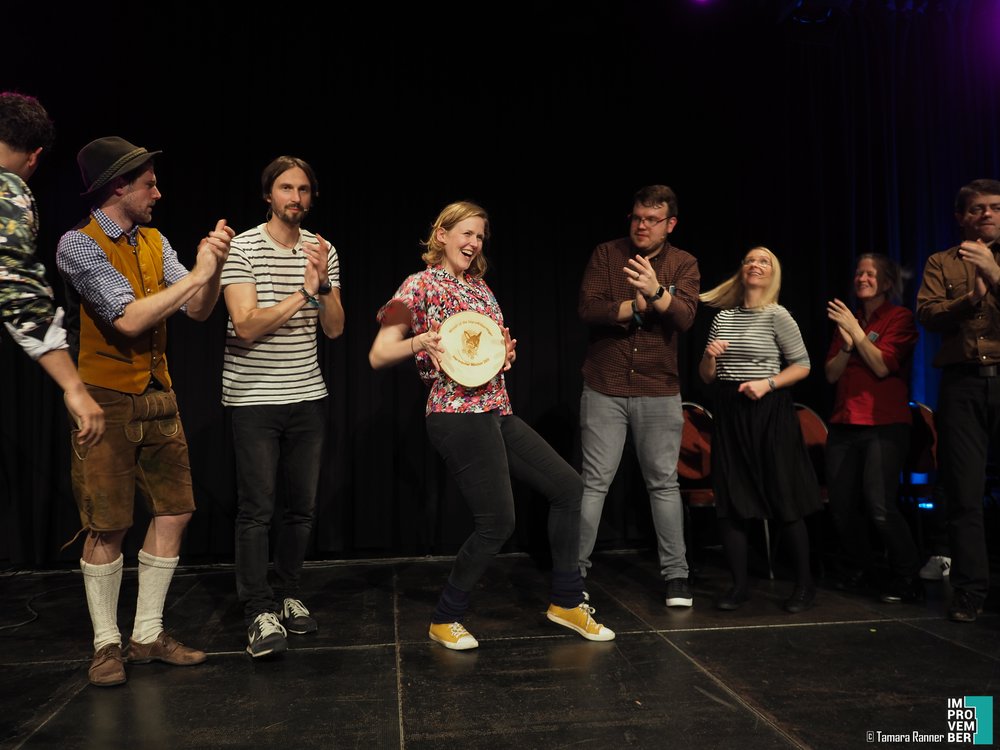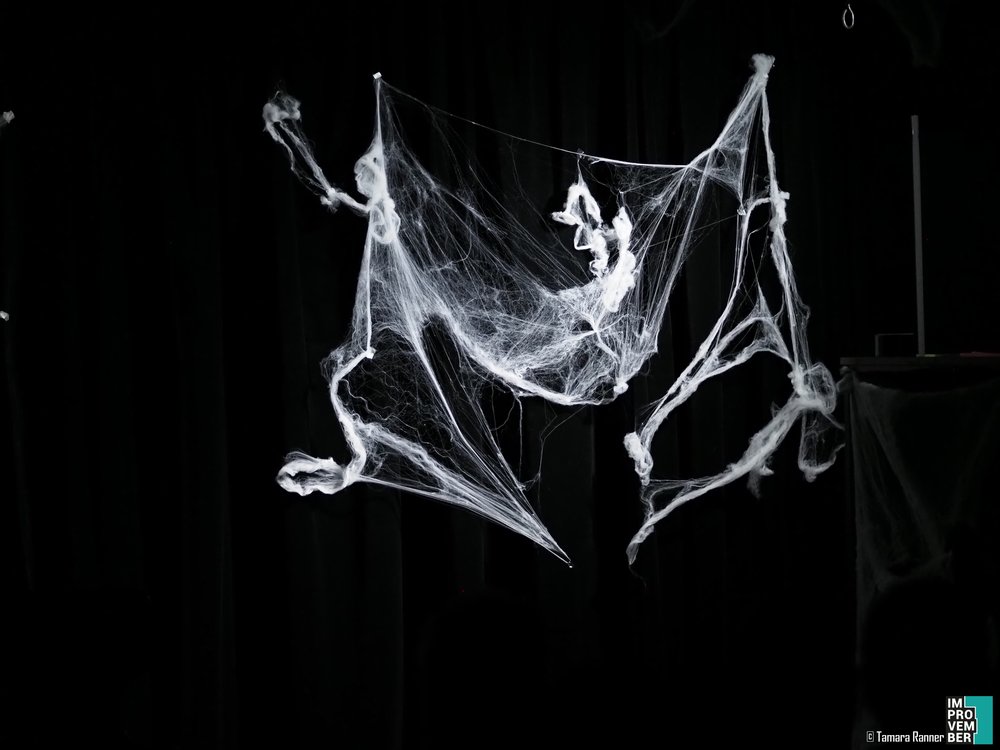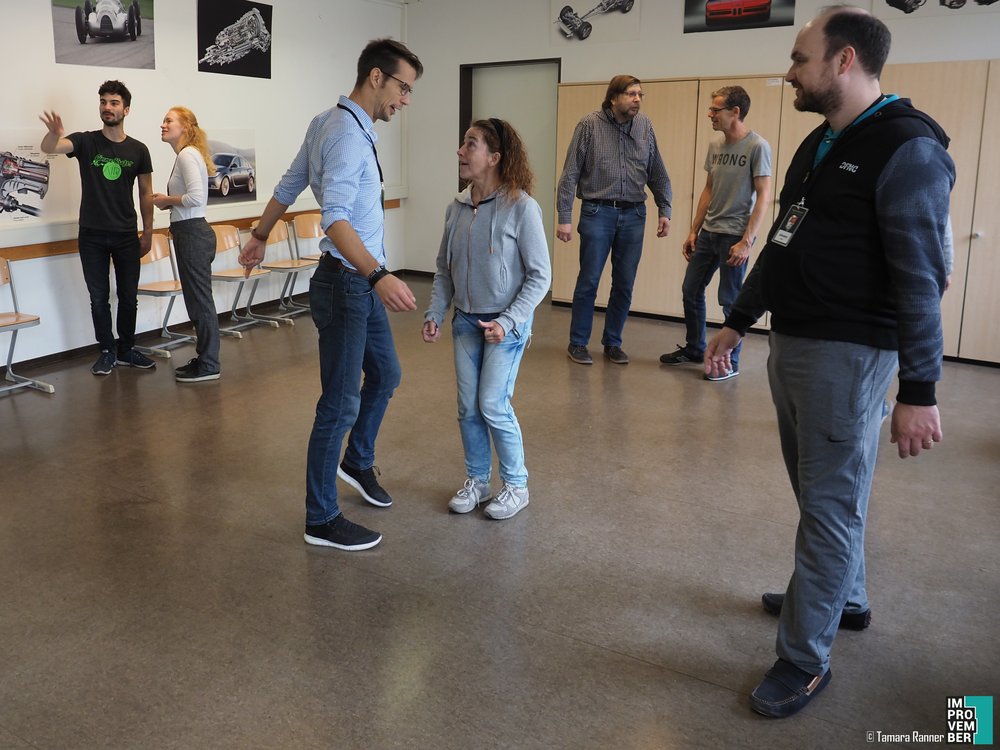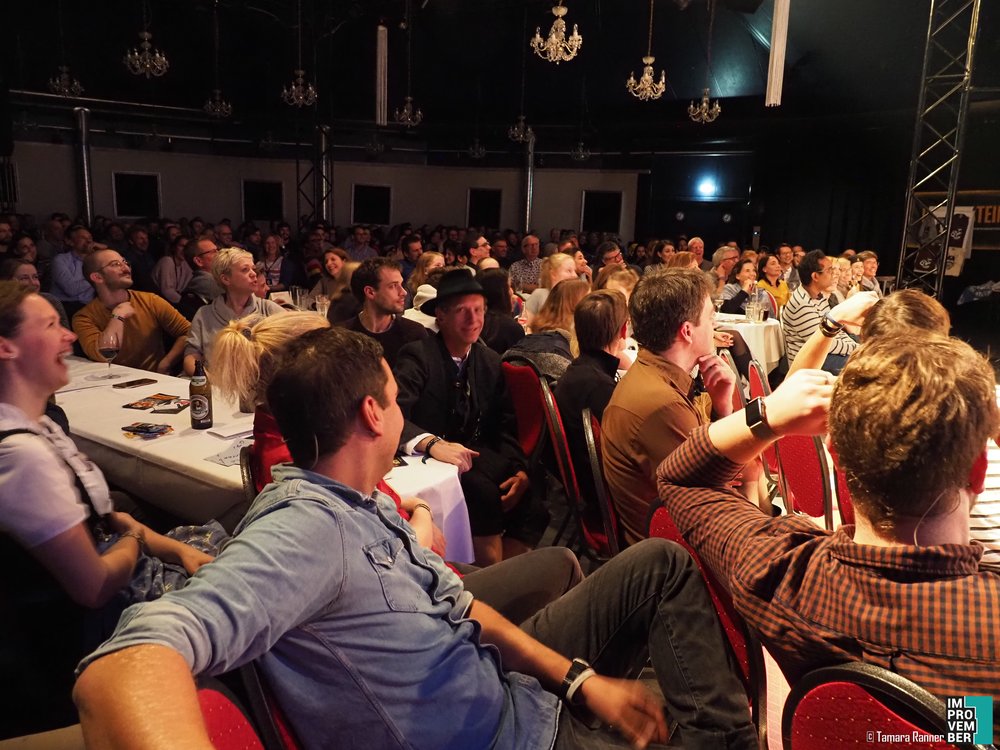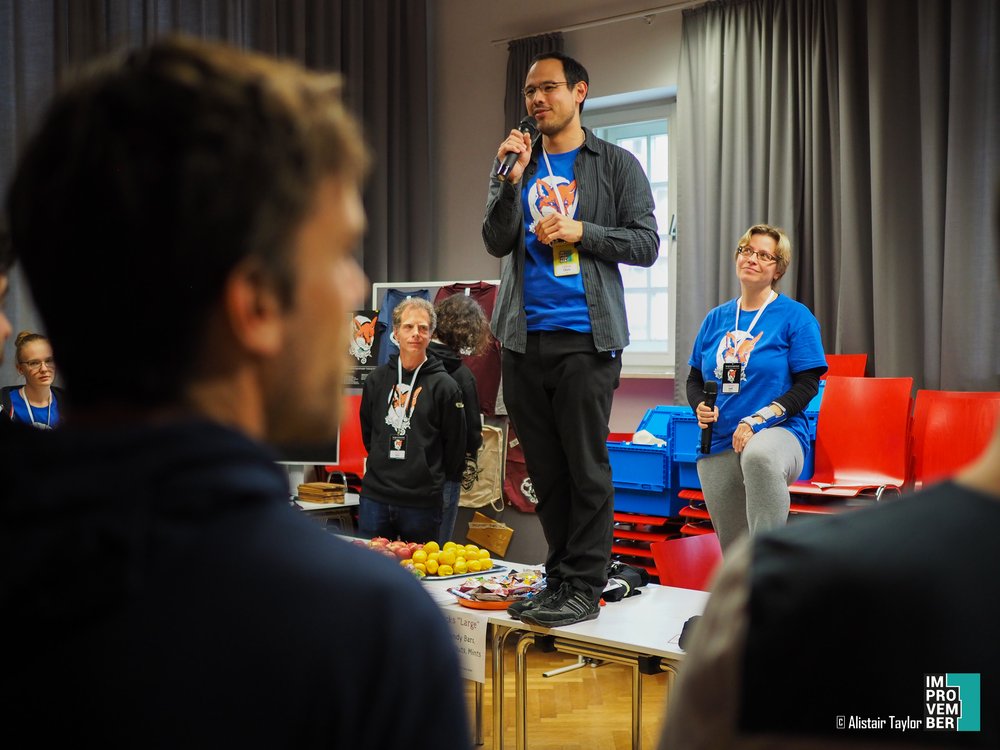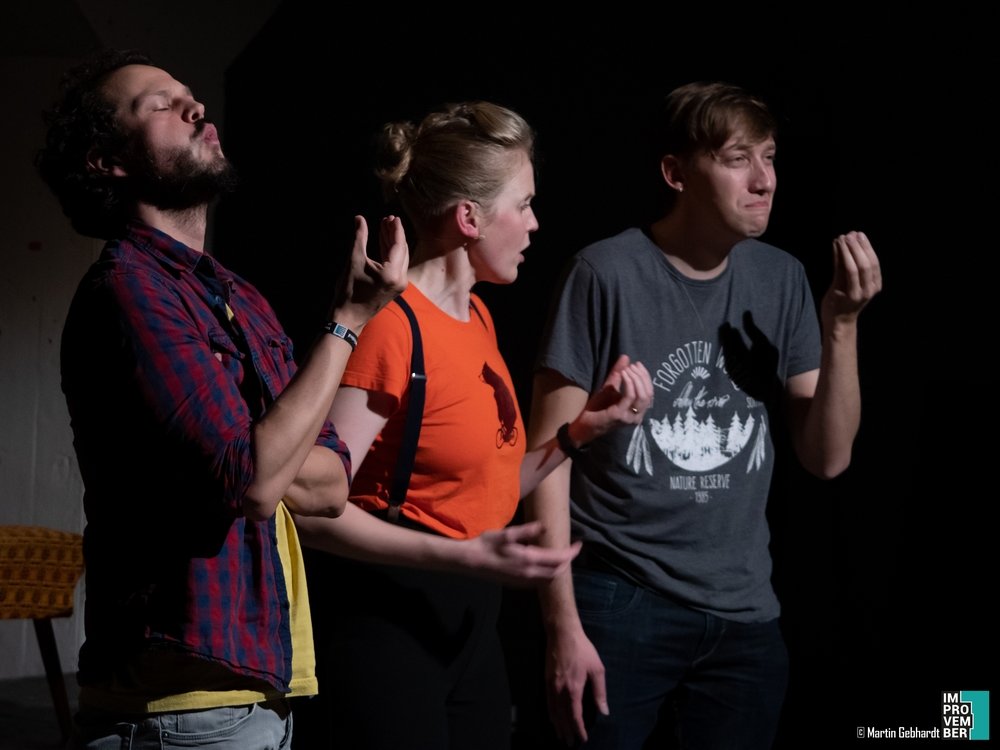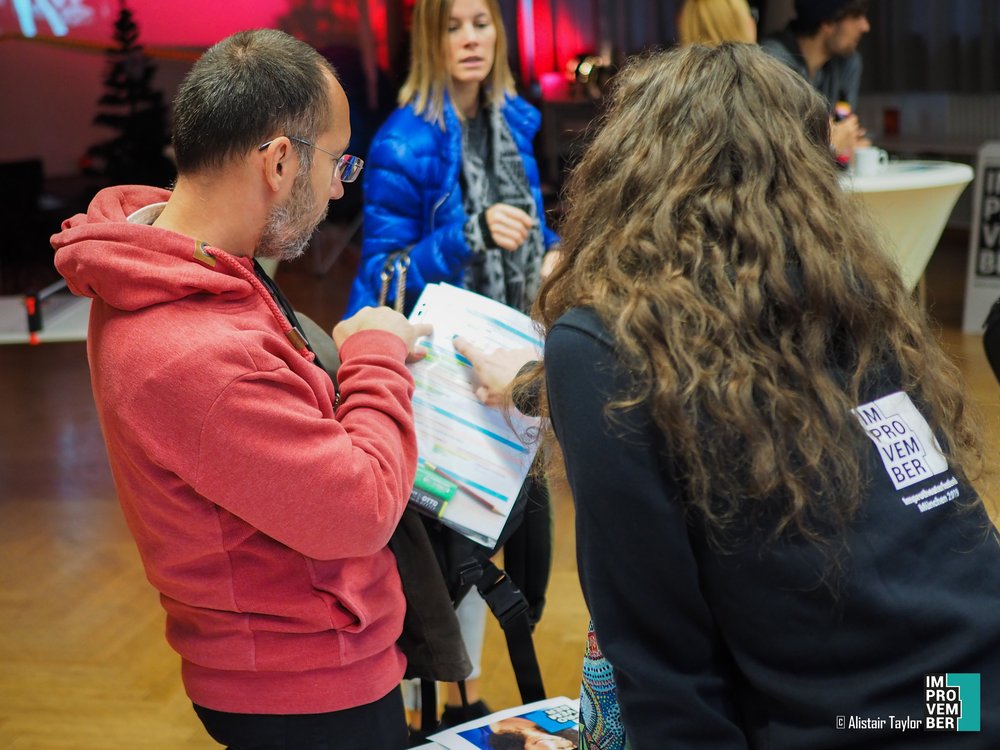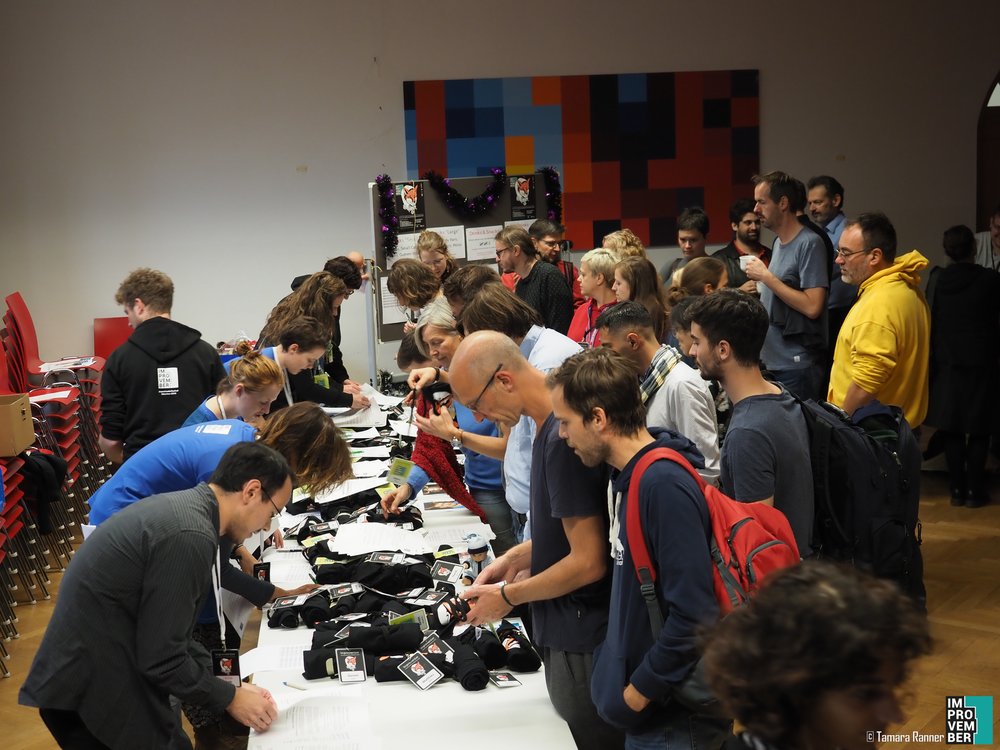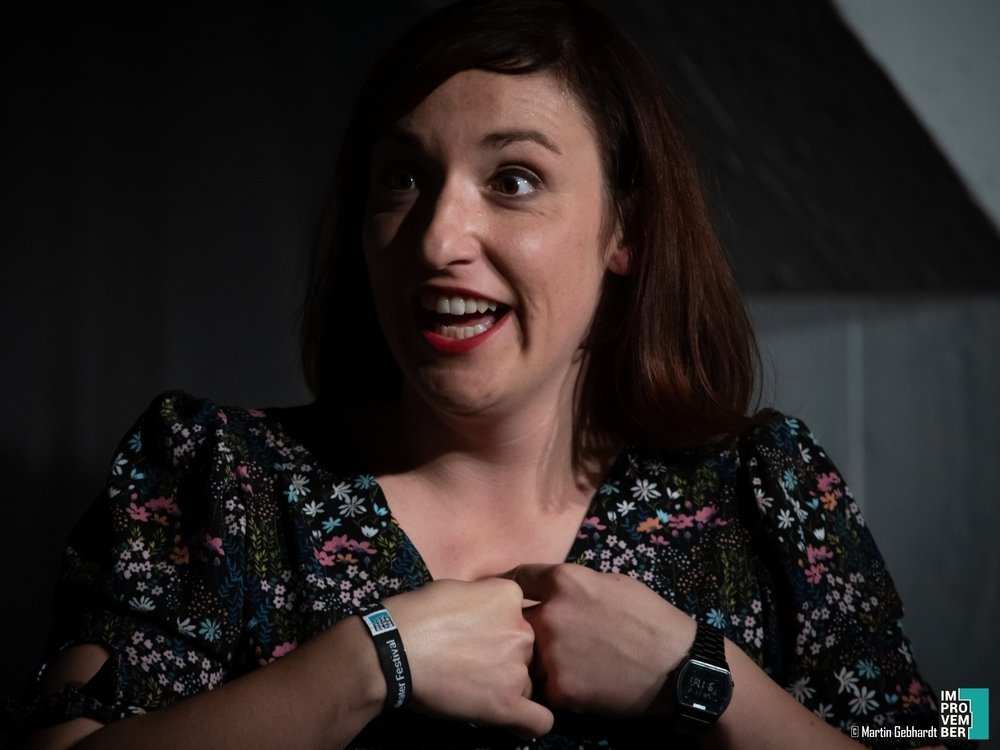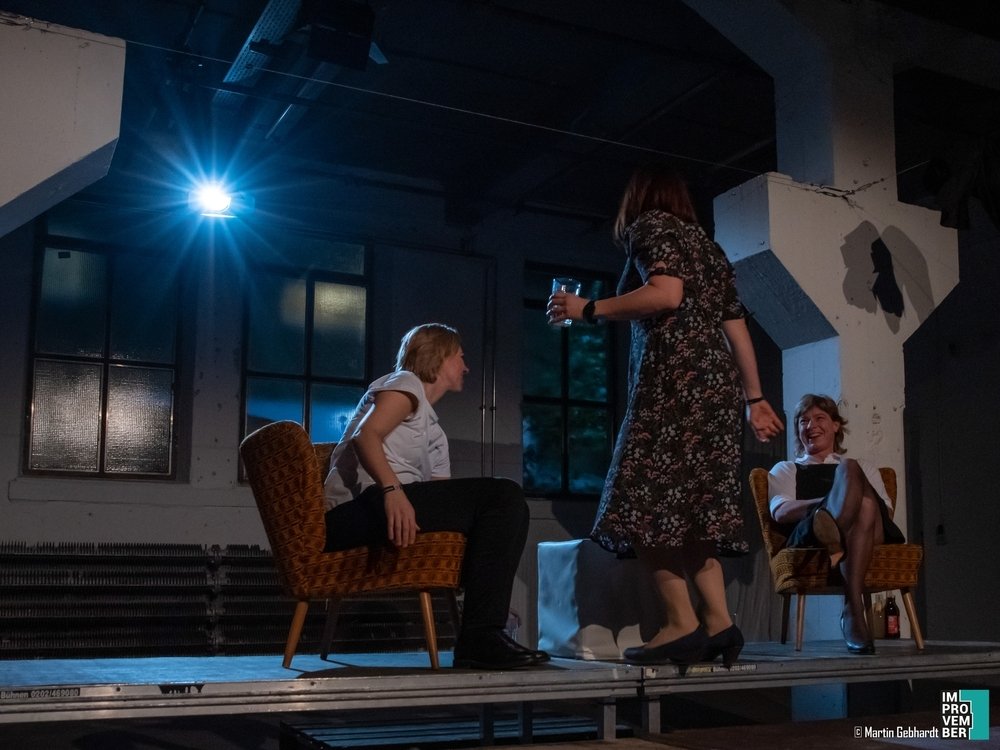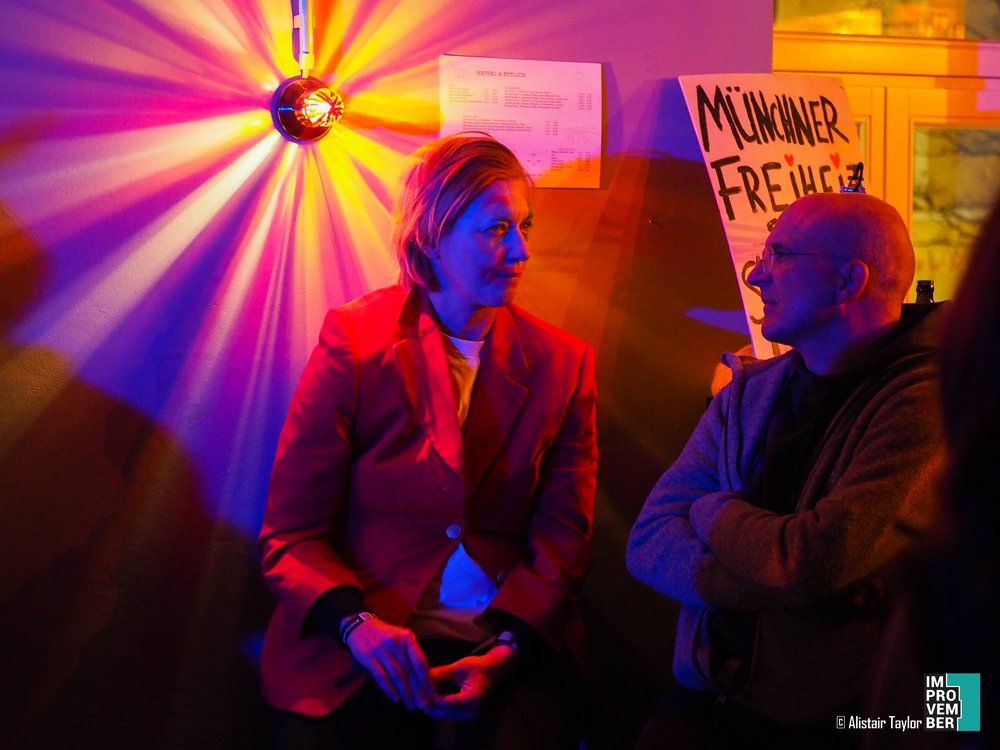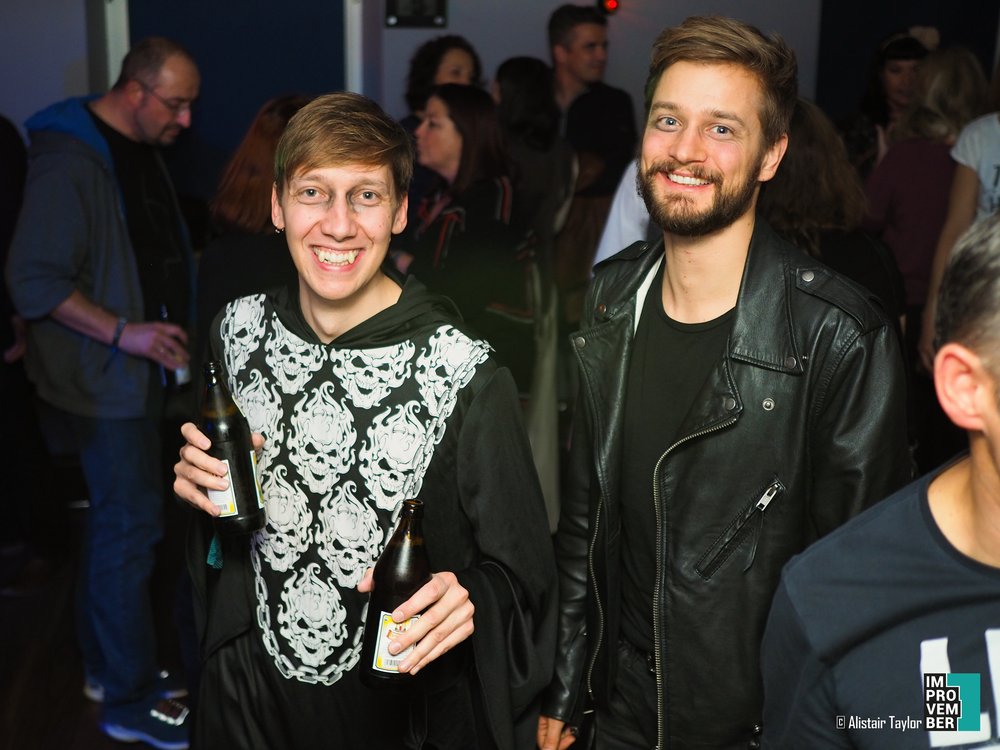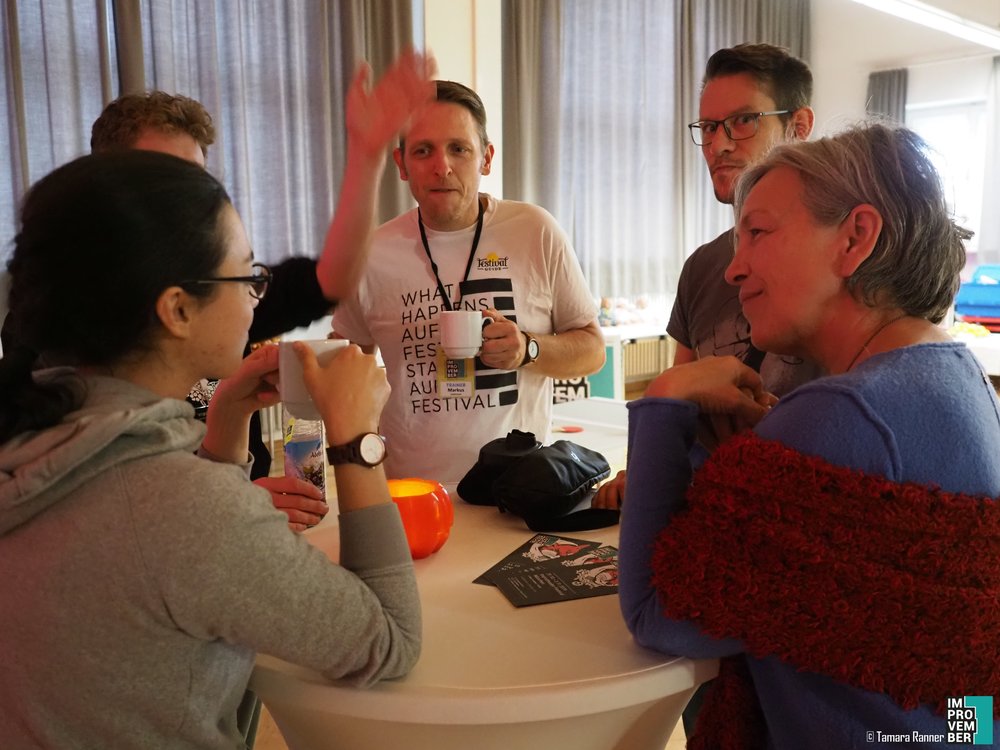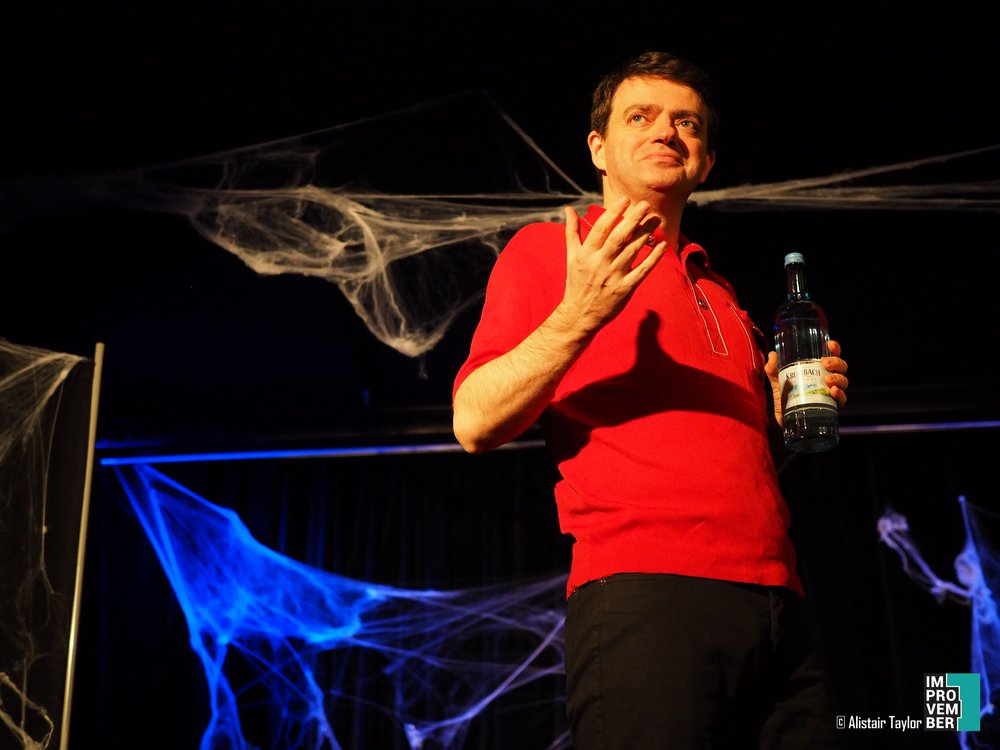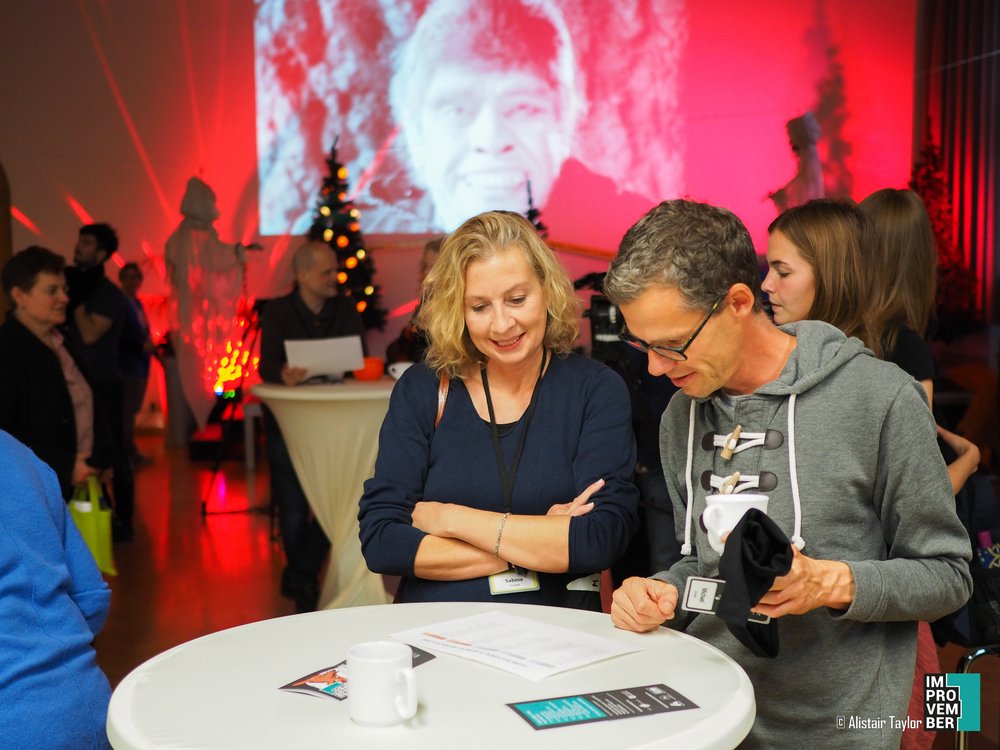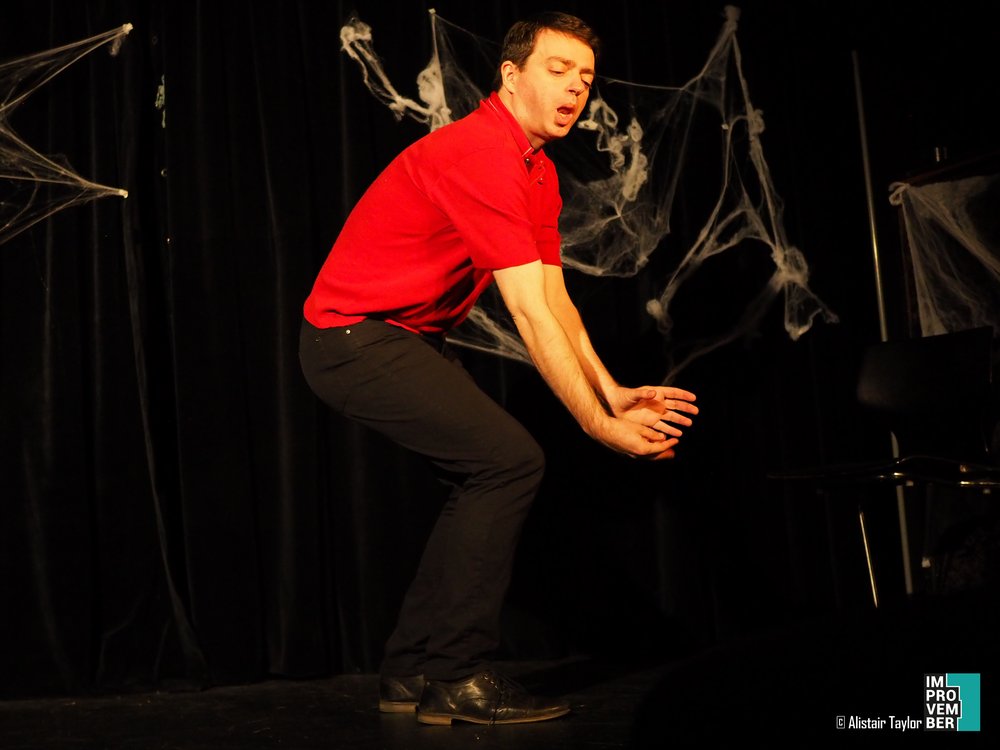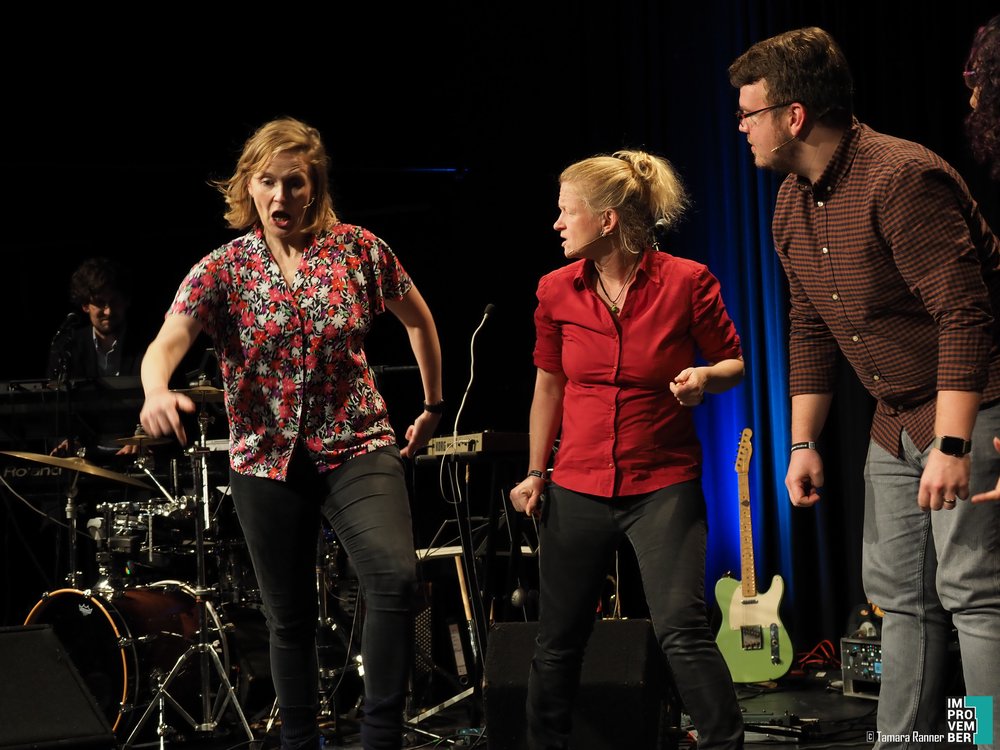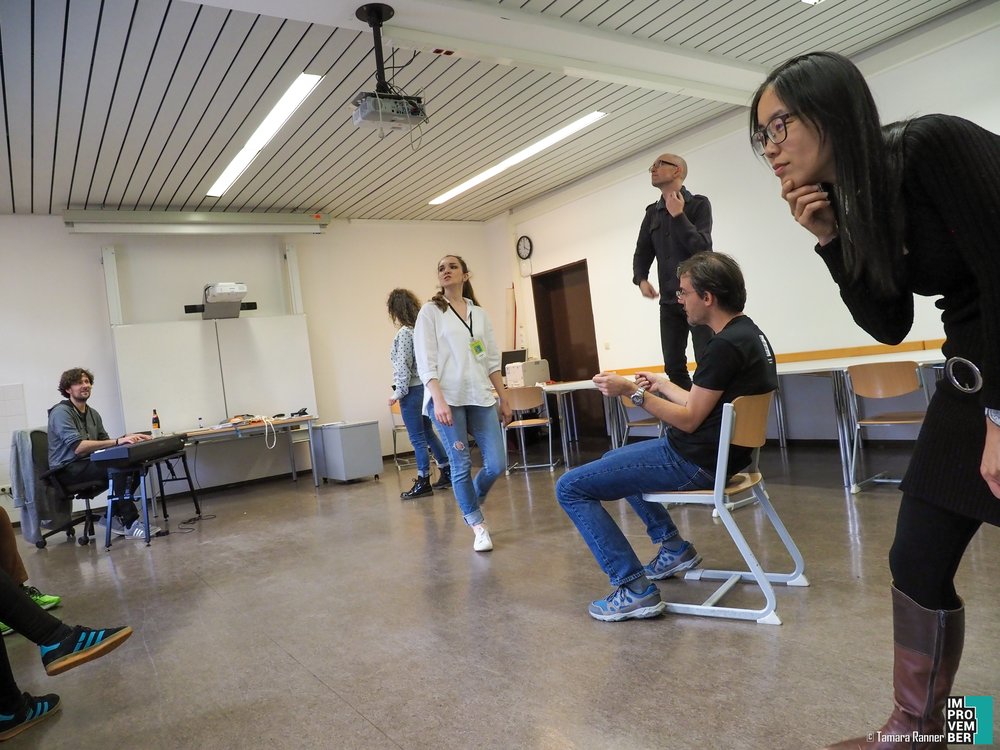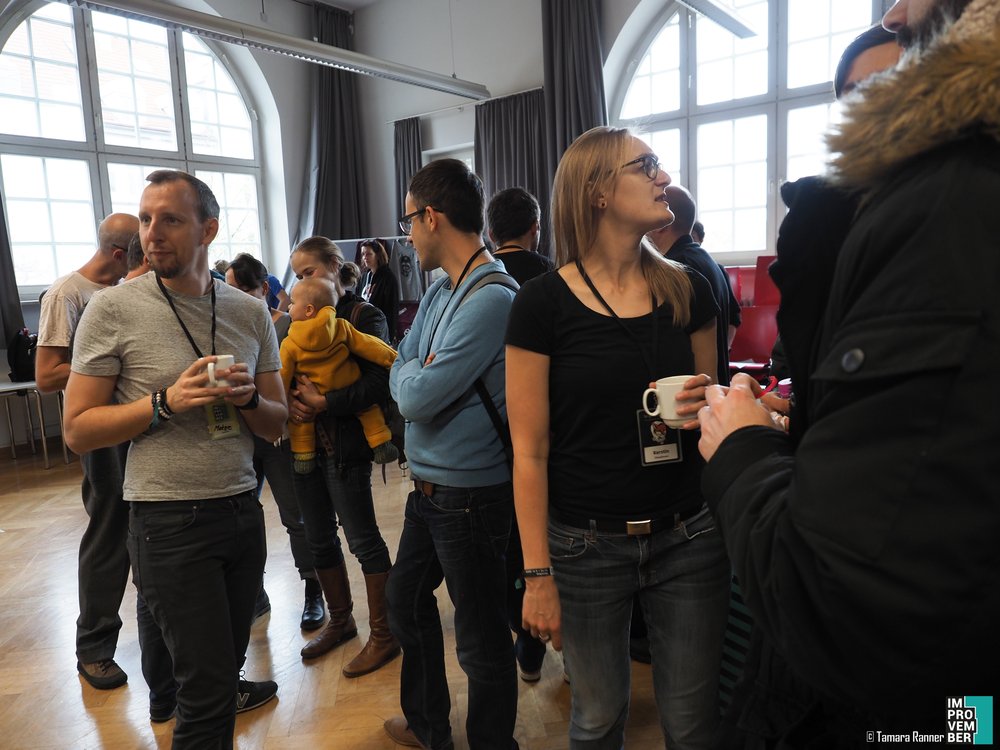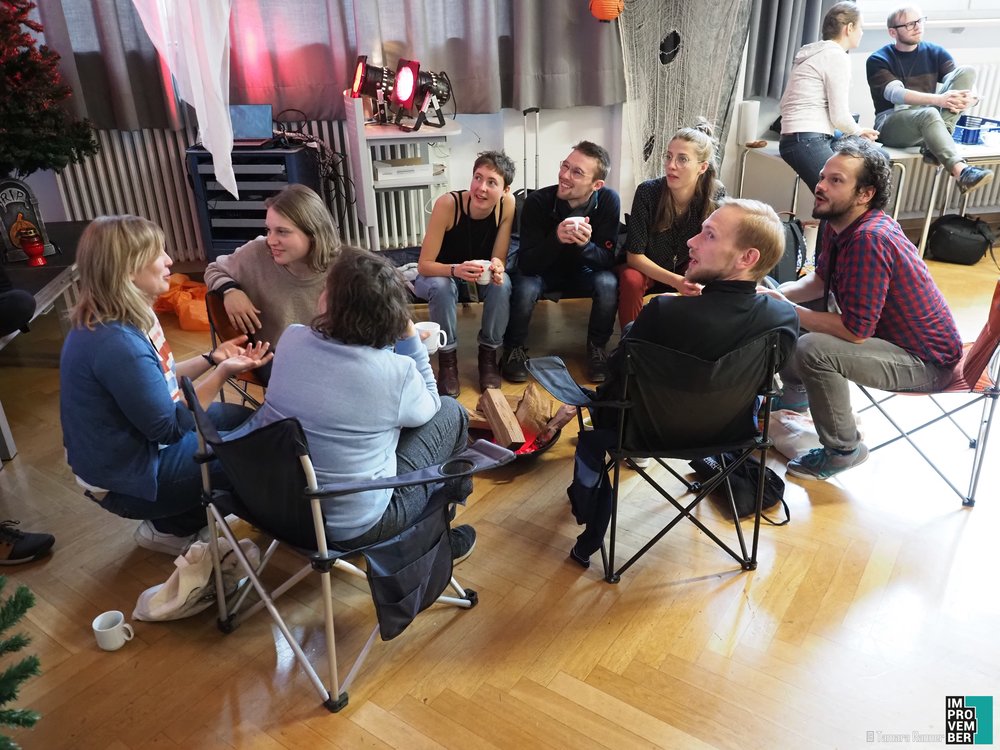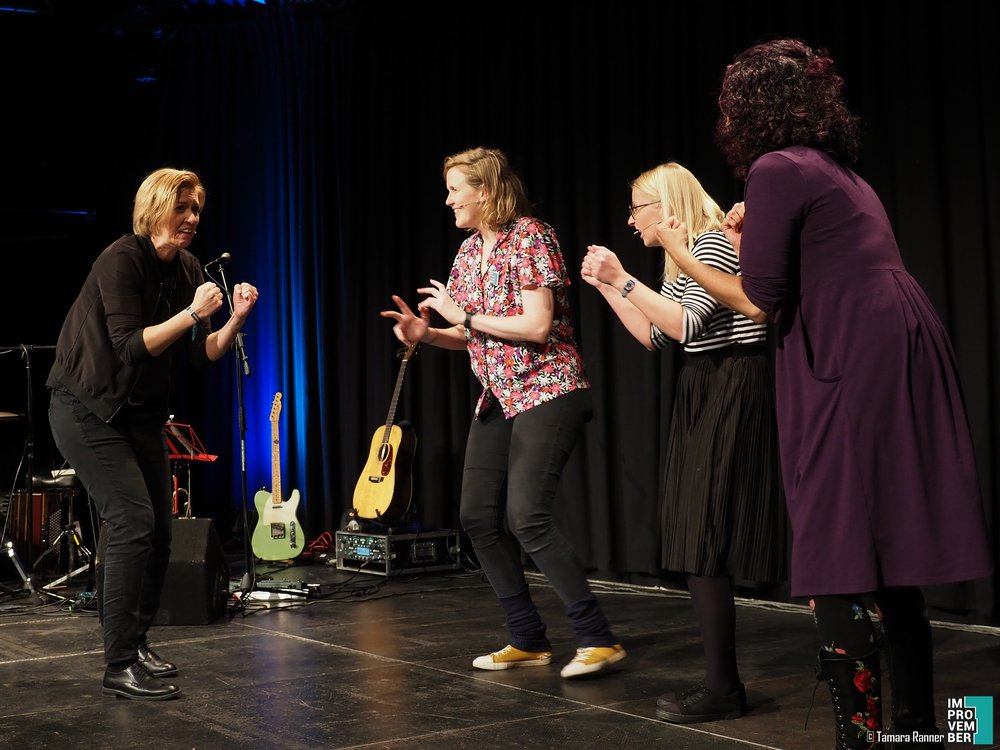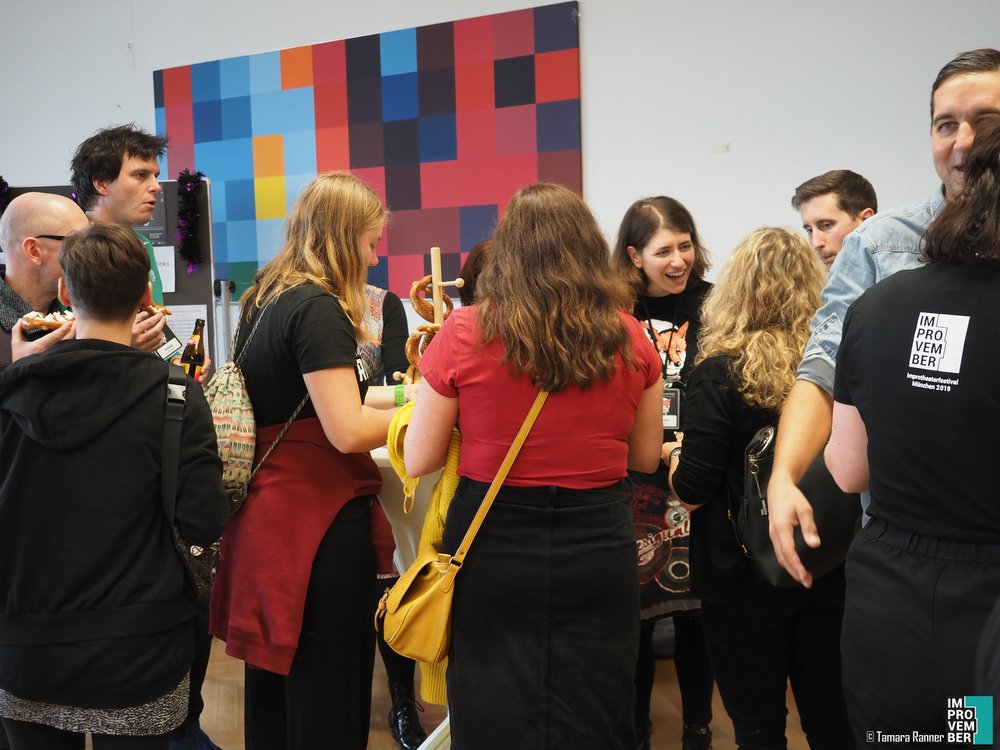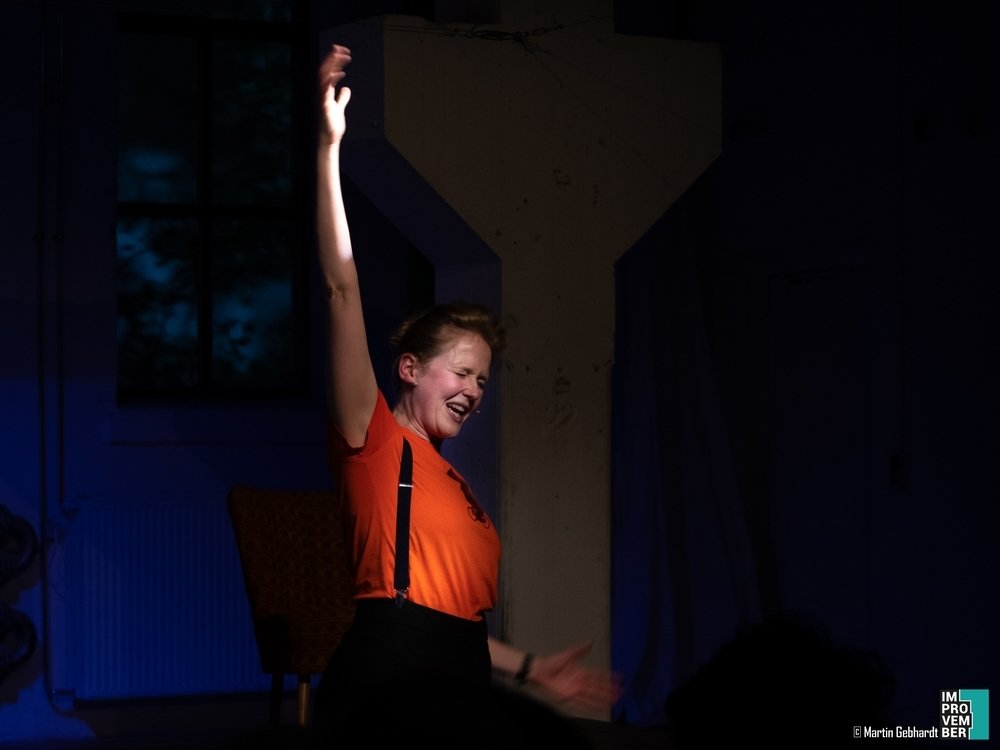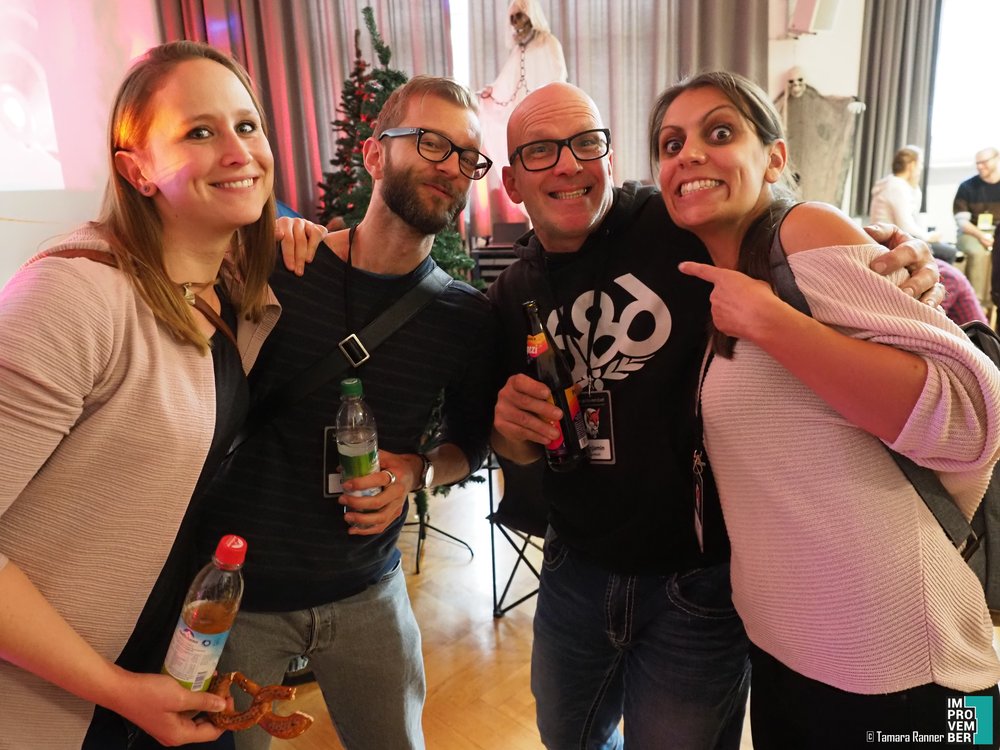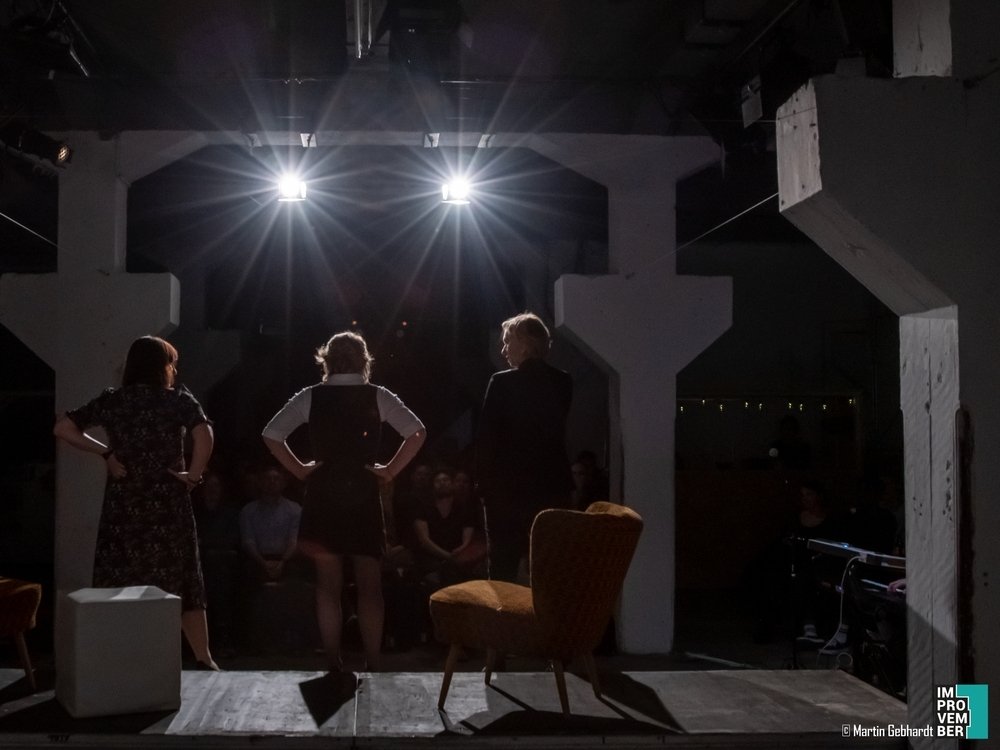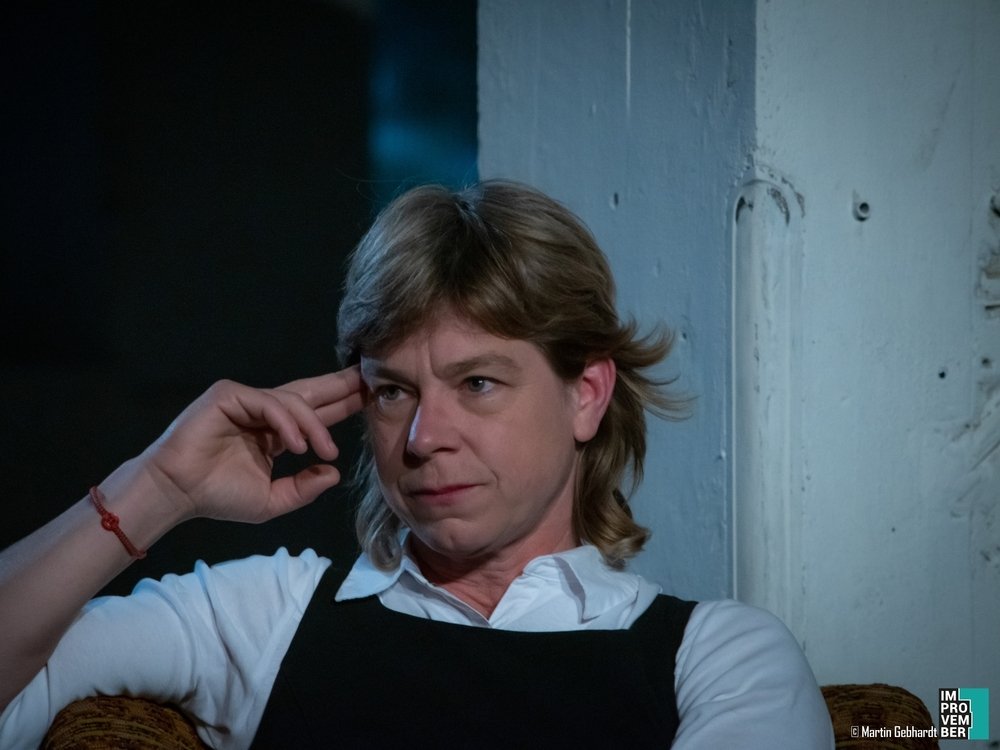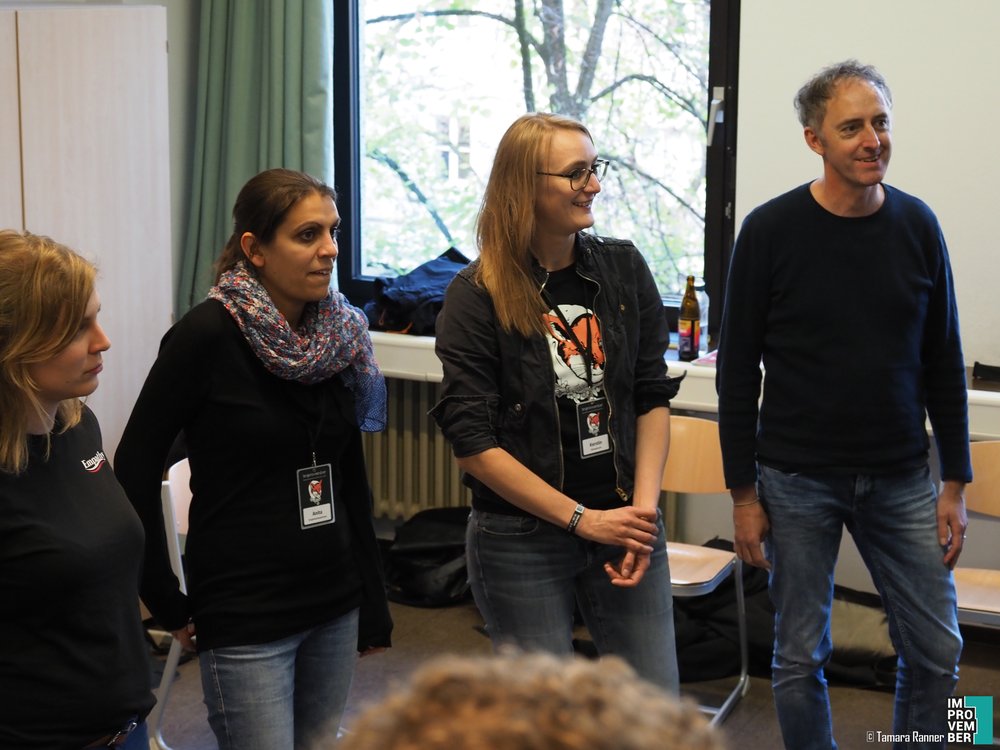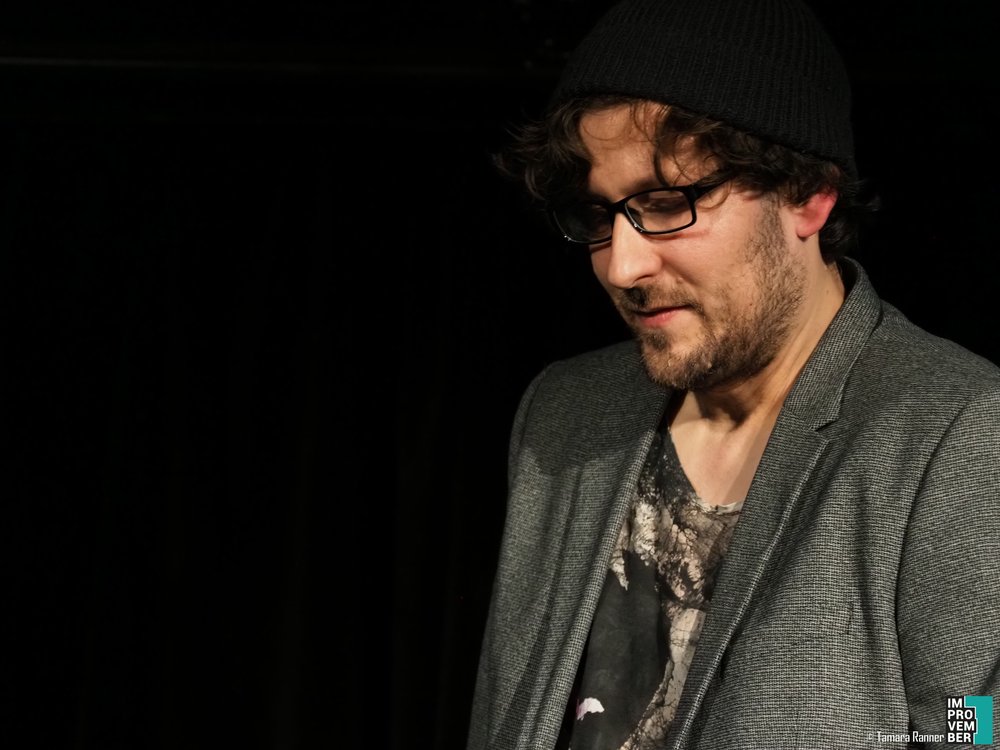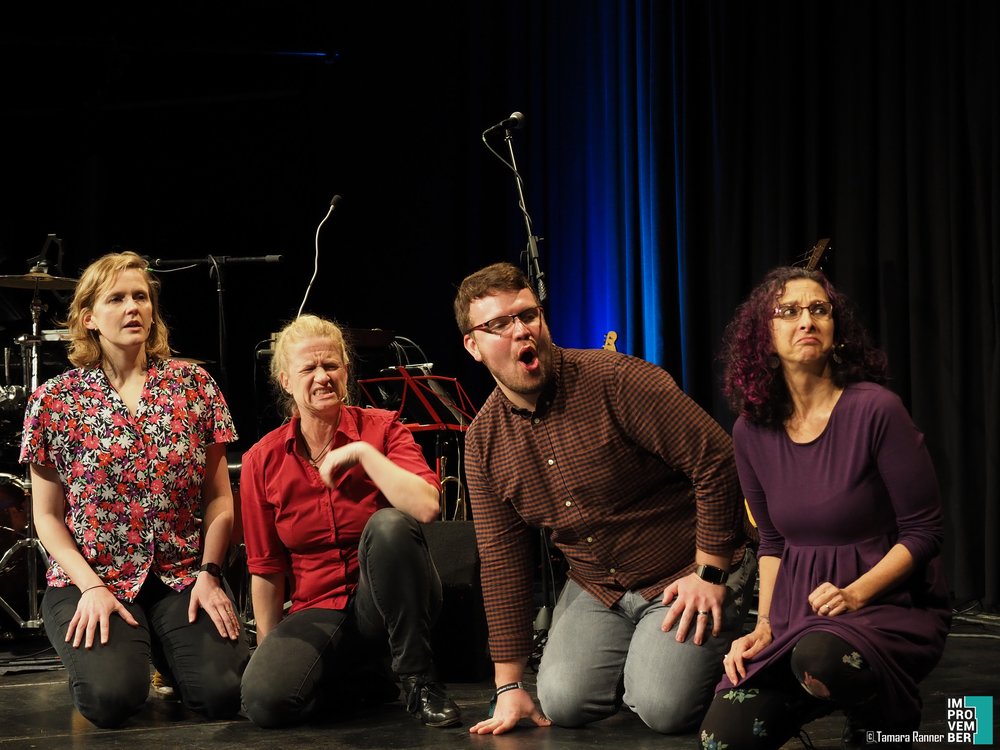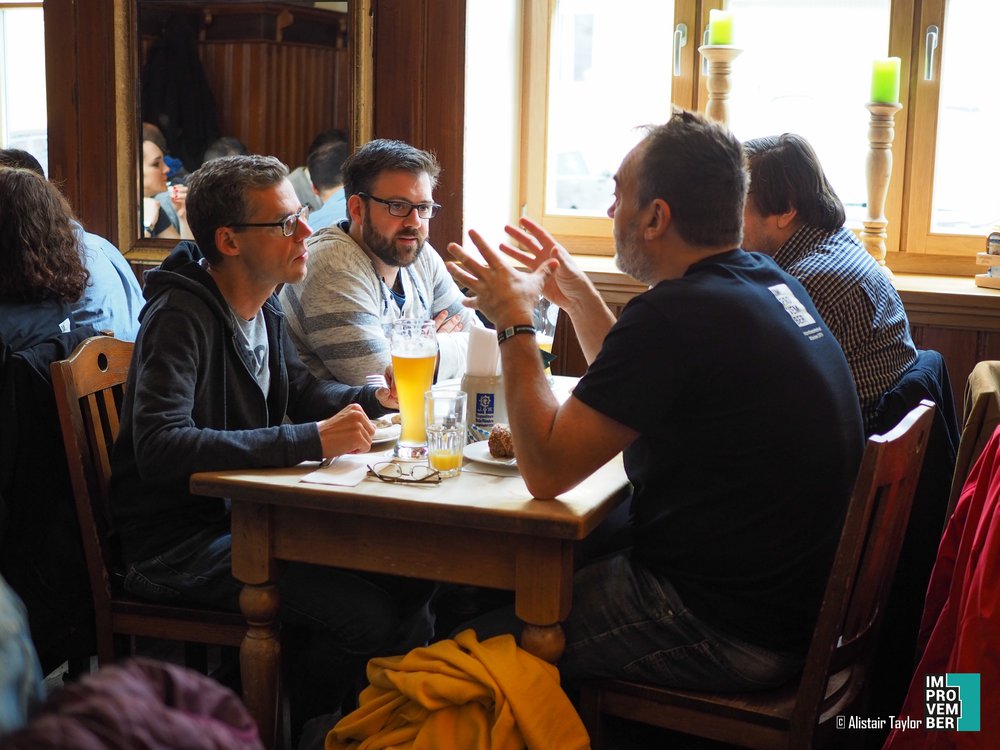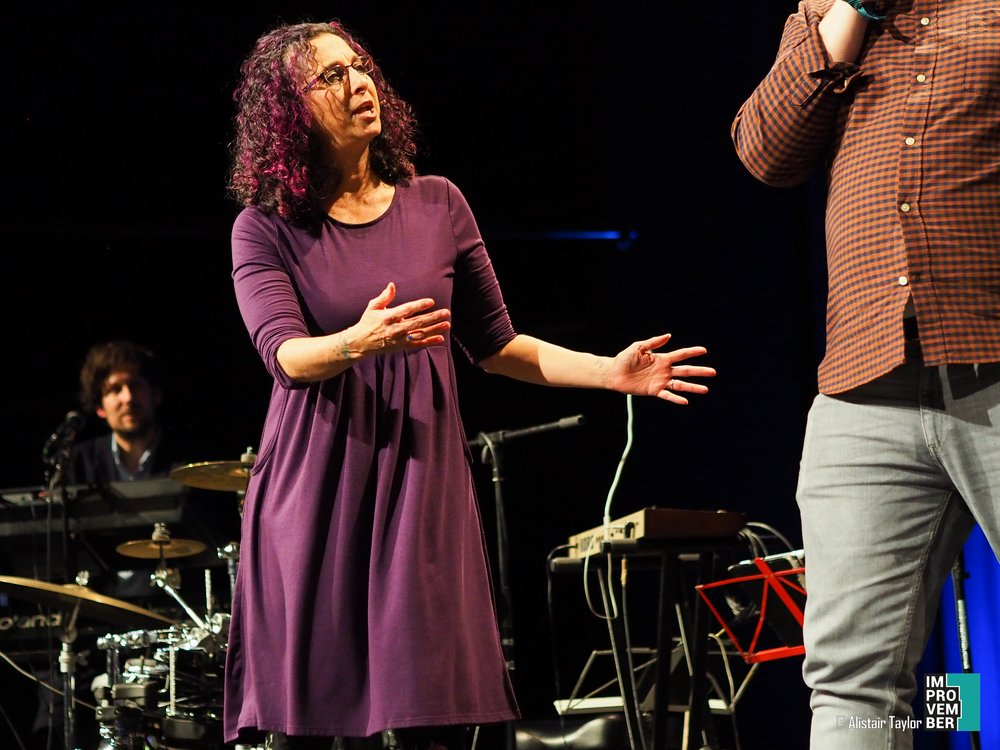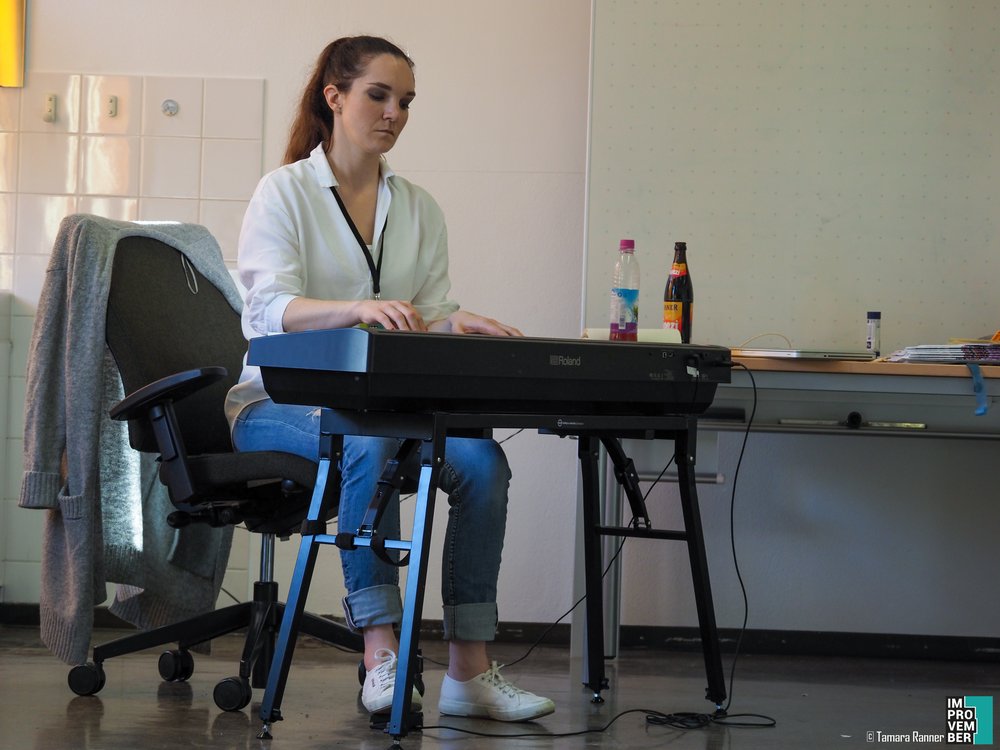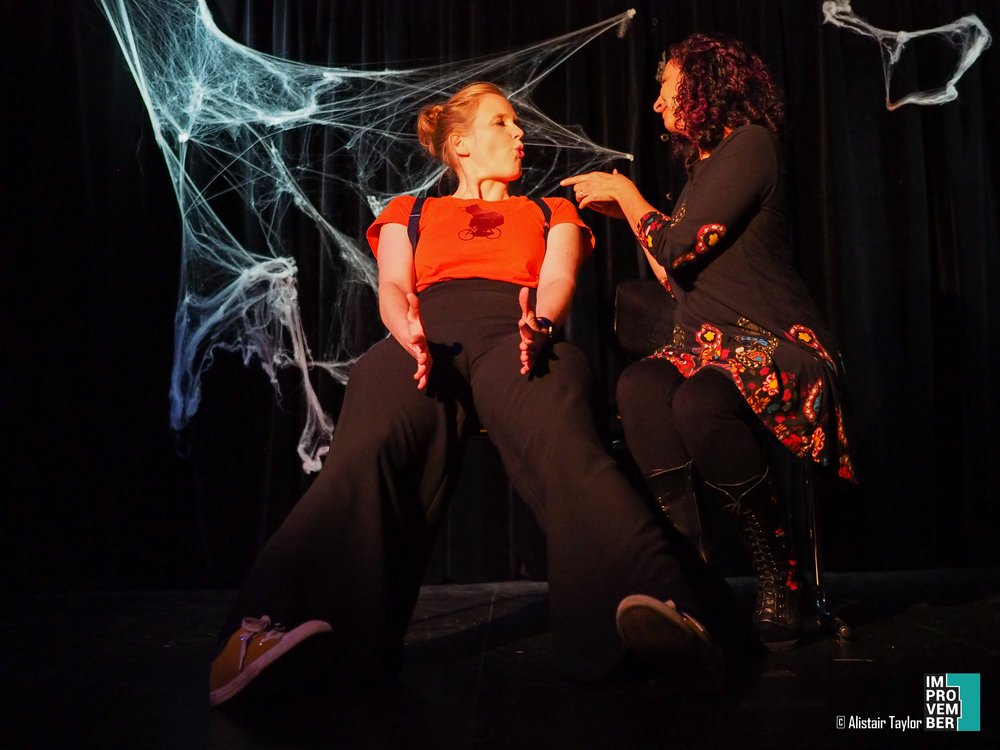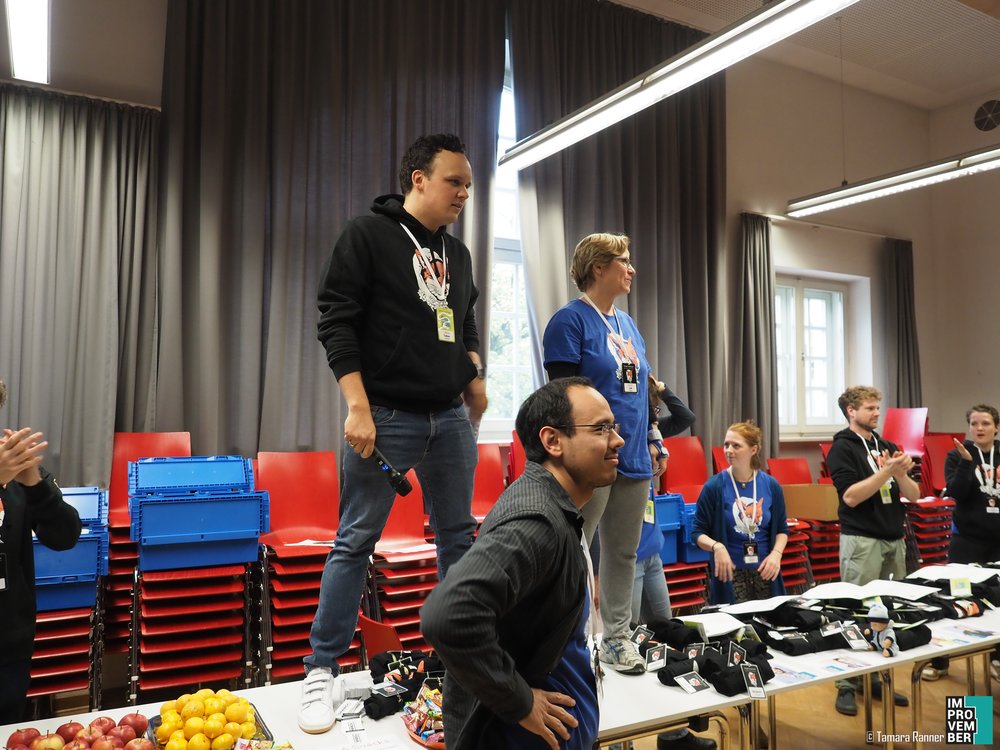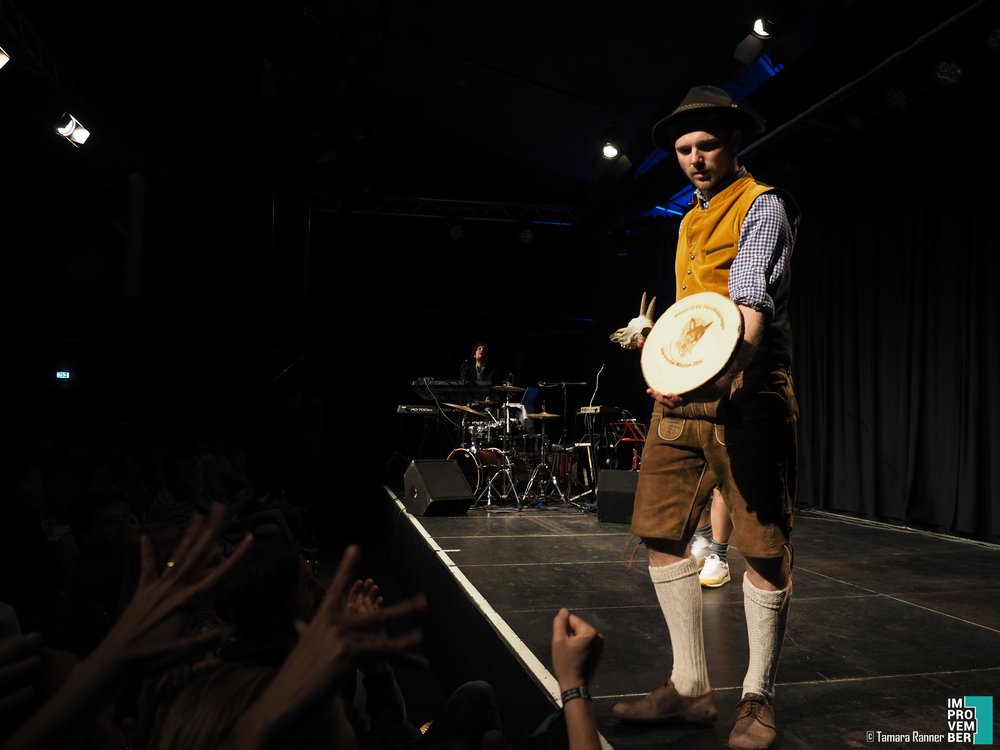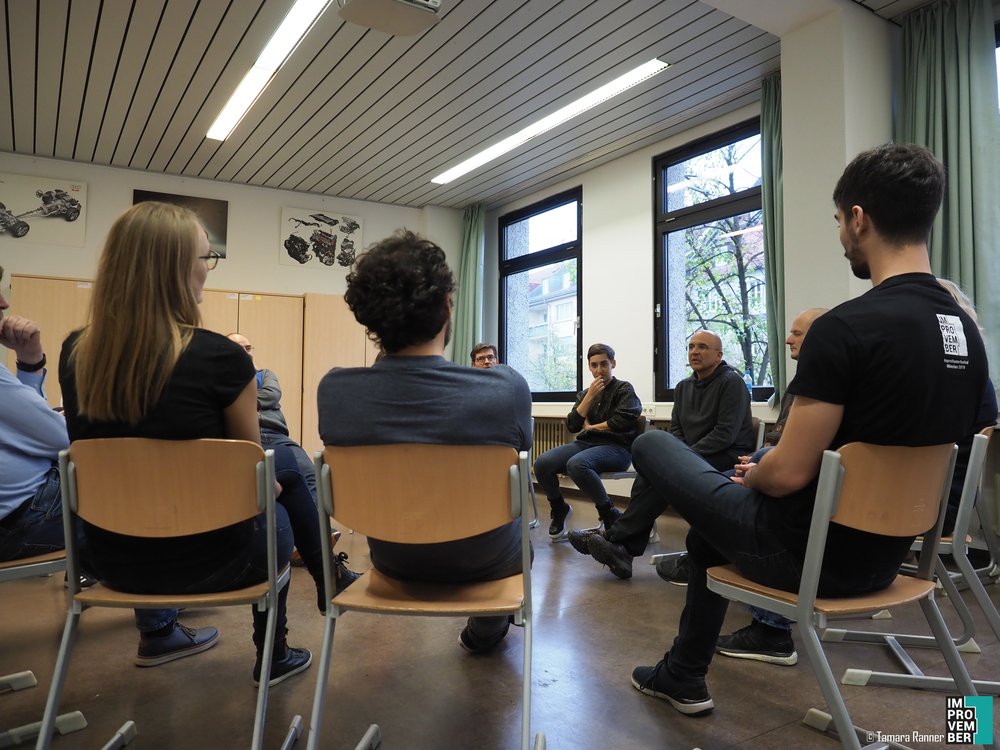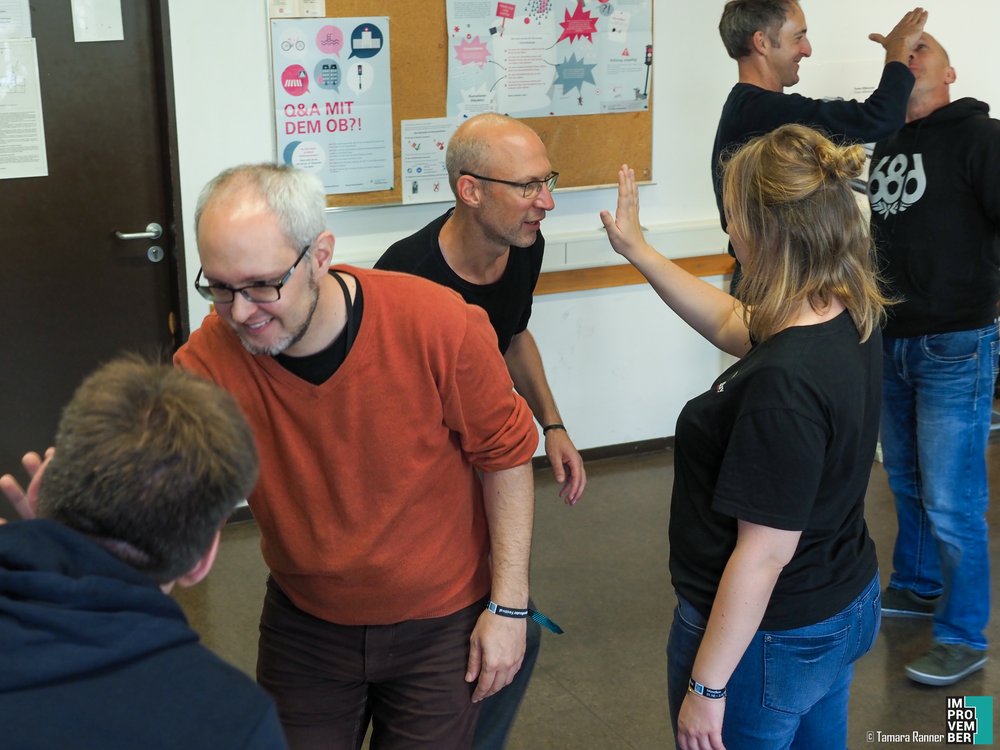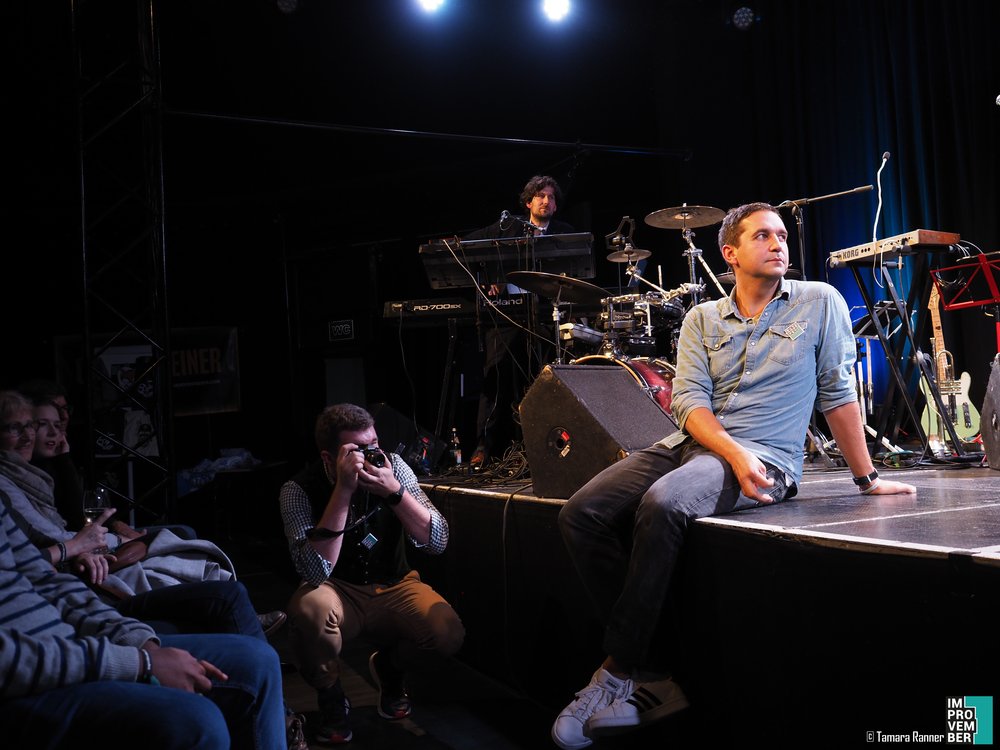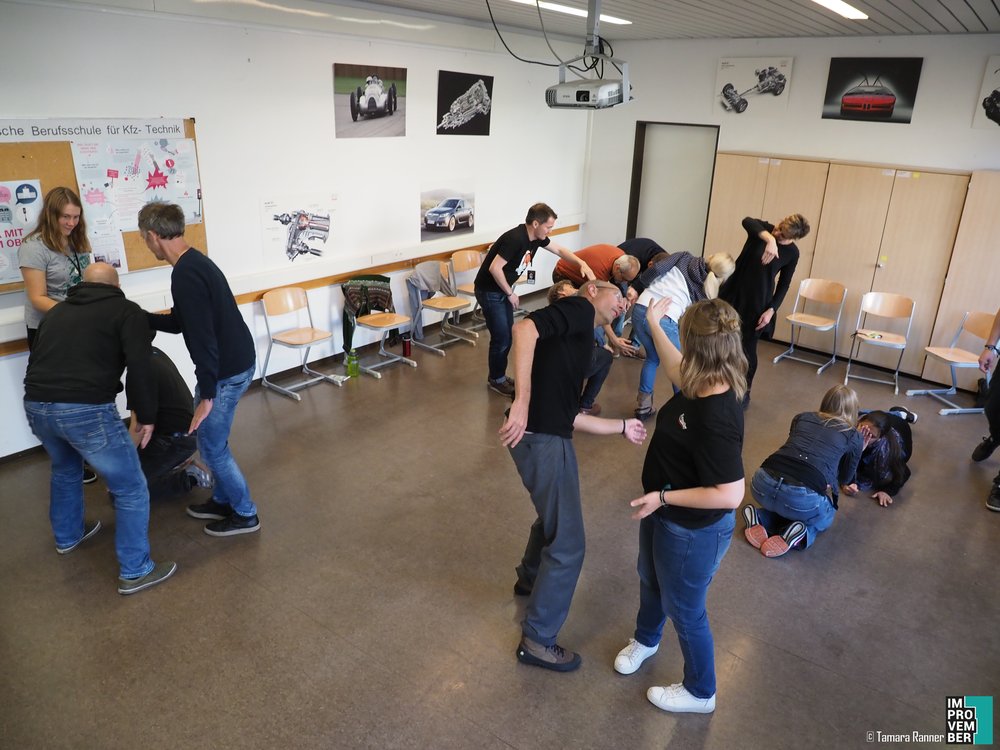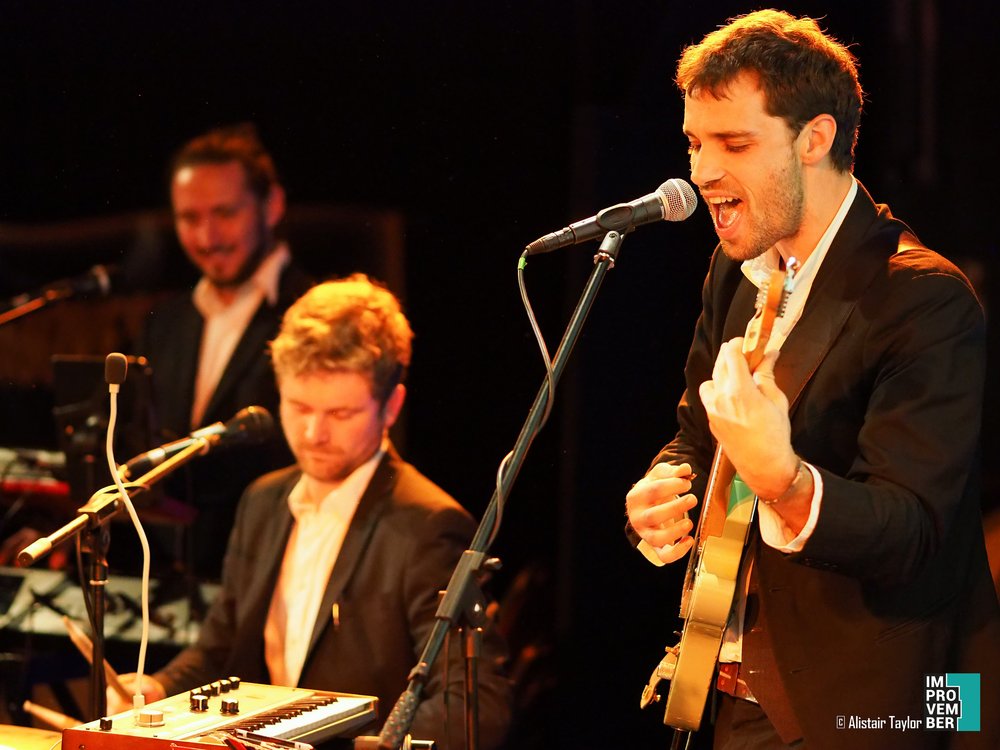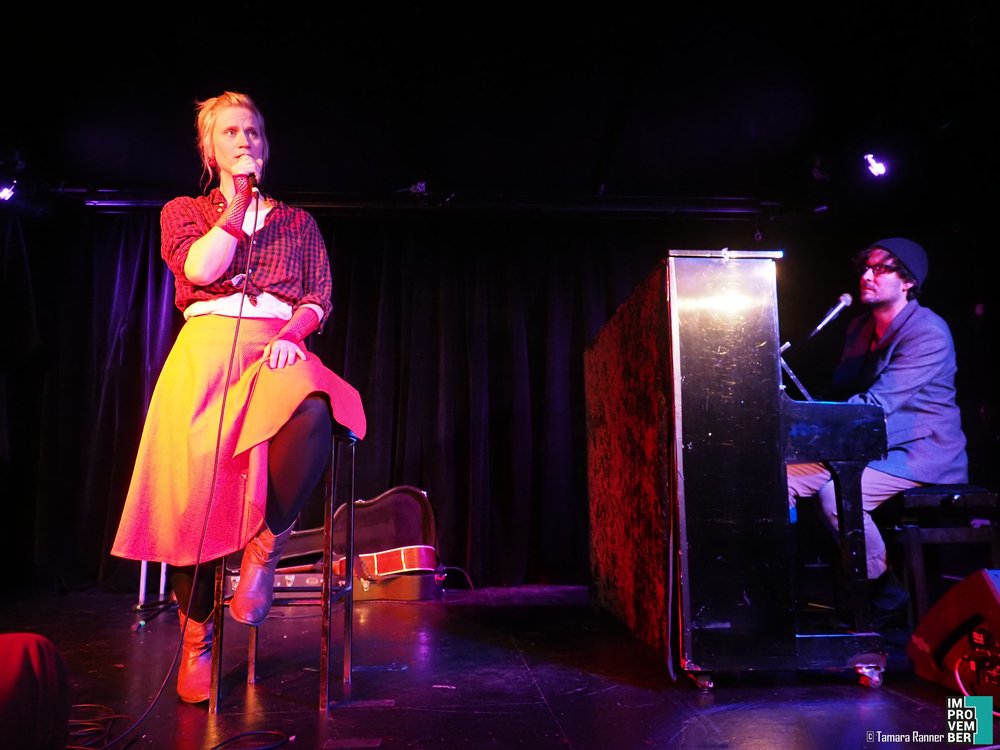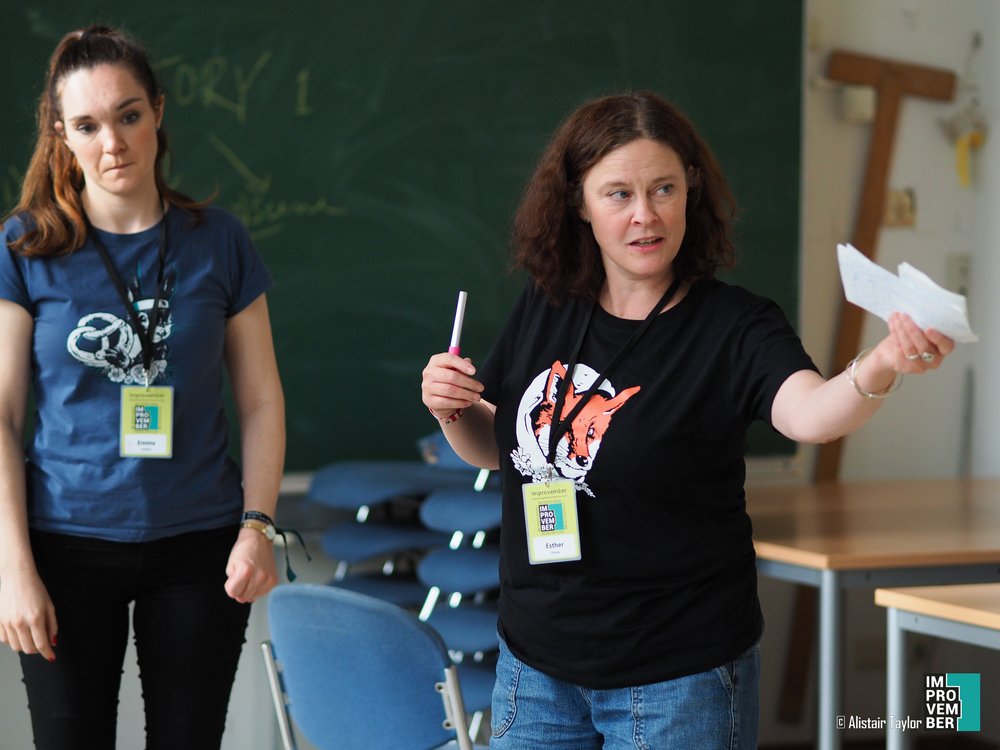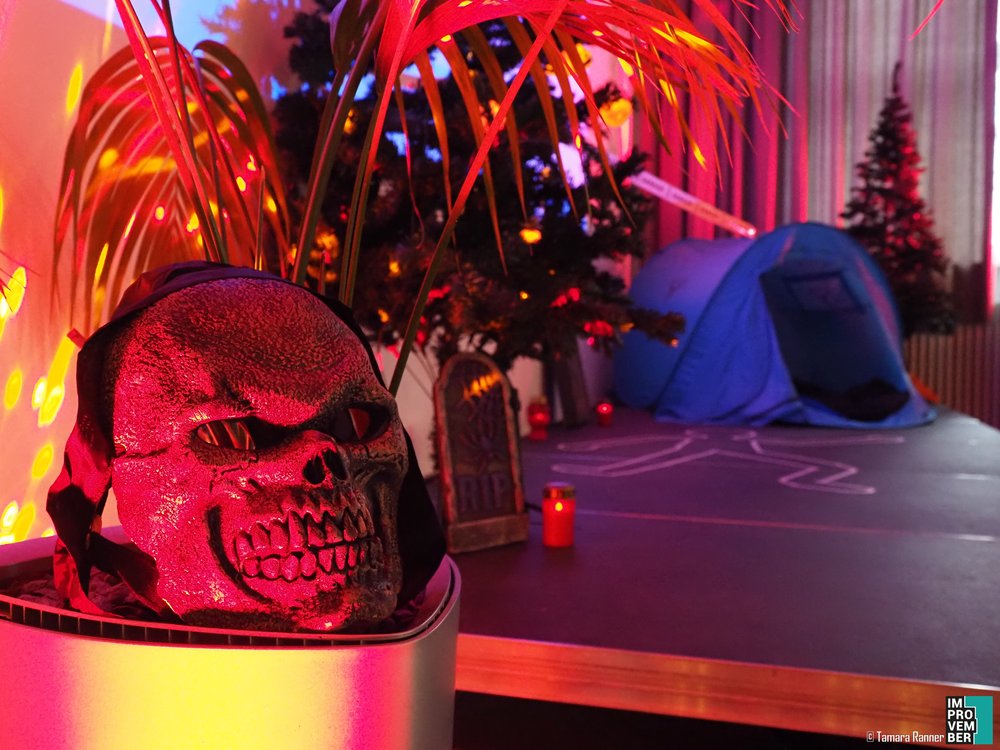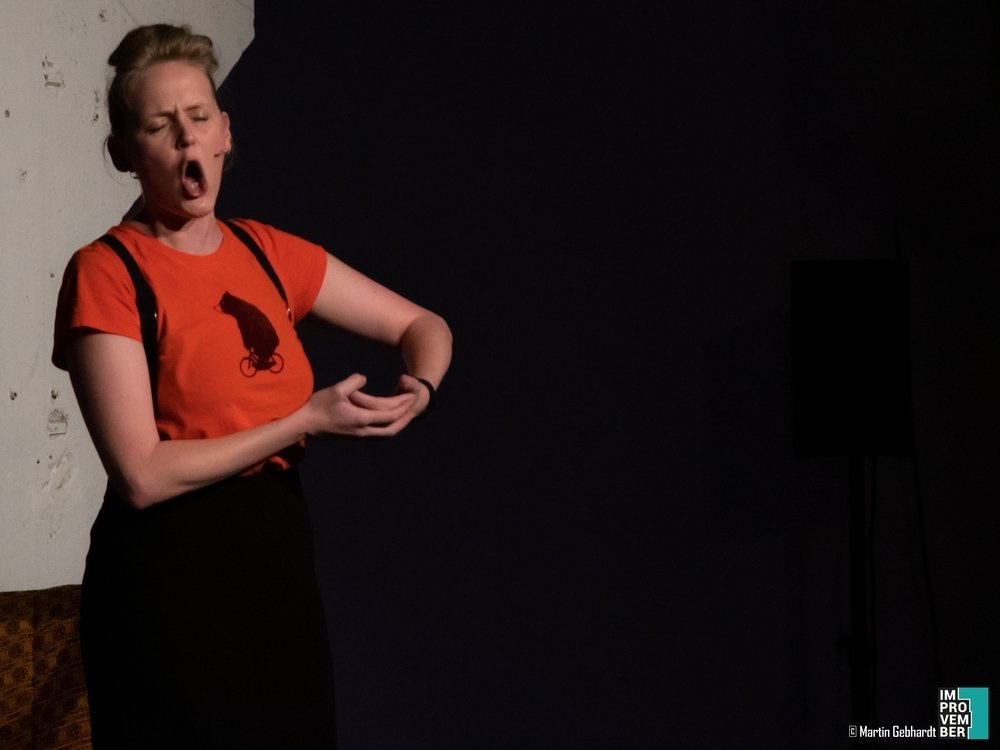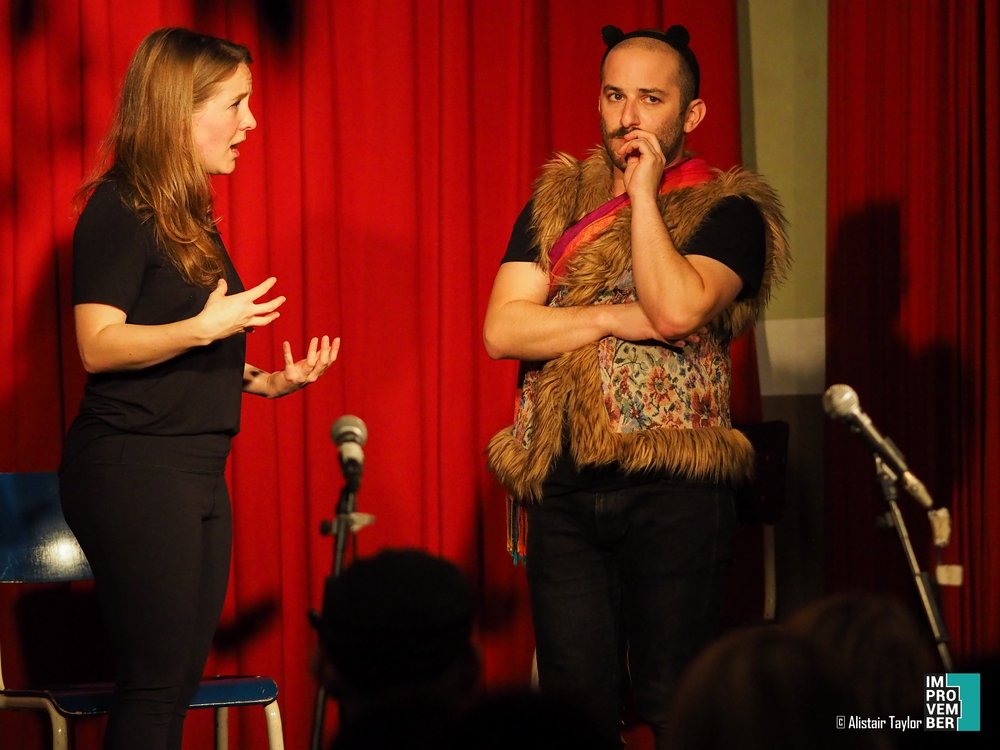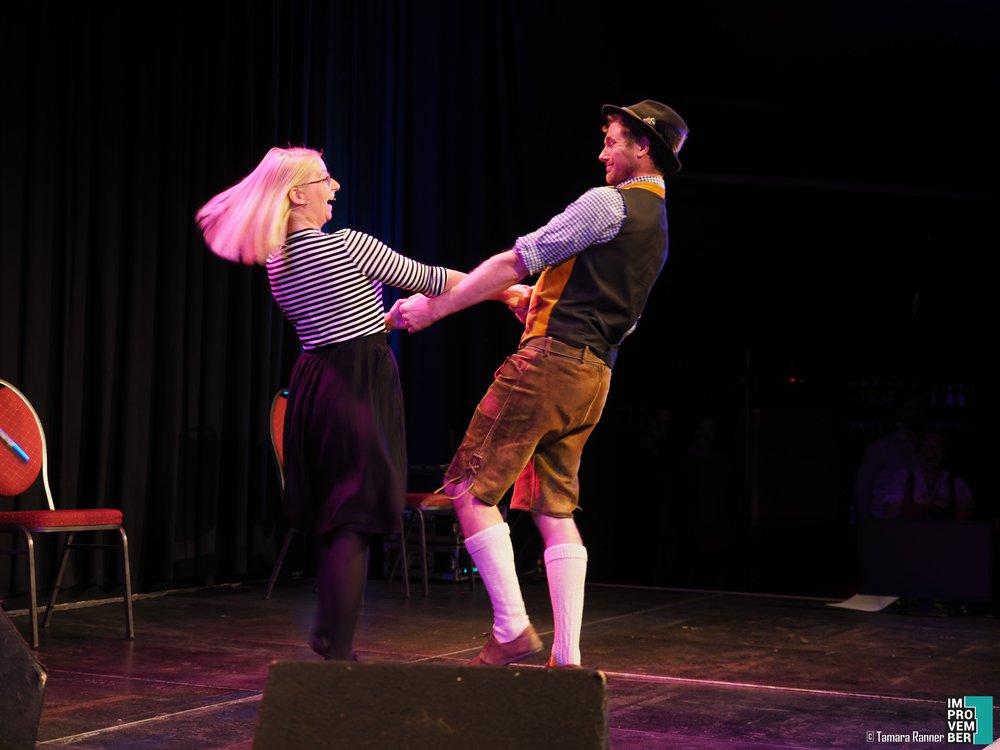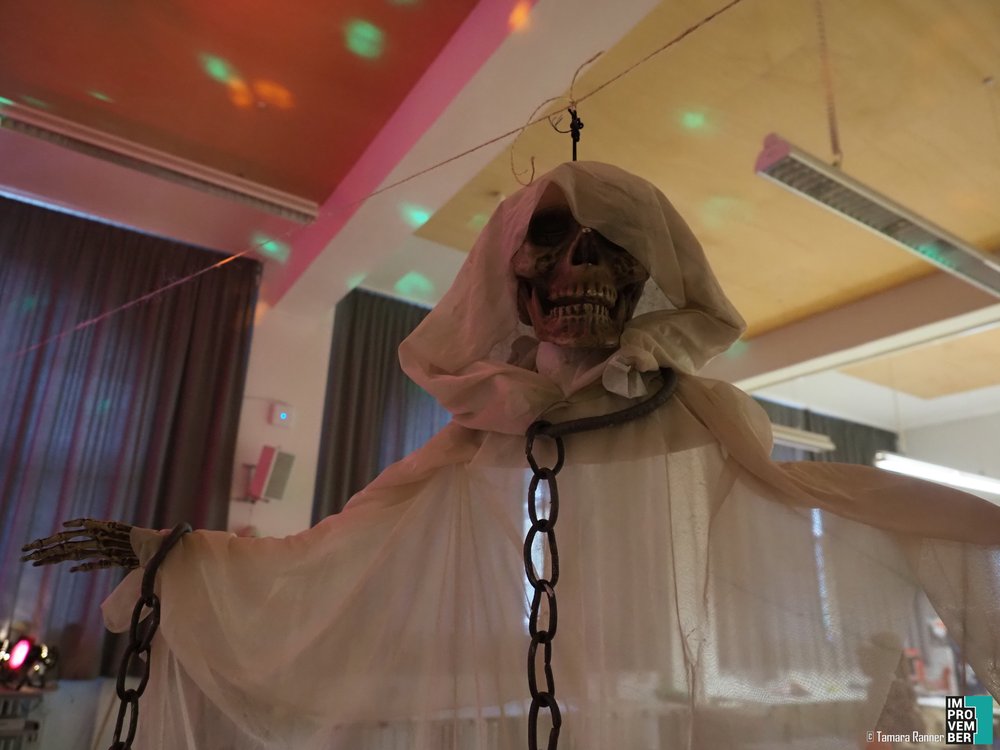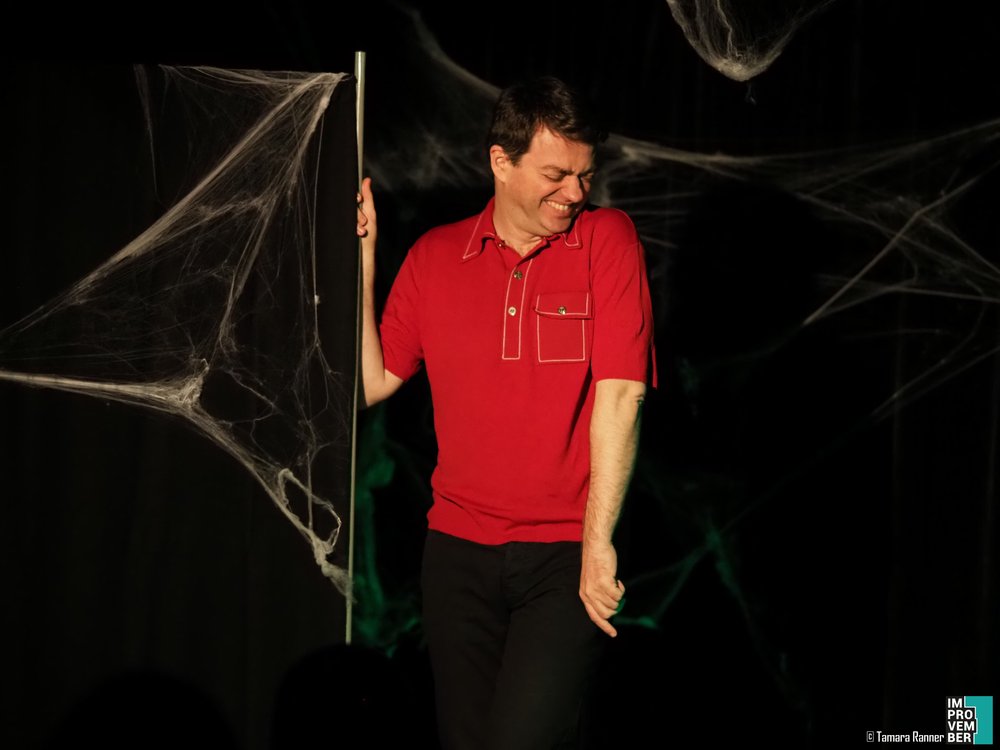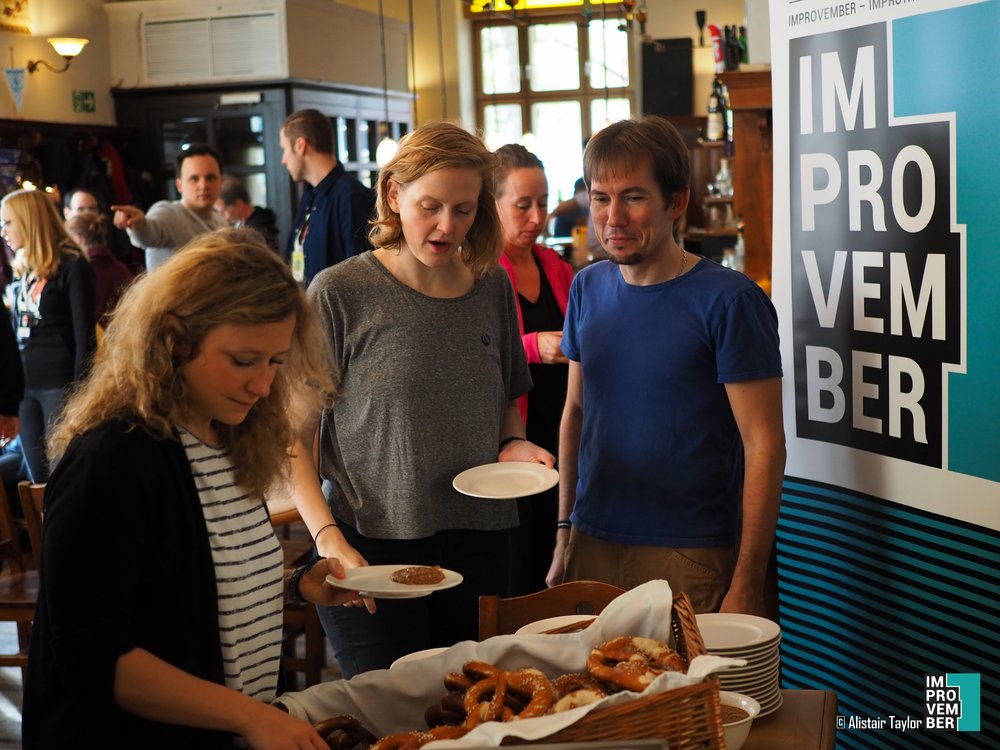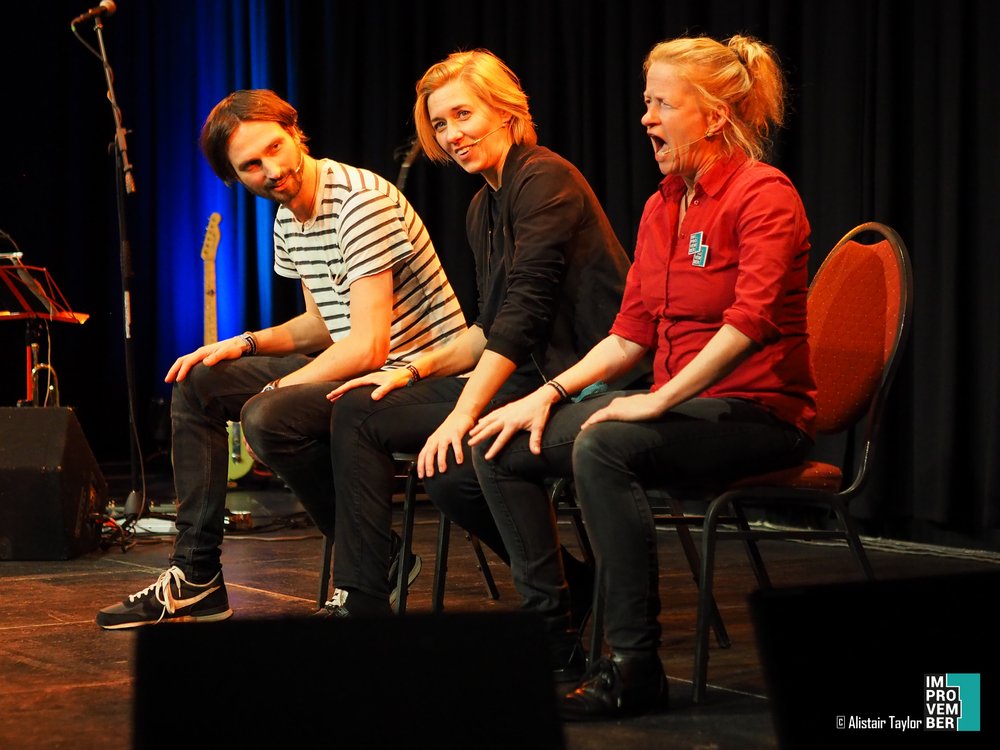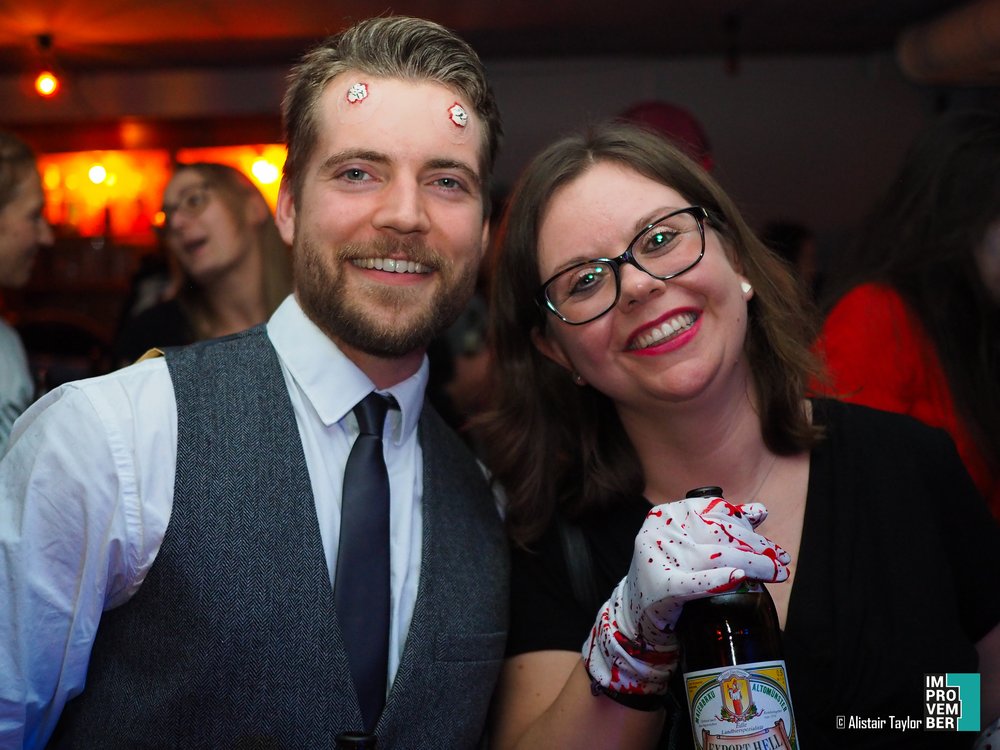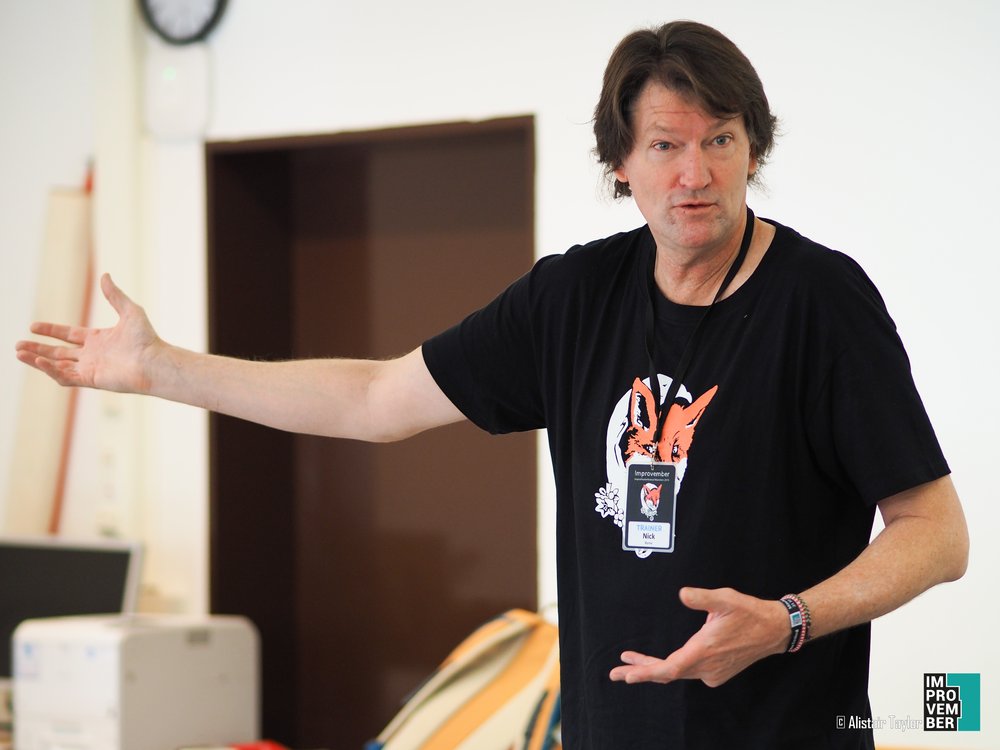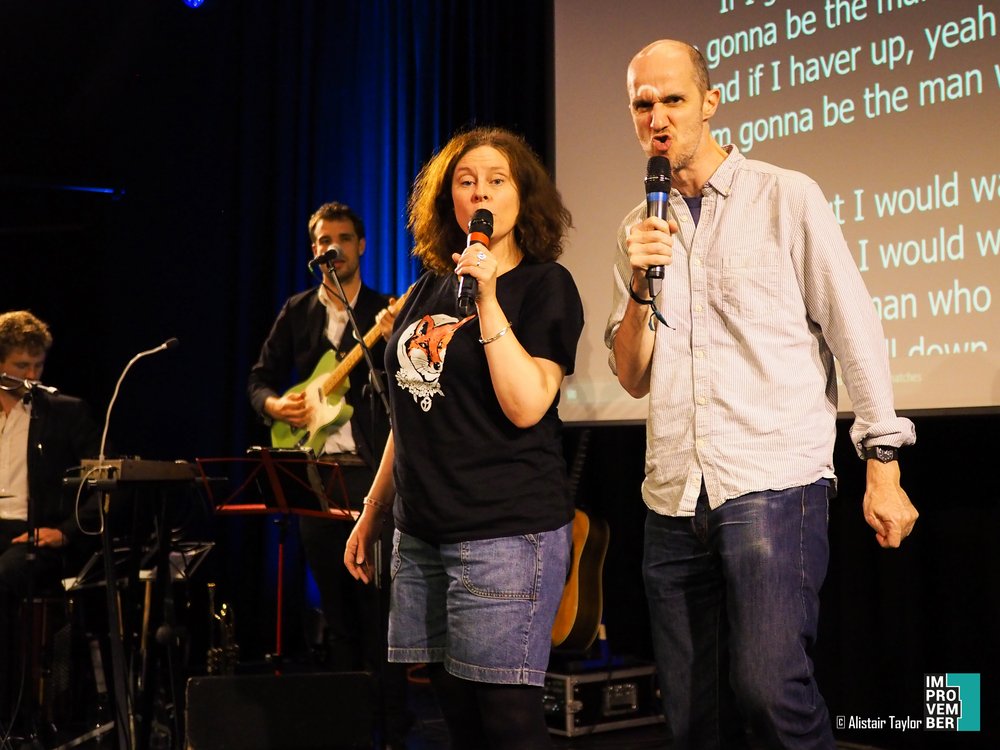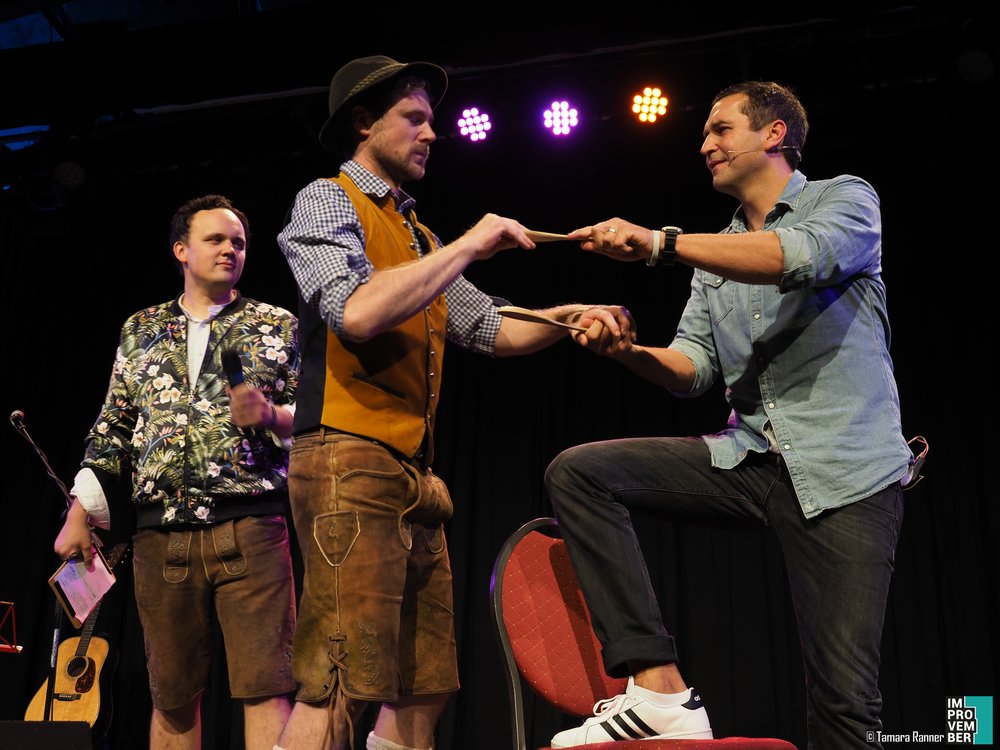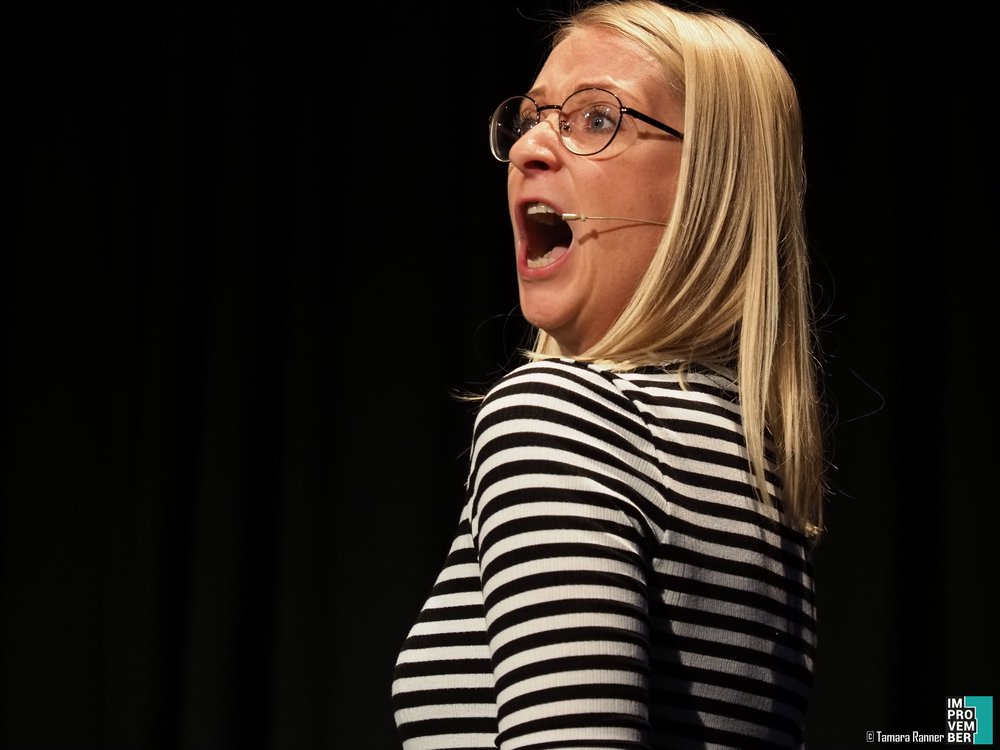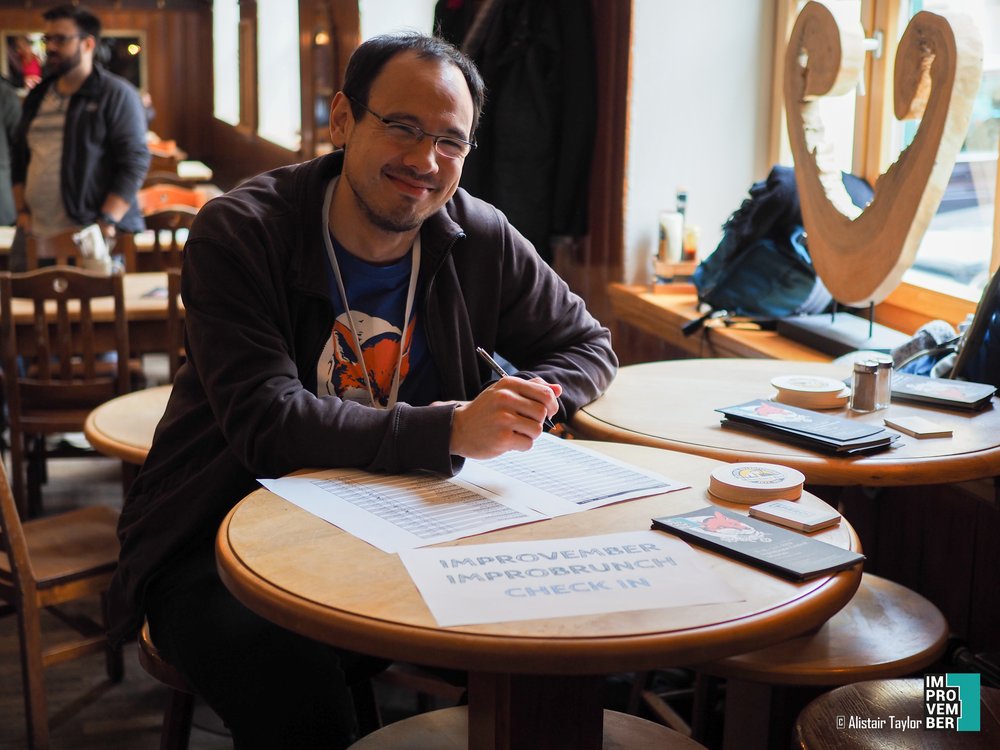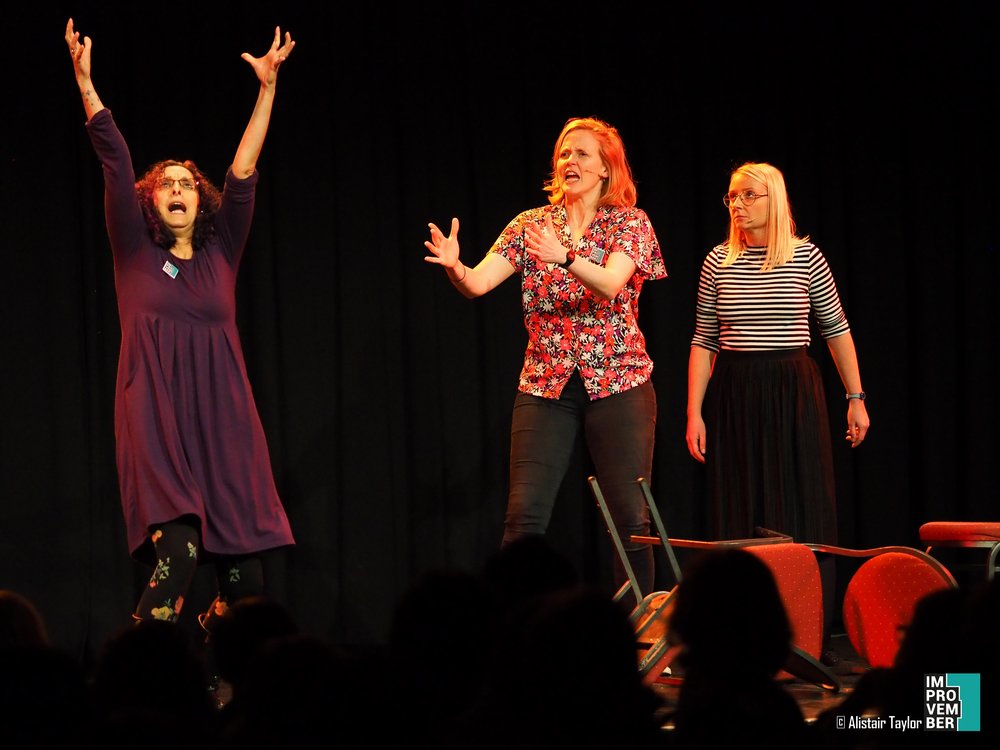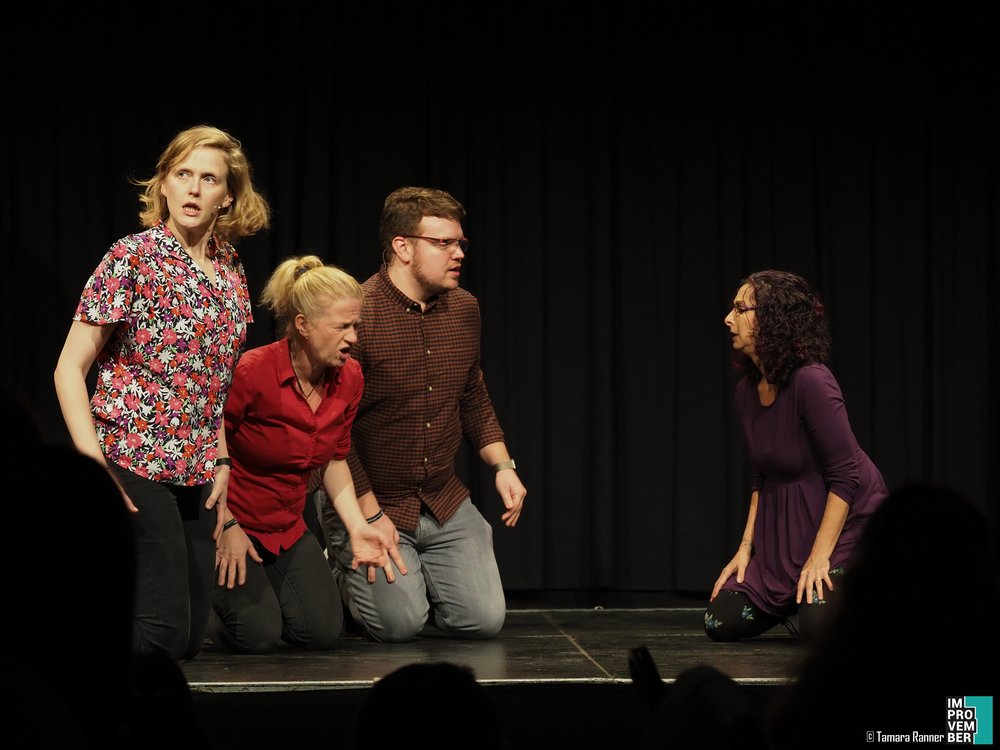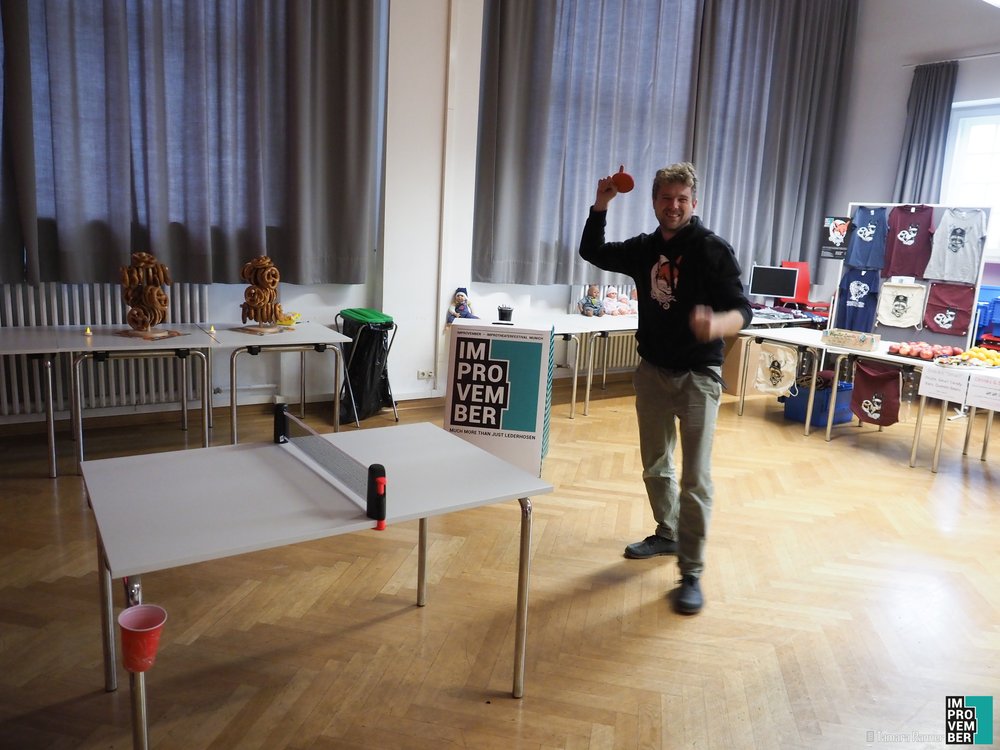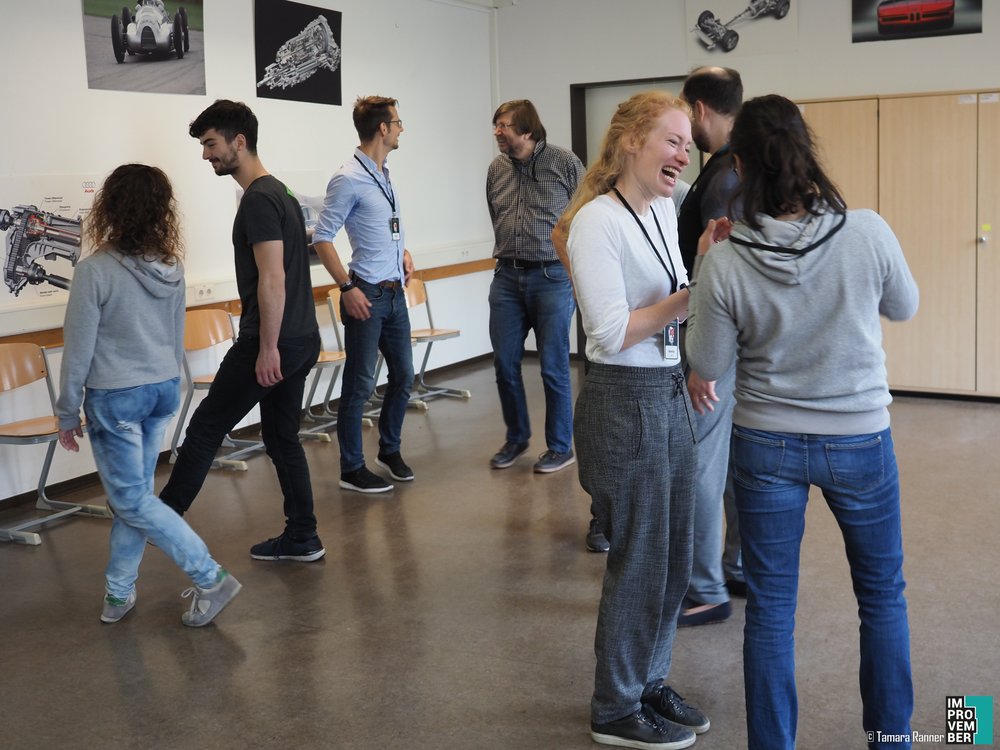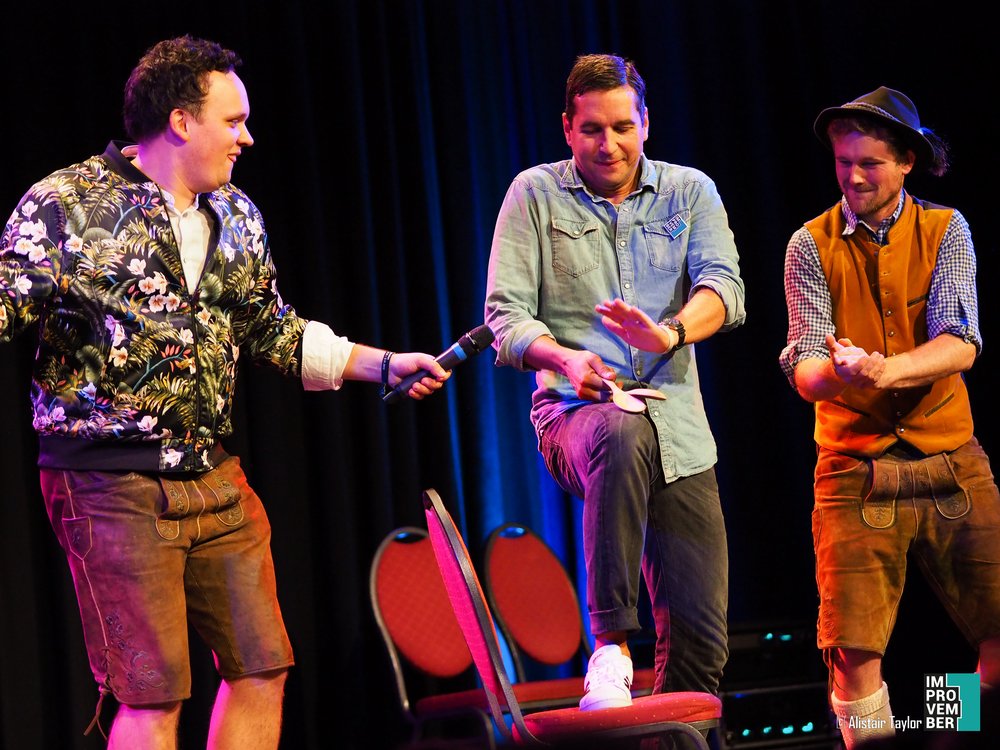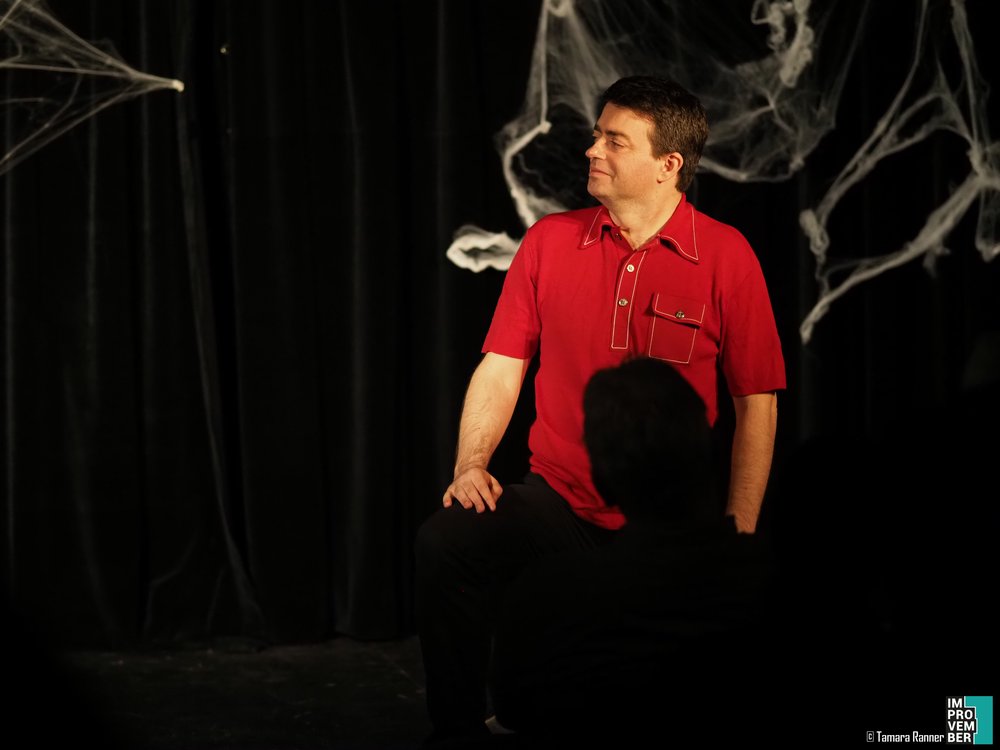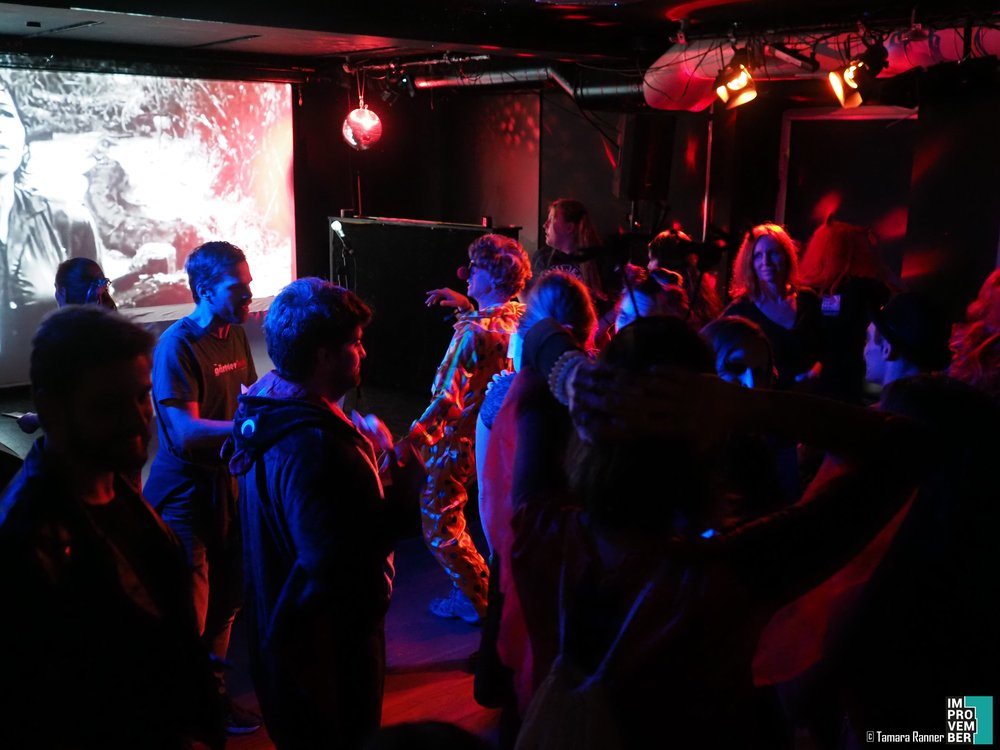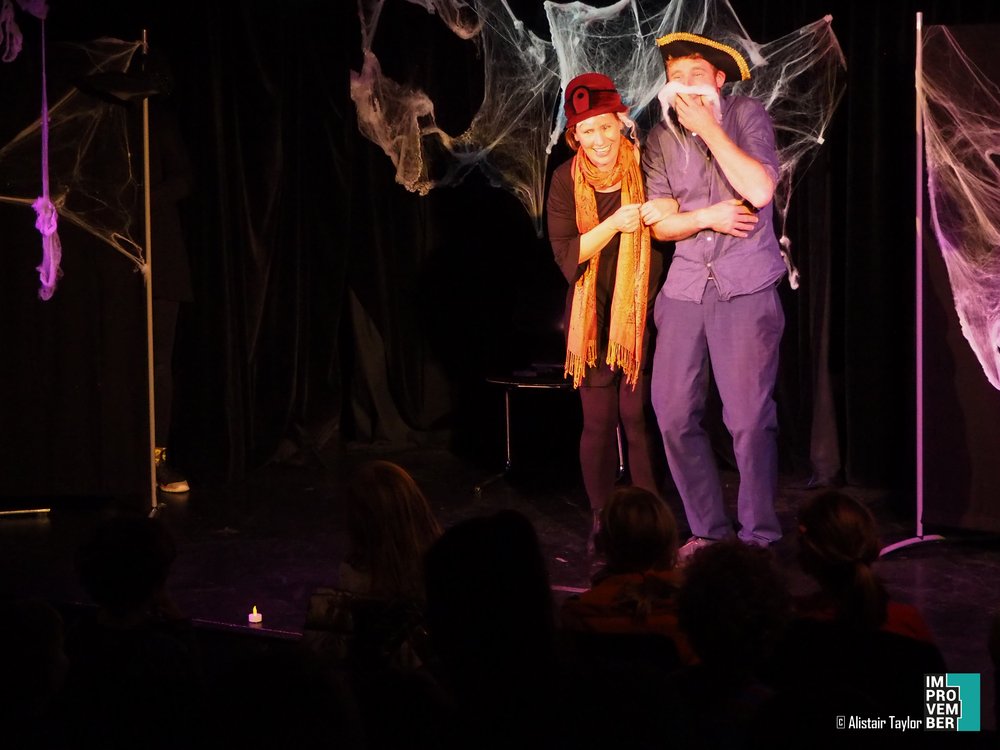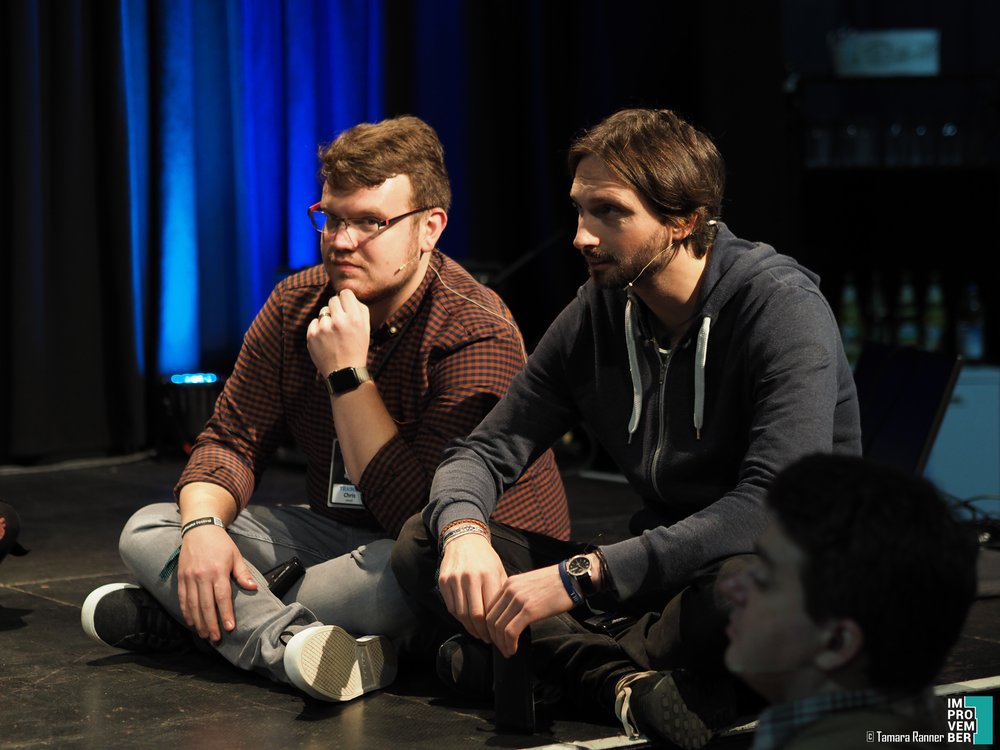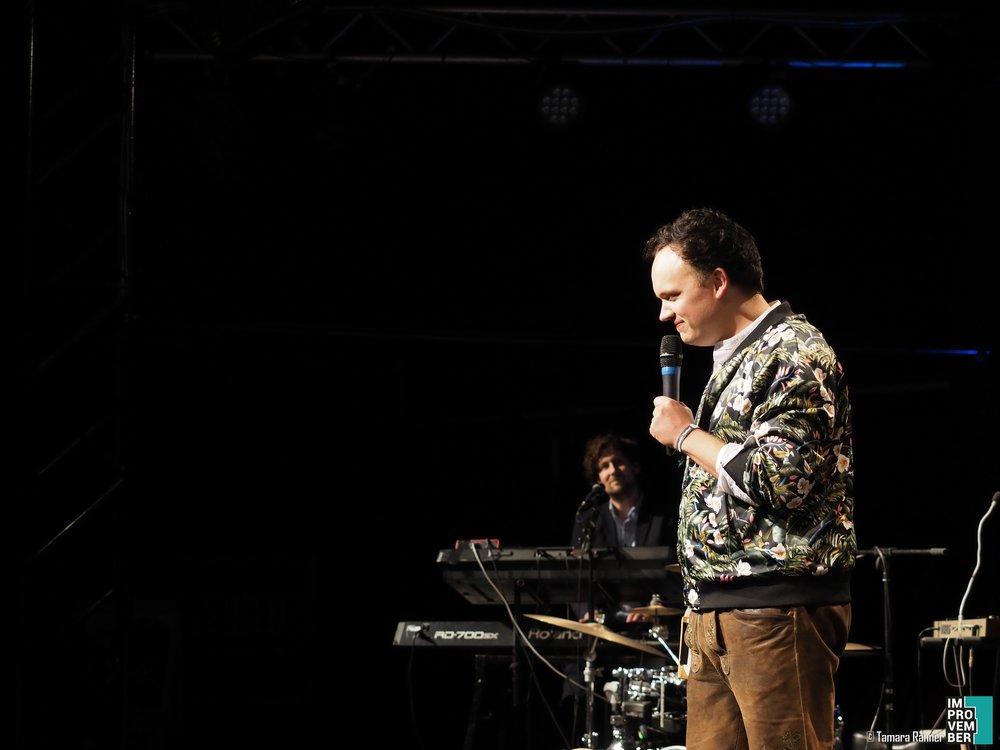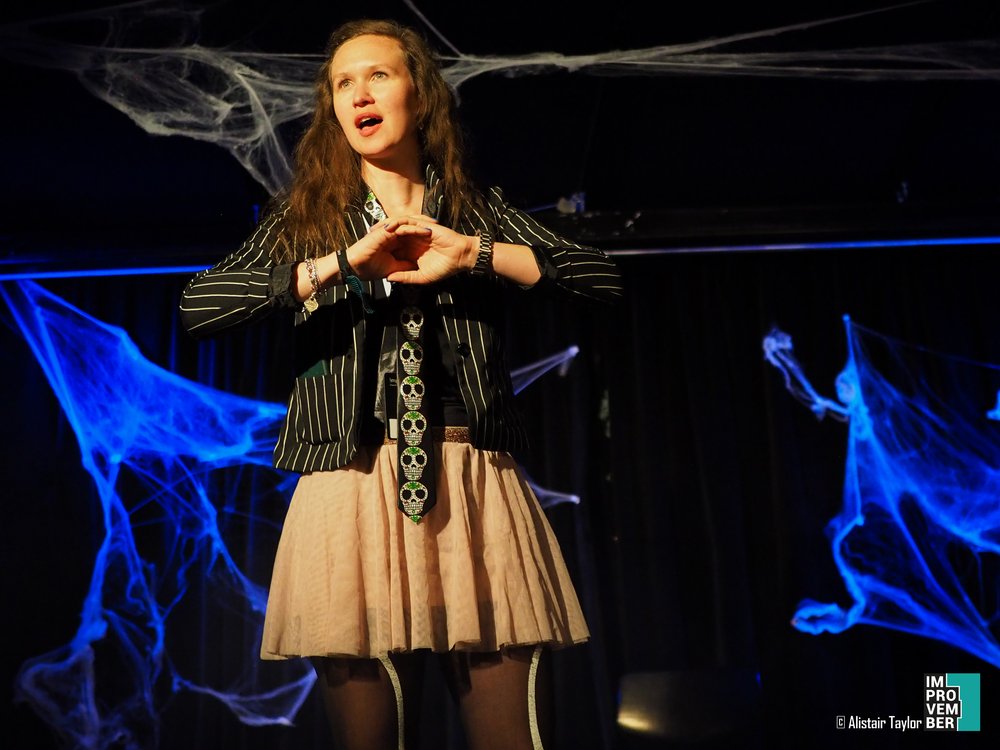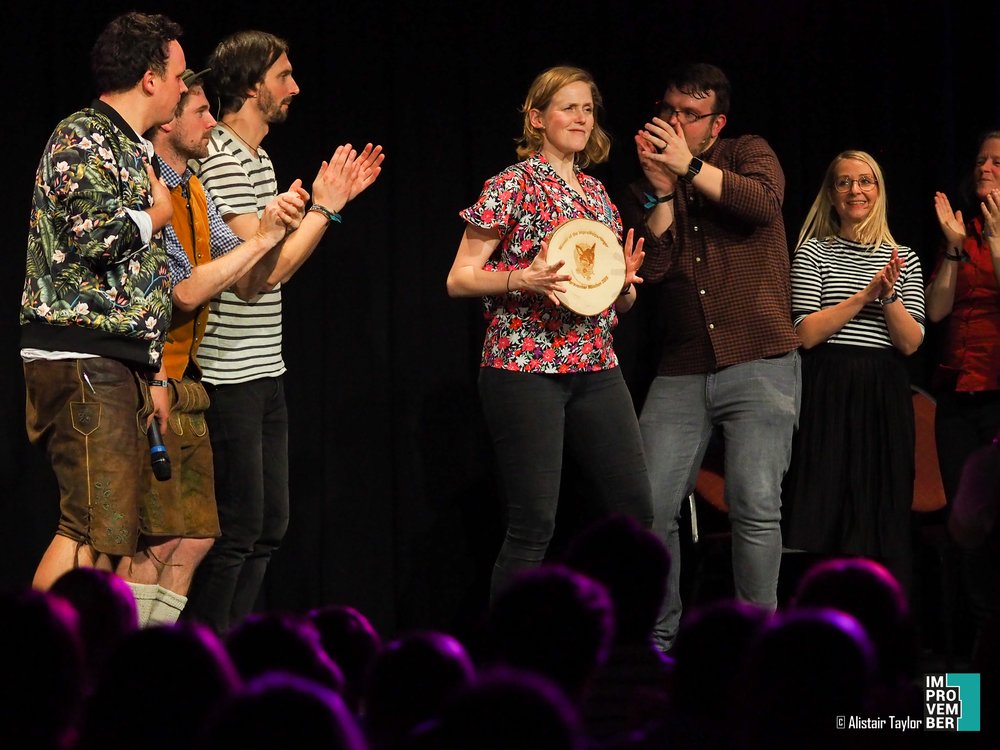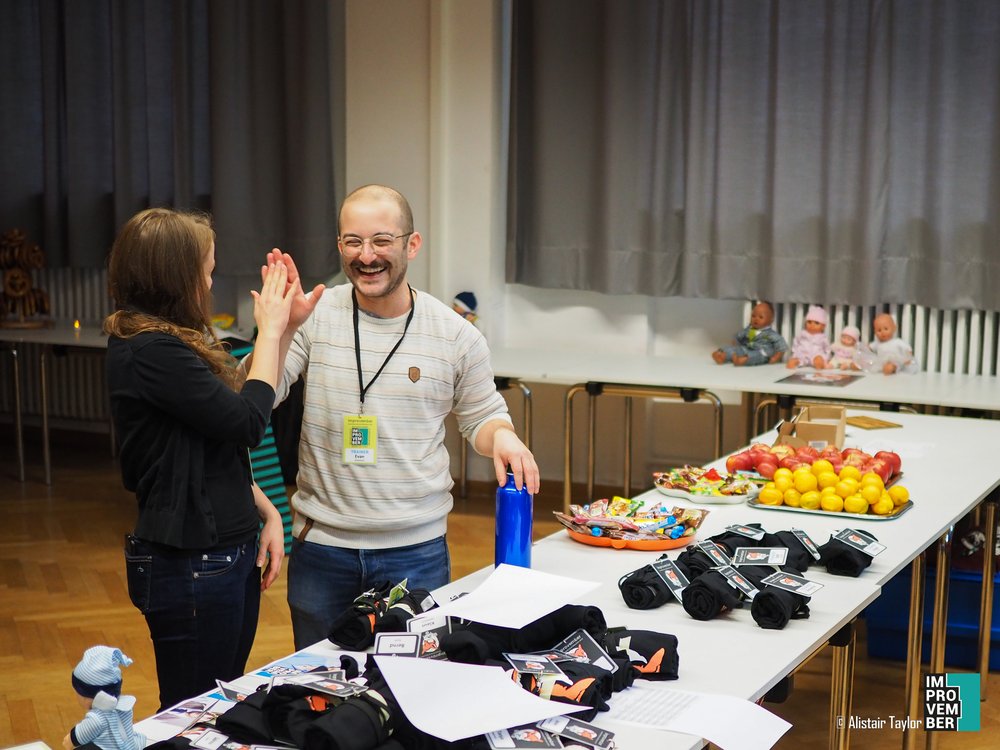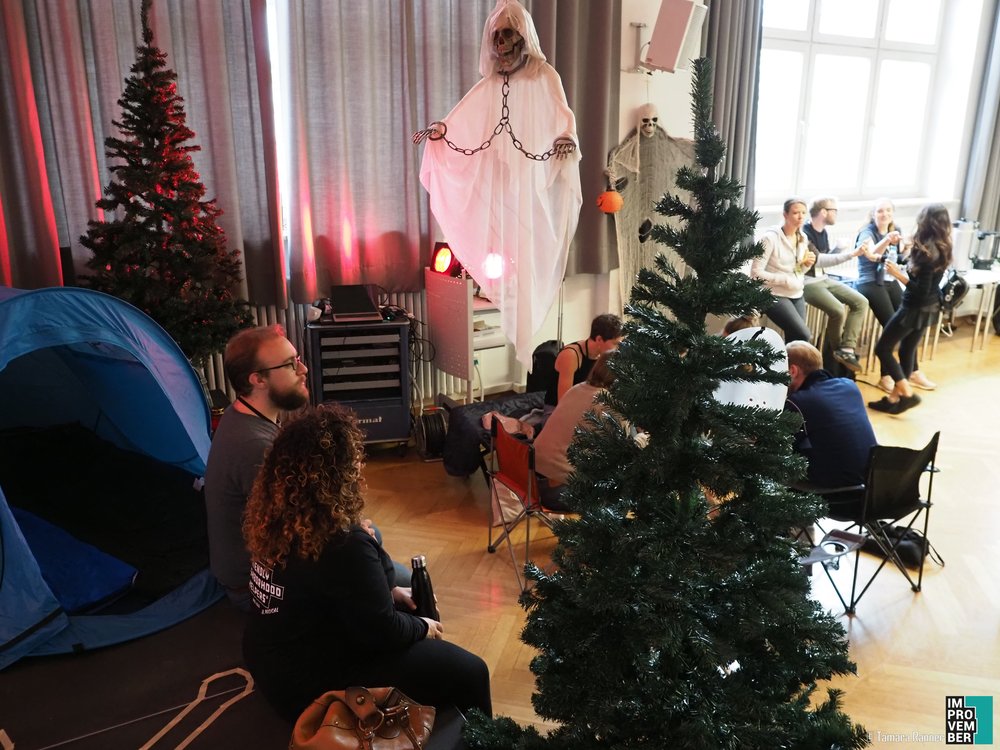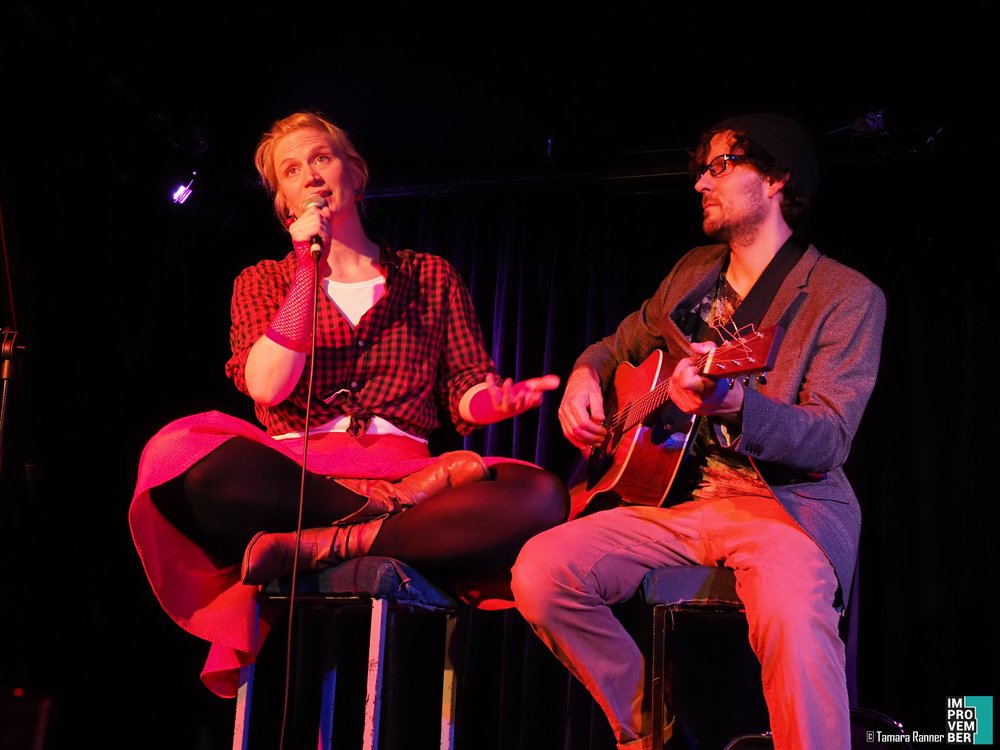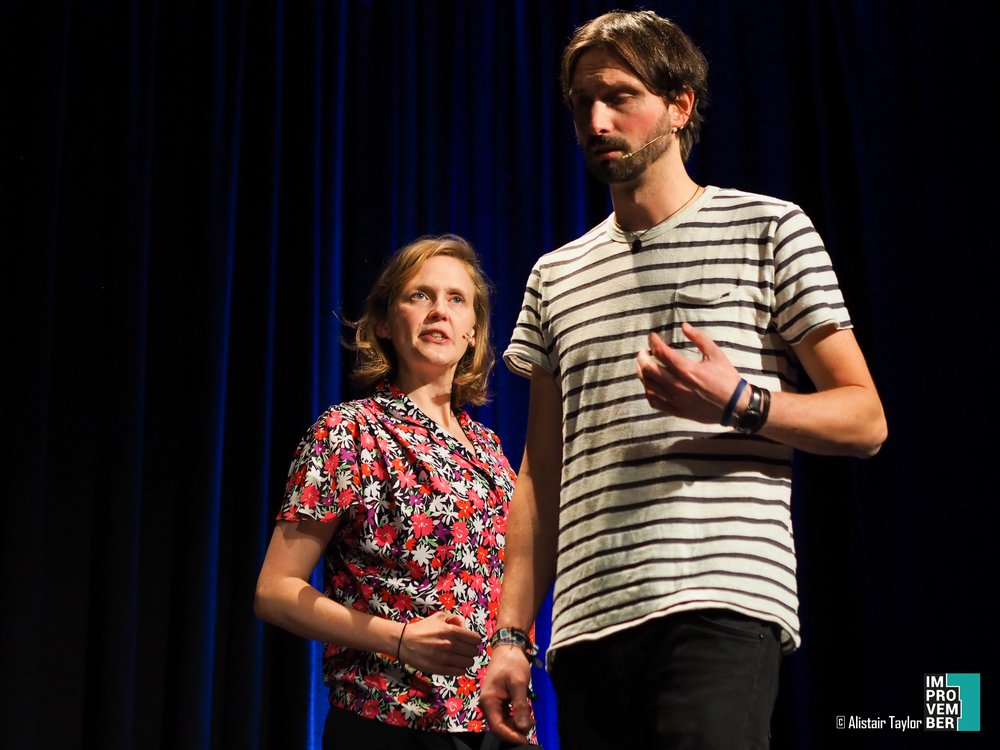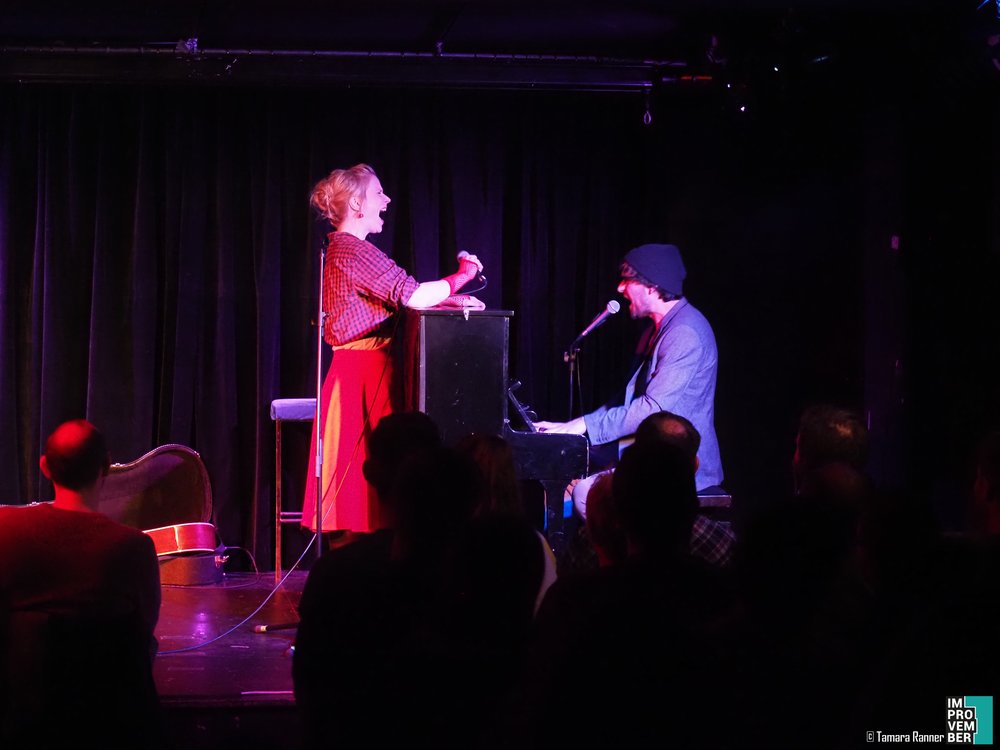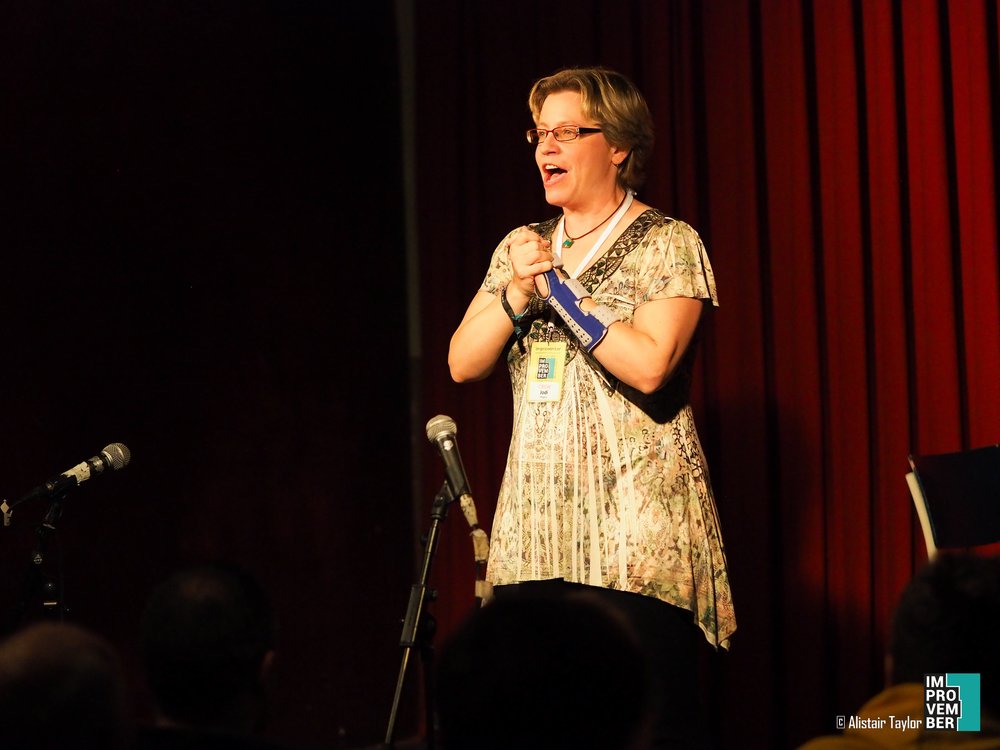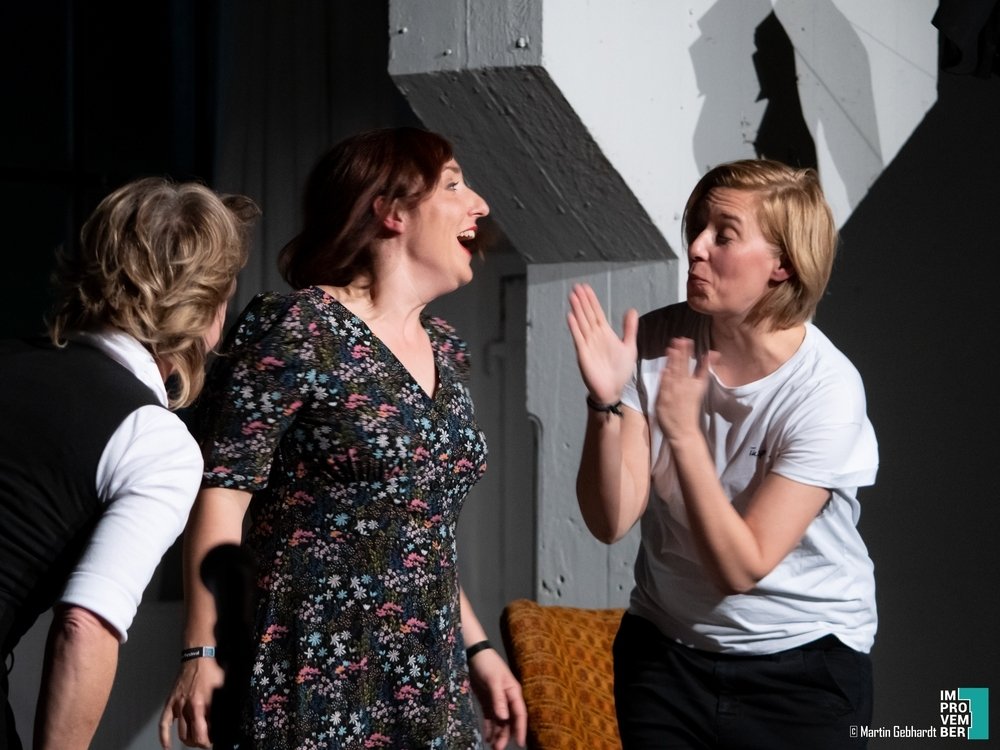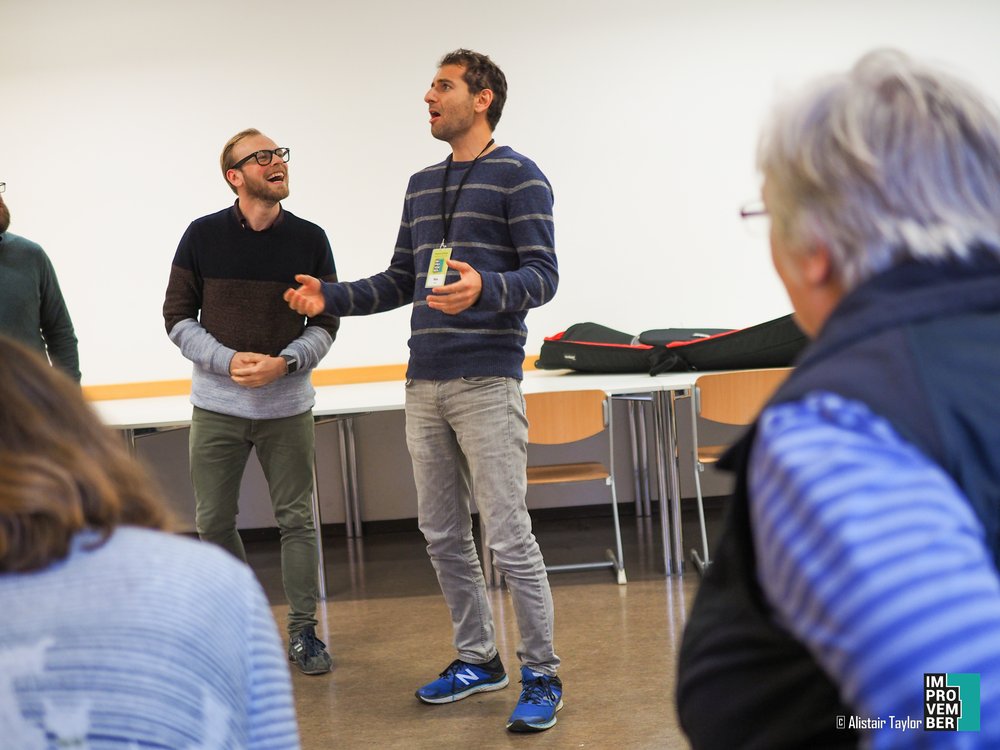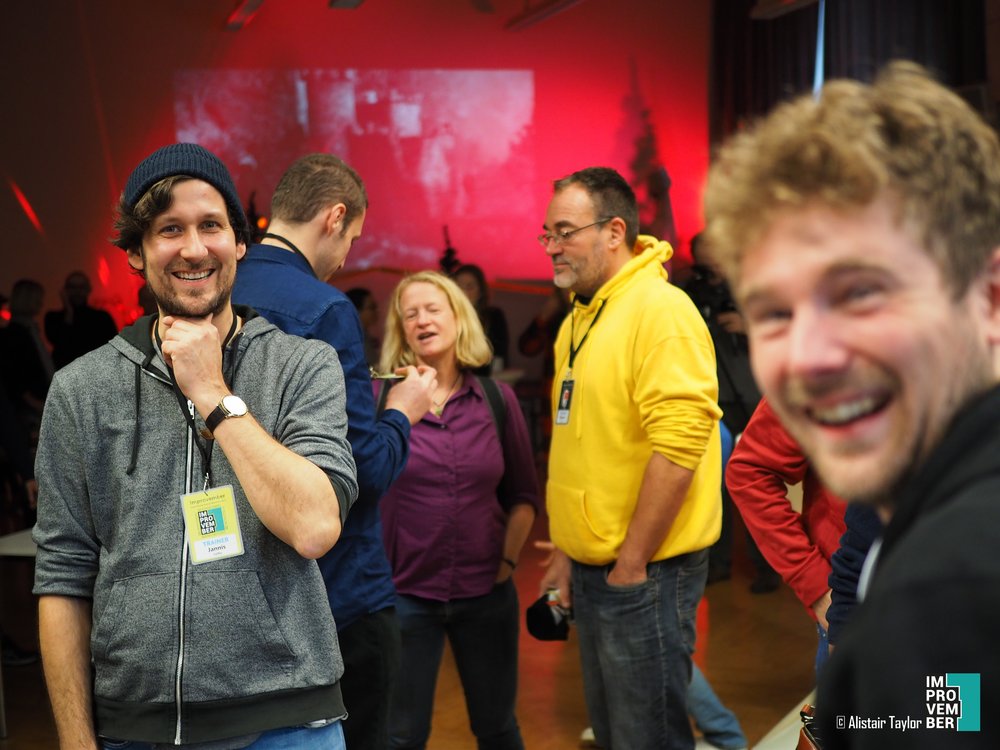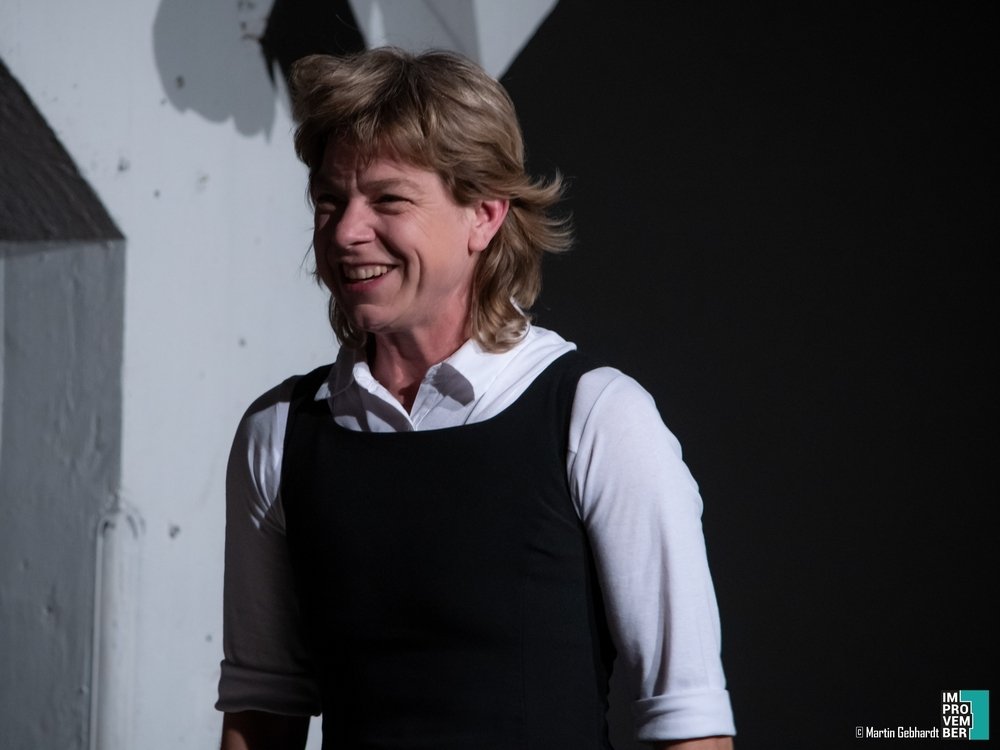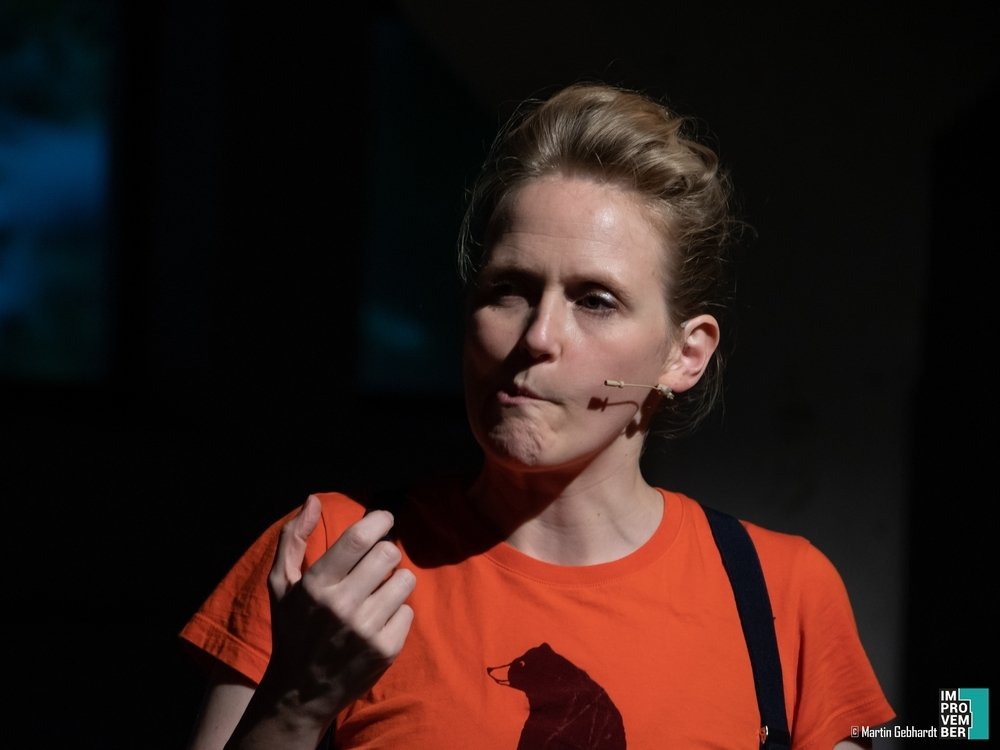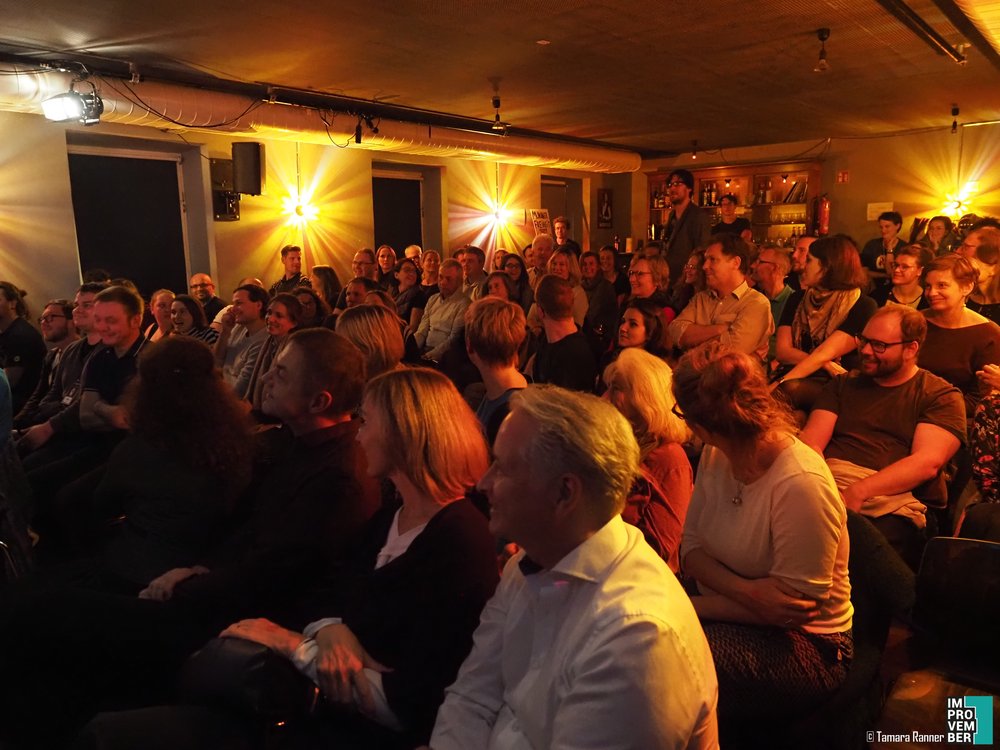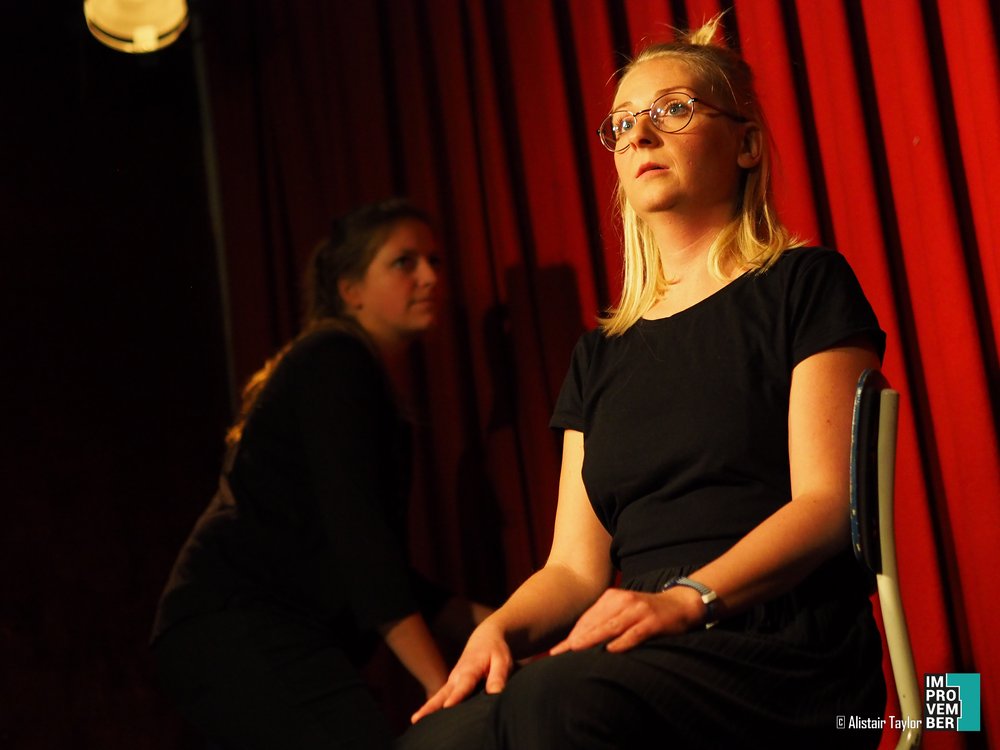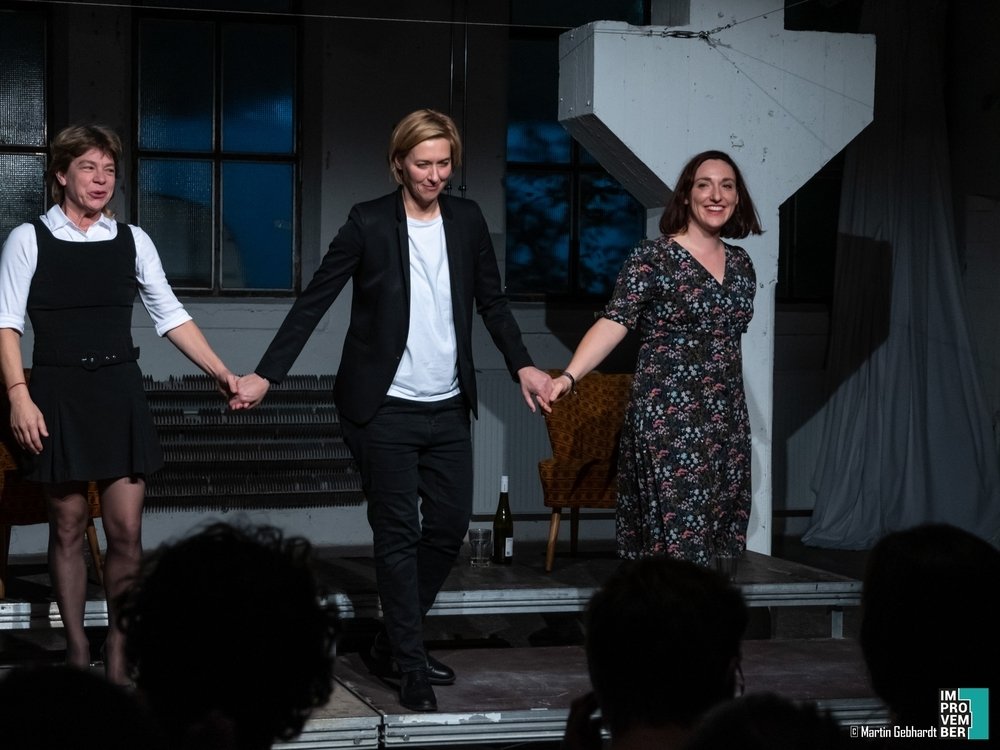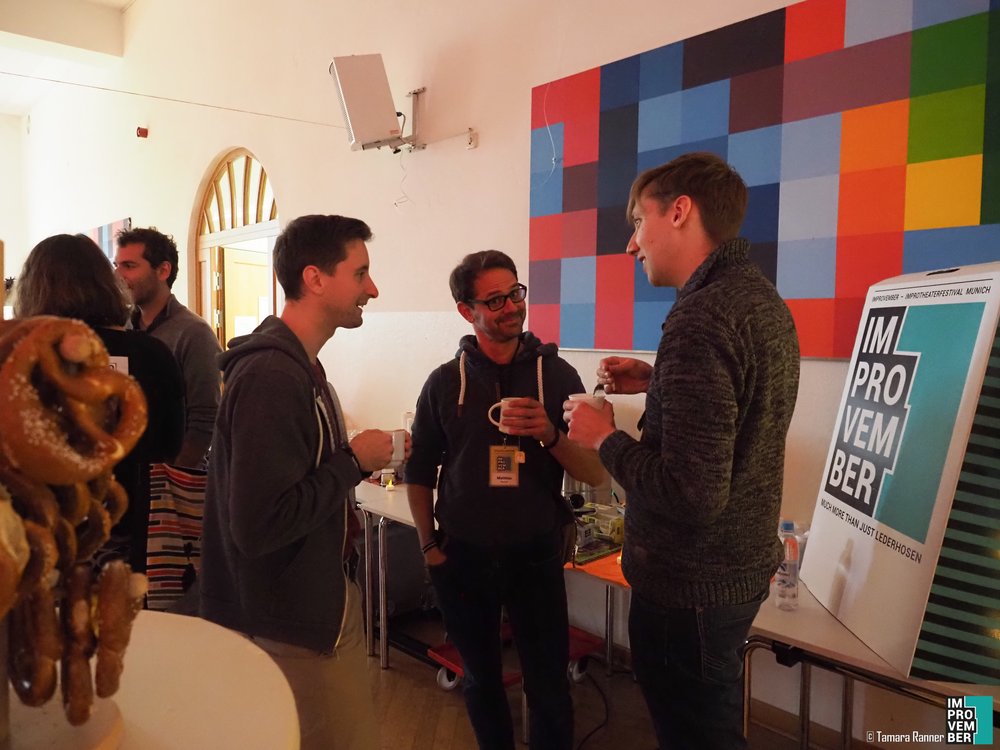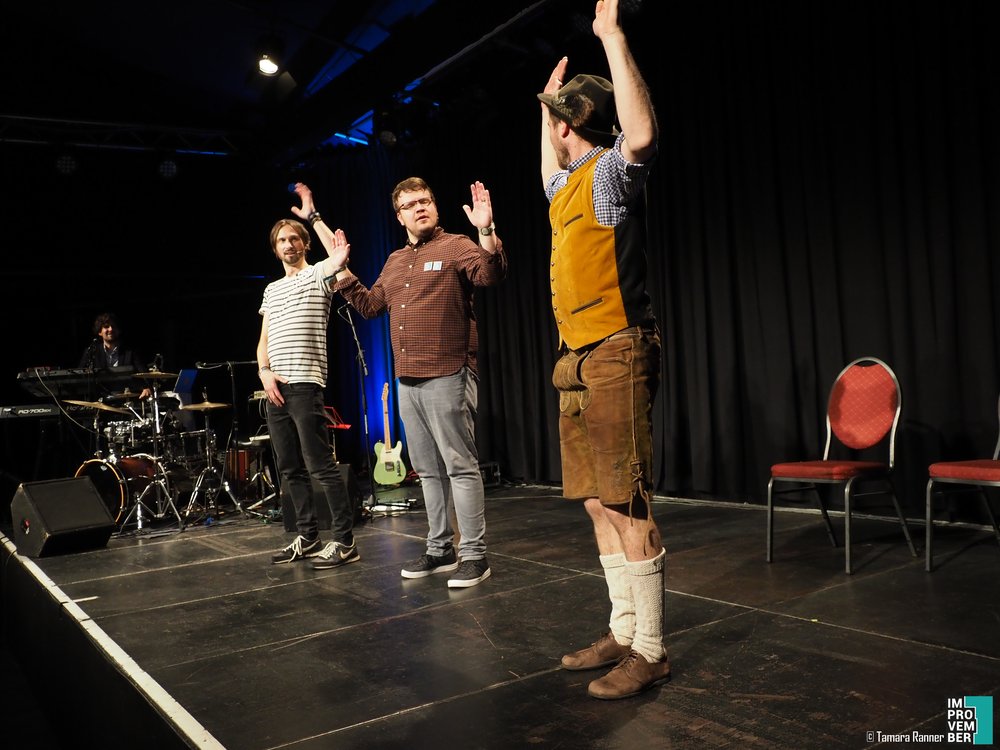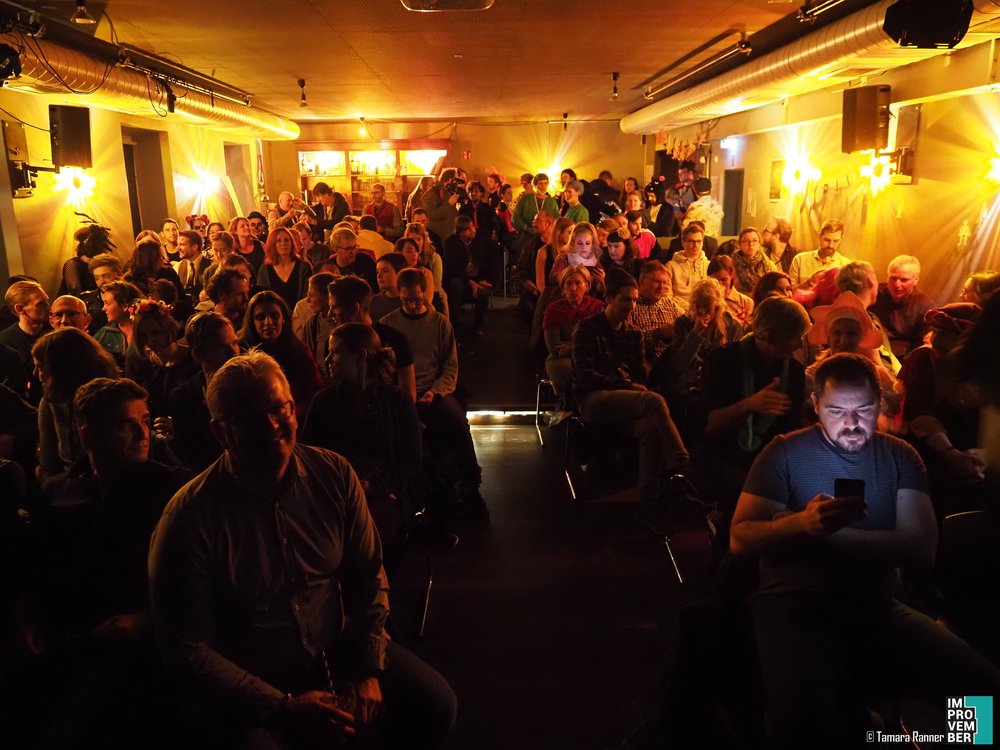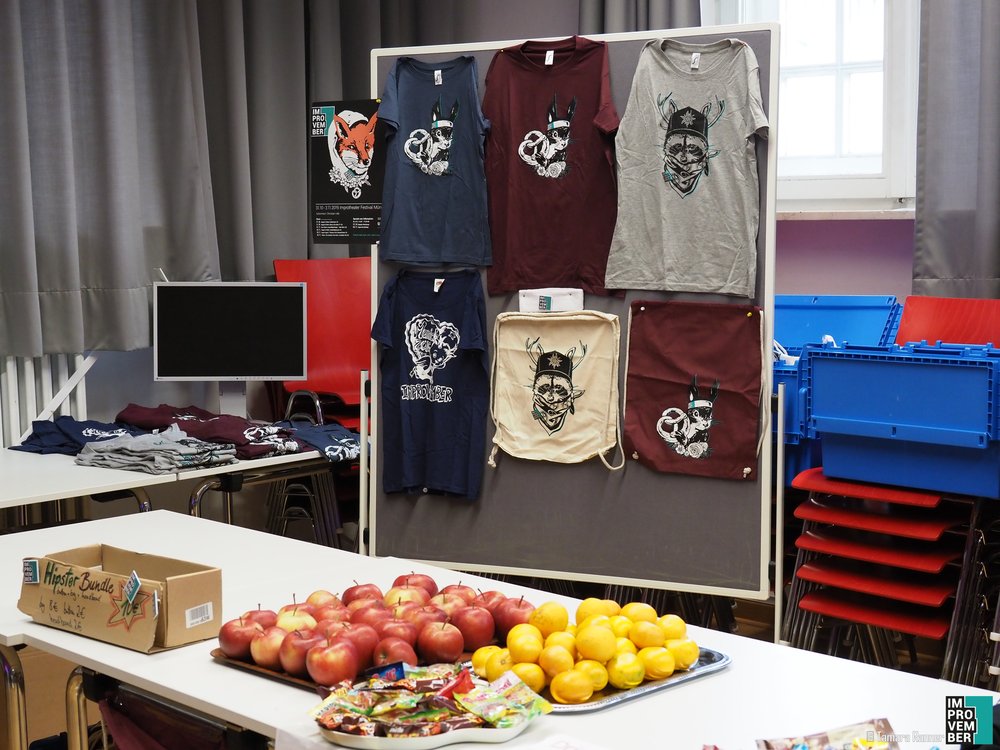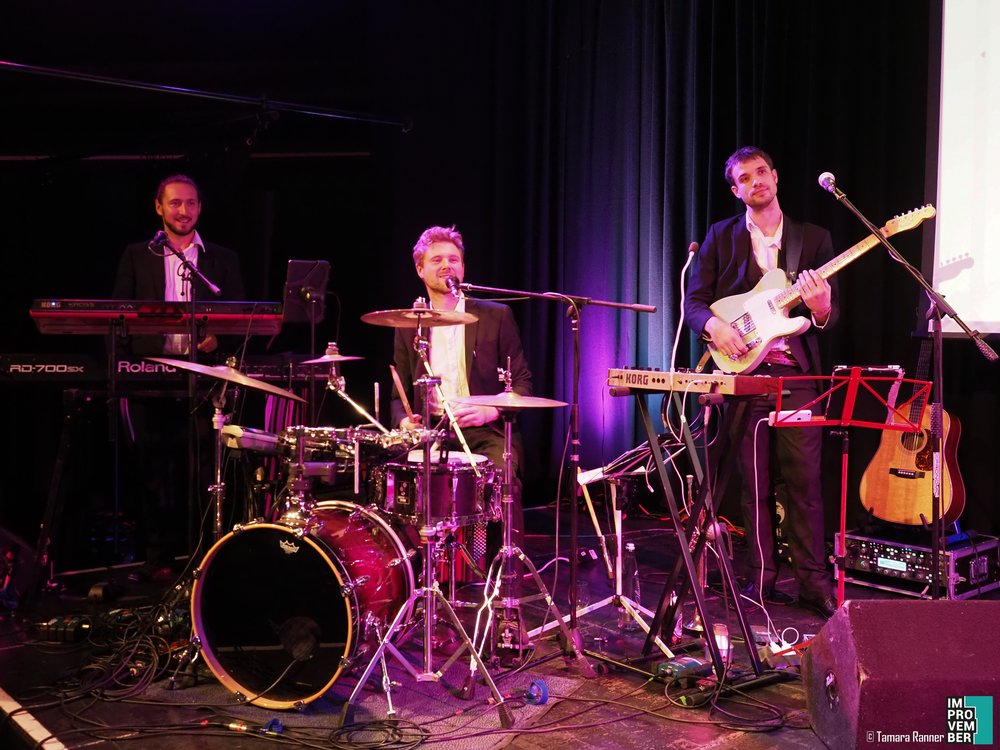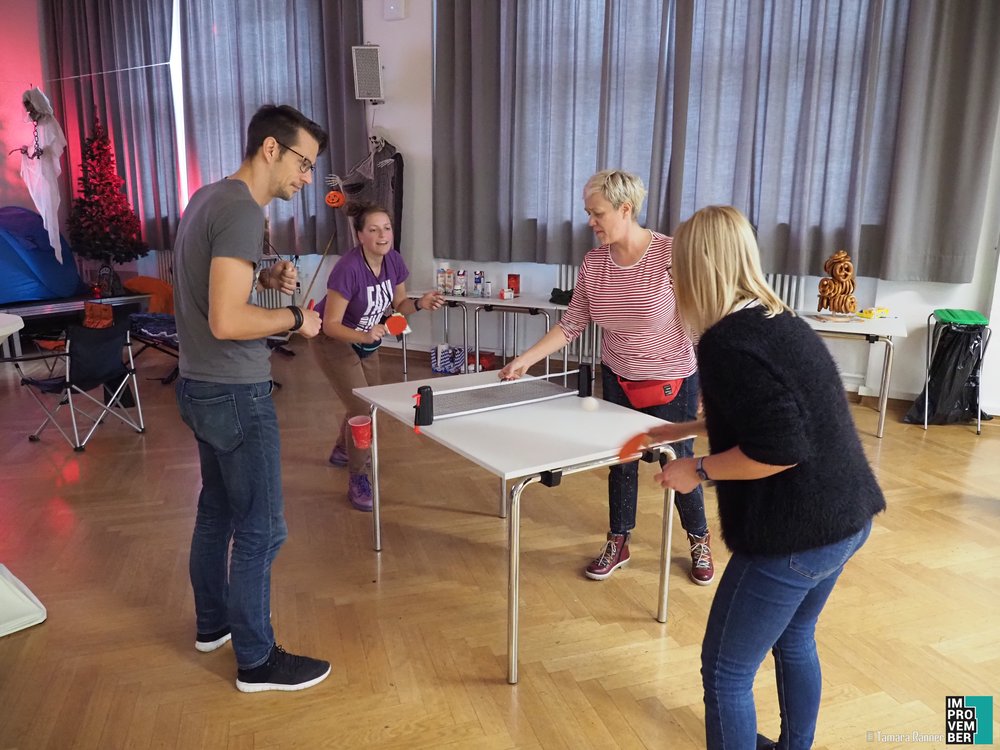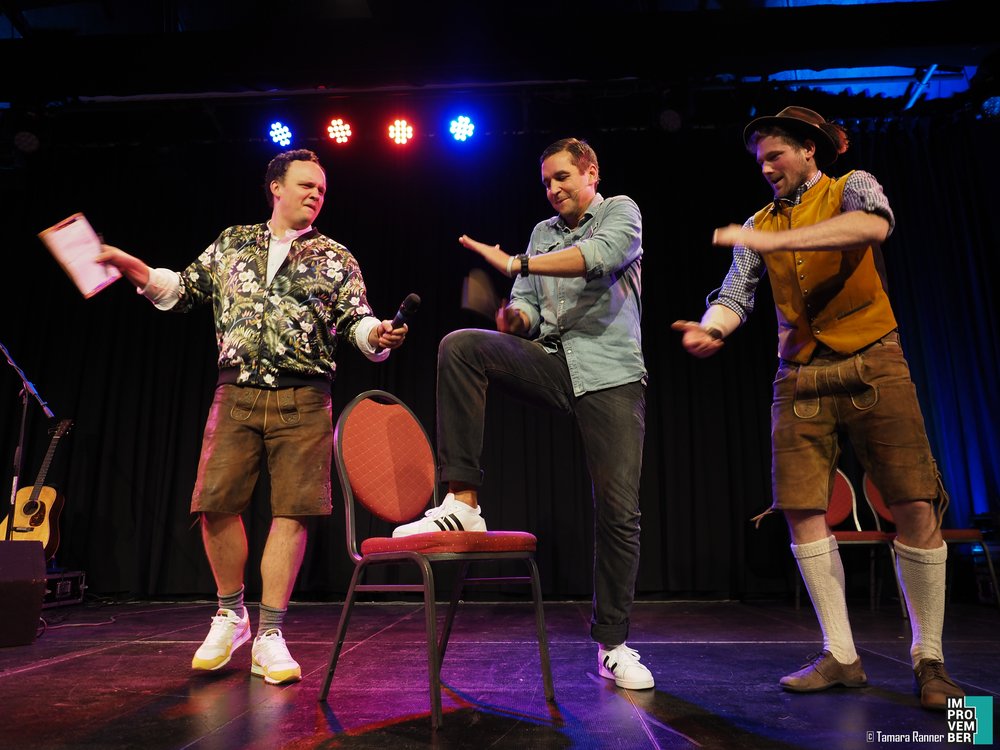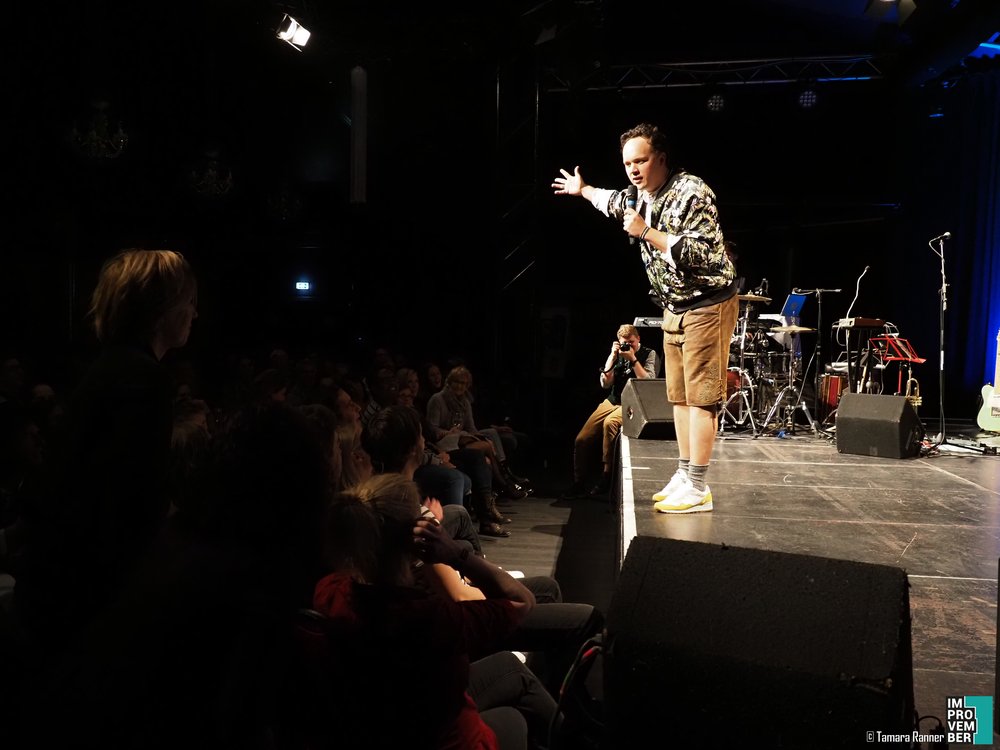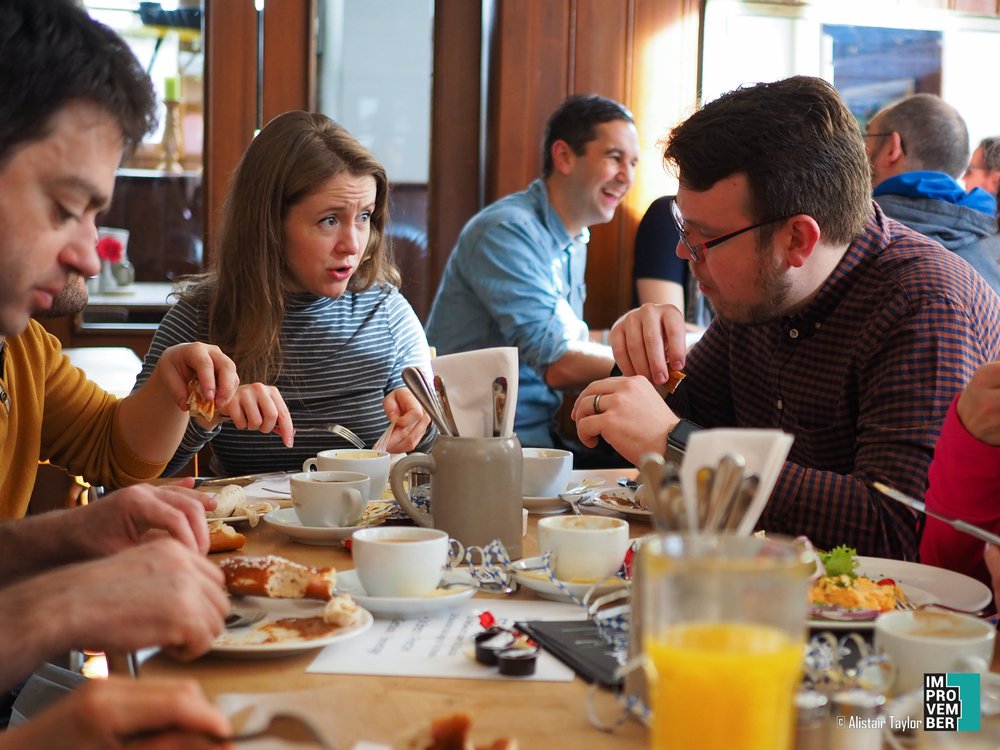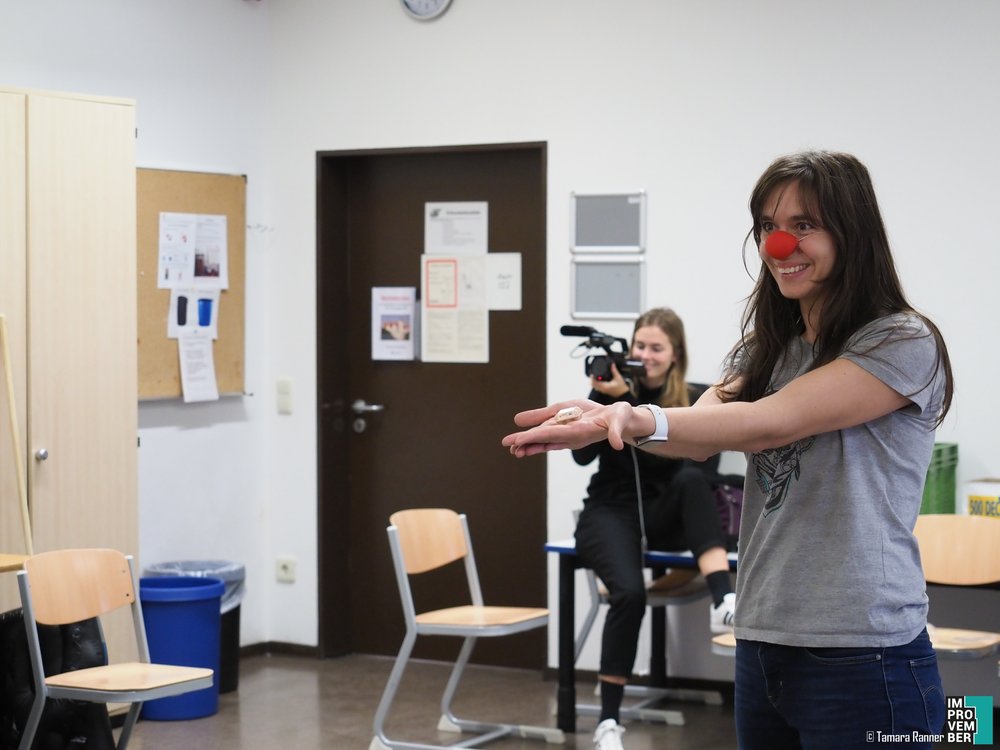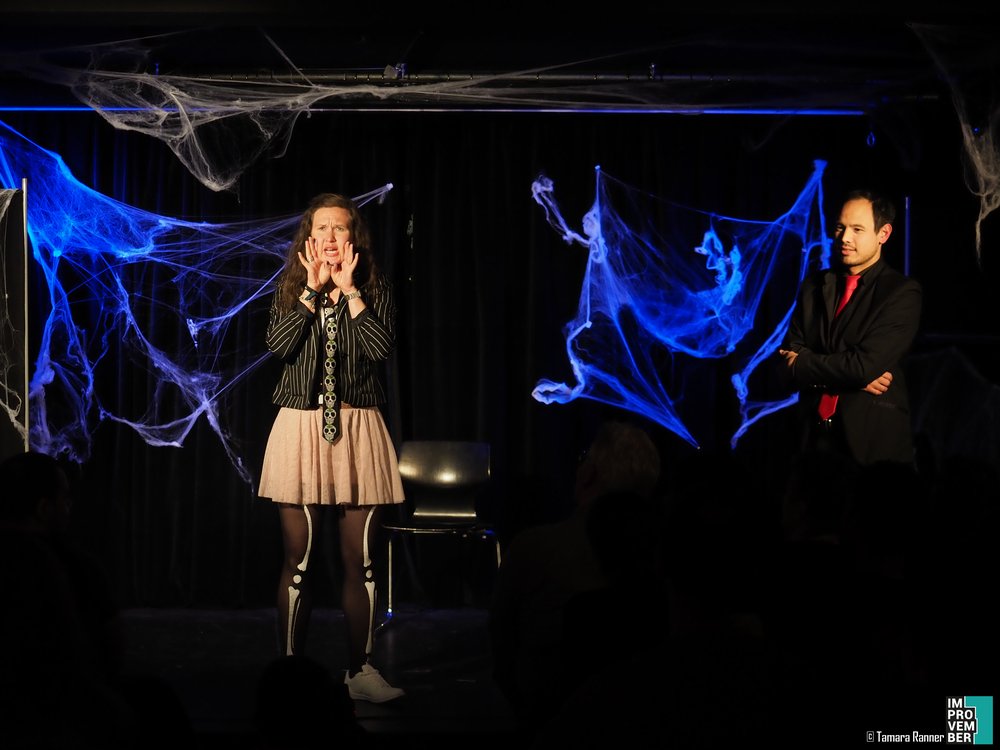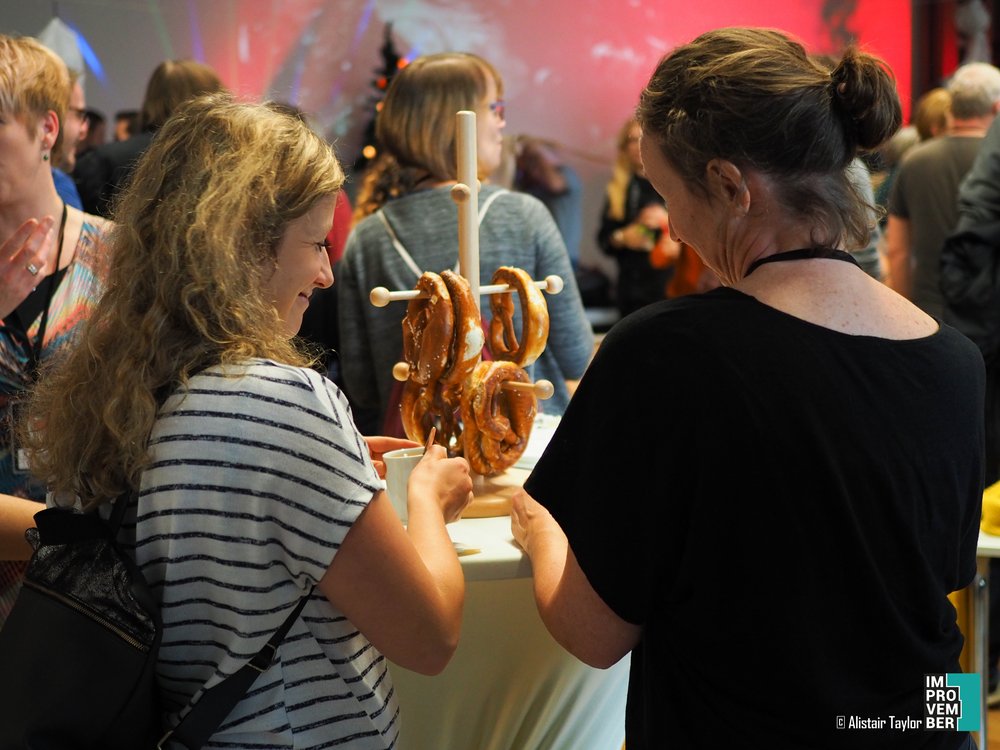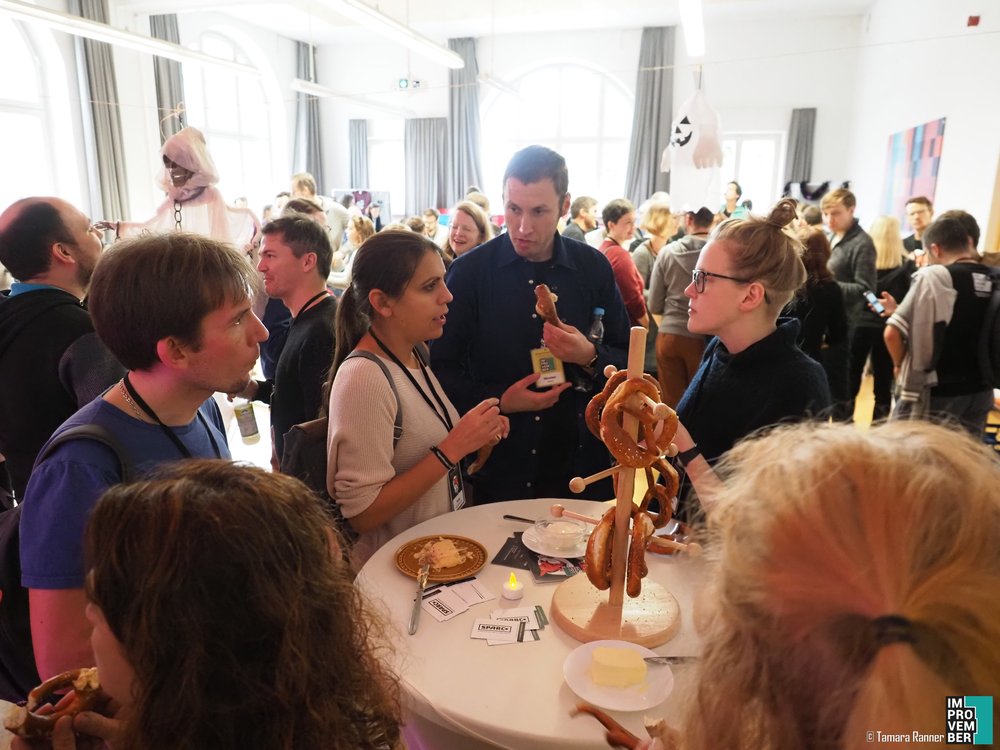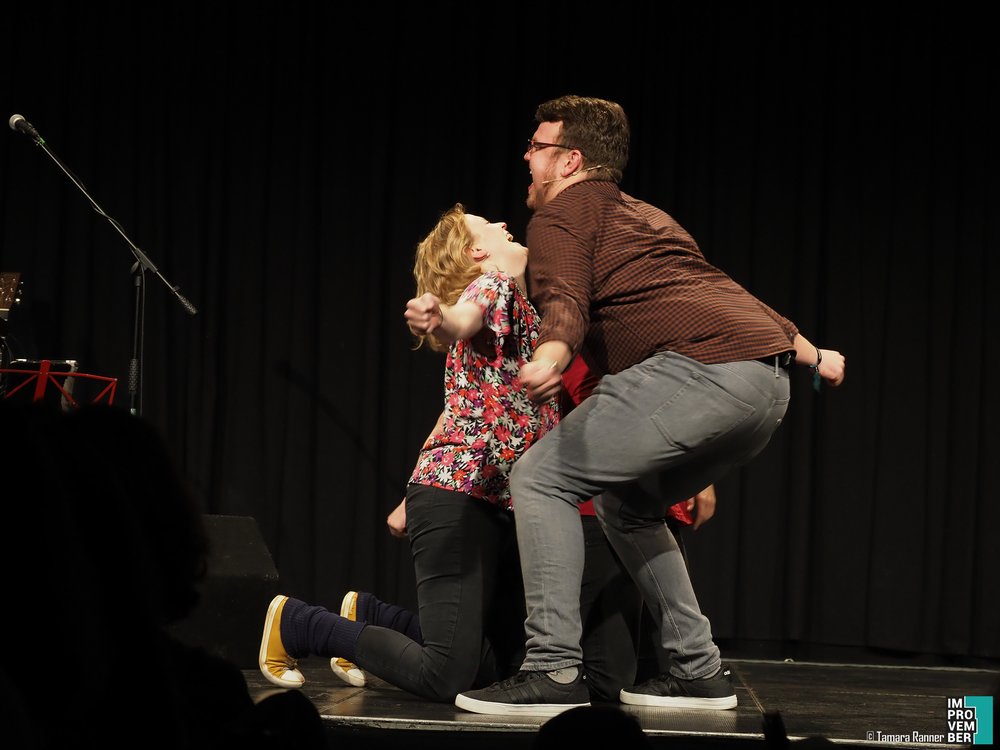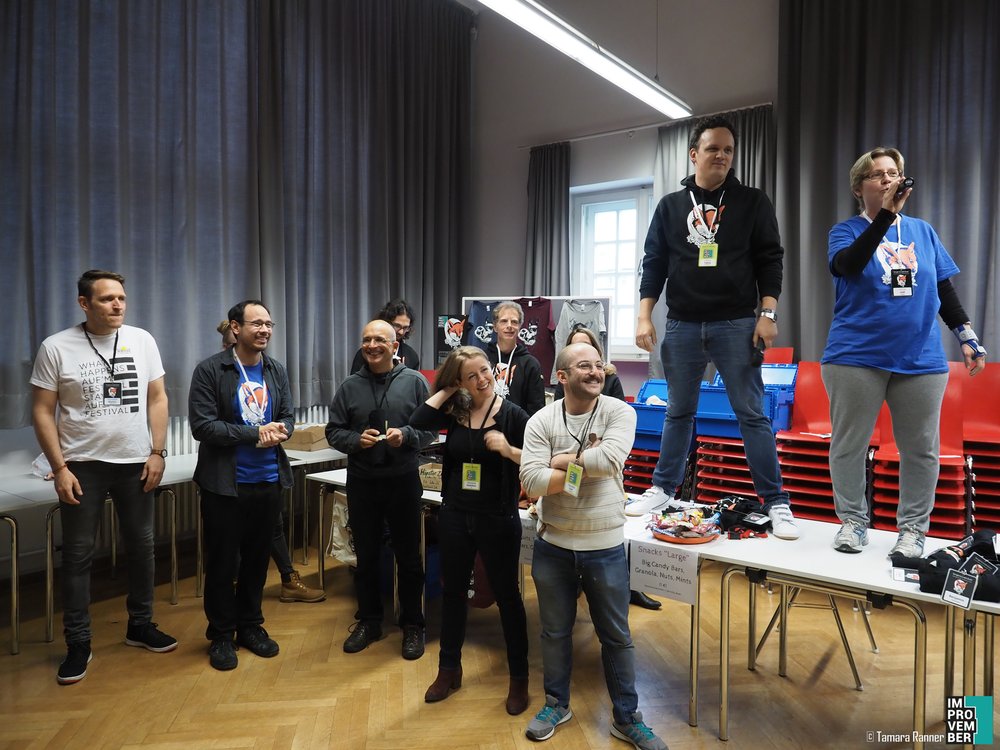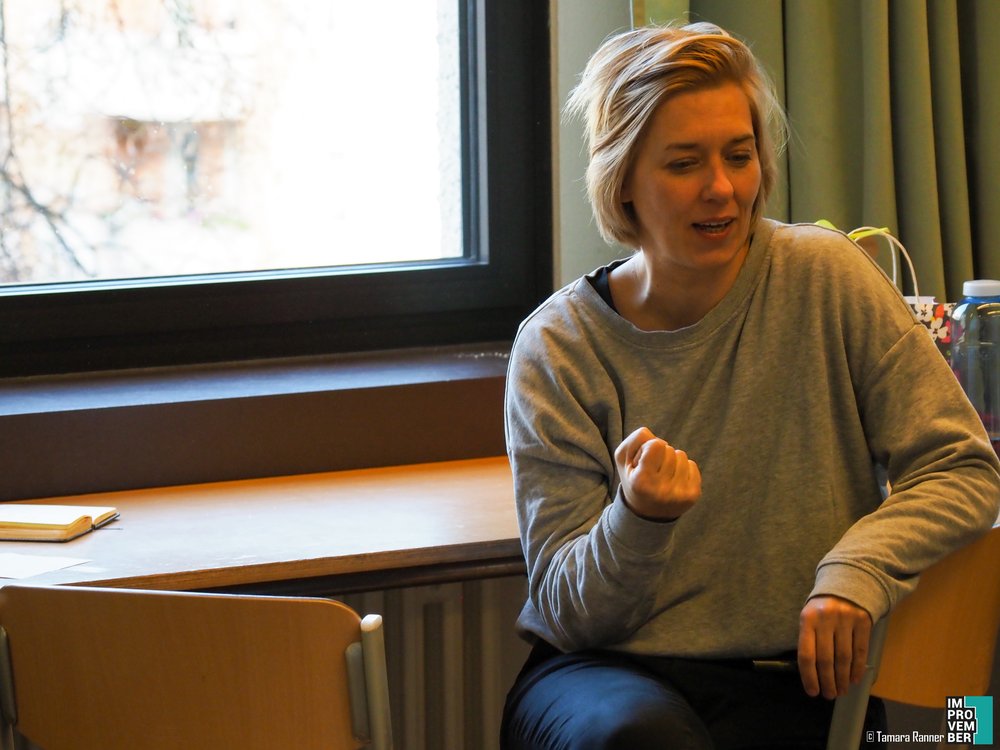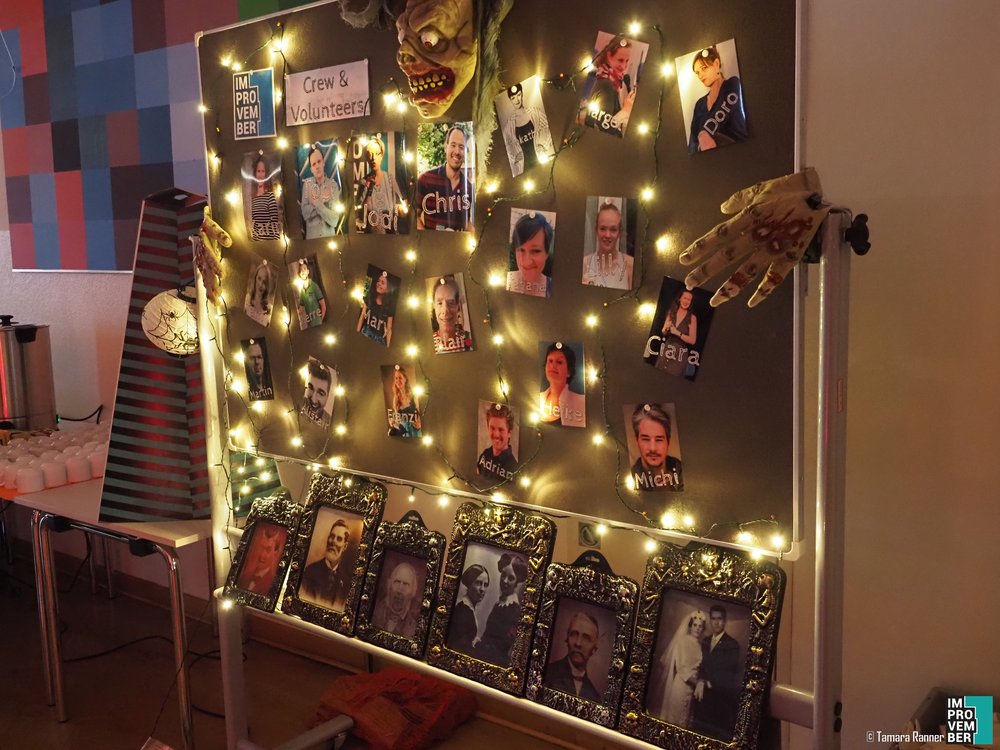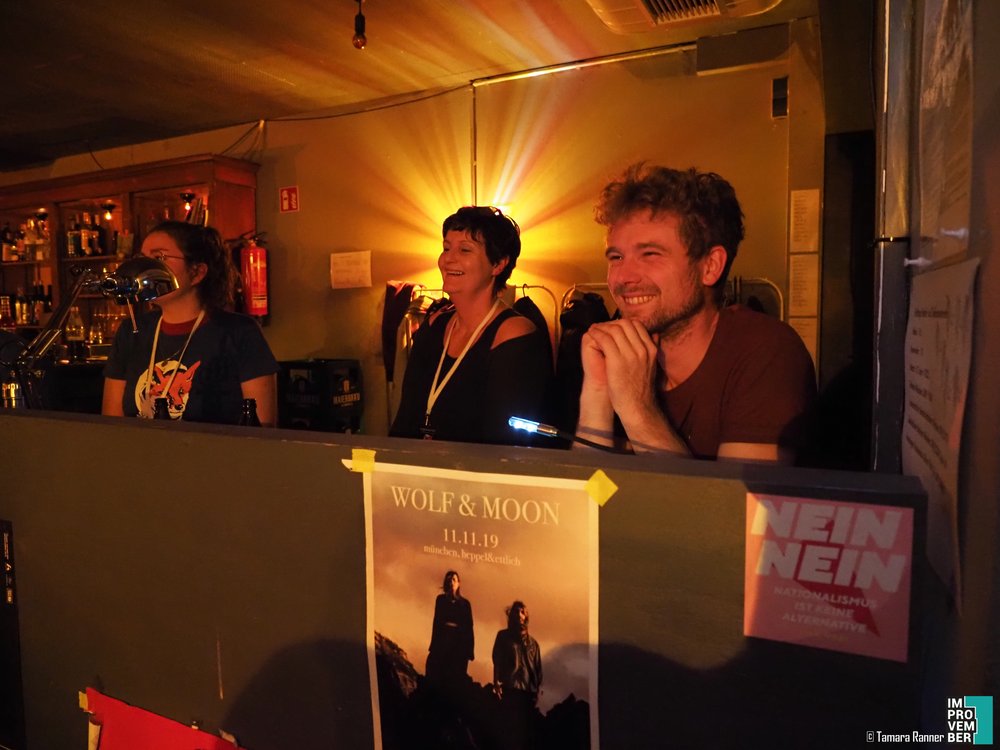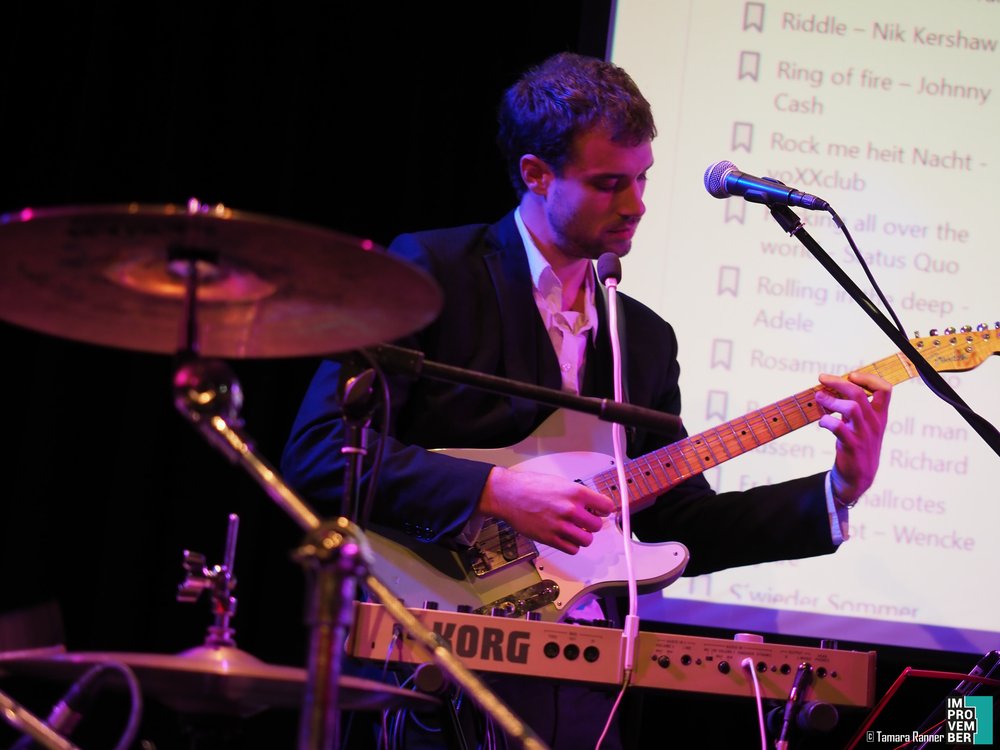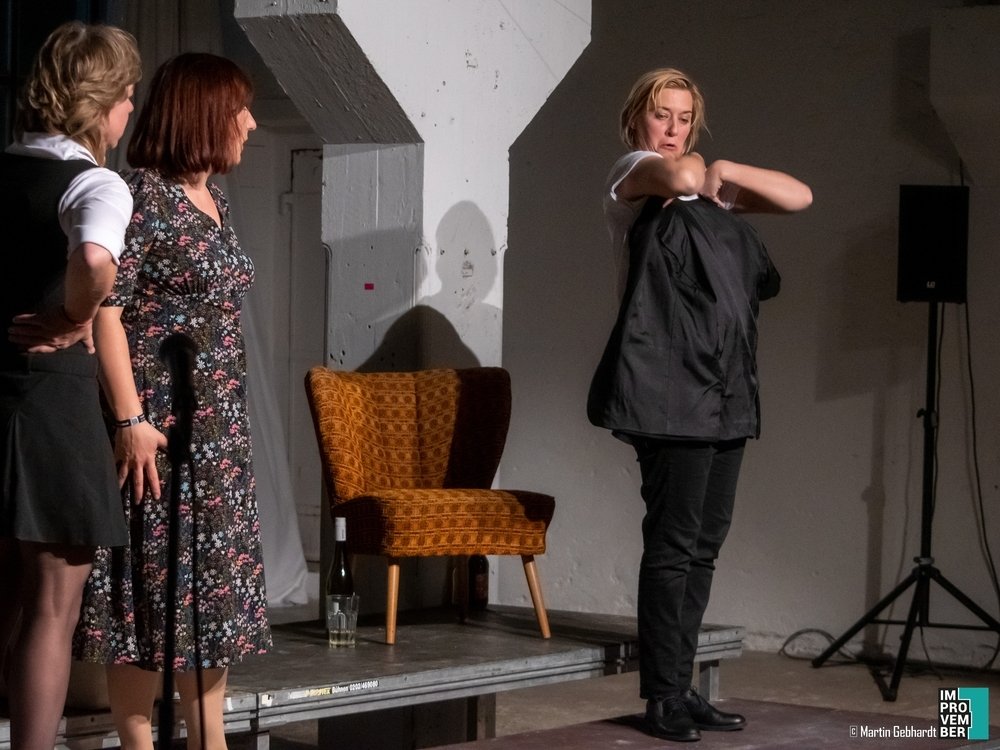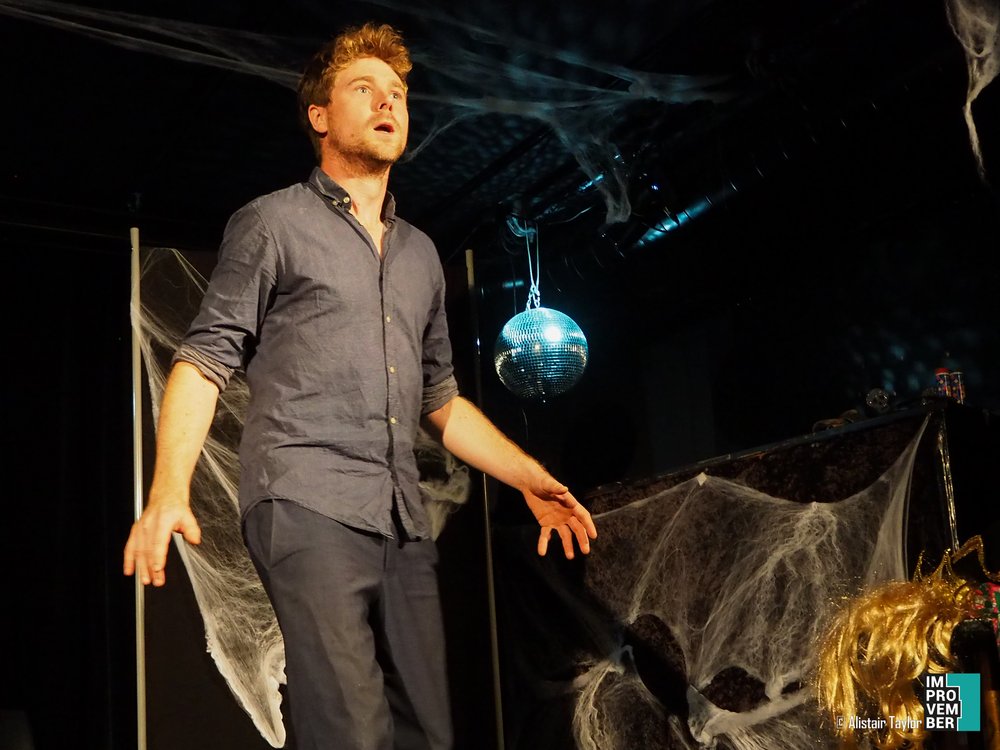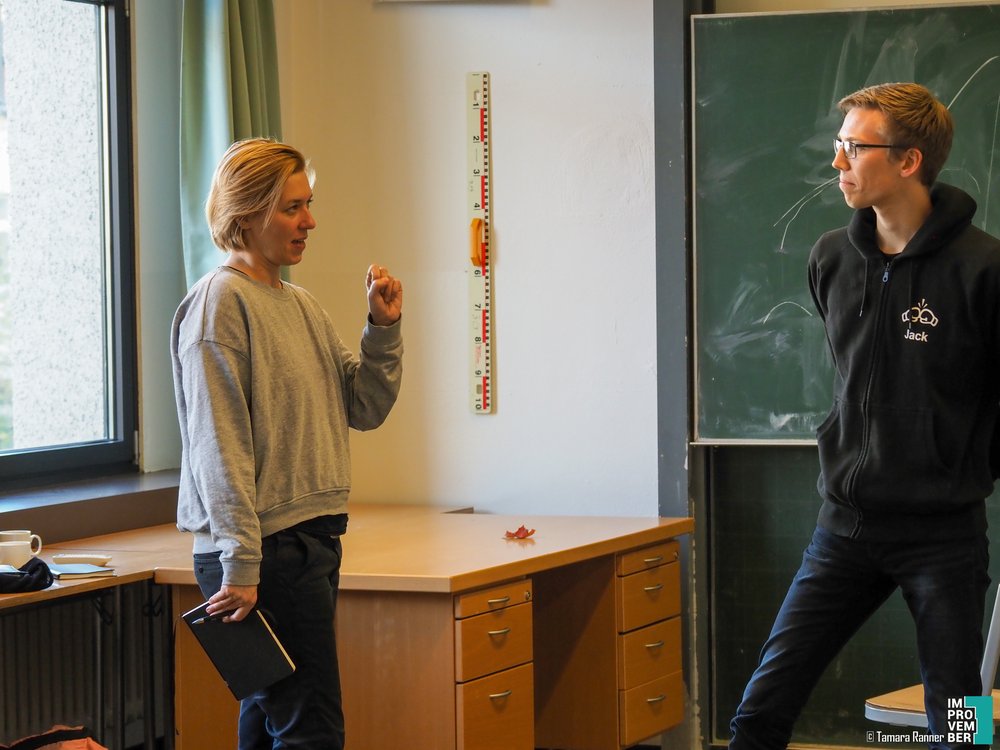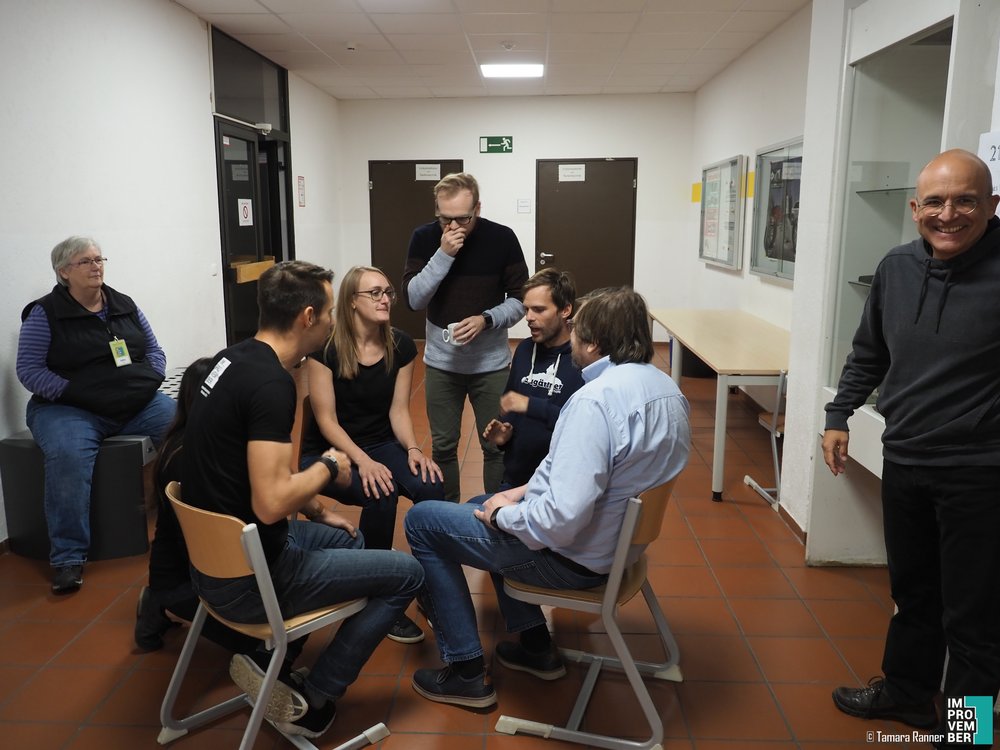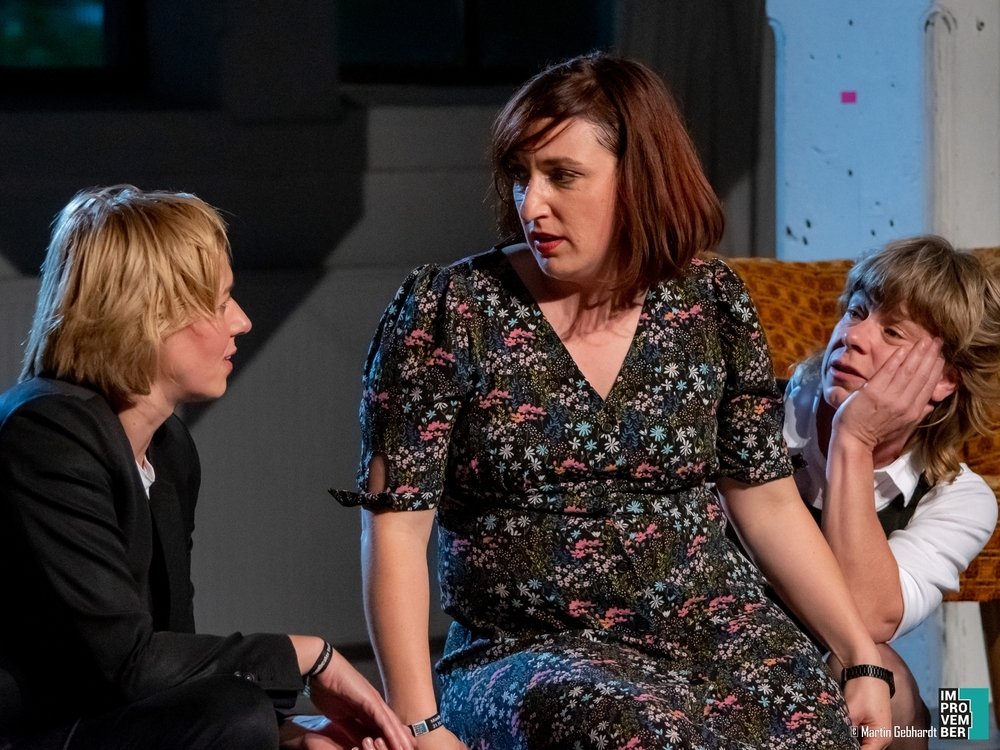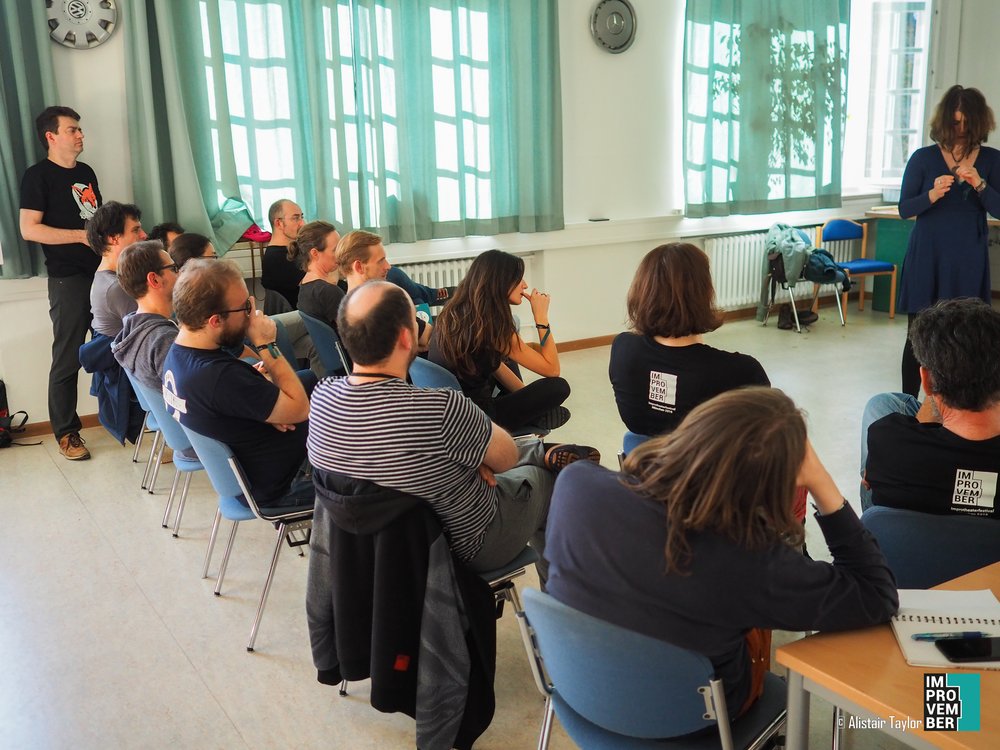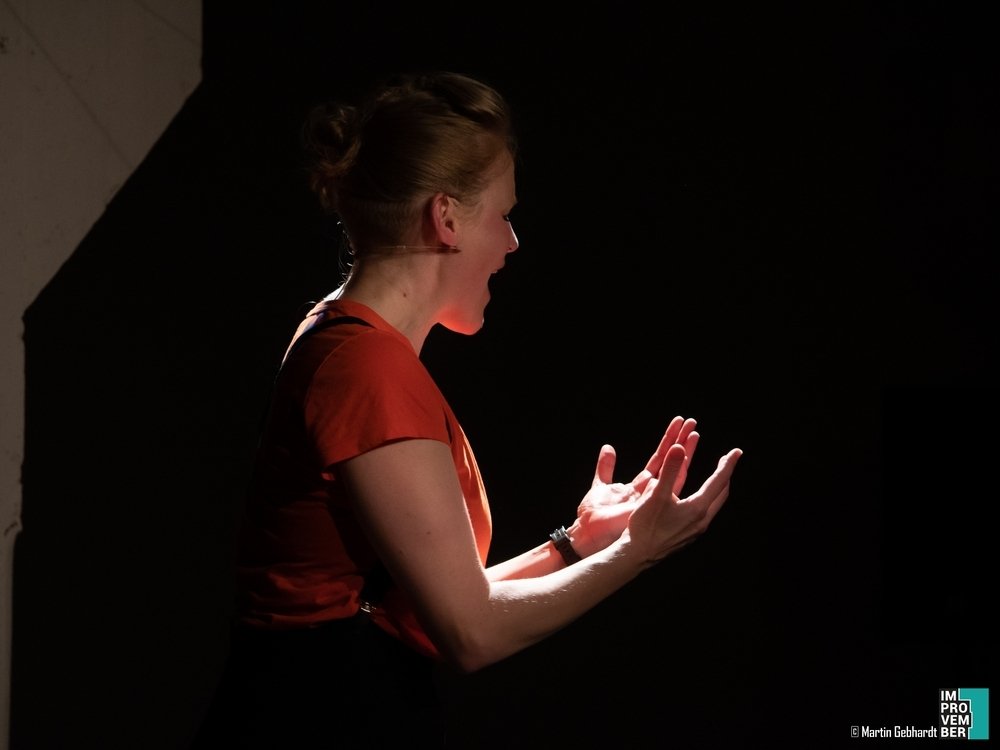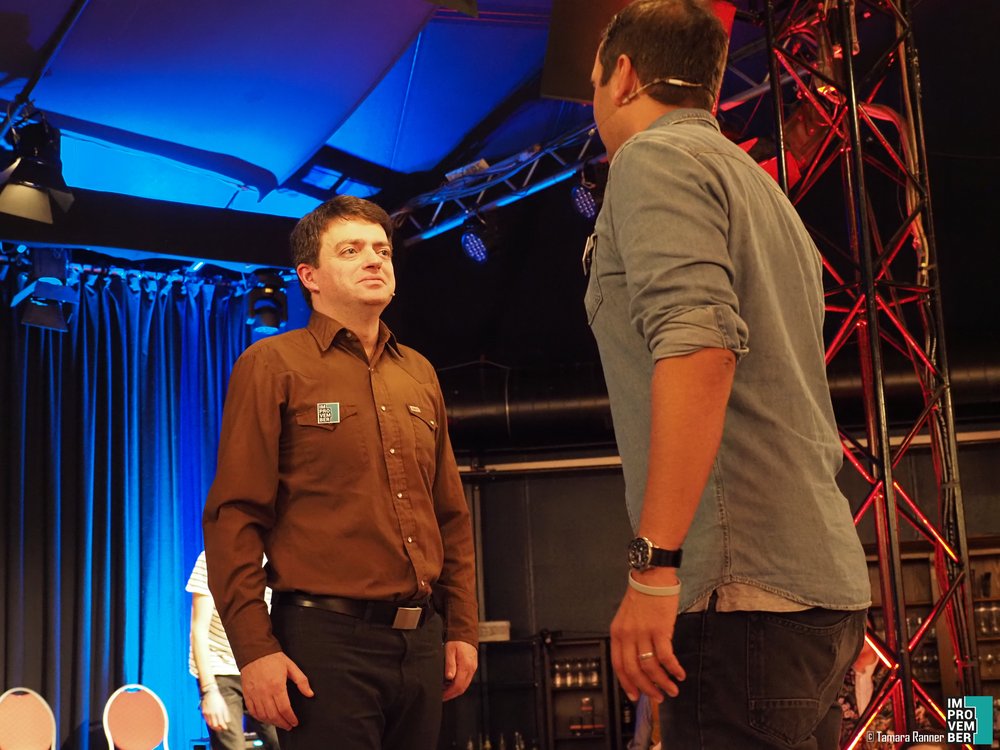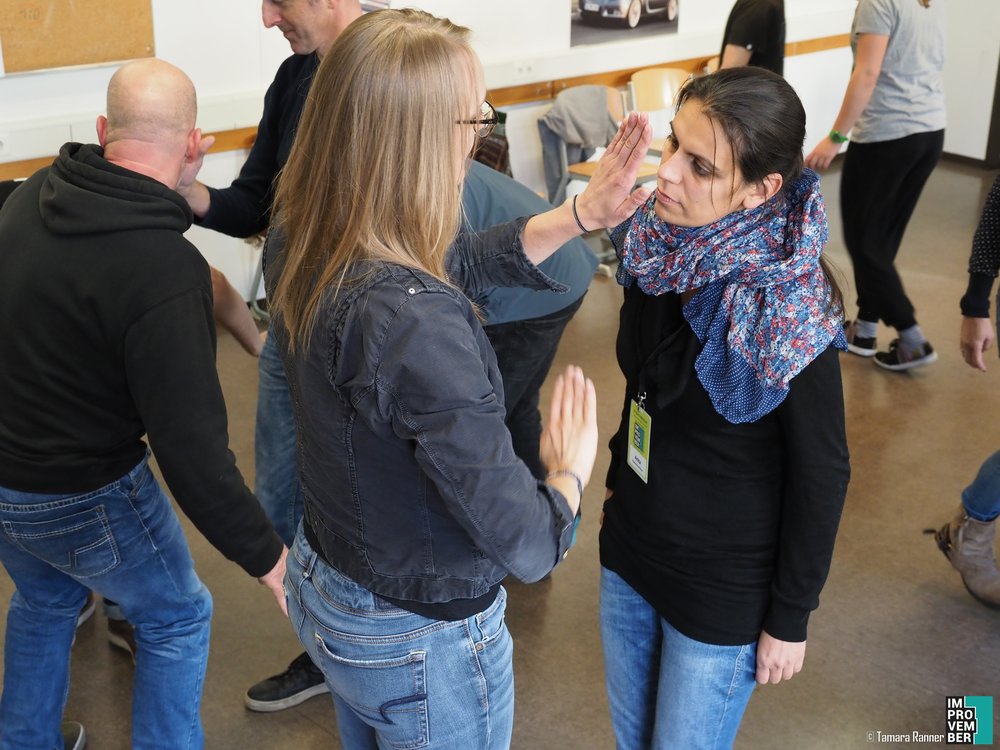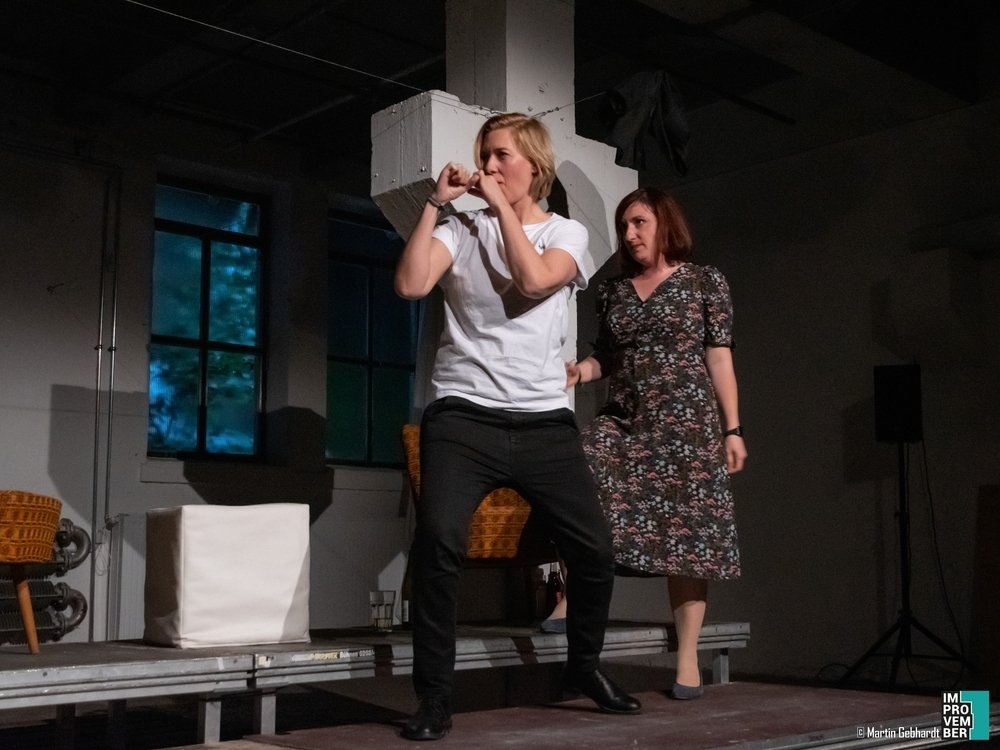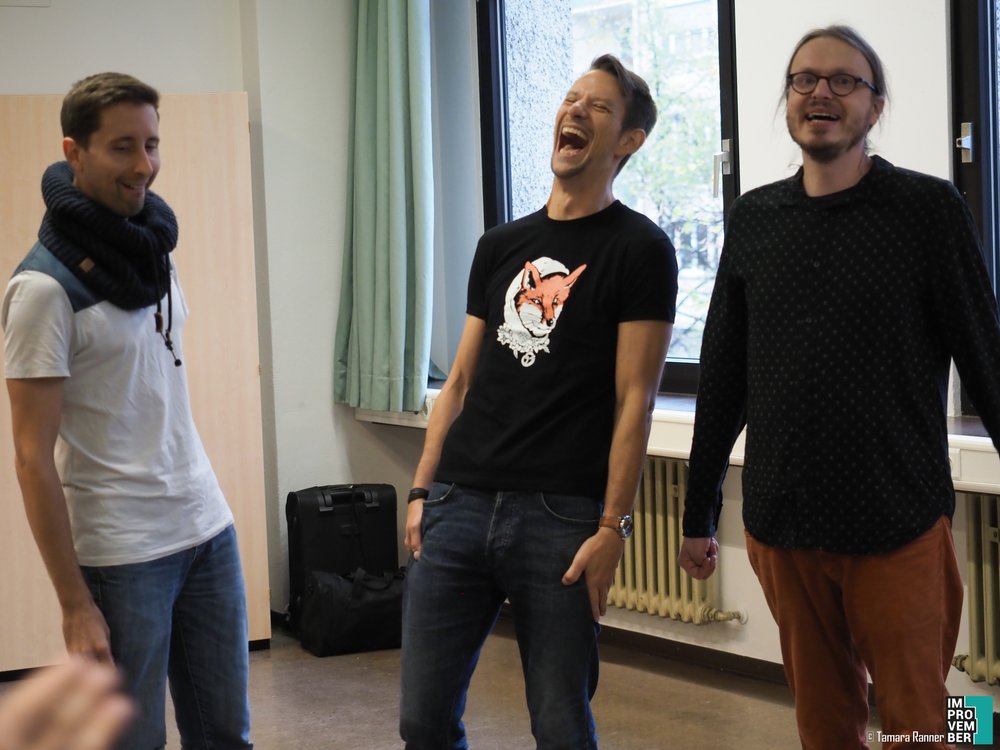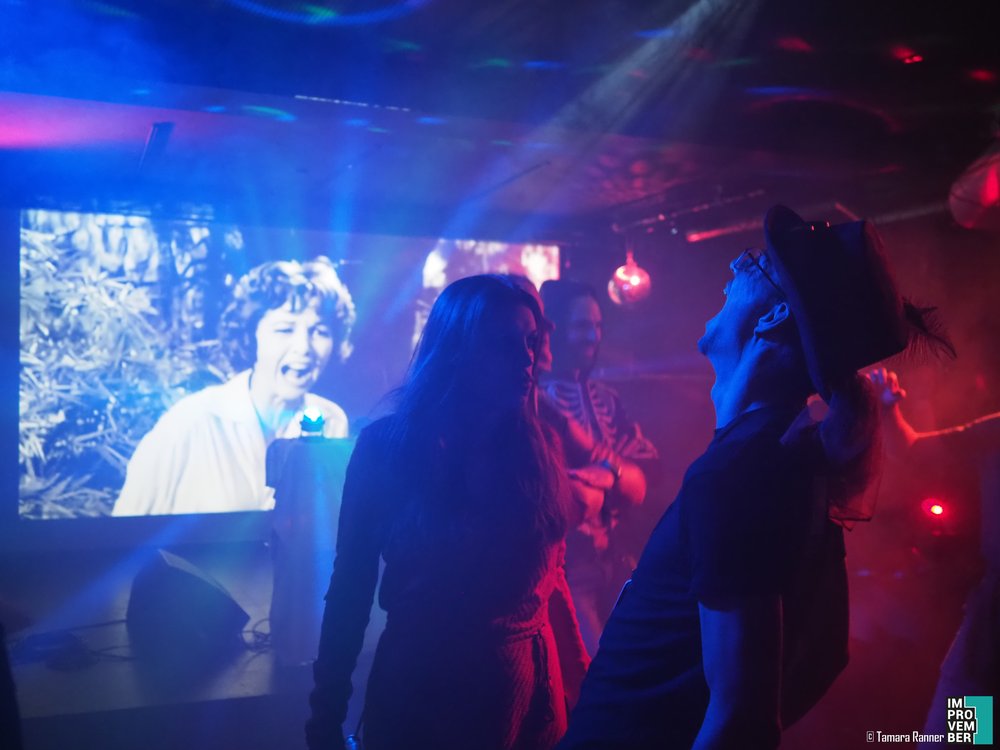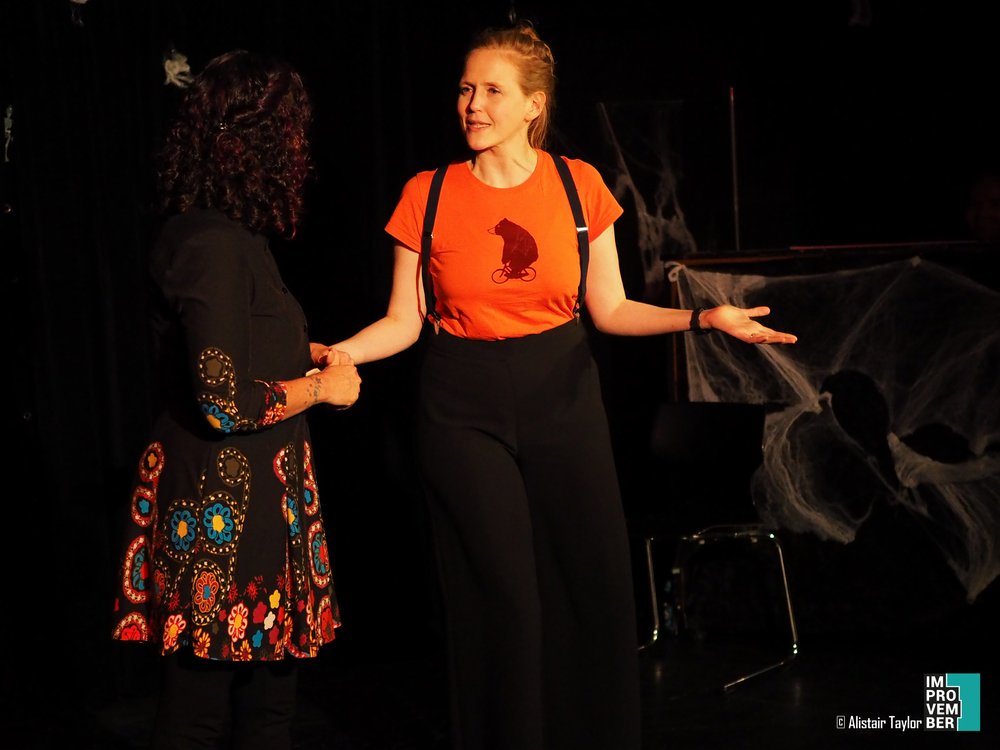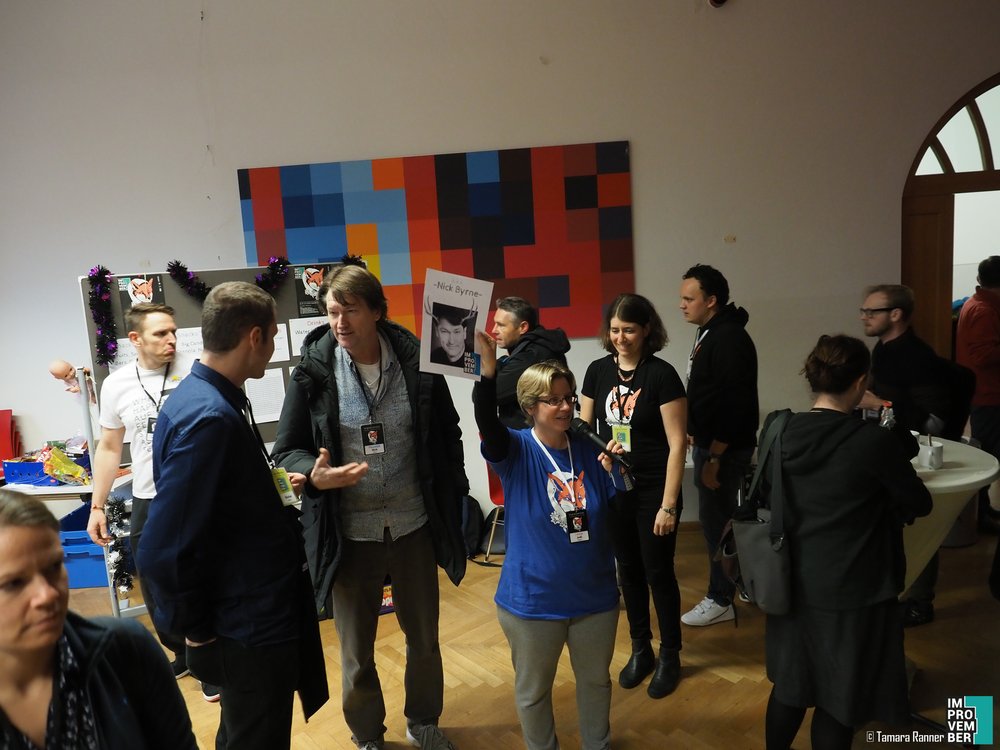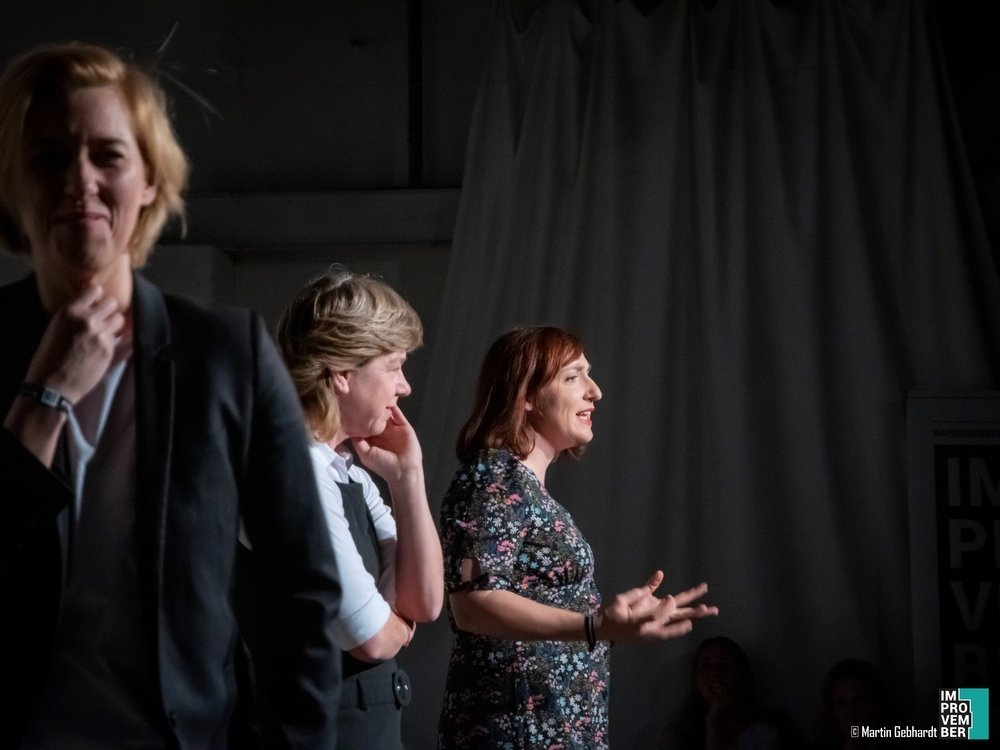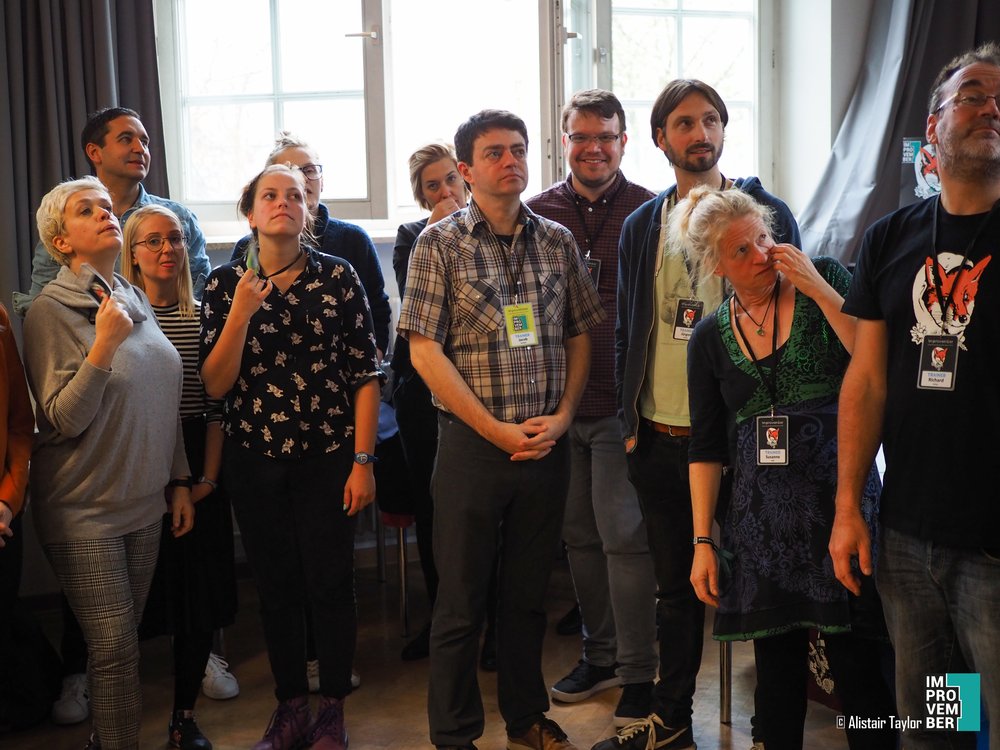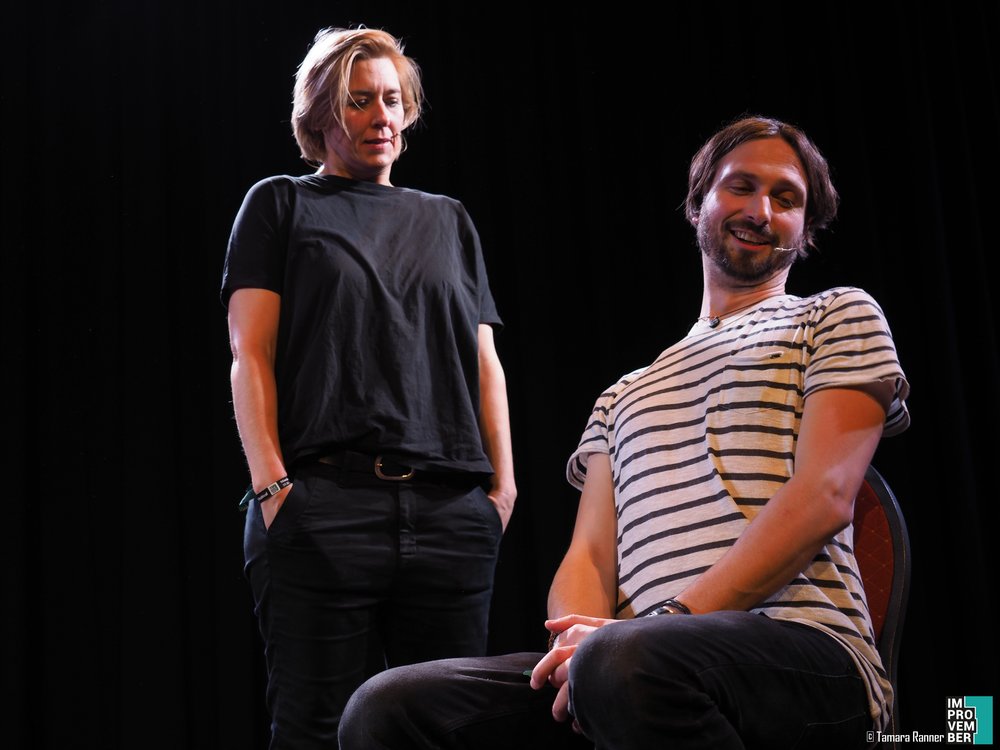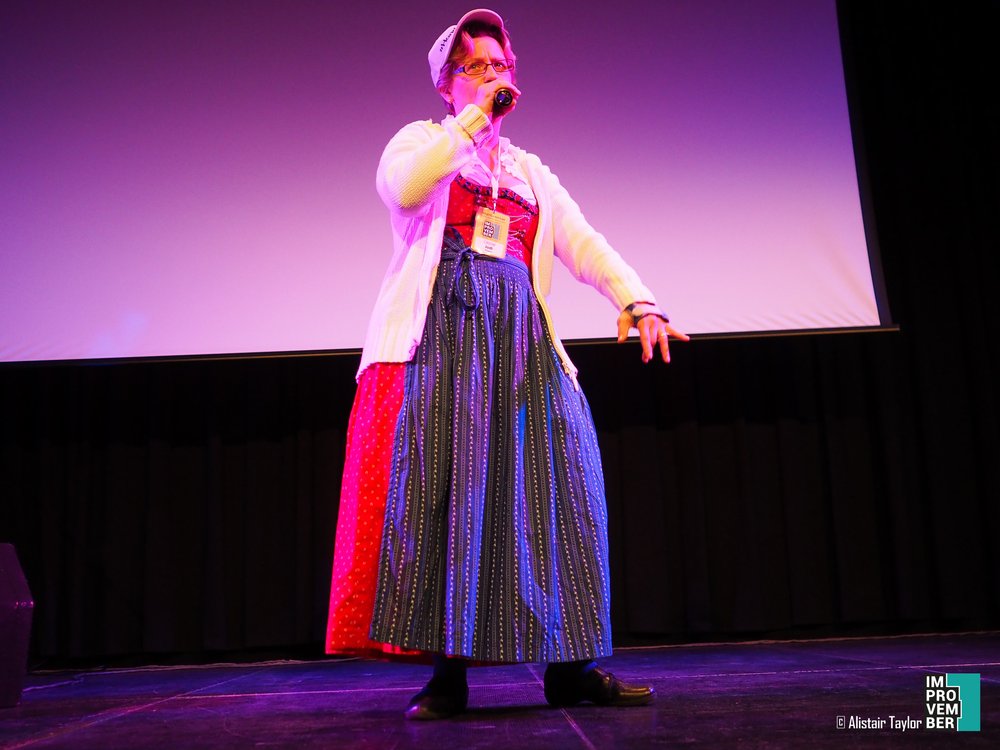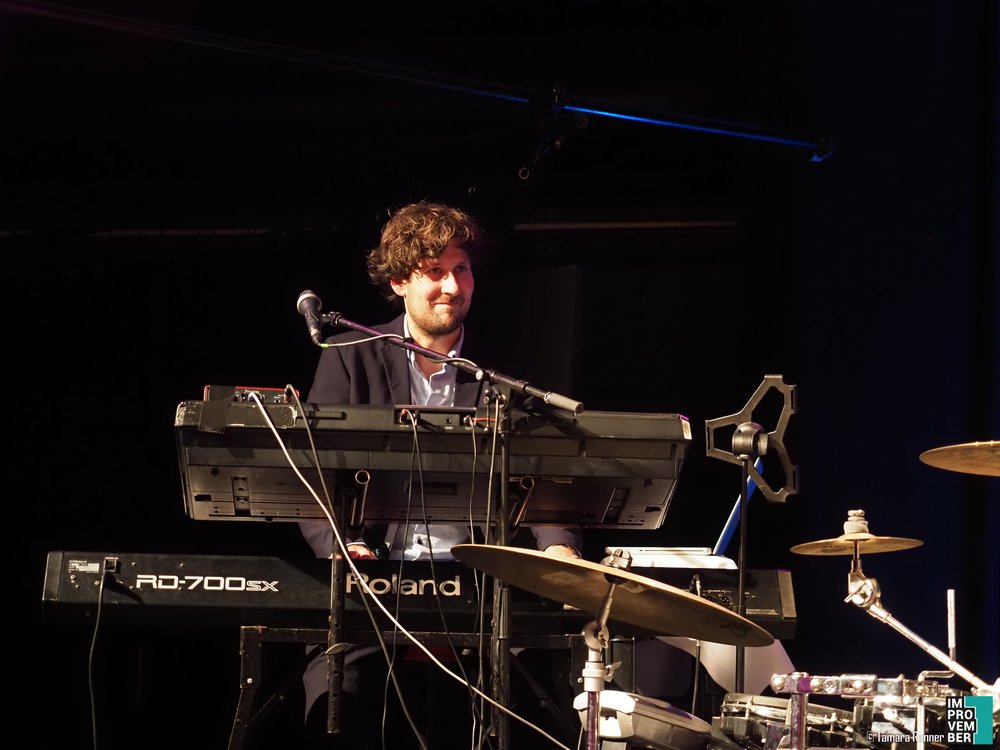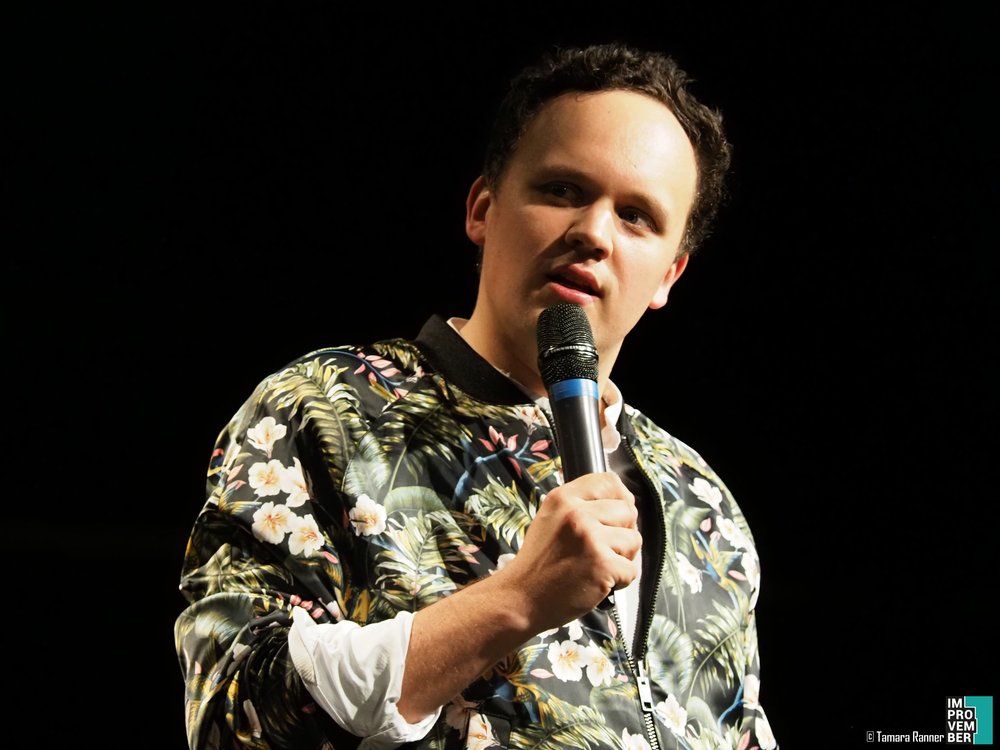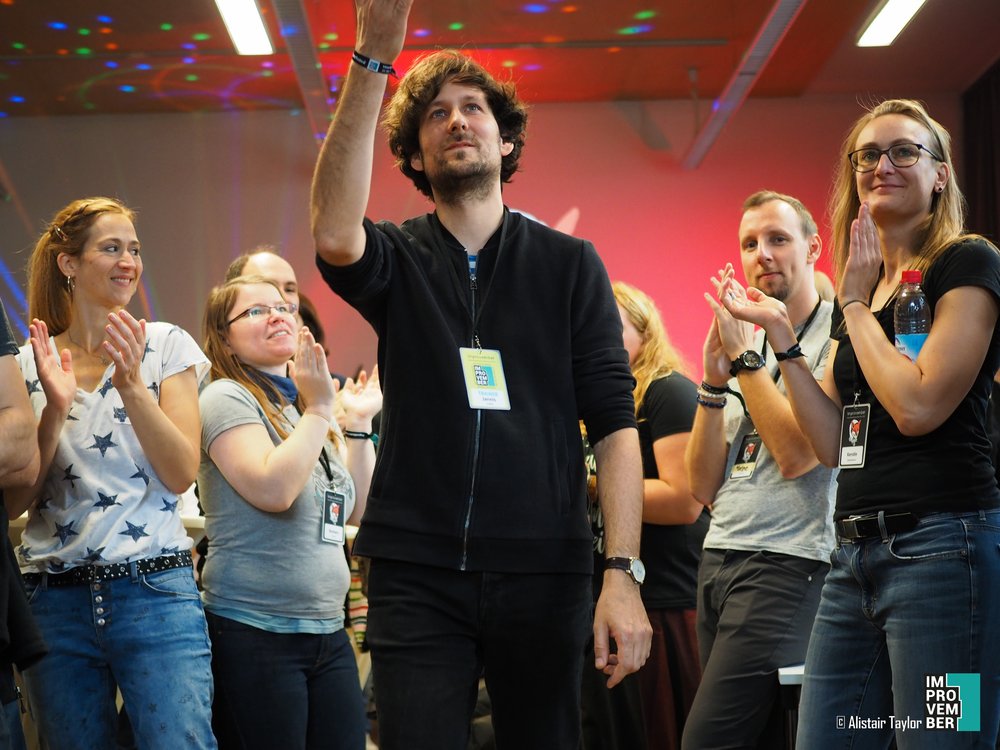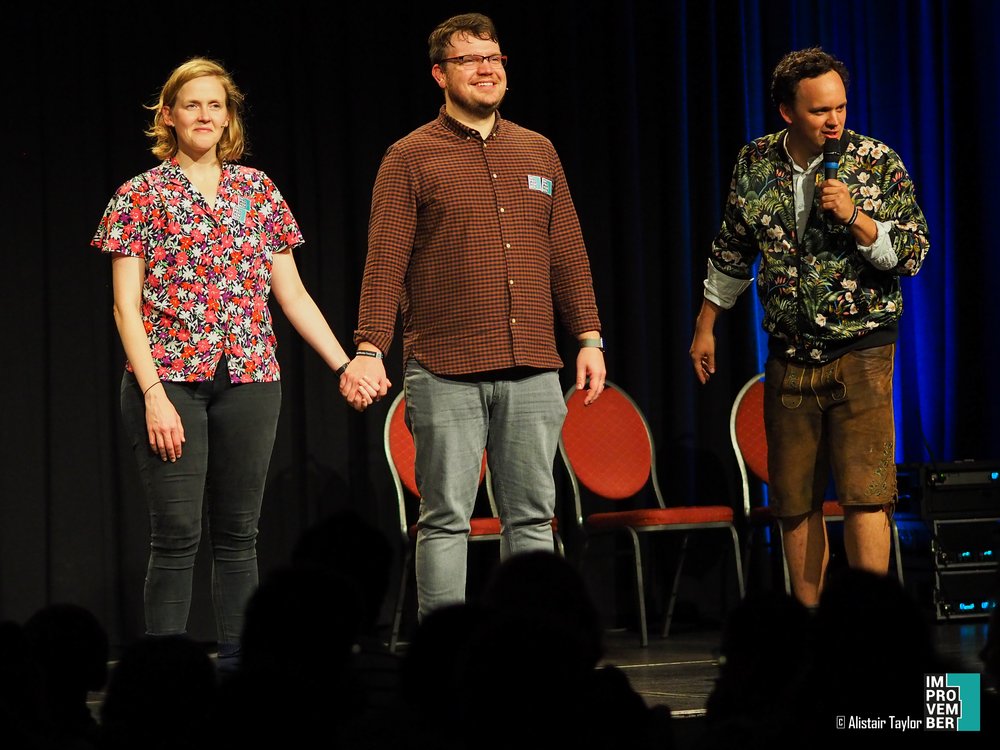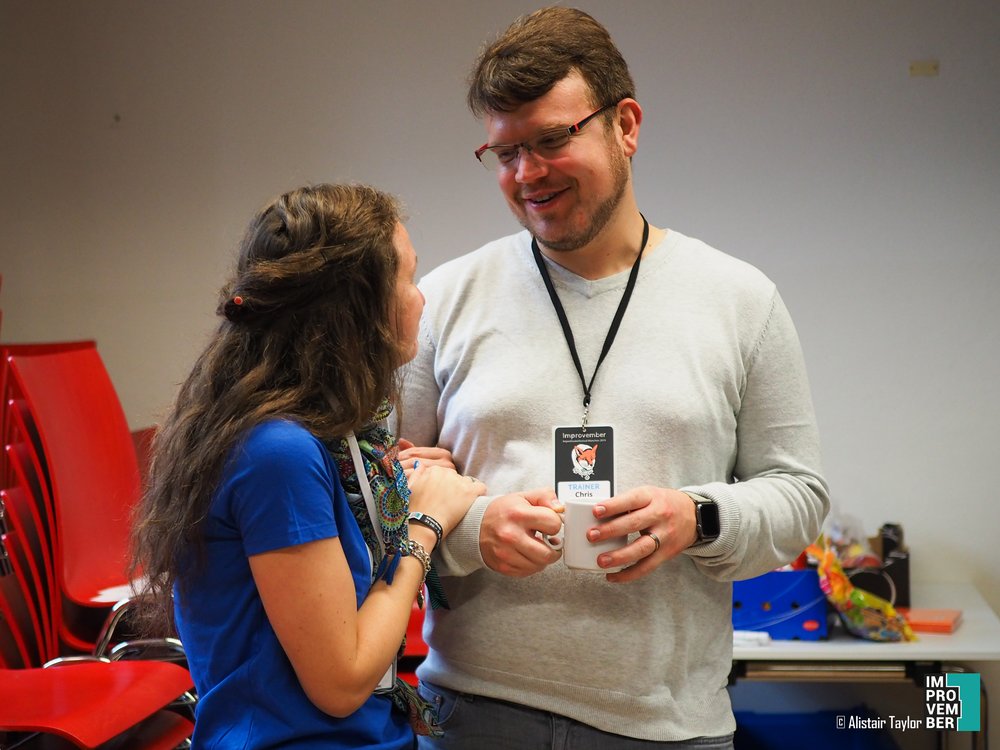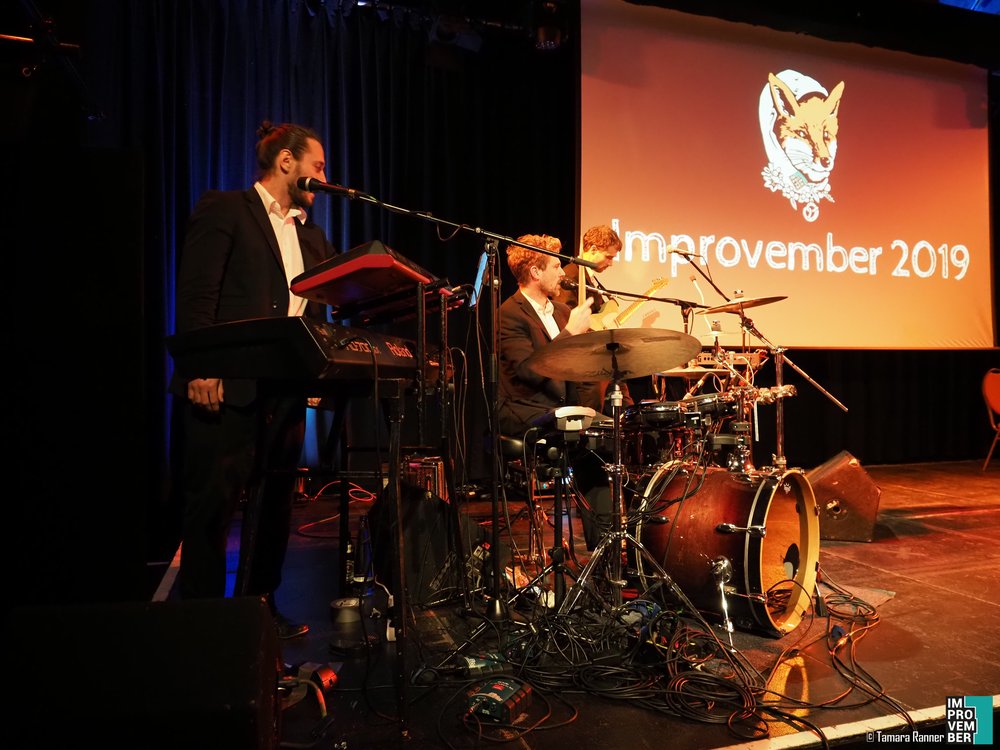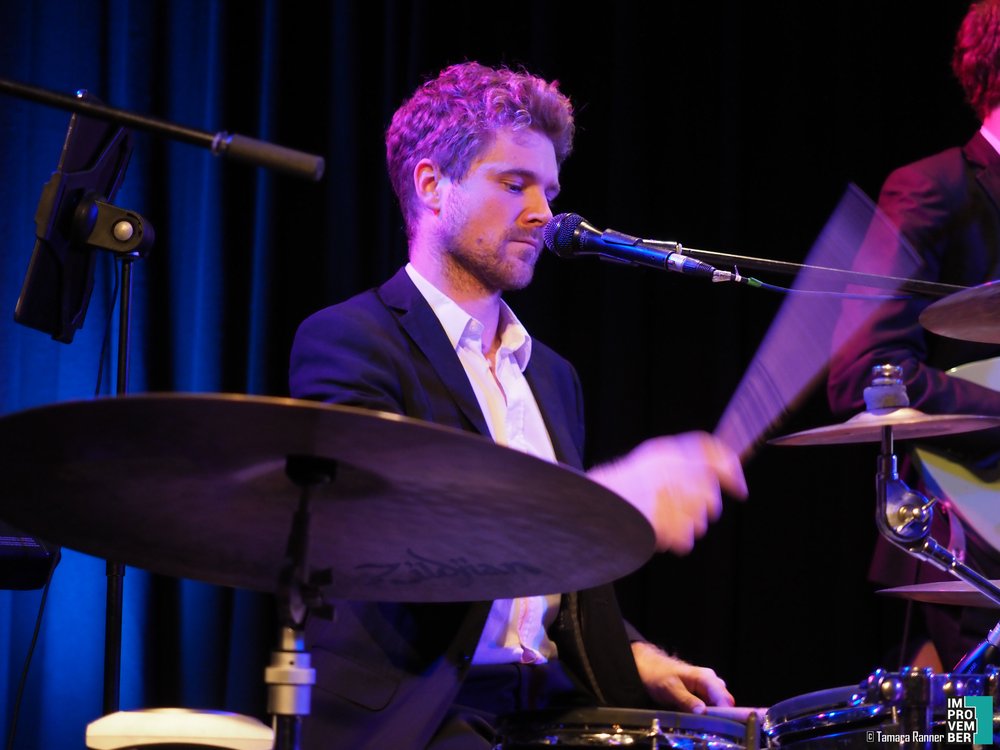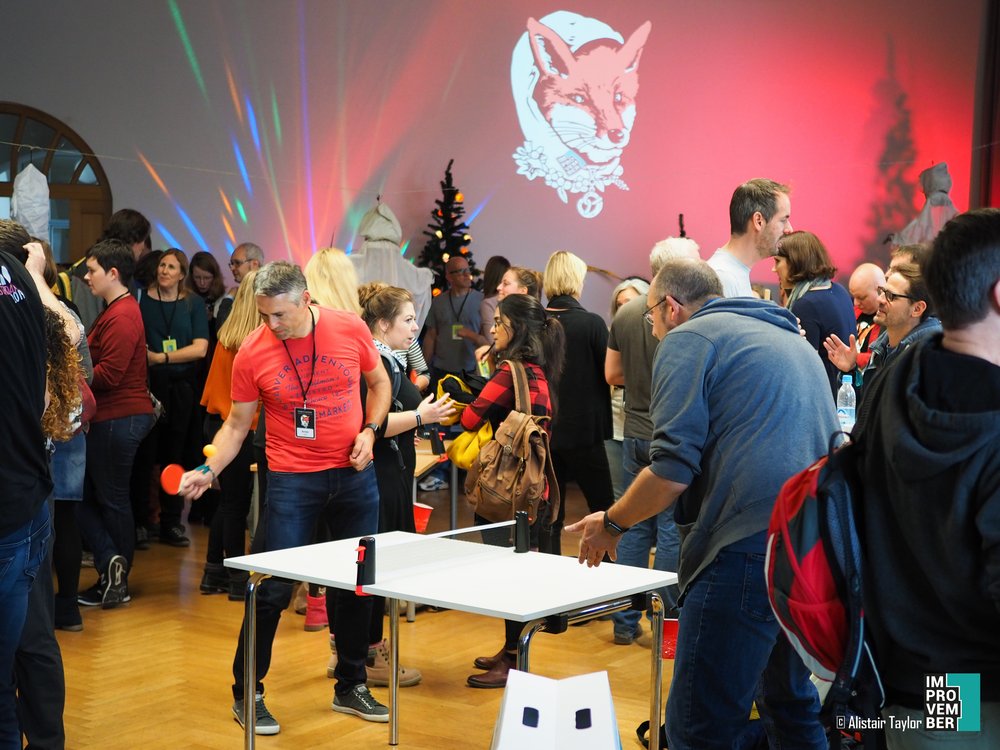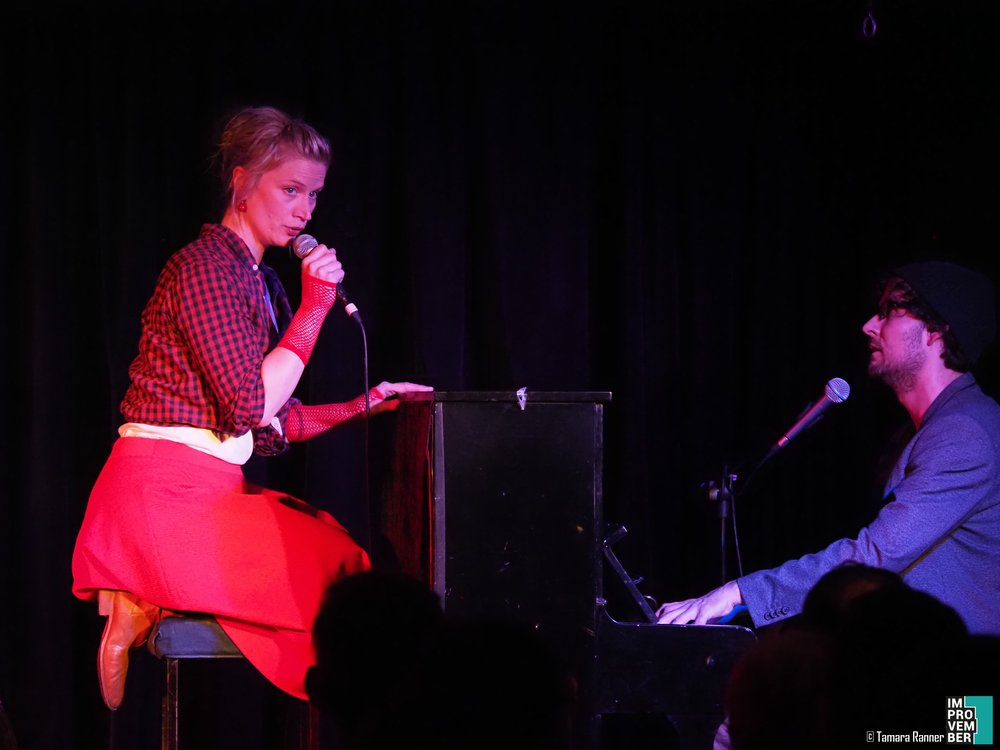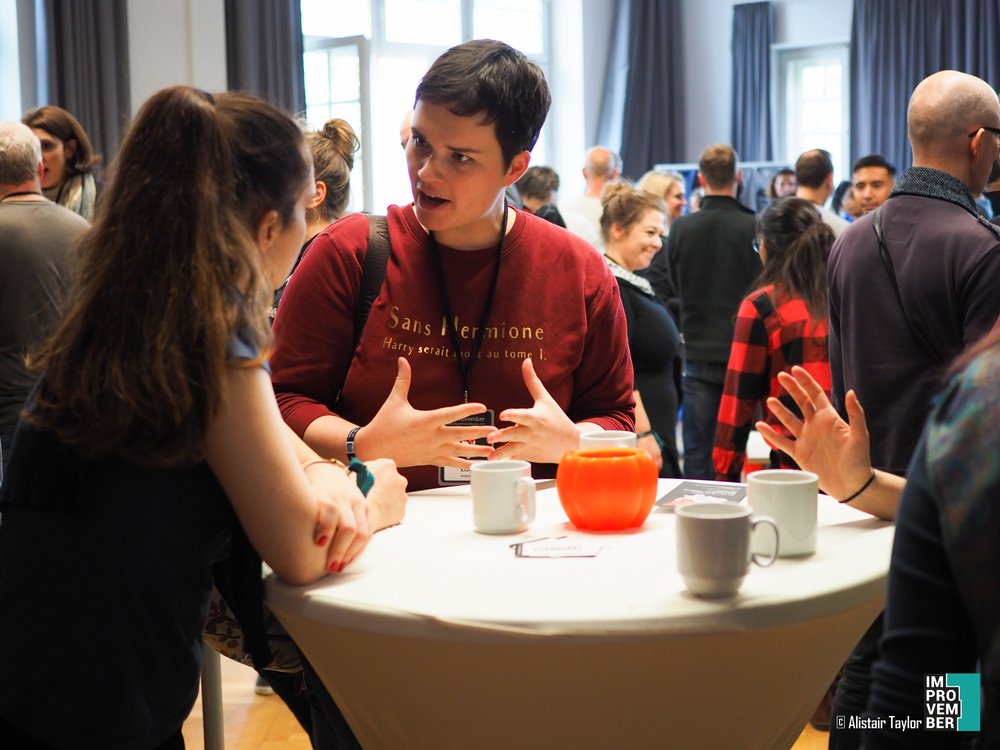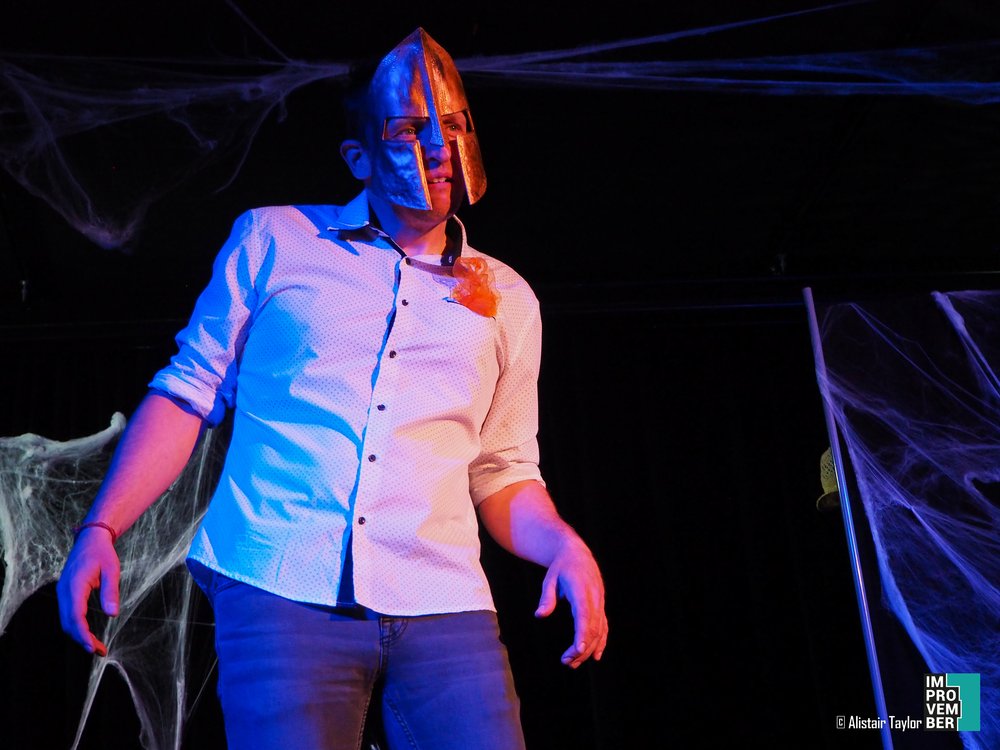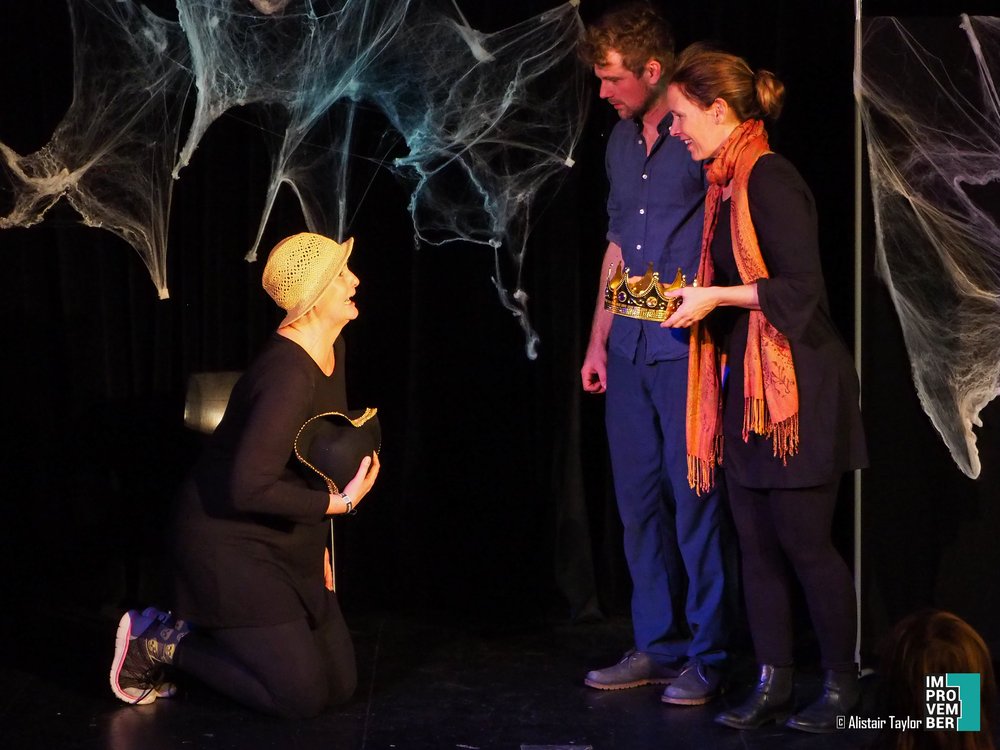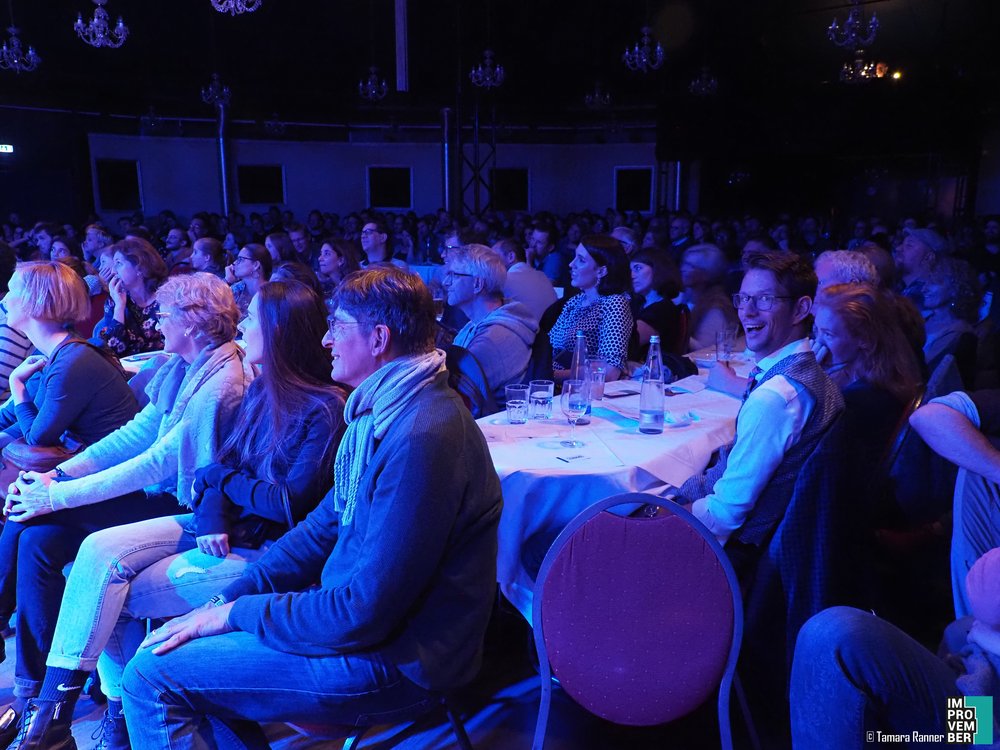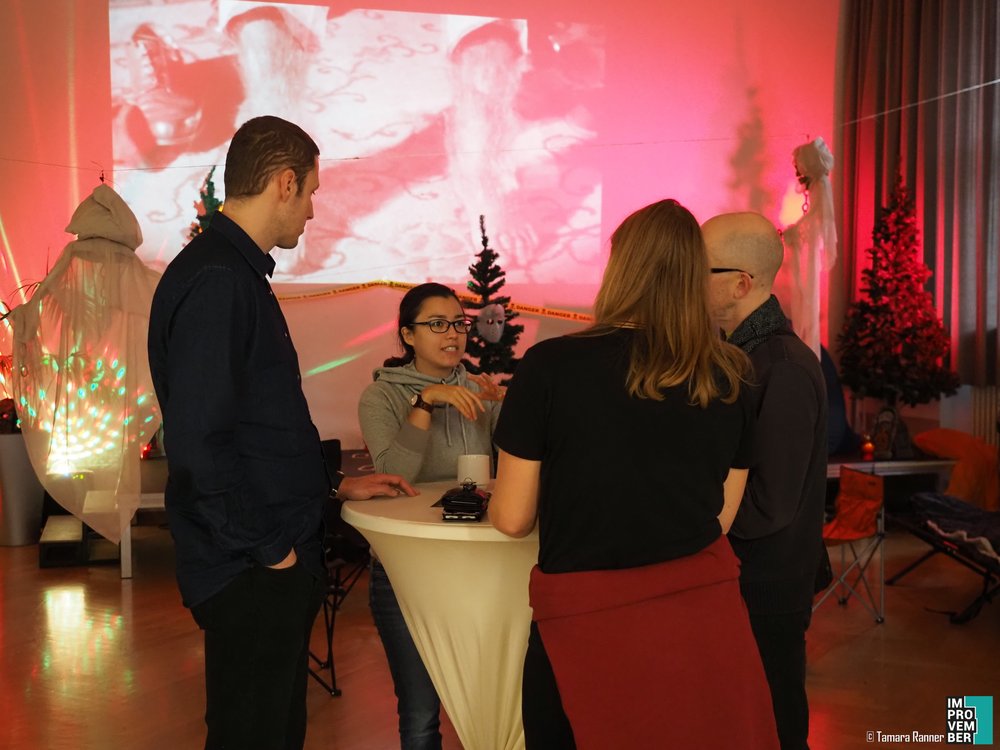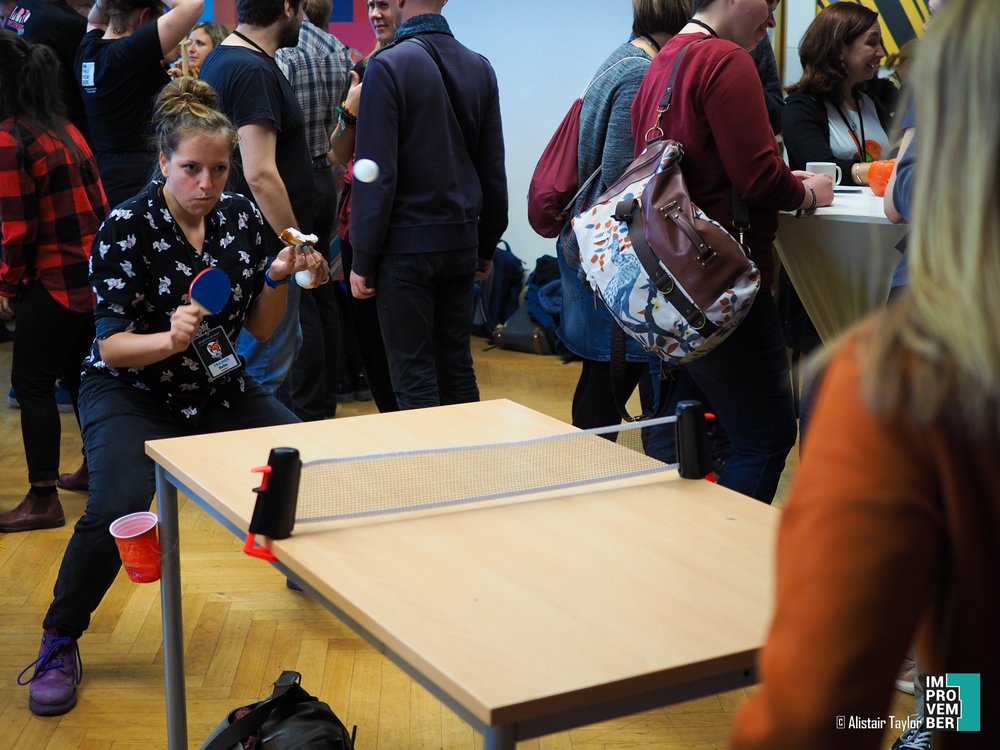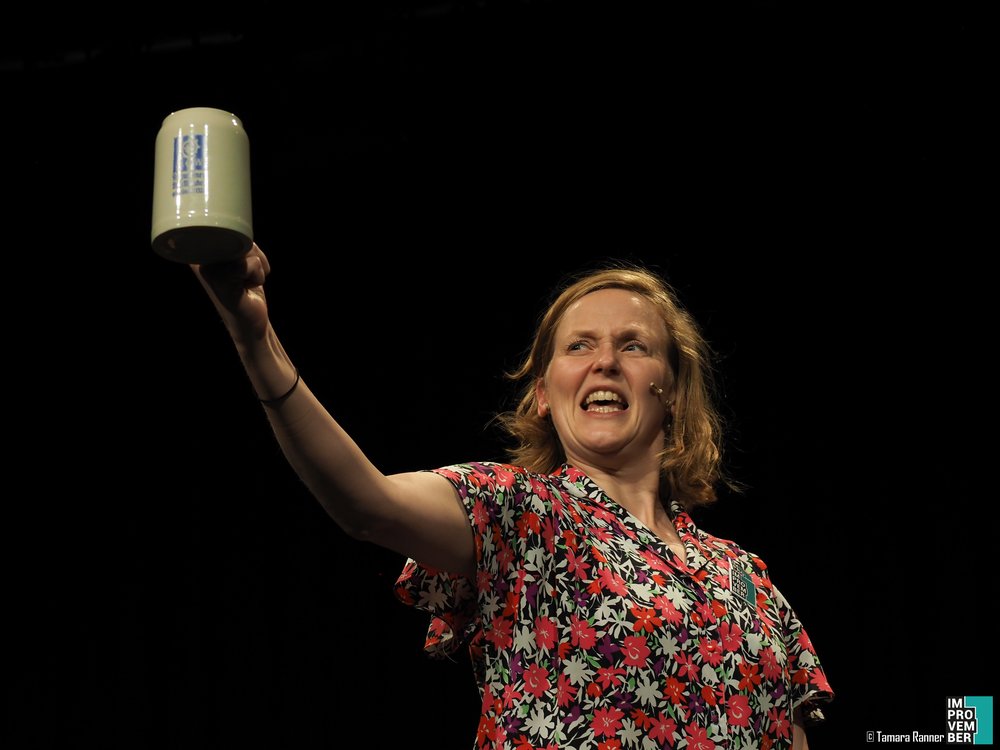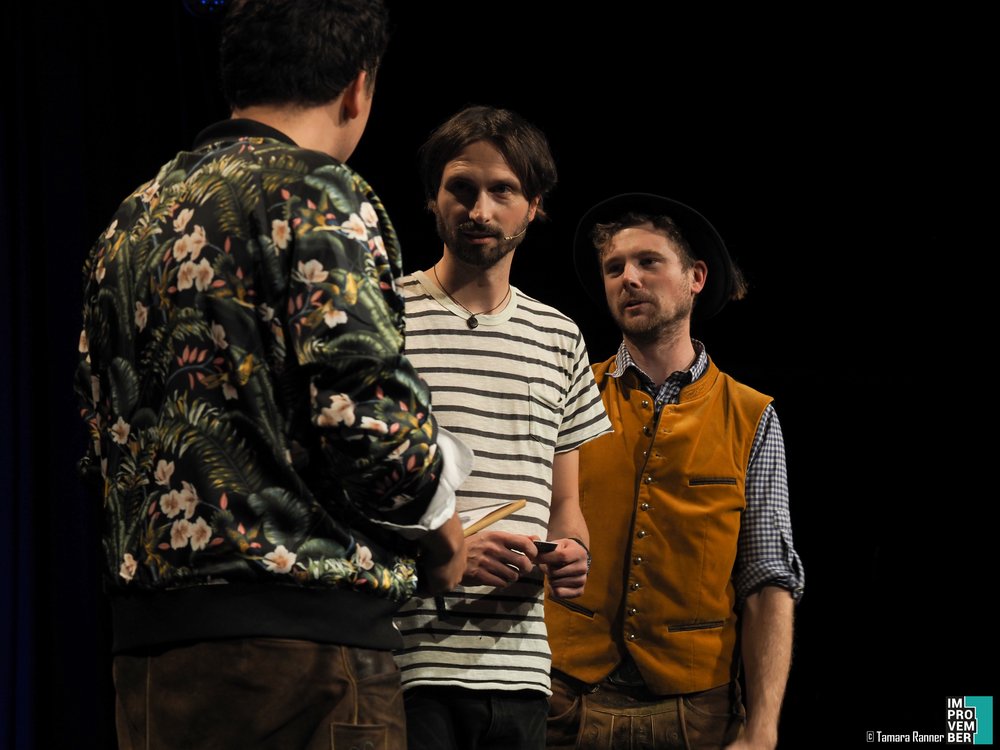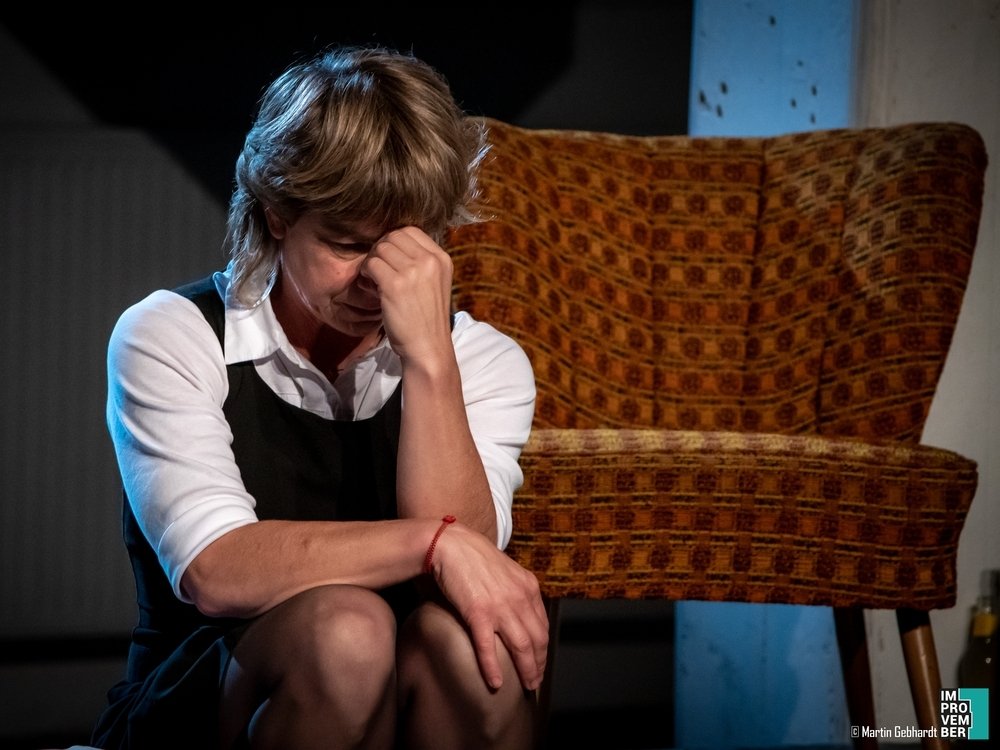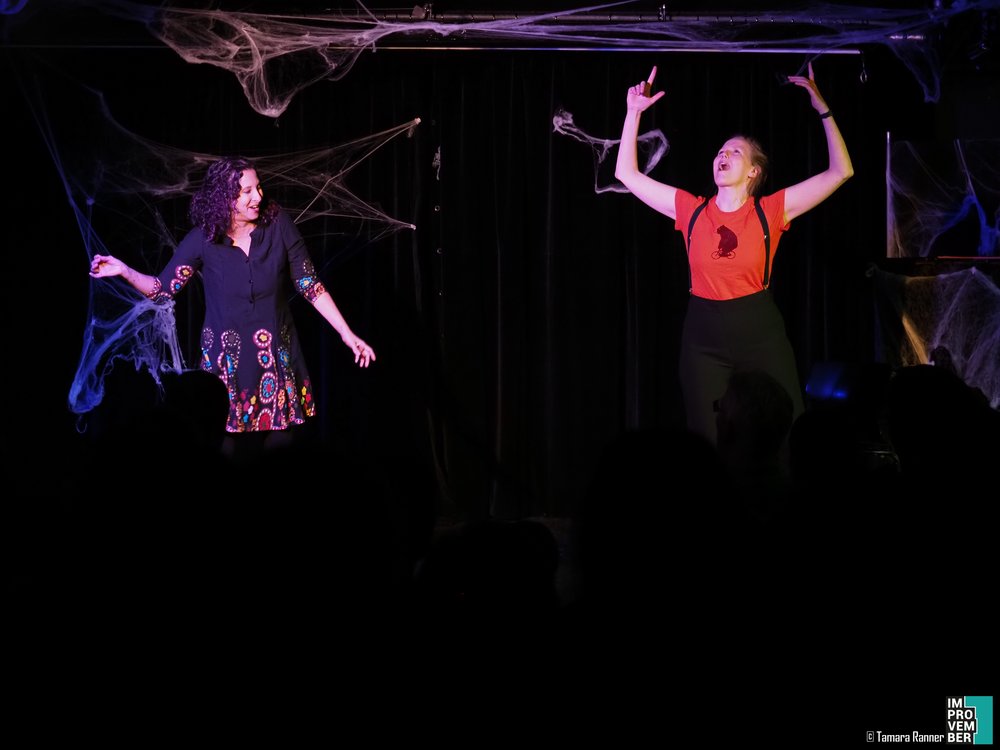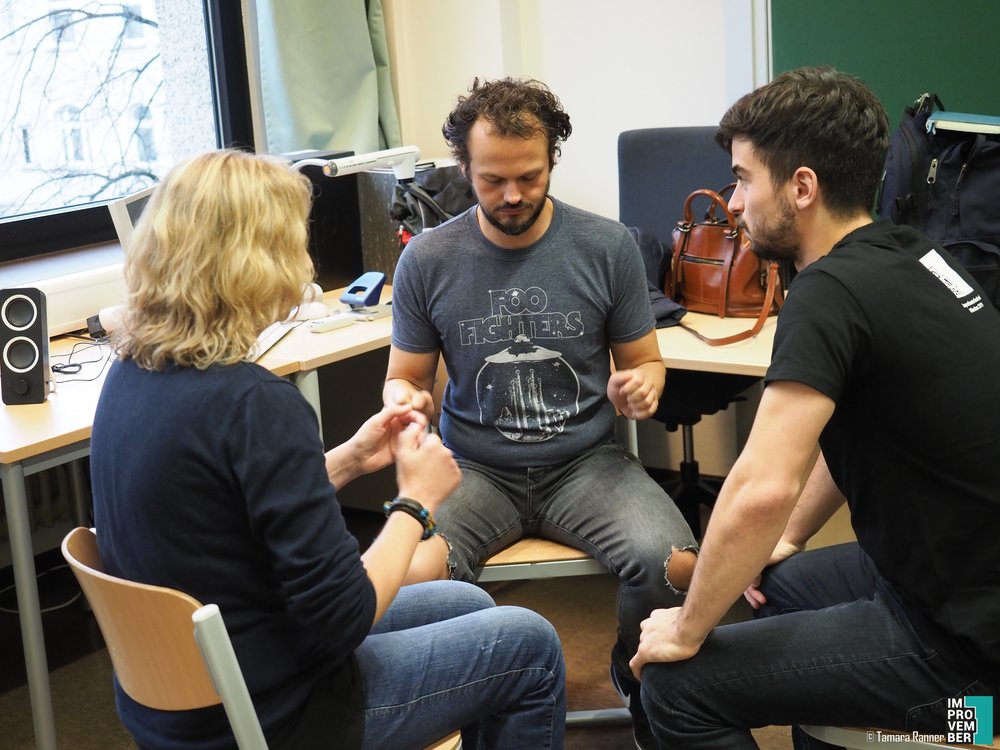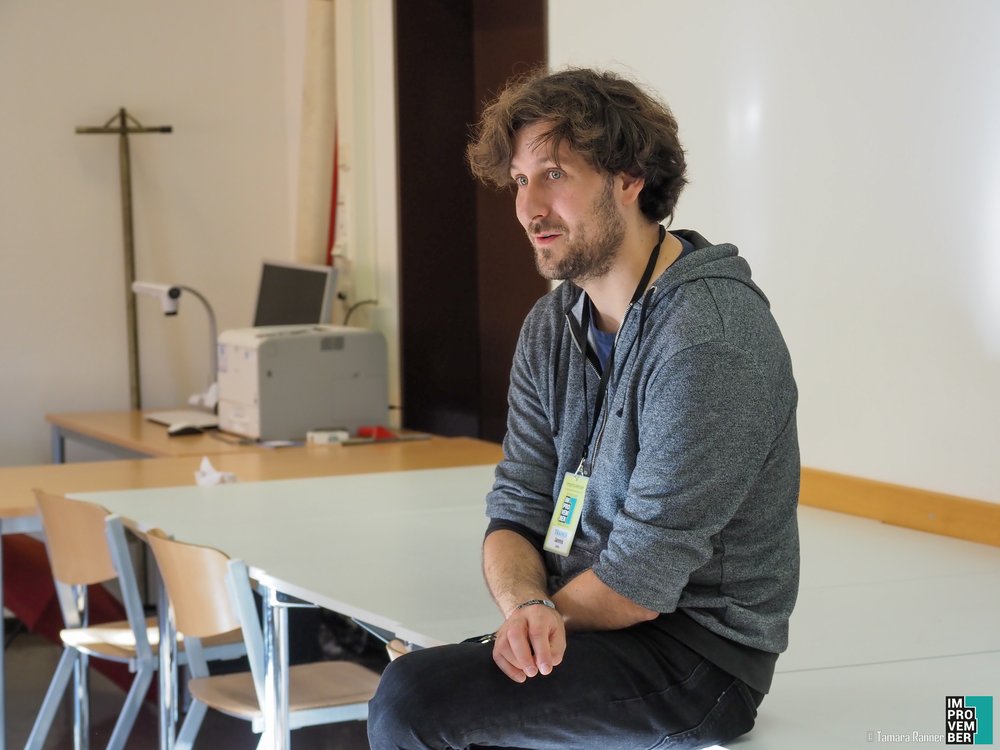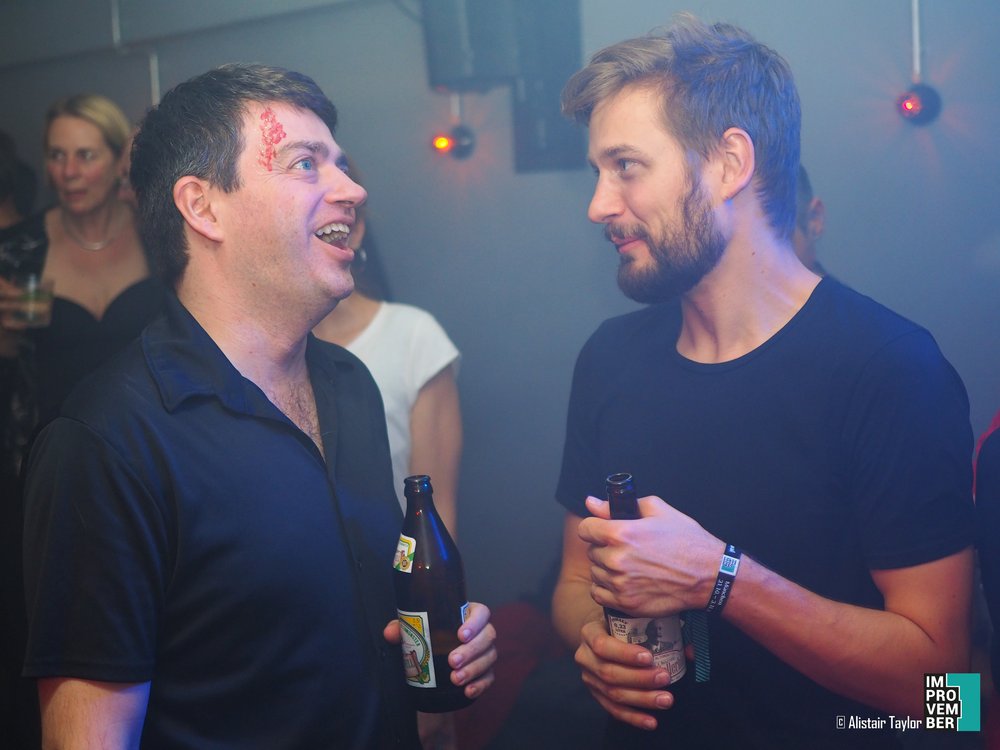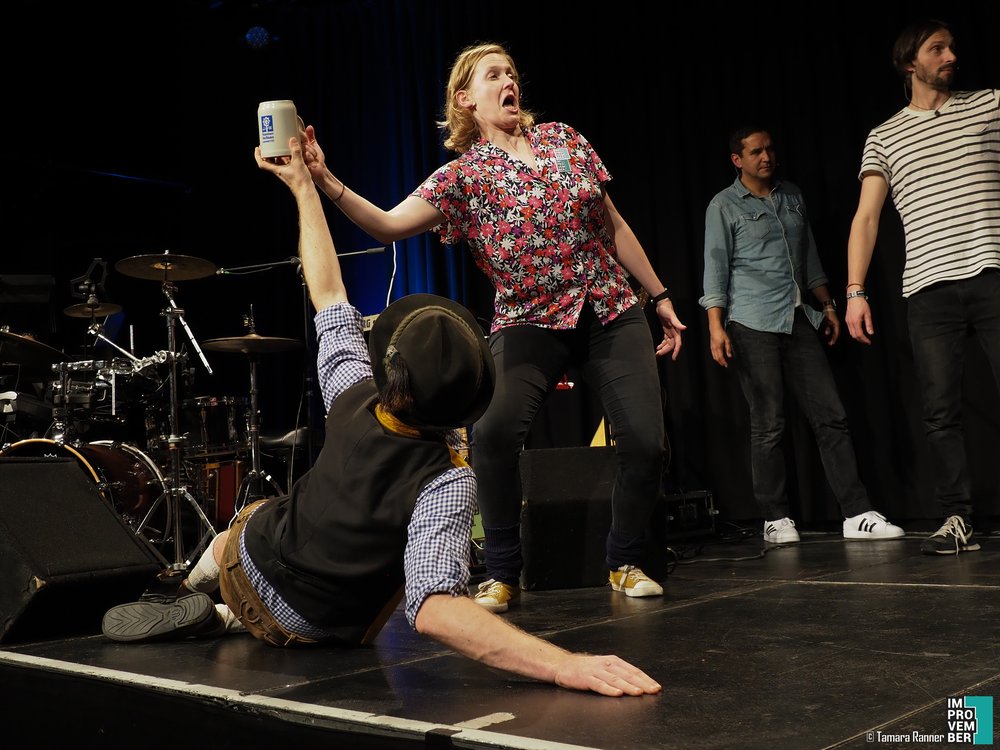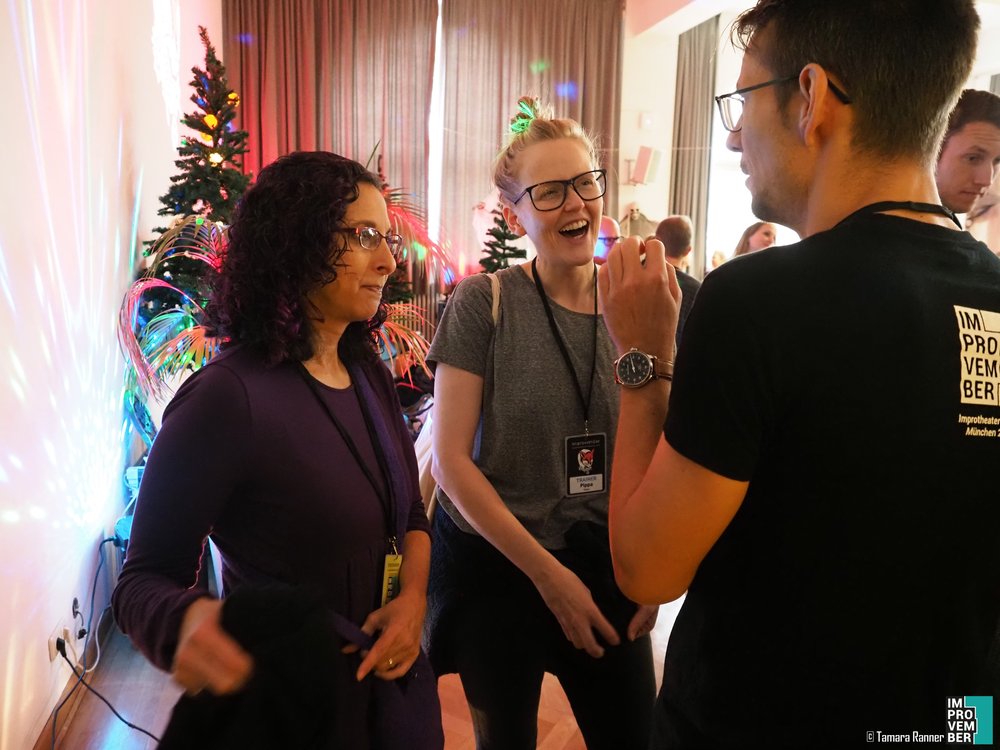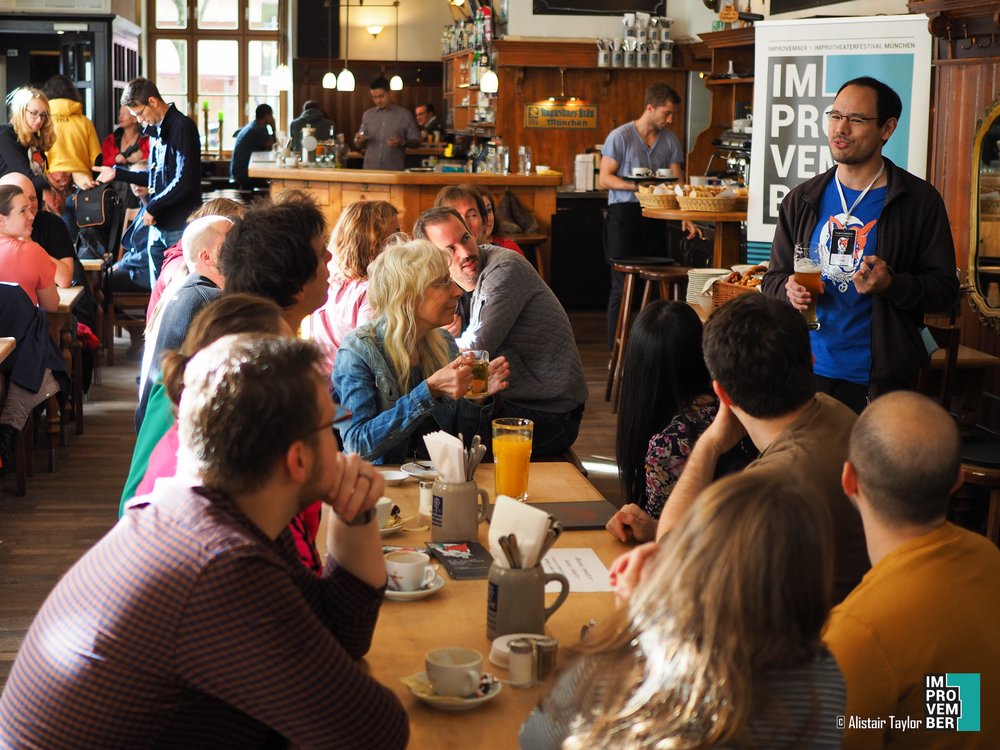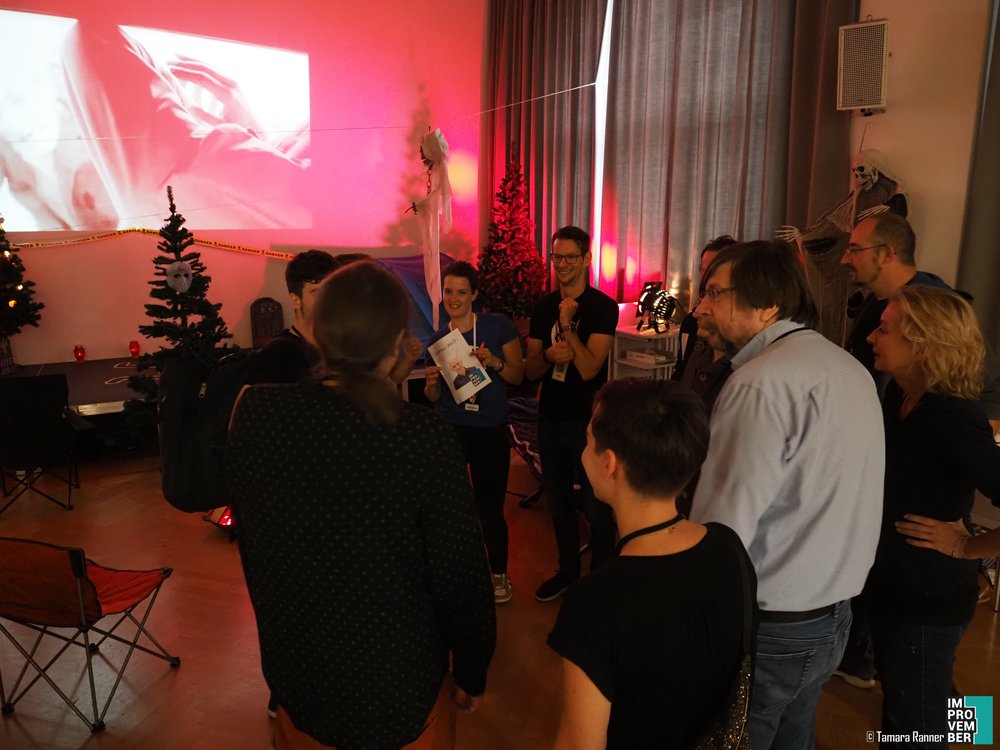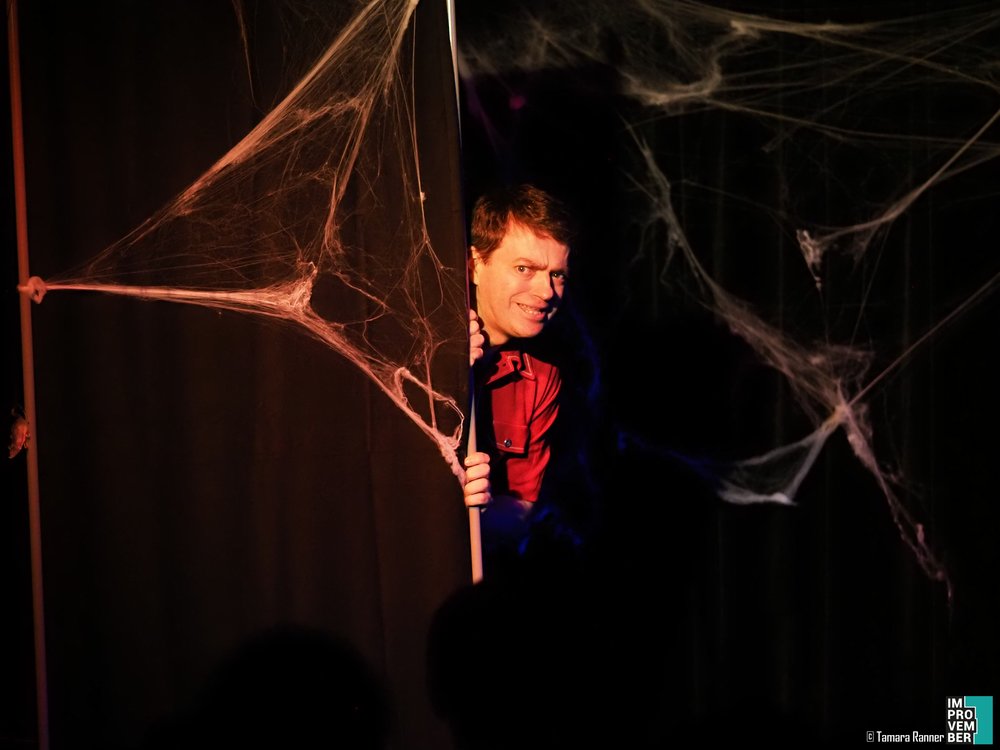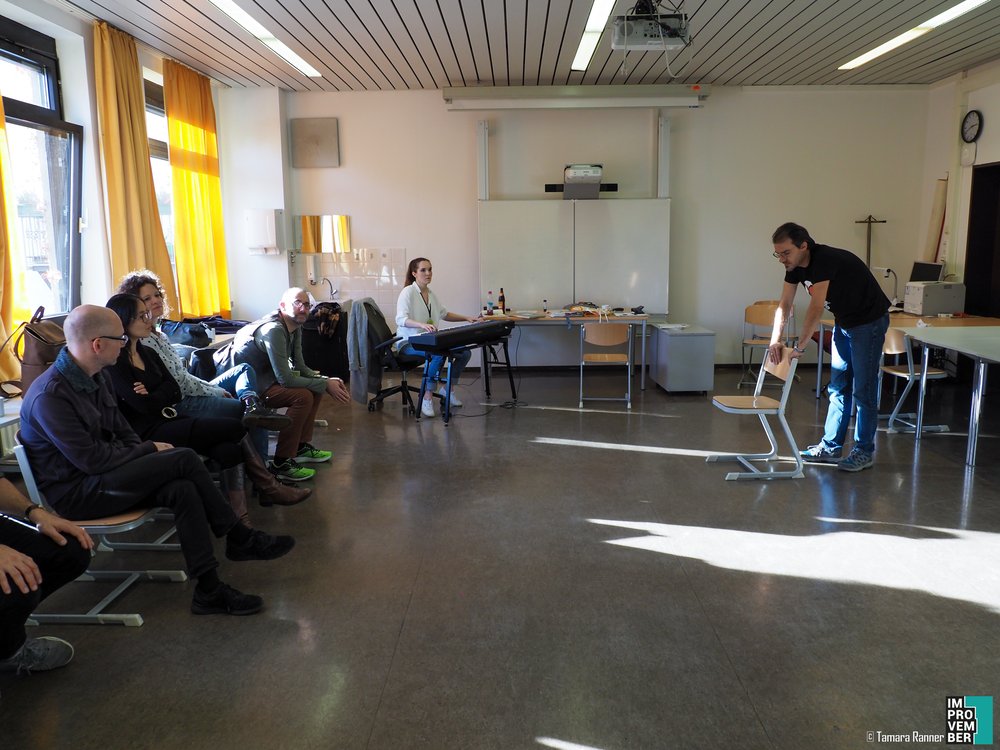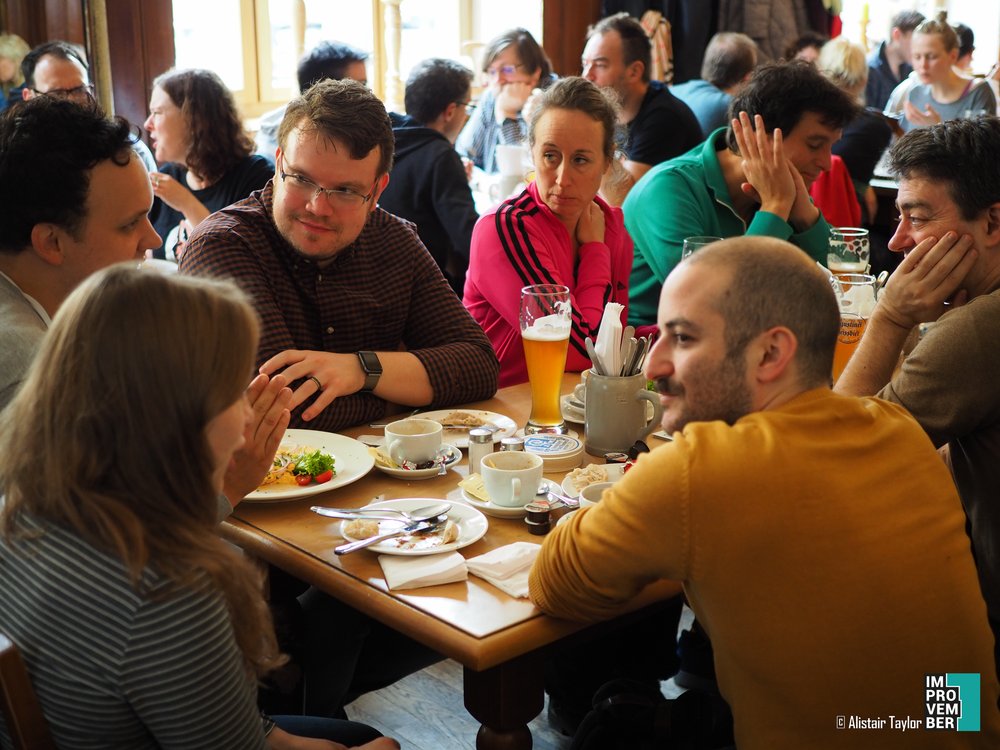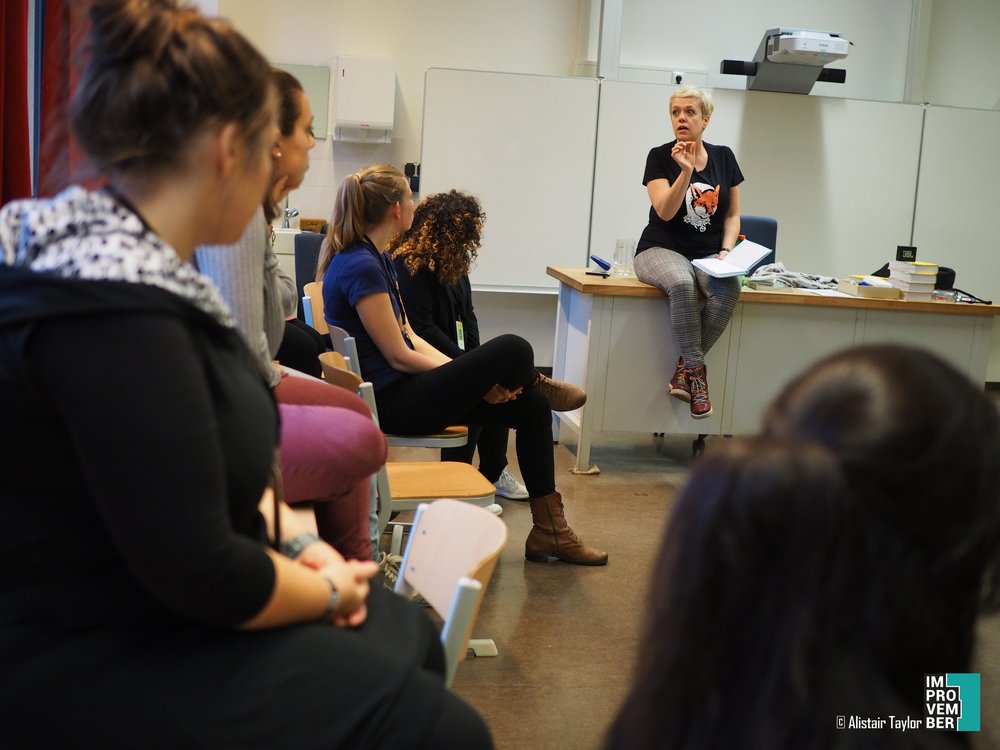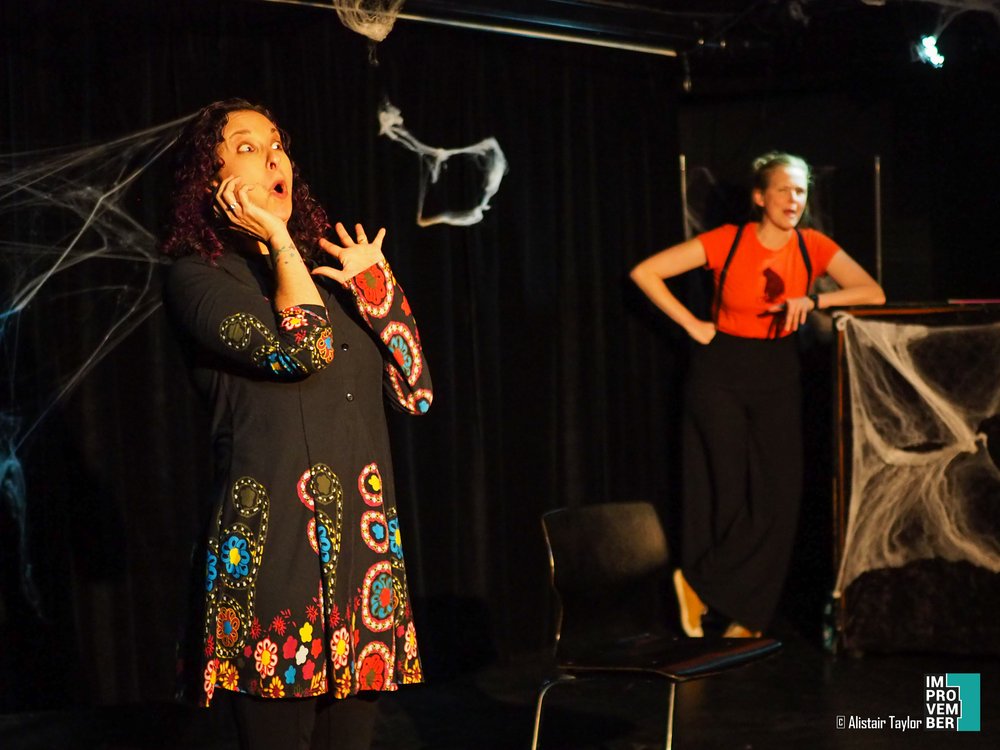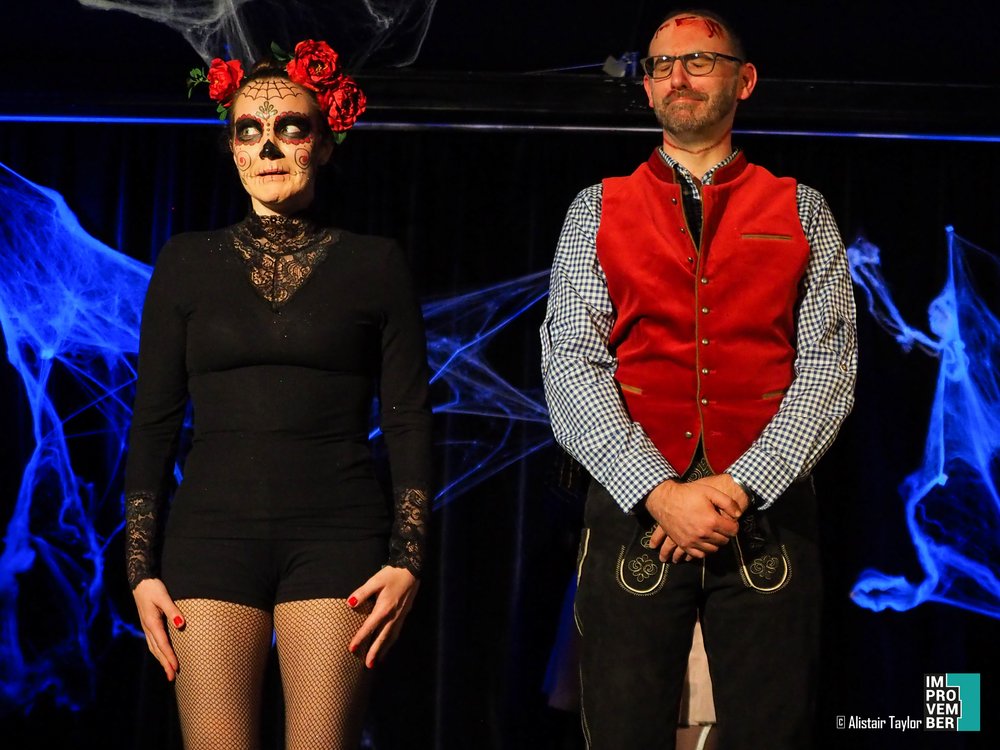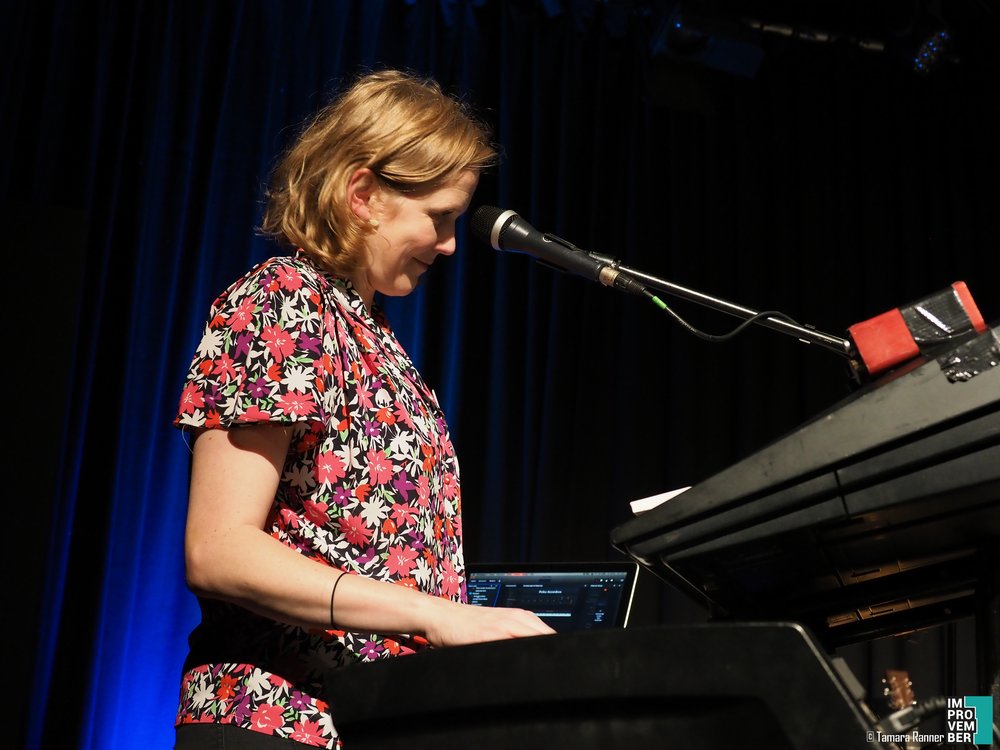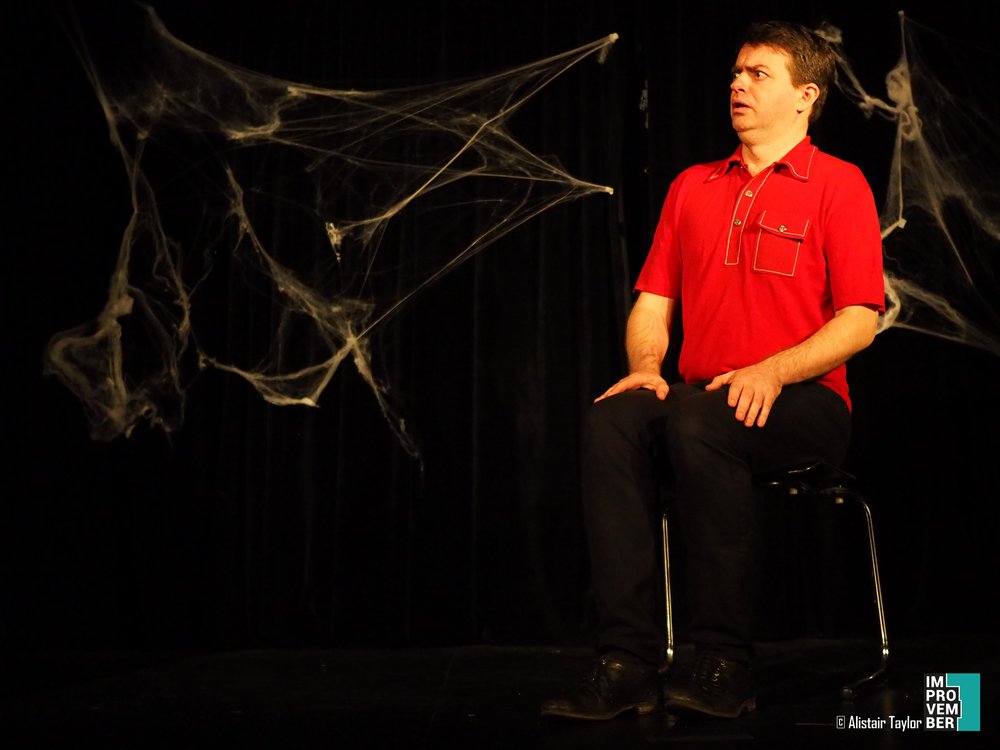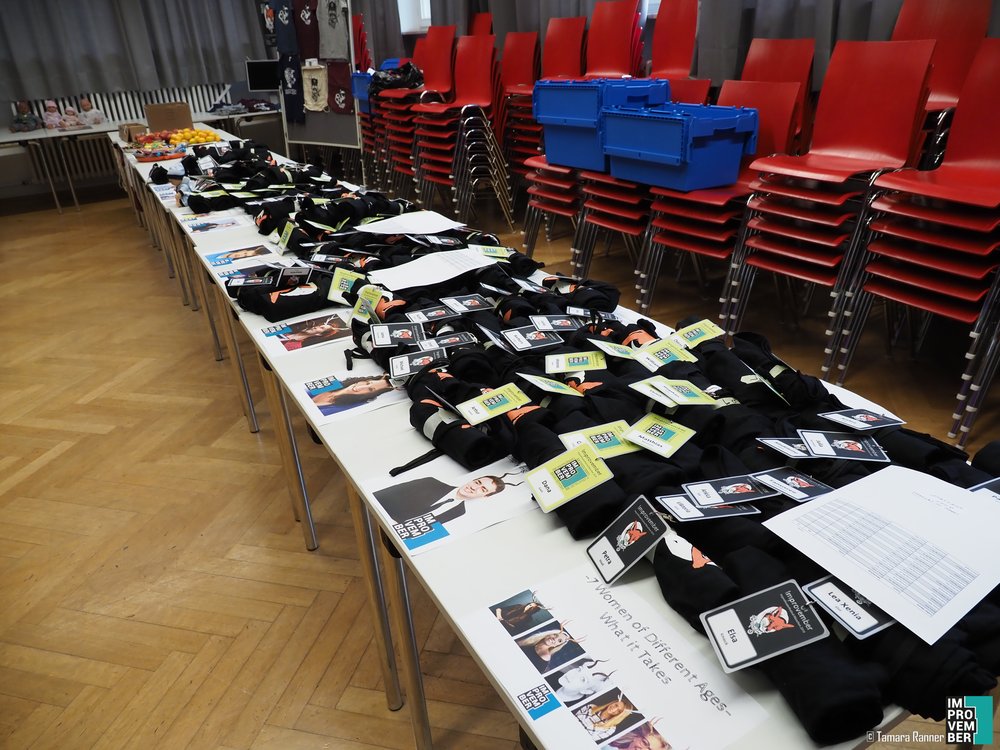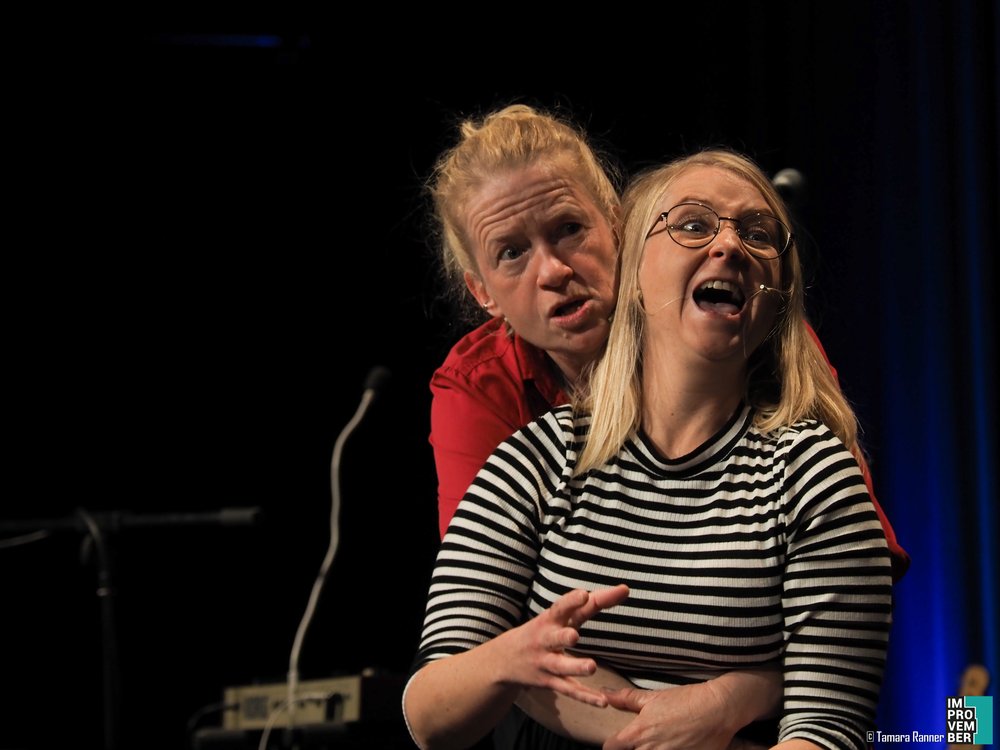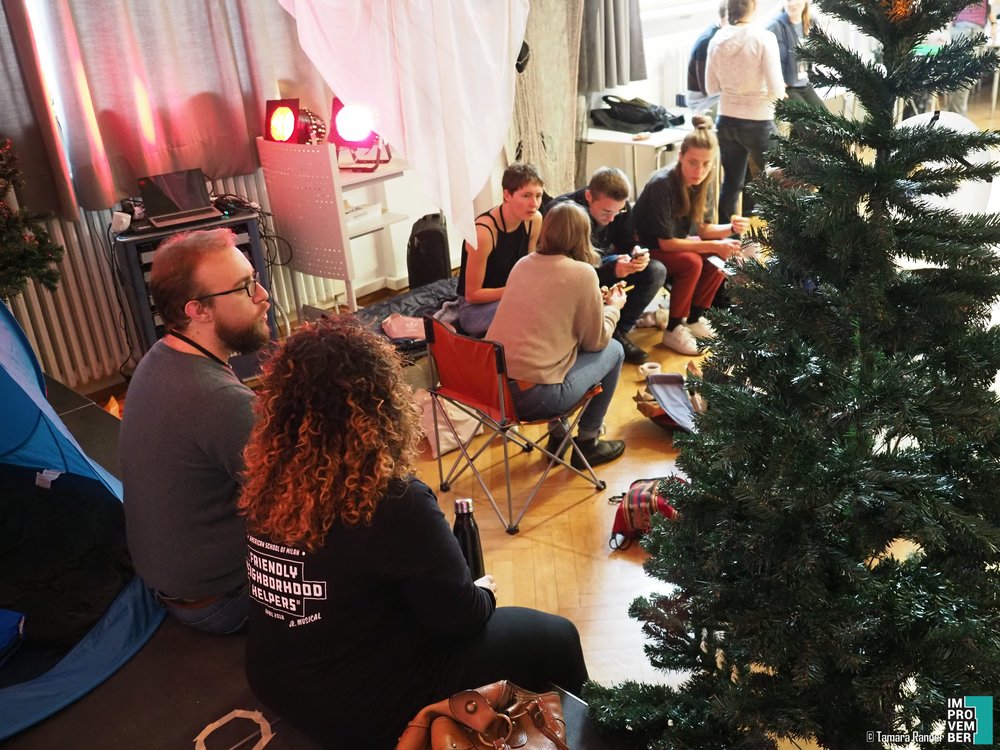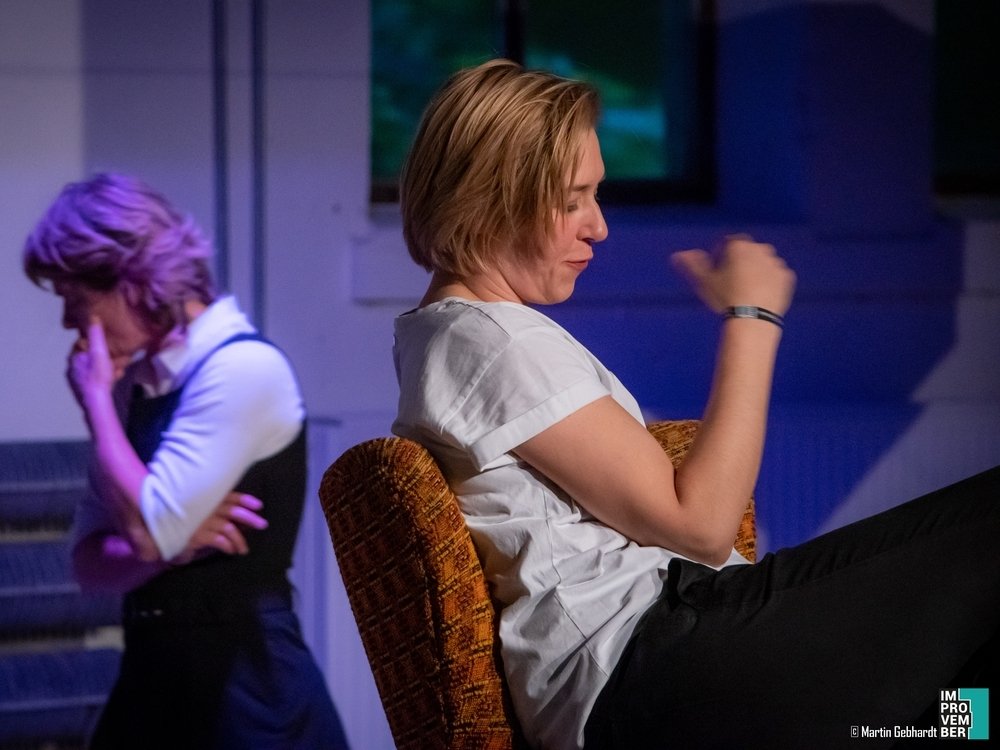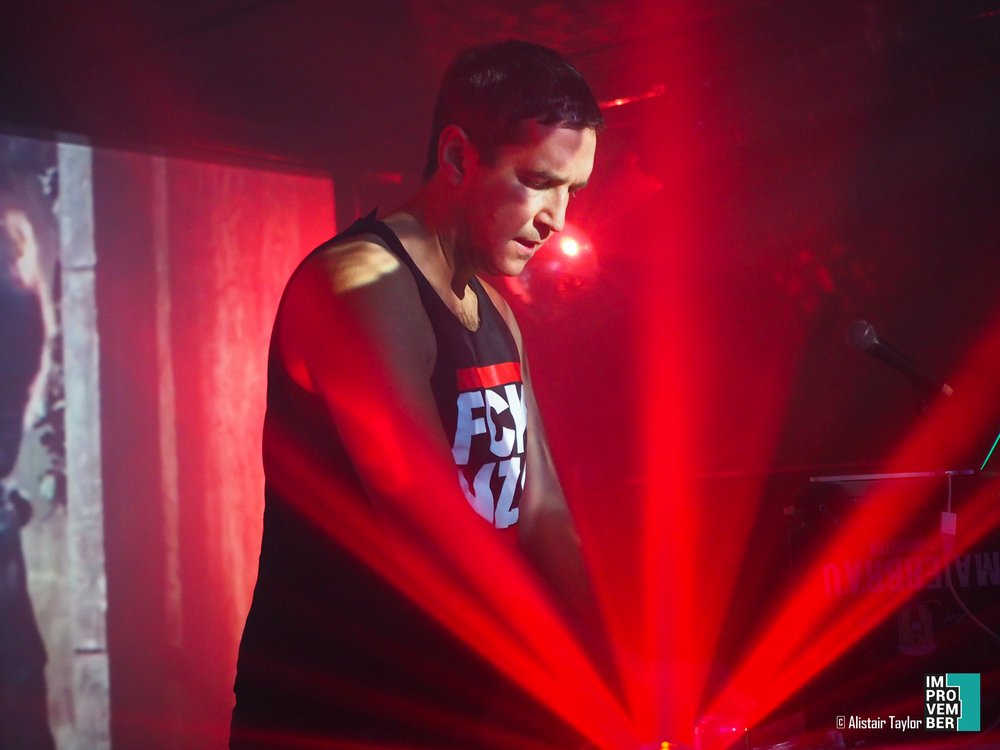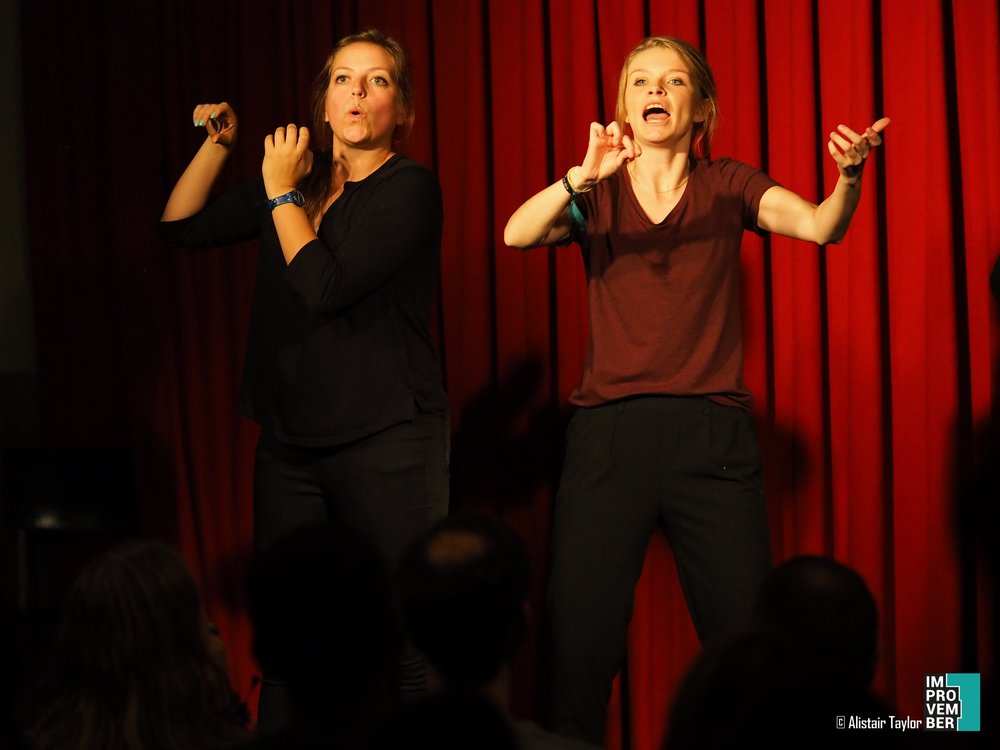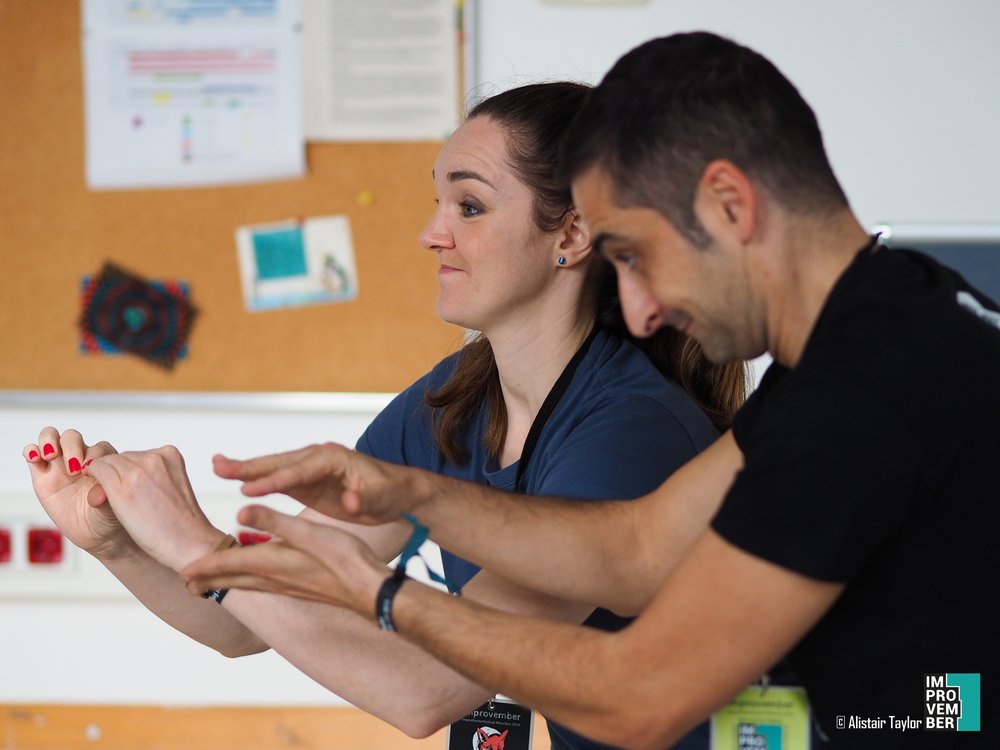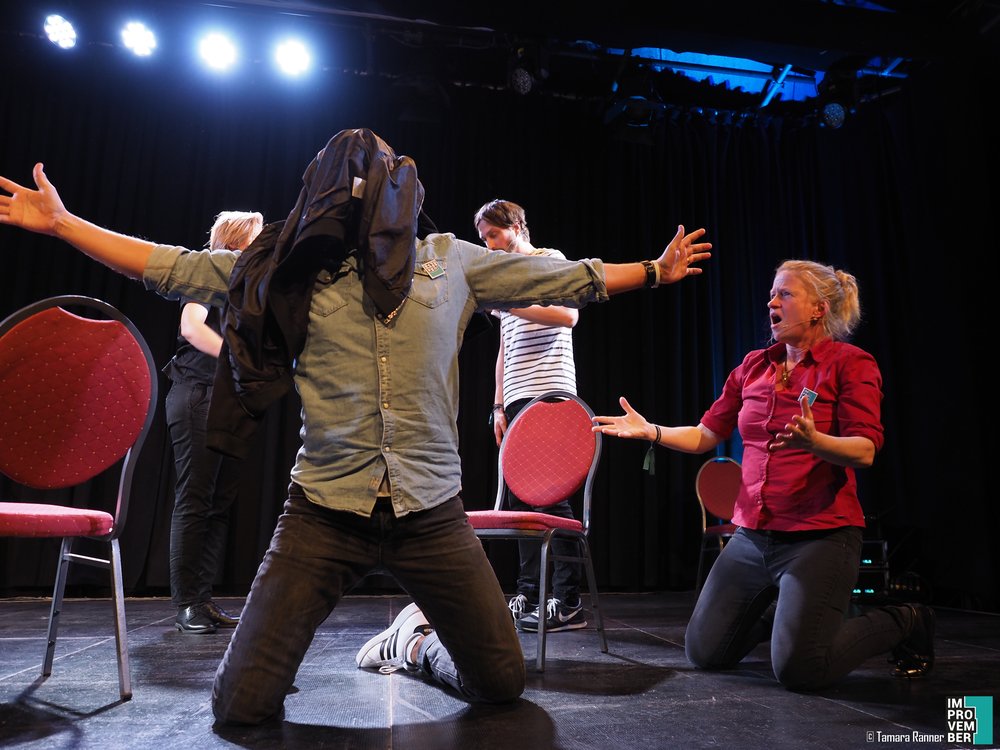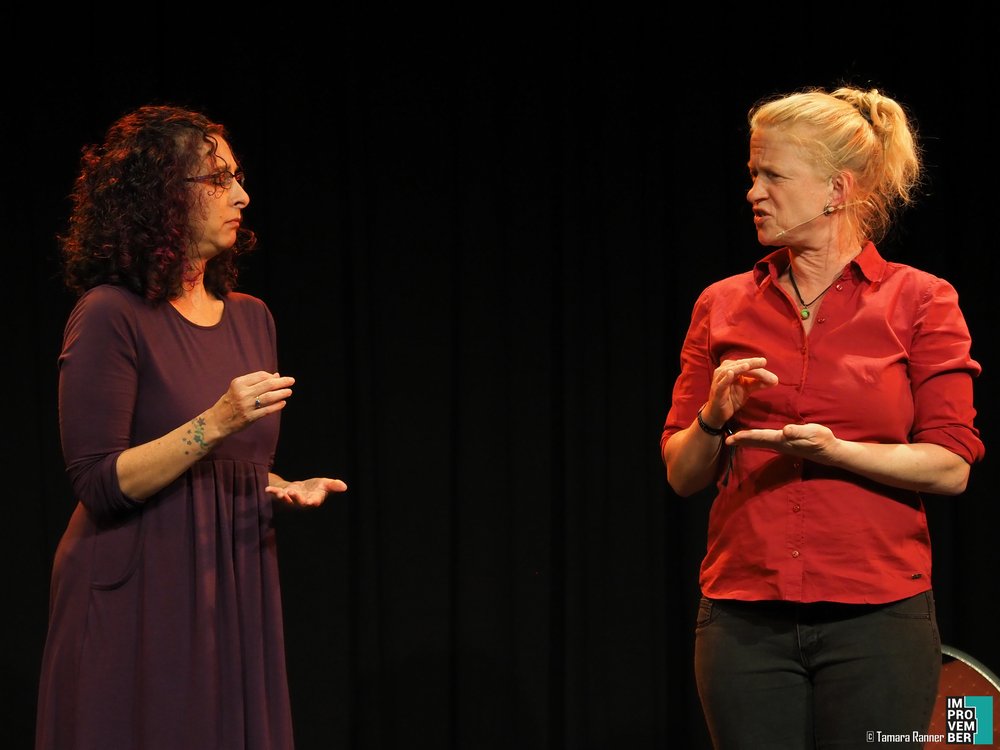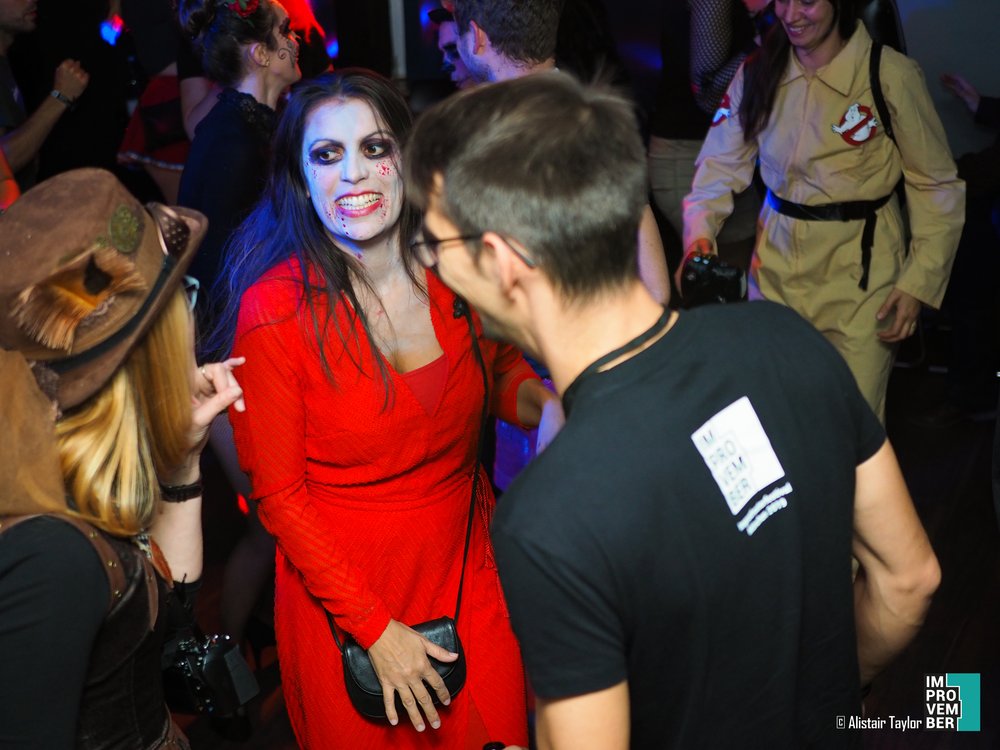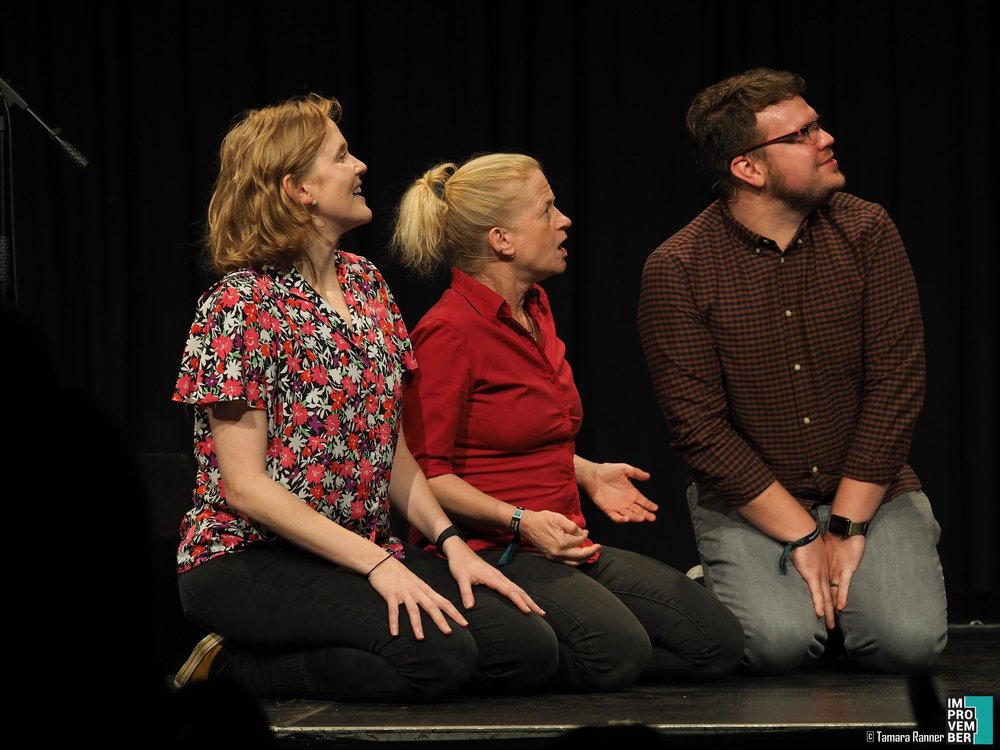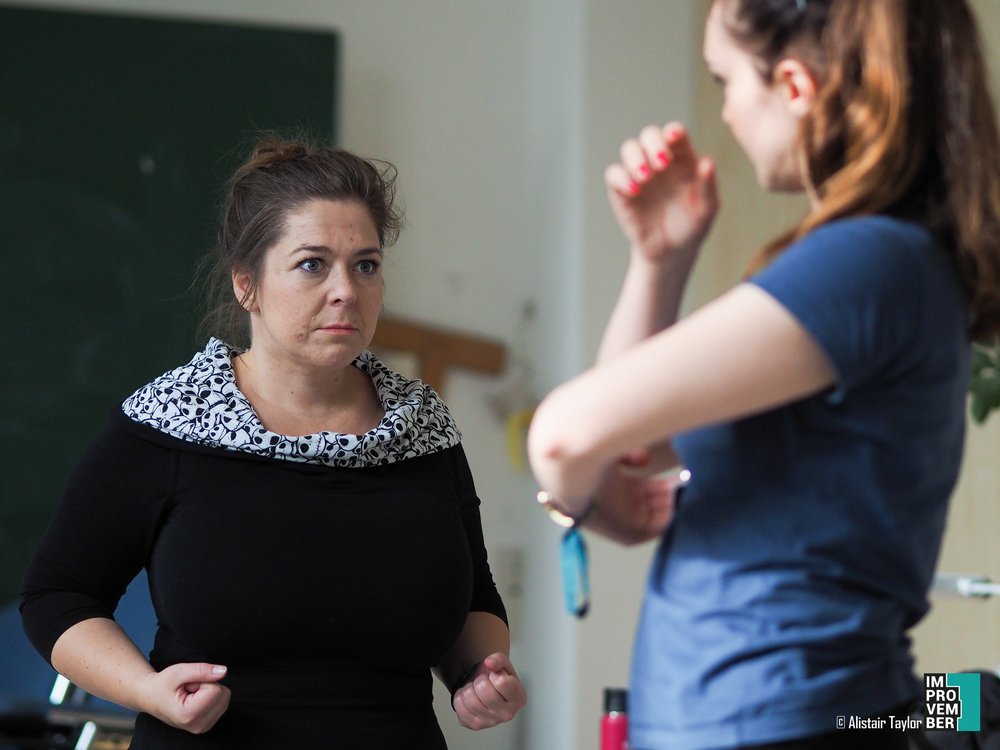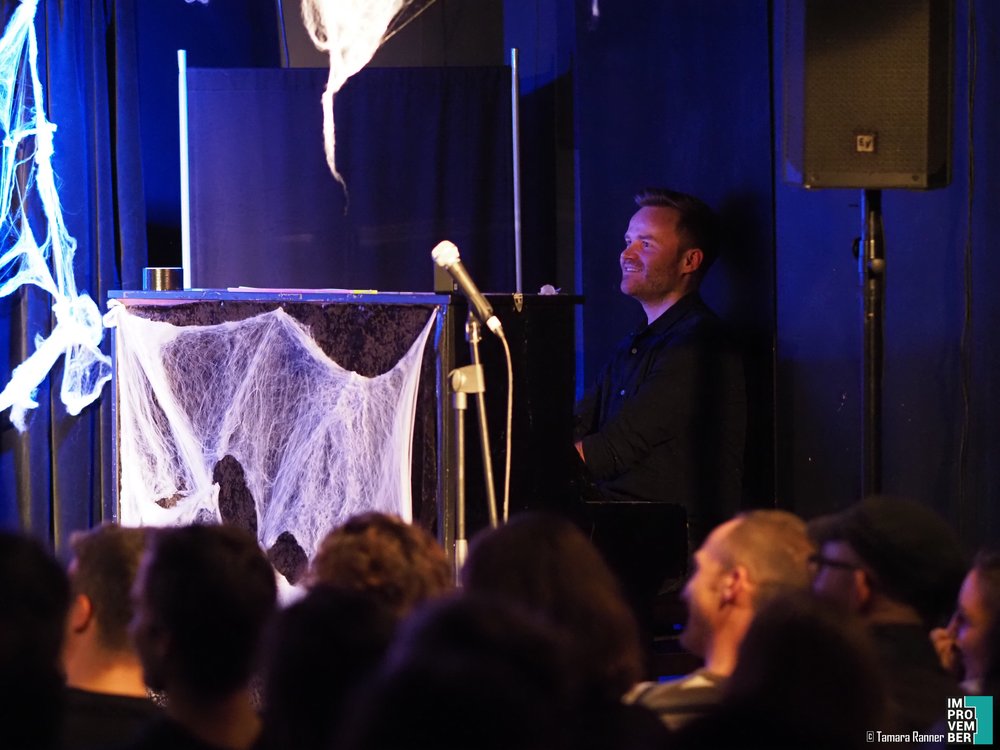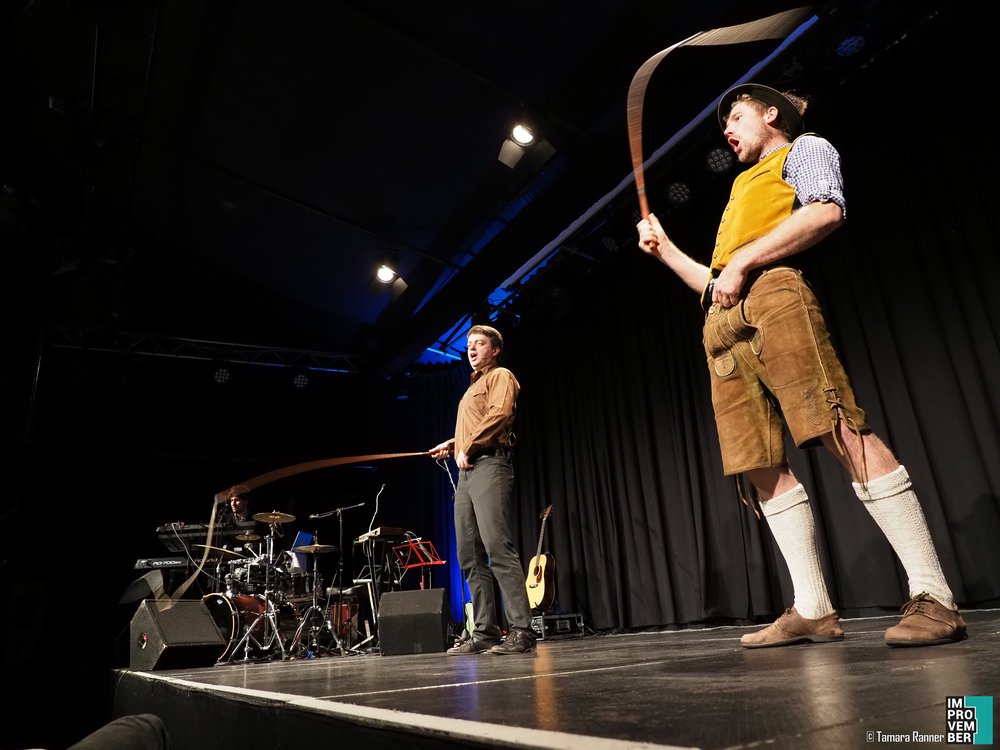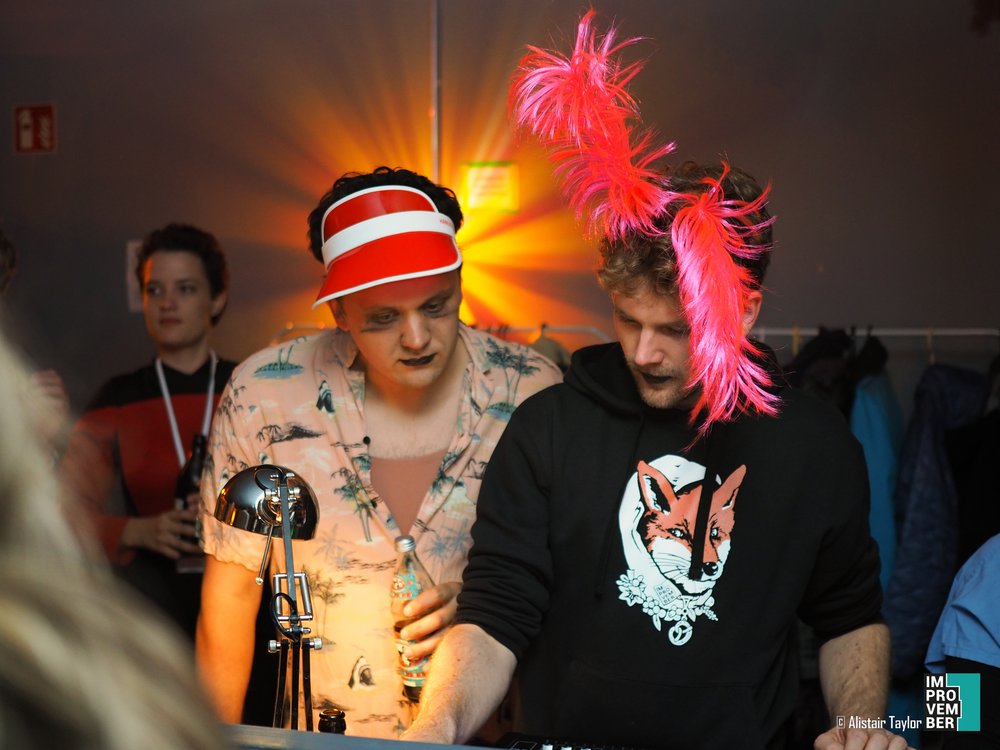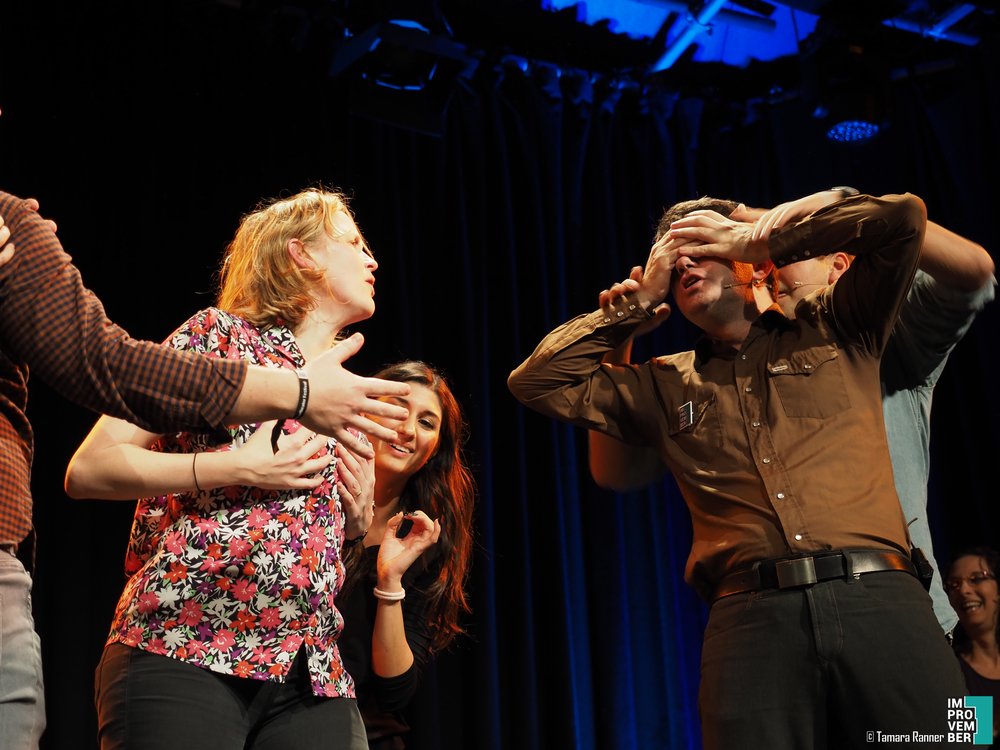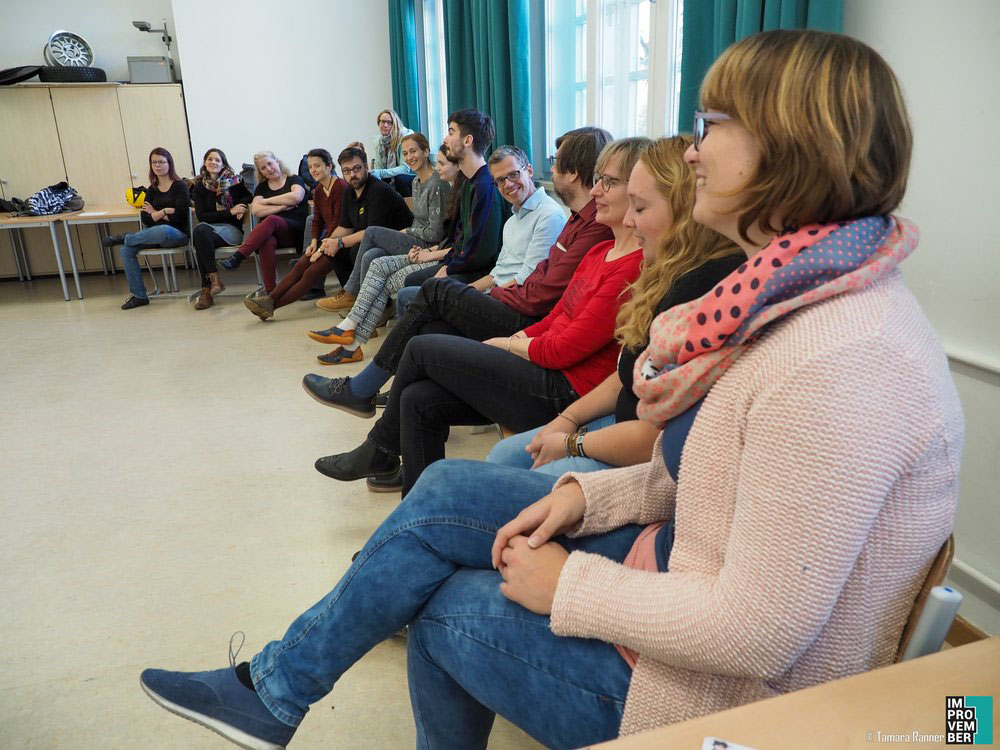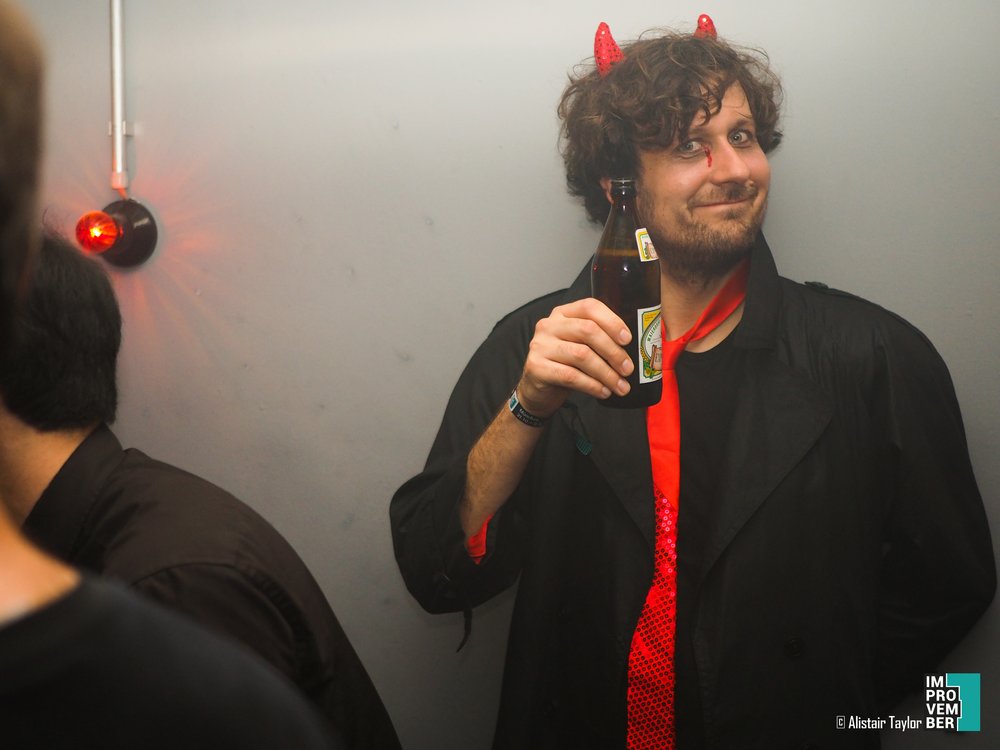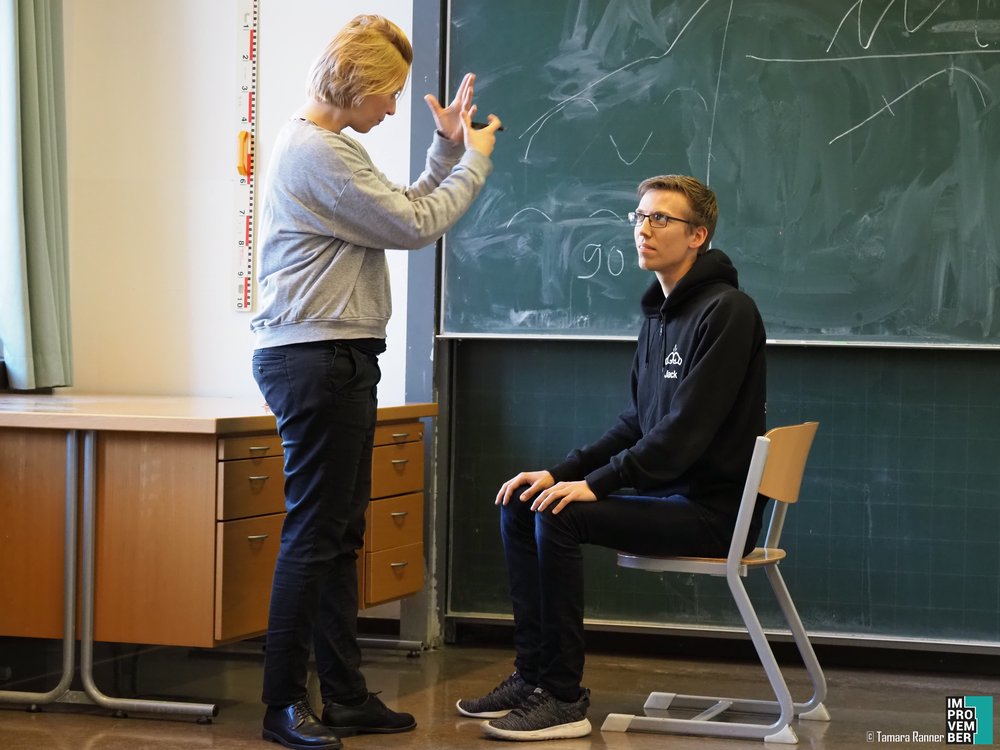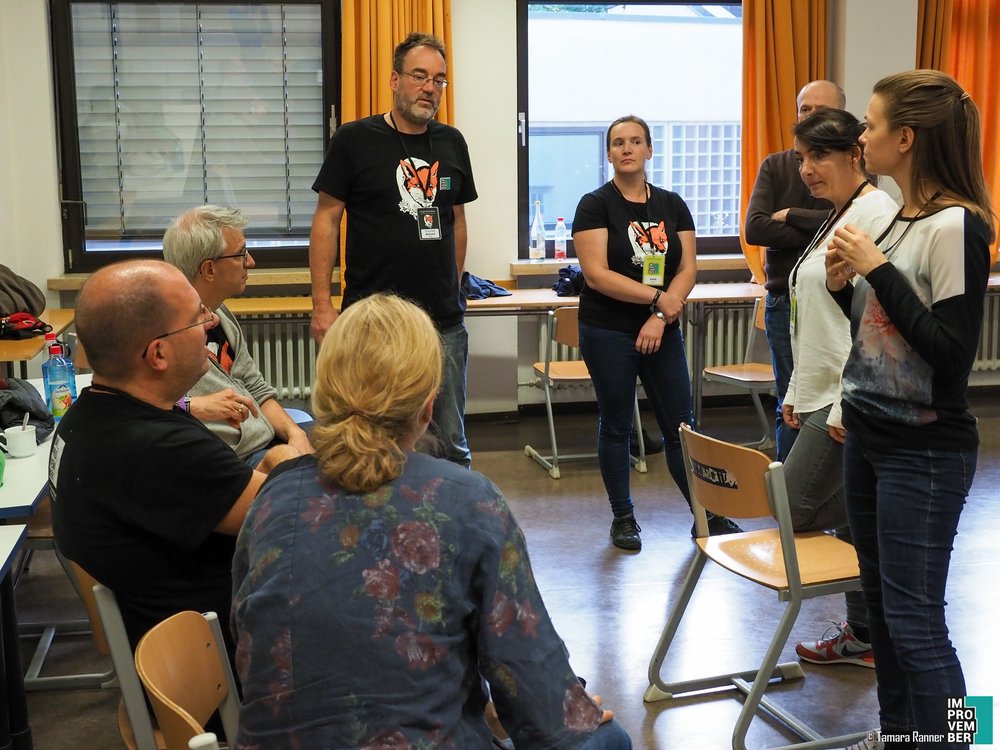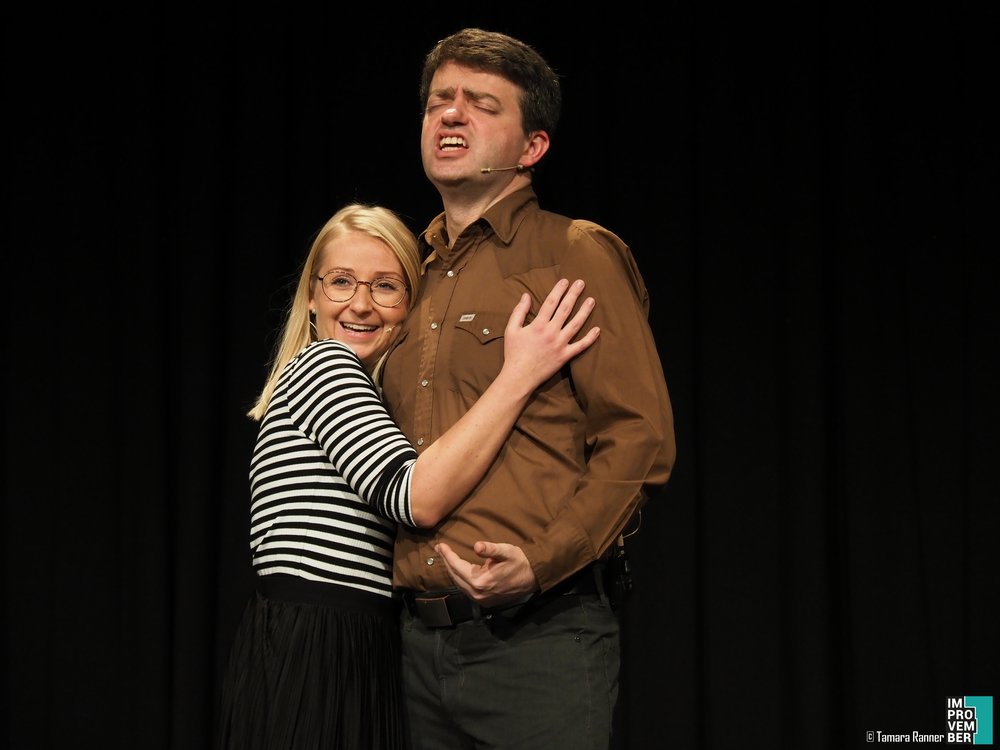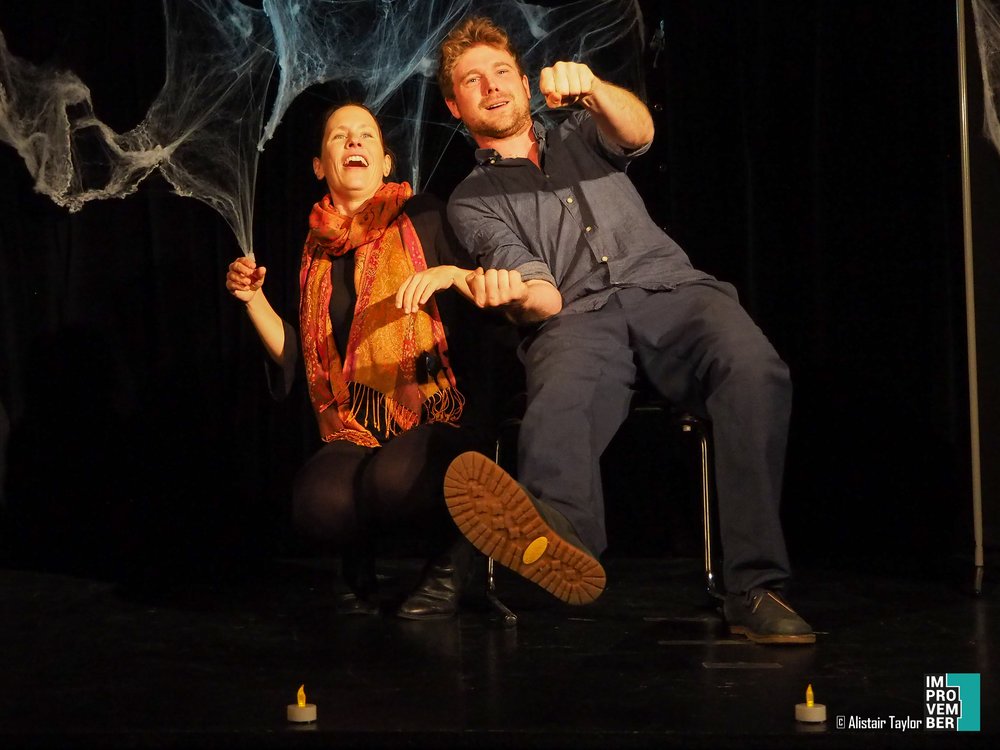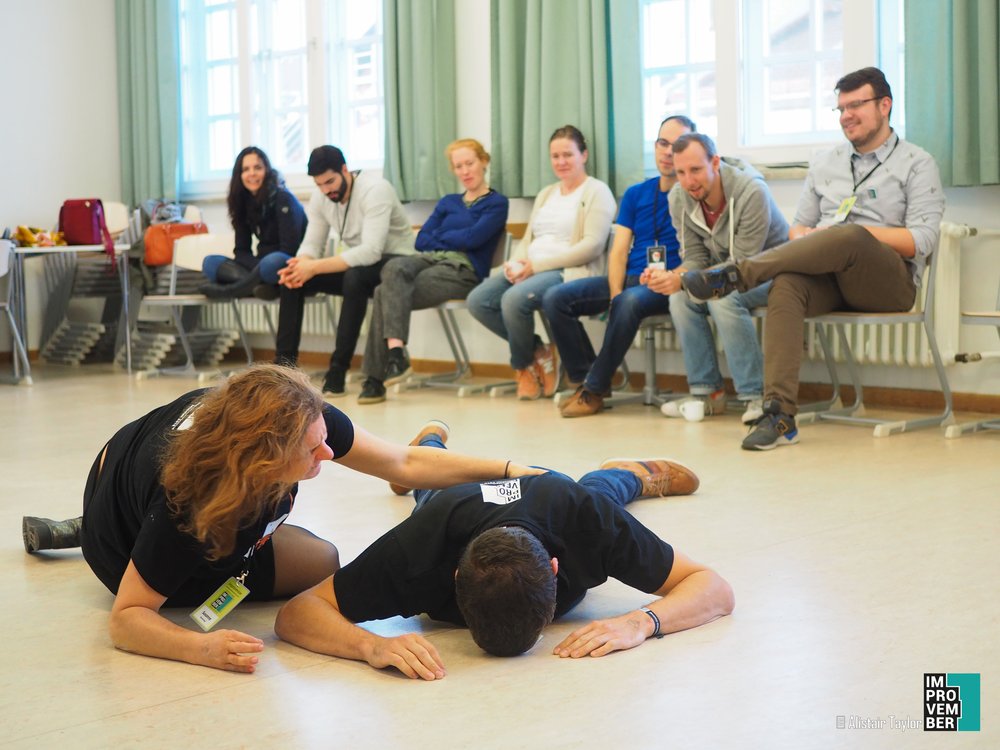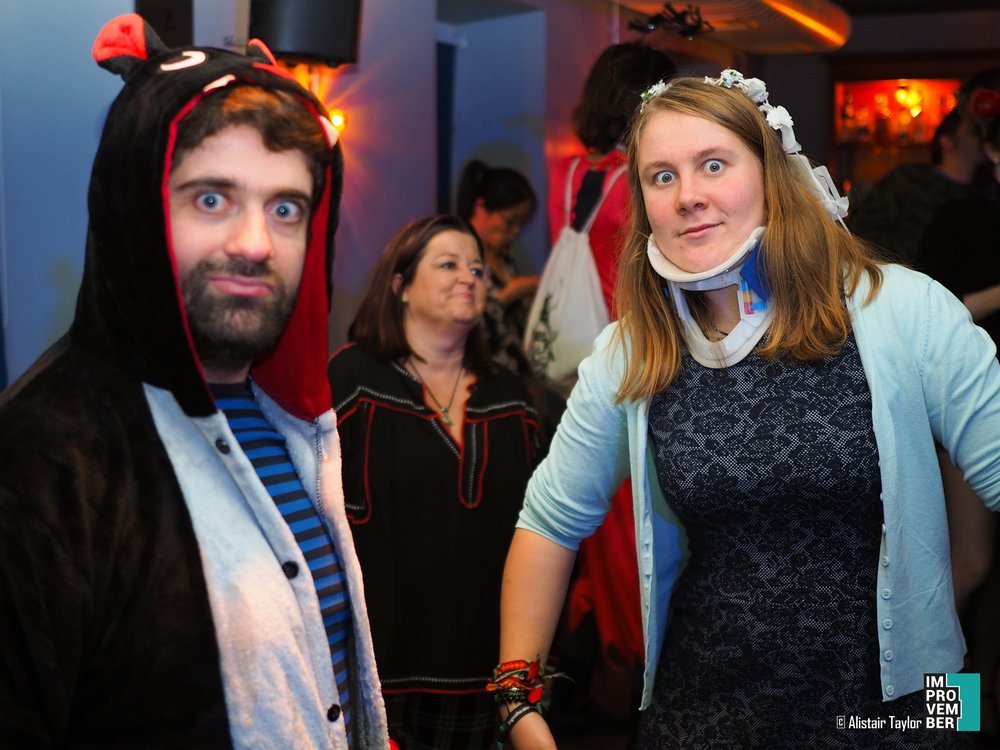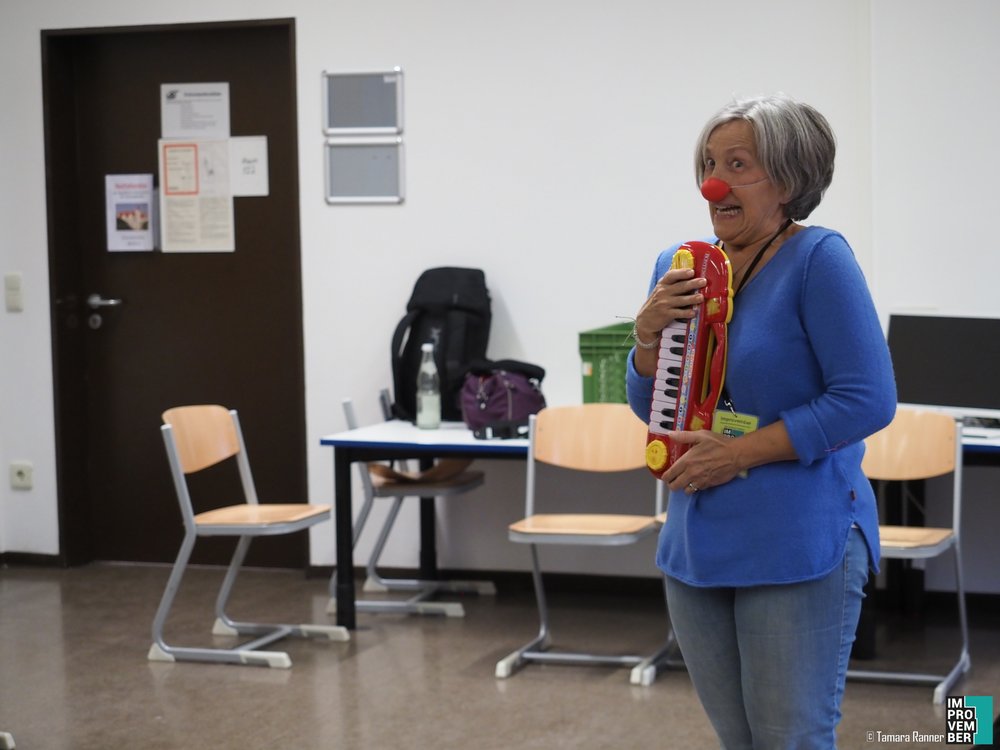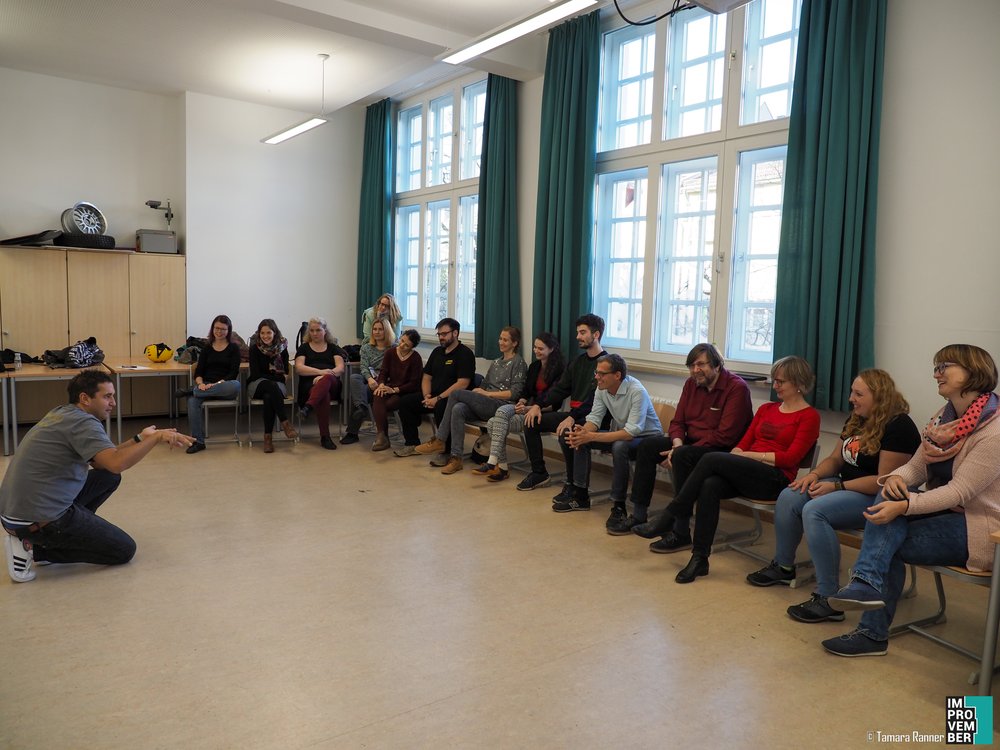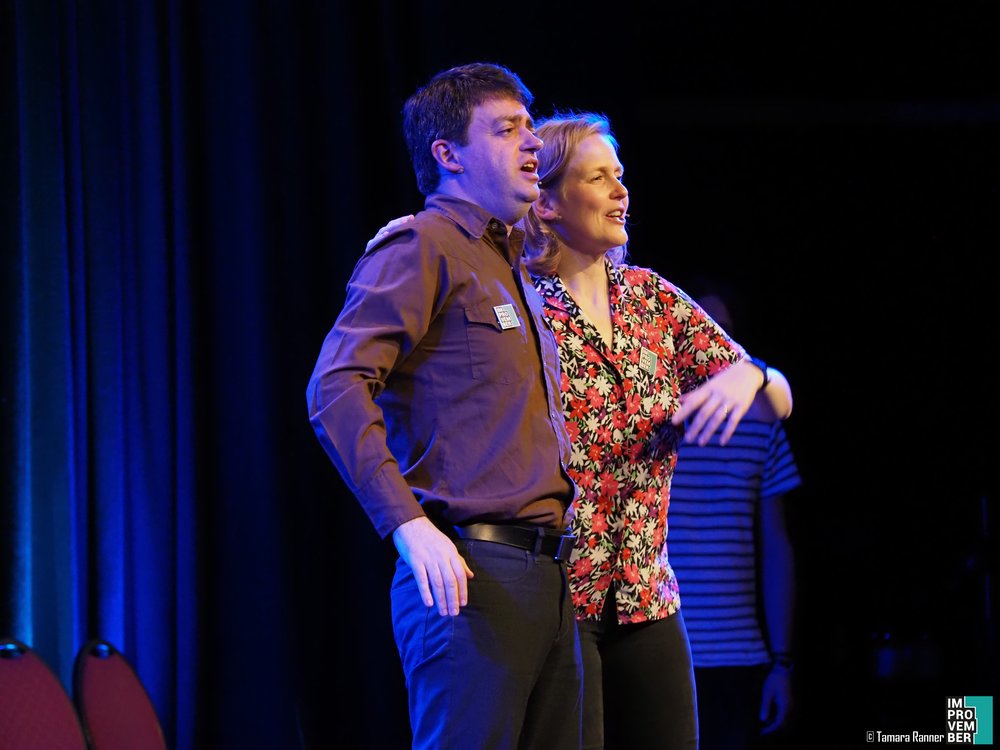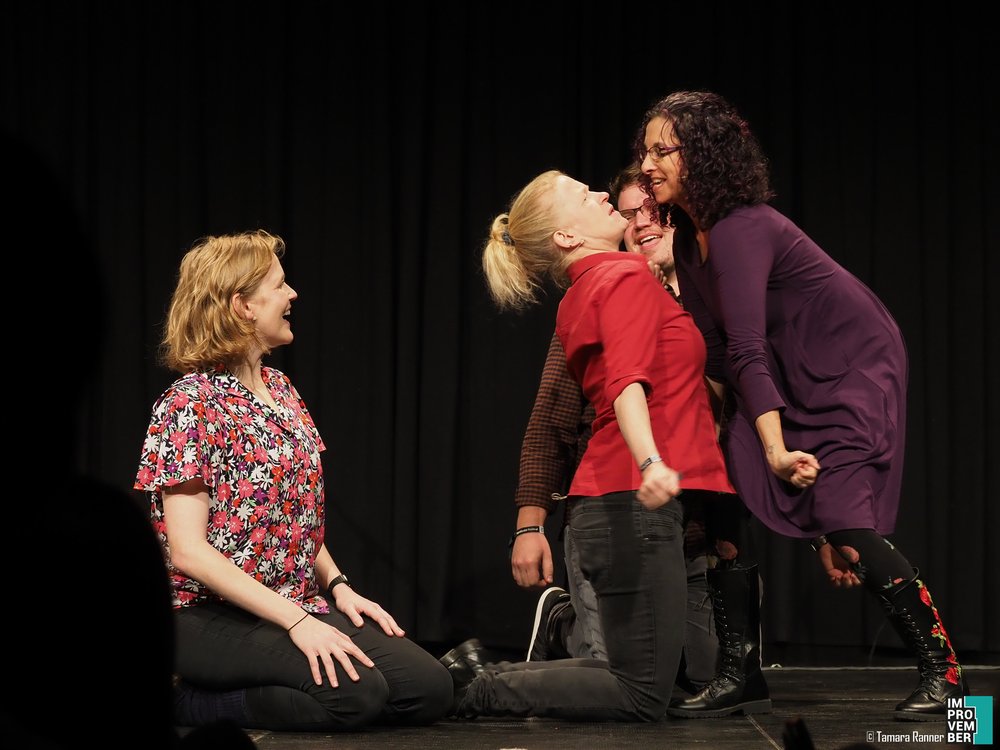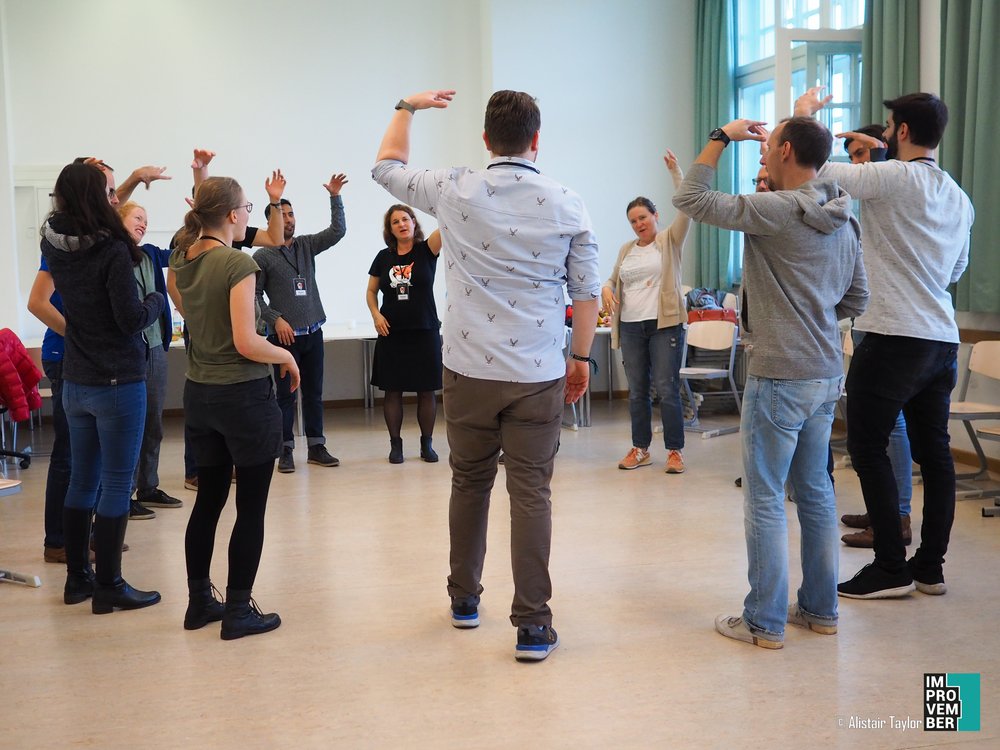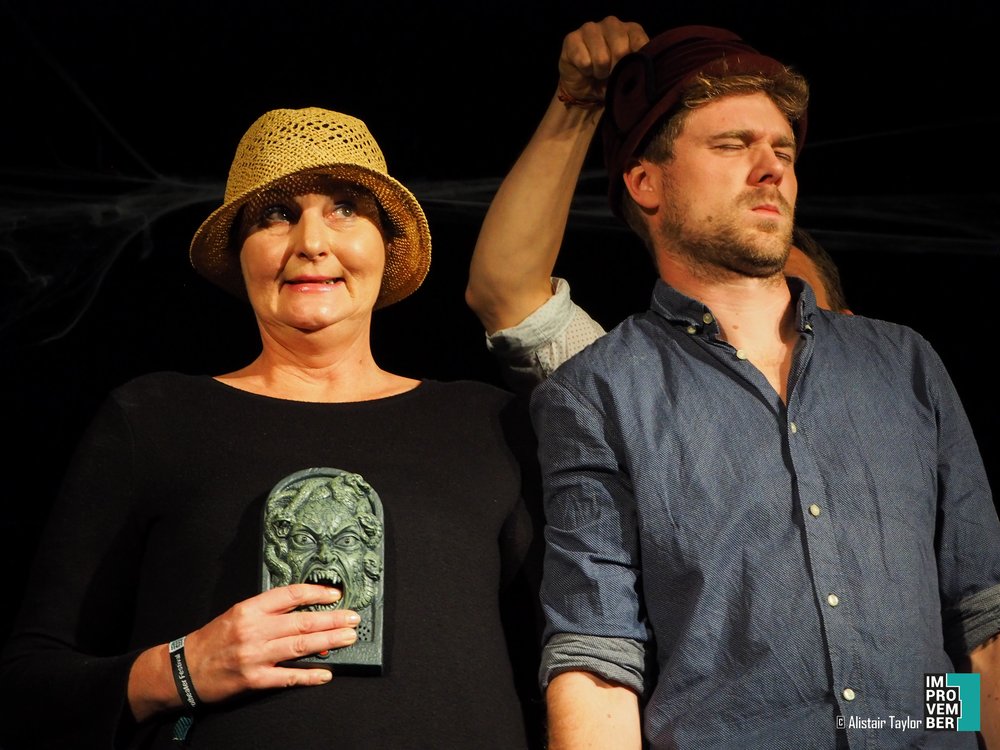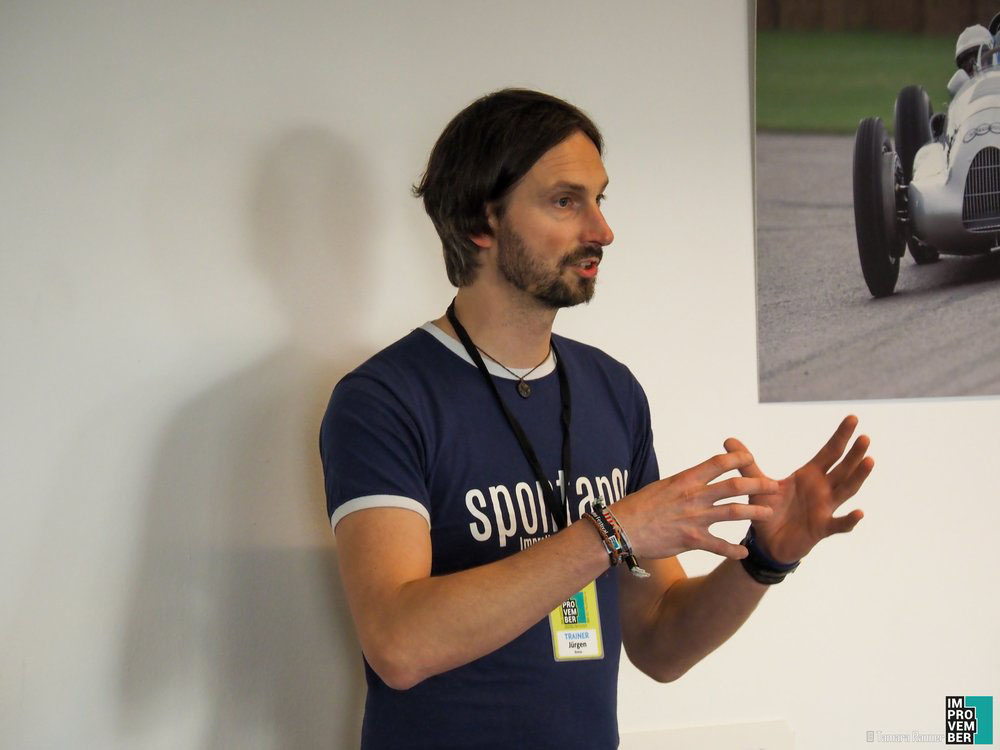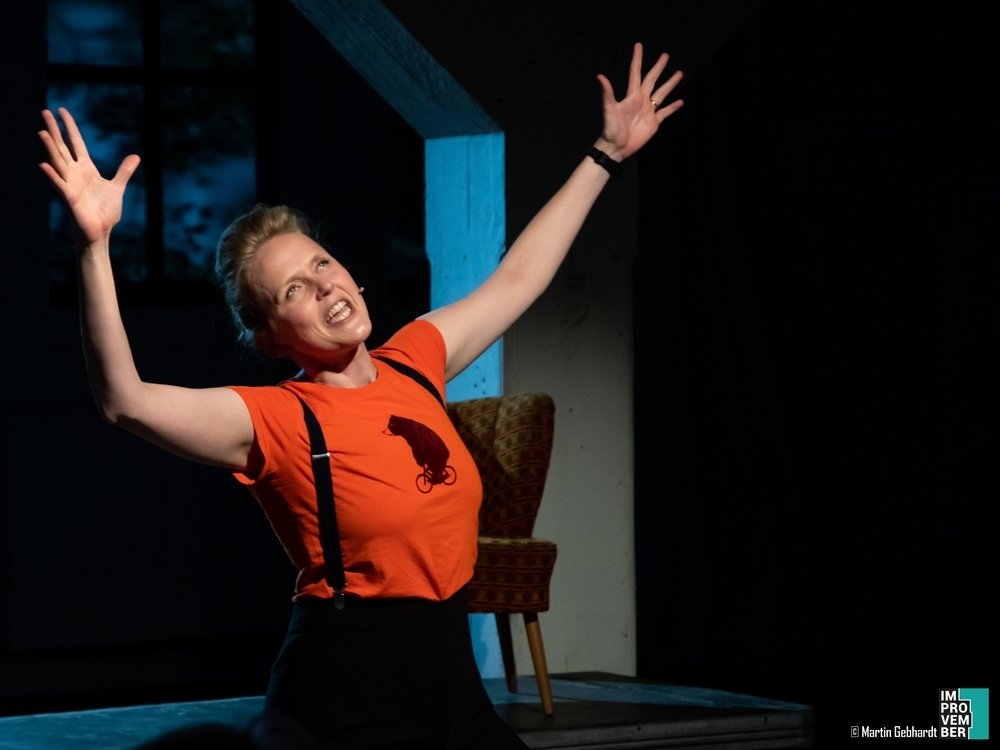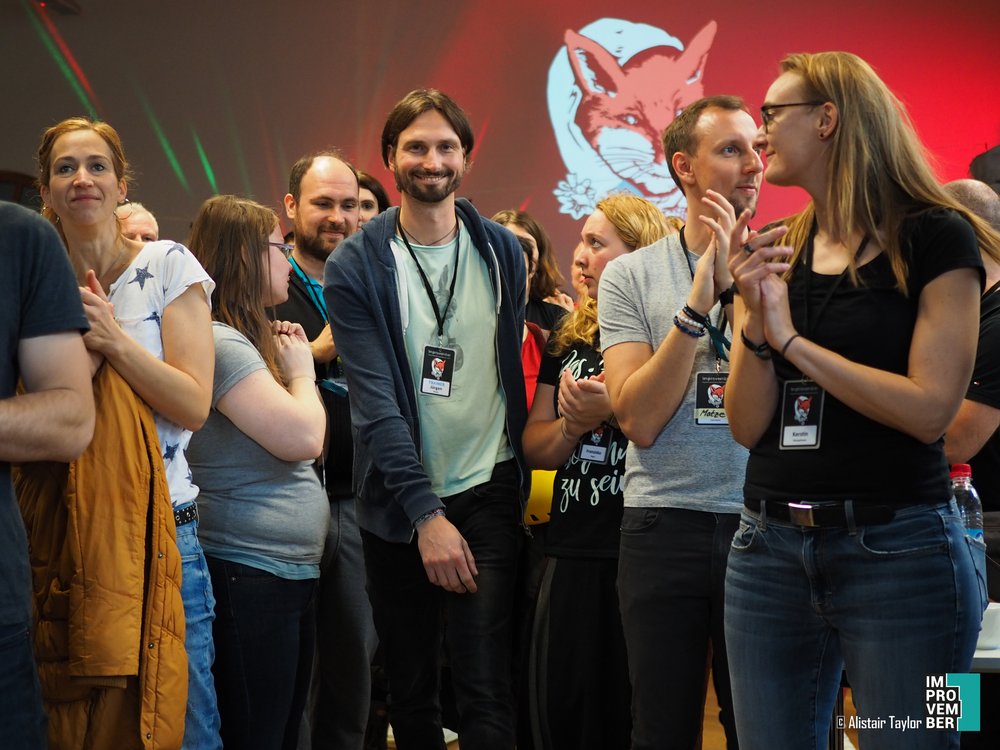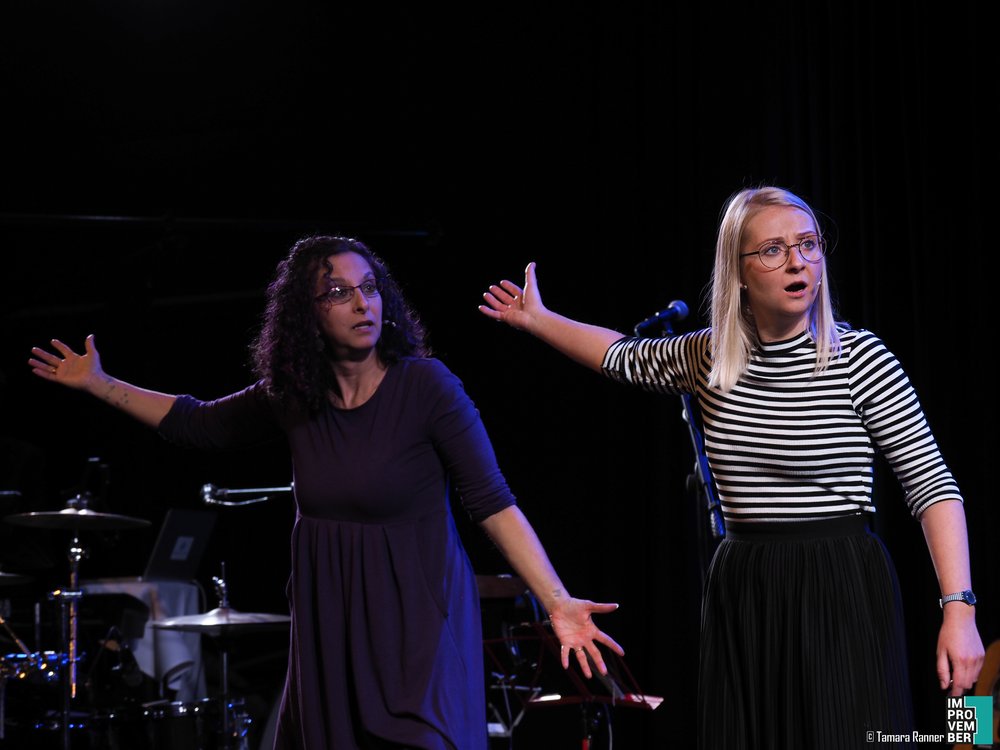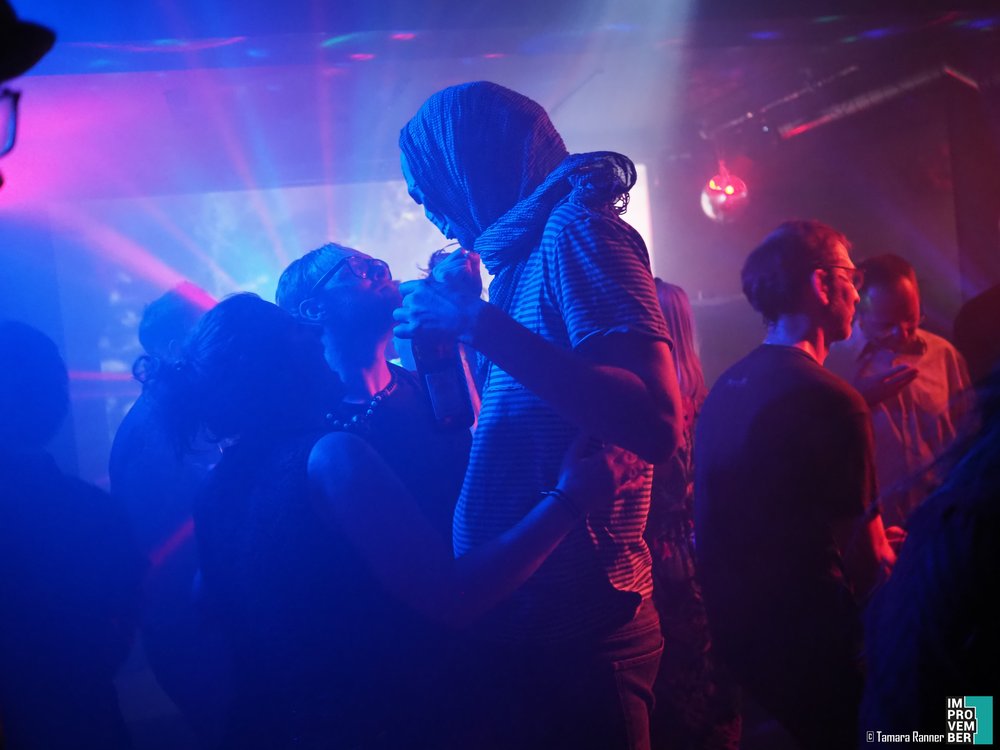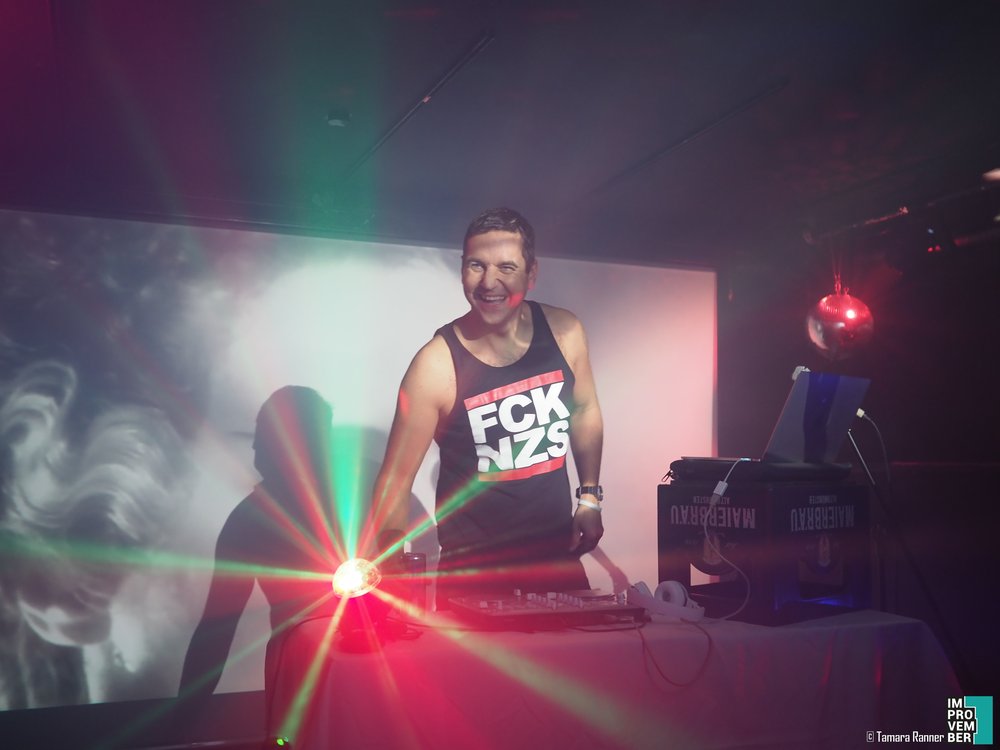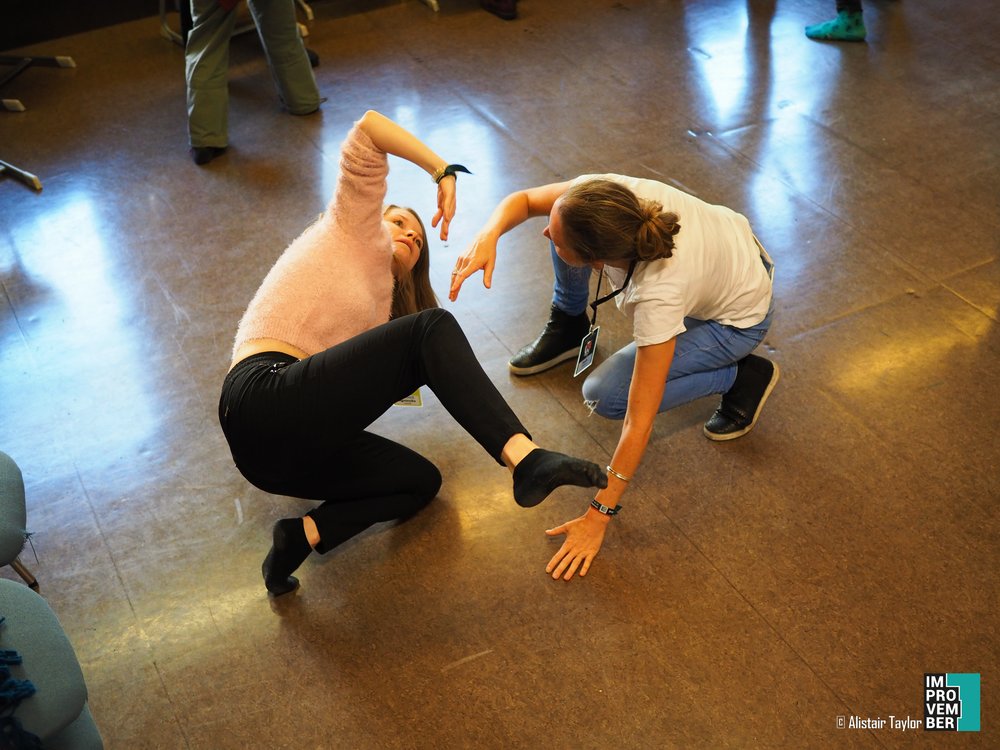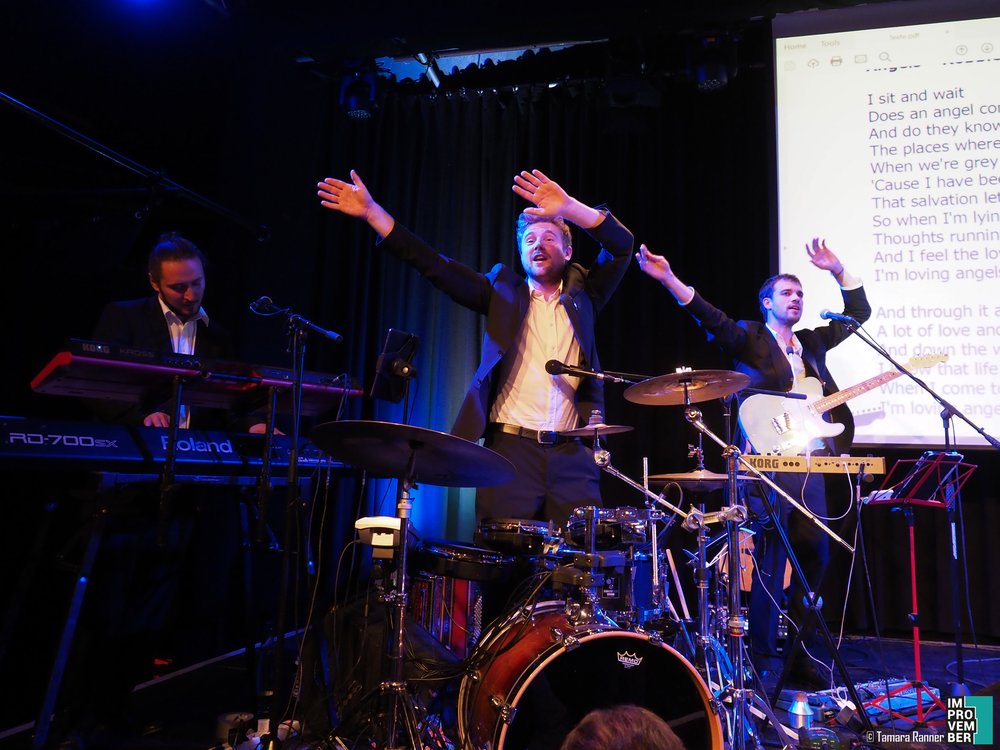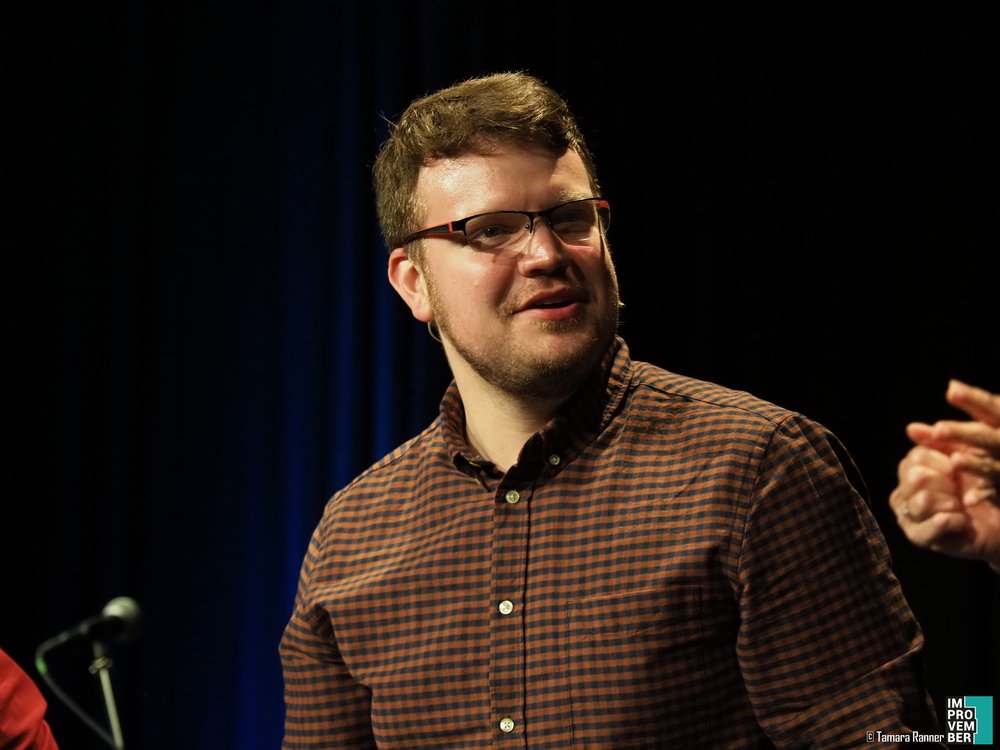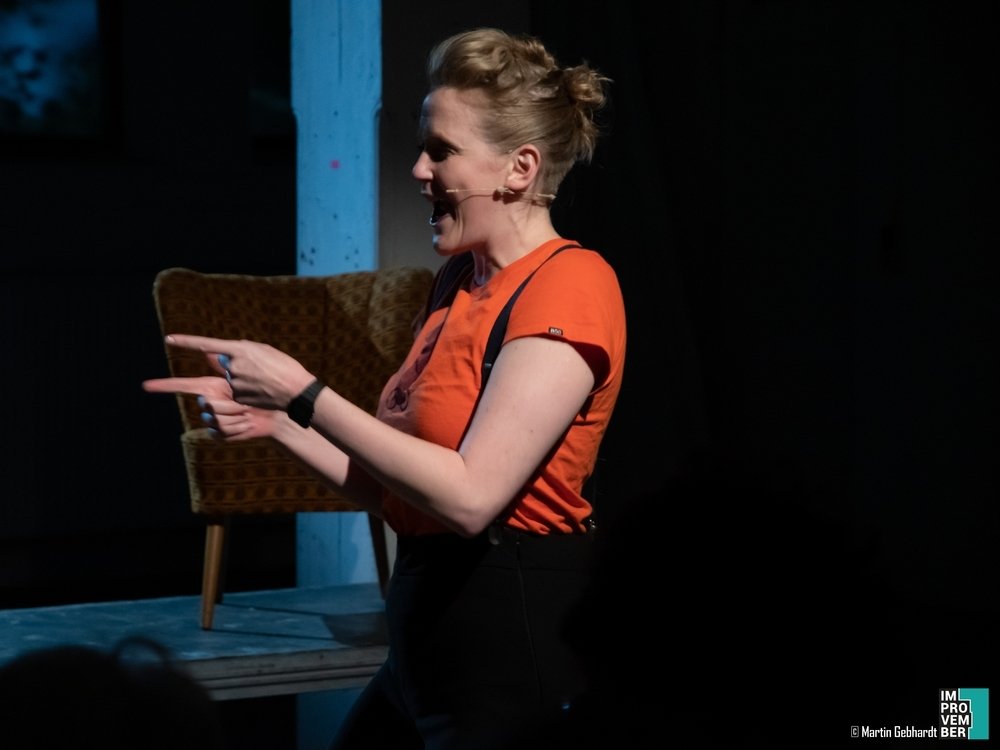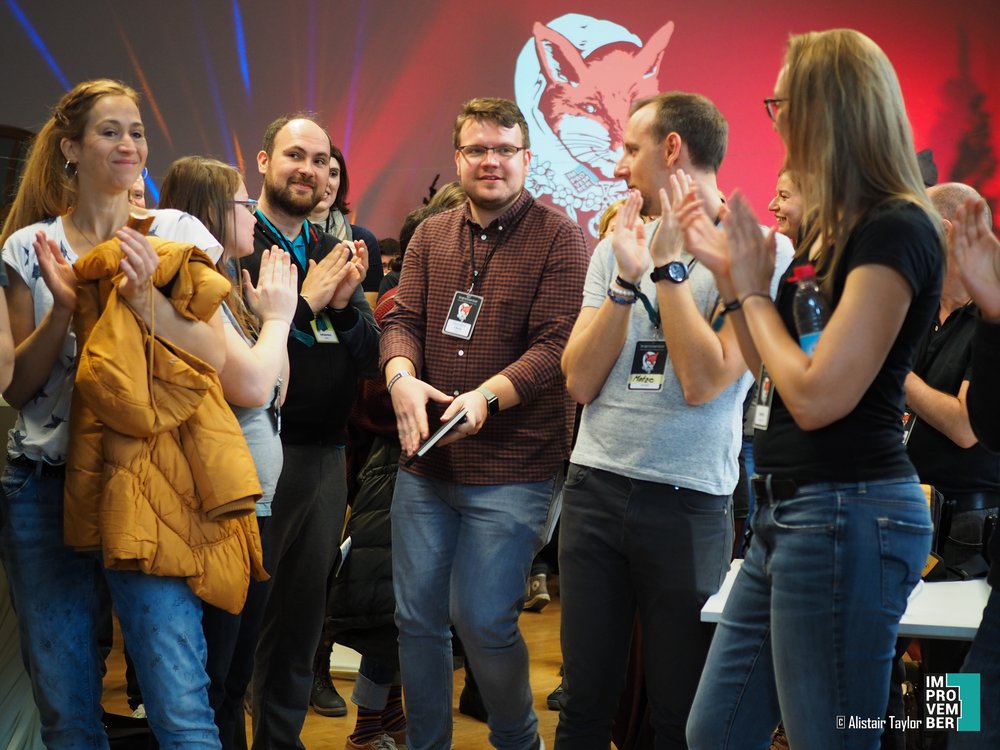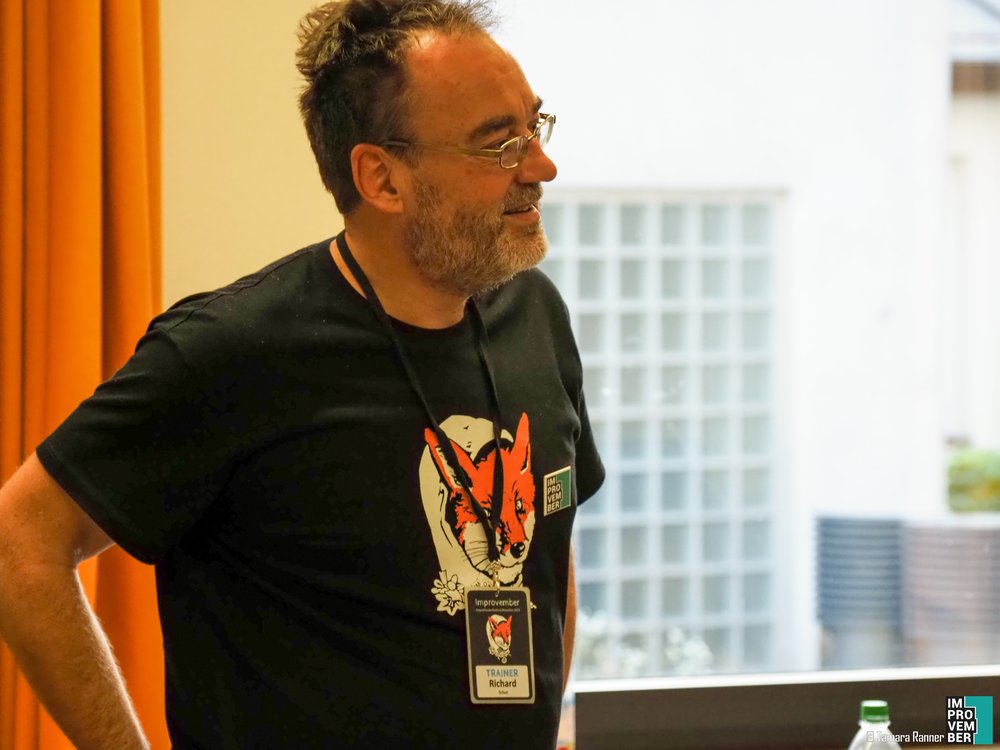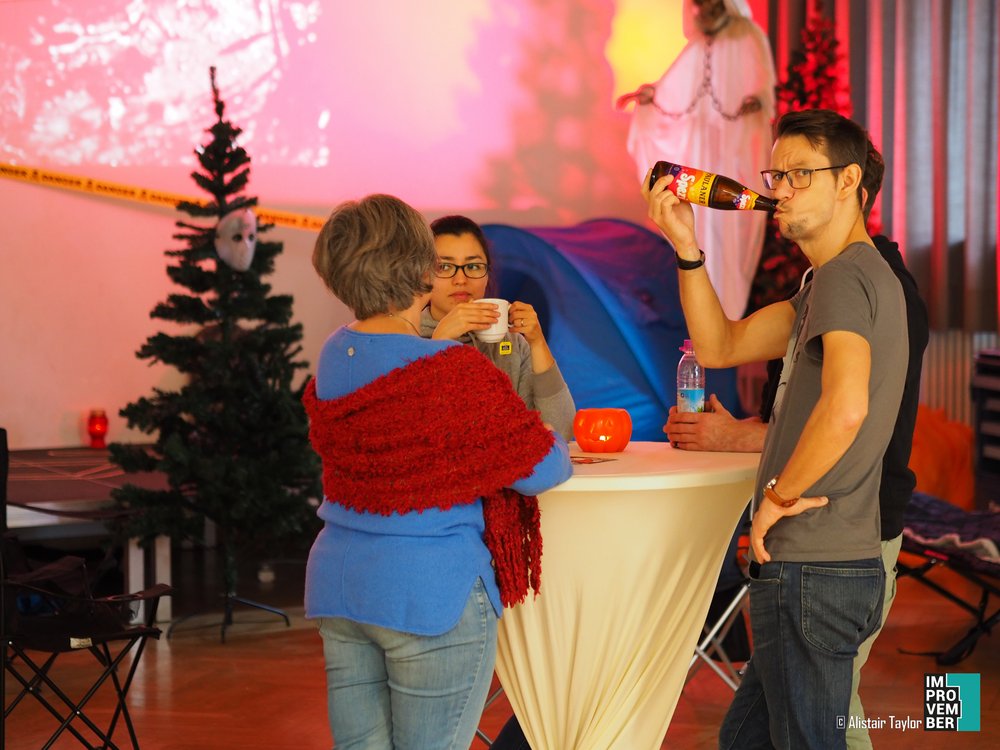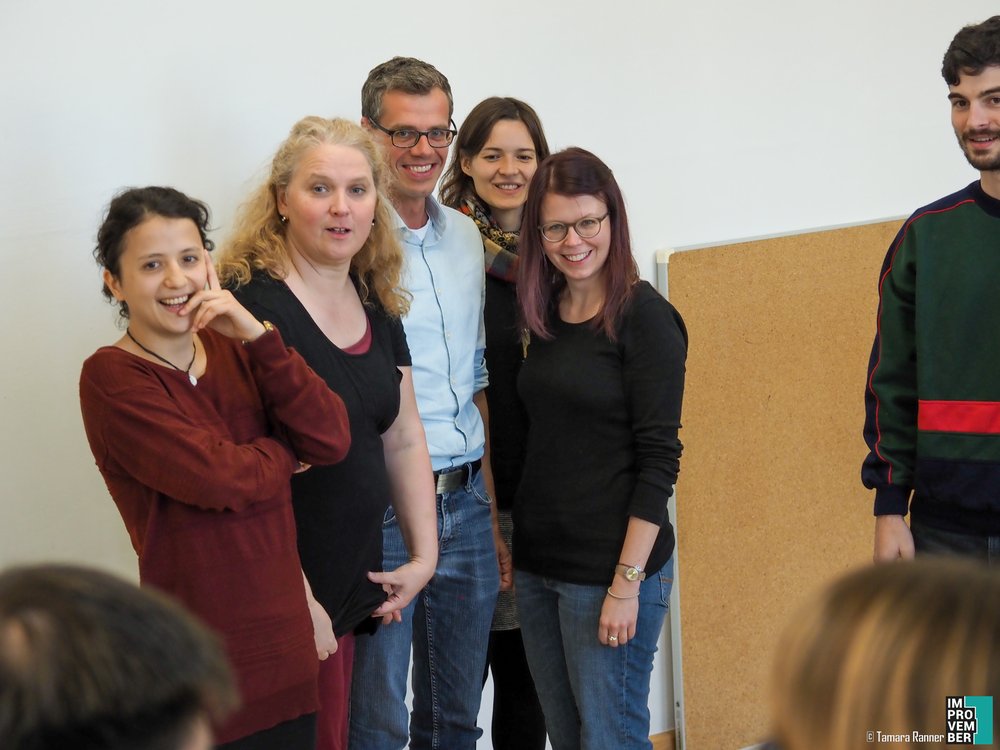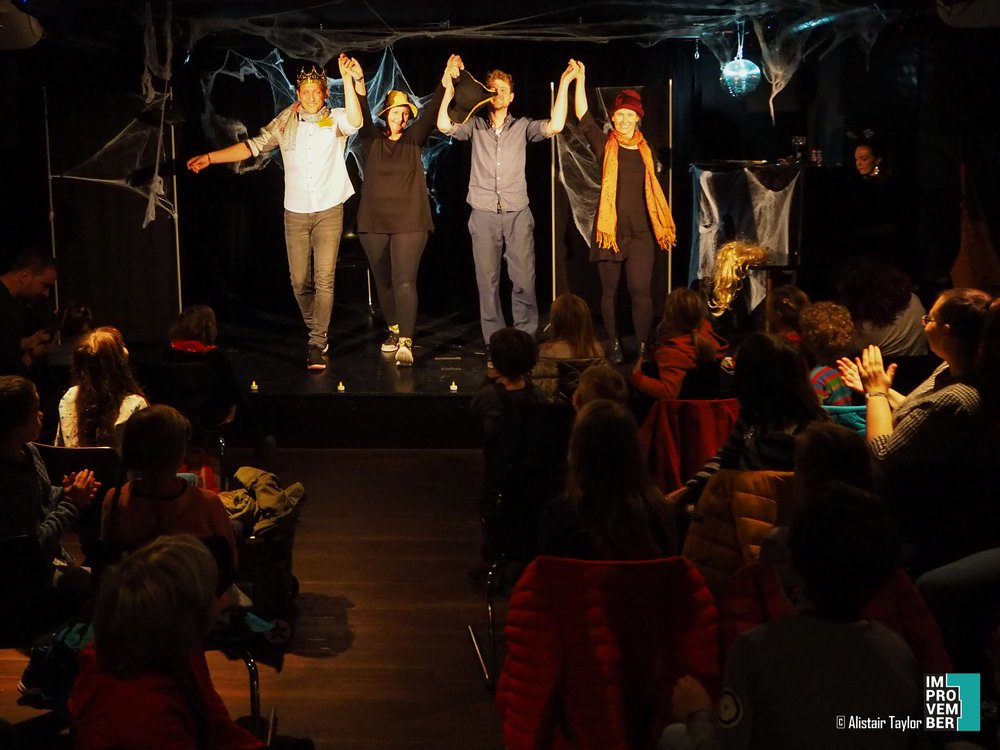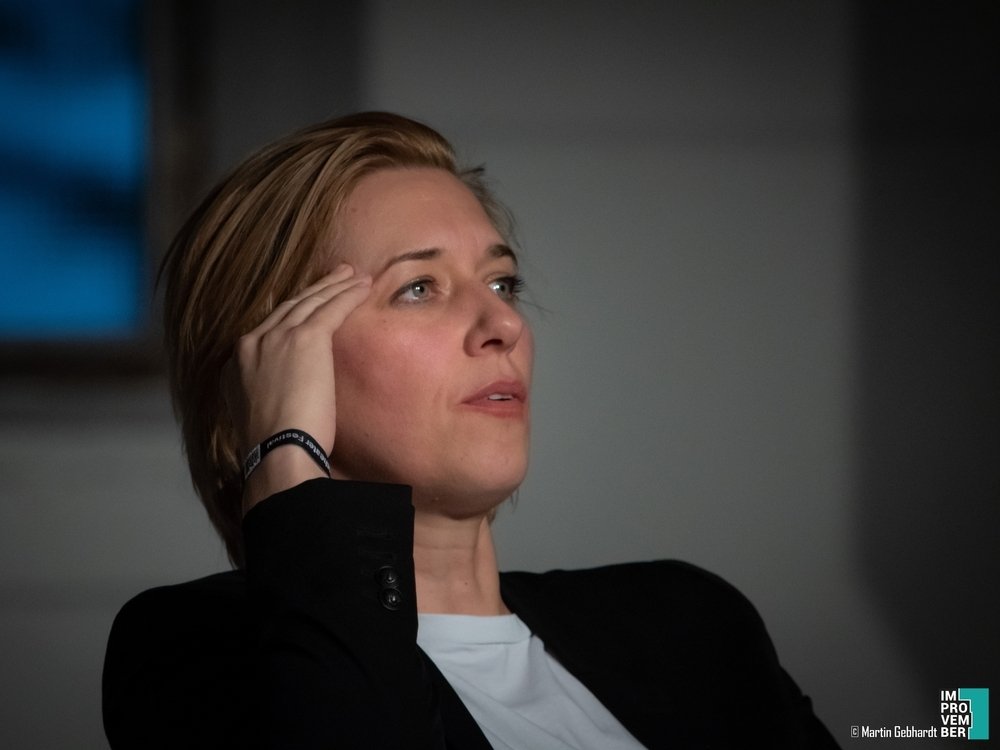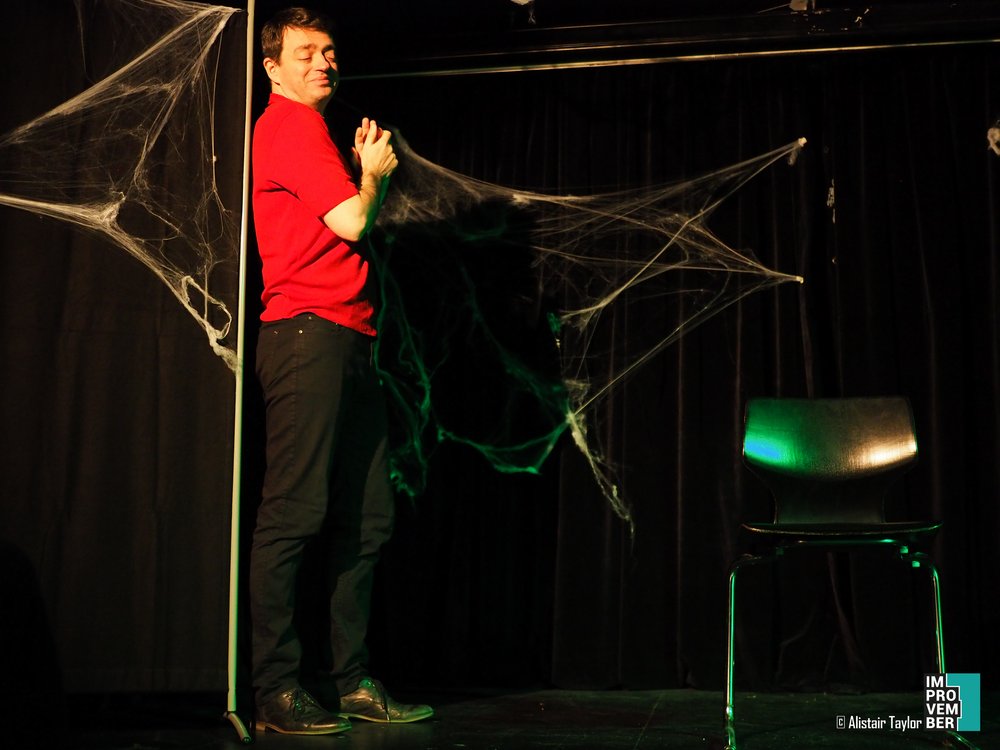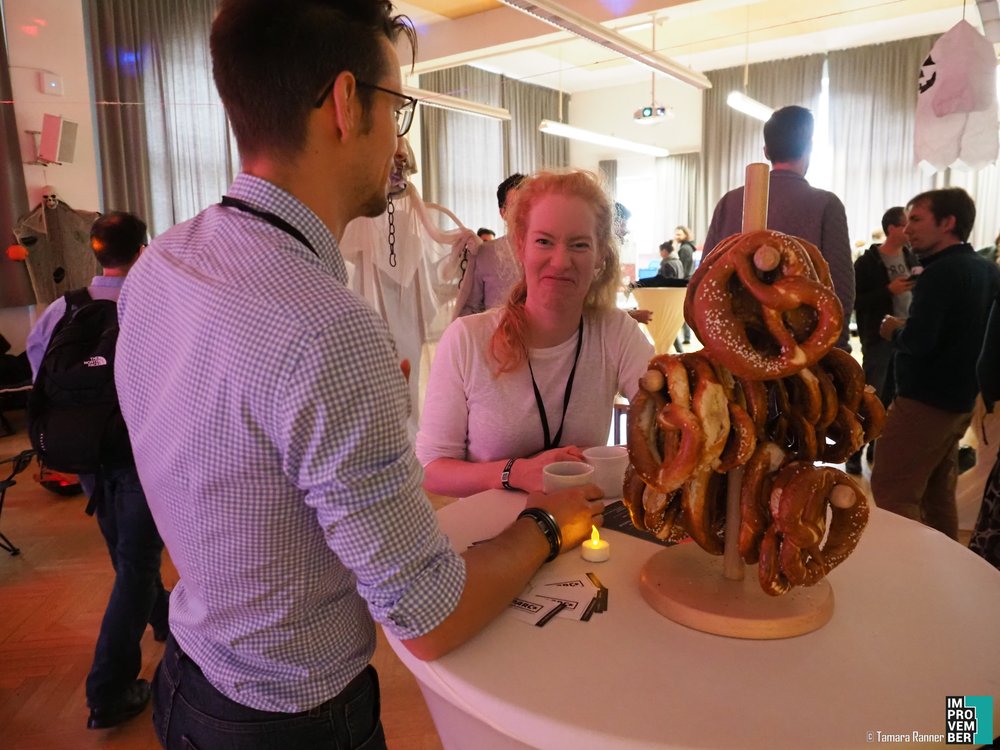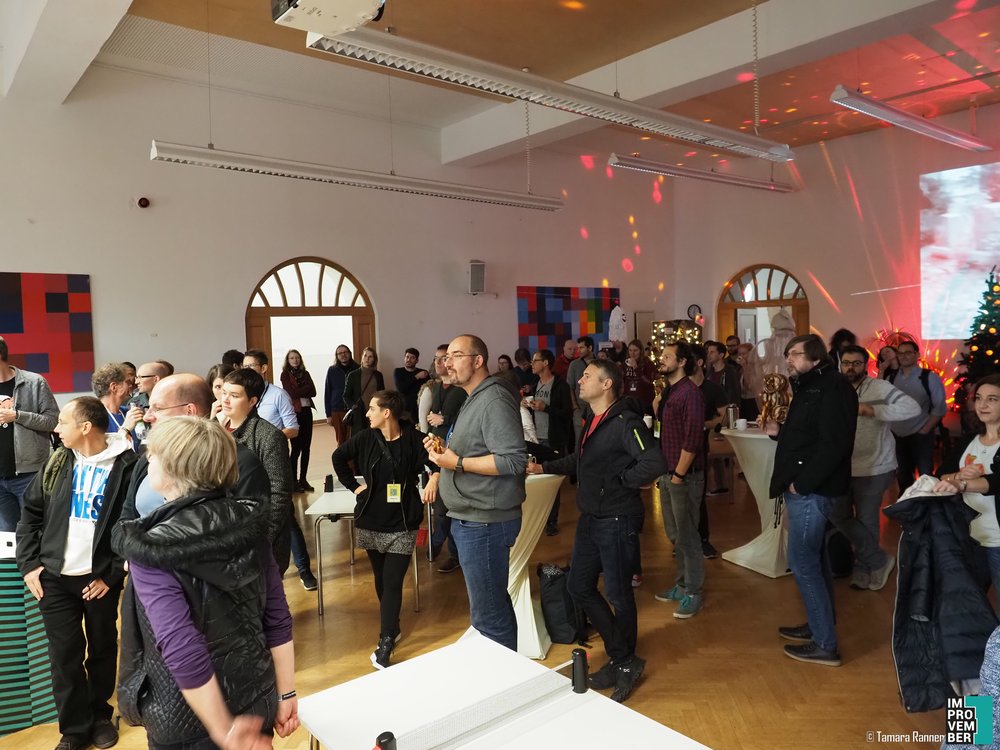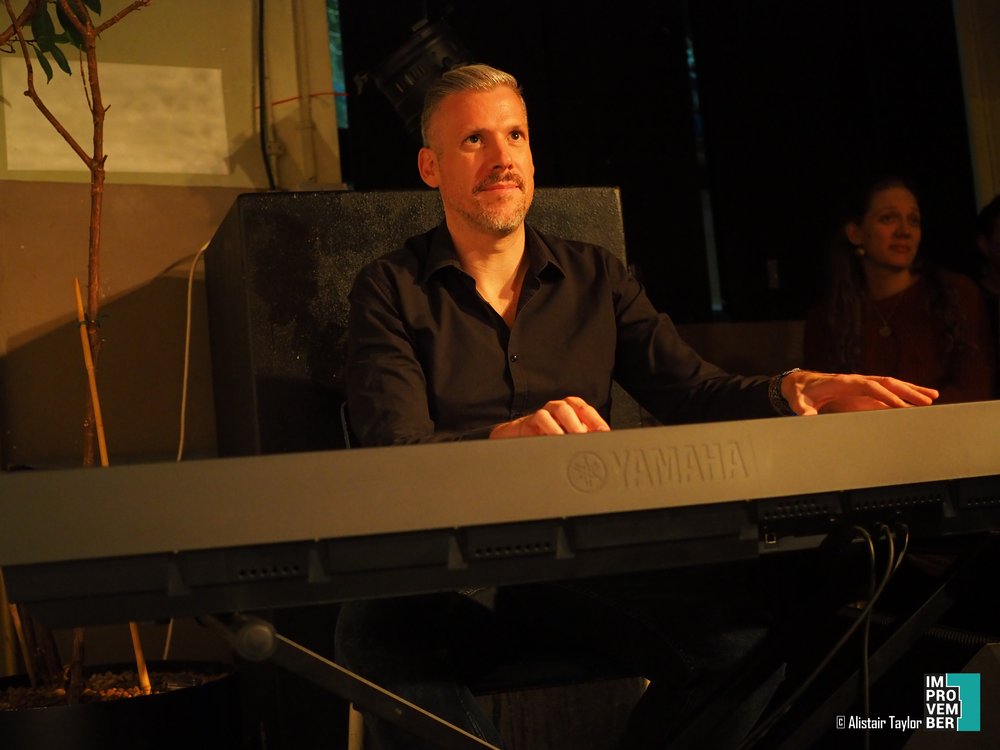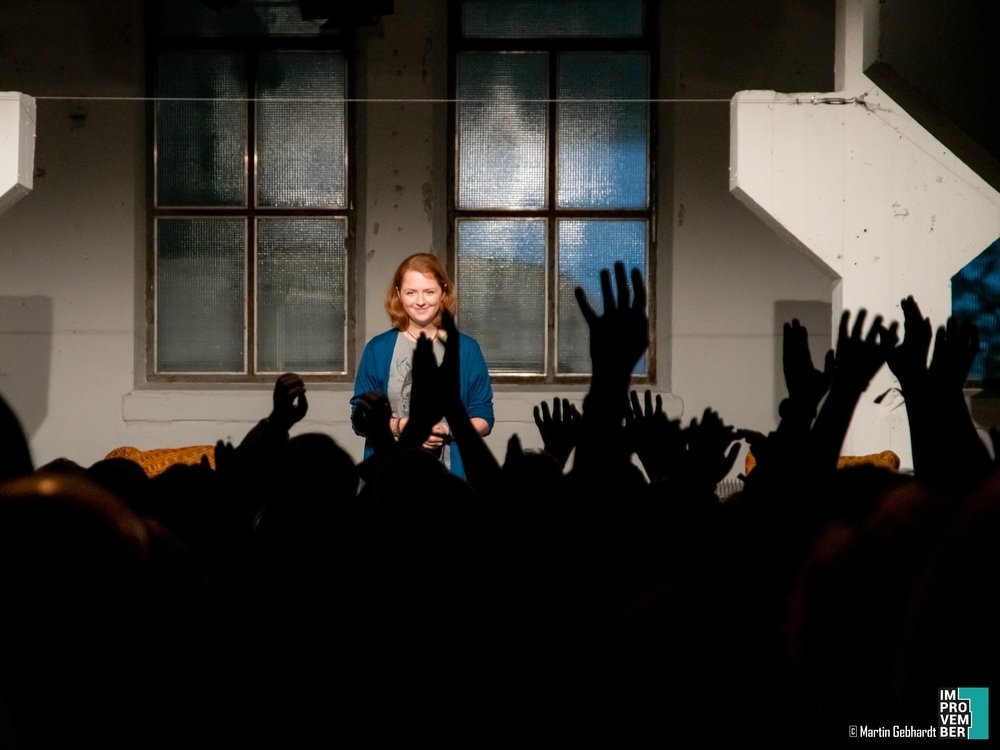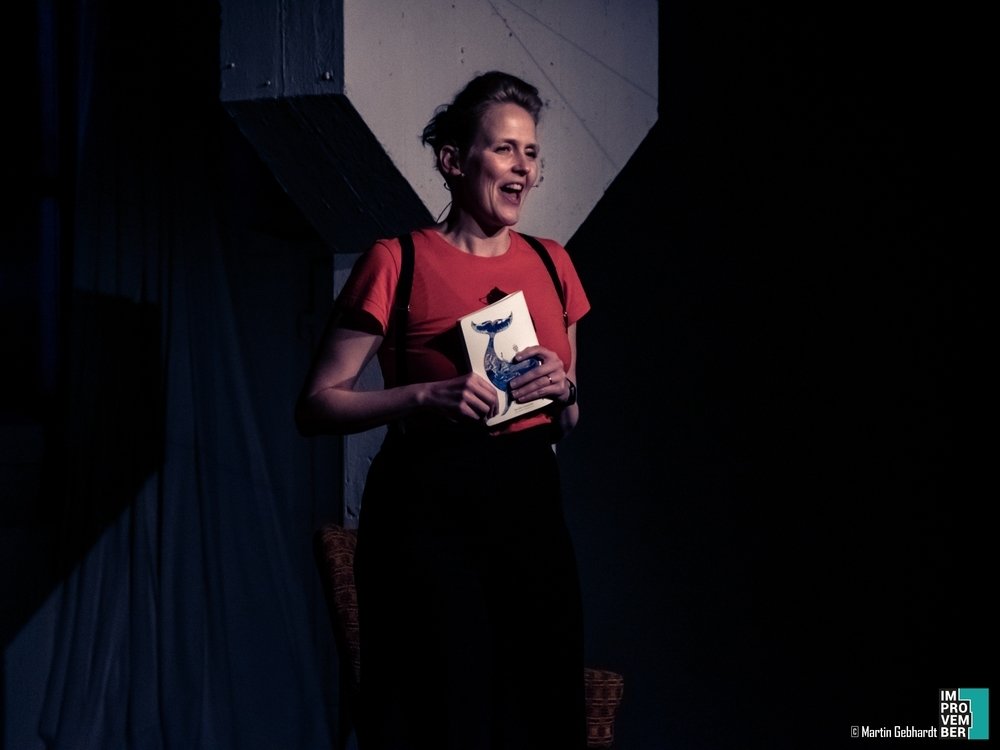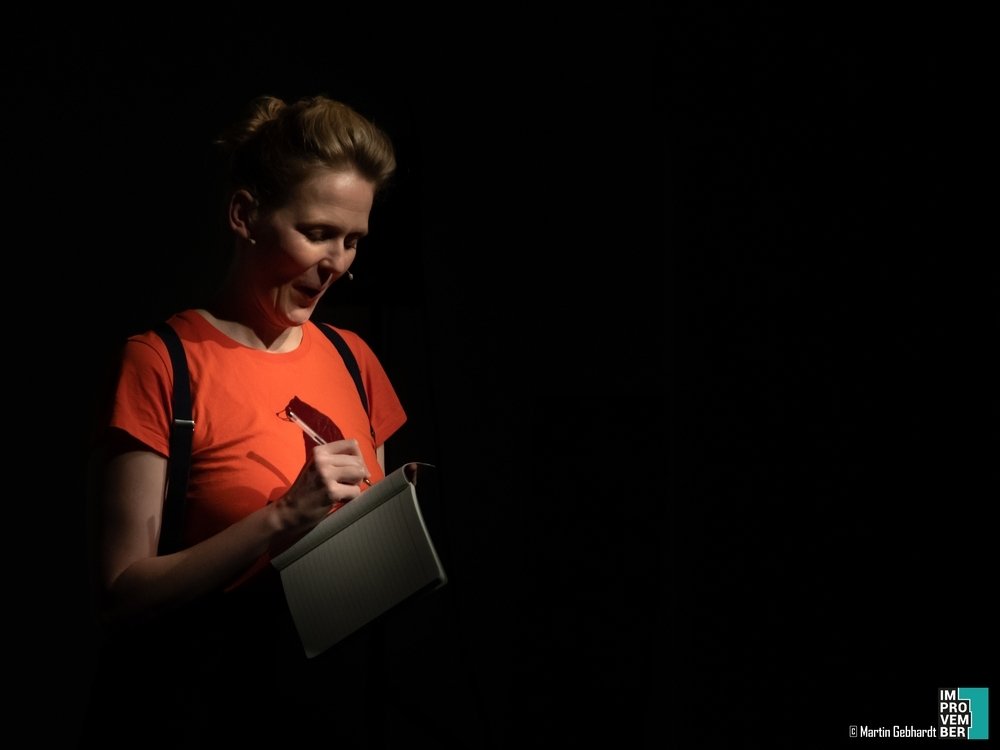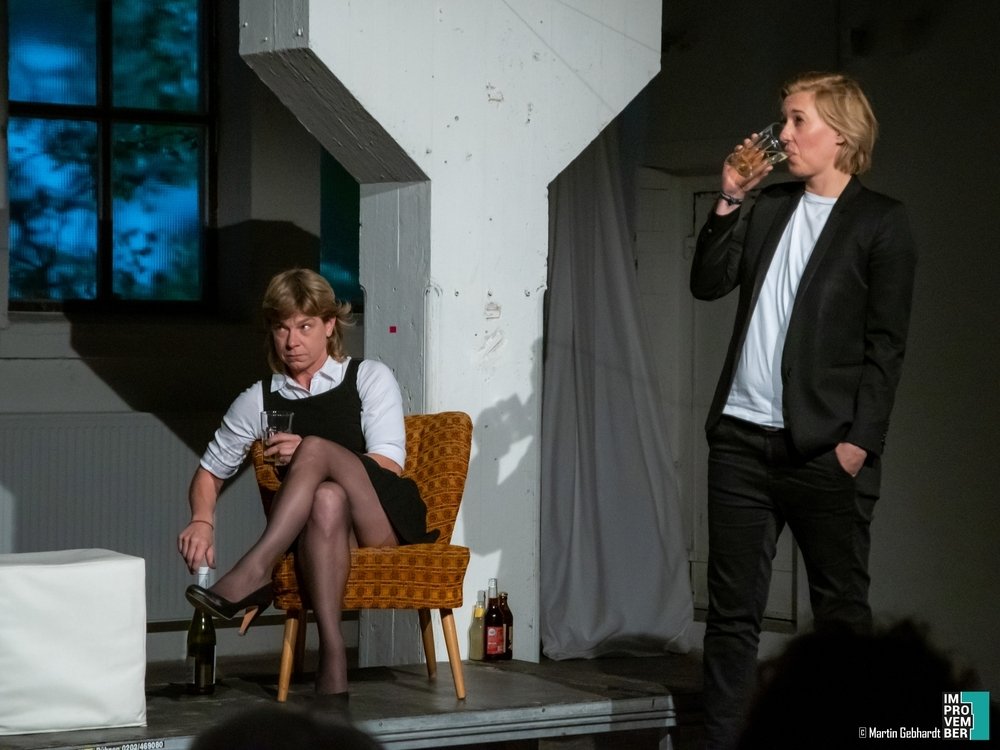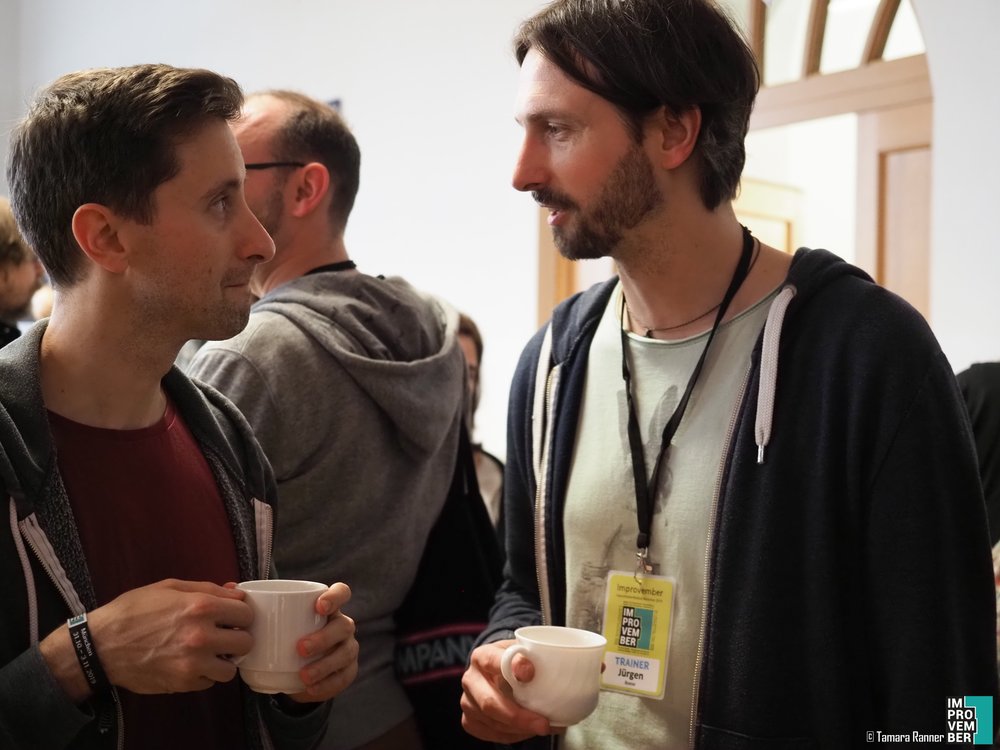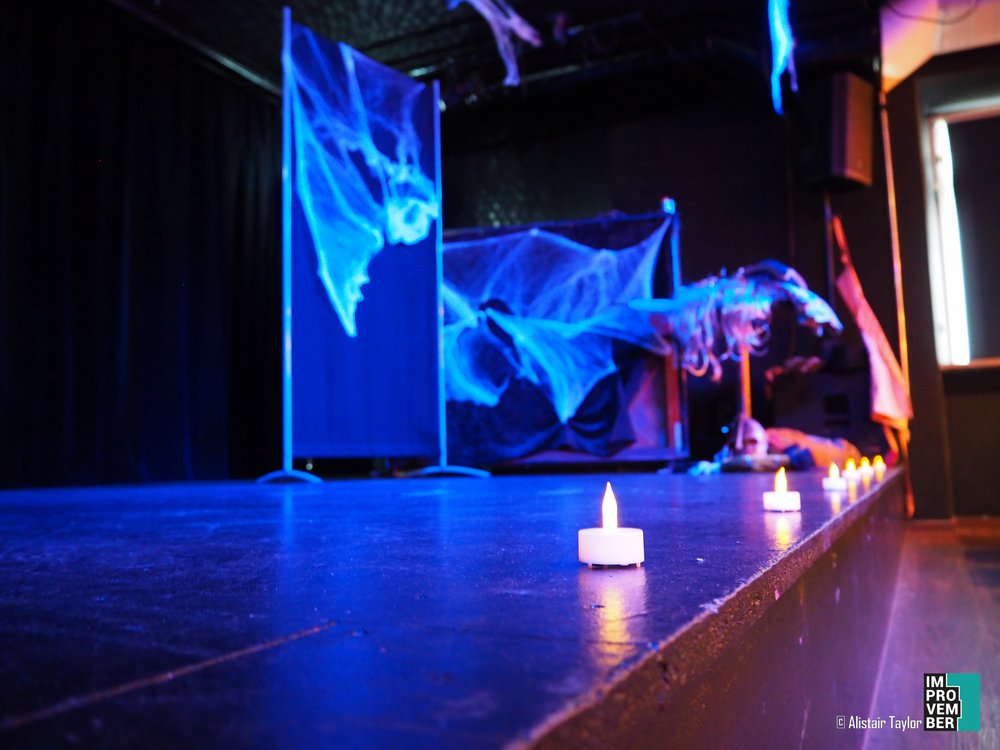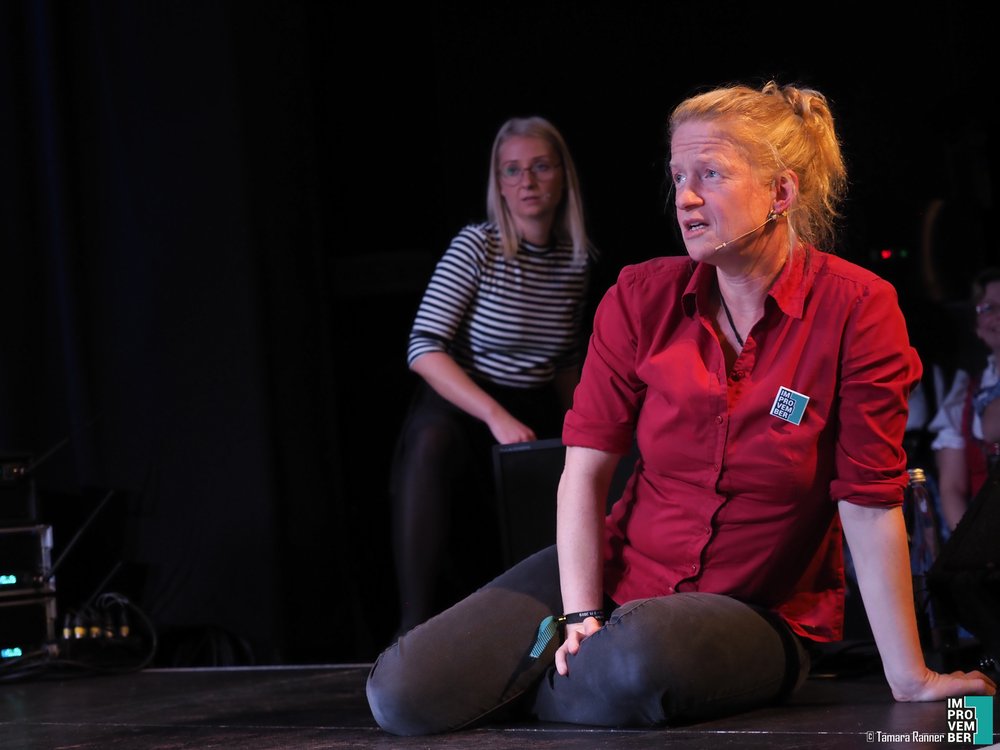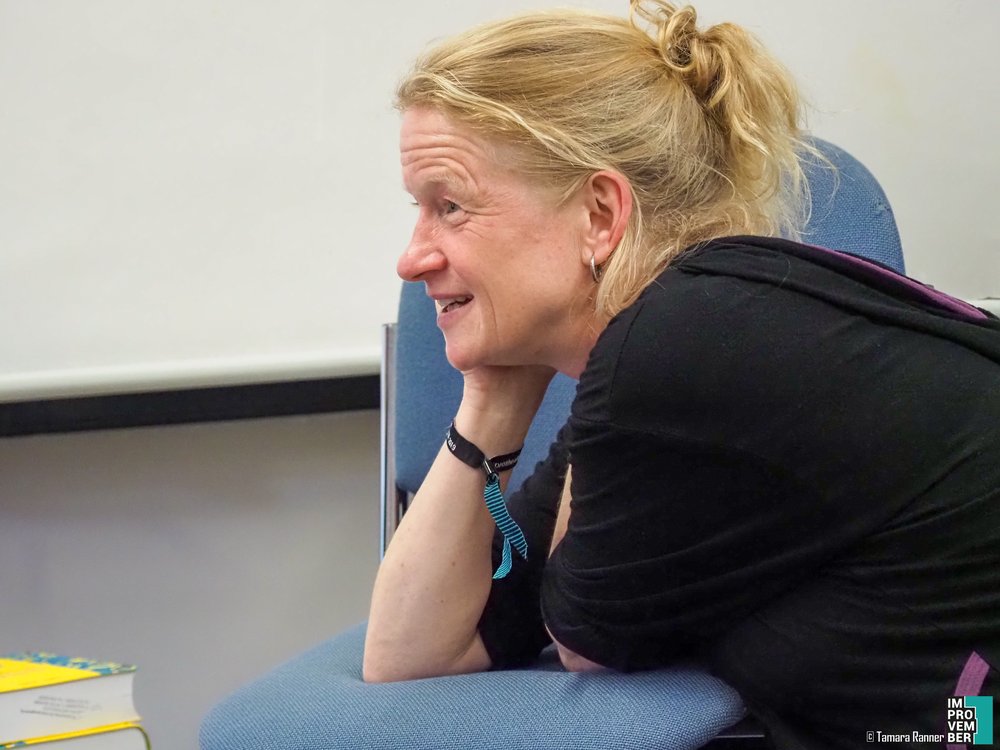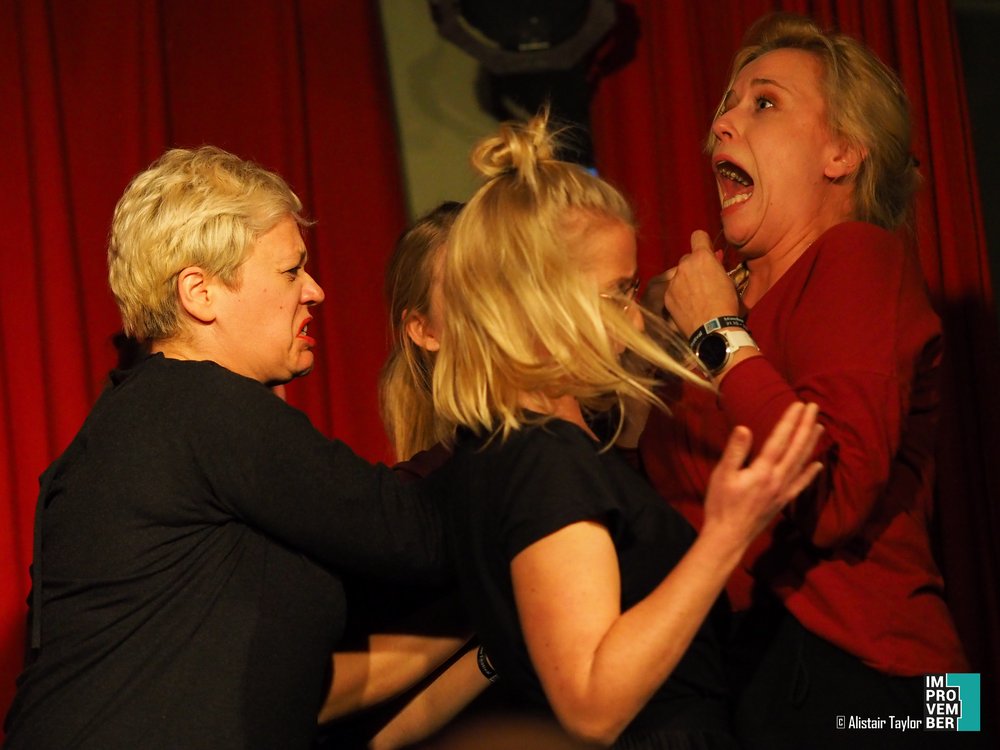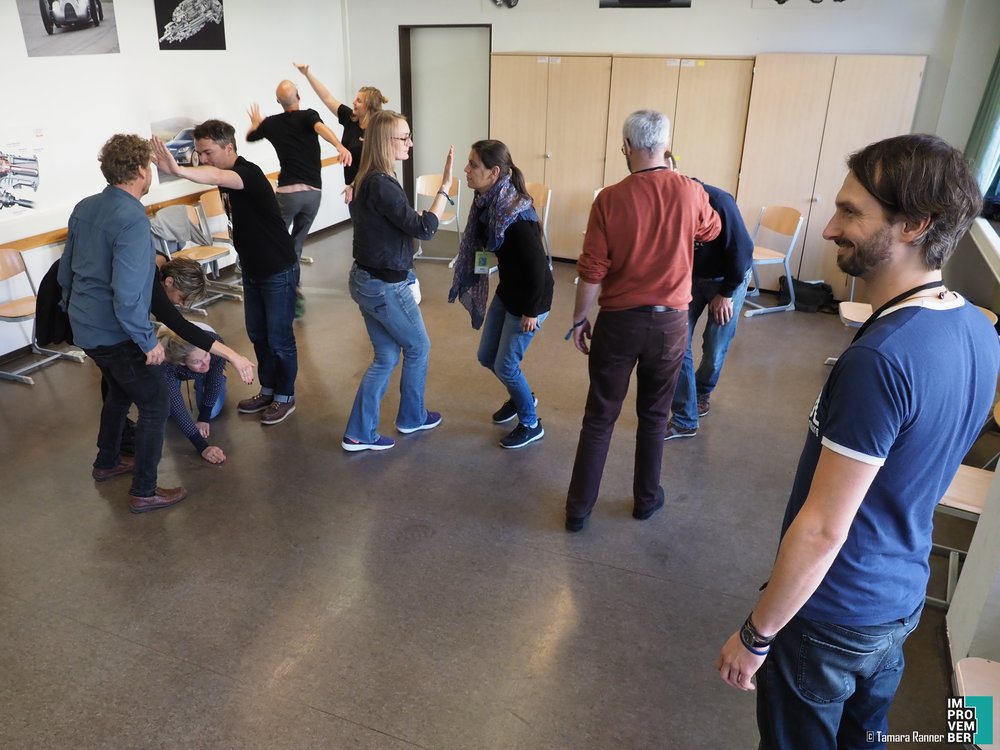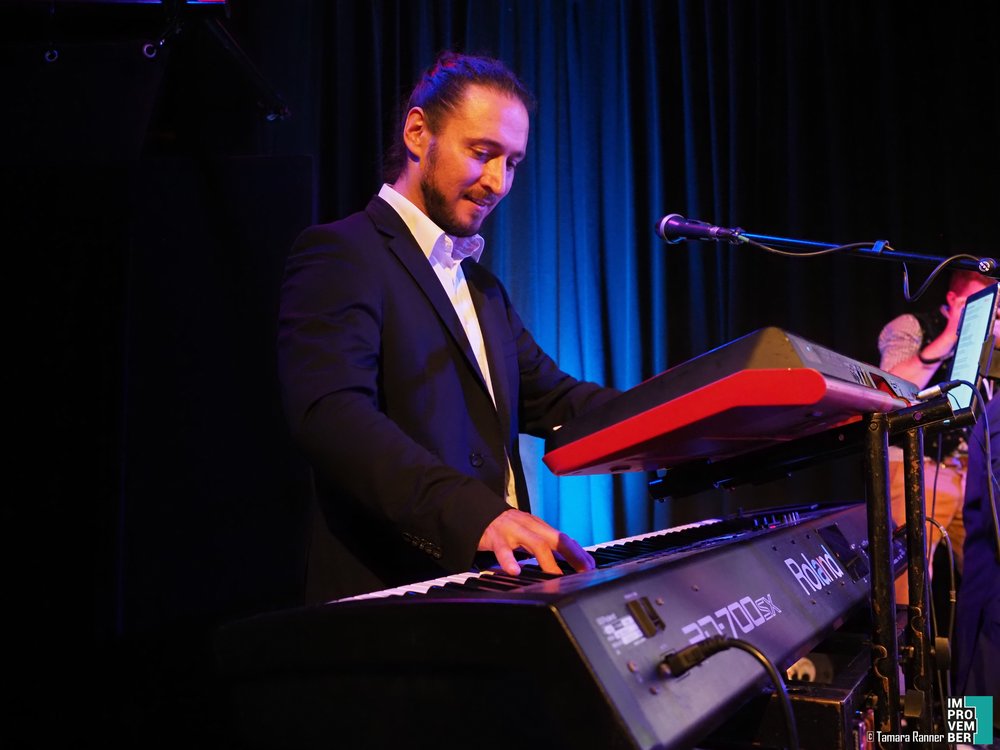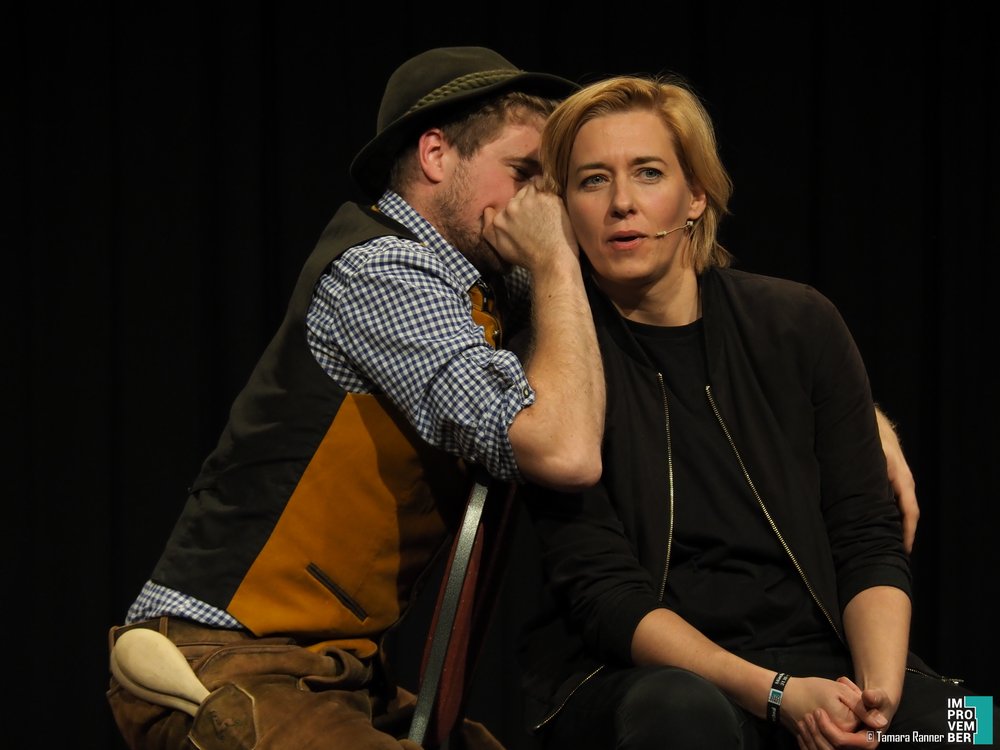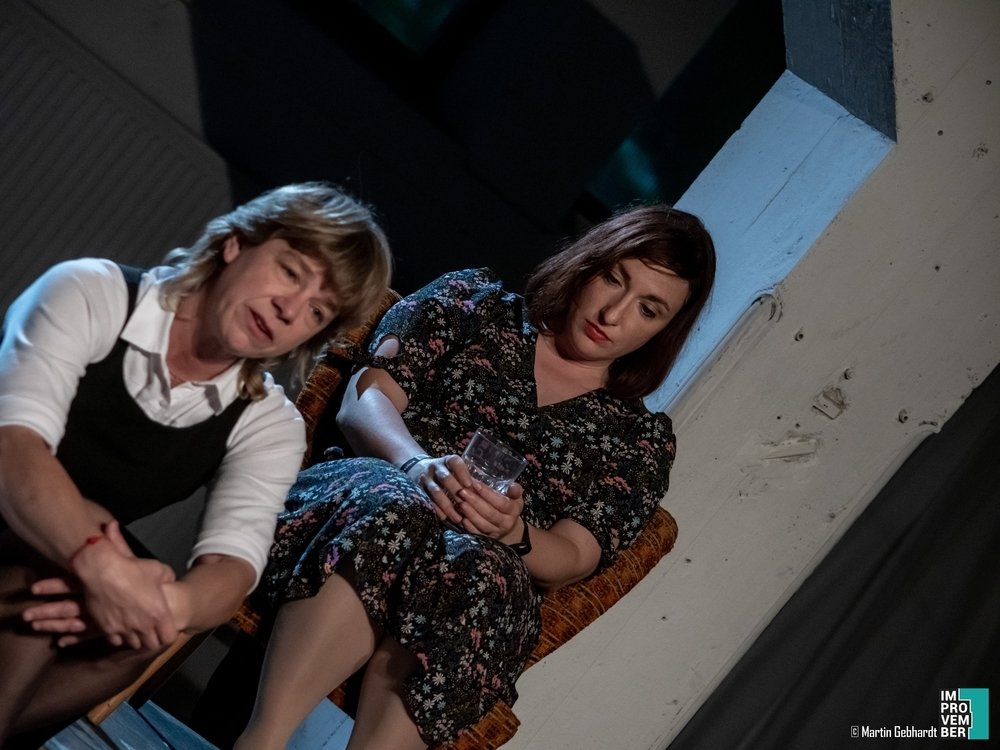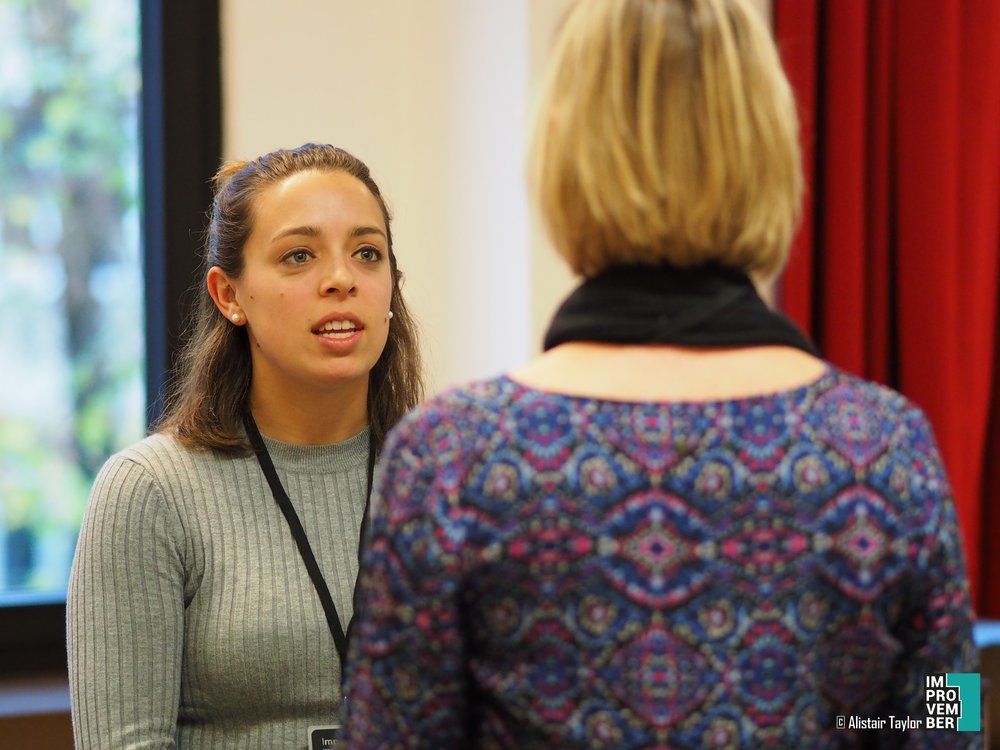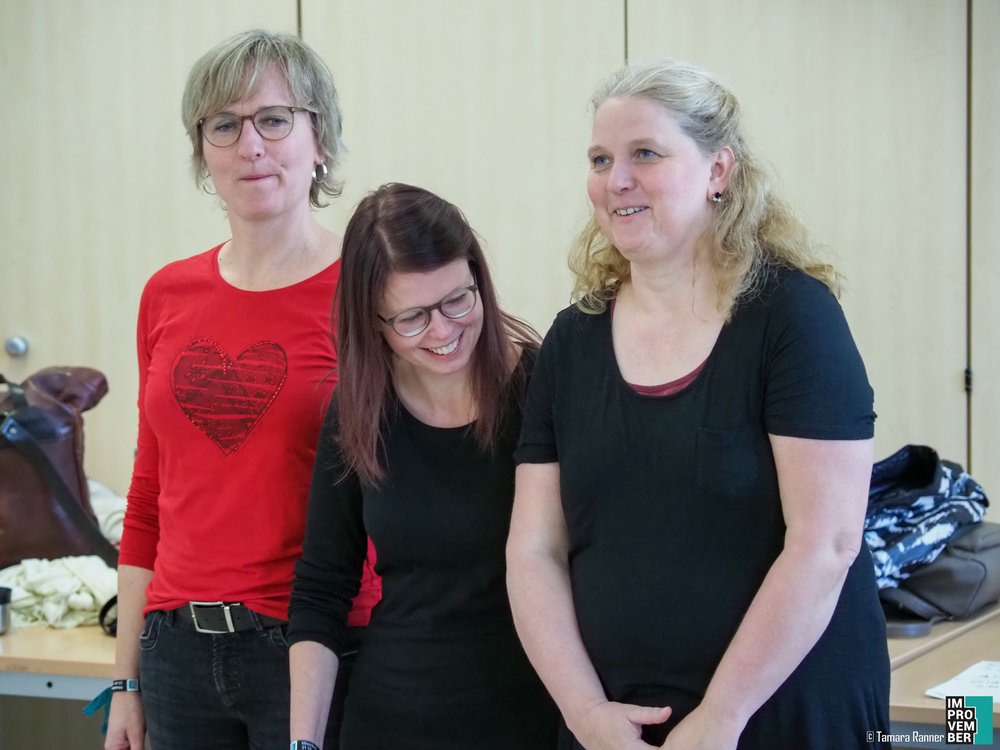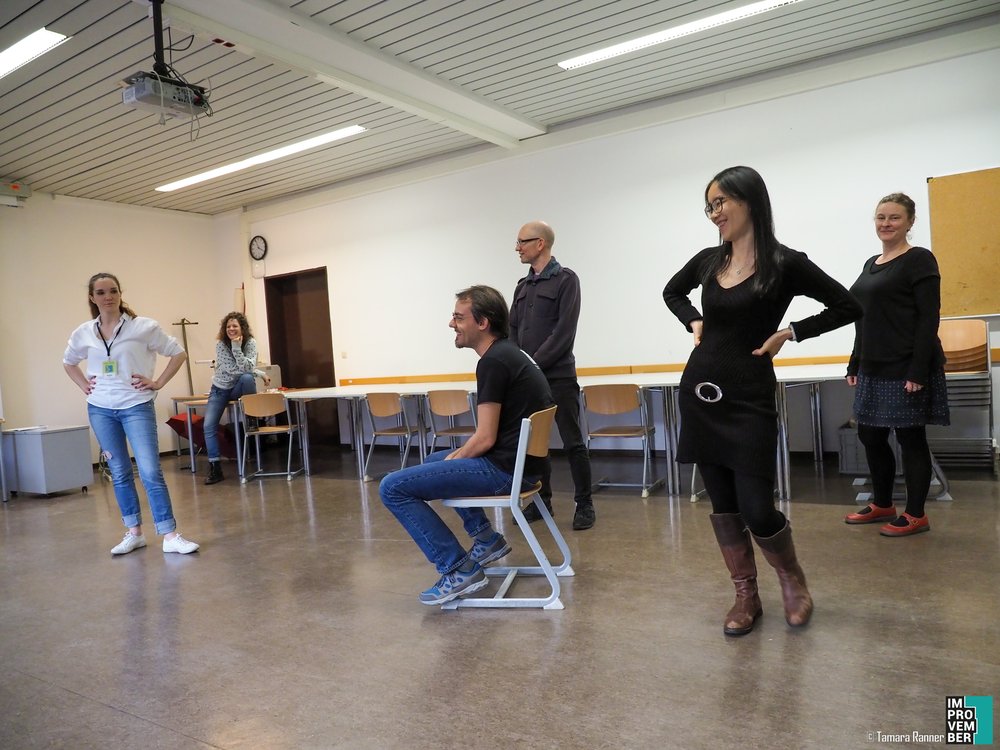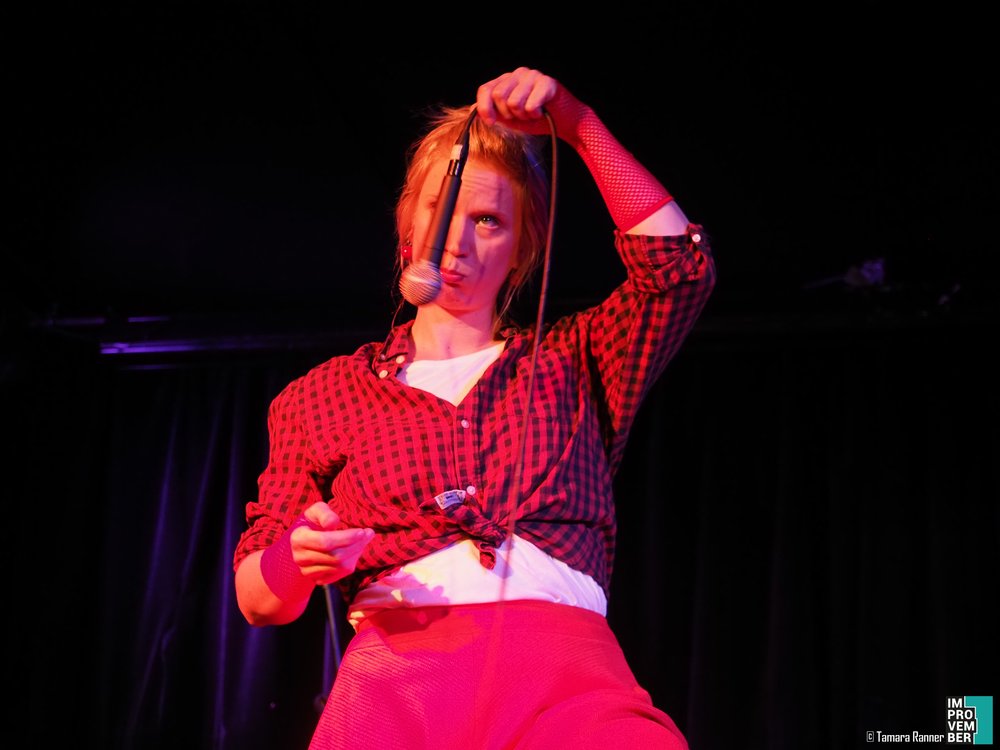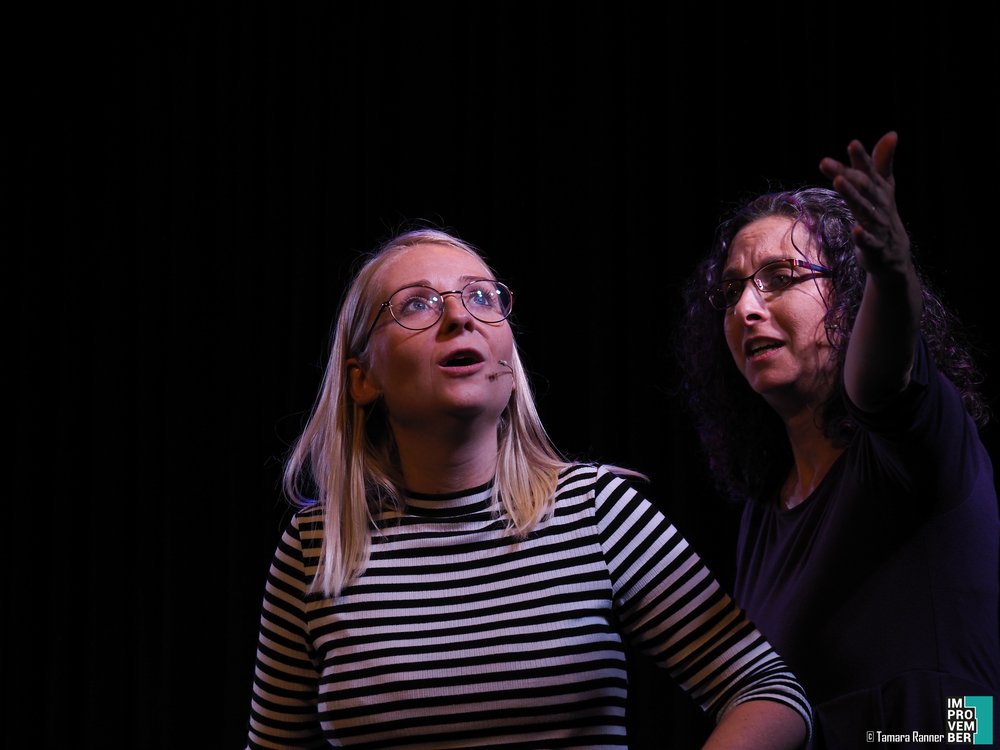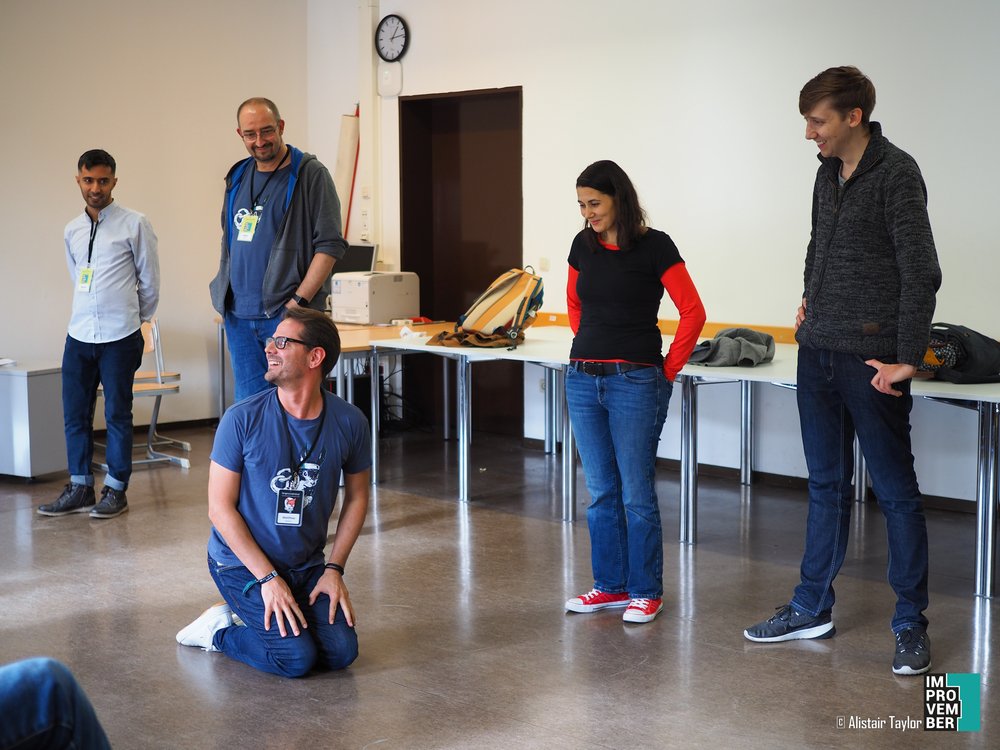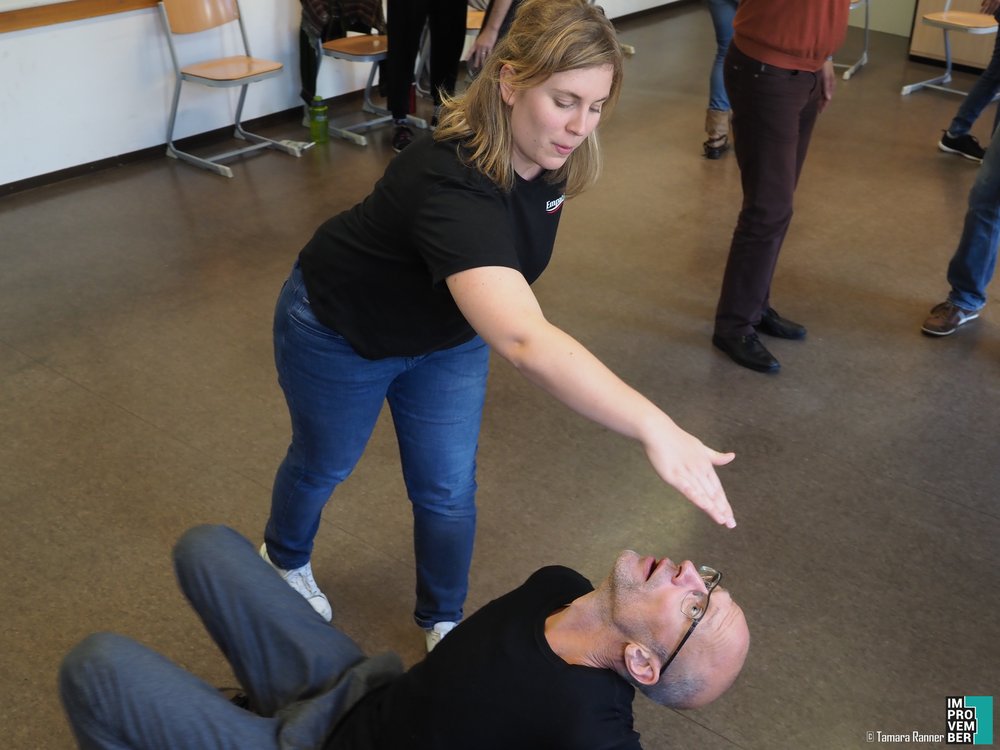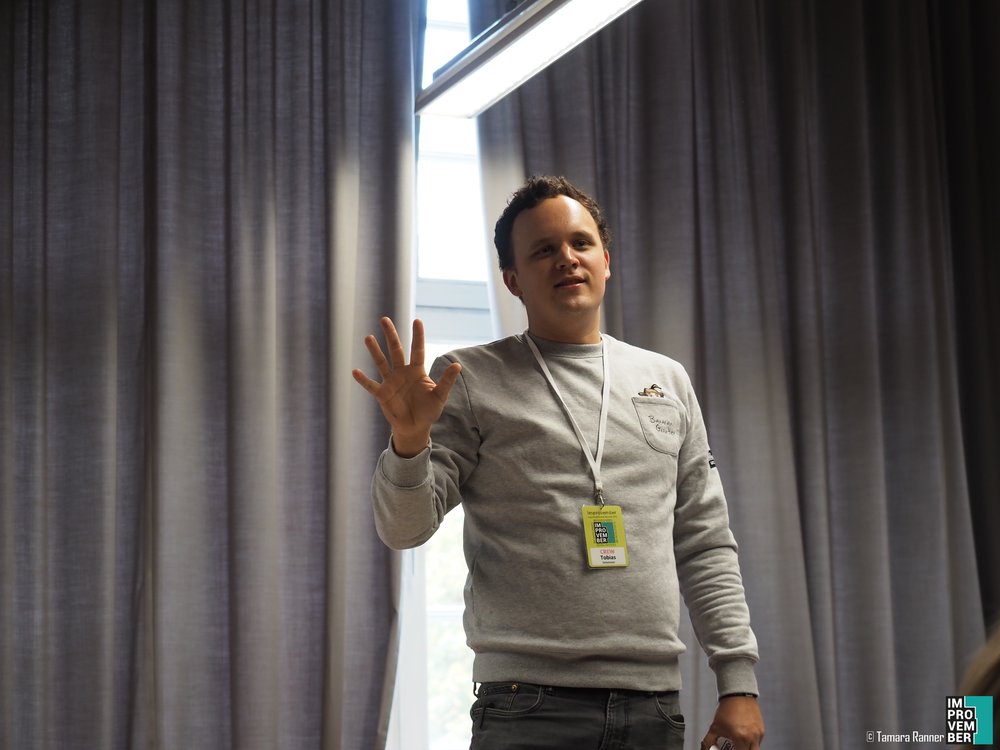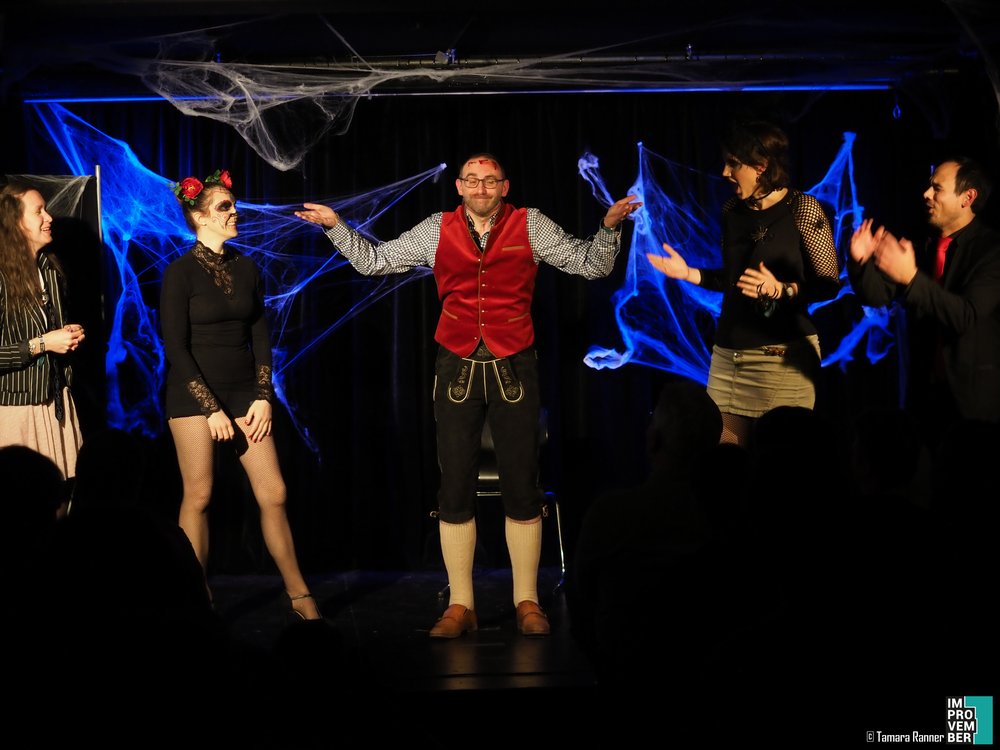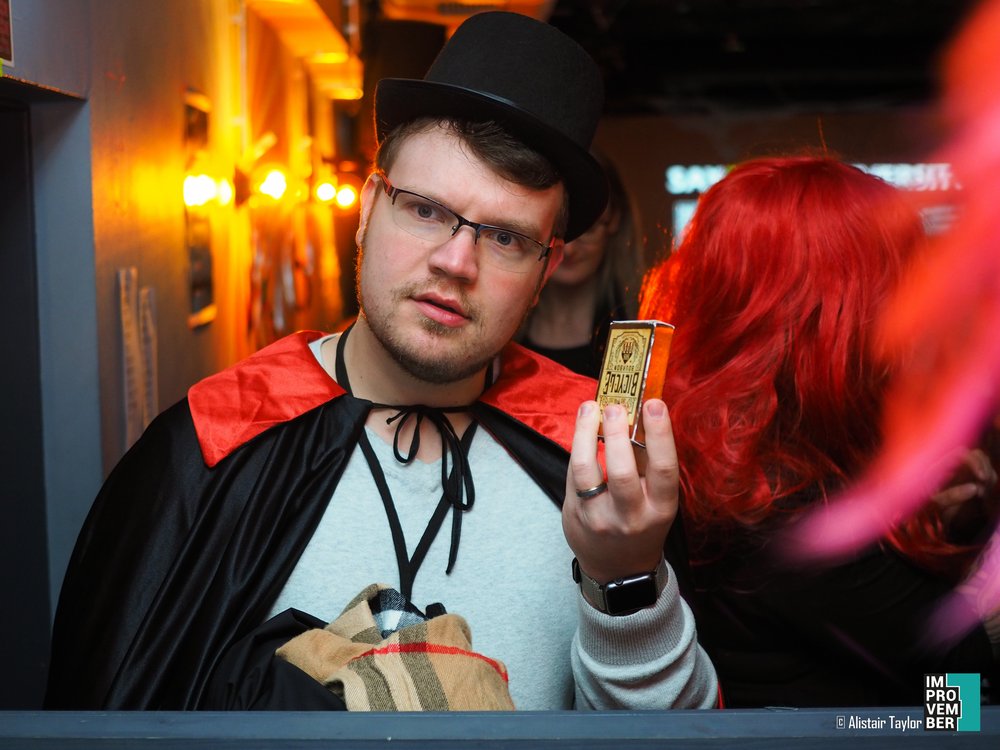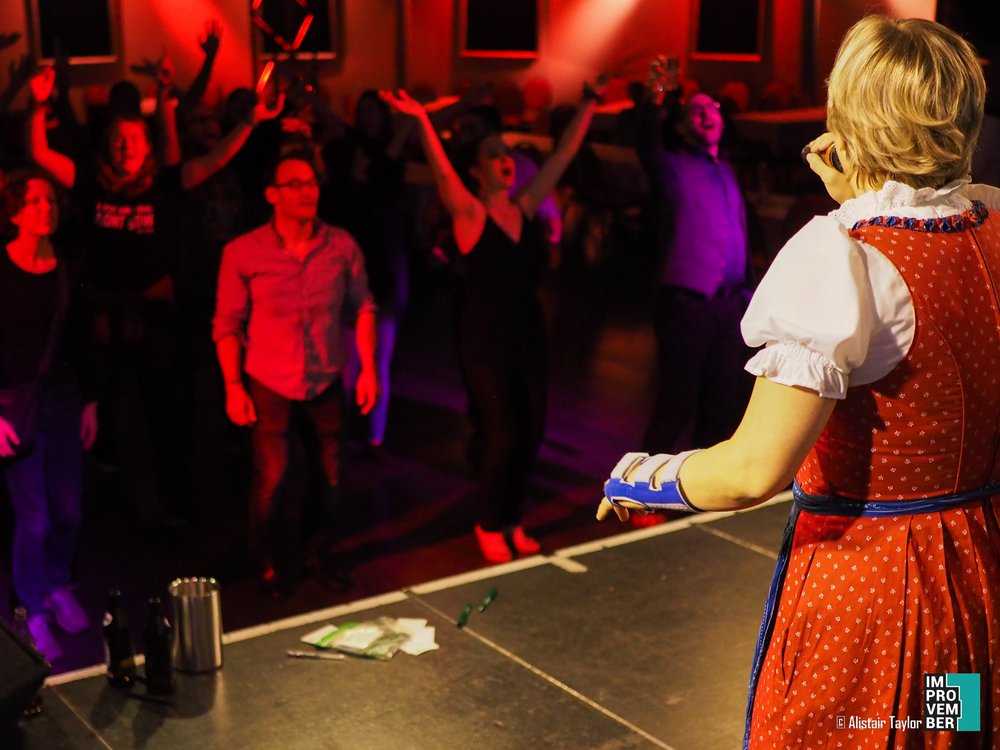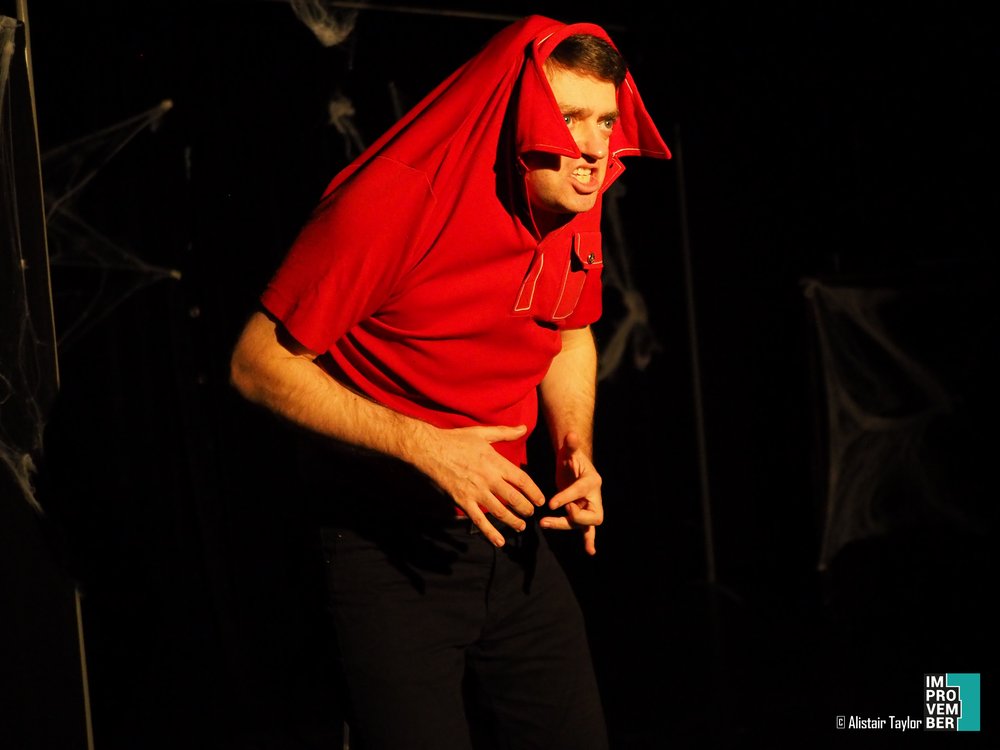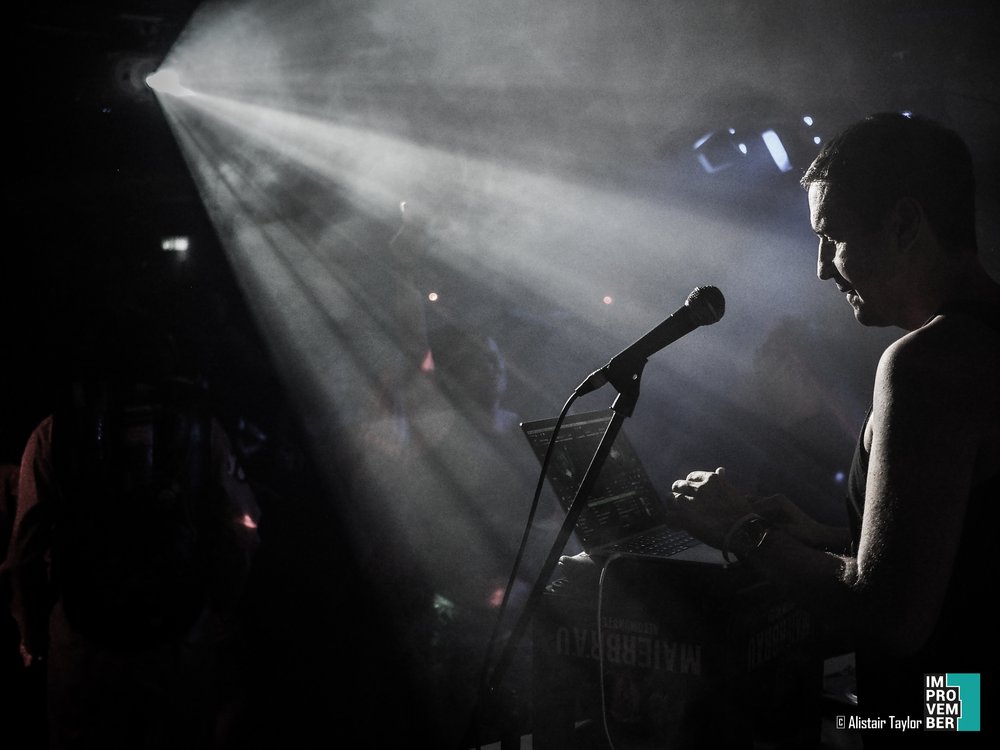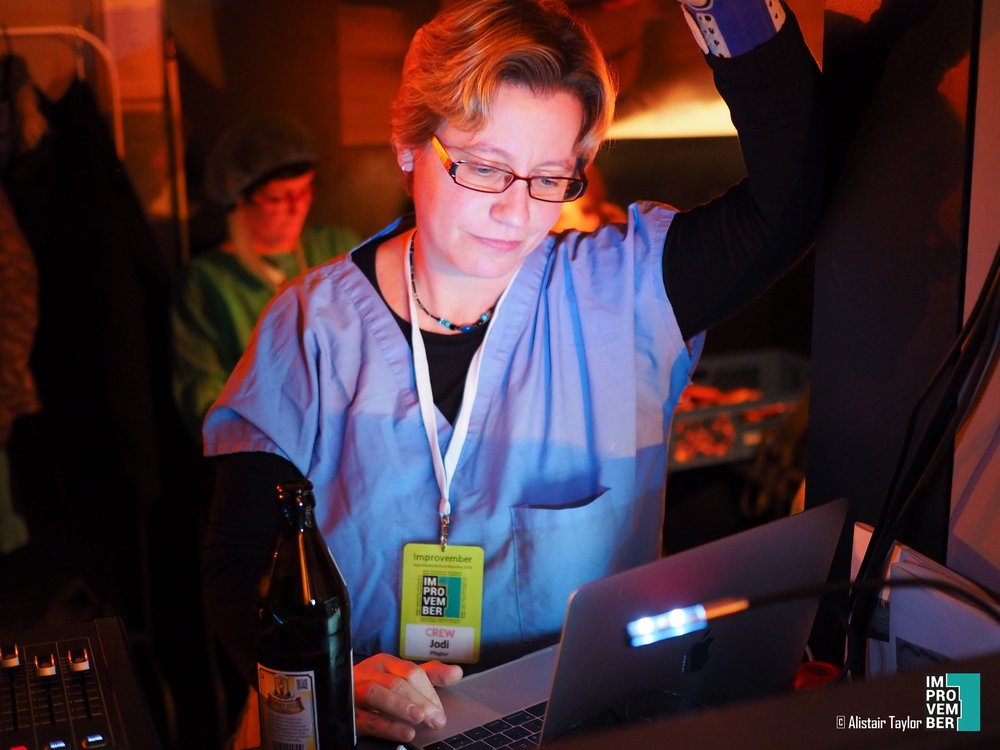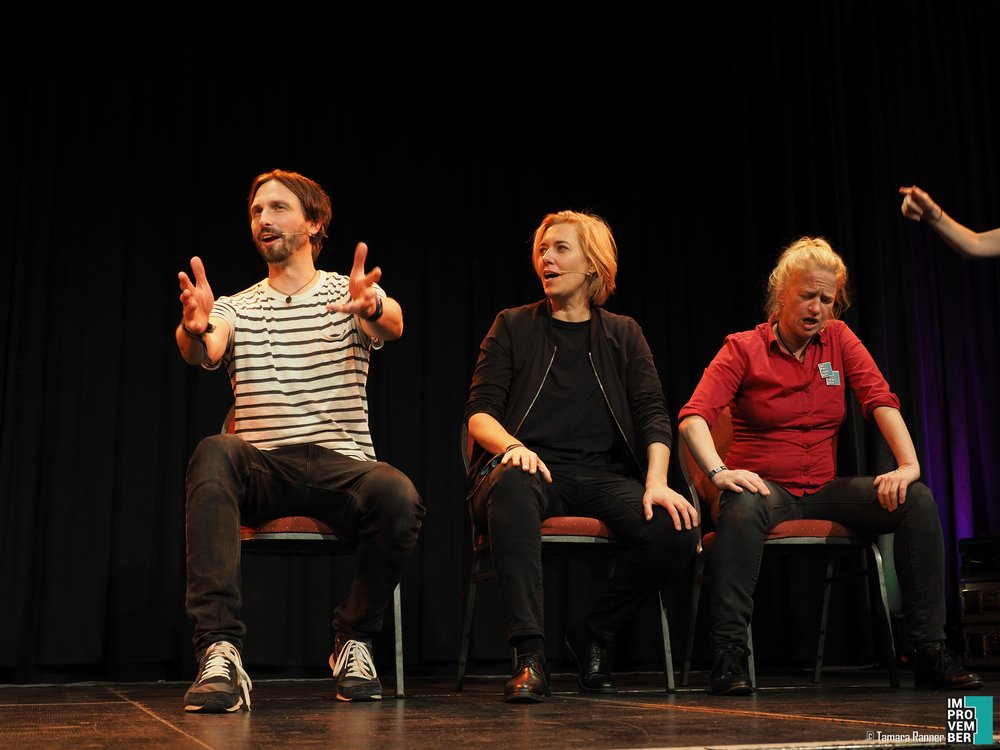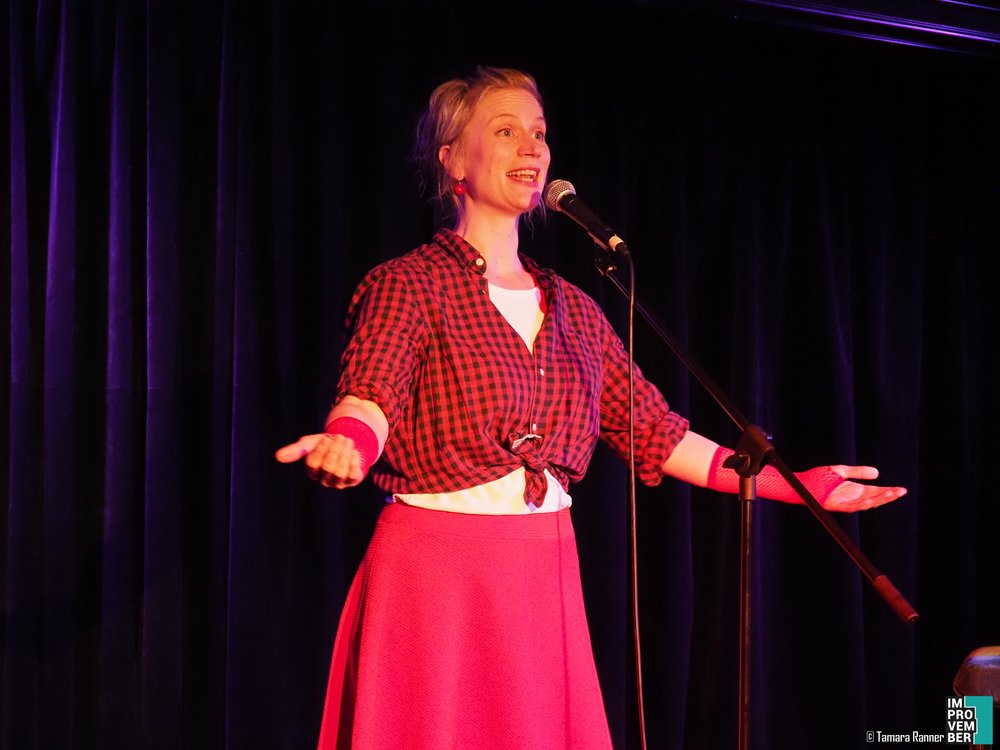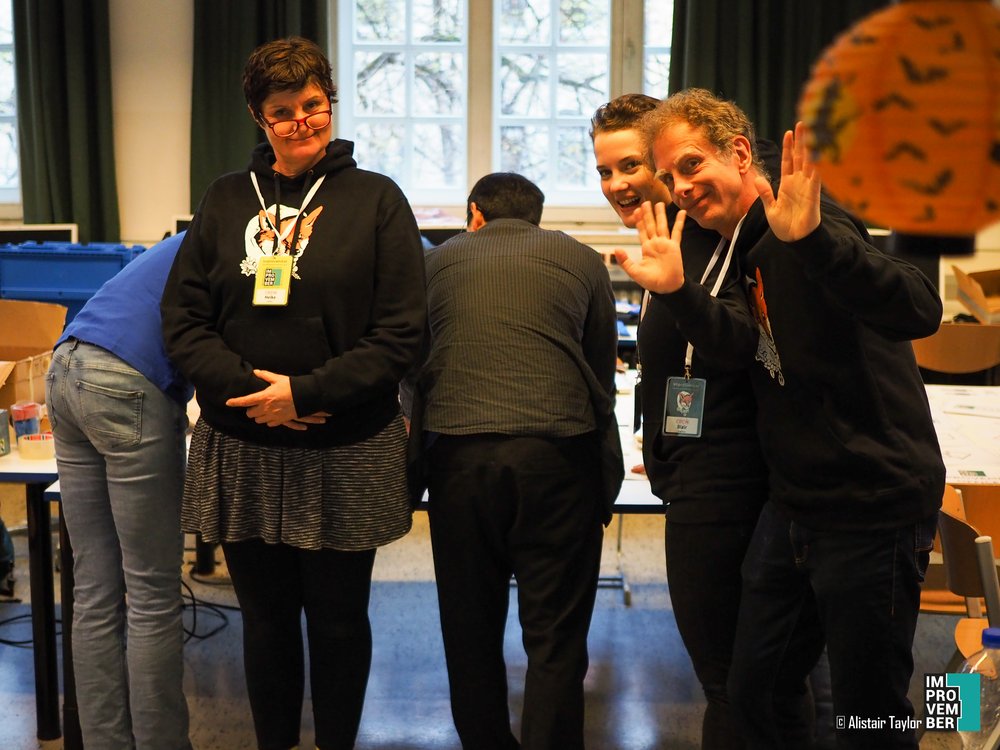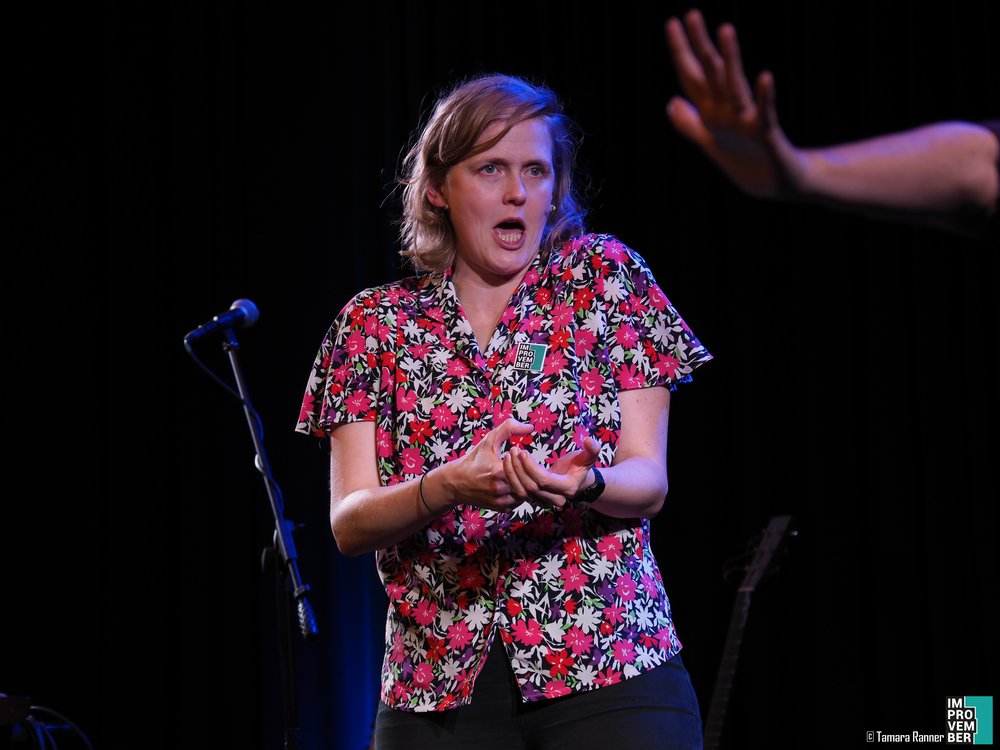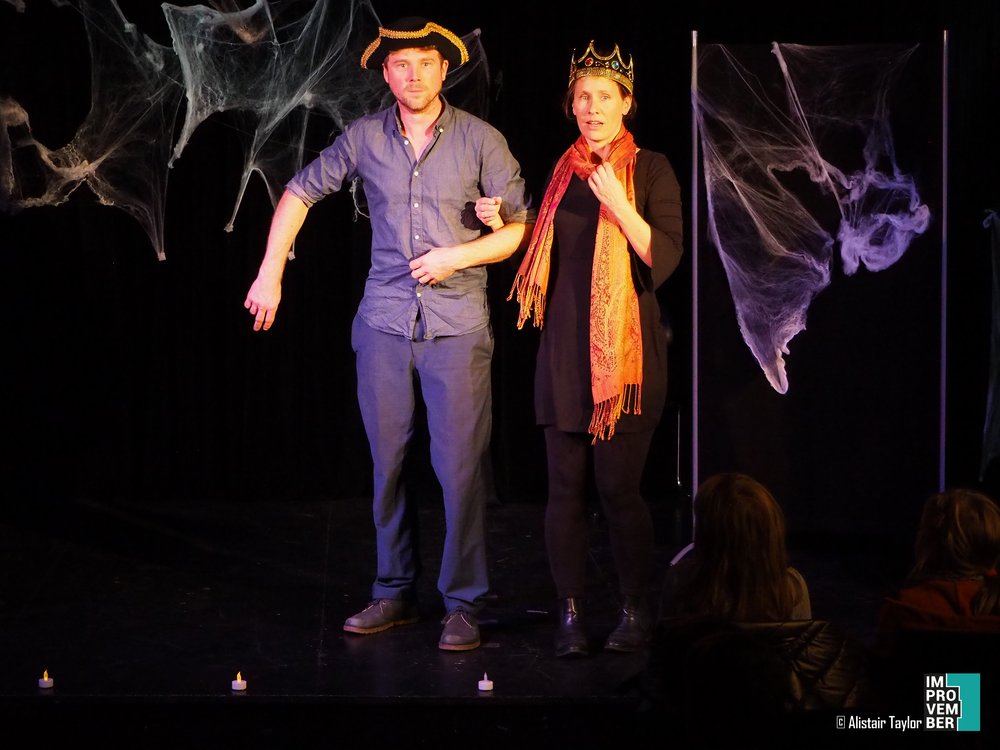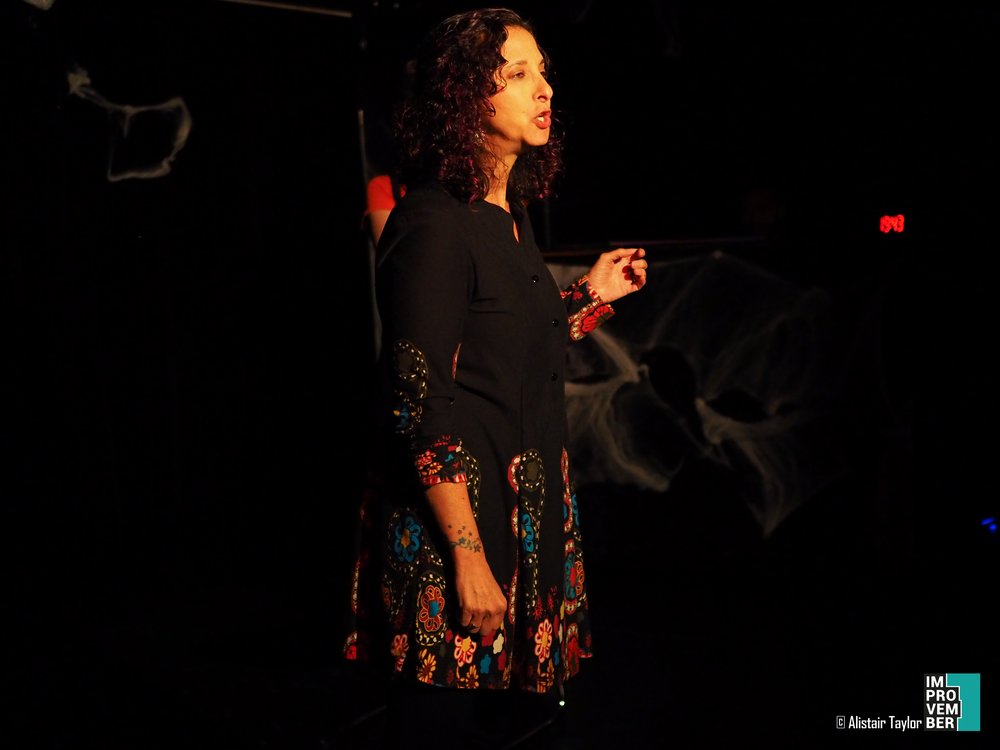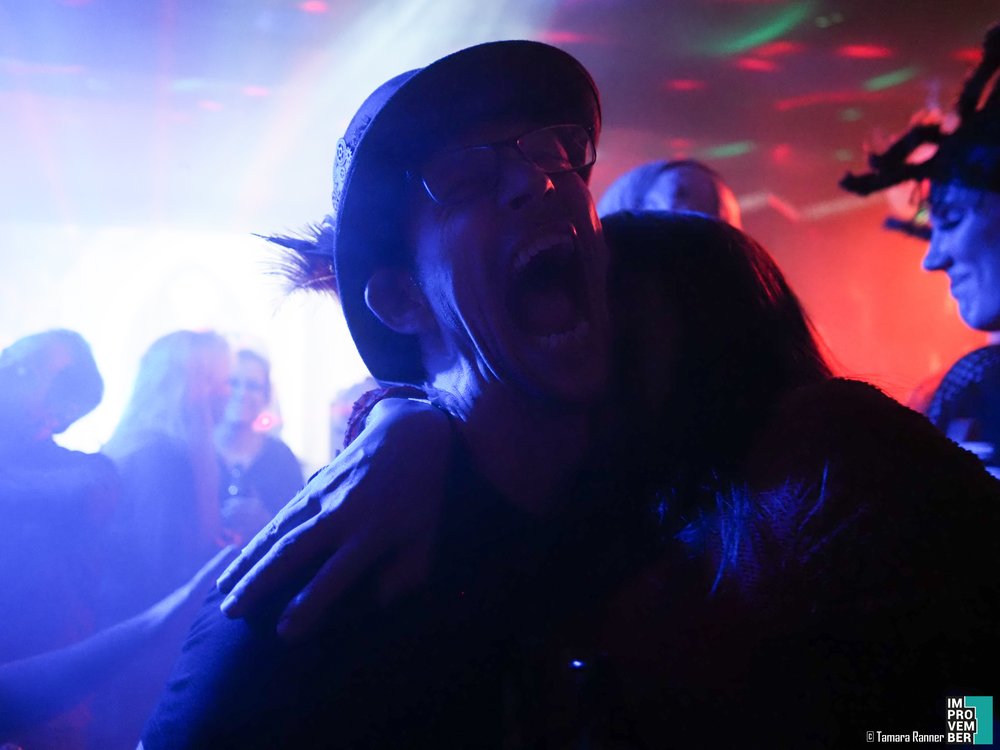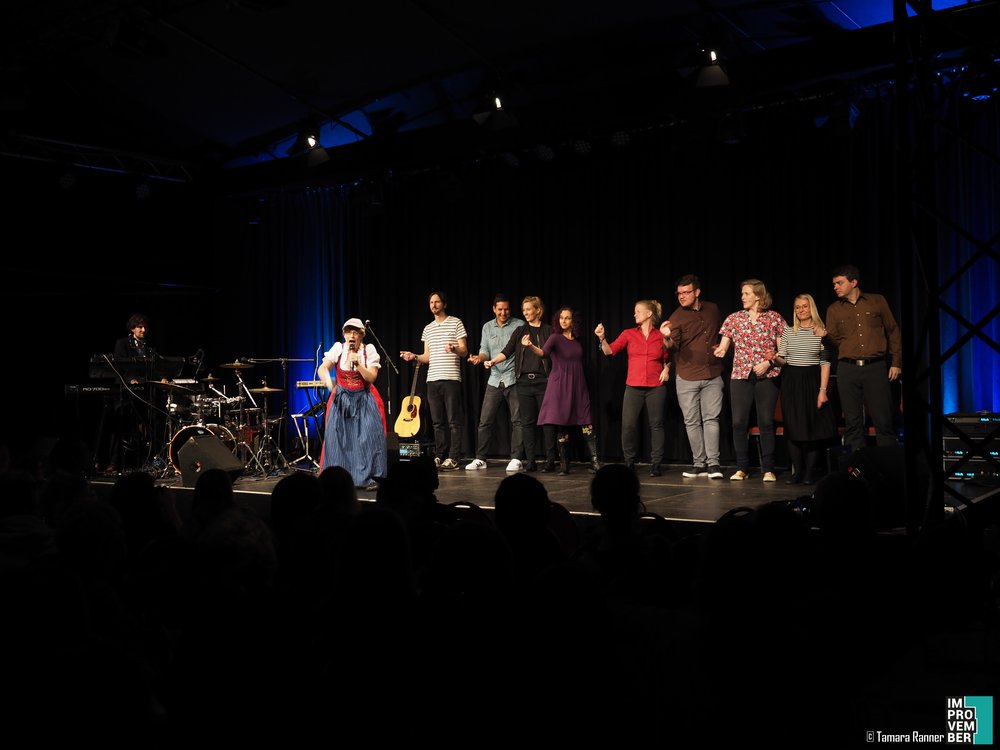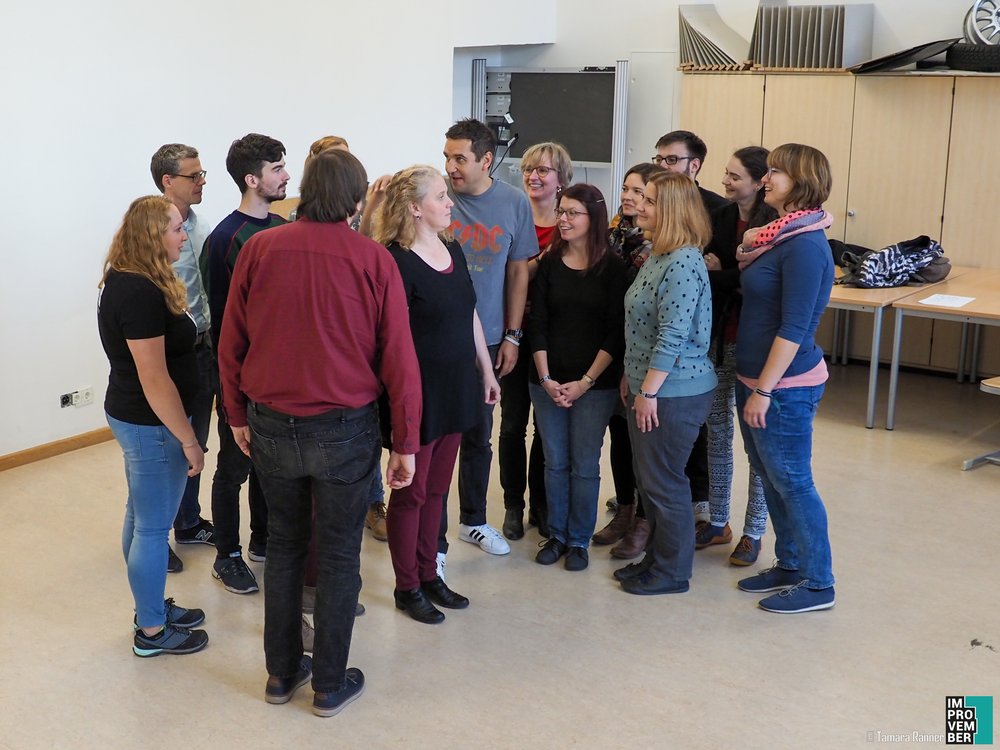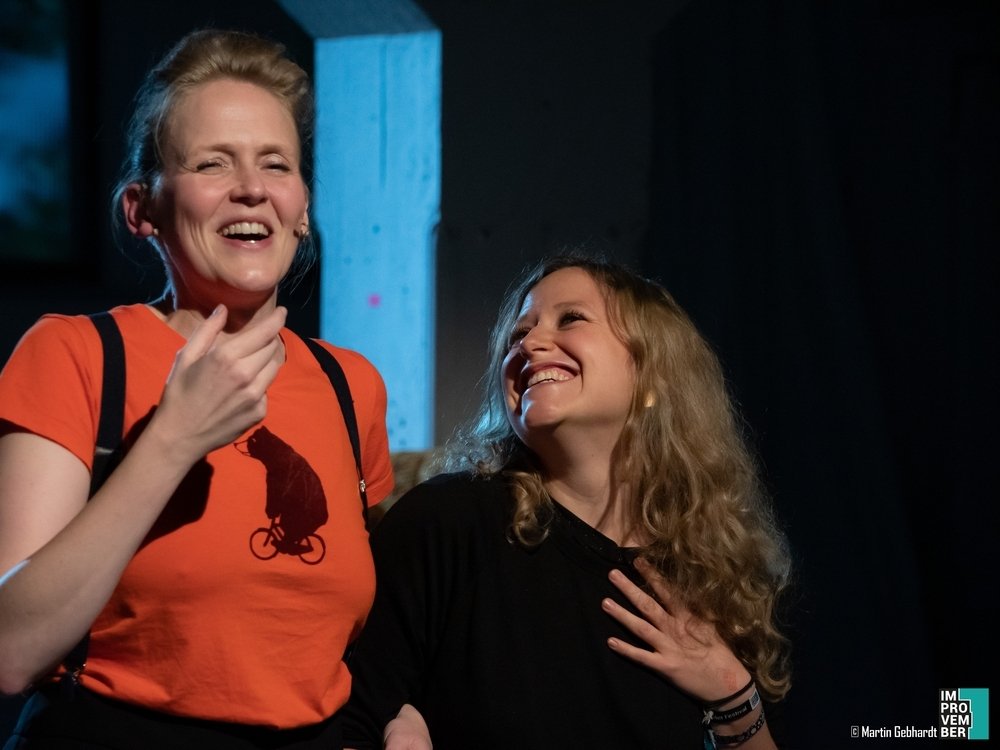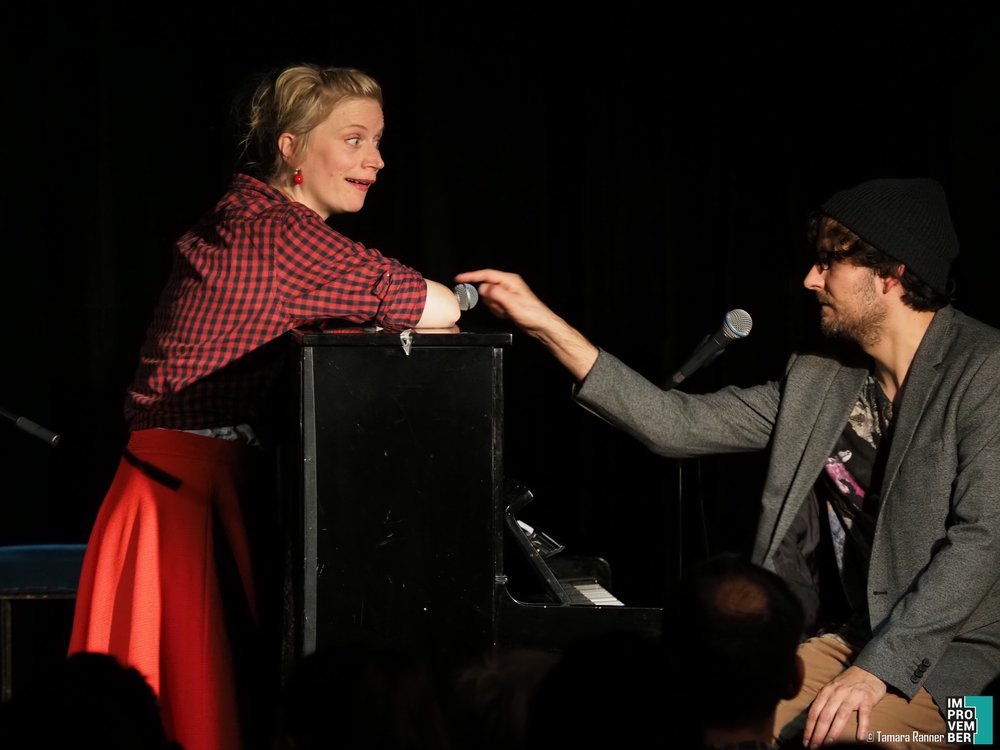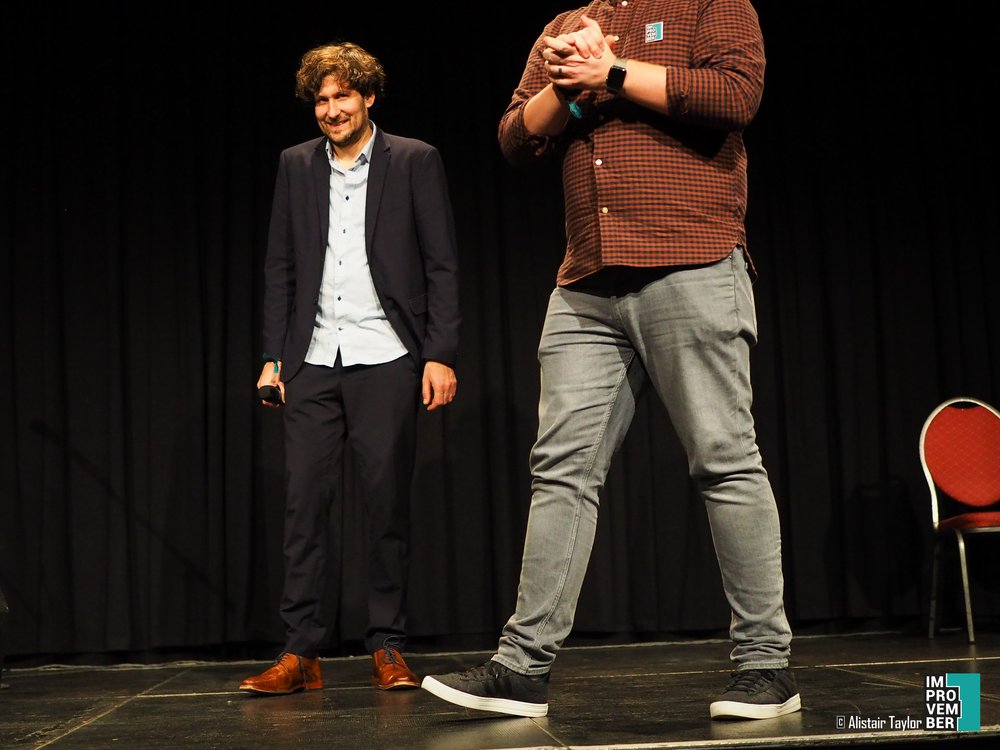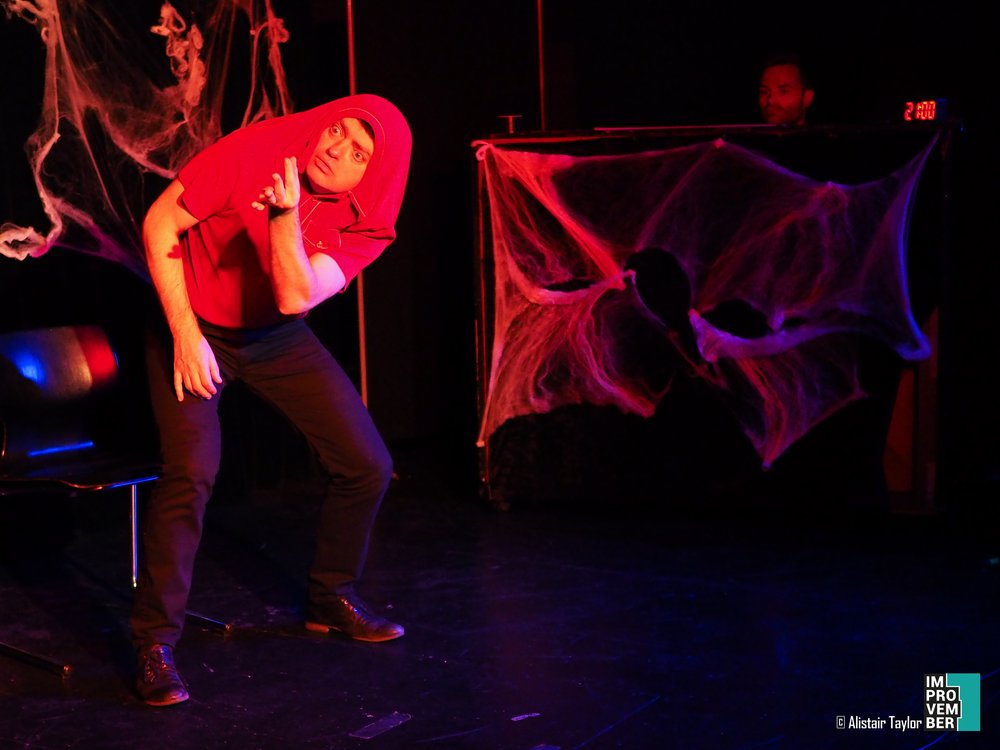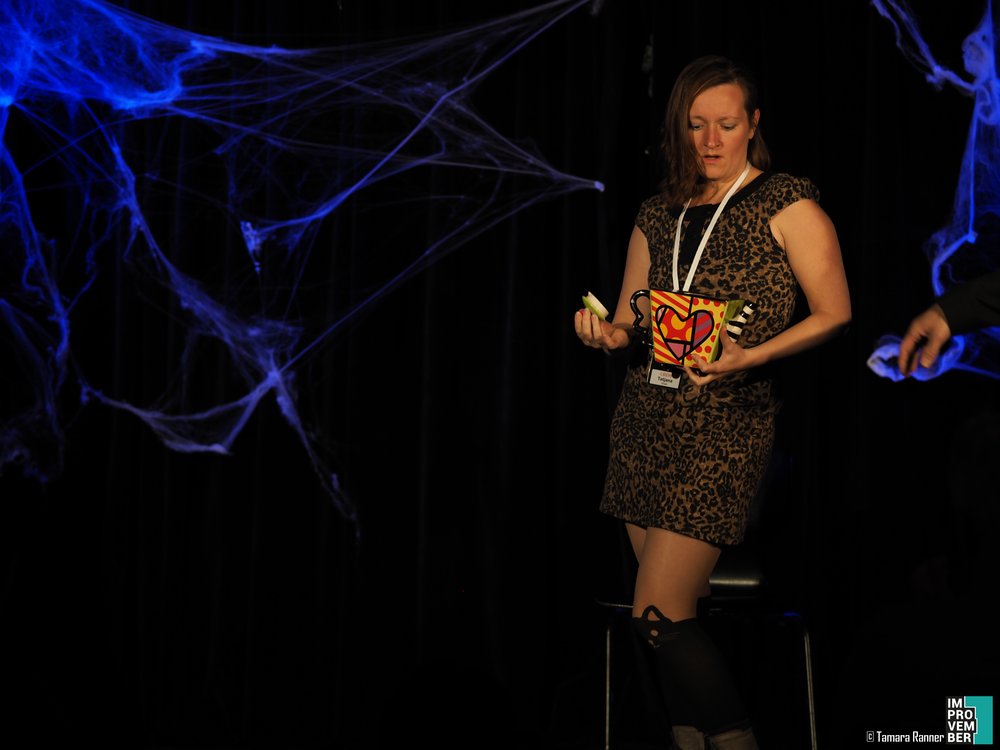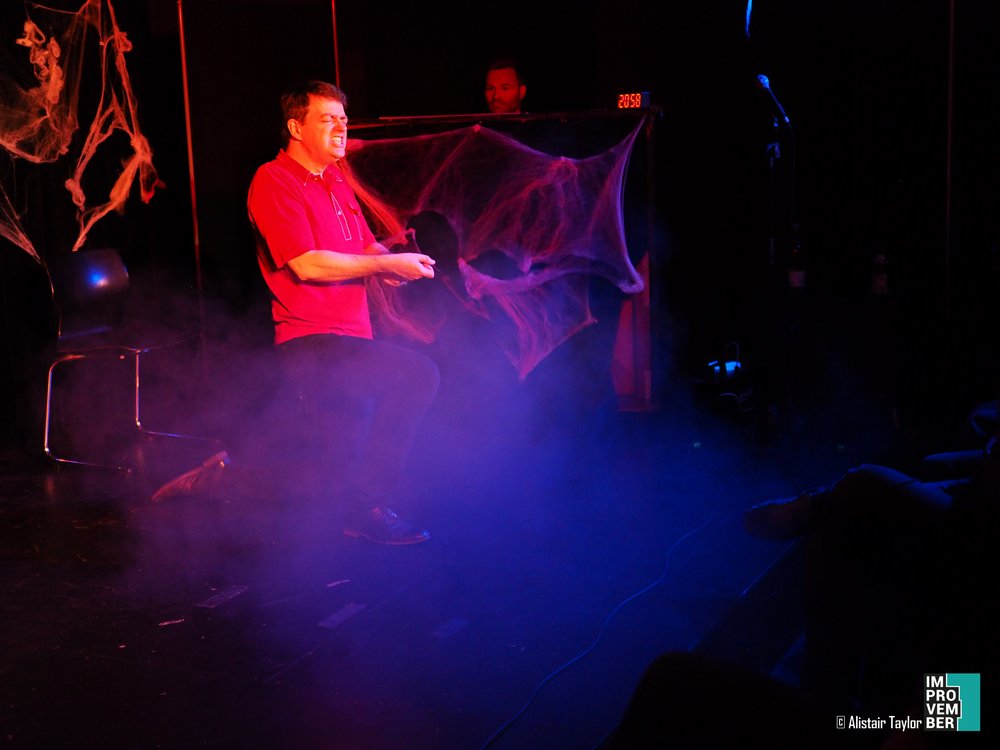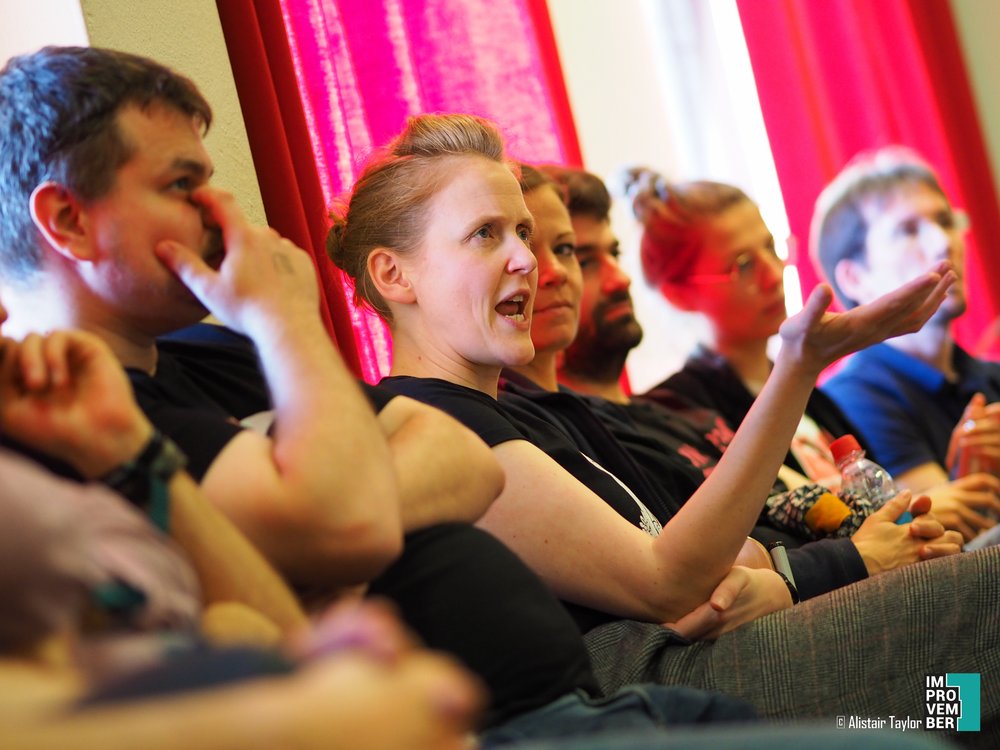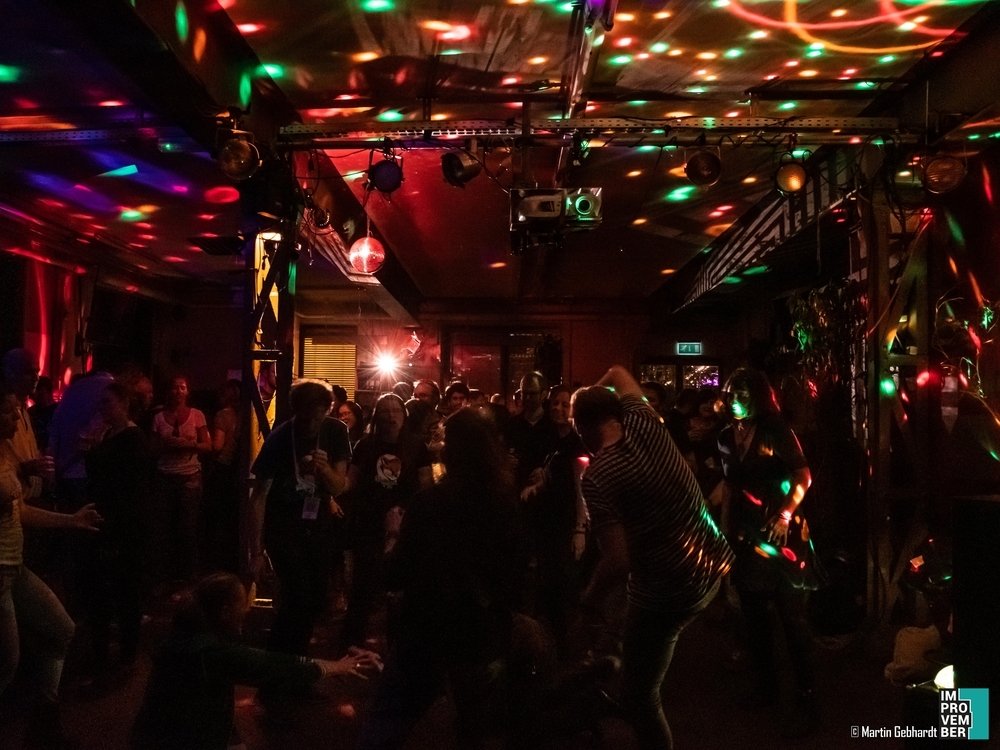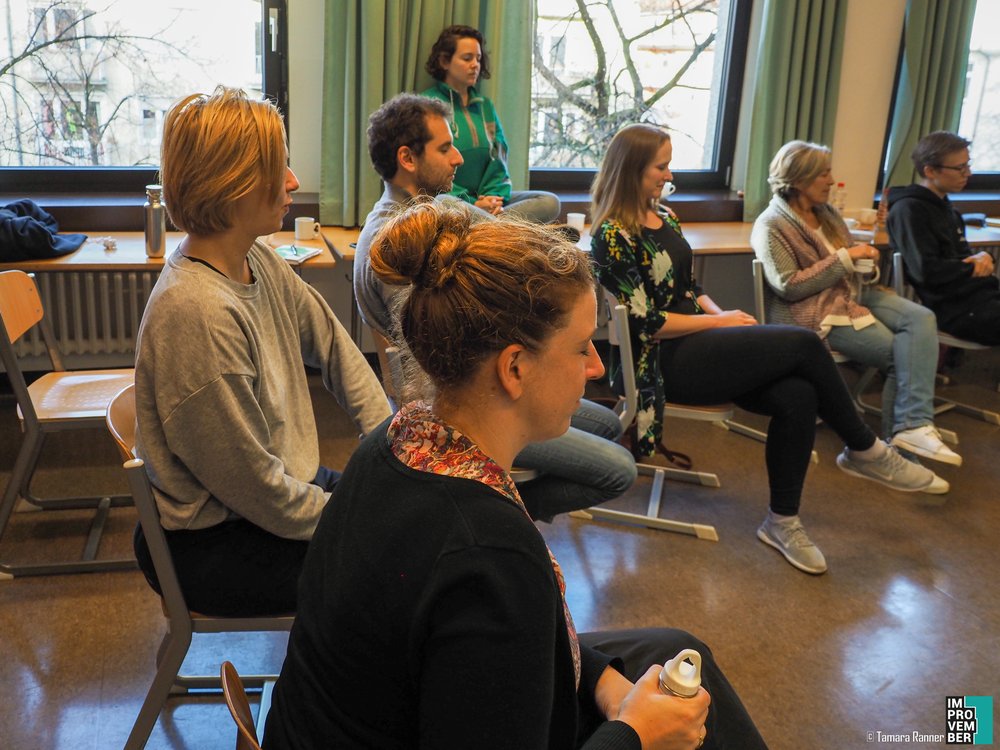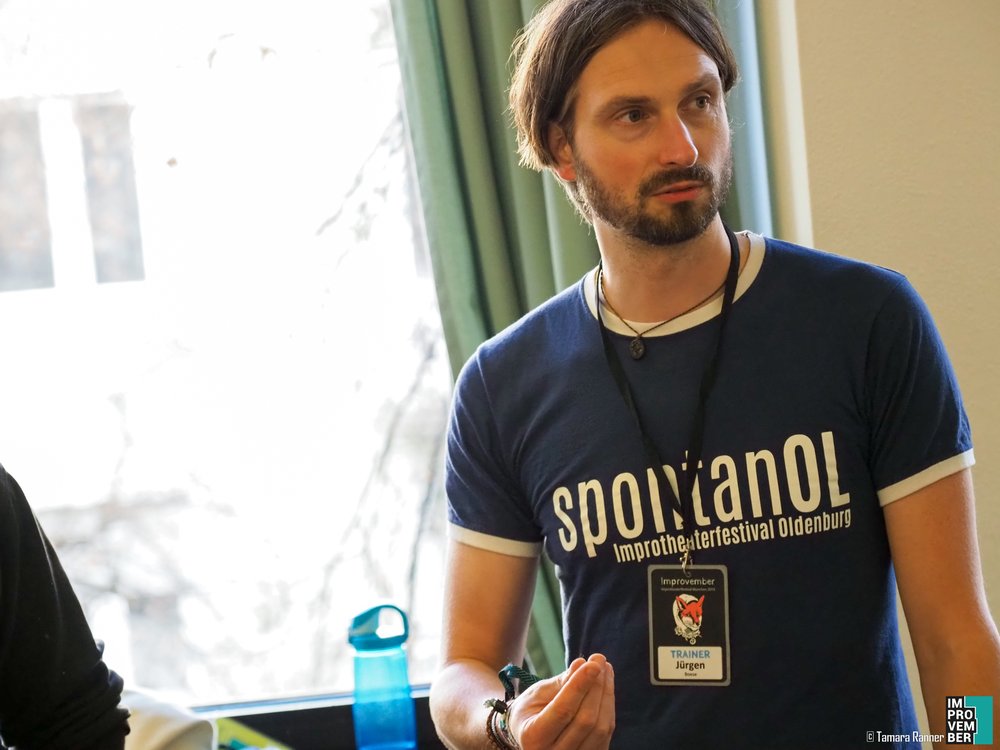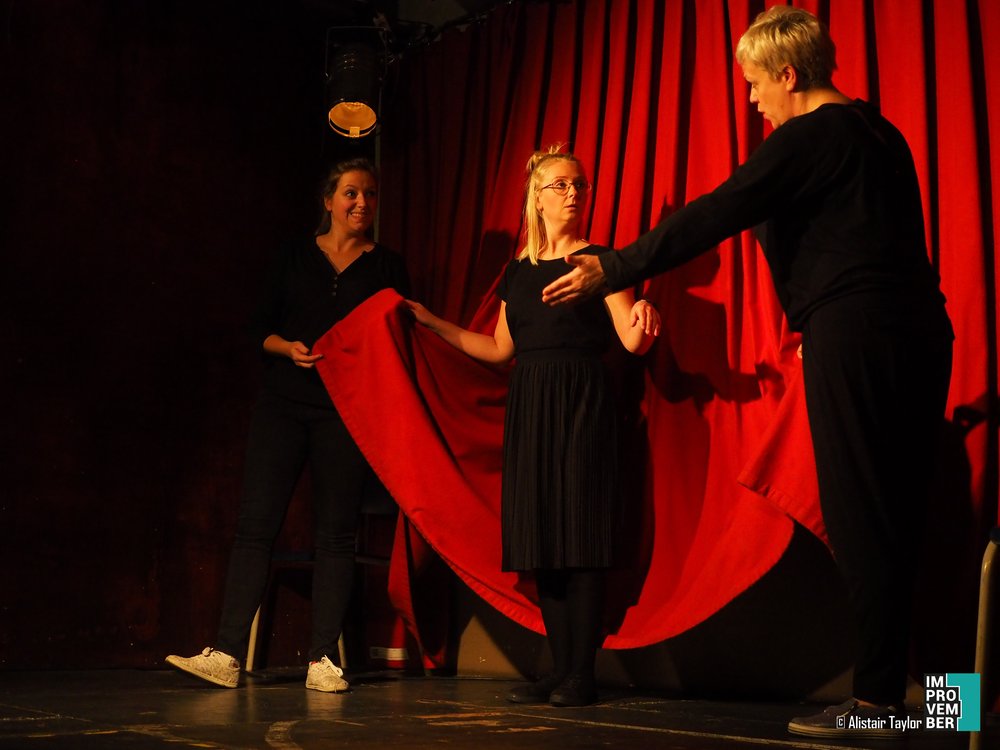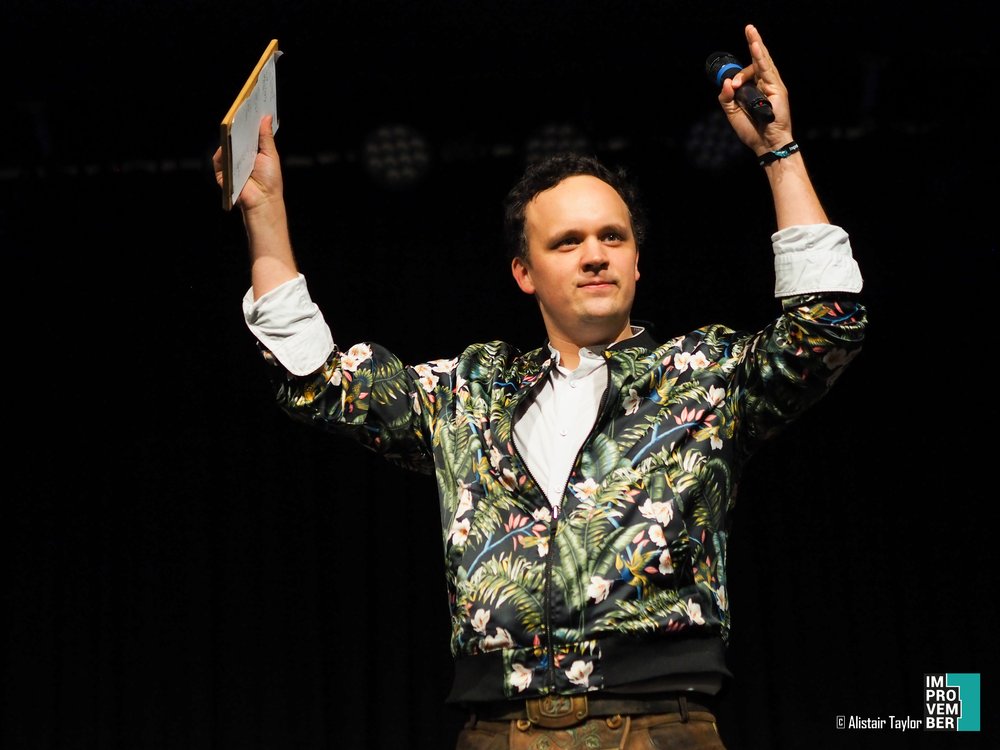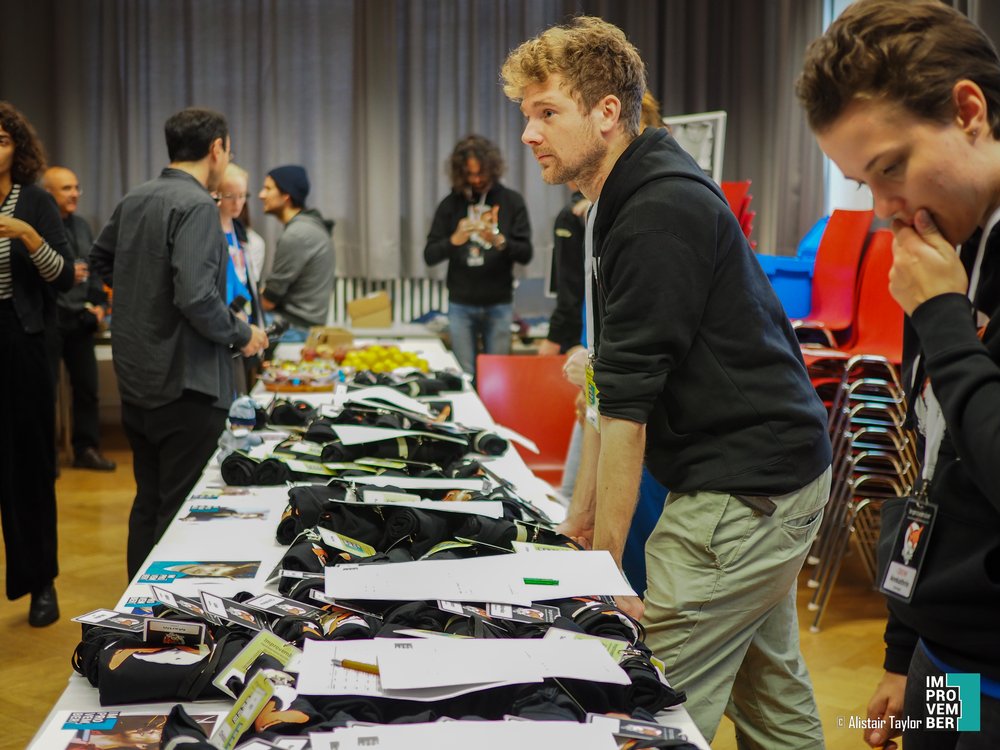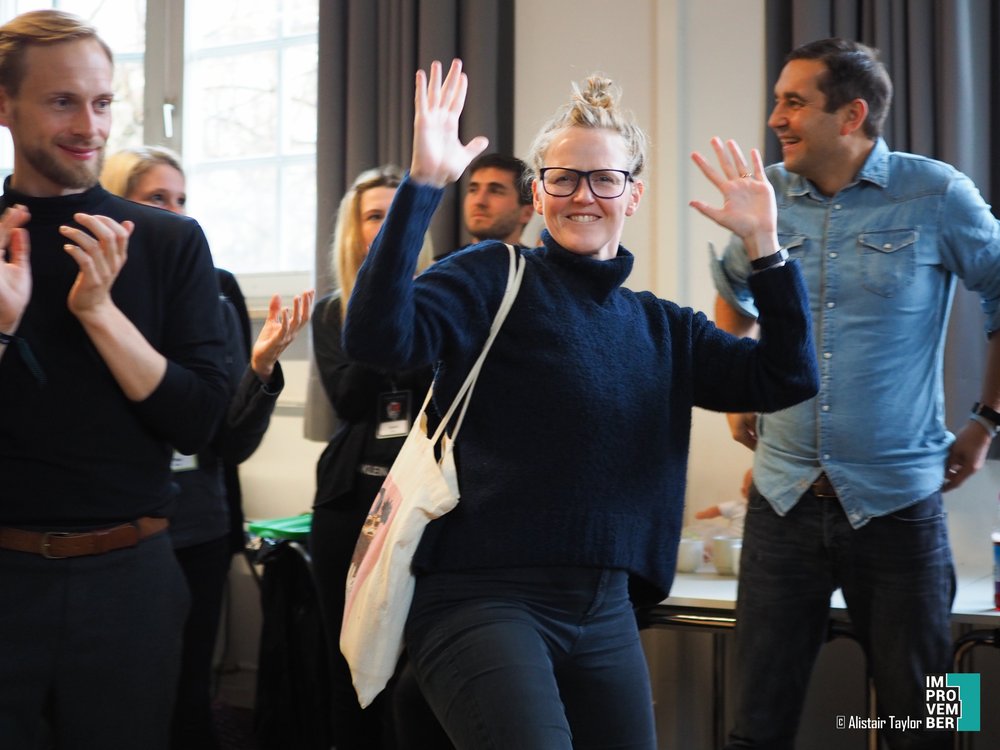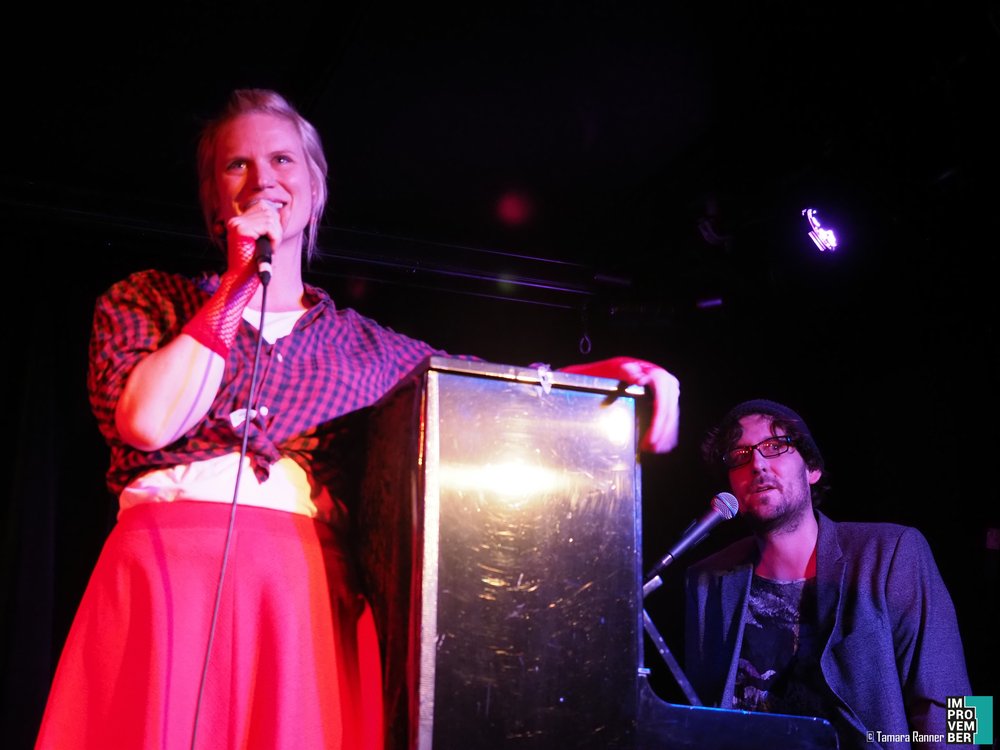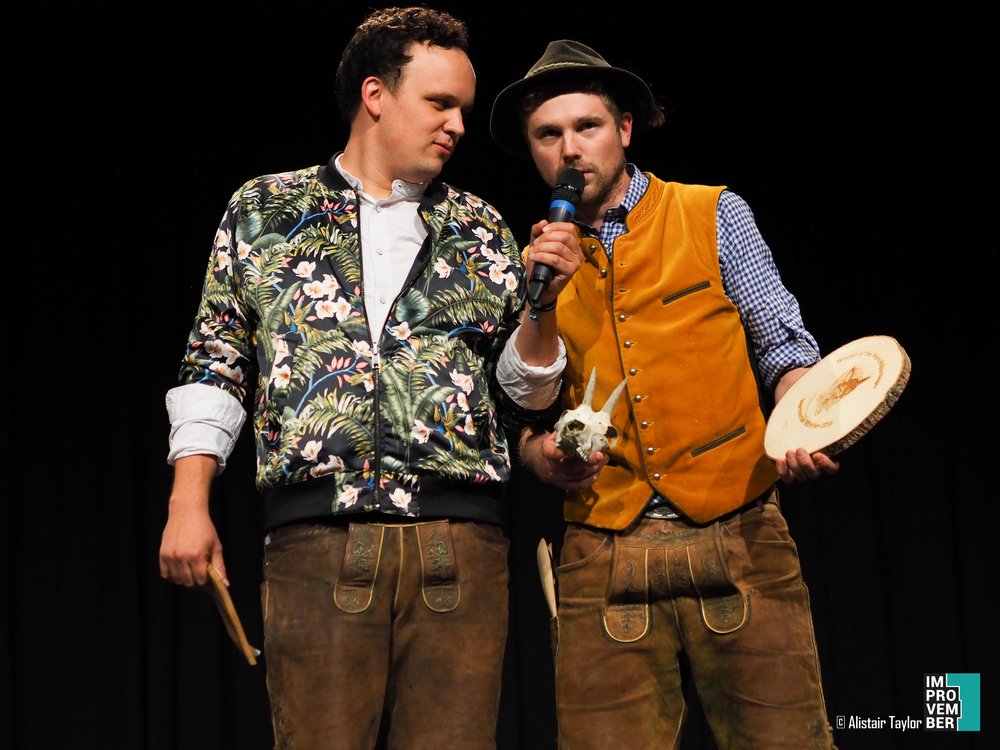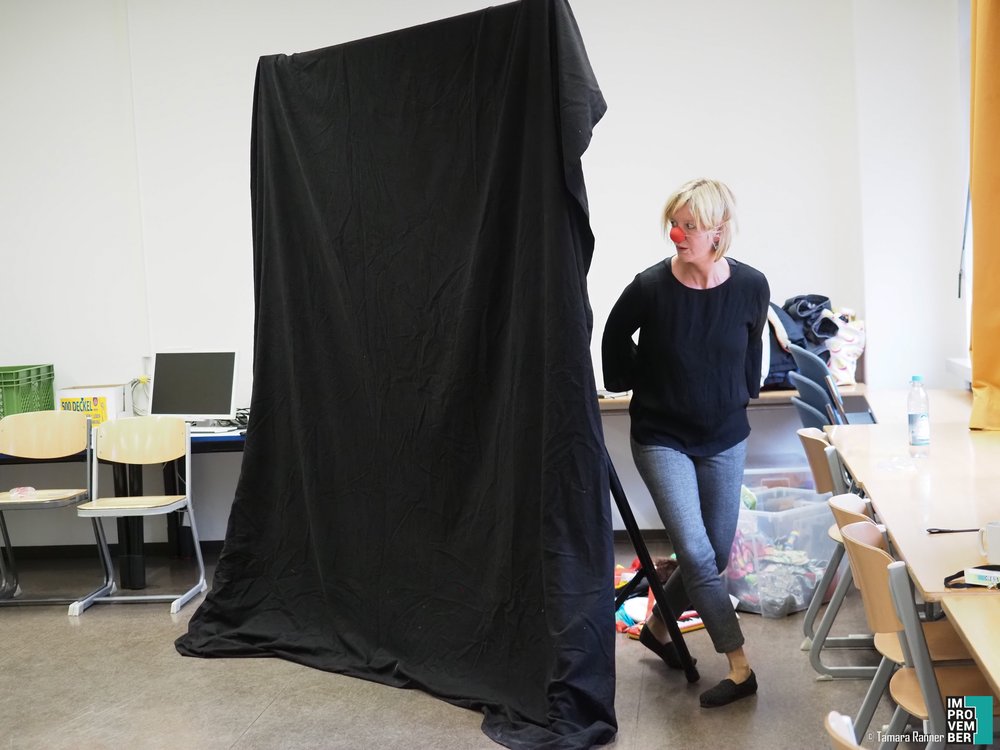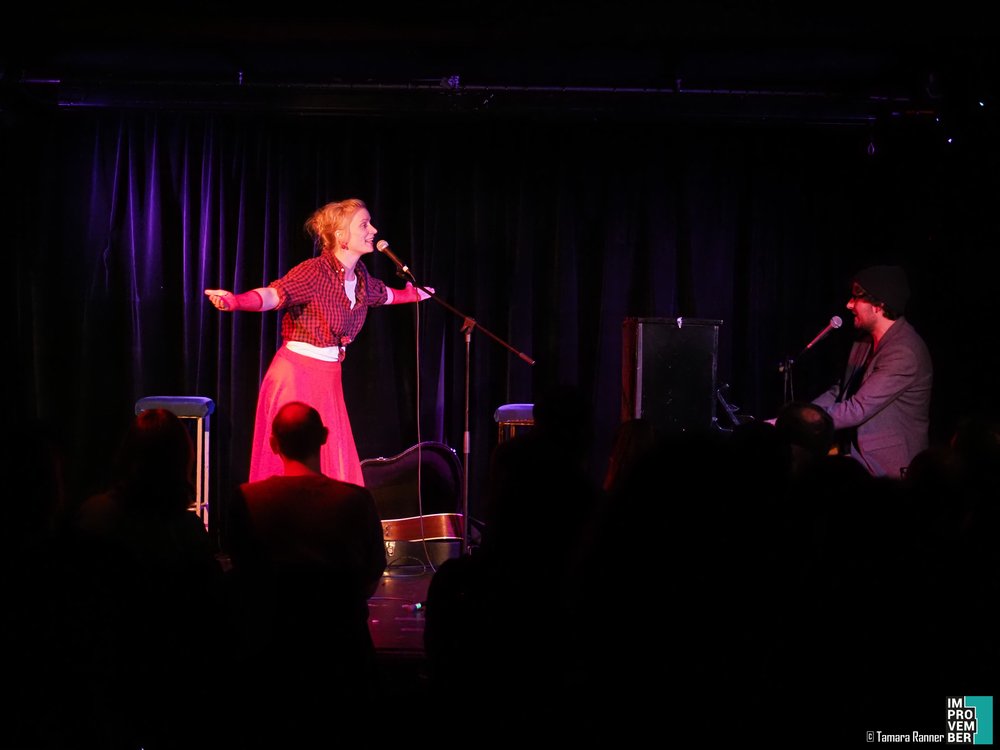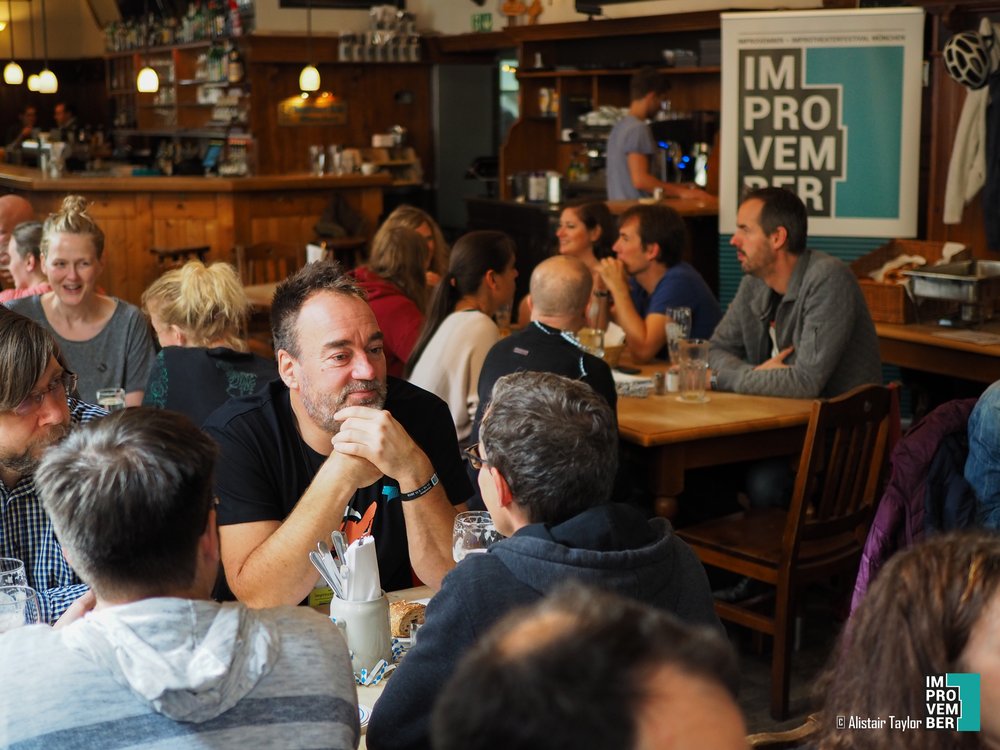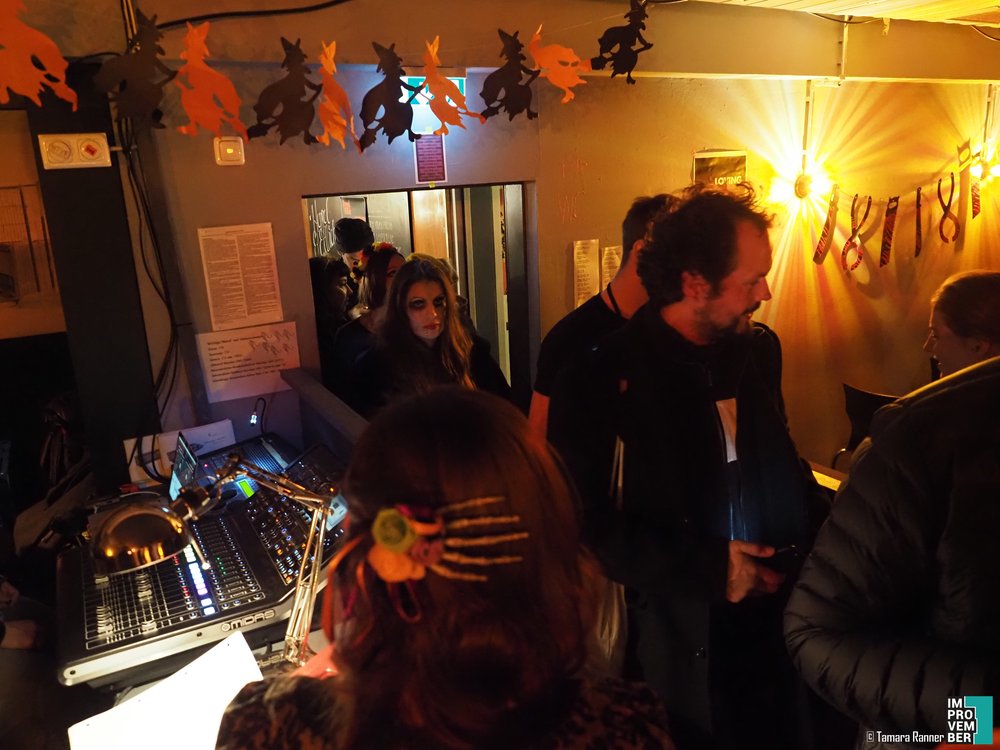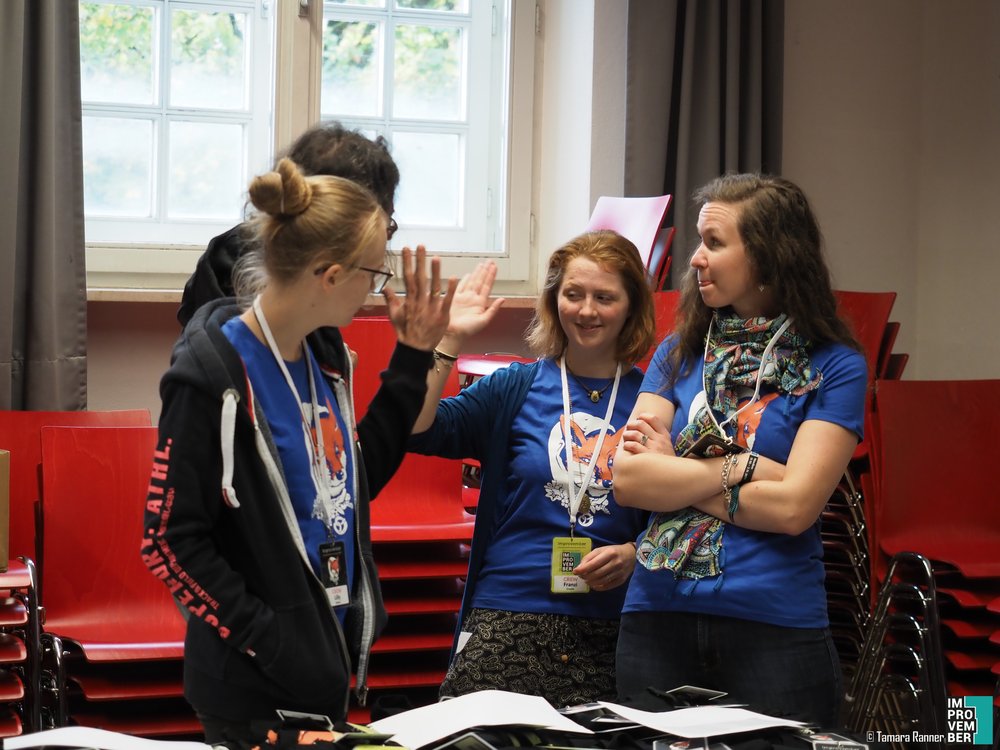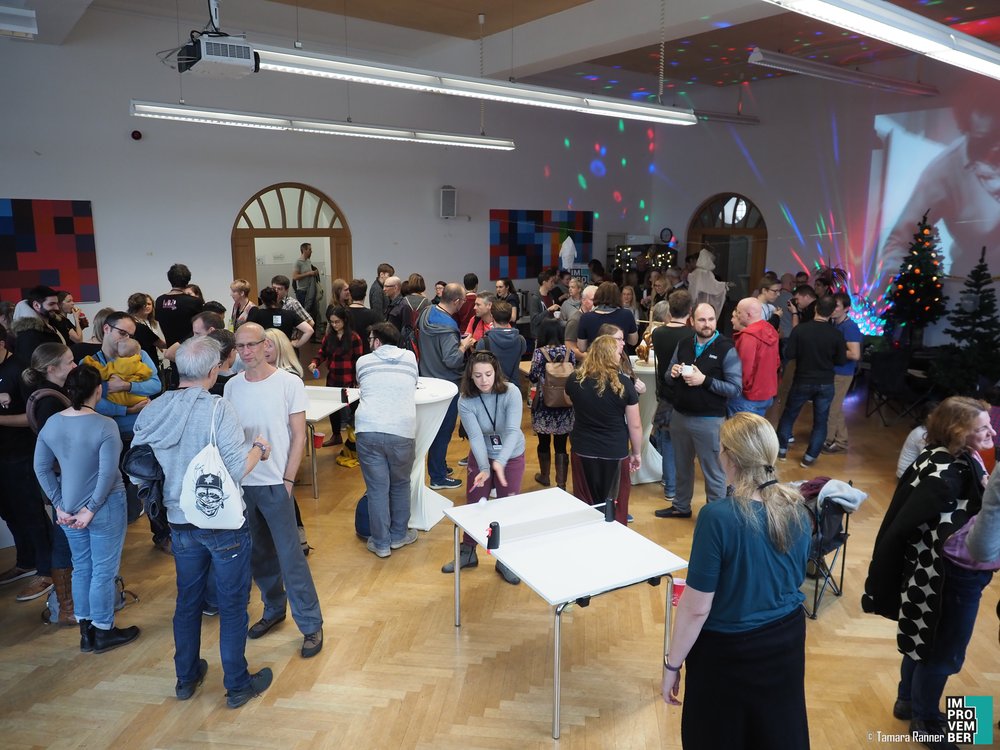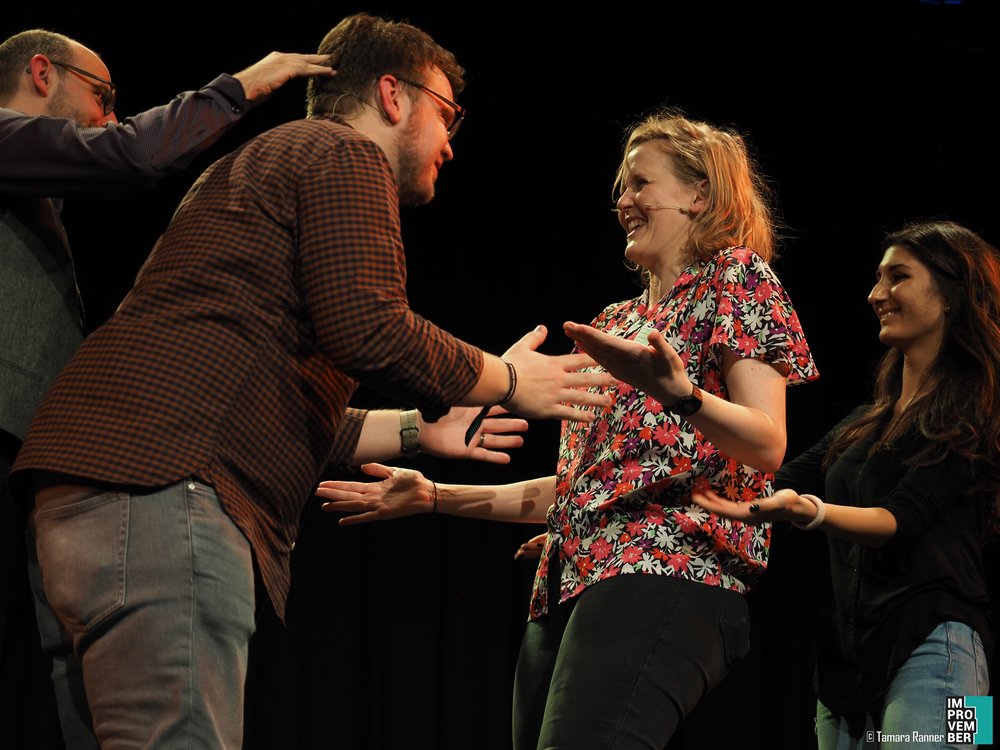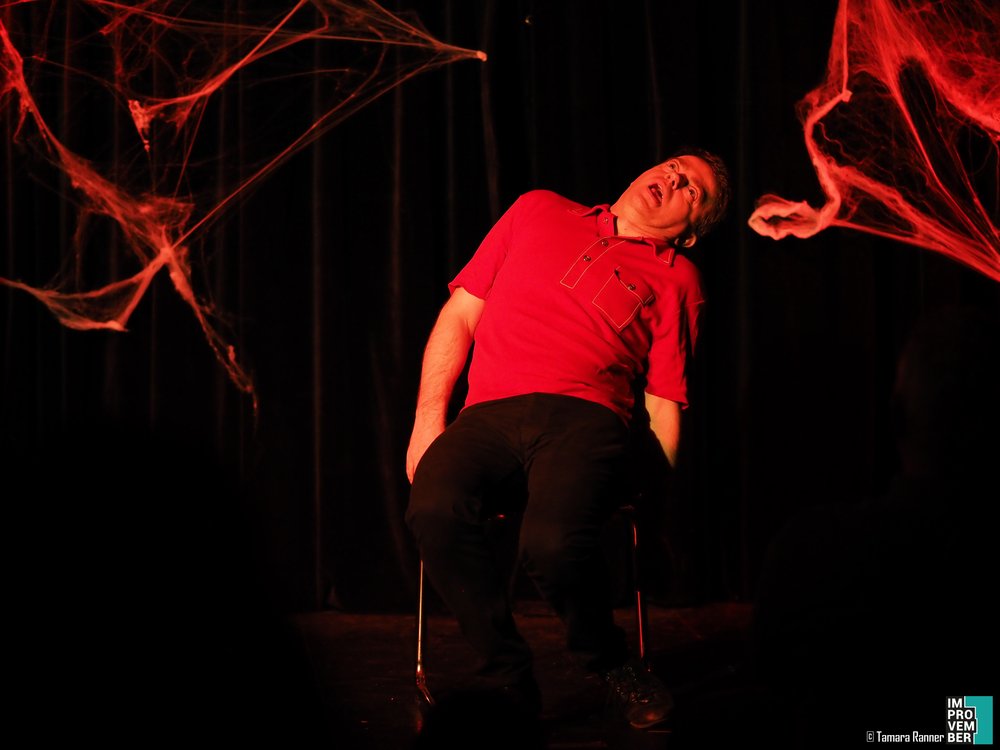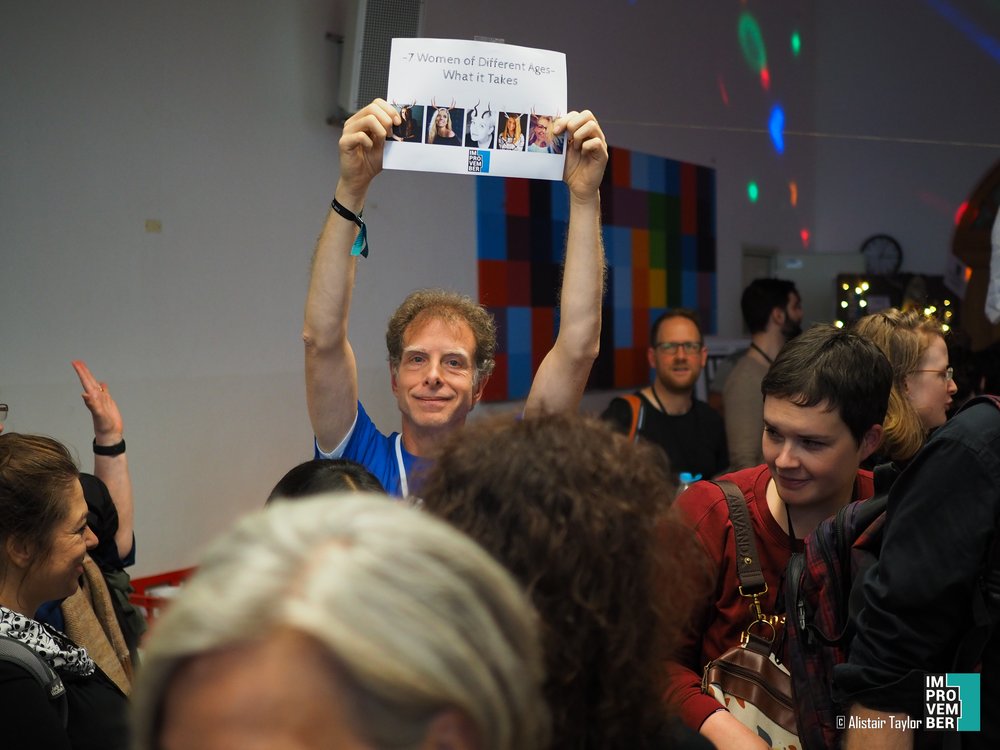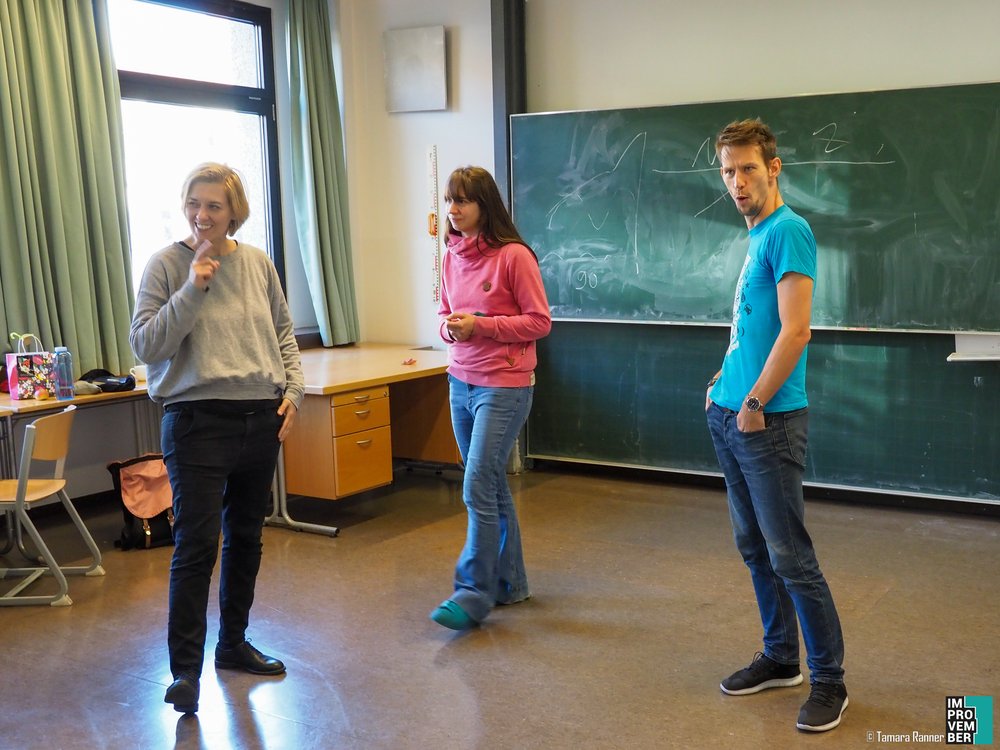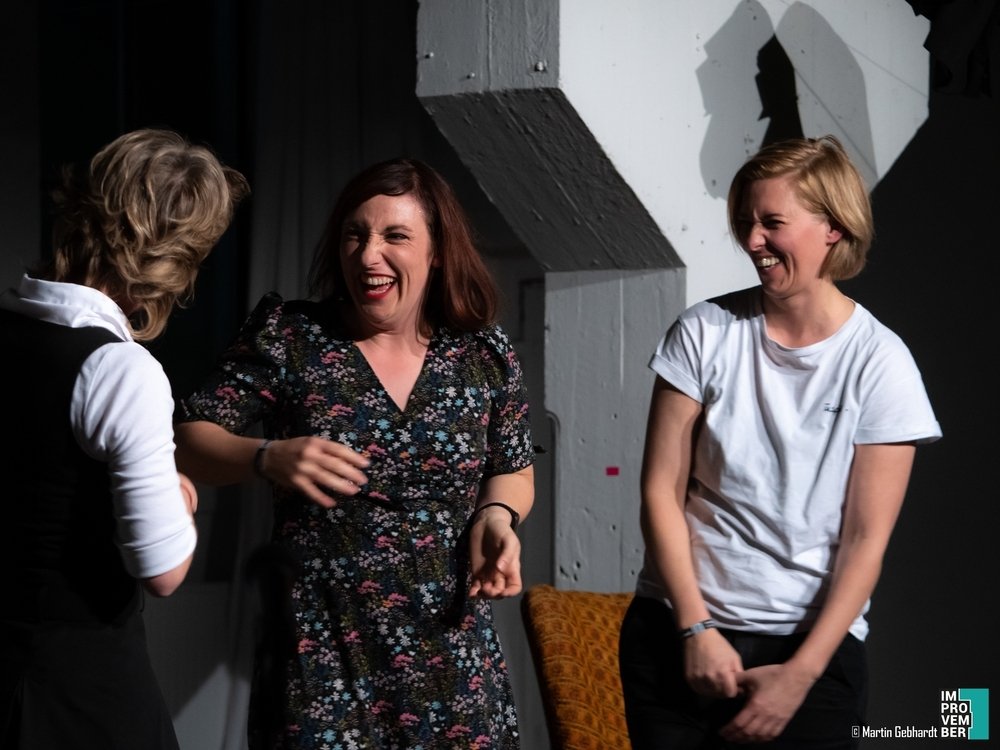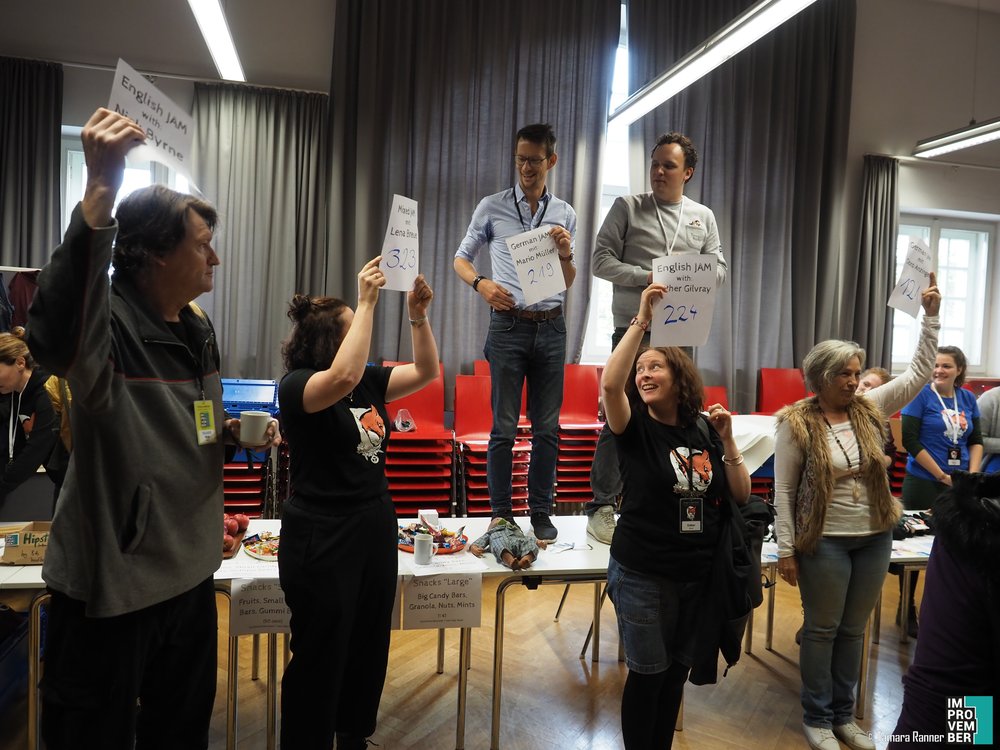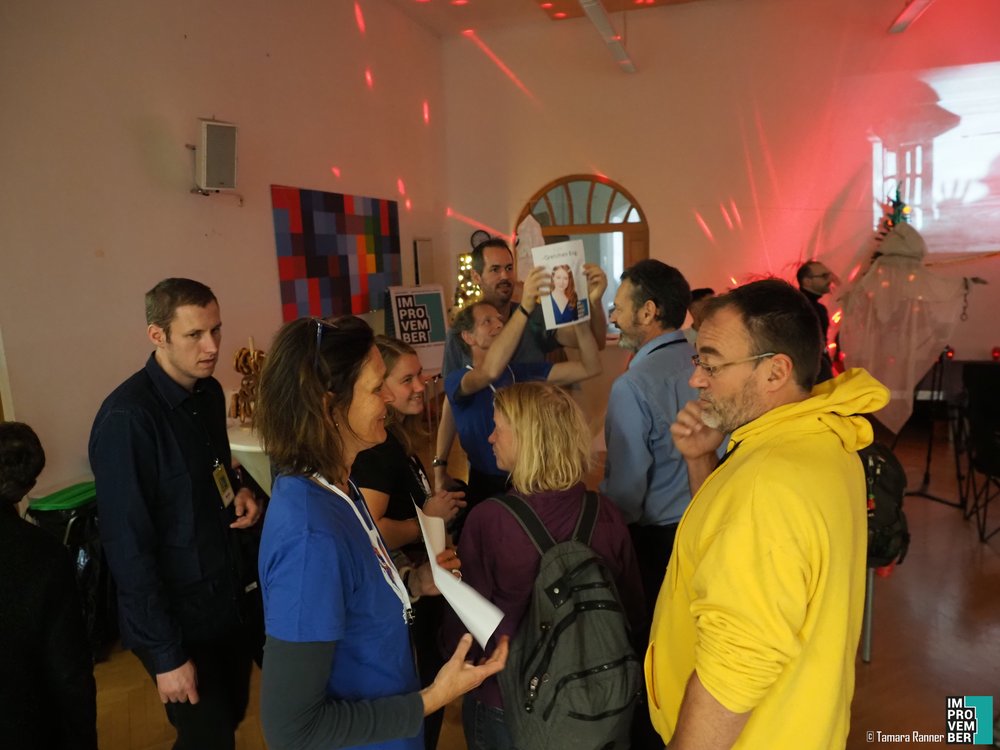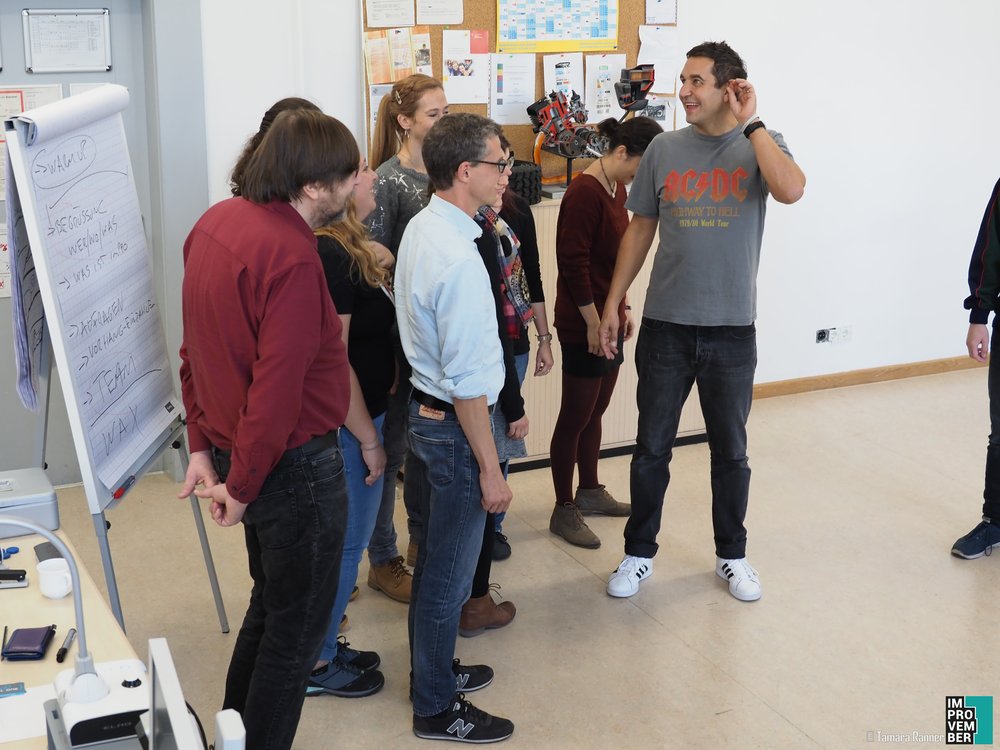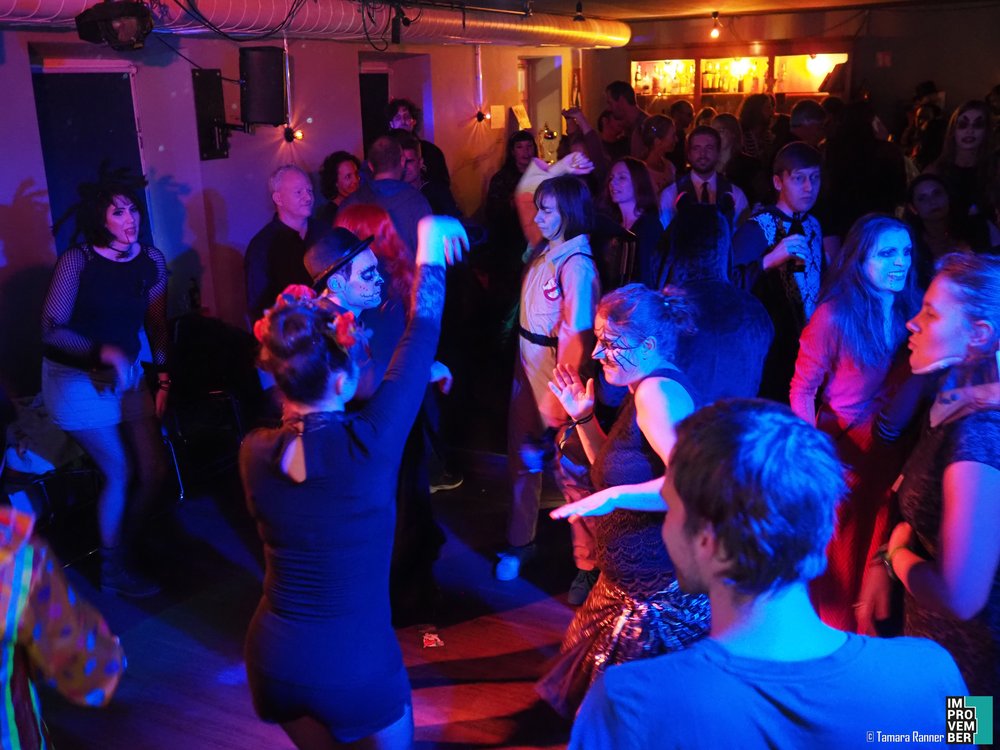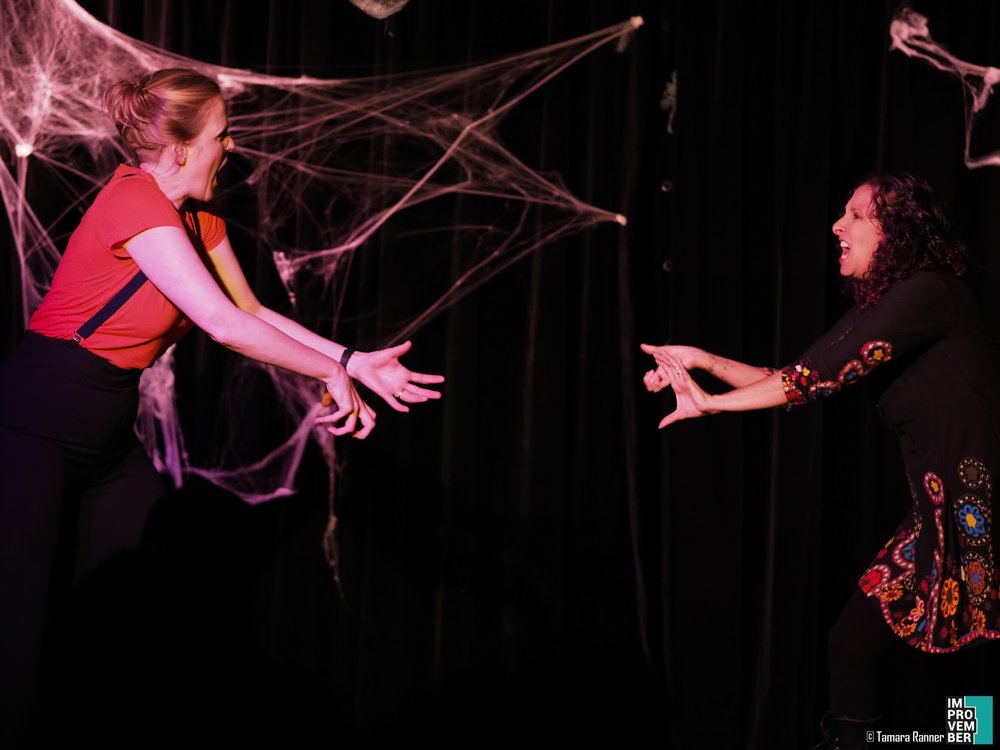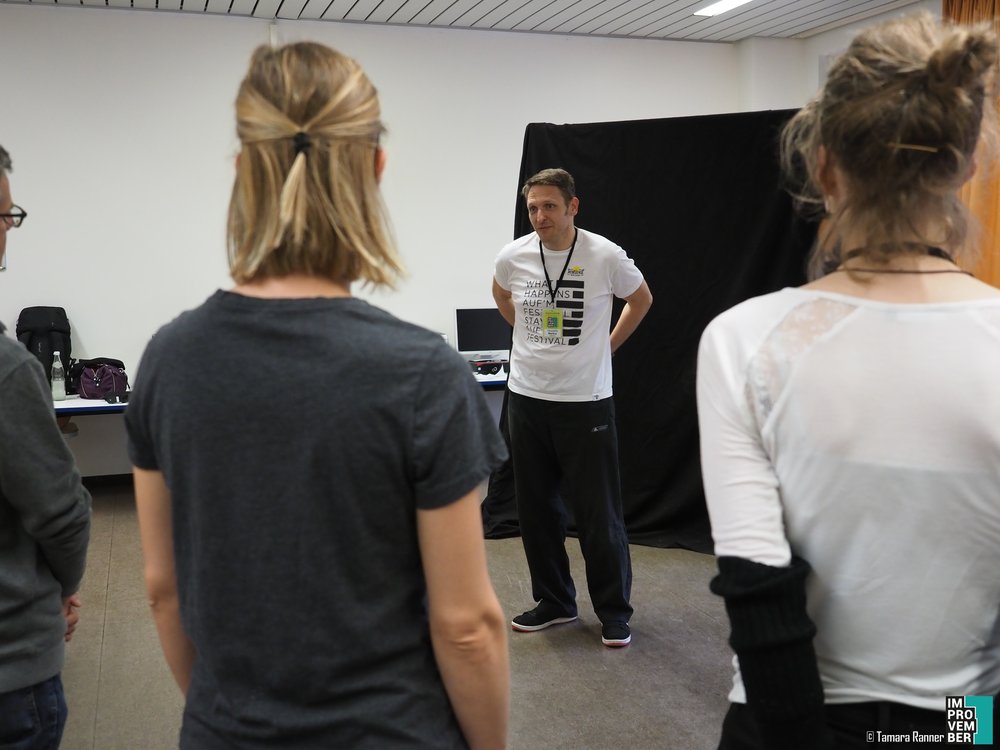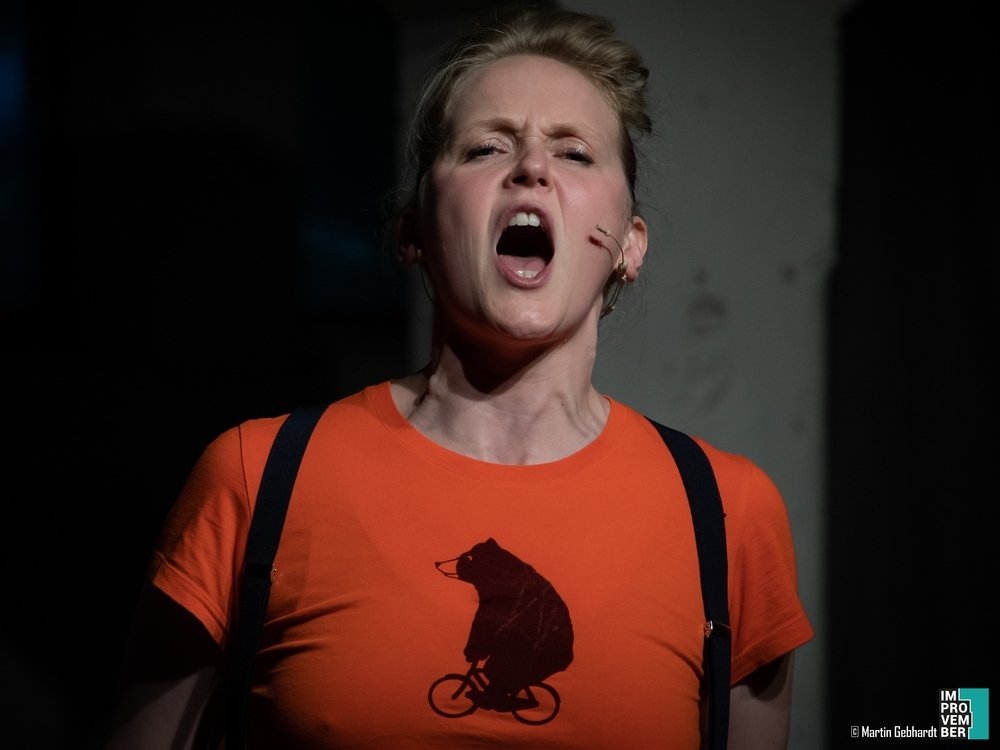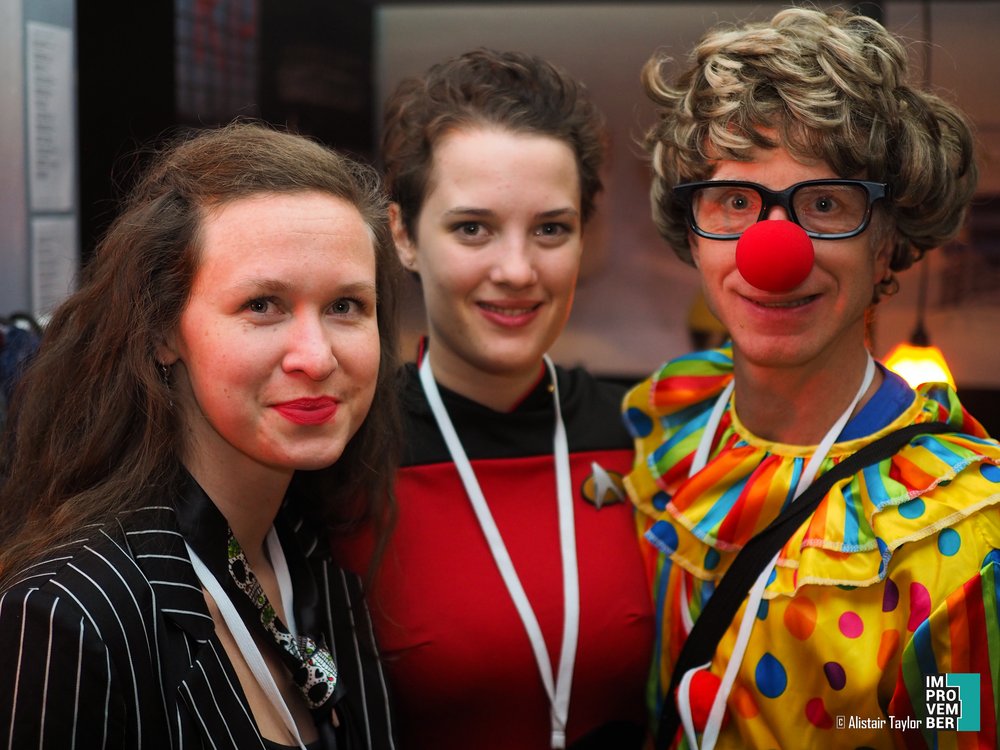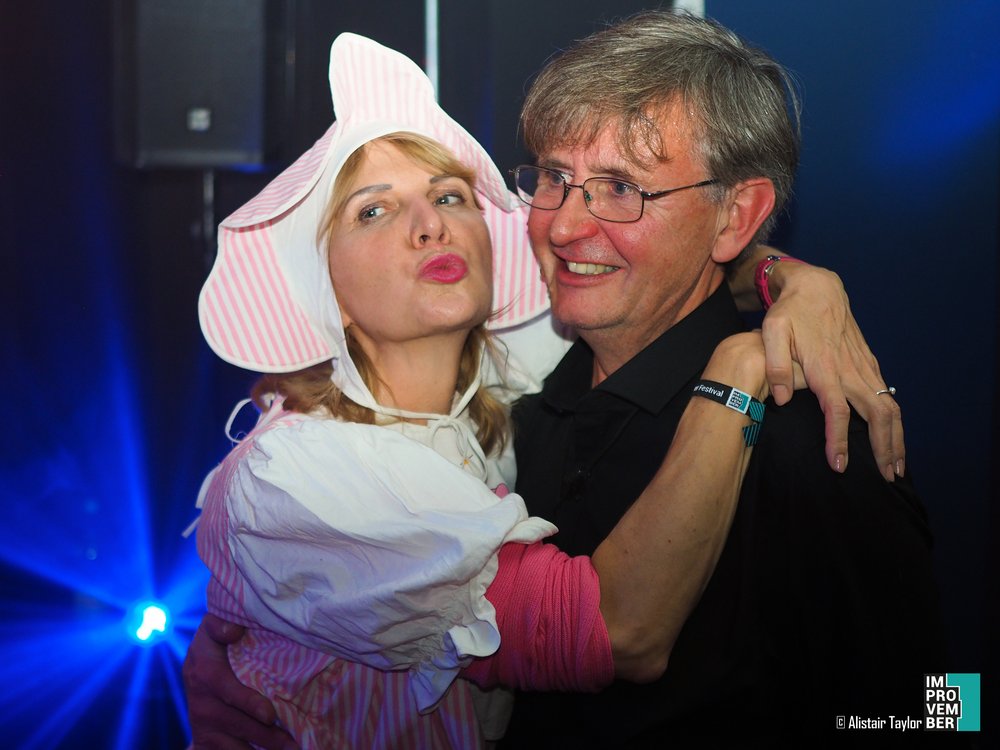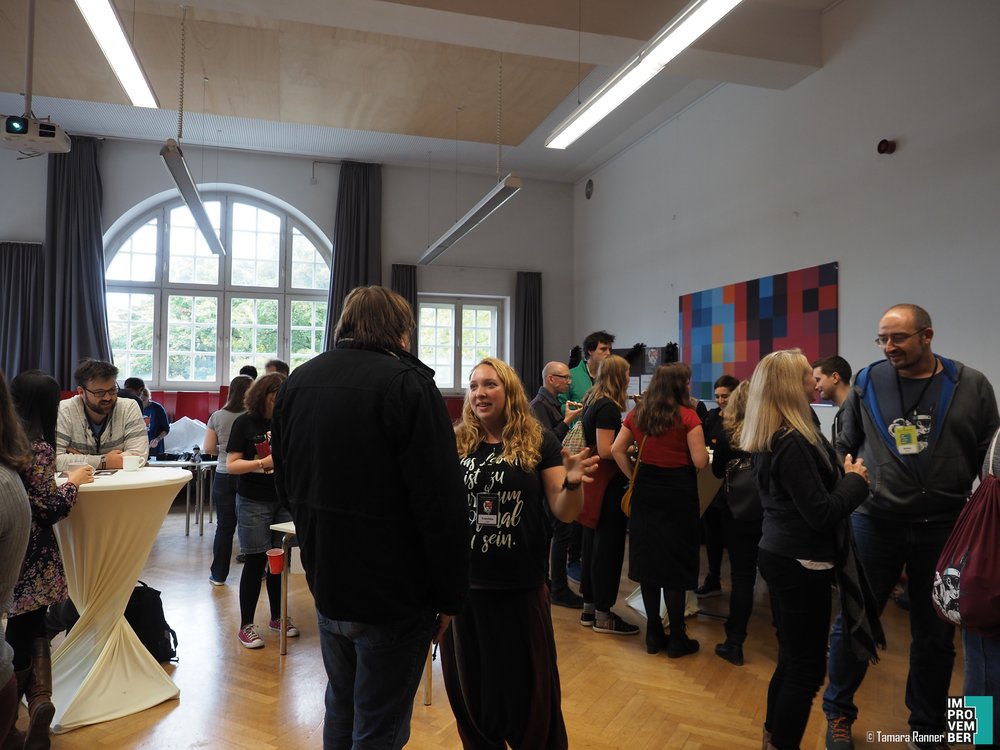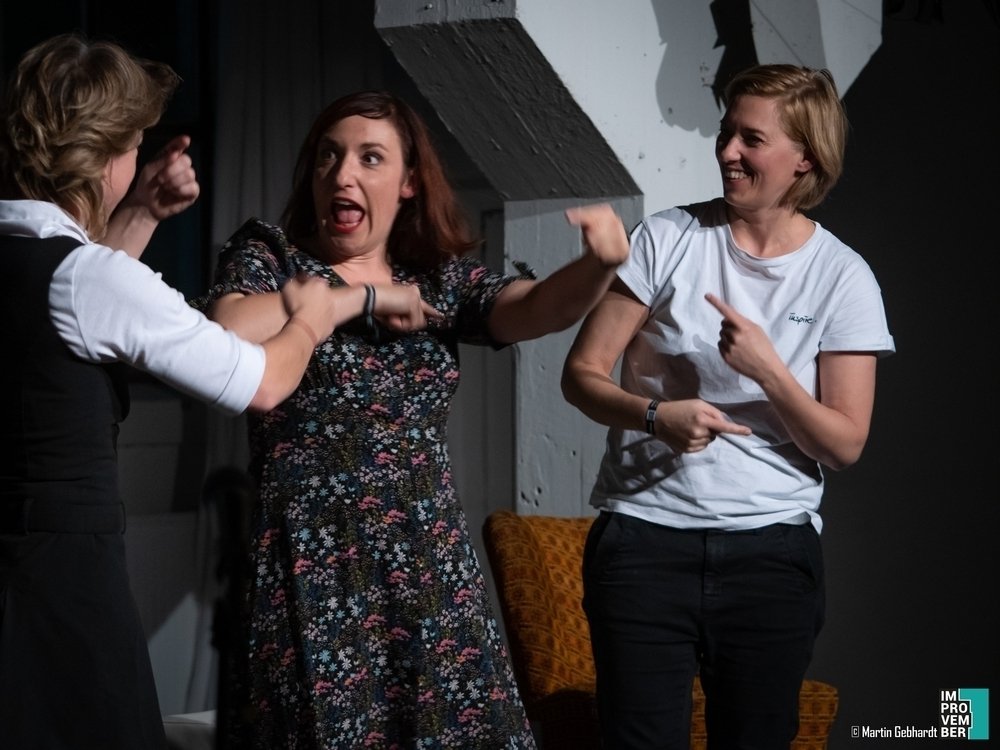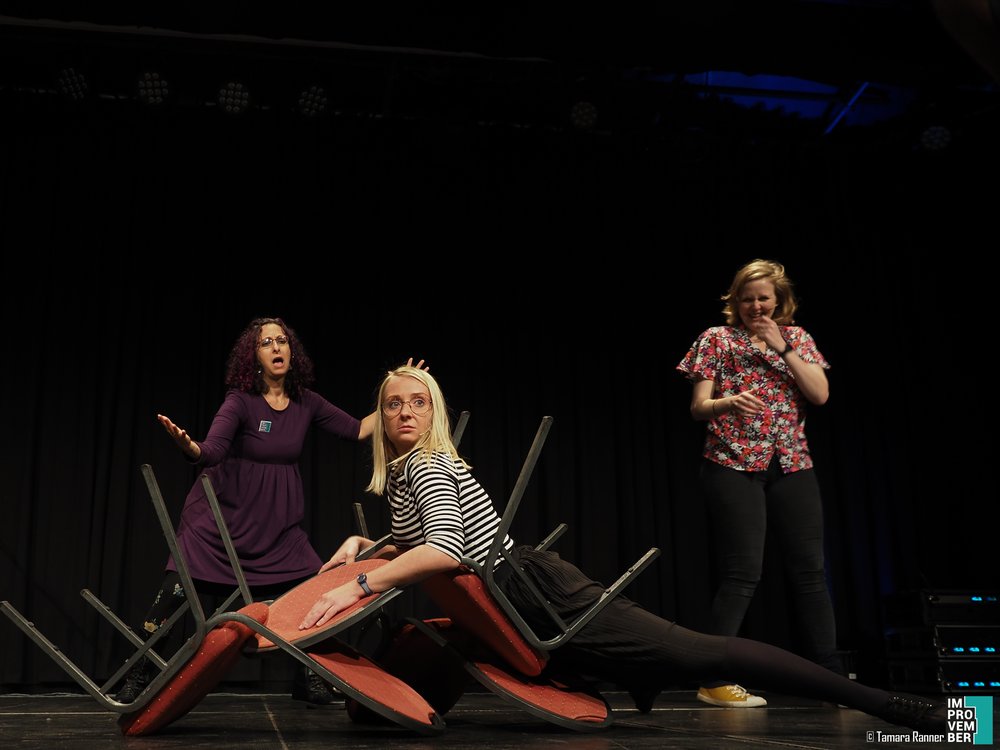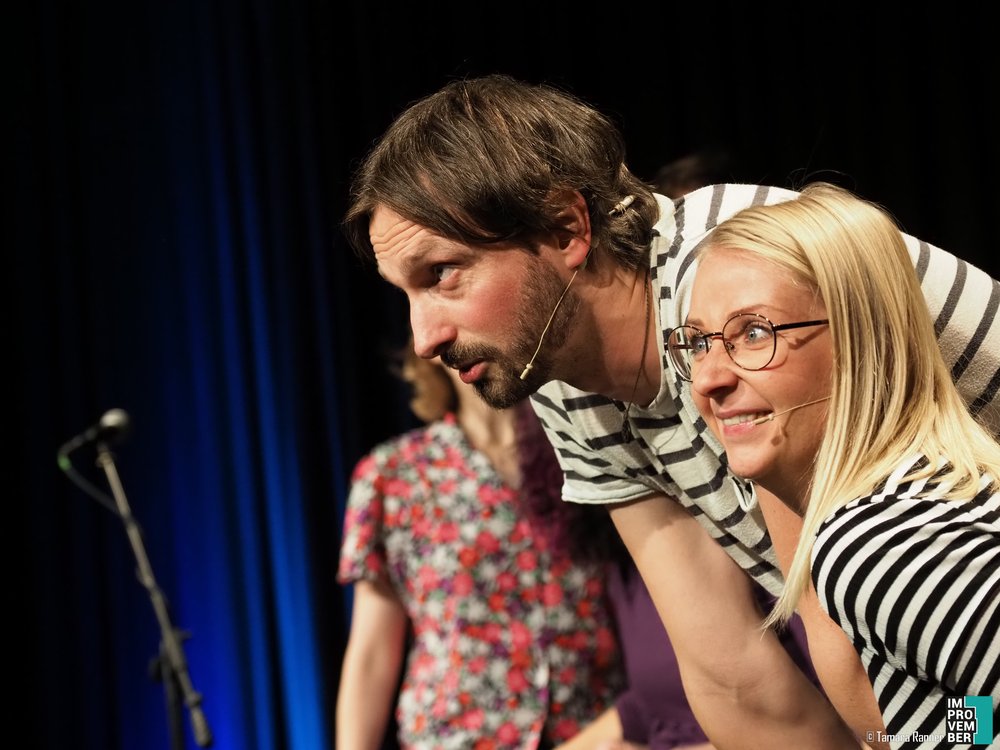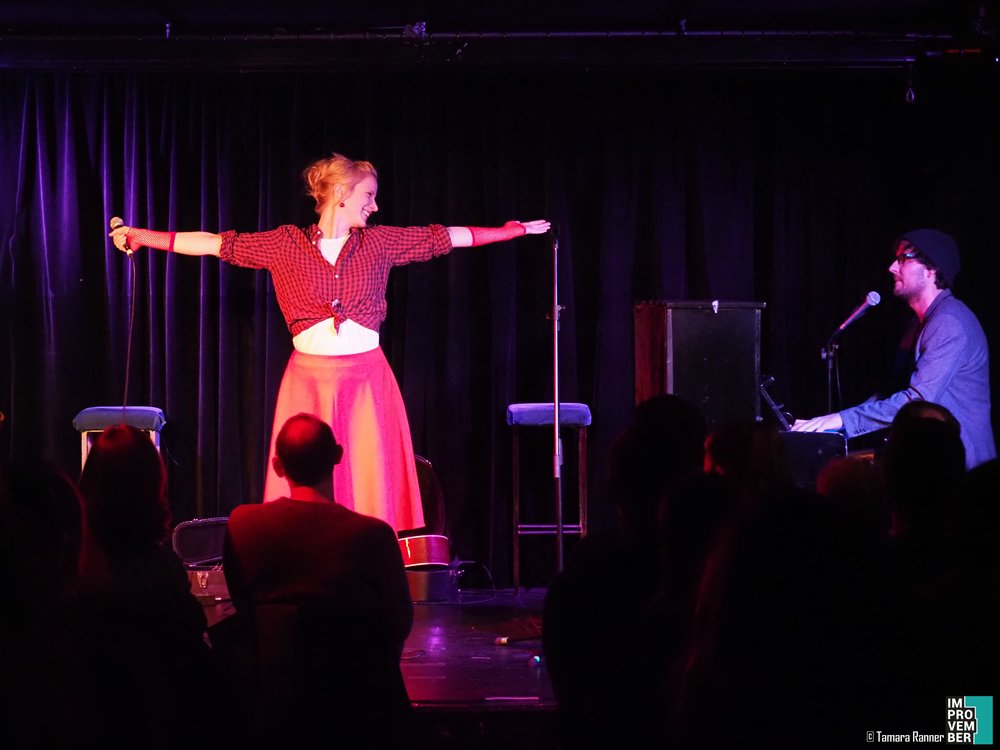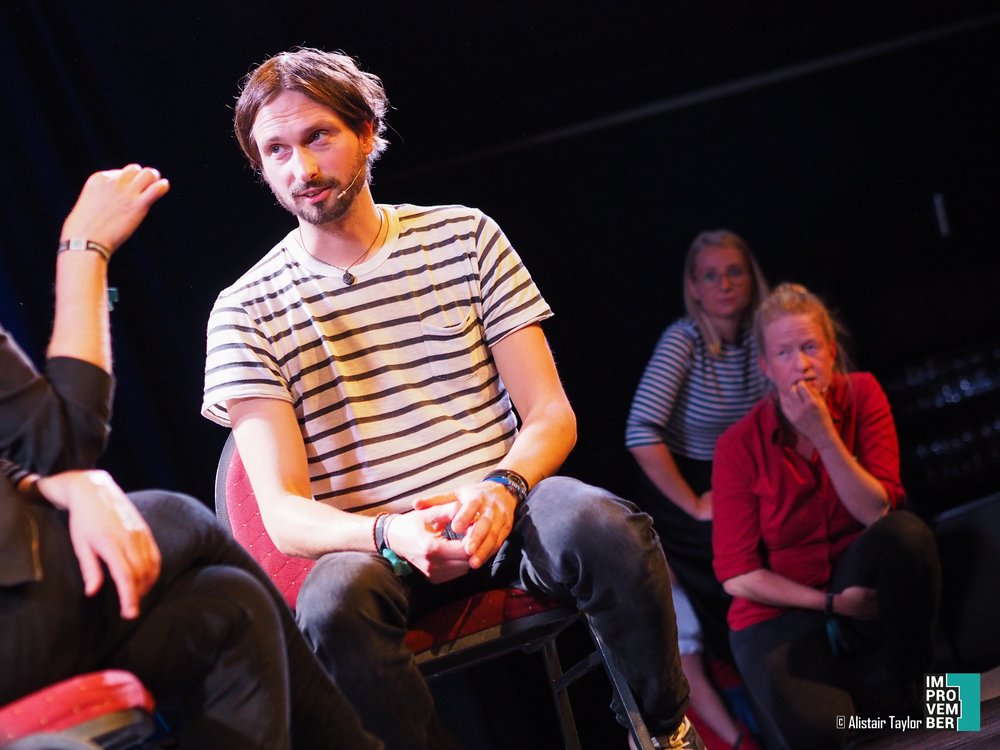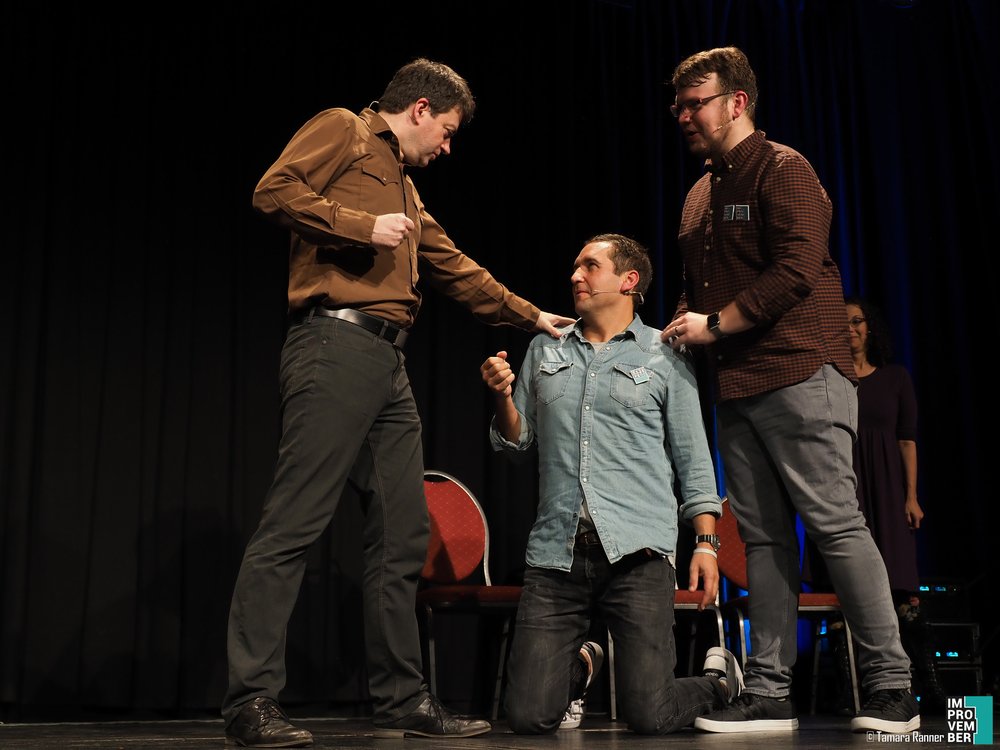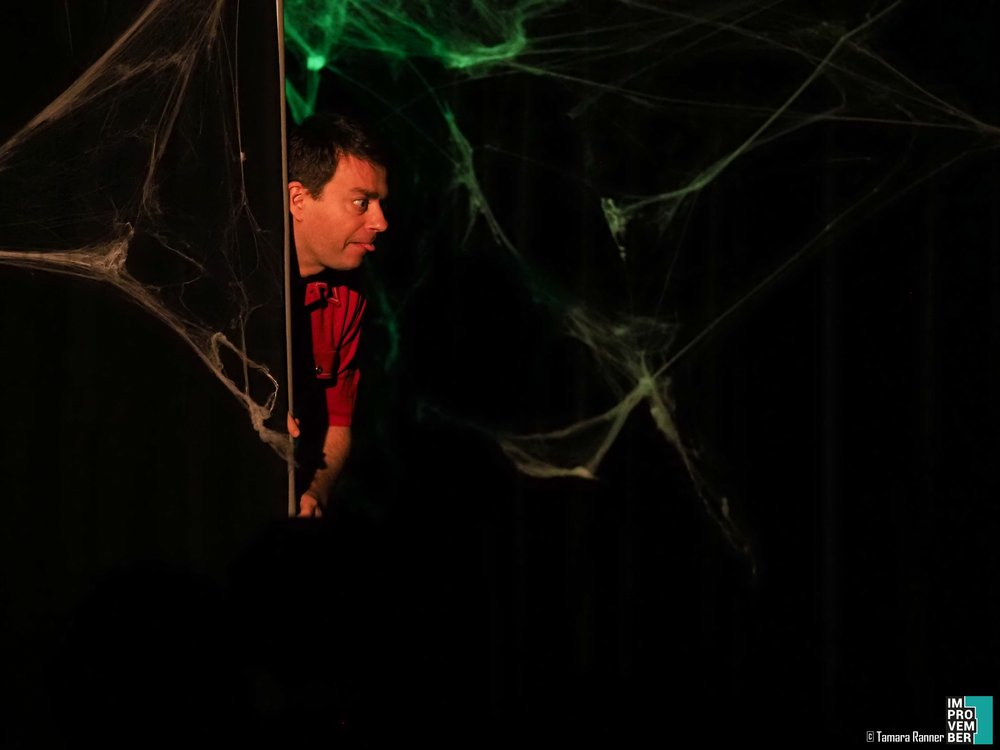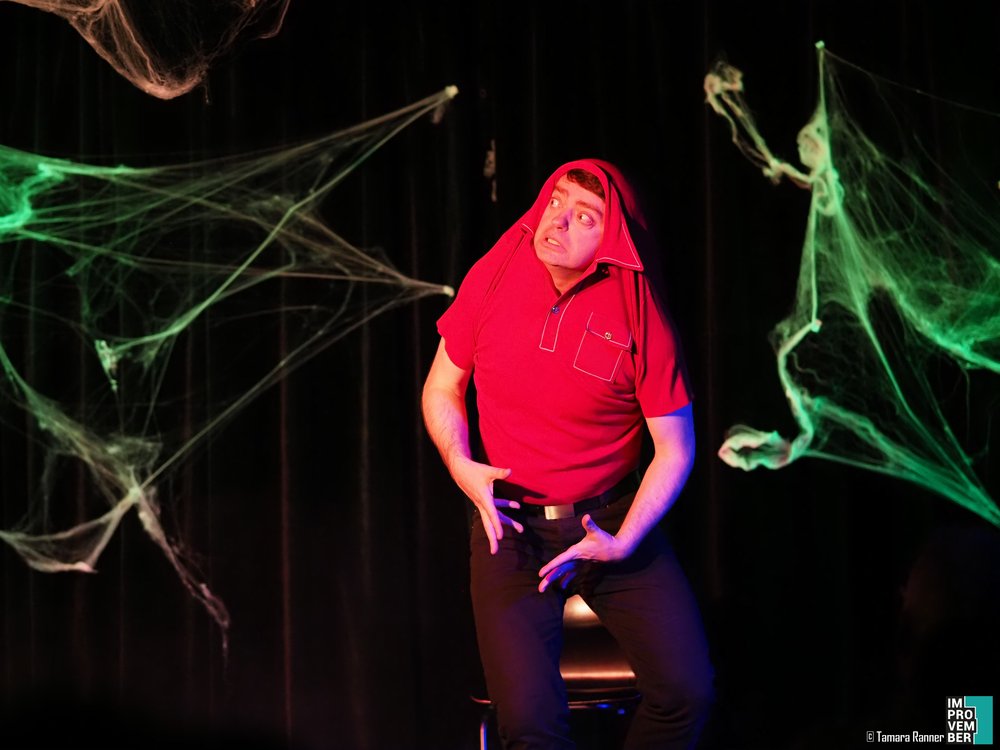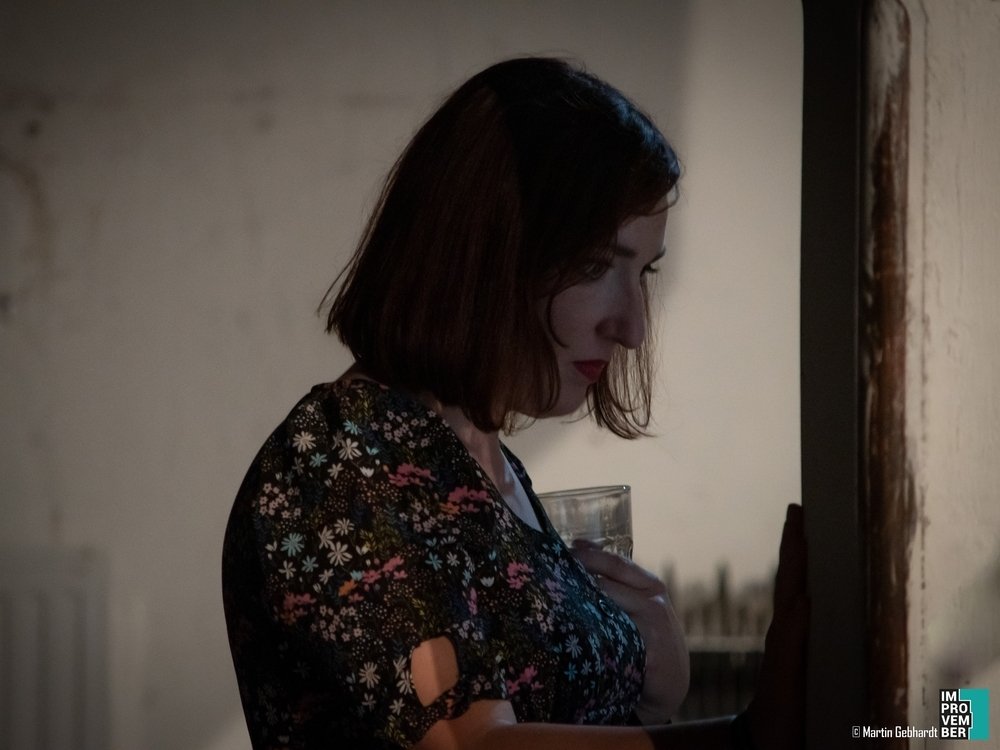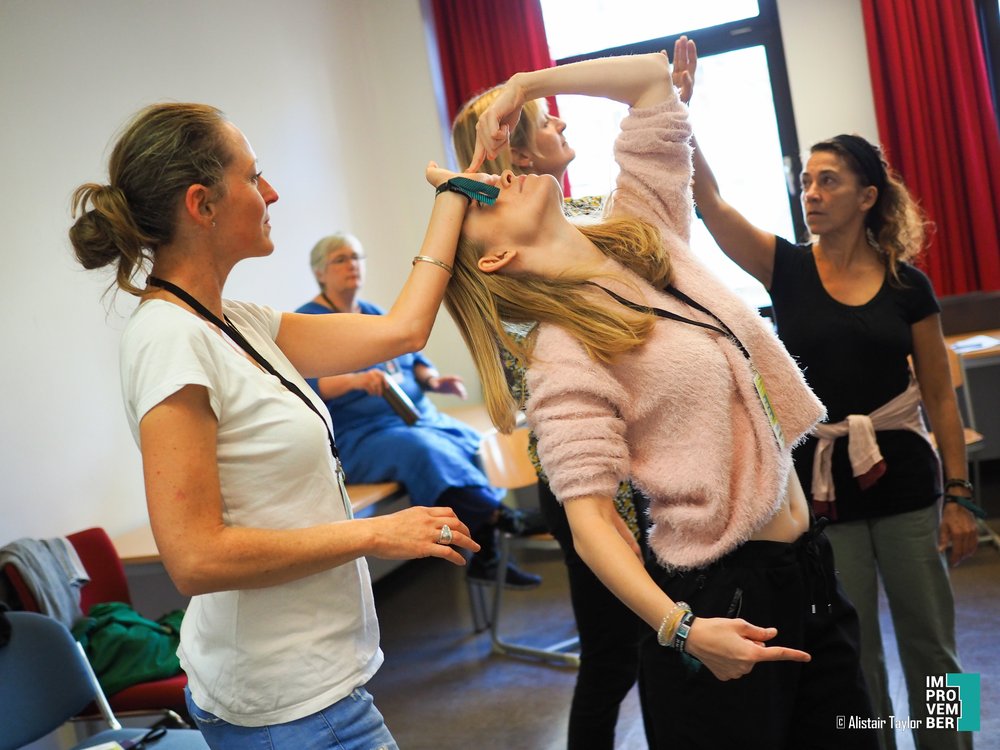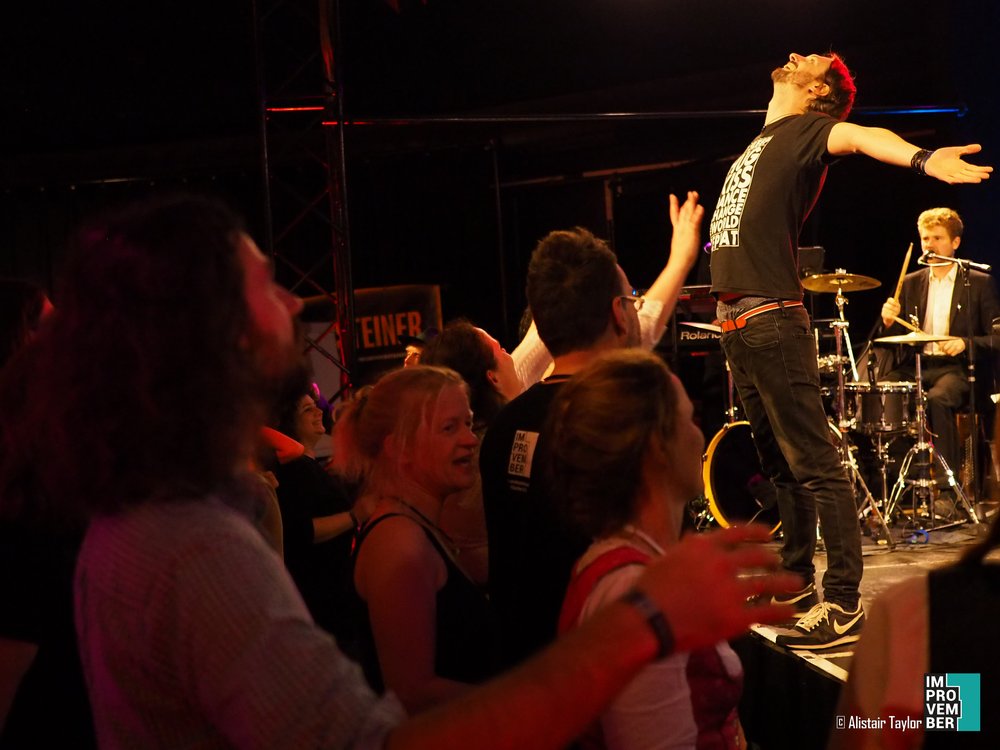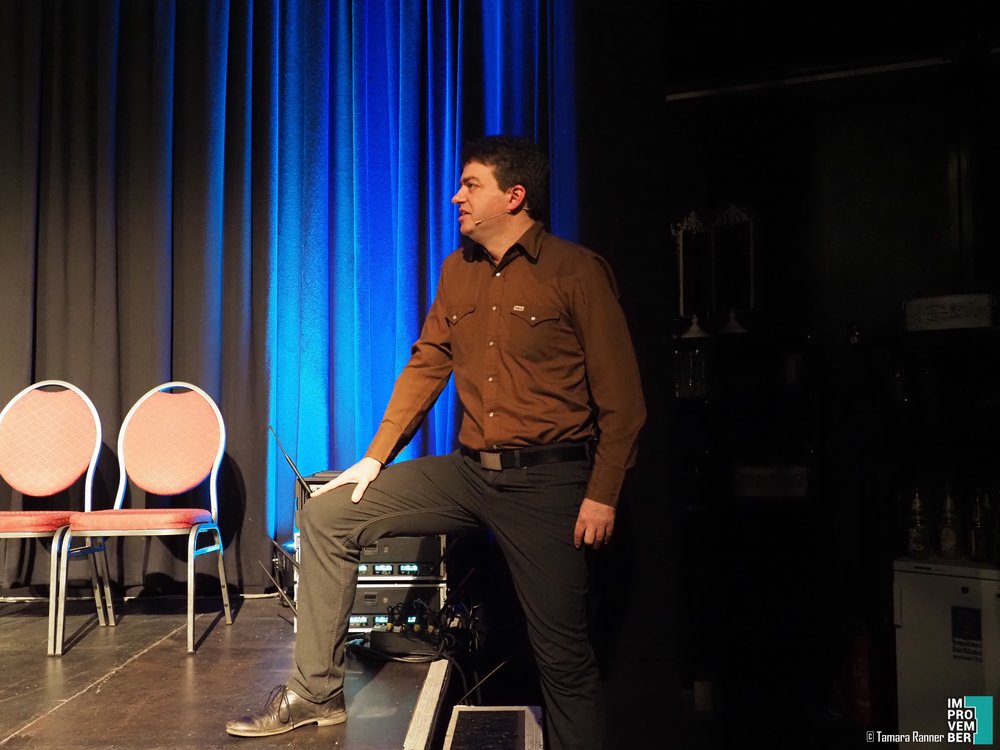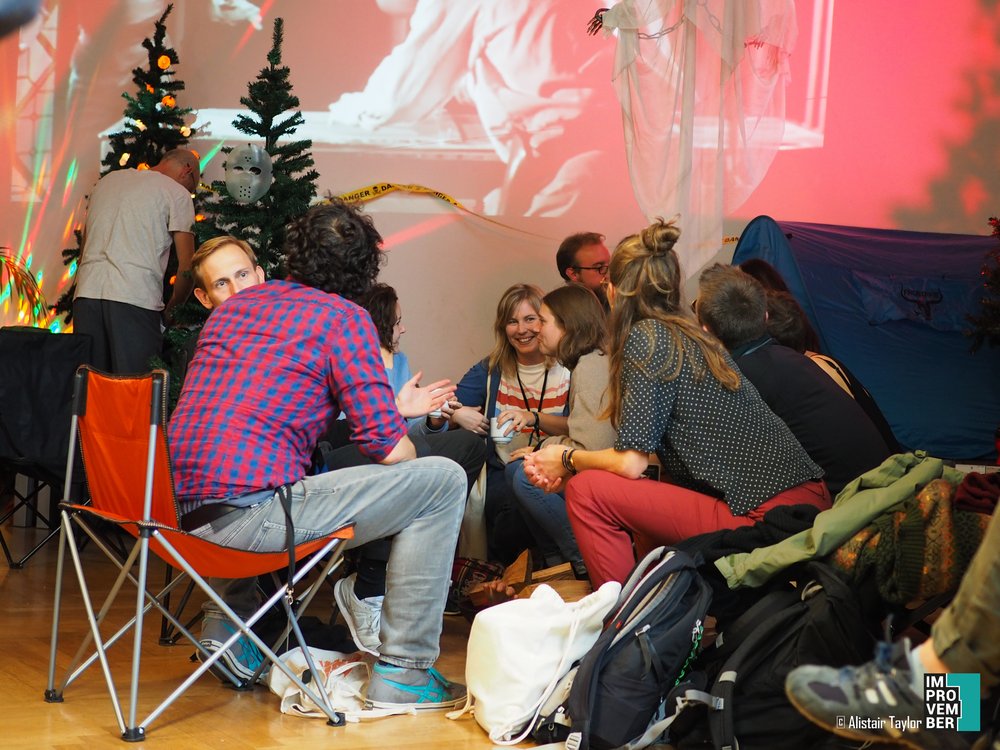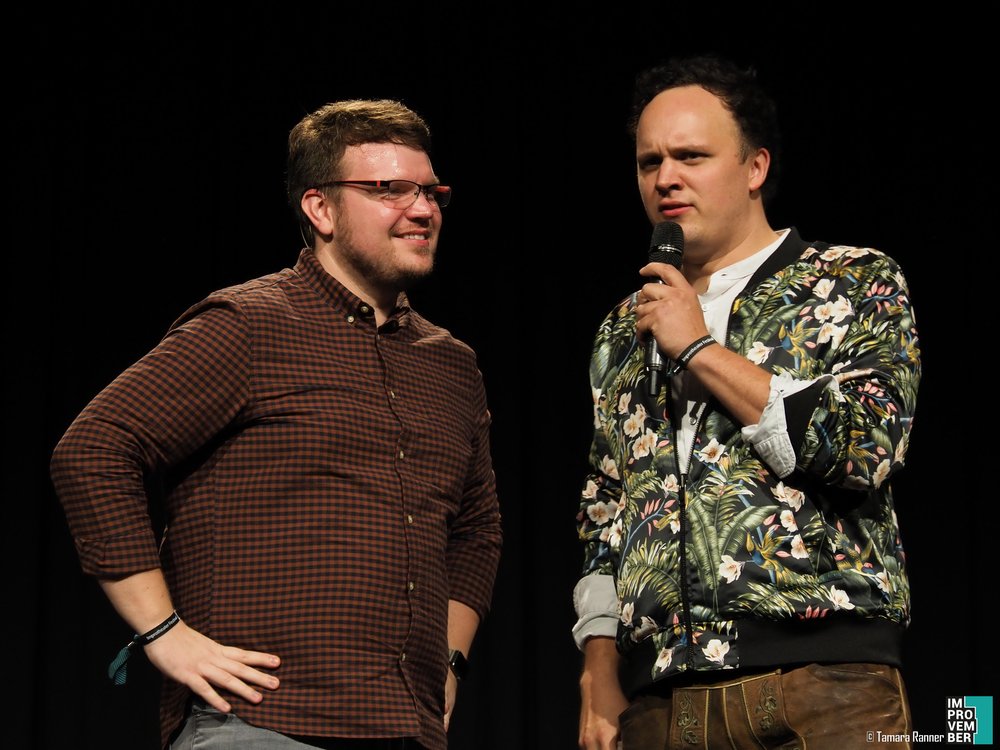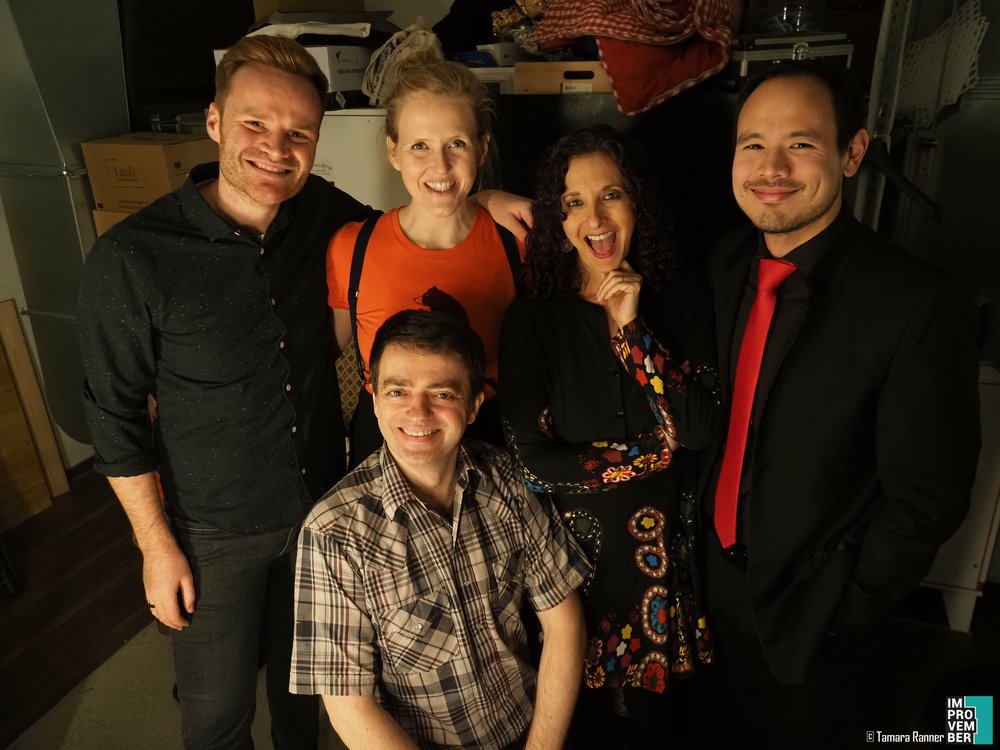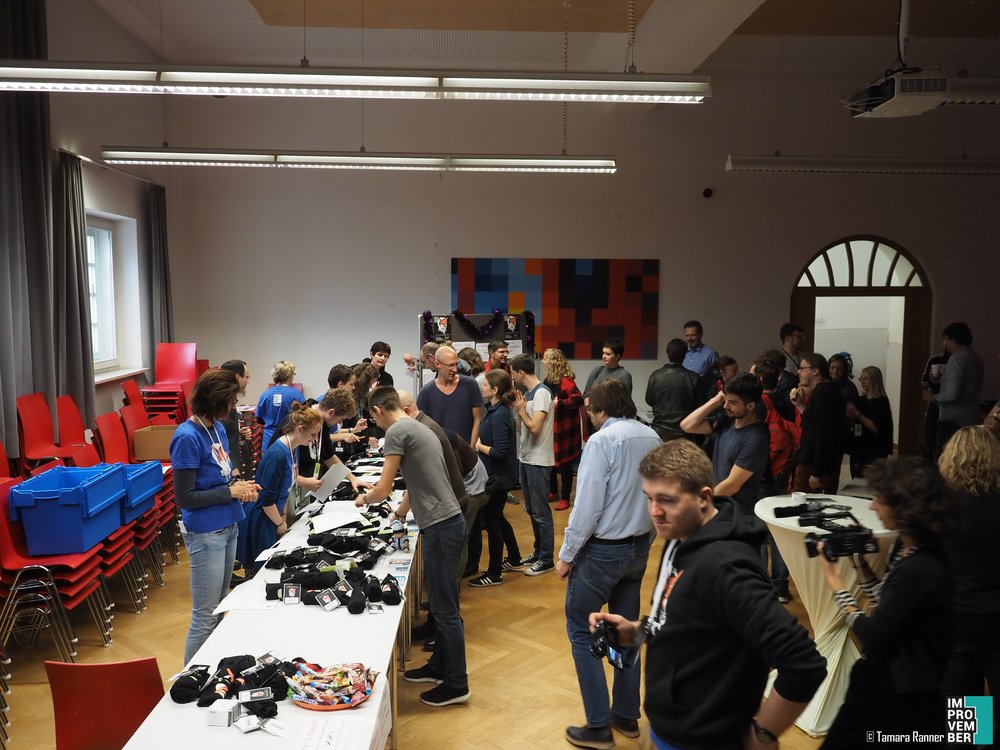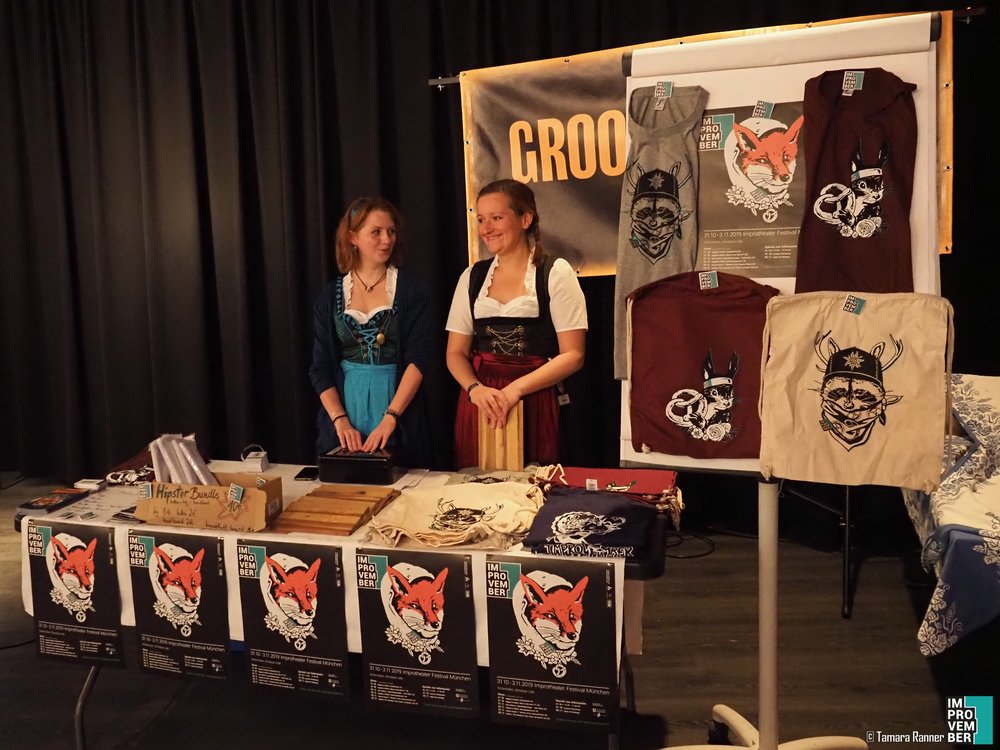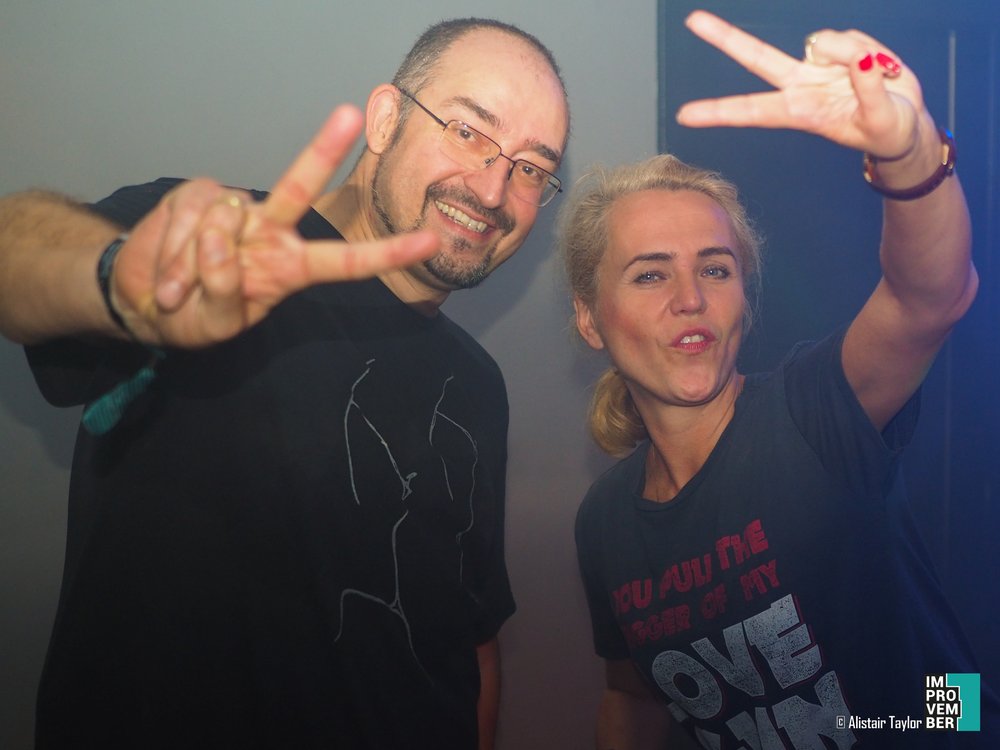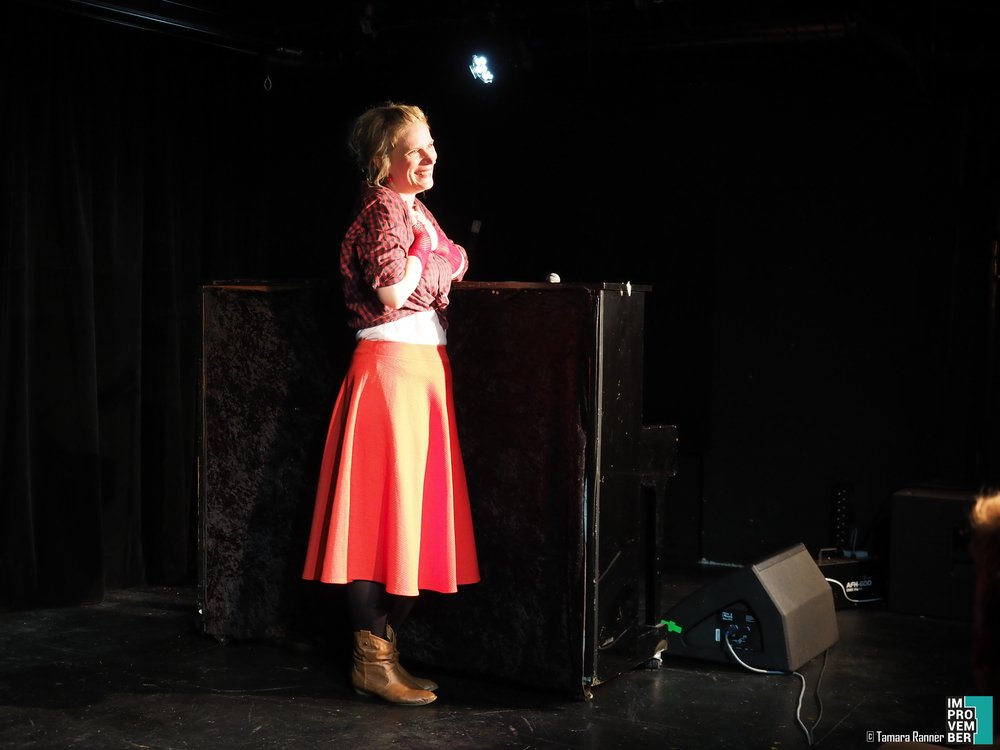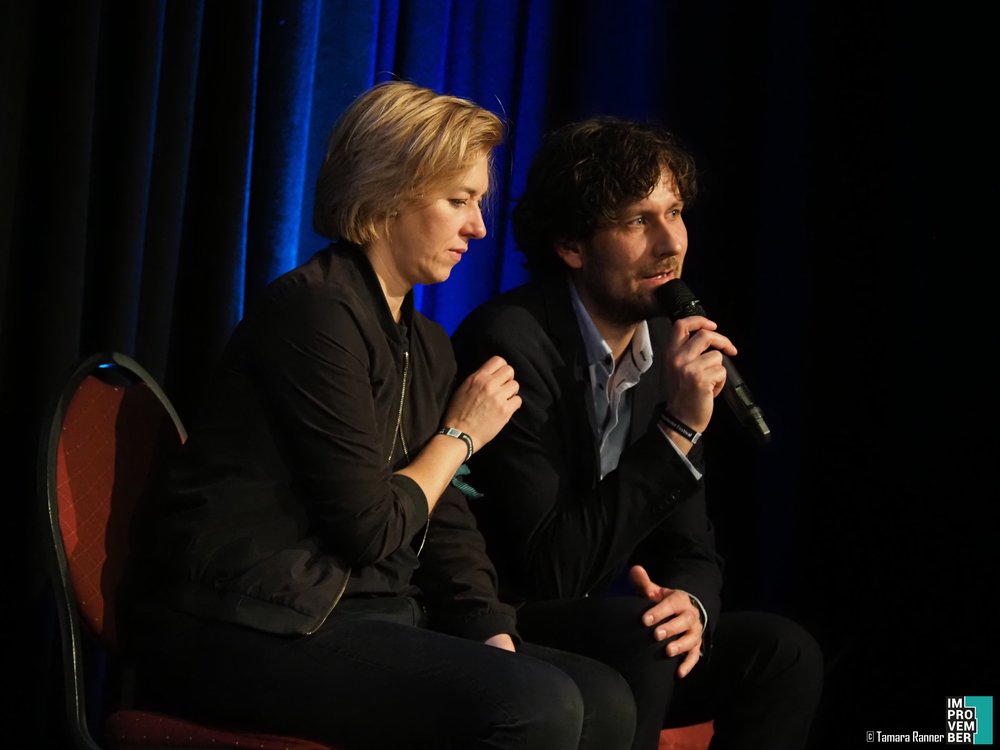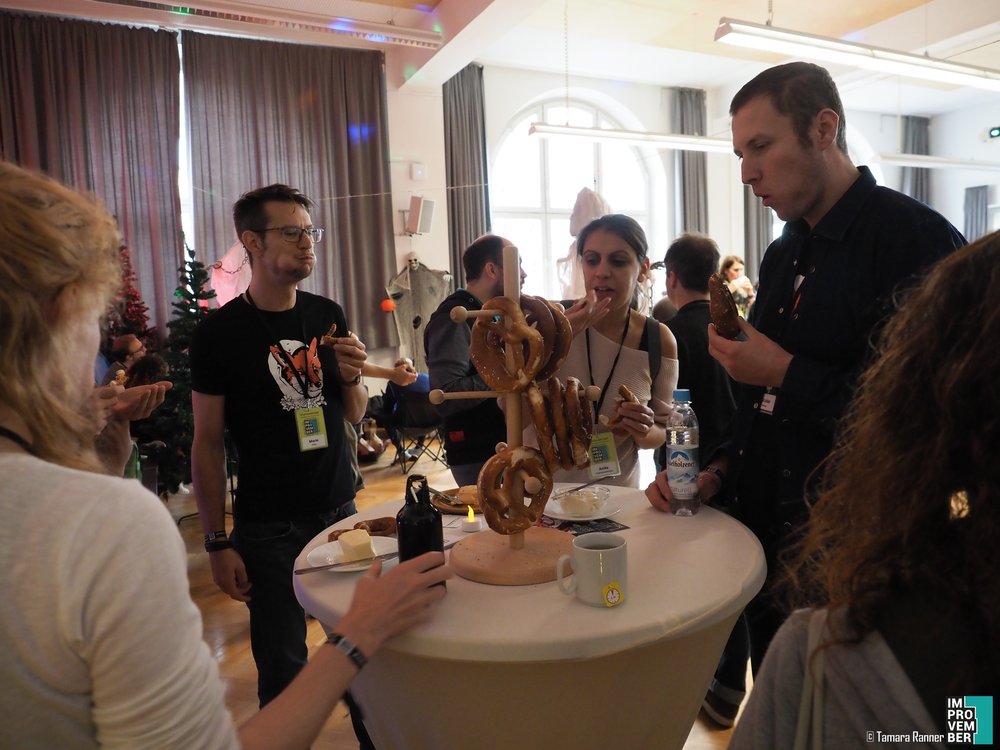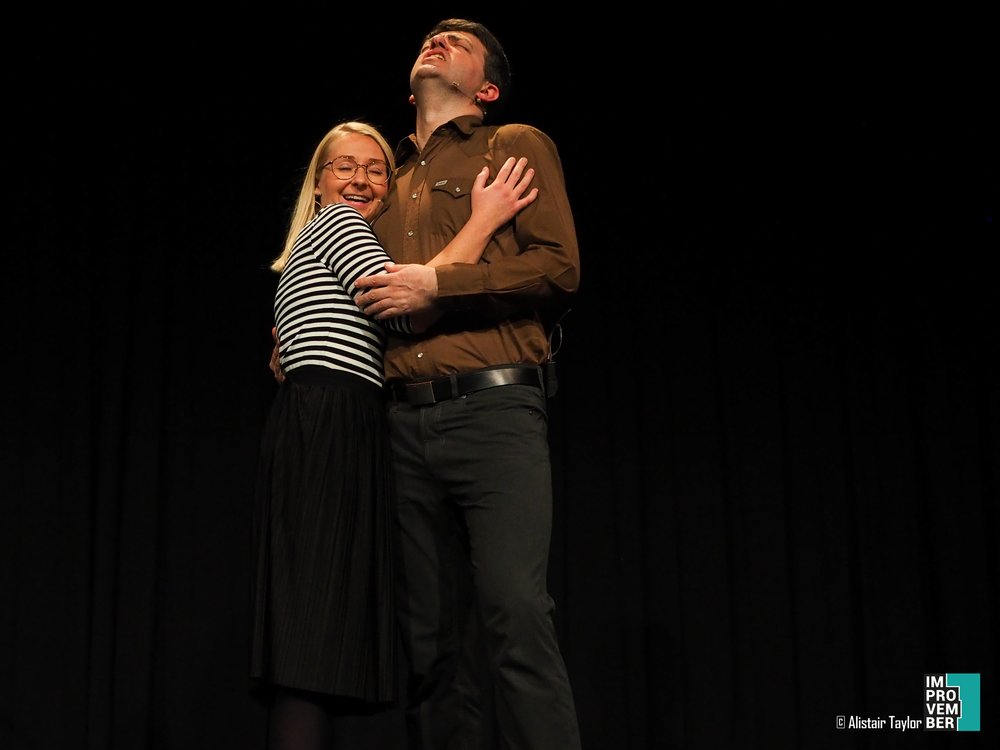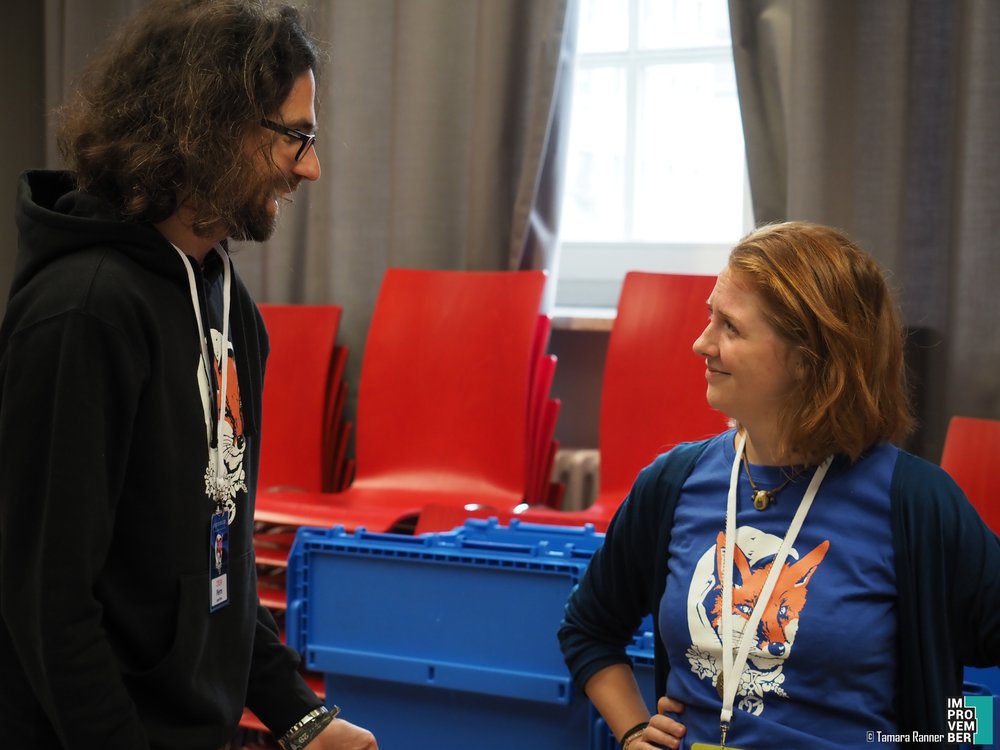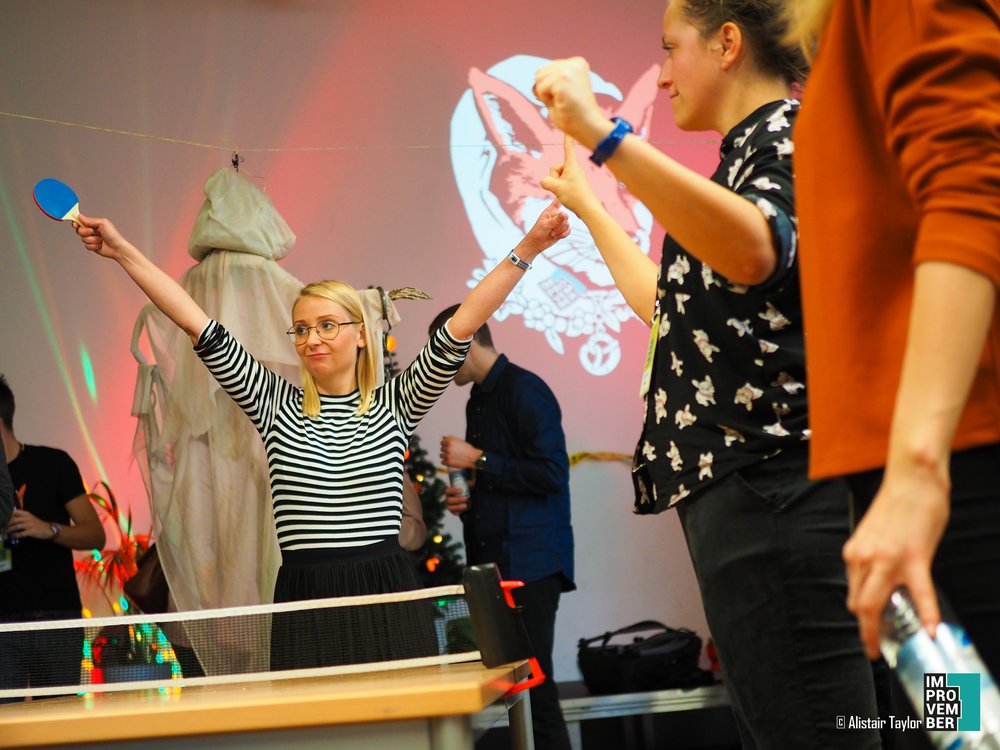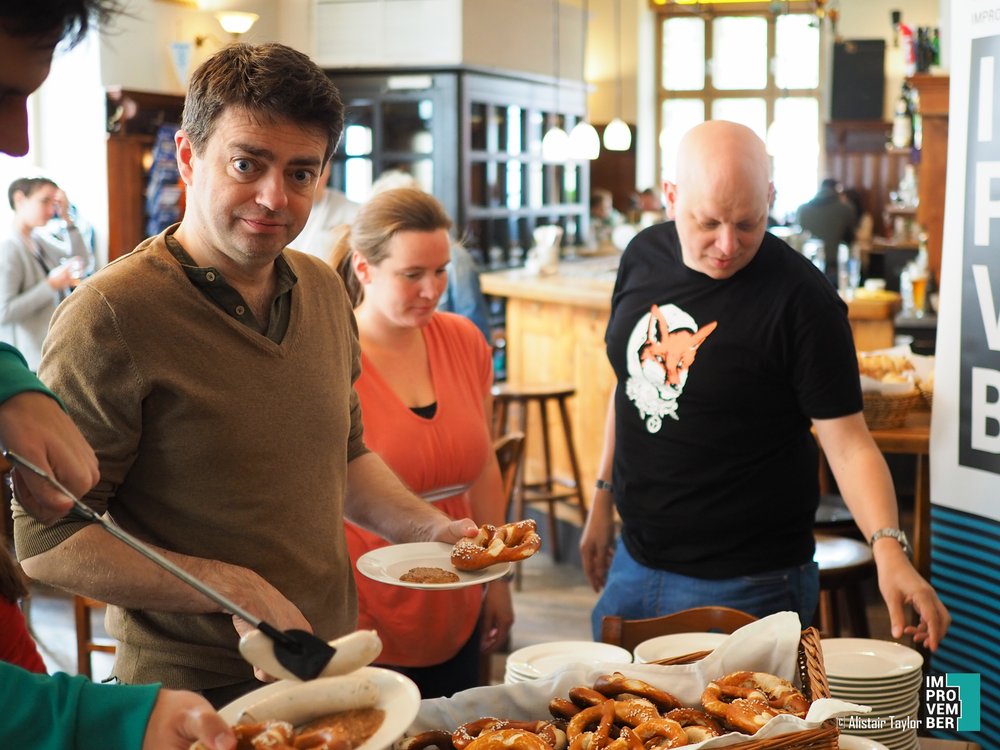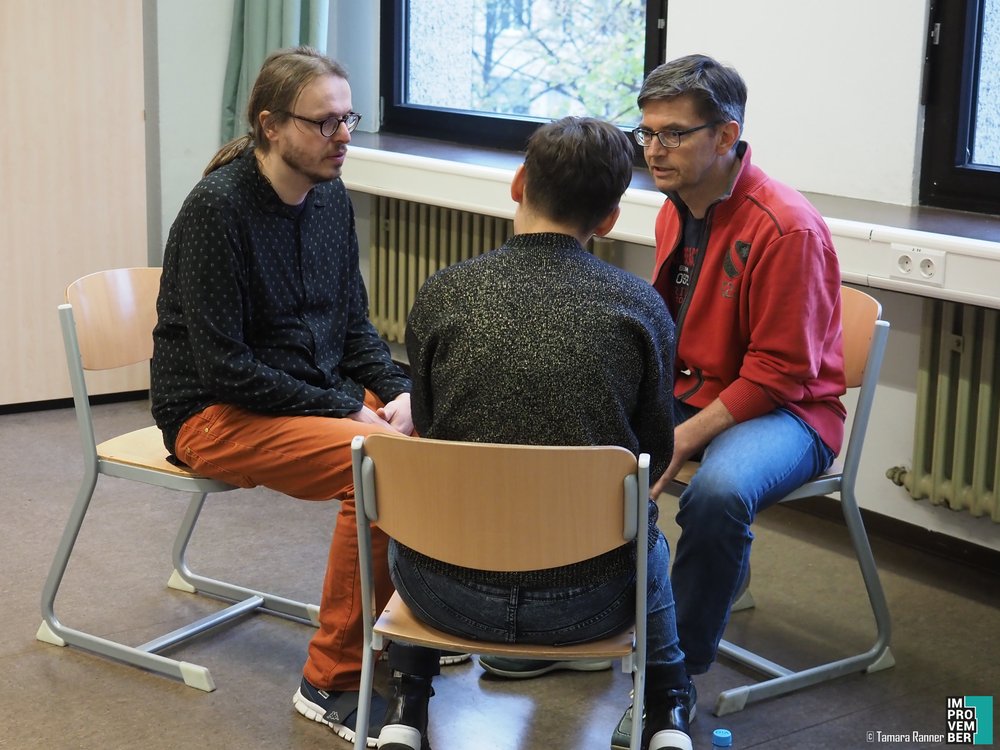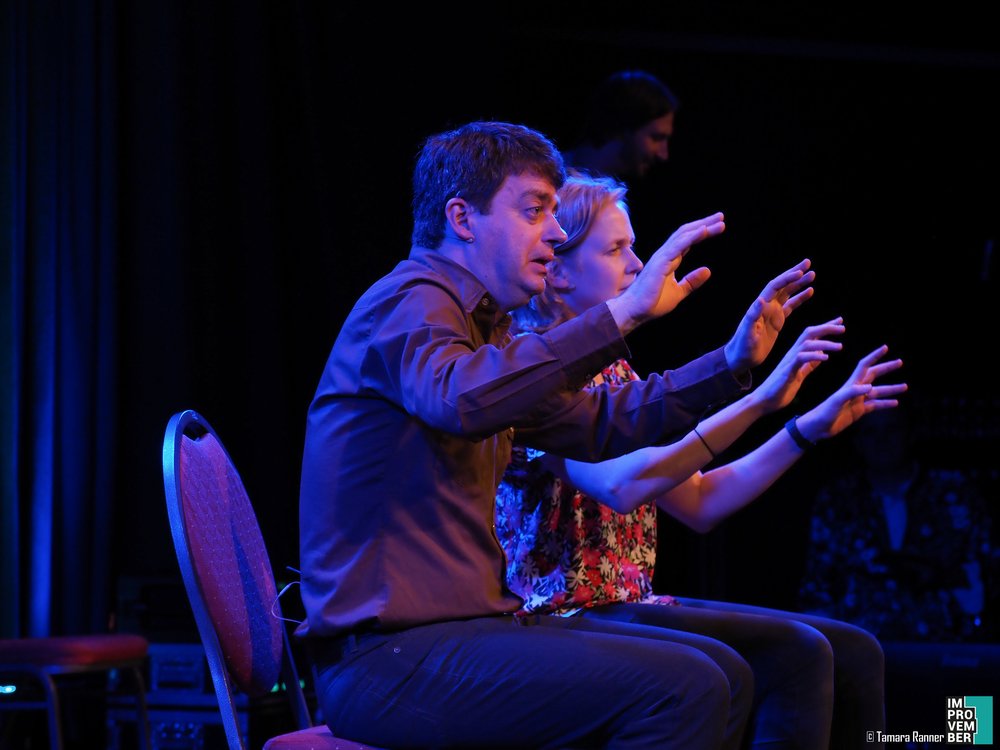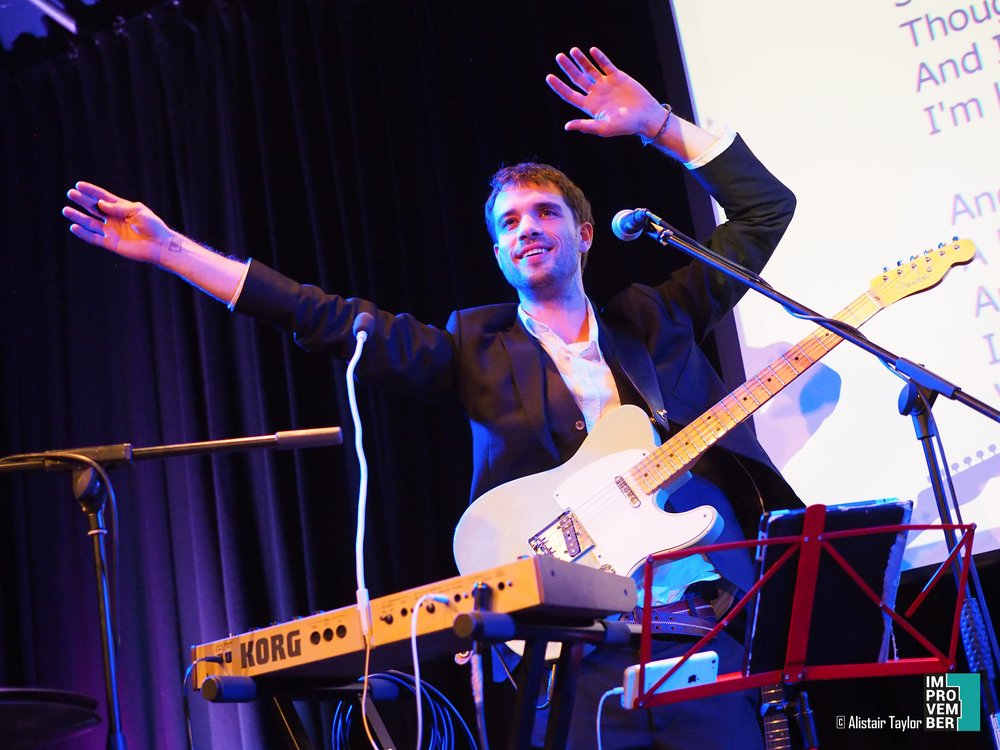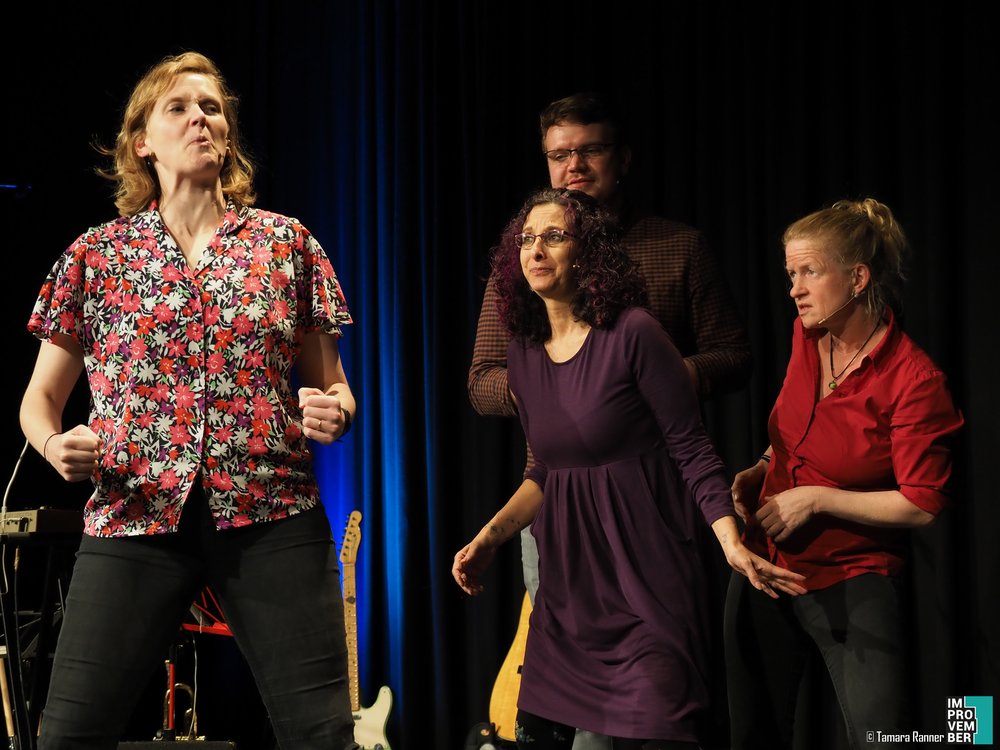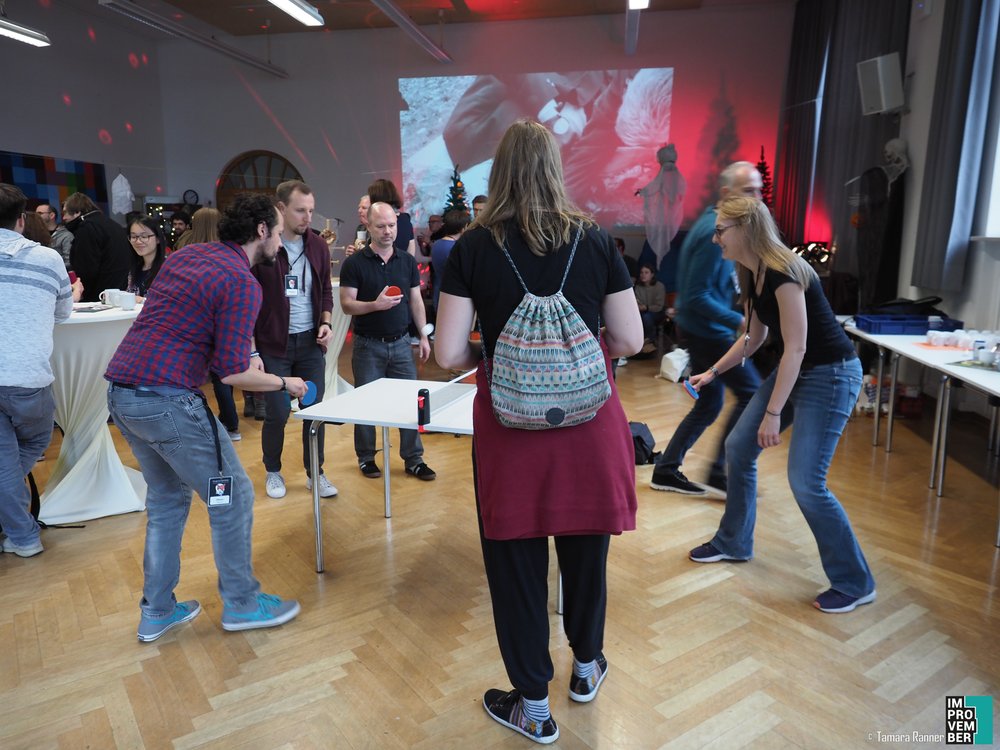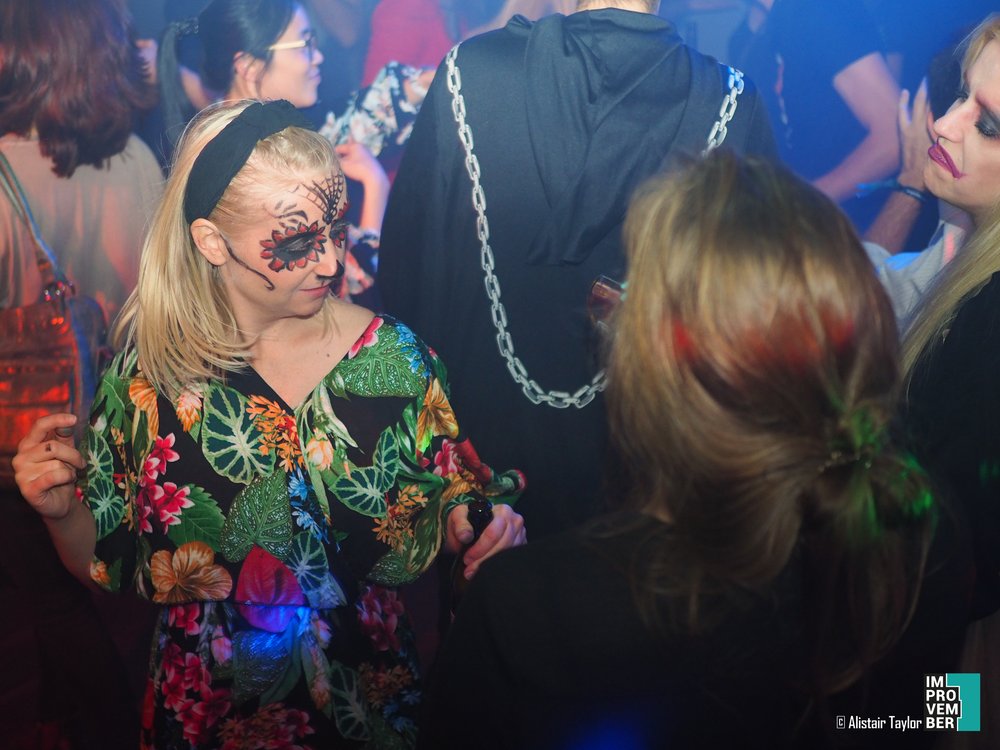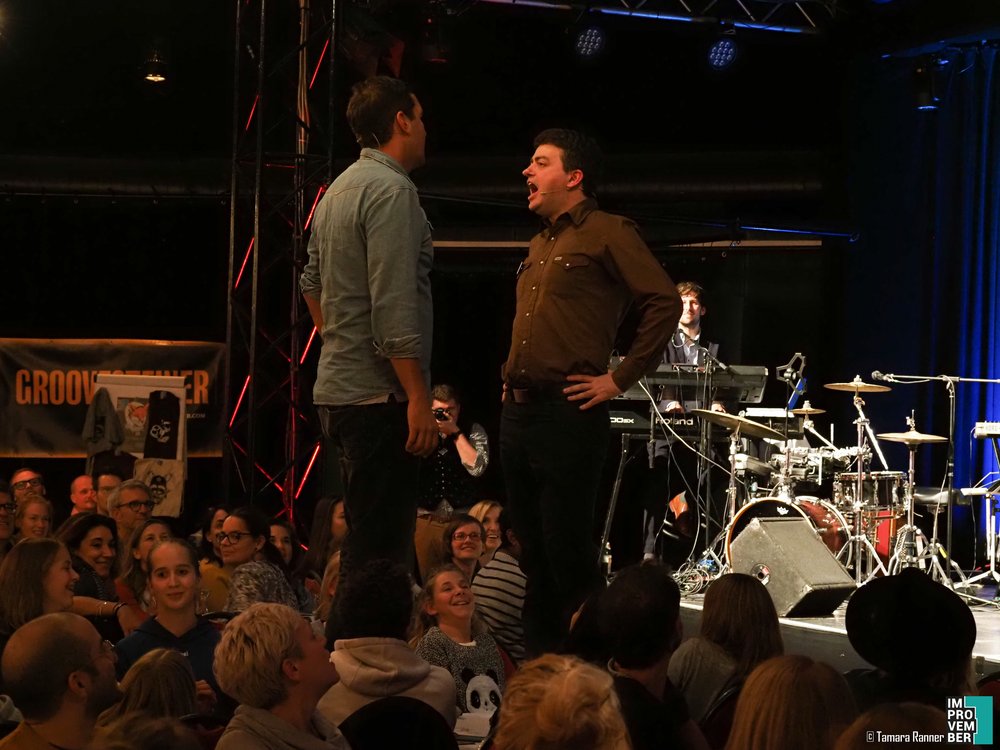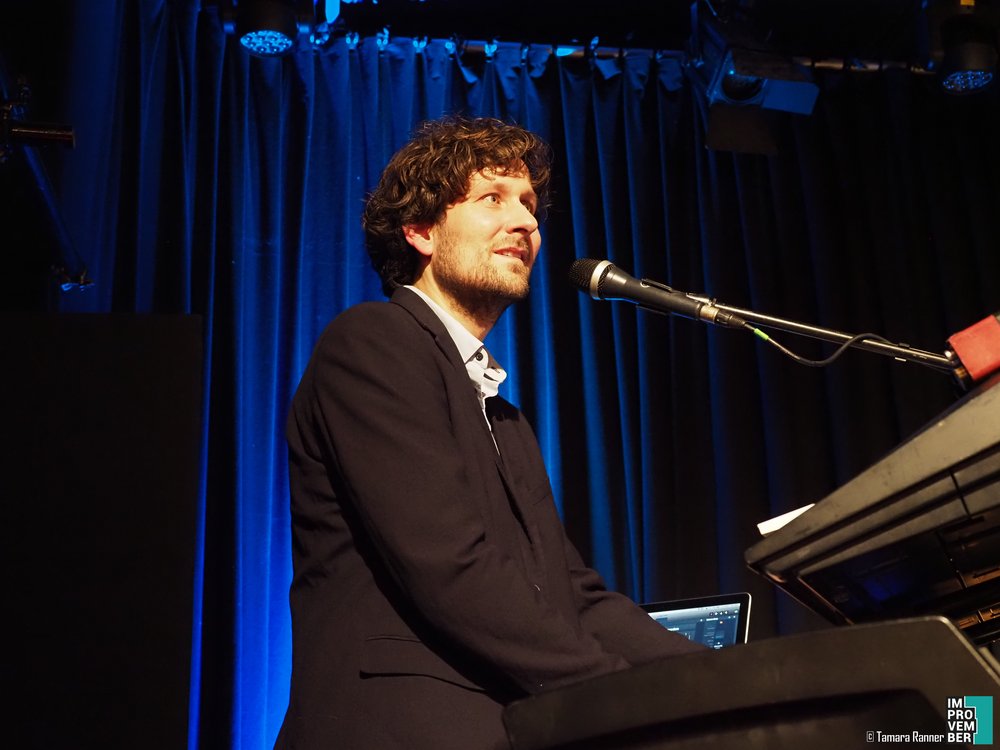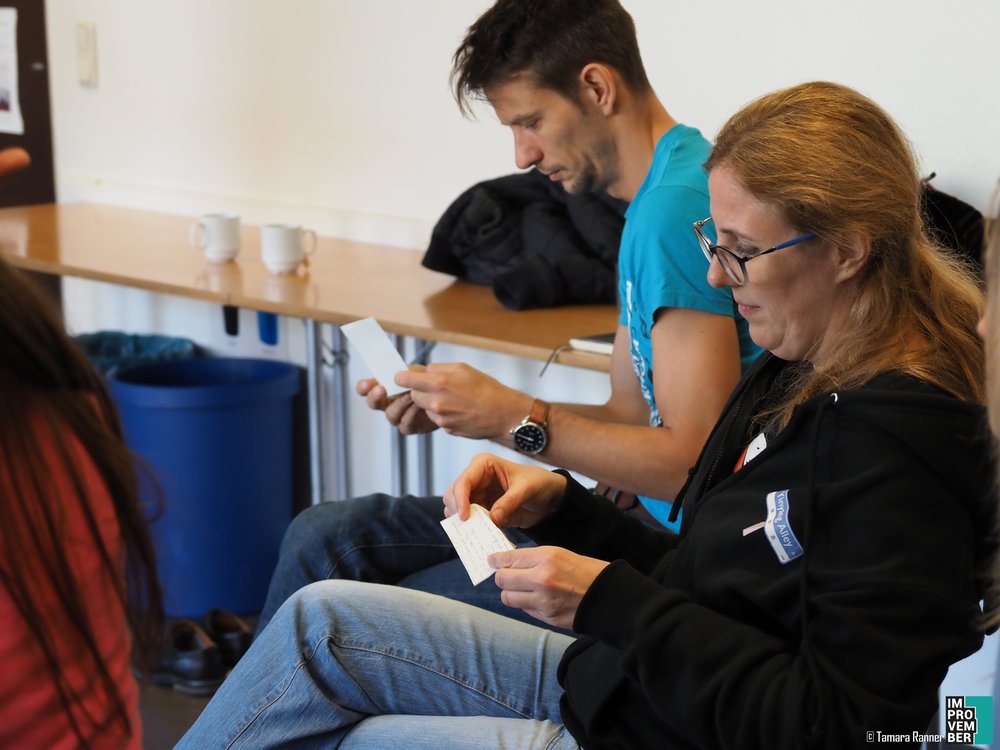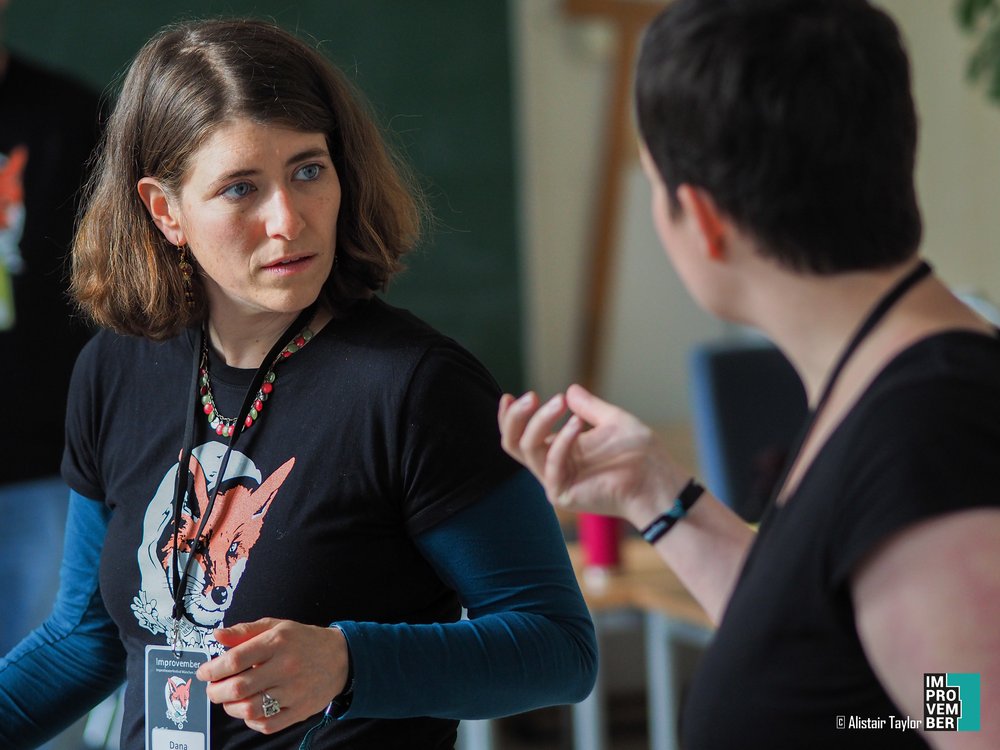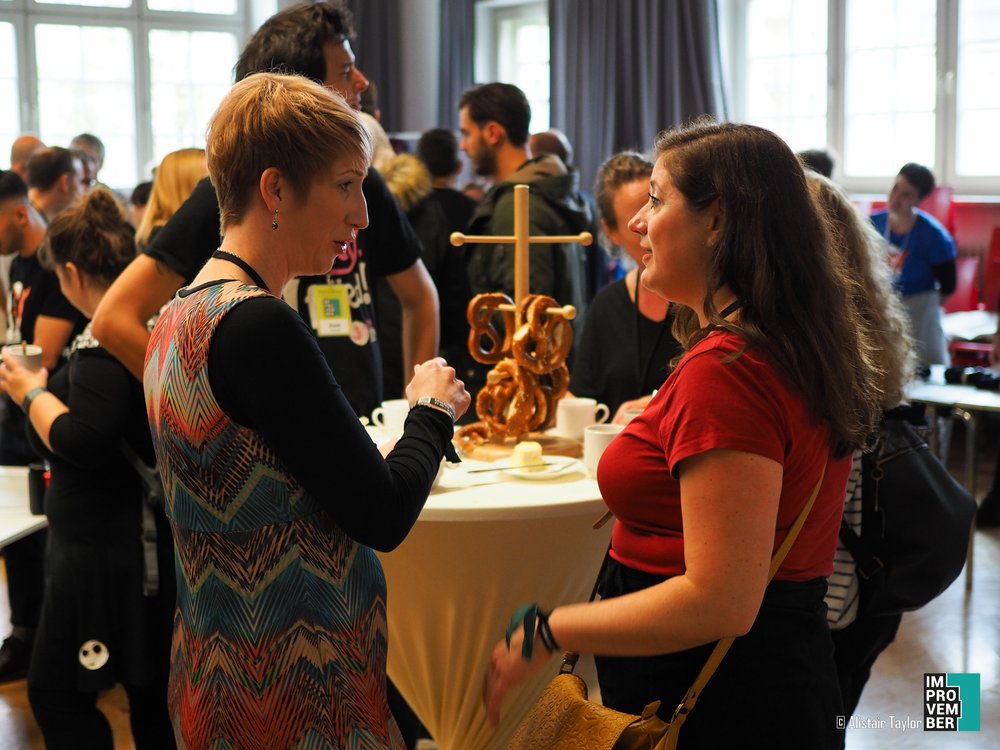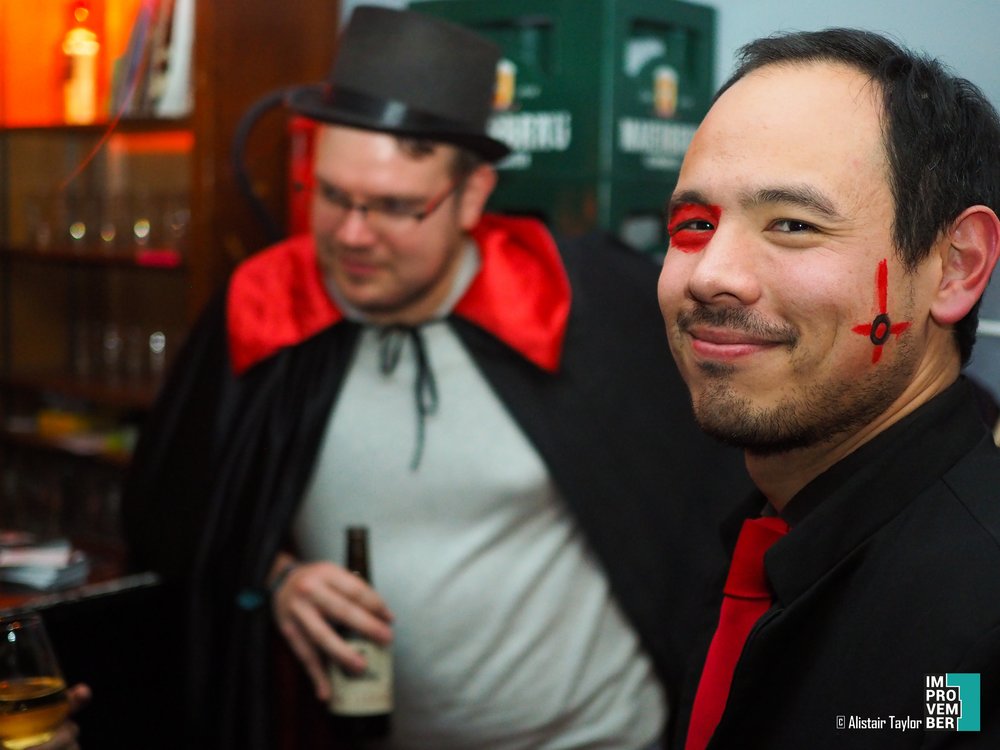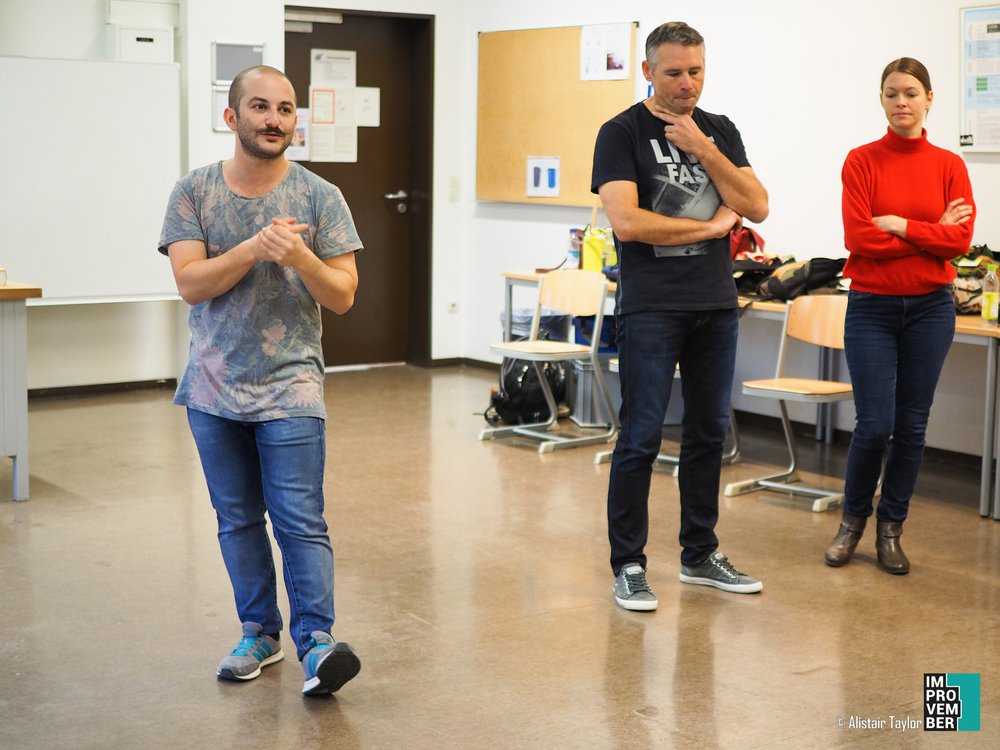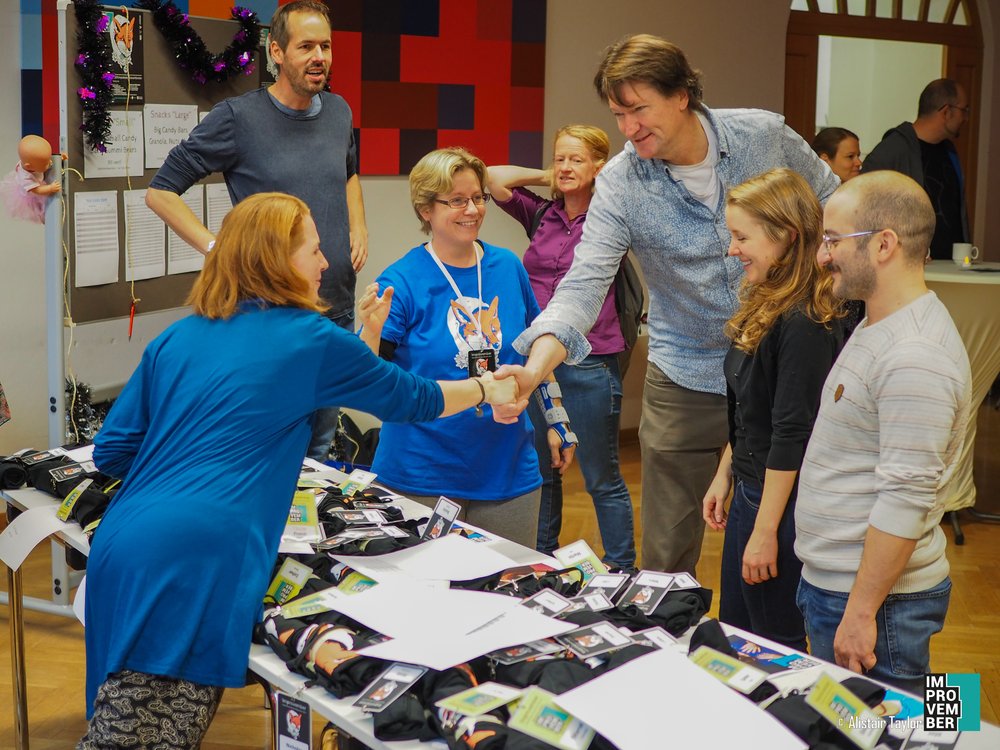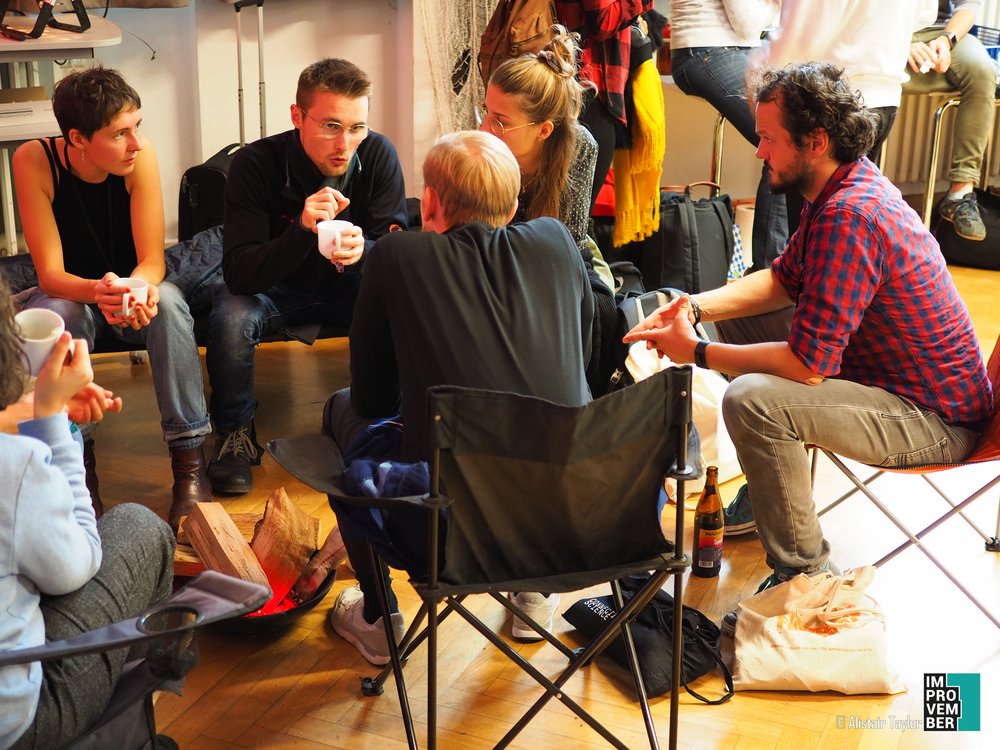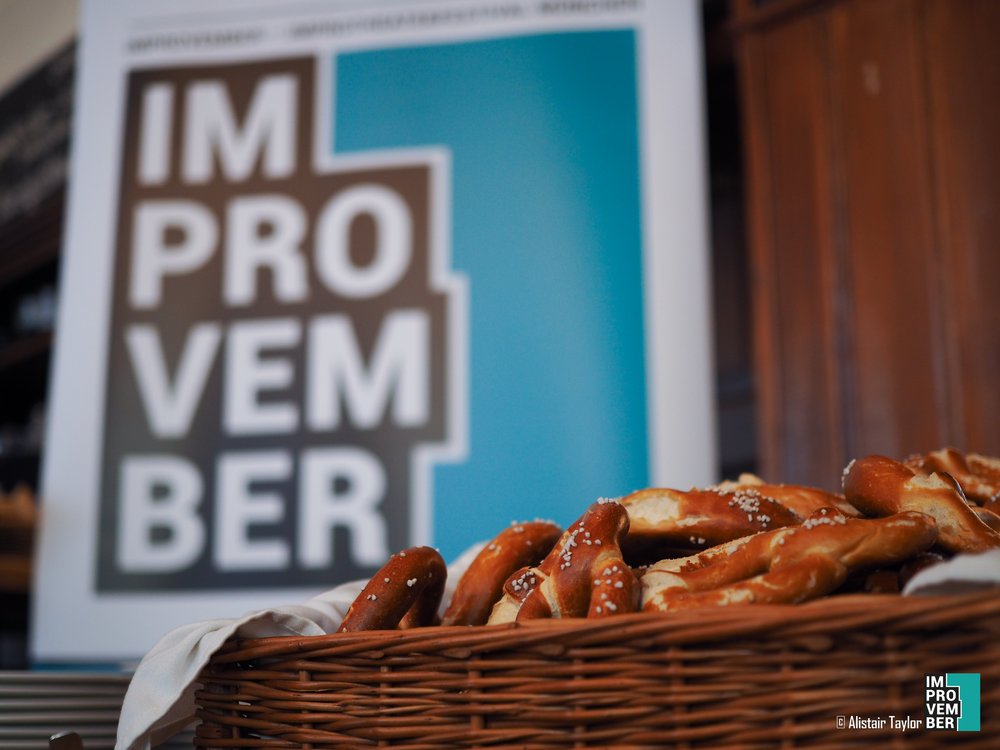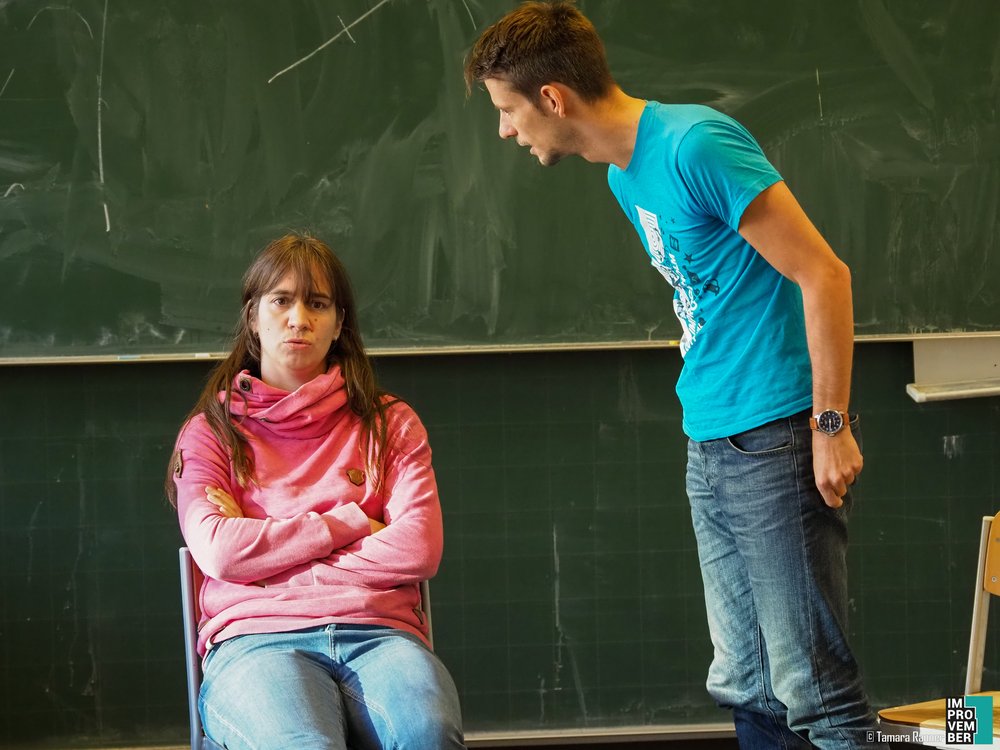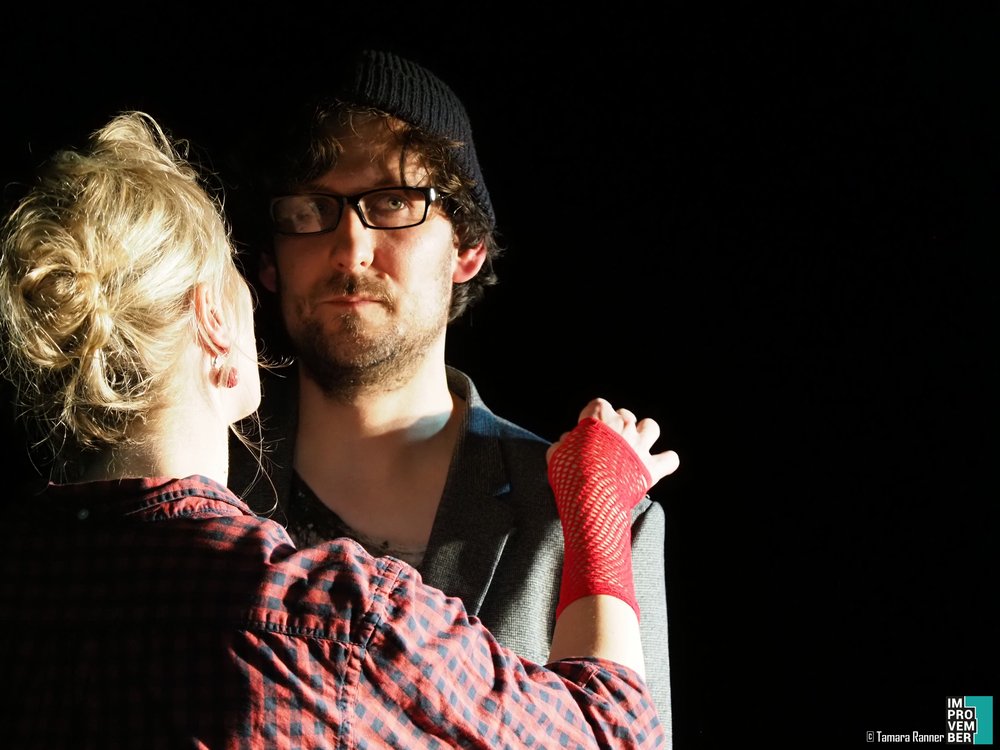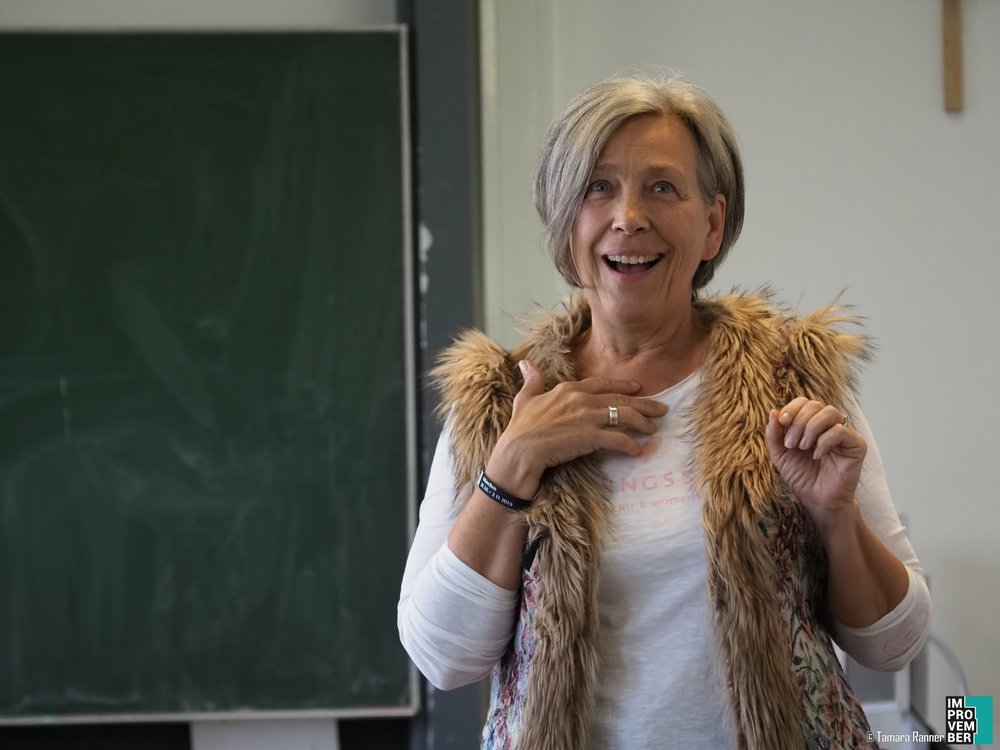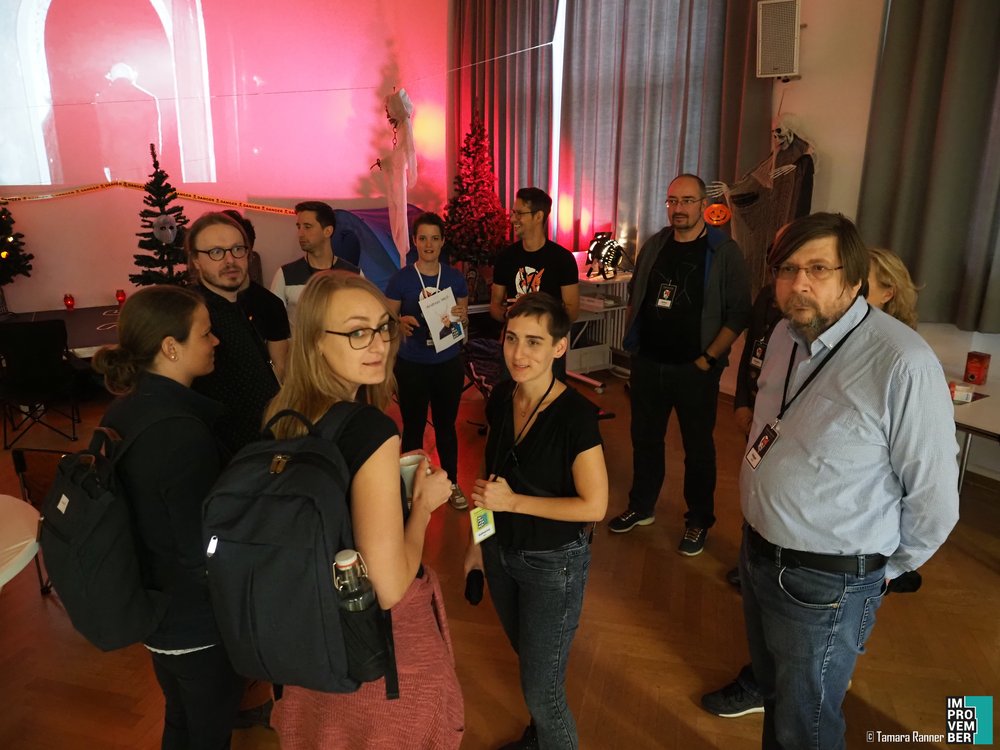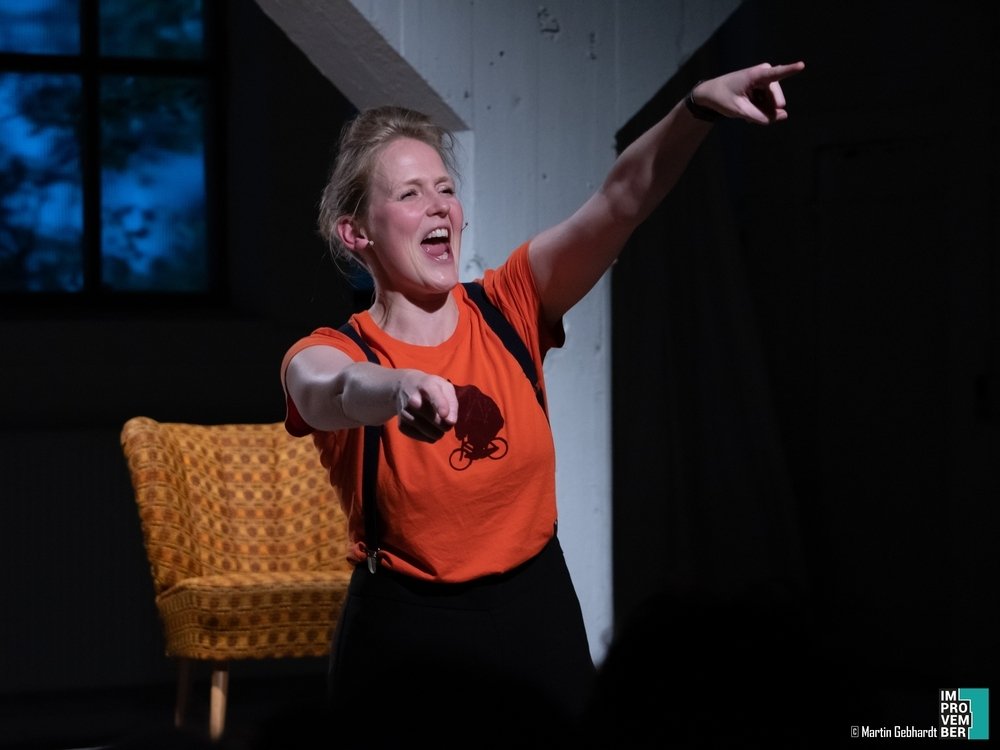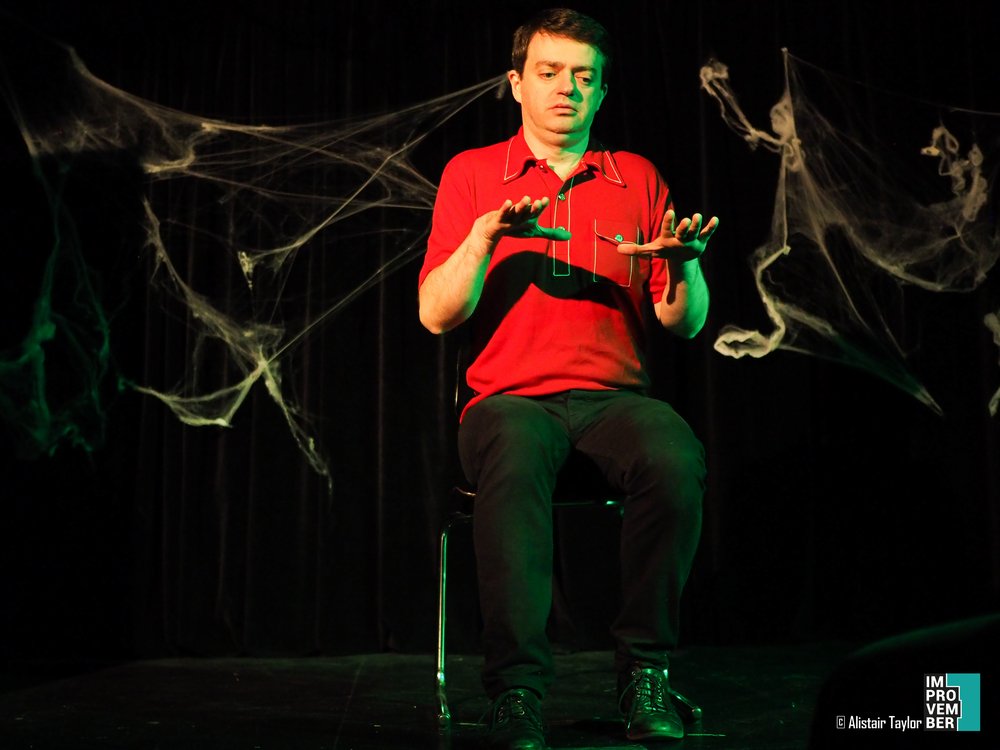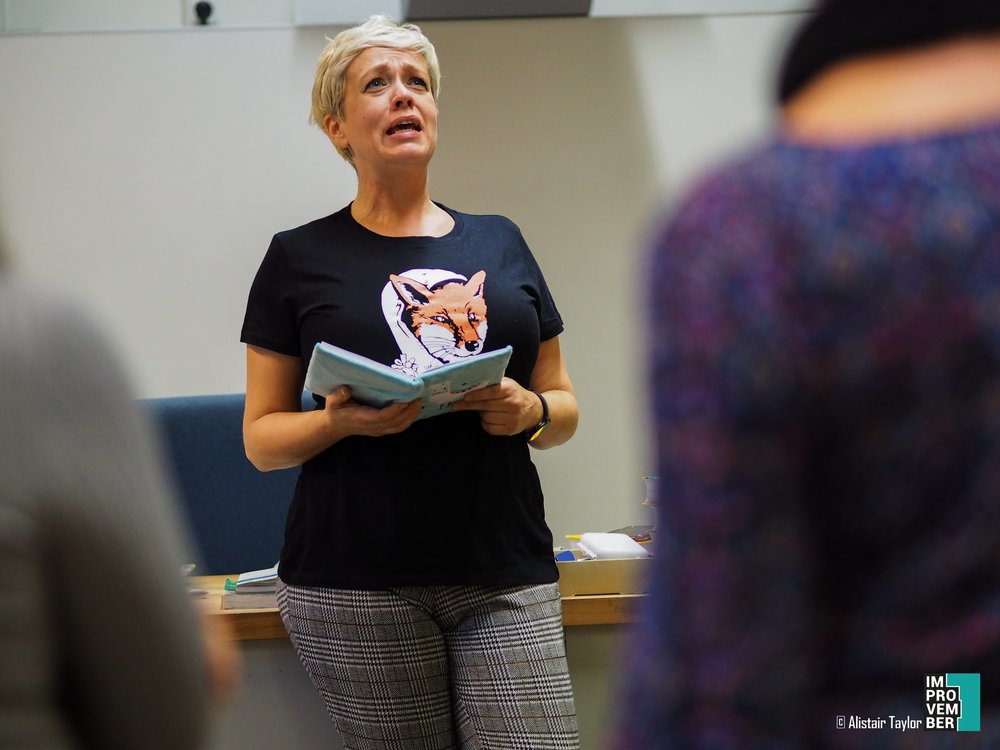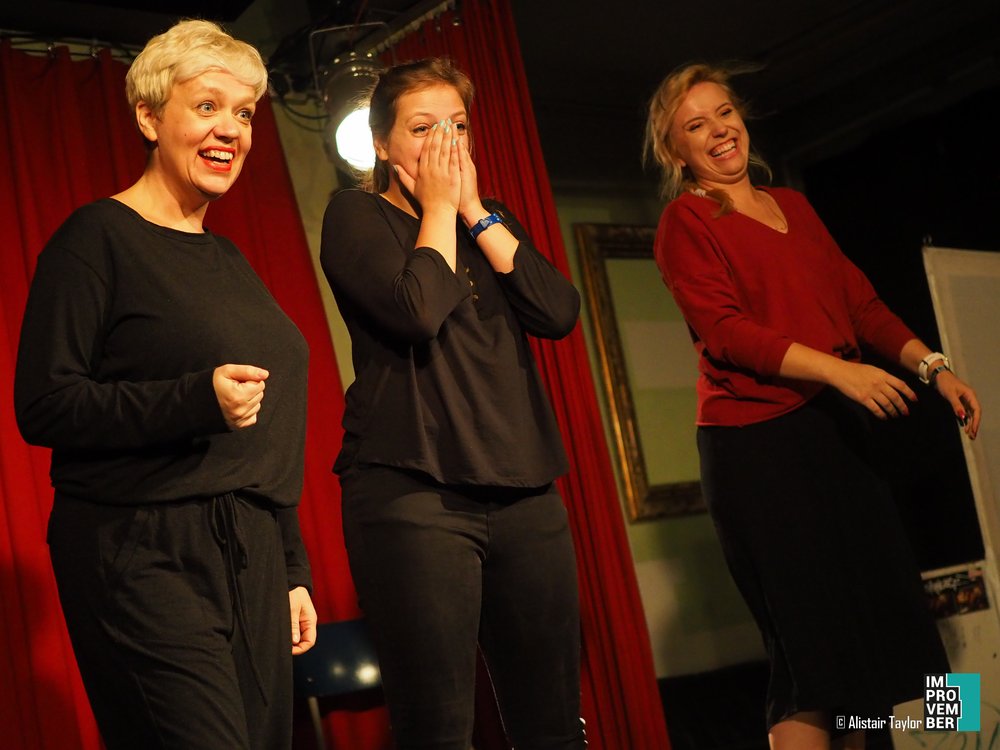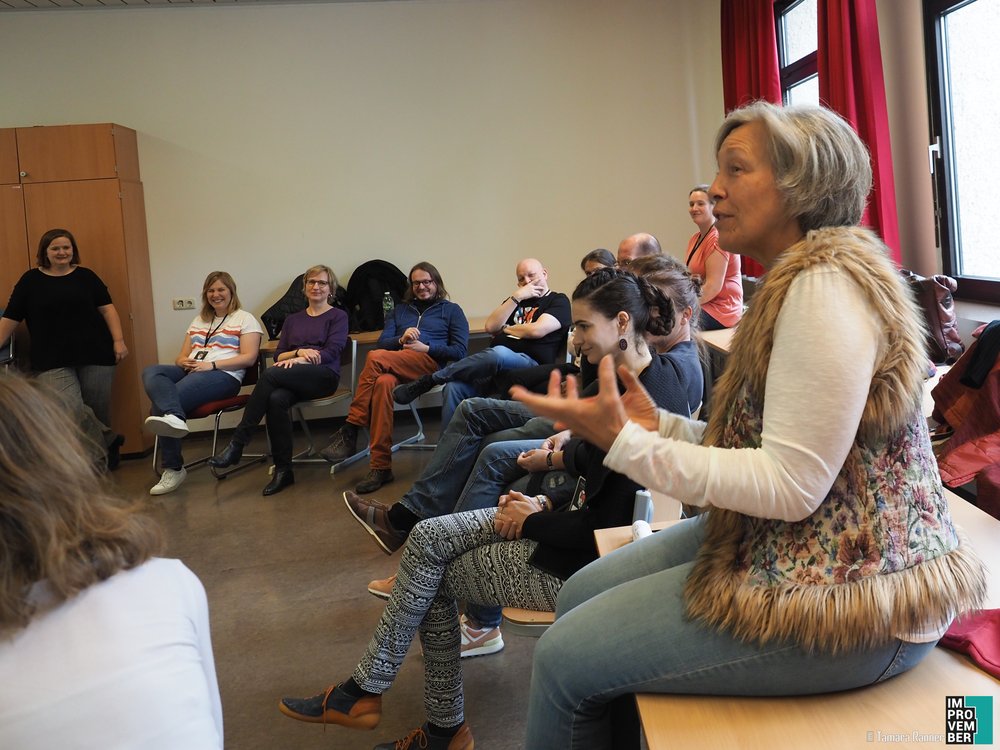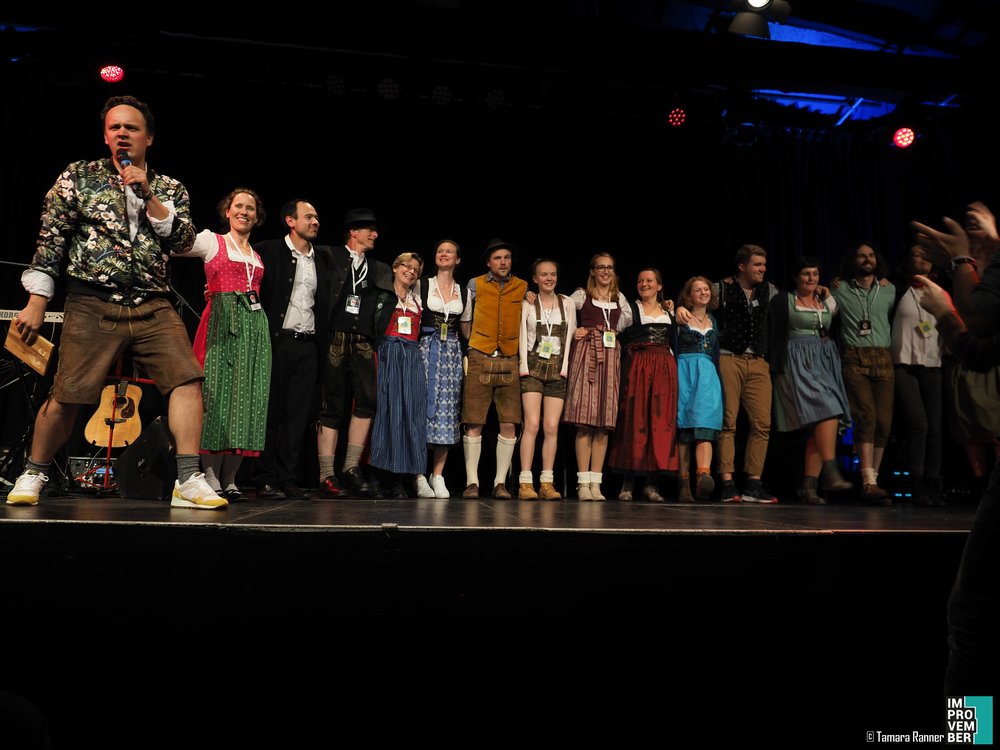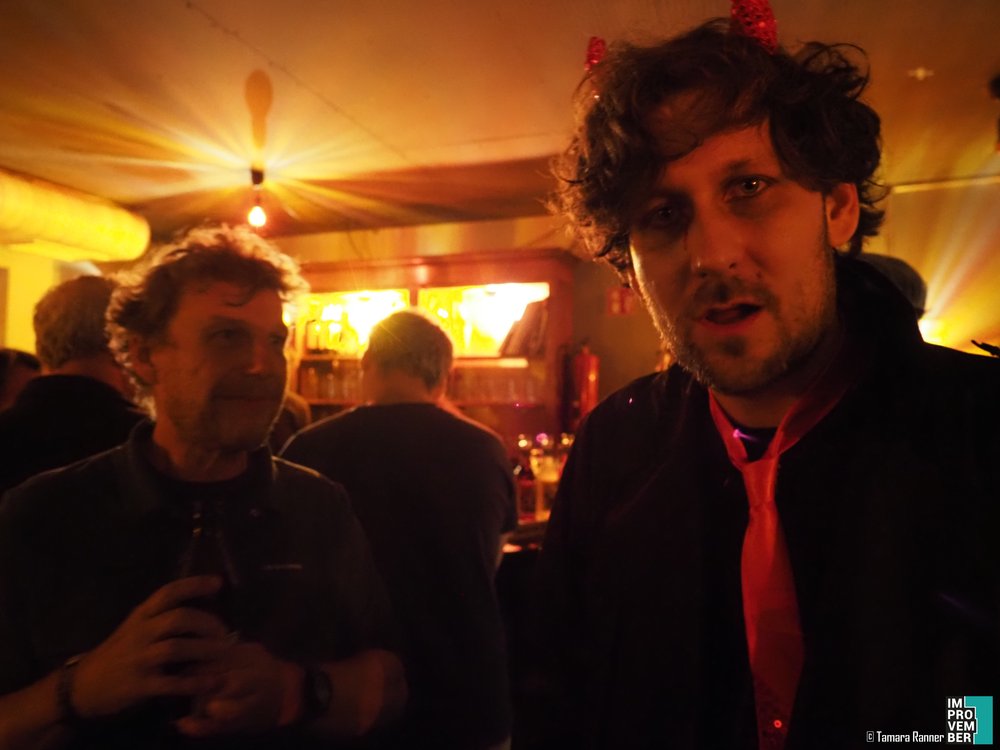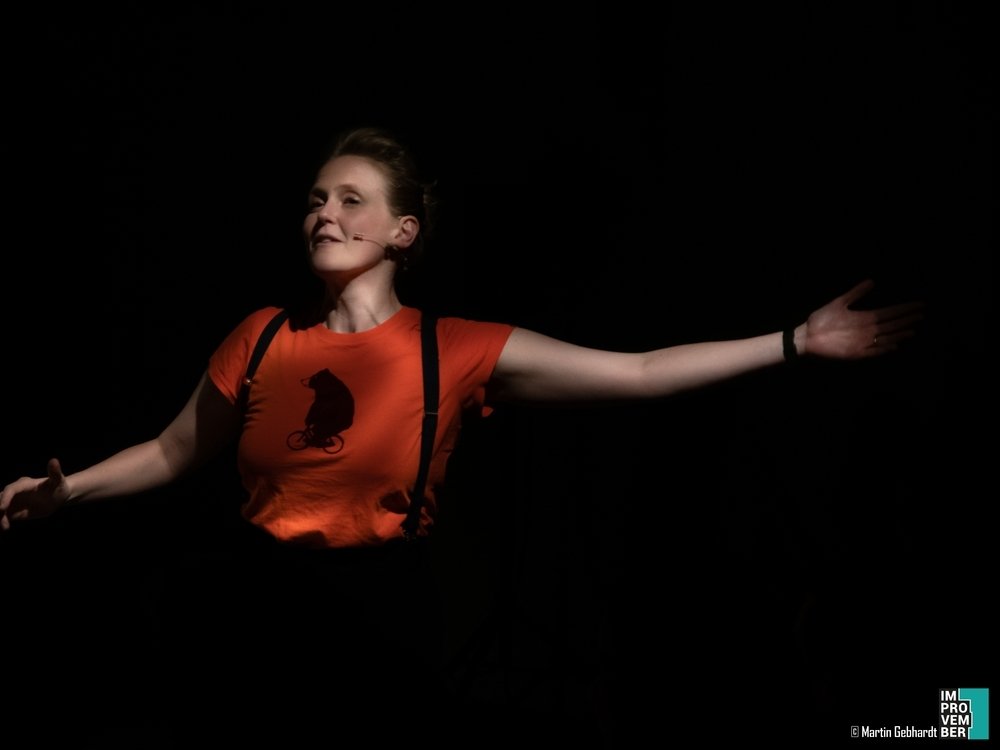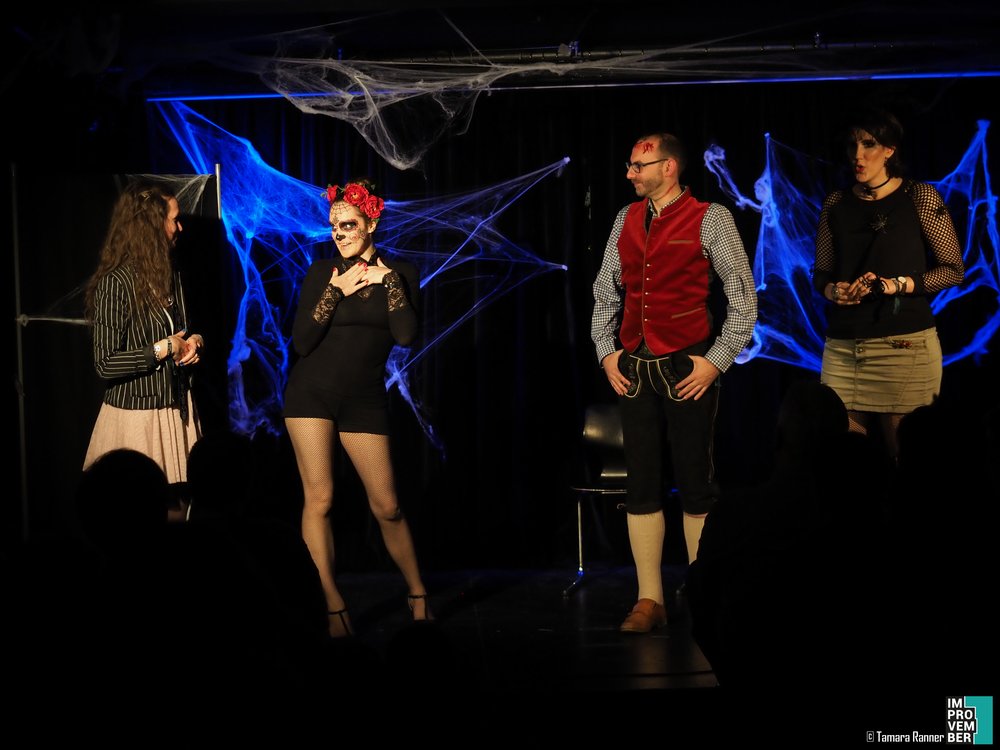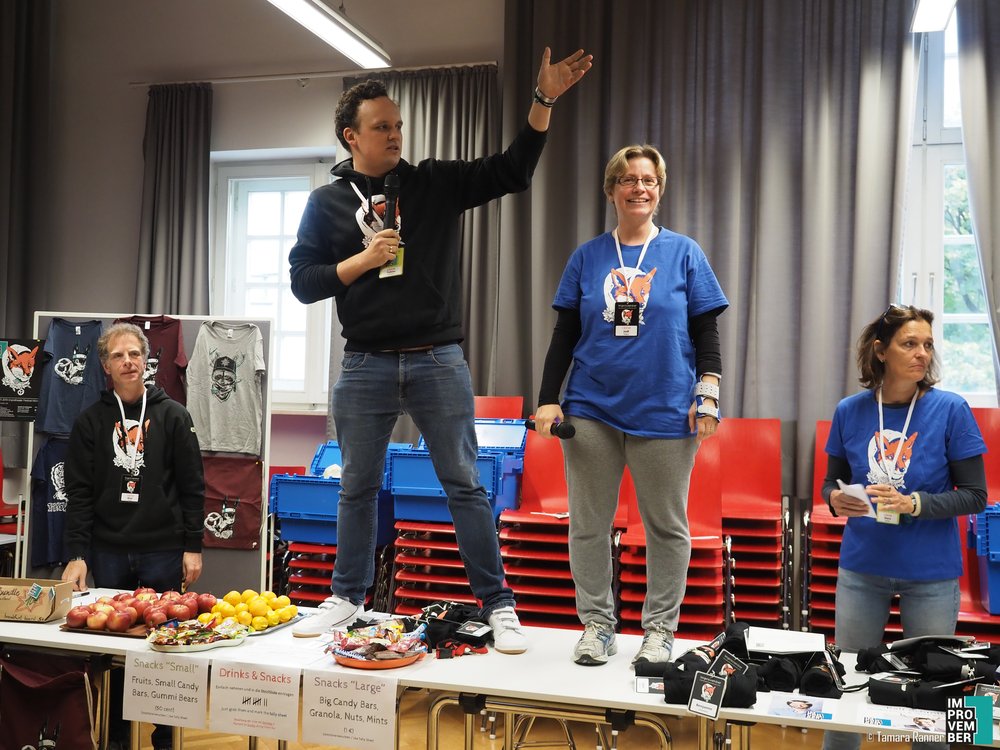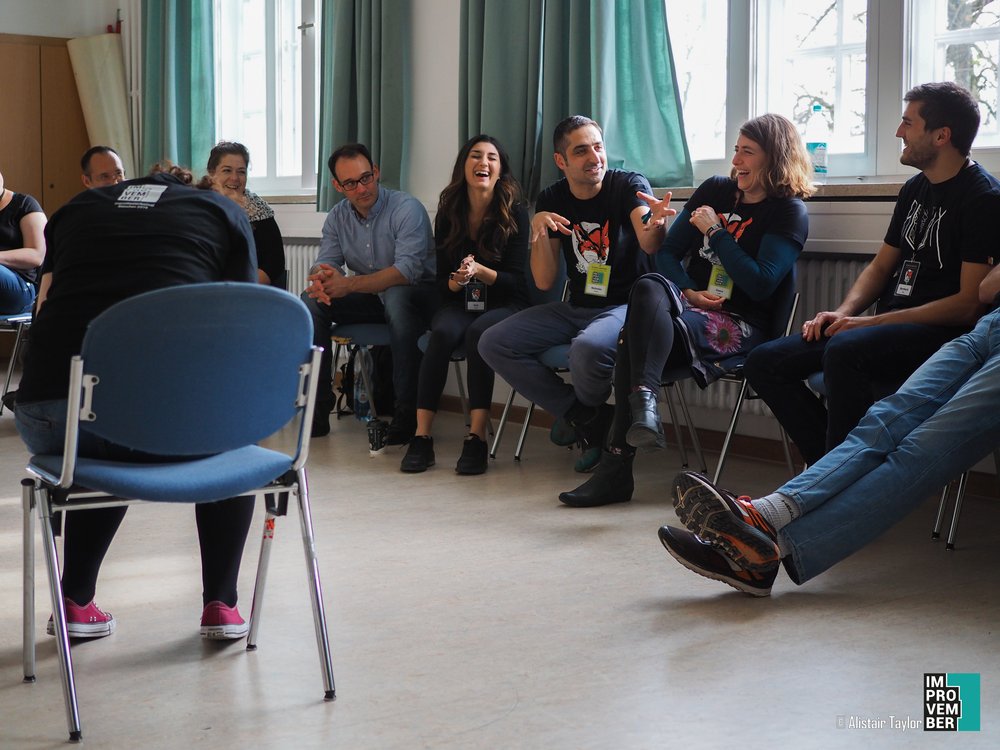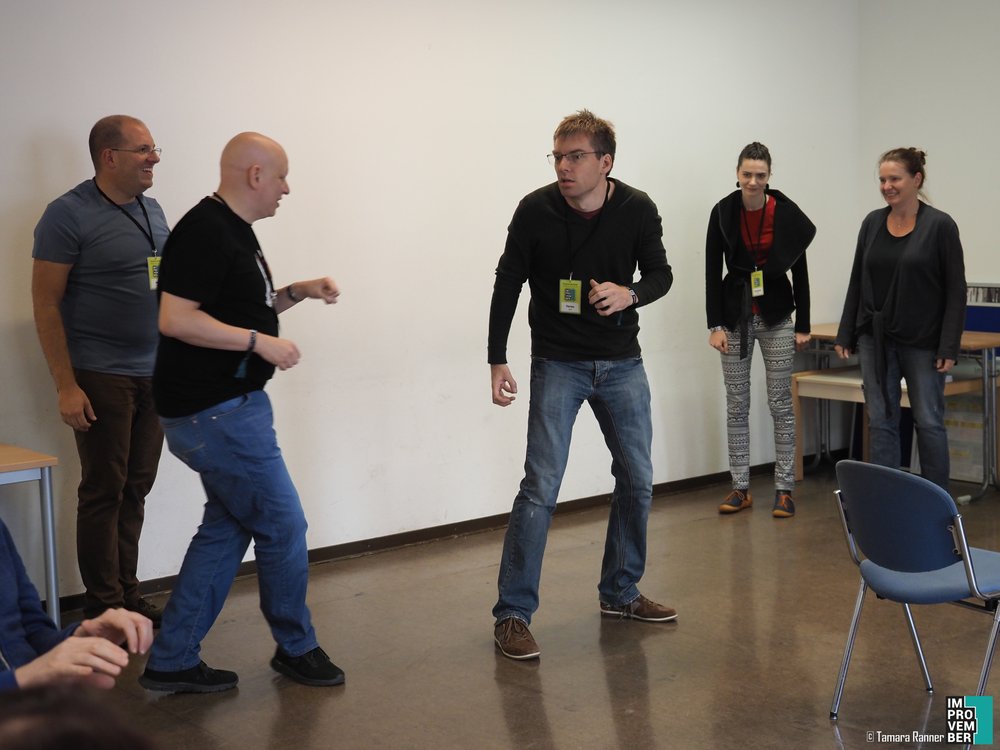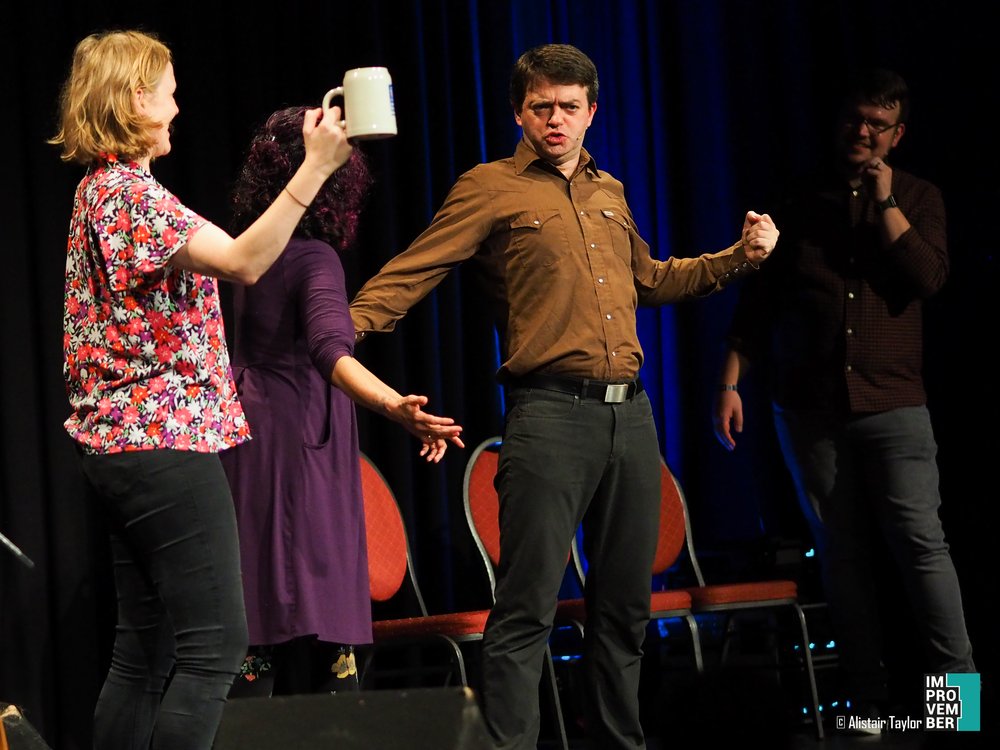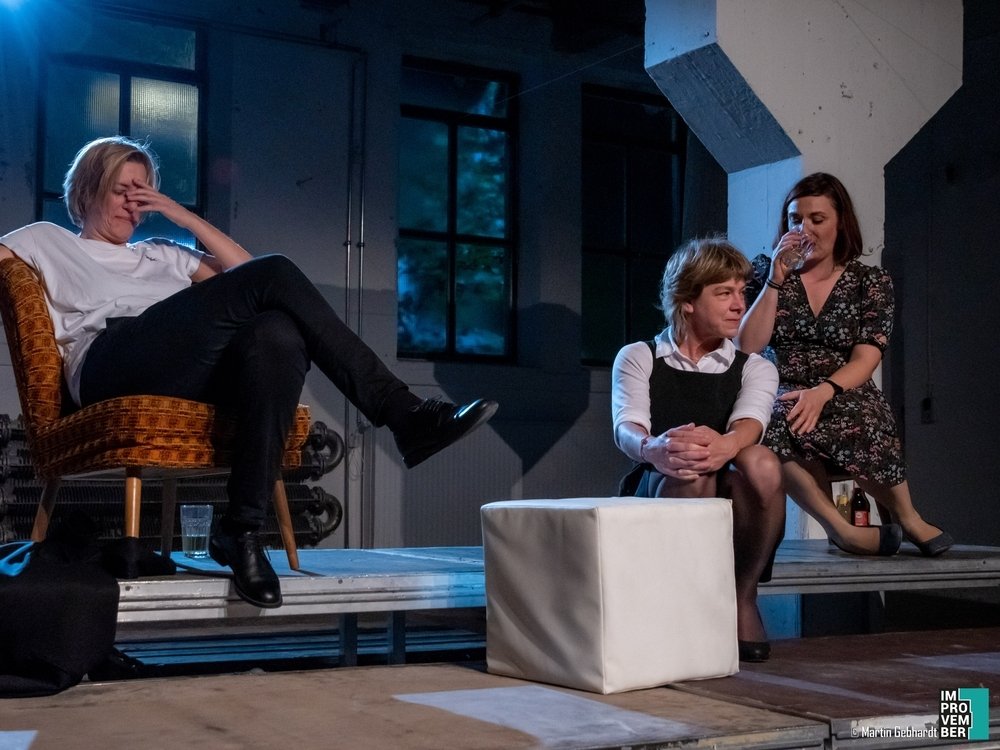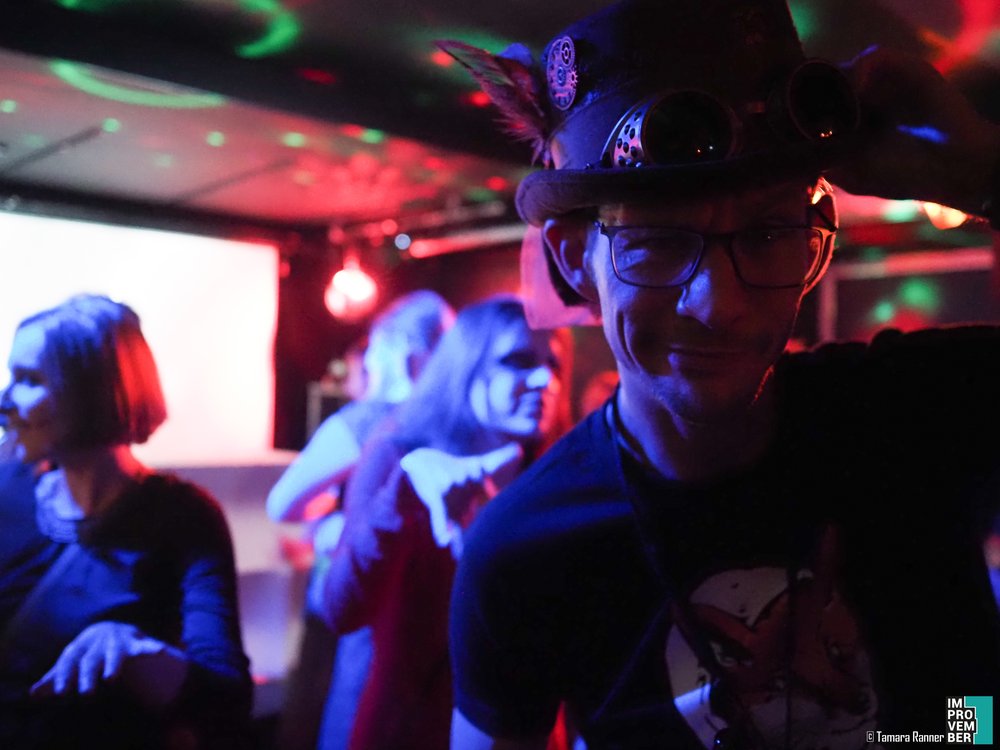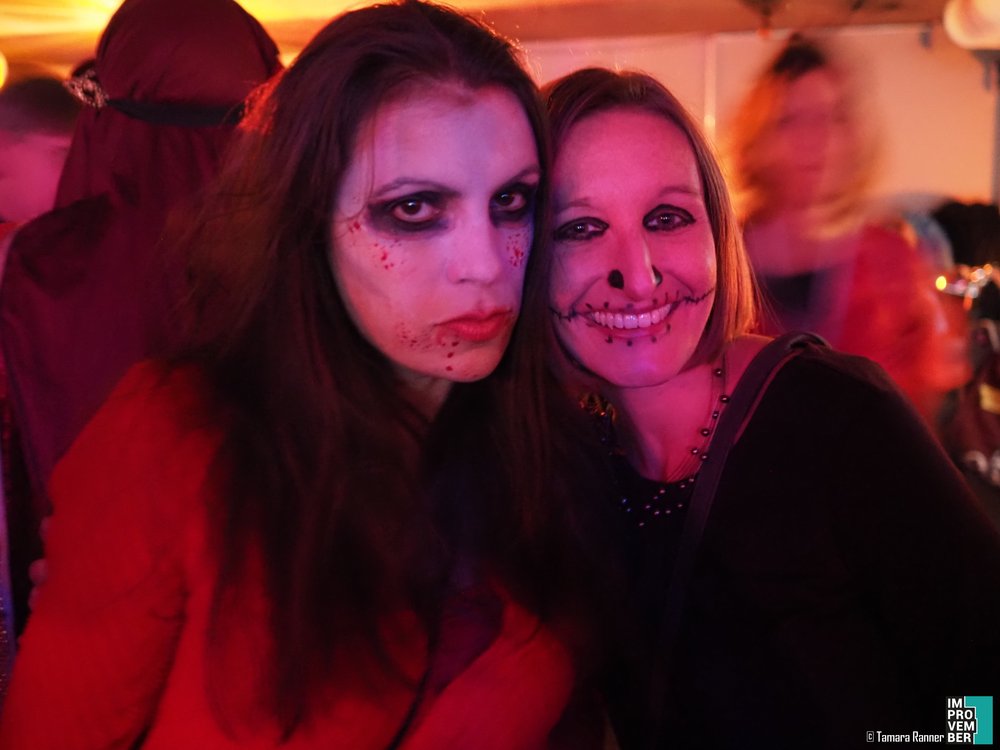 Workshops
Improvember holte auch 2019 wieder einen spannenden Mix aus deutschsprachigen und internationalen Profis nach München, um unseren Teilnehmerinnen und Teilnehmern vielfältige Fortbildungsmöglichkeiten zu bieten. Mit dabei waren dieses Mal: Pam Victor aus Massachusetts, Chris Littrell aus Chicago, das bekannte polnische Impro Ensemble 7 women of different ages, Ralf Schmitt aus Hamburg, das deutsch-niederländische Duo Susanne Bolf und Richard Schut, Jürgen Böse aus Oldenburg, Pippa Evans aus London, der Kanadier Jacob Banigan aus Österreich, Billa Christe aus Berlin und Jannis Kaffka aus Hamburg. Vielen Dank an alle Trainer für den tollen Beitrag zu unserem Festival!
Improvember once more recruited an exciting mix of German-speaking and international professional trainers to Munich to offer a diverse selection of theatrical skills to our course participants. We were happy to host Pam Victor from Massachusetts, Chris Littrell from Chicago, the renowned Polish improv ensemble 7 women of different ages, Ralf Schmitt from Hamburg, the German-Dutch Duo Susanne Bolf and Richard Schut, Jürgen Böse from Oldenburg, Pippa Evans from London, the Canadian Jacob Banigan based in Austria, Billa Christe from Berlin and Jannis Kaffka from Hamburg. We thank our teachers for their wonderful contributions to our festival!
Surprise Workshops 2019
Auch 2019 gab es wieder Surprise-Workshops für alle, die auch am Donnerstag schon mit einem Spezialthema loslegen wollten, ohne vorher zu wissen worum es geht. Andreas Wolf aus München brachte den Teilnehmern bei, ohne Instrumente Musik in ihre Improszenen zu bringen. Markus Sedelmaier aus Augsburg führte uns in die Kunst des clownischen Spielens ein. Gretchen Eng aus Chicago (USA) stellte uns die spezielle Langform des Armando vor. Evan Schweitzer aus New York (USA) gab uns einen Einblick in seinen Raum- und Objektworkshop Creating Spaces. Und Nick Byrne aus Canberra (Australien) ließ unsere Gesangsherzen höher schlagen in seinem Kurzworkshop The Music in You.
Once more we offered Thursday Surprise Workshops for everyone bold enough to take a course without knowing teacher or topic beforehand. Andreas Wolf from Munich introduced the students to musical scence accompaniment without instruments. Markus Sedelmaier from Augsburg guided us into the joyful world of clowning improv. Gretchen Eng from Chigago taught us the special long form Armando. Evan Schweitzer from New York opened up new worlds in his workshop creating spaces and Nick Byrne from Canberra released our voices with his workshop The Music in You.
Festival Crew 2019
Auch 2019 hatten wir wieder ein großartiges Team aus ehrenamtlichen Mitarbeiterinnen und Mitarbeitern verschiedenster Improgruppen, die das ganze Jahr über den Großteil ihrer Arbeitszeit gespendet haben und vor Ort das Festival zu dem gemacht haben, was es ist: Ein Herzensprojekt. Viele alte Hasen der letzten Jahre waren wieder mit dabei, dazu wurde unser Team noch bereichert durch die wunderbaren Neuzugänge Annkathrin, Lilly, Pierre und Mary! Wir sagen vielen, vielen Dank an euch alle für die tolle Leistung!
In 2019, we once more had a wonderful team of honorary staff and helpers from various improv groups who donated most of their work throughout the year towards bringing you a heartfelt festival. Many old stagers from the last festivals were with us again and we were lucky to be further enriched by our fantastic newcomers Annkathrin, Lilly, Pierre & Mary! Thank you all for your great effort and accomplishment!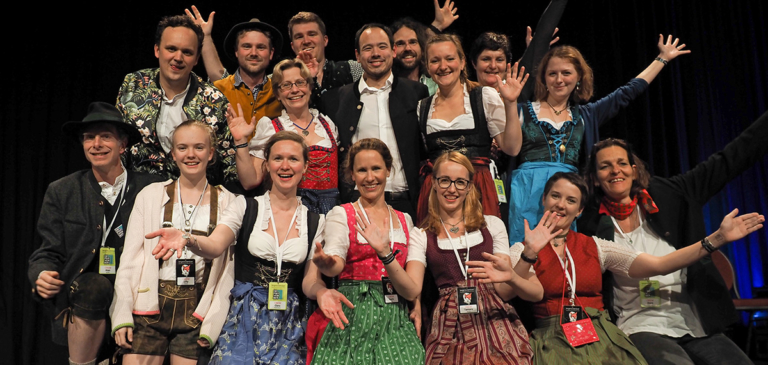 Schirmherr / Patron 2019
Auch dieses Jahr war Münchens Altoberbürgermeister Christian Ude wieder Schirmherr des Improvember Festivals. Hier gibt es auch nochmal seine
Grußworte
zu lesen. Erneut hat er unsere große Galashow aller Festival-Trainer eröffnet, dieses Mal per Videobotschaft aus dem heimischen Fenster. Wir sagen Danke!
Once more we were happy to have Munich's former mayor as the patron for our festival. Here you can find his
greetings
to the Improvember festival. Again Mr. Ude commenced the opening of our grand gala show, this time via video message from his own window. Thank you for supporting Improvember!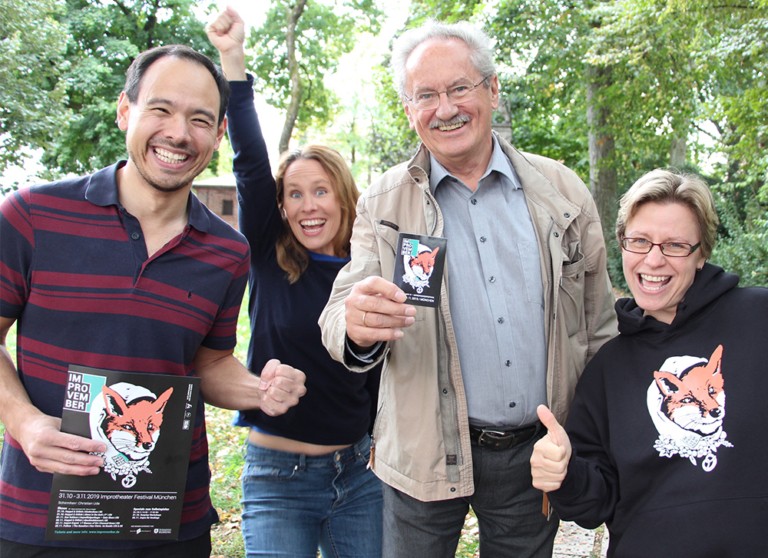 Sponsoring & Partner 2019
Wir danken unseren Partnern und Förderern für die Unterstützung des Improvember 2019 Festivals. Besonders danken wir dem Bezirk Oberbayern und dem Bezirksausschuss Schwabing-West für deren Kulturförderung. Dank der freundlichen Unterstützung des Münchner Fensters war unser Festival auch wieder in allen U-Bahn-Anzeigen der Stadt zu sehen.
We kindly thank our partners and sponsors for supporting the Improvember Festival 2019. The cultural funding provided by the District of Upper Bavaria and the city district committee Schwabing-West helped to make this festival possible. Thanks to the friendly support by Münchner Fenster, our event was promoted once more in all underground trains in Munich.