Hier wird es dann alle wichtigen Anmelde-Informationen für unsere Workshops und die Festival-Teilnahme geben.
This page will contain information regarding workshops and festival signup for the next Improvember.
Die Anmeldung für Improvember 2020 startet voraussichtlich im Juni. Meldet euch für unseren Newsletter an und folgt uns auf Social Media um nichts zu verpassen!
Signup for Improvember 2020 is scheduled to start in June. Sign up to our newsletter and follow us on social media to stay up to date.
Meldet euch unten für einen Wartelistenplatz an!
Sign up for a waiting list position below!
Wichtige Punkte
//
Fact sheet
Zur Anmeldung: Lies dir diese Seite genau durch und klick danach unten auf den Anmelde-Button um das Formular auszufüllen.
Das Festival beginnt am Donnerstag (31.10.) mit optional buchbaren Surprise Workshops. Die Wochenend Workshops gehen dann von Fr – So, siehe Zeitplan.
Bitte beachtet bei der Workshopwahl die Erfahrungslevel und besonderen Konditionen für die Profi-Workshops.
Um das Ergebnis der Workshop-Vergabe zu erfahren, müsst ihr Emails von improvember.de erhalten können. Wir empfehlen dazu ein Whitelisting unserer Adresse.
Nach der Zusage bestätigt ihr euren Workshop-Platz durch rechtzeitige Bezahlung.
Alle Workshops finden am Elisabethplatz 4 in München statt, siehe Karte.
To sign up: Read this page carefully and then click the signup button below to fill out our form.
The Festival starts on Thursday (Oct 31) with optional surprise workshops. The weekend workshops go from Fri – Sun, see our time schedule.
Please be aware of the workshop levels and special conditions for professional workshops.
To get notified about the result of the workshop selection, make sure to receive emails from improvember.de. We recommend whitelisting our address.
After receiving a workshop acceptance, you must confirm by timely payment.
All workshops will be held at Elisabethplatz 4 in Munich, see our map.
Festival Hostel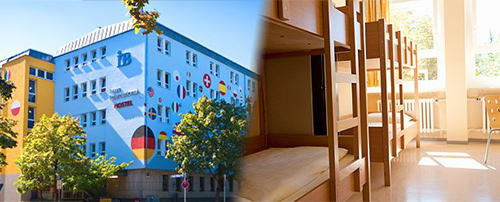 Unser Hostel ist das Haus International in der Elisabethstraße 87. Siehe unsere Karte zur Orientierung.
Wenn ihr bei erfolgreicher Ziehung mit anderen Teilnehmern zusammen untergebracht werden wollt, könnt ihr das Hostel im Anmeldeformular optional schon mitbuchen.
Buchungszeitraum: 31.10. - 03.11.19 (3 Nächte). Unterbringung im 4/5er Zimmer, inkl. Frühstück.
Sonderwünsche (Zimmergröße, Zeitraum) können nicht über uns gebucht werden. Bucht dann stattdessen für den gewünschten Zeitraum eine eigene Unterkunft (bitte erst nachdem ihr die feste Workshop-Zusage erhalten und bezahlt habt).
Alternativen für eigene Buchung z.B.: Motel One Olympia Gate, Hotel Vitalis, H´Otello.
Our hostel is Haus International at Elisabethstraße 87. See our map for reference.
If you would like to be accommodated with other festival participants after securing a workshop spot, you can optionally book our hostel during signup.
Booking period: Oct 31 - Nov 3, 2019 (3 nights) in a shared room with 4-5 people, incl. breakfast
Special requests (room size, duration) cannot be booked through us. Instead, book your own accommodation according to your needs (only after having obtained the final workshop confirmation through payment).
Alternatives for your own bookings e.g.: Motel One Olympia Gate, Hotel Vitalis, H´Otello.
Anmeldeverfahren // Signup procedure
01.06.2019
Anmeldestart // registration opens
Melde dich für die Platzverlosung an: Wähle drei Präferenzen, nach der Verlosung bekommst du einen deiner Wünsche oder einen Wartelistenplatz
Sign up for the workshop lottery: Choose your preferences. With some luck you'll get a spot in one of them
15.06.2019
Anmeldeschluss // deadline
Anmeldungen bis zu diesem Stichtag, danach geht es direkt auf die Warteliste
Submit registrations by this deadline or sign up to the waiting list afterwards.
01.07.2019
Workshop Angebot // workshop offer
Nach dem Losverfahren bieten wir dir per Email einen deiner Wunschworkshops oder einen Wartelistenplatz an.
After the lottery we will send you an email, offering one of your chosen workshops or a place on the waiting list.
15.07.2019
Bezahlungsfrist // payment deadline
Sichere deinen Workshop-Platz durch rechtzeitige Überweisung des Festivalbeitrags
Secure your workshop spot by transferring your festival fee by this deadline
15.09.2019
Rücktrittsfrist // cancellation deadline
Bis zu diesem Zeitpunkt ist eine Stornierung abzüglich Bearbeitungsgebühr von 50€ möglich, danach nur, wenn wir rechtzeitig Ersatz für den Workshopplatz finden
Up to this deadline, a partial refund minus processing fee of 50€ is possible, afterwards refunding depends on successful replacement of your workshop place
31.10.2019
IMPROVEMBER
Los geht's! Vorher gibt es noch rechtzeitig alle Infos und Pläne sowie Links zu vergünstigten Showtickets für Festivalteilnehmer
Let's go! Beforehand you will receive all facts and schedules as well as links to discounted show tickets for participants